11 Red Lehenga Designs for the Spirited Brides
Looking for a valiant wedding outfit for your d-day? Check out these stellar red lehenga designs to dress like a royal bride.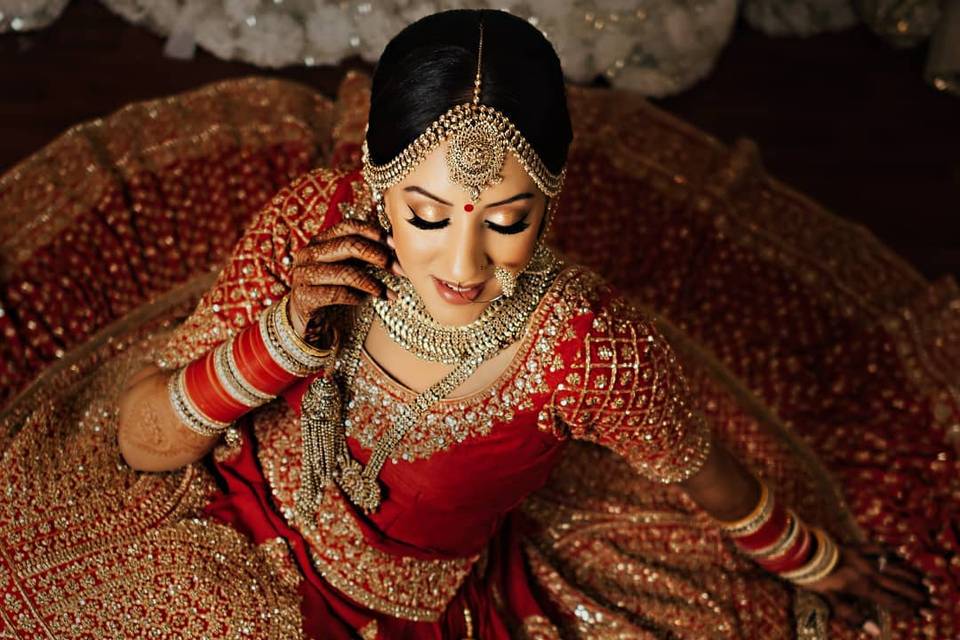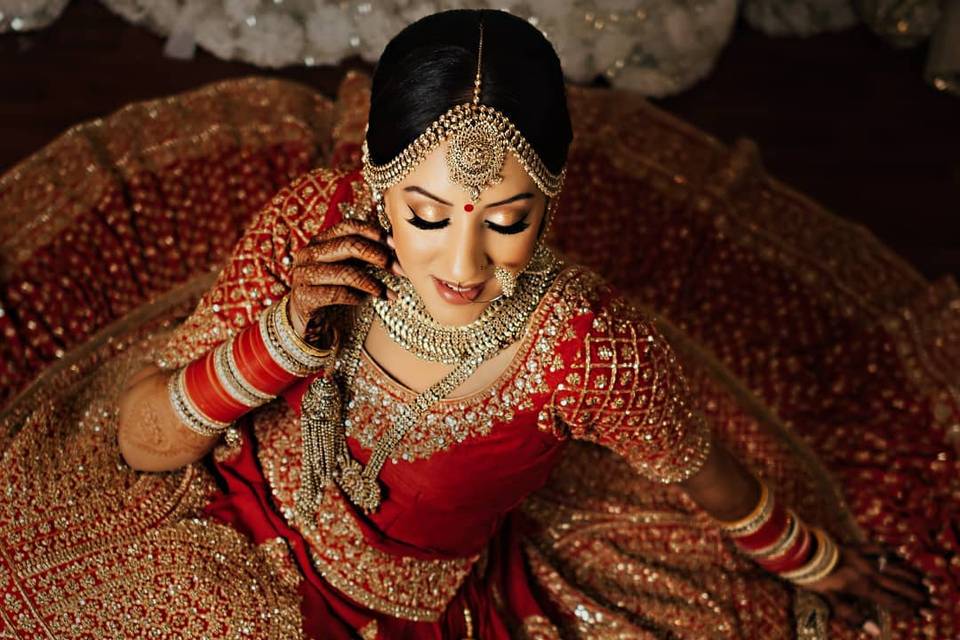 Image Credits - Amrit Photography
The colour 'Red' has always had more than one gleaming and sacred meaning in our culture. From being recognised as the colour of love to highlighting the value of rituals by wearing a pious red thread, the auspicious colour is all about fondness and devotion. When we speak about the significance of red colour, the colour has always been synonymous to purity and veracity. A bride decking up in a dazzling red dulhan lehenga choli is as timeless as tides. Popping out your personality in a red glow will never go out of style in India. Red will be always be the timeless shade of royalty and luxury.
Here's a shoutout to all the brides-to-be who still think that red colour is ethereal and if you too are planning to wear a red lehenga at your wedding, then you've hit the right place! We have got a list of effervescent ideas of red lehenga. Scroll up and explore the charm of red lehenga designs.
If you are that hyperactive bride-to-be who loves everything lovely, then you must've thought of imbibing 'Laal Rang' for your 'Laal Ishq'. Are we right or are we right? Every bride wants her bridal look to be exceptional and appealing. Why not level up the look by adding a shade of red in your bridal outfit? Red is a go-to colour for every girl who wishes to balance out the vibe between classy and sassy.
Dipped in Red Historic Beauty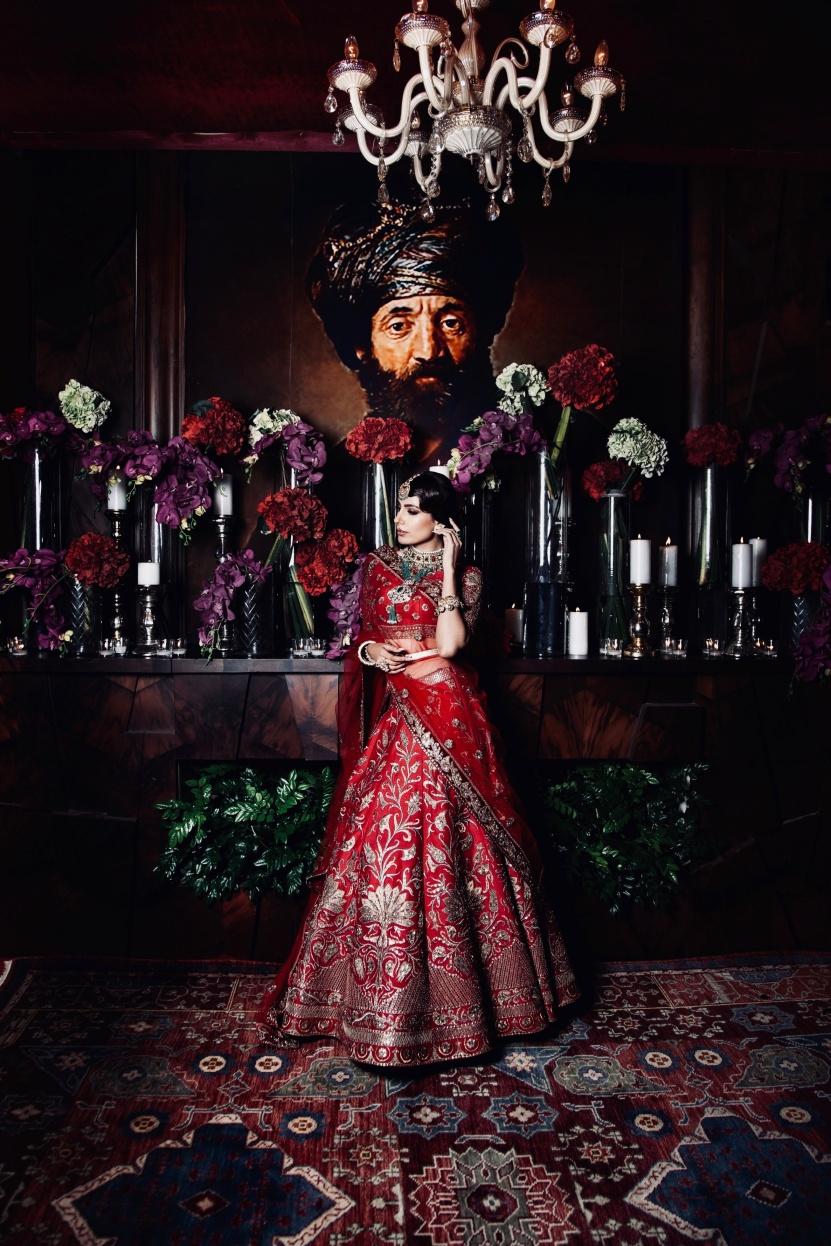 Isn't this a beautiful red lehenga? How about adding a pinch of historic vibes in your D-day outfit? If you are the bride who loves everything regal then this red bridal lehenga from the latest collection of JJ Valaya is perfect for your precious day. From dribbling foil embroidery day to the passionate colour, this lehenga will make you live in the moment of new beginnings and ecstasy.
Blooming Scarlet Red Bridal Lehenga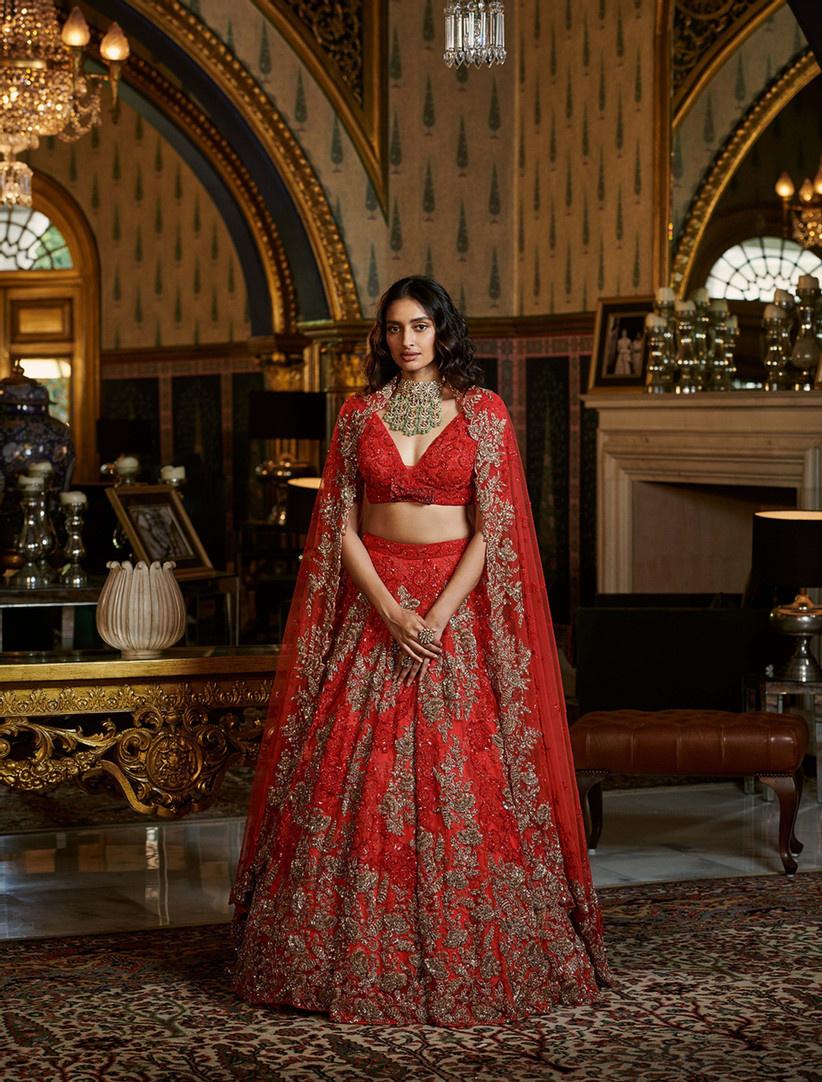 If you are looking for radiant motivation then this heart stealing red lehenga from the collection of Dolly J is going to swirl the bottle of charm with grace. Wed in red while you sway the outfit with 'Dulhan Wali Feeling.' The gold embroidered lehenga topped with high-end zardosi work is super for your dreamy wedding.
Red Peplum Lehenga Does The Talking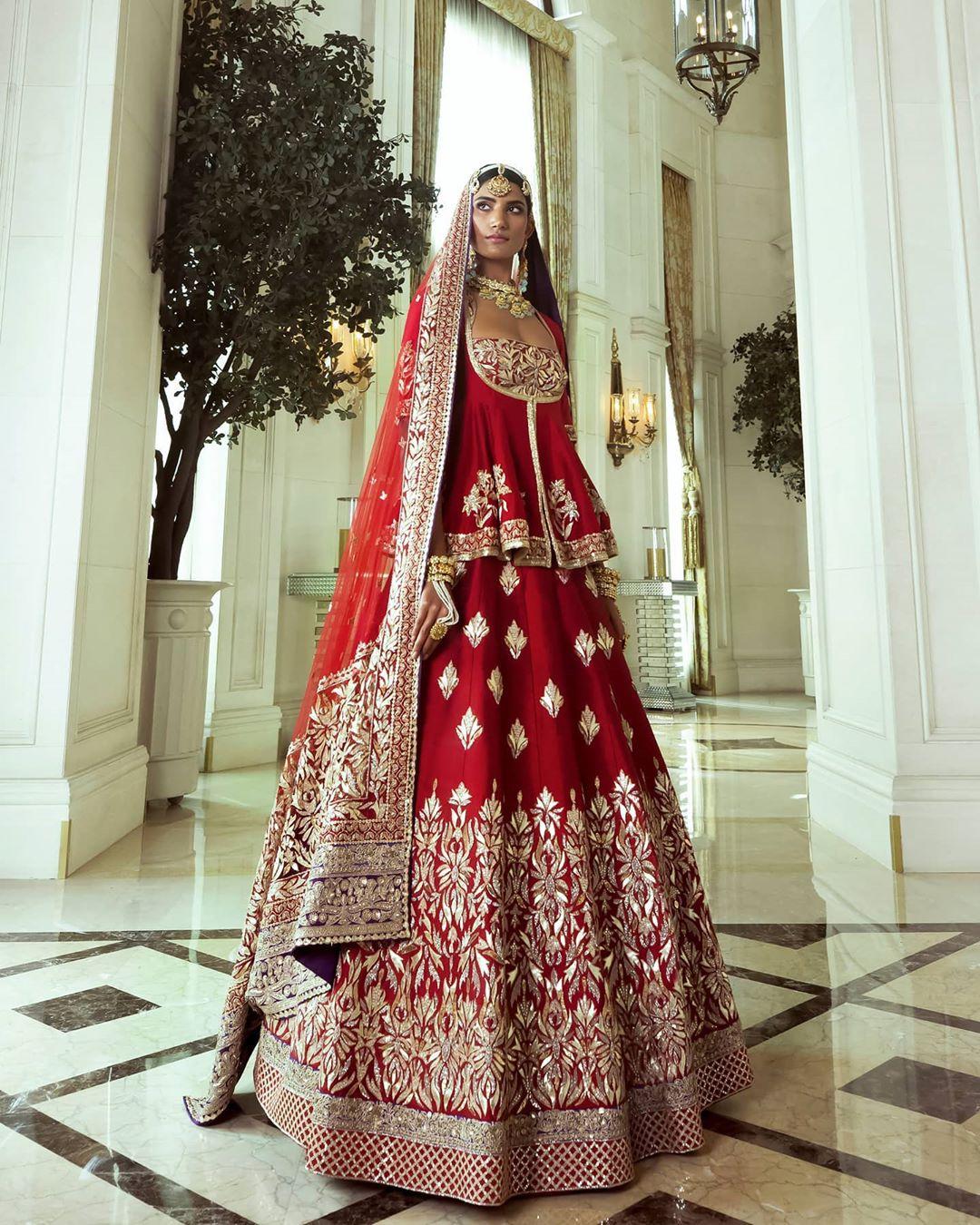 Image Credits - Manish Malhotra
We are crushing on this royal red lehenga from Manish Malhotra's collection. This timeless red lehenga from the collection - #Ruhaniyaat is showering some major oh-so-pretty vibes. The well embellished lehenga topped with golden embroidery is all you need to leave a mark of imperial and majestic vibes! And, The peplum blouse gets all the brownie points from us!
A Red Fairytale Lehenga Dream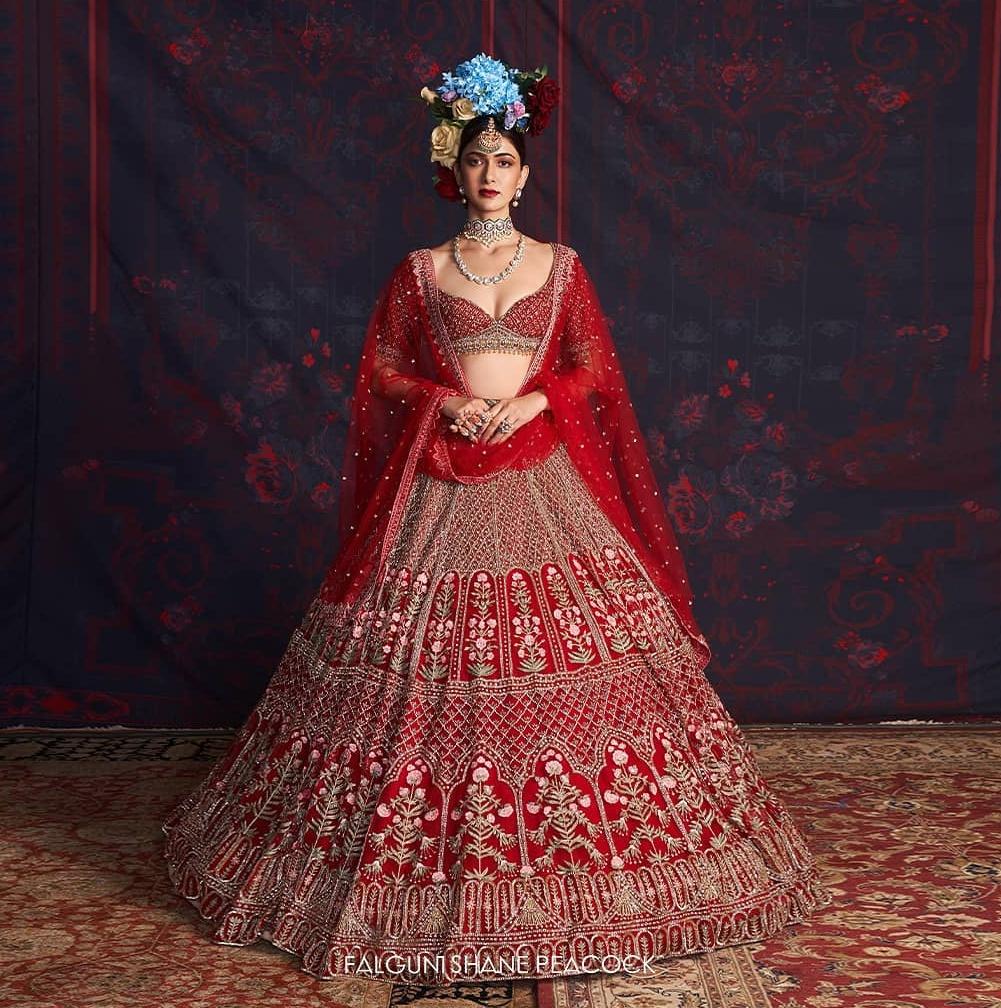 Image Credits - Falguni Shane Peacock
Red is the colour which can never go out of fashion. This lehenga from Falguni Shane Peacock's latest collection is magnificent for all the millennial brides. The golden embroidery on the lehenga capped with dainty stones, crystals, and foliage motif will accentuate the wedding look with allay. The fiery cropped corset blouse topped with a deep neckline has definitely set some major fashion goals! Are you ready to twirl the meaning of love in this alluring red lehenga?
When Classic Gold Meets Red Lehenga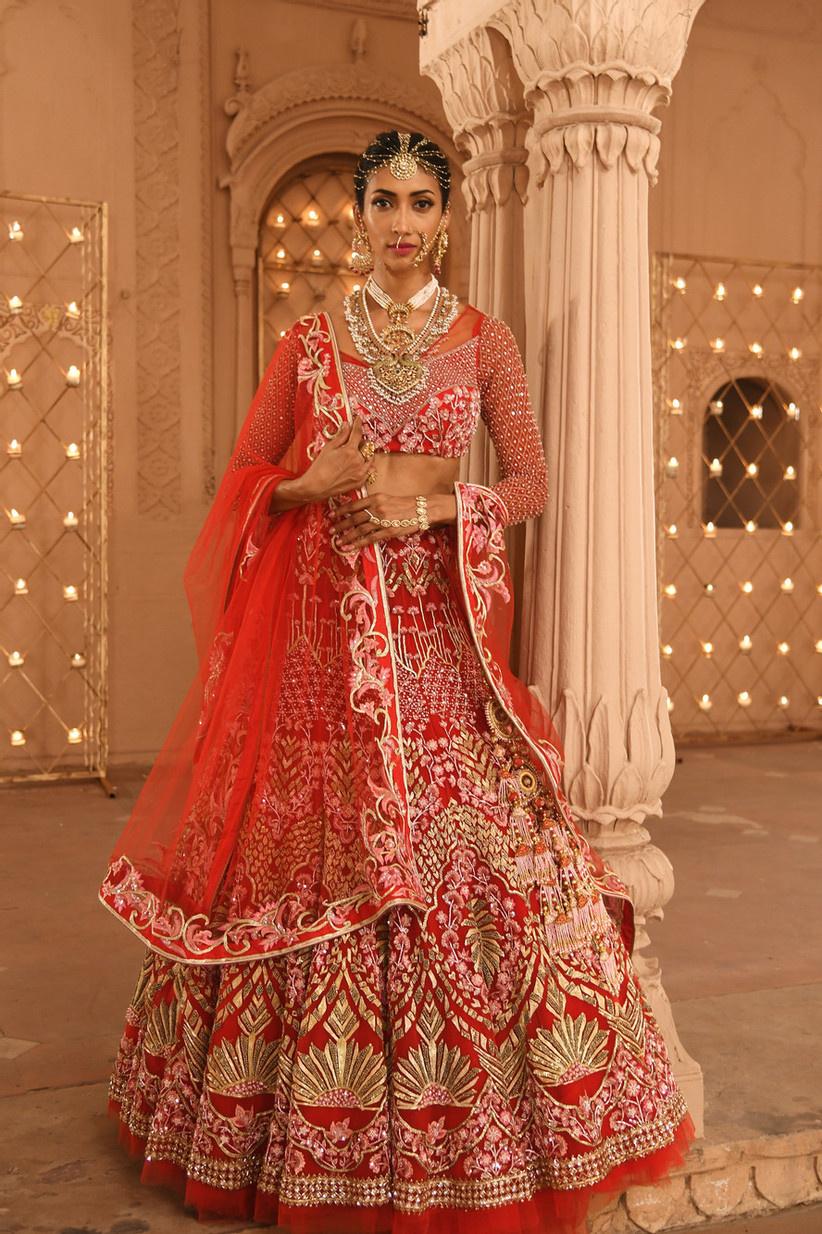 Enthralled much with this oh-so-gorgeous red lehenga? A masterpiece from Reynu Taandon's latest collection, this red lehenga is fulfils the outfit dreams of every bride-to-be! The splendid red lehenga embellished with gold sequins, dabka, and moti enhances the look of the outfit. The fine zardosi work adds a lustrous radiance to the lehenga. The marori works on the border of red lehenga and blends the base of glow and gleam soothingly. Be a red charmer on your D-day, while you make tonnes of gleeful memories with your loved ones!
Where There Is Regal There Is A Red Lehenga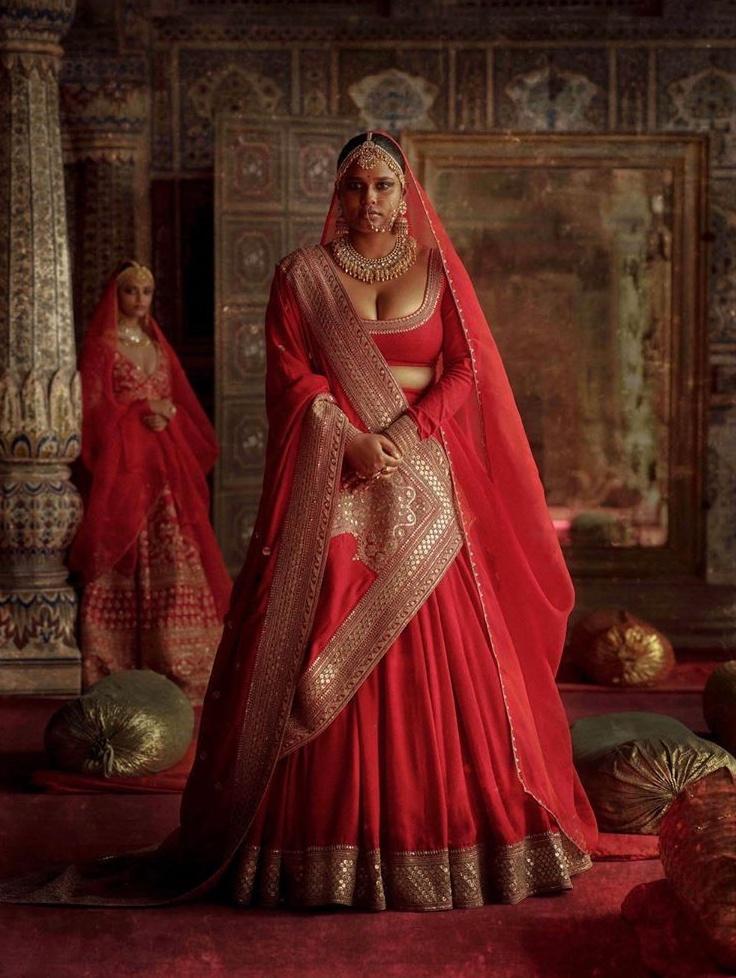 Image Credits: Sabyasachi
Who said red lehengas are ruling out of the boundary of fashion? This imperial red lehenga is shouting royalty from every corner of the embellishment. A fabulous combination of Sabyasachi red bridal lehenga with heritage jewellery is to swoon over. Nothing can beat the beauty of red and golden contrast. If you are looking for something classy yet elegant then this outfit is a perfect selection for your precious day.
When Silk Illuminates A Red Lehenga
Wish to dive in the vibe where 'Laal Dupatta' brushes over your better half? If yes, then this mesmerising red lehenga from the collection of Anita Dongre is a perfect pick for your D-day. This intricate silk lehenga in a stunning wine hue is adorned with gotta Patti, Dori, sequins, zardosi work and is a legitimate pick for your dreamy wedding. Hit the stage of love with an embellished scoop neck blouse design while you boost your happy vibe with allay.
The Brighter Side of Red Lehenga Designs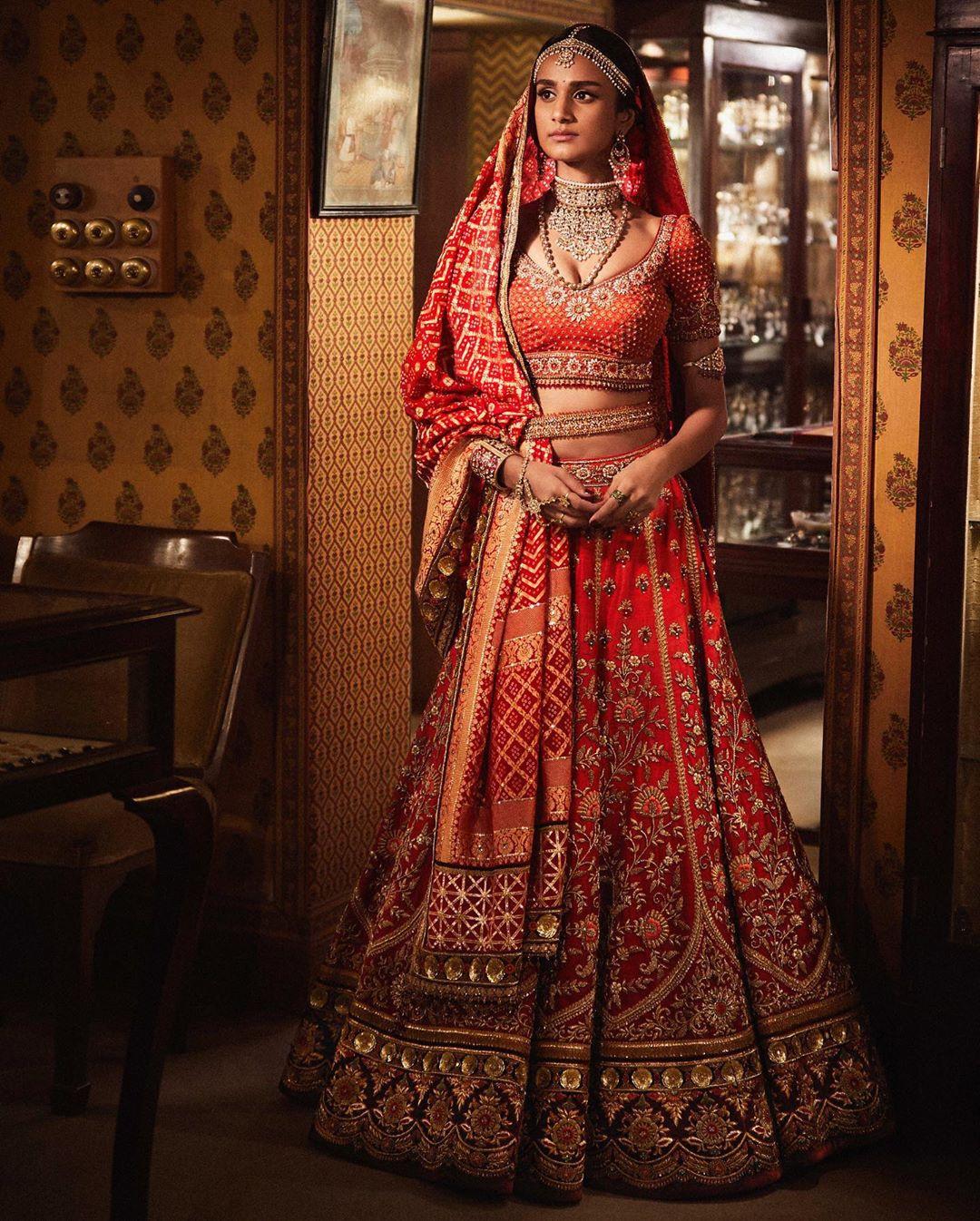 Ever wanted to flaunt your D-day by adding a fashion statement in your outfit? This belted heritage red lehenga from the collection of Tarun Tahiliani is an absolute pick for you. The zardosi work on this silk lehenga explodes the eminence with grace and the embellished belt just adds a cherry on the cake. Shed the shade of stress and glam up in this enthralling red lehenga you pretty bride-to-be!
When Red Lehenga is All About Glimmer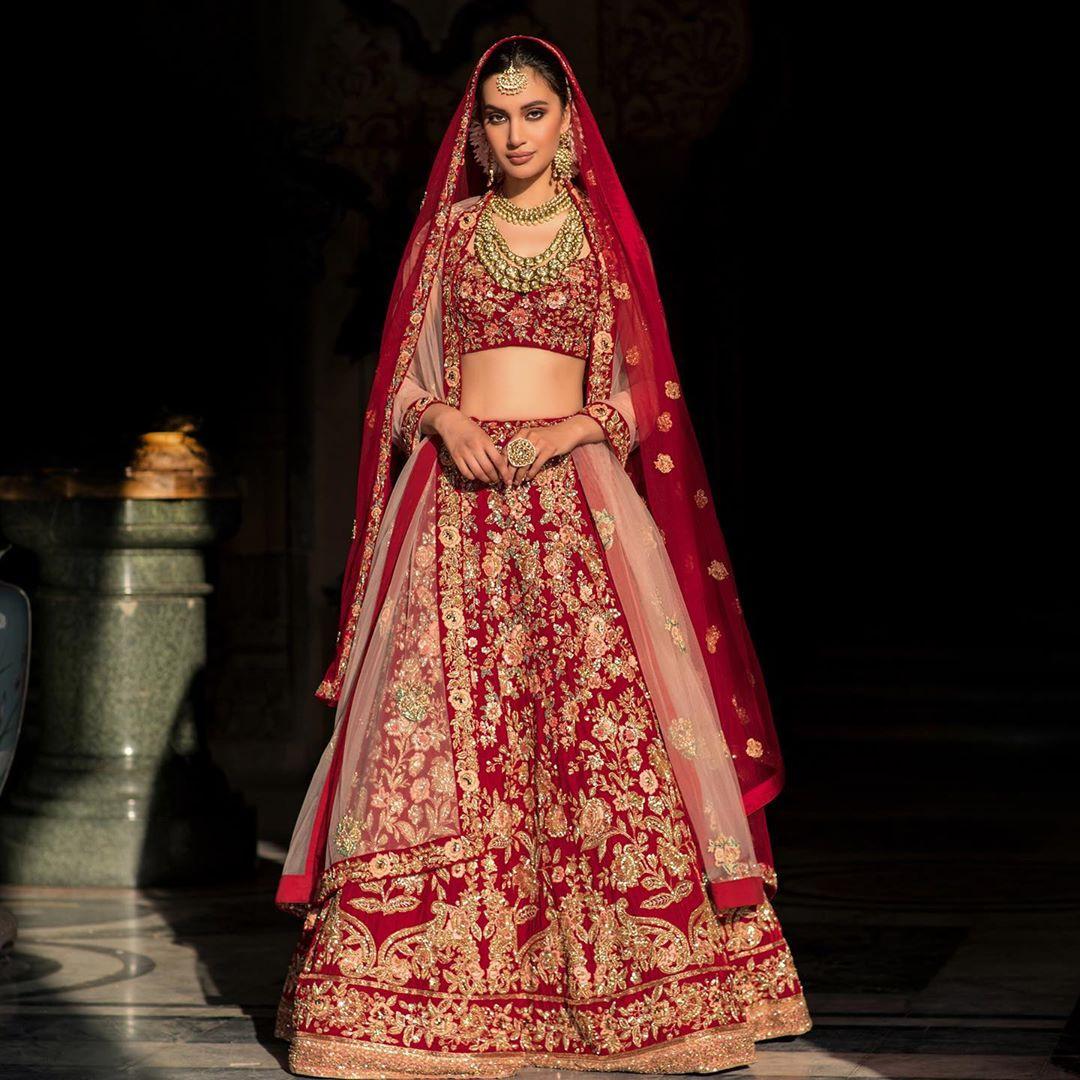 Honestly, this red lehenga is going to dwell your souls into a goddess. From stirring sequence to embellished zardozi work, this red velvet lehenga is topped with allure and enchanting bliss. Speculative much on who designed it? Of course, the skilful Shyamal & Bhumika. This heritage bridal outfit is going to cap you with oh-so Maharani vibes!
Red Lehenga Design drenched in Culture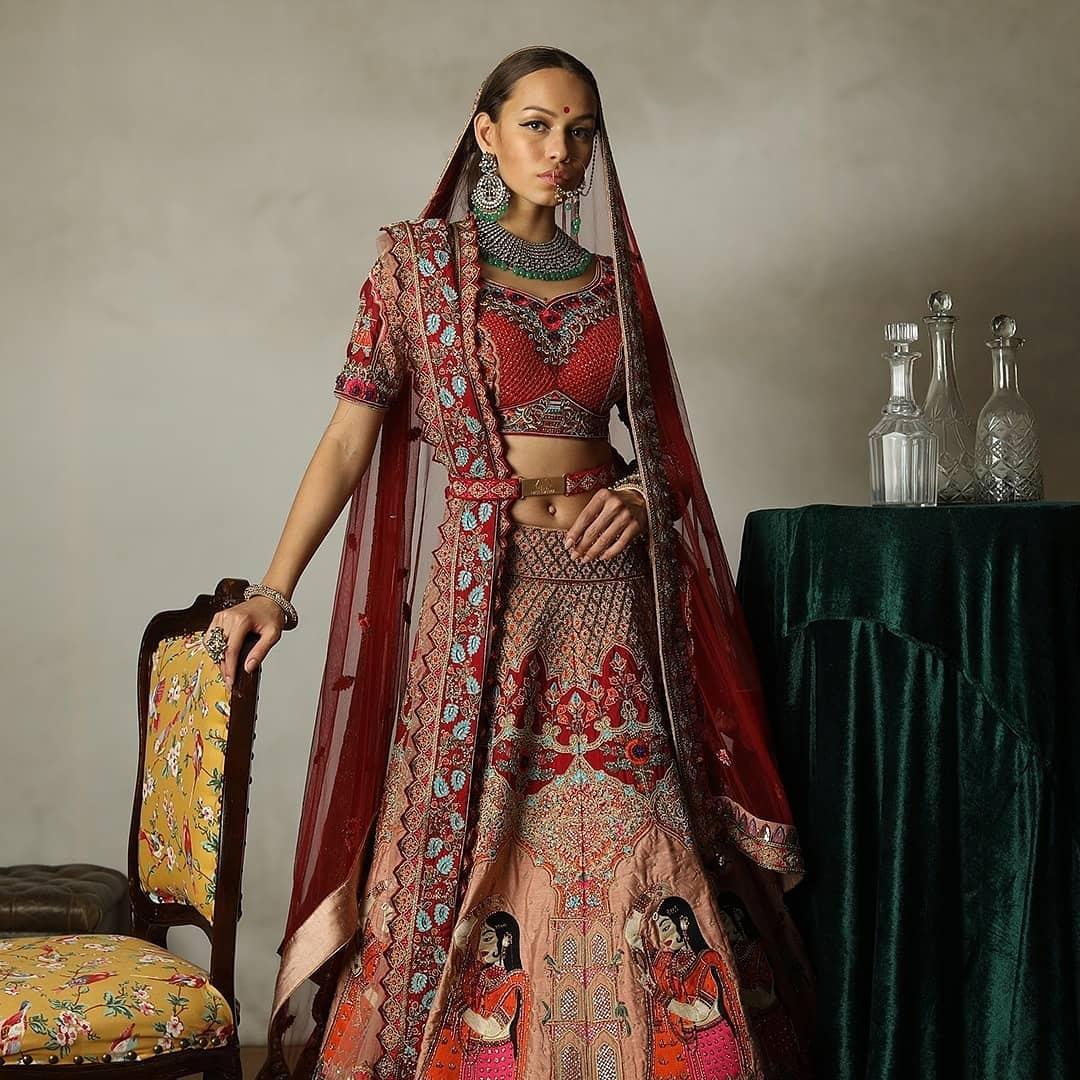 We know red is the colour of queenship and virtue. If you are that bride who loves to imbibe cultural feelings in every aspect then this opulent red lehenga is an exemplary choice for you. The peculiar embroidered work clearly explains how a woman loves to perform the 'Shringar' on her priceless day. If you wish to elevate the legacy of your family then this beautiful lehenga from Lalit Dalmia Couture is going to set the stage on boons.
When Red Adds a Drop Of Glee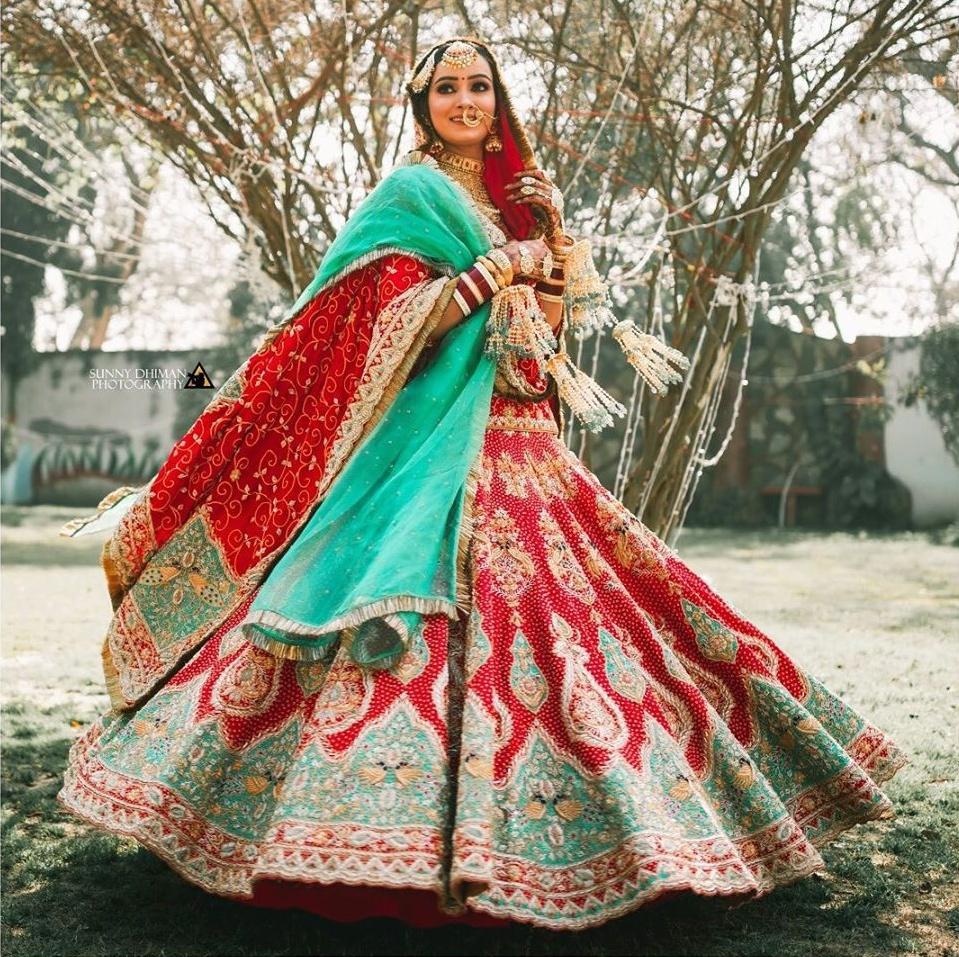 When red is your wedding colour but you wish to add a hint of mint, this lehenga comes to your rescue. This handcrafted lehenga from the collection of Akriti by Ritika & Shakun is going to fulfil all your wedding outfit dreams. A dual shade lehenga always makes a bride look divine and magnificent. Bloom the ambience of your wedding with this ethereal red lehenga while you make joyful memories with your loved ones.
Enchanted much with these red lehenga designs? Make way for red on your D-day, while you prick the bubble of new beginnings with full prosperity and blessings.
Fill up your bridal wardrobe with a mesmerising red lehenga and don't forget to widen your bright smile when you wear the astounding outfit.
Which red lehenga did you fall in love with? Share your thoughts in the comment below!