Best Lehenga Designs to Pick & Flaunt on Your Mehendi Ceremony
If you are looking for some of the best lehenga designs for your sangeet-mehndi function, you must take a look at these to make your wedding album fantastic!
Indian weddings and lehengas go hand in hand. Be it your Haldi ceremony, Mehndi ceremony or even sangeet ceremony, lehengas are an integral part of your bridal wardrobe. This staple outfit is in fashion for a reason! You can flaunt your curves gracefully and give your confidence a much-needed boost with a pretty lehenga.
Are you searching for the best lehenga designs for your Mehndi ceremony or wedding ceremony? If yes, then take a look at the 9 prettiest and best lehenga designs that I have compiled for you. If no, then still glance at it as you may get ideas for your extraordinary ensemble!
Fuschia Embroidered Lehenga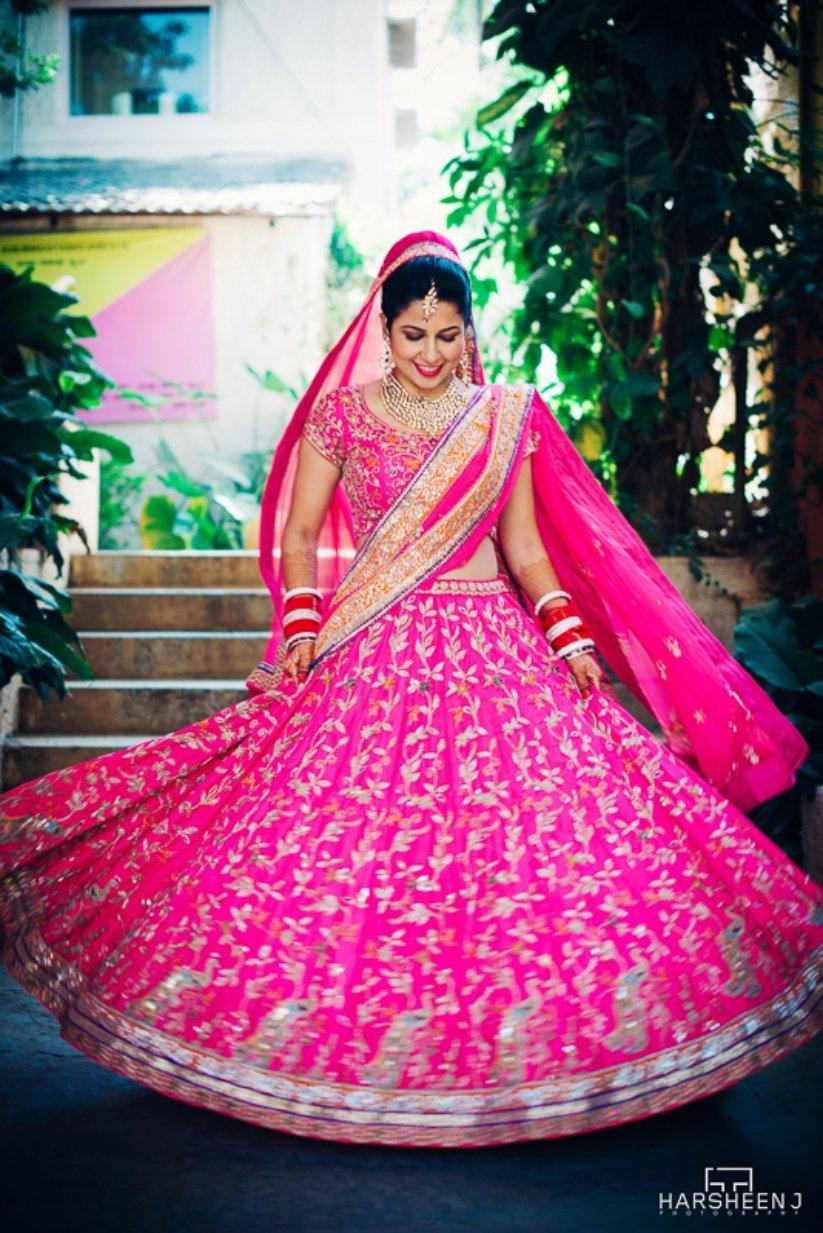 Lehengas can be of several kinds of fabrics, but it must have one quality - flow! The thing that makes lehengas utterly gorgeous is its flow. This bride in her fuschia lehenga teamed with turquoise blouse has stolen hearts. This is one of the best lehenga designs as it goes pretty much with any blouse, top you wish to pair it with.
Oh-so-pastel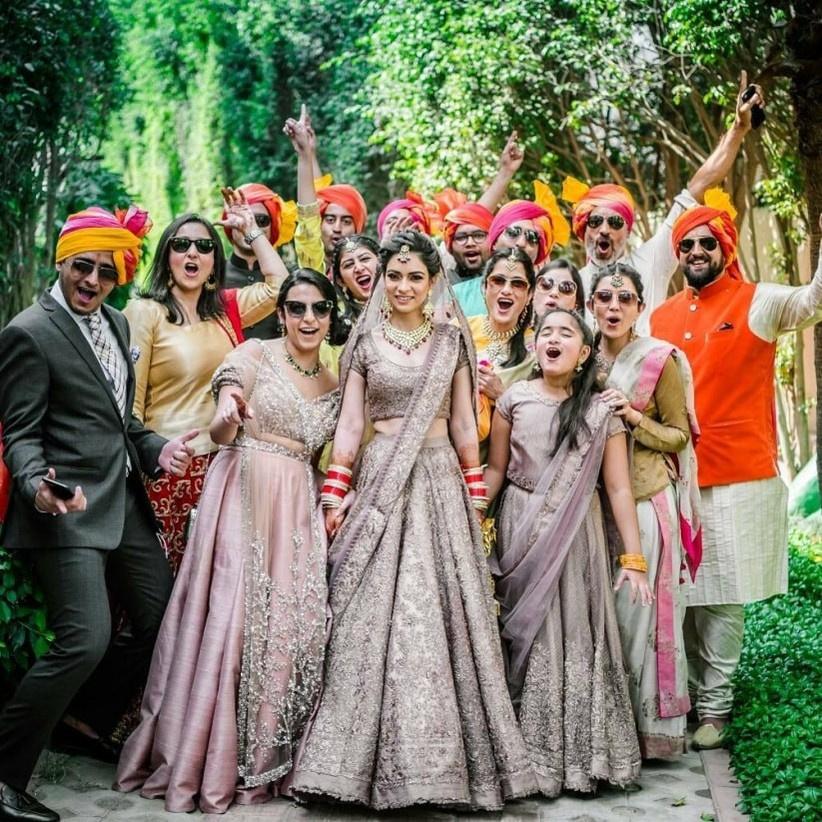 Image Courtesy: Snapsoul
This bride's pretty pastel lehenga is one of our favourites. Remember DeepVeer's wedding? It was a pastel affair! Right from Mehendi to even the reception, most outfits of the bride, as well as the bridesmaid, were various shades of pastel. If you are all about following the latest fashion trends, then this can be your best bet.
Silky shine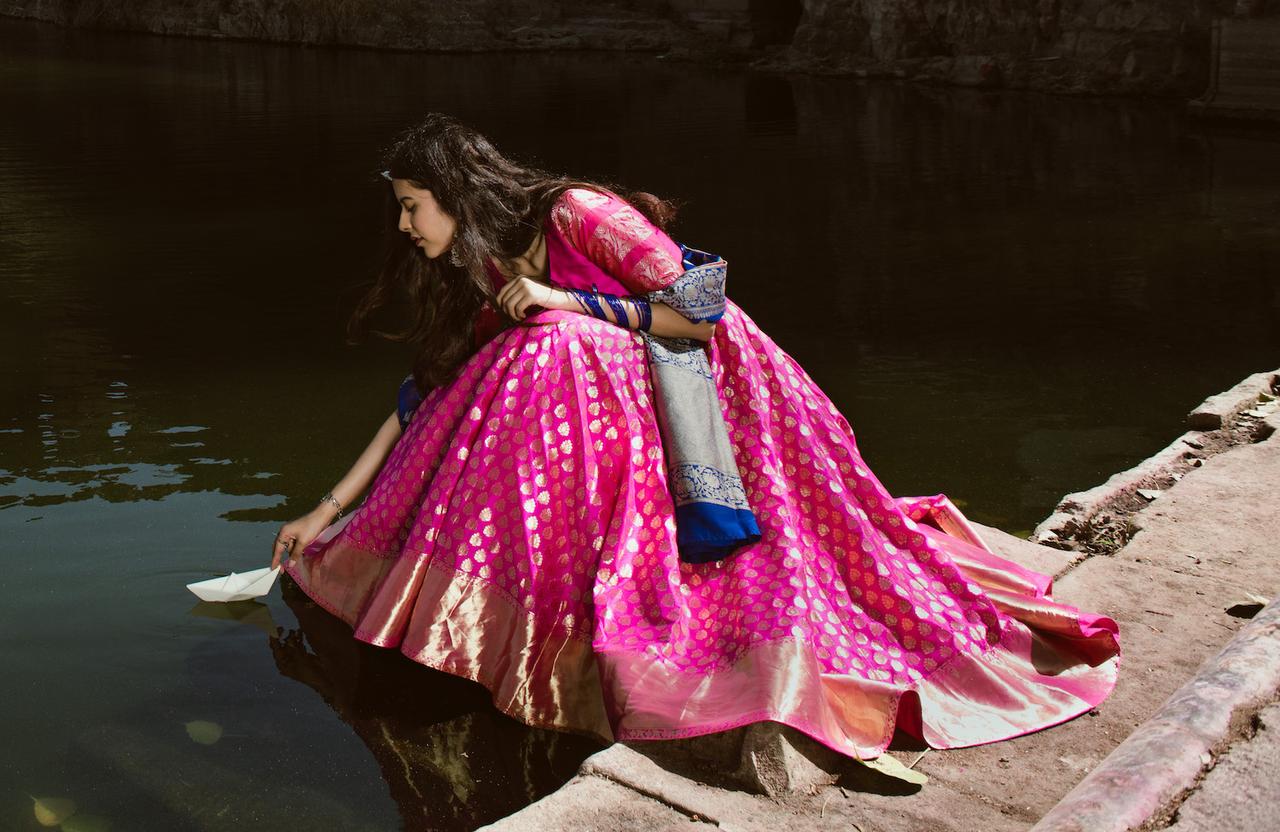 We adore how this bride is rocking at her Mehendi ceremony in just a simplistic silk lehenga. Of the best lehenga designs, the one with minimalist look is a great option for those who prefer simplicity. This silk lehenga has a subtle shine and is enough to grab eyeballs in your direction without being too flashy. This bride has teamed it up with a contrasting saffron blouse and an Odhni with beautiful embroidery, which is just perfect.
Say yes to Yellow
This bride in her yellow lehenga with beautiful embroidery has set a perfect example of the best lehenga designs. Notice how her lehenga is simplistic yet ravishing. She has teamed it up with a heavily embroidered blouse and lots of lovely accessories. The stunning statement floral tiara is enough to add the oomph factor to her overall appearance.
Peach is plush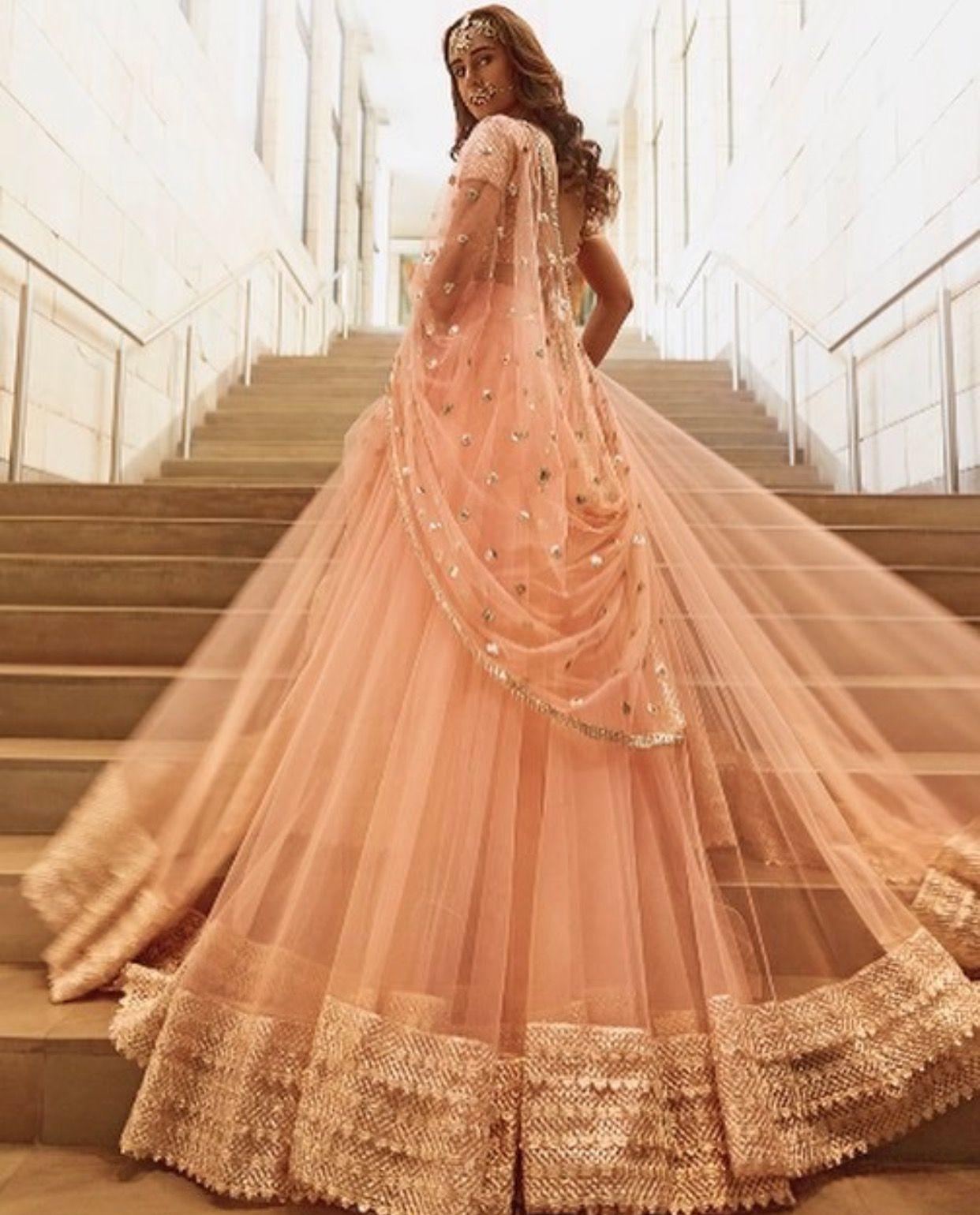 Image Courtesy: Pinterest
The peach and pastel ensemble of this bride reminds me of a princess from a royal dynasty! The colour of this bride's lehenga is exquisite and majestic. This is one of the best lehenga designs you can opt for your Mehendi ceremony! A closer look would let you admire how beautifully this bride has teamed her lehenga with dazzling diamond and emerald jewellery.
Make a statement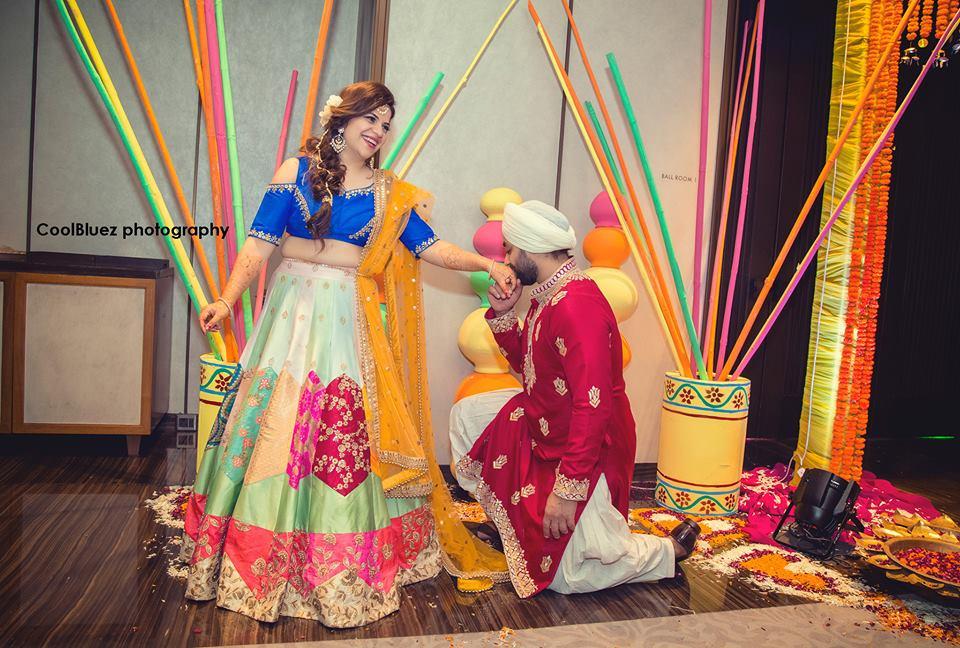 Stunning yet subtly charming, this bride in her brocade lehenga is making a statement. If you're all about making a difference and standing apart from the usual crowd, then this bride's lehenga can be your inspiration. Brocade lehengas are one of the best lehenga designs because the fabric itself is enough to create a buzz. Additionally, it isn't as heavy as it looks!
Flaunt with a flow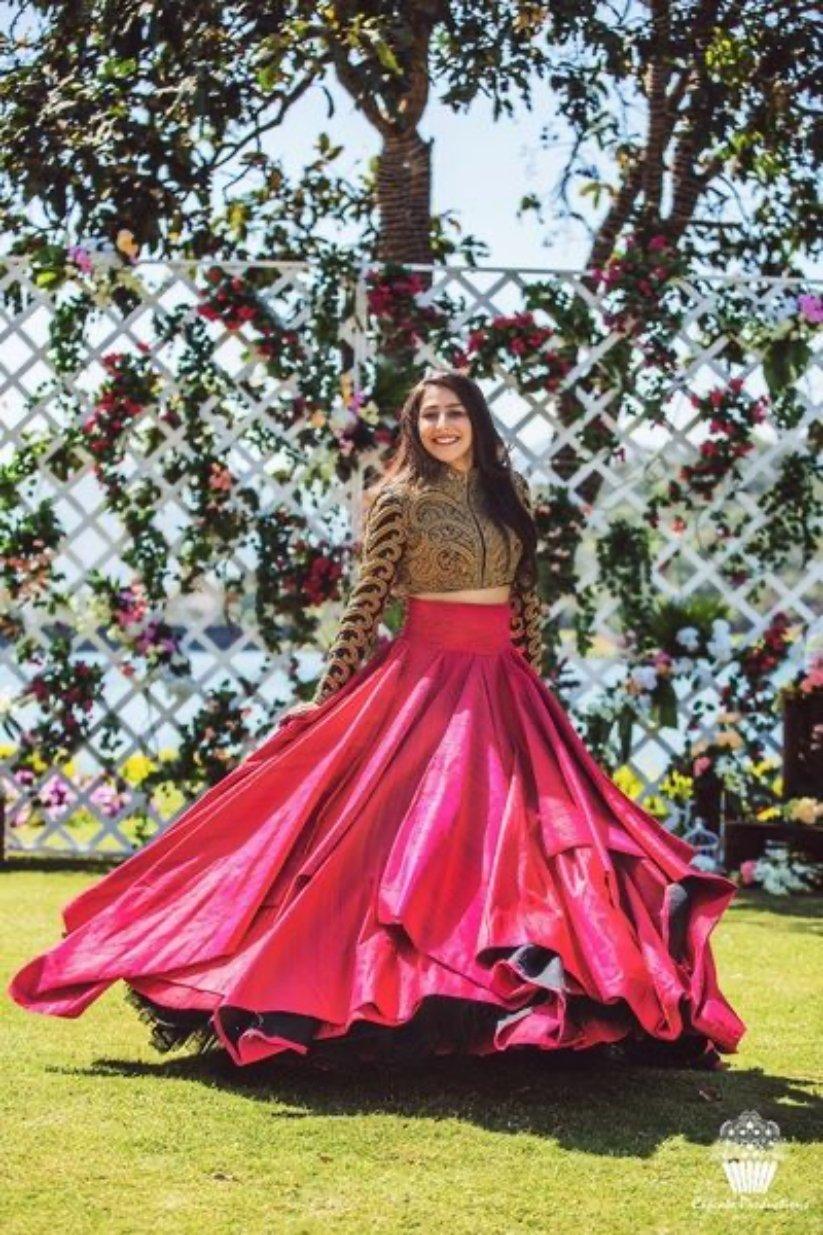 Unarguably, one of the best lehenga designs is a frilly lehenga which can easily be flaunted. Are you a picture crazy bride who wants each moment of her special day to be captured? Then this bride's simple yet stunning lehenga can be your inspiration. A flowy lehenga is sure to give you a lot of opportunities for pretty poses. So get ready to flaunt with a flow!
Majestic Monochrome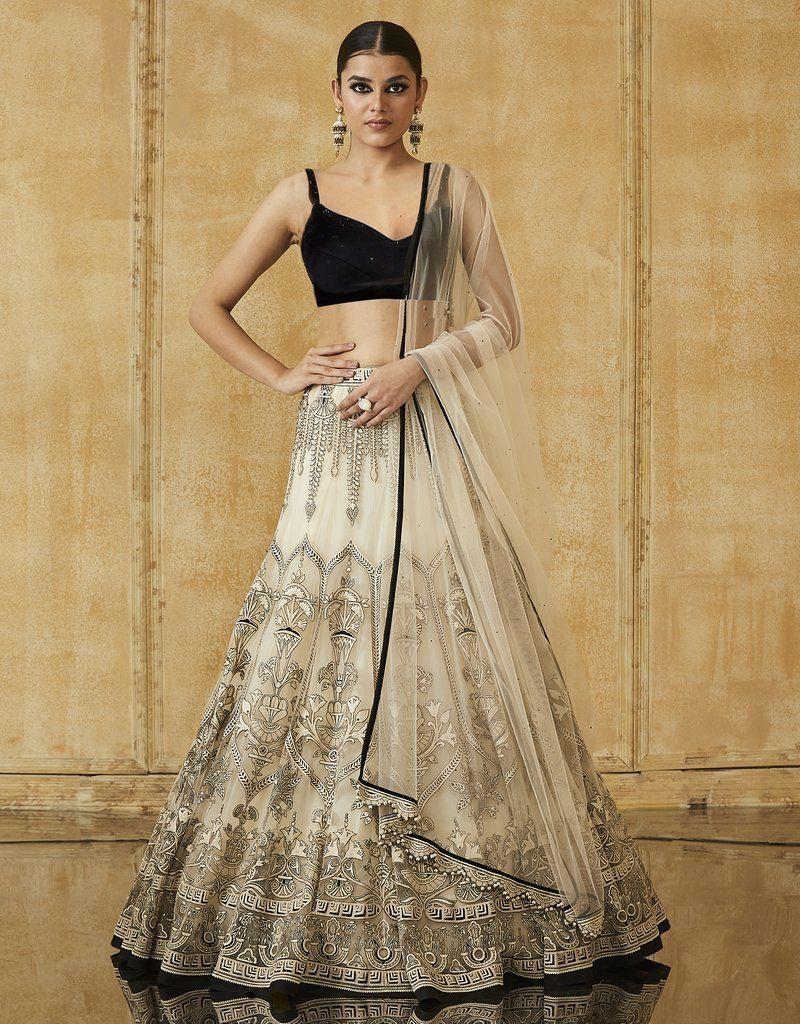 This bride's monochrome ensemble is sure to win hearts and make people fall for its sheer charm. With pretty floral embroidery, this is one of the best lehenga designs to go for. The pastel shade of this bride's outfit took me to another world of beauty. As the lehenga is paired up with perfectly matching jewellery, it makes this bride's overall appearance regal! The groom's matching coat is incredible. Speak of couple goals!
Dazzling Duochrome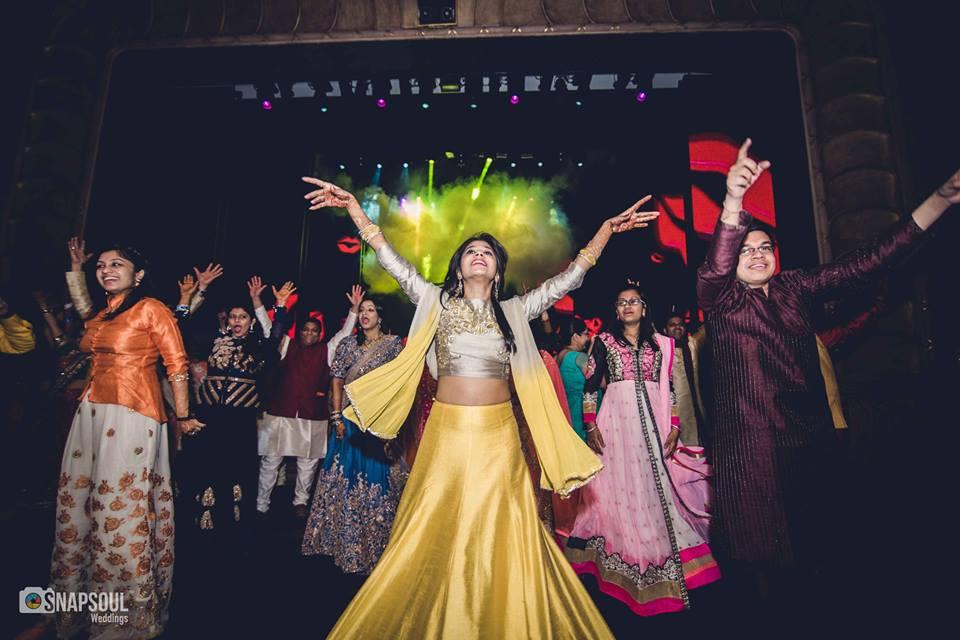 Image Courtesy: Snapsoul
Simply mind-blowing is all I can say when I look at this bride's duo-chrome ensemble. A yellowish lehenga topped with a pastel blouse and duo-chrome stole is enough to give you the attention that you need on your Mehendi ceremony.
If you're looking for the best lehenga designs for your Mehendi ceremony, then go for something lightweight, cool, trendy, easy-to-carry, and comfortable-to-wear! You can keep those heavily-embroidered and ravishing red lehengas for your wedding ceremony. The Mehendi ceremony can be messy at best, so you wouldn't want to carry a heavyweight lehenga and spoil your Mehendi design.
Moreover, make your Mehendi ceremony all about you! Remember that you'd be the centre of attraction and you must shine bright like a star. Choose a colour that is not only your favourite but the one which also suits your skin tone. A lehenga can bring the best out of you, but only when chosen with care and carried with confidence!
Which of these lehenga designs did you like? Which lehenga will you opt for?