50+ Latest Blouse Neck Designs To Inspire Your Festive & Wedding Wardrobe
Find our edit that comprises a wide variety of blouse neck designs for your festive and wedding wardrobe. From simple blouse neck styles for sarees and lehengas to the latest and trendiest blouse neck designs, we have covered it all!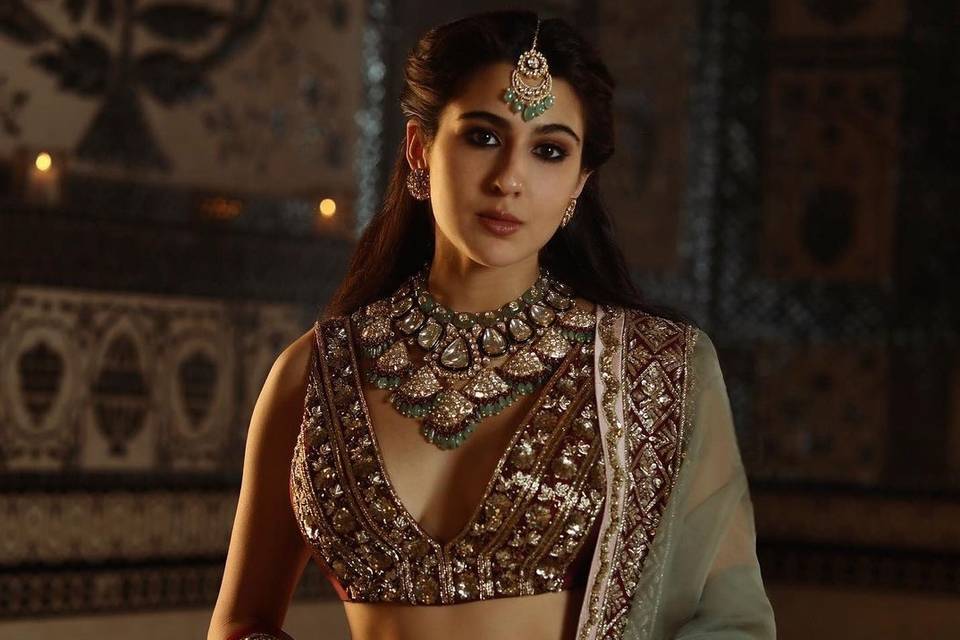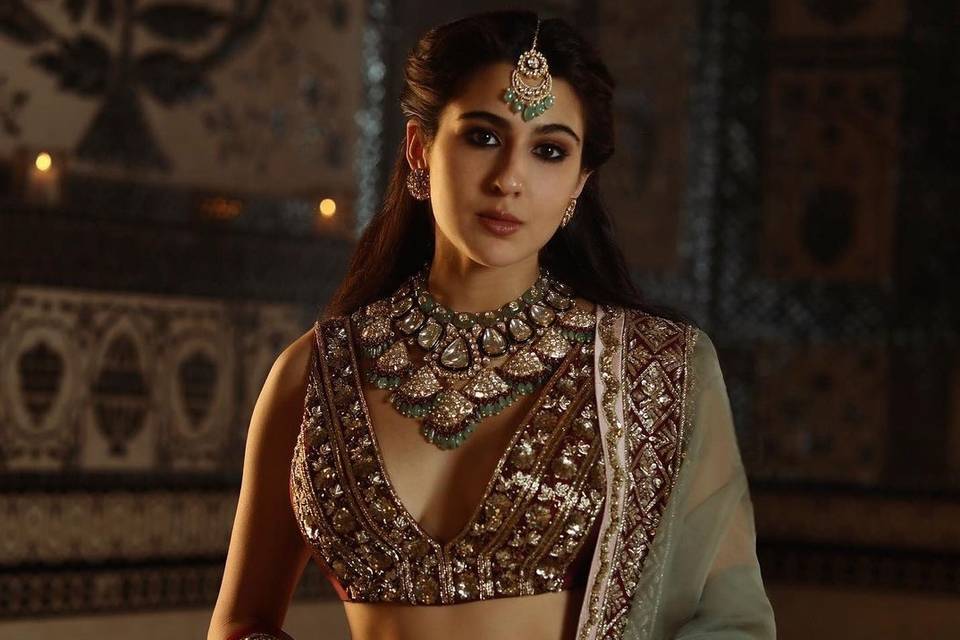 Image Credits - Manish Malhotra
The neck design you choose for your saree or lehenga blouse can make or break the whole look for you! While simple blouse neck designs score well on comfort, trendy and stylish latest blouse neck designs scores equally on style! What if we could help you strike a perfect balance with both? Find our favourite edit of top blouse neck designs for the fashion-forward divas of today!
Simple Blouse Neck Designs
Zero Neck Blouse Designs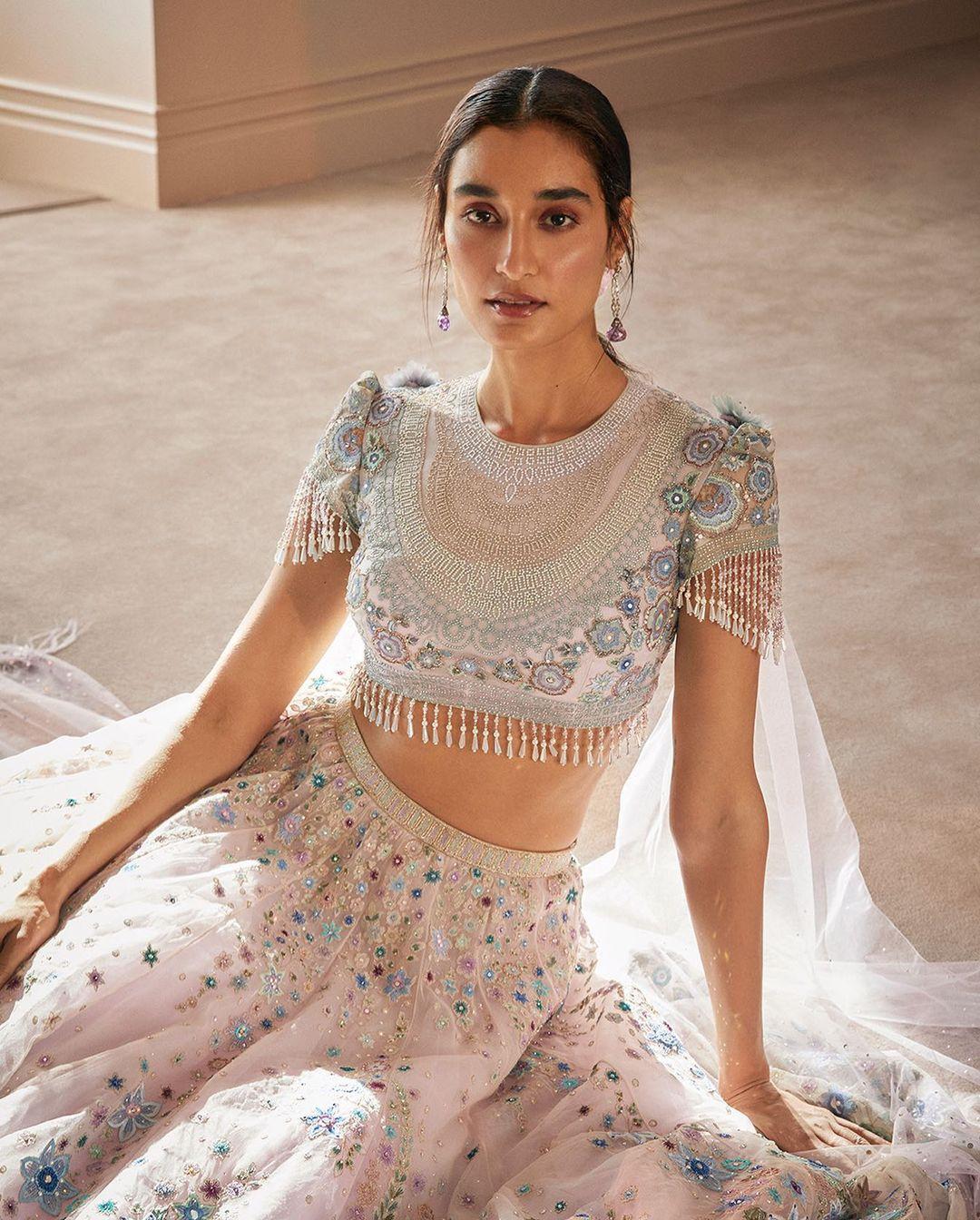 A round neck tulle blouse embroidery design with resham and badla and brought to perfection with an encrusted crystal neckline. Tulle draped wings with crystals border the blouse design with utmost perfection! These ones directly come from the sartorial heaven for our elegant and classic brides.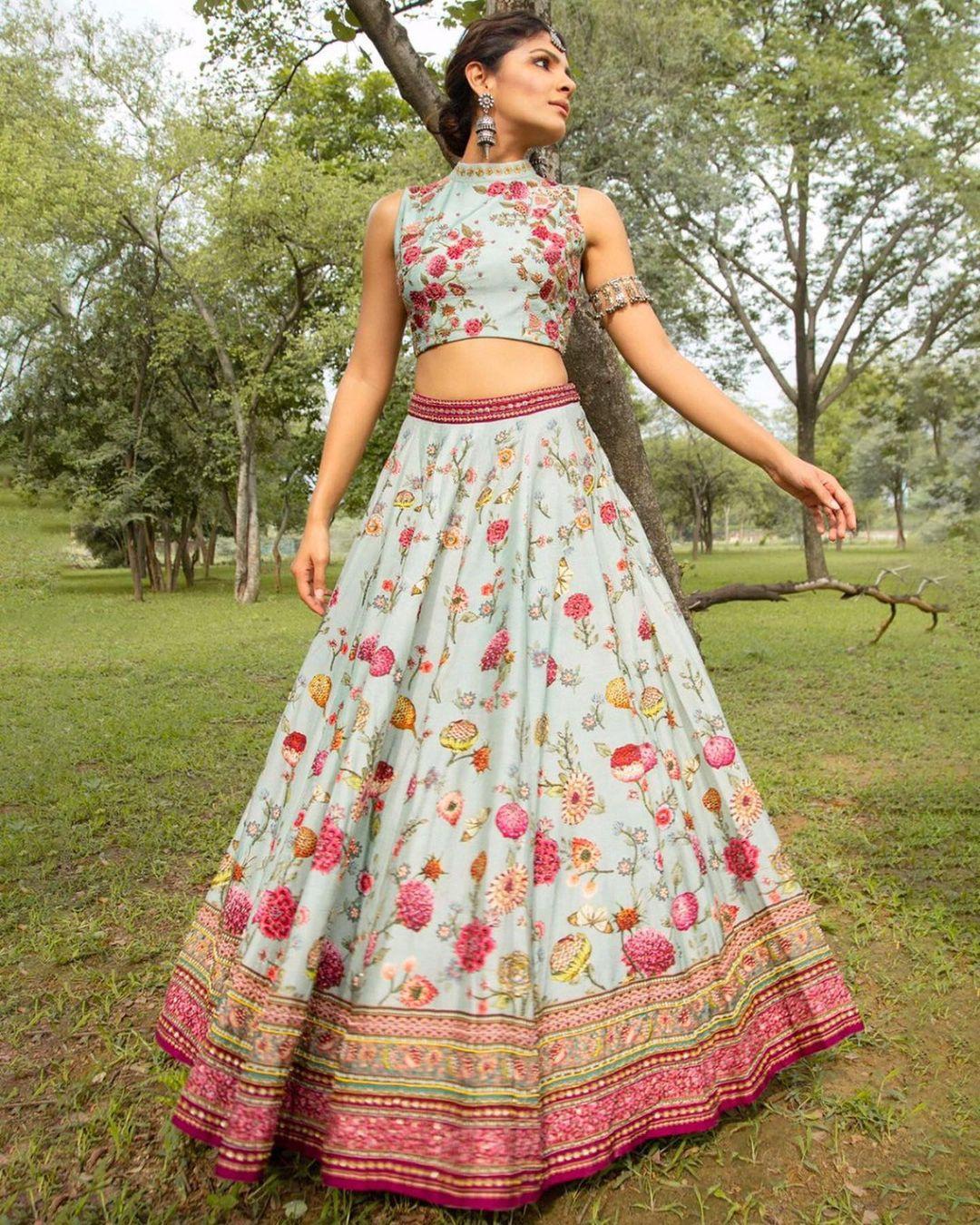 Image Credits - Aza Fashion
A zero-neck blouse design screams classy like no other, and is also one of the simplest picks for the millennials! Zero necks look amazing in a full-sleeve blouse cut and can be a perfect pick as a silk saree blouse design. Zero neck blouse designs can also be paired with lehengas and traditional long skirts to add a modern yet classy edge to the overall look.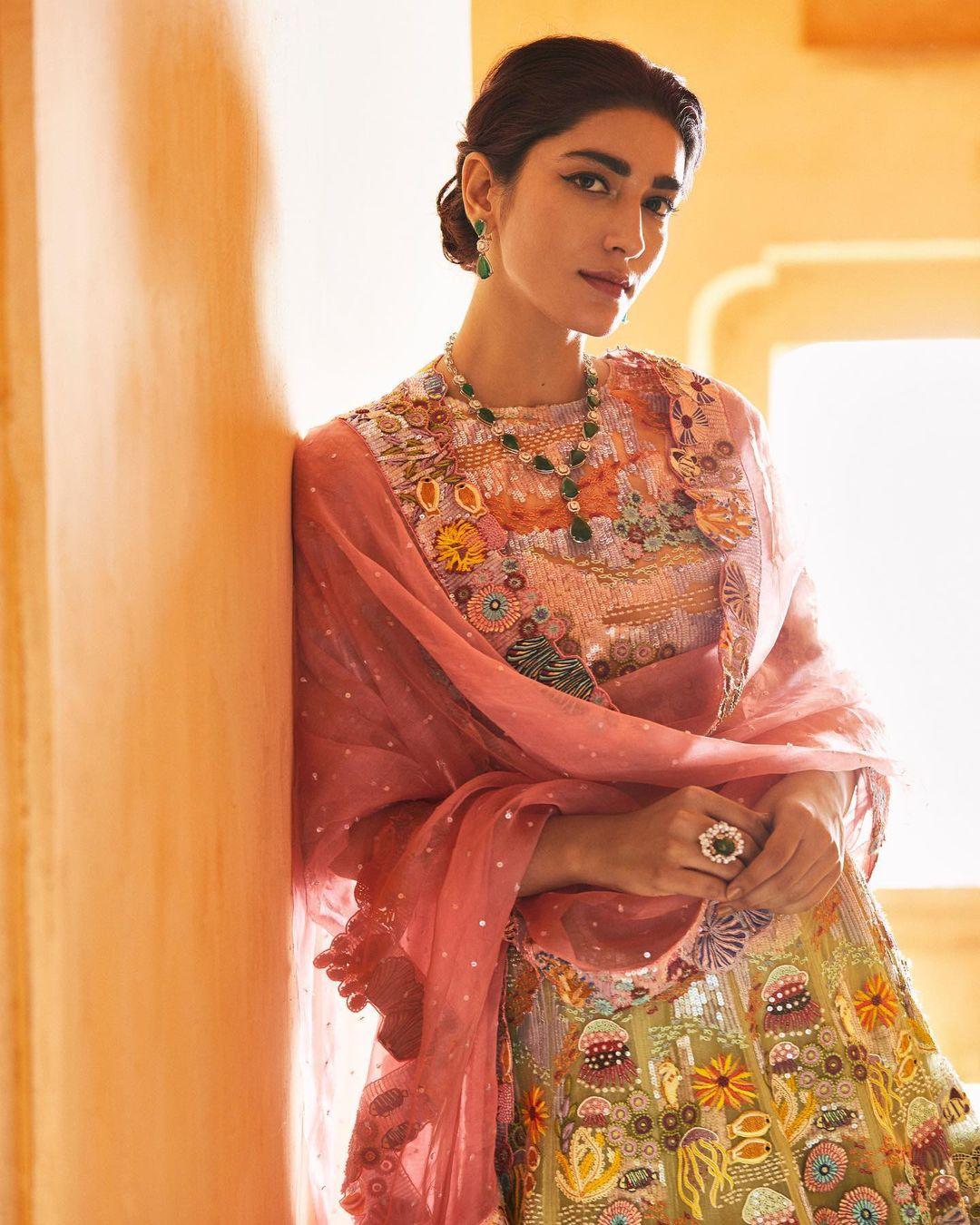 Image Credits - Rahul Mishra
Receptions are glamour-struck events and brides prefer opting for a semi-western look like skirts with blouses, gowns etc. The trend is the same but they have changed their style by adorning zero neck blouse designs on their reception day. So, here are some swooning zero-neck designs for your reception day. Take a look! These designs above are setting some serious goals for all the brides.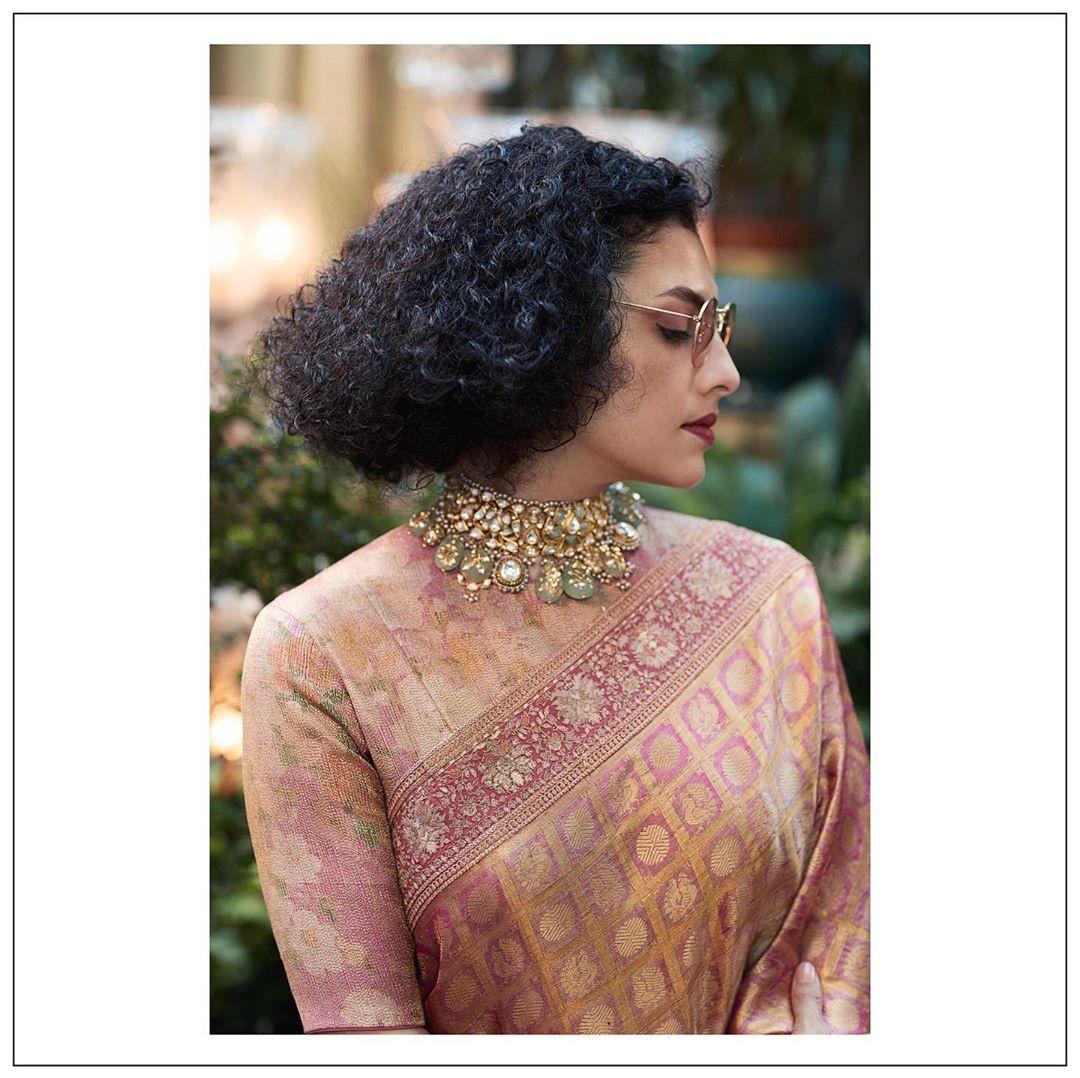 Image Credits - Sabyasachi
A royal dinner demands a royal dress and a royal does not mean to engulf in a luxurious dress or in a heavy outfit. Sometimes royal denotes the rich look you exude while walking with confidence or while talking with confidence. Here are zero-neck blouse designs that are syncing so well with sarees. Look at this bride – who carries the design with so much charm and self-confidence.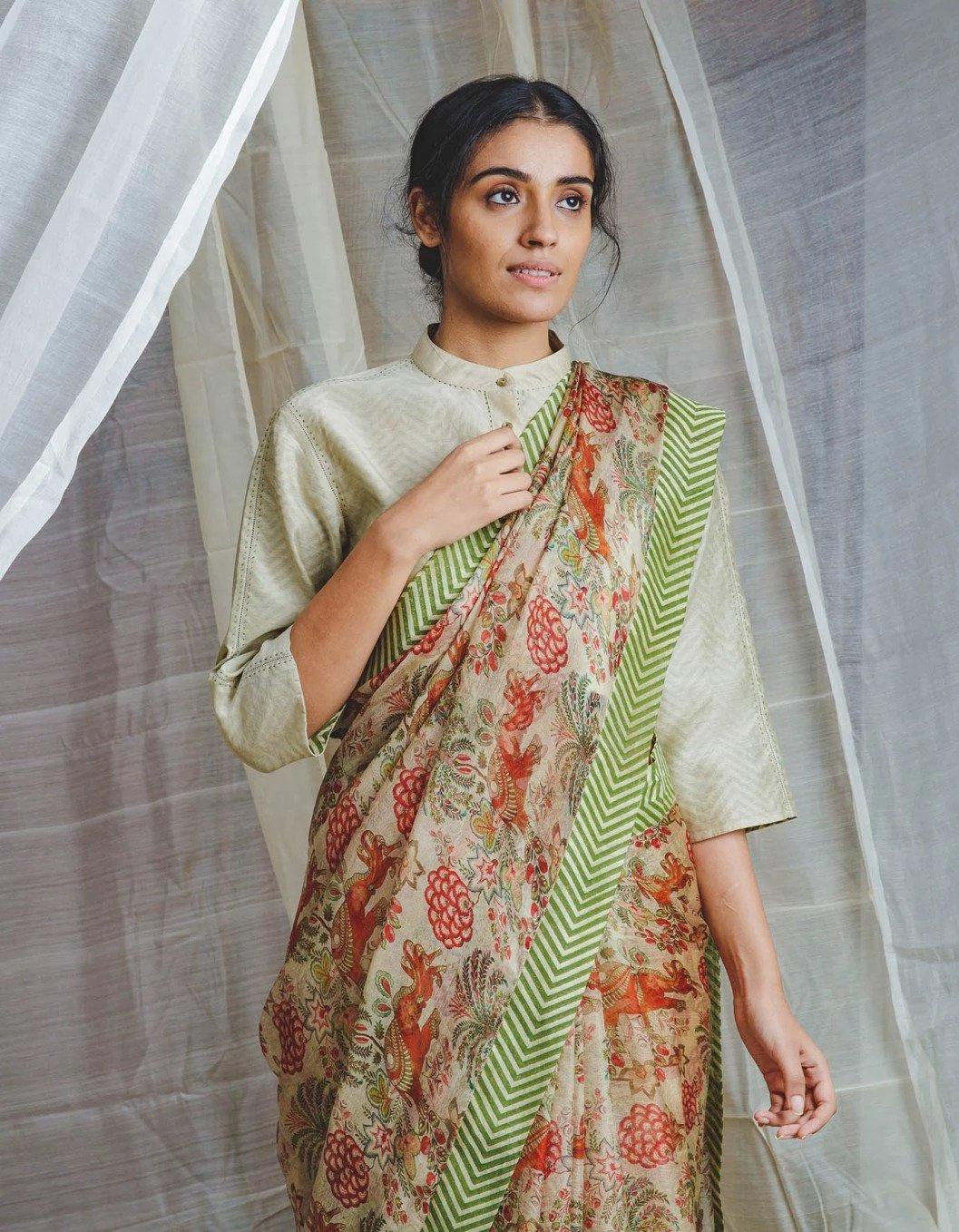 Image Courtesy: Torani Official
The prints of saree blouse designs that they use are a mix of both traditional prints of India and modern shapes and motifs that are in trend currently. You can expect to find saree blouse styles on Ajio that have a tribal touch to them with hand-blocked prints that go very well on every occasion. We love the mandarin collar blouses that are listed on Ajio and our experts recommend them for a sophisticated saree blouse duo with a pair of stud earrings.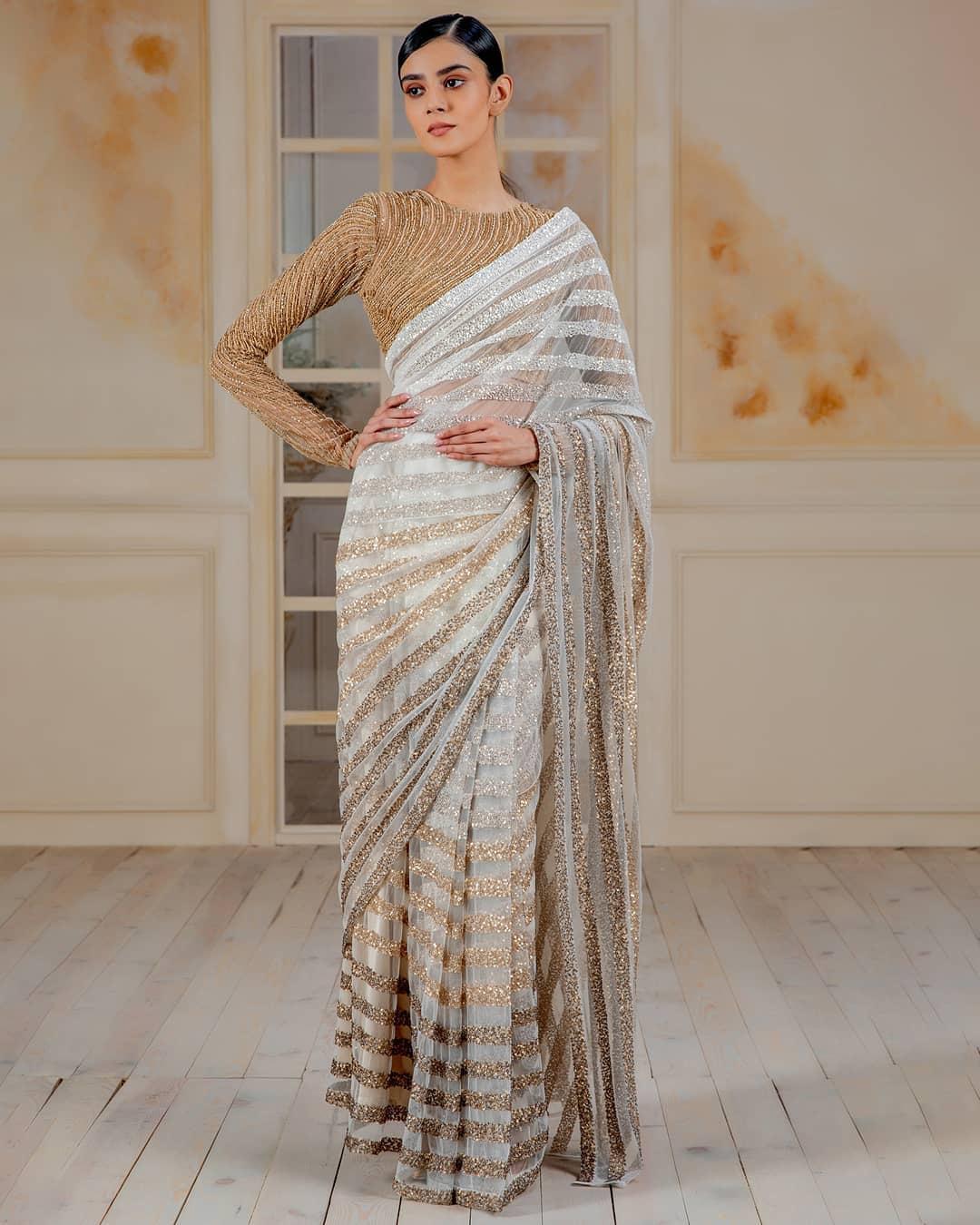 Image Credits - Pernia's Pop Up Shop
You have a body where your waist is slightly more proportionally horizontal than your bust and your bottom, away from a little broader than your shoulders then this full sleeves golden blouse design shall make you look overall proportionate. Classy, graceful, and amazing, this golden blouse design will steal many glances.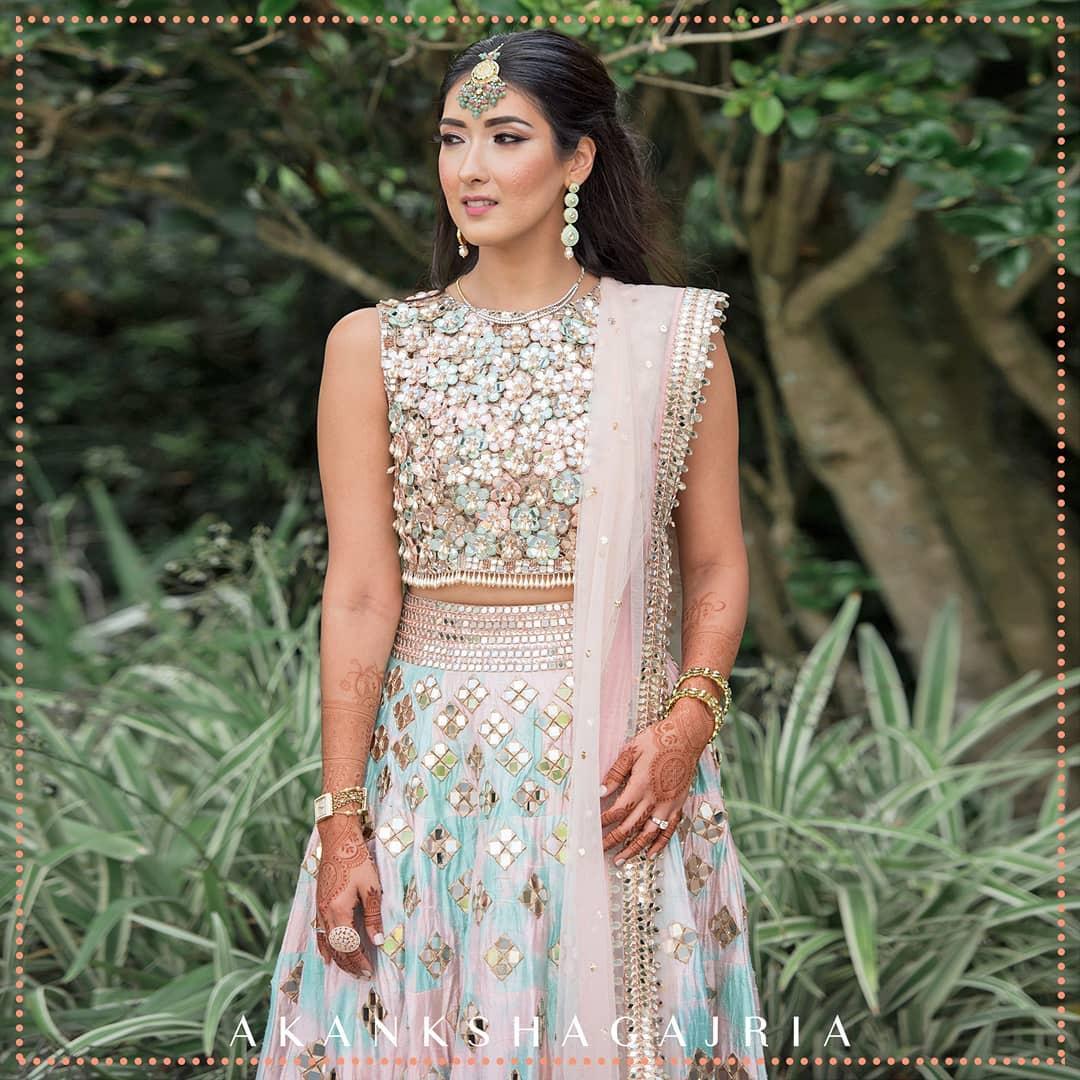 Image Courtesy - Akanksha Gajria
Pastel lehengas are everyone's current favourite! This extremely fresh peach and aqua tie and dye mirror work blouse design is a perfect ensemble for your wedding day.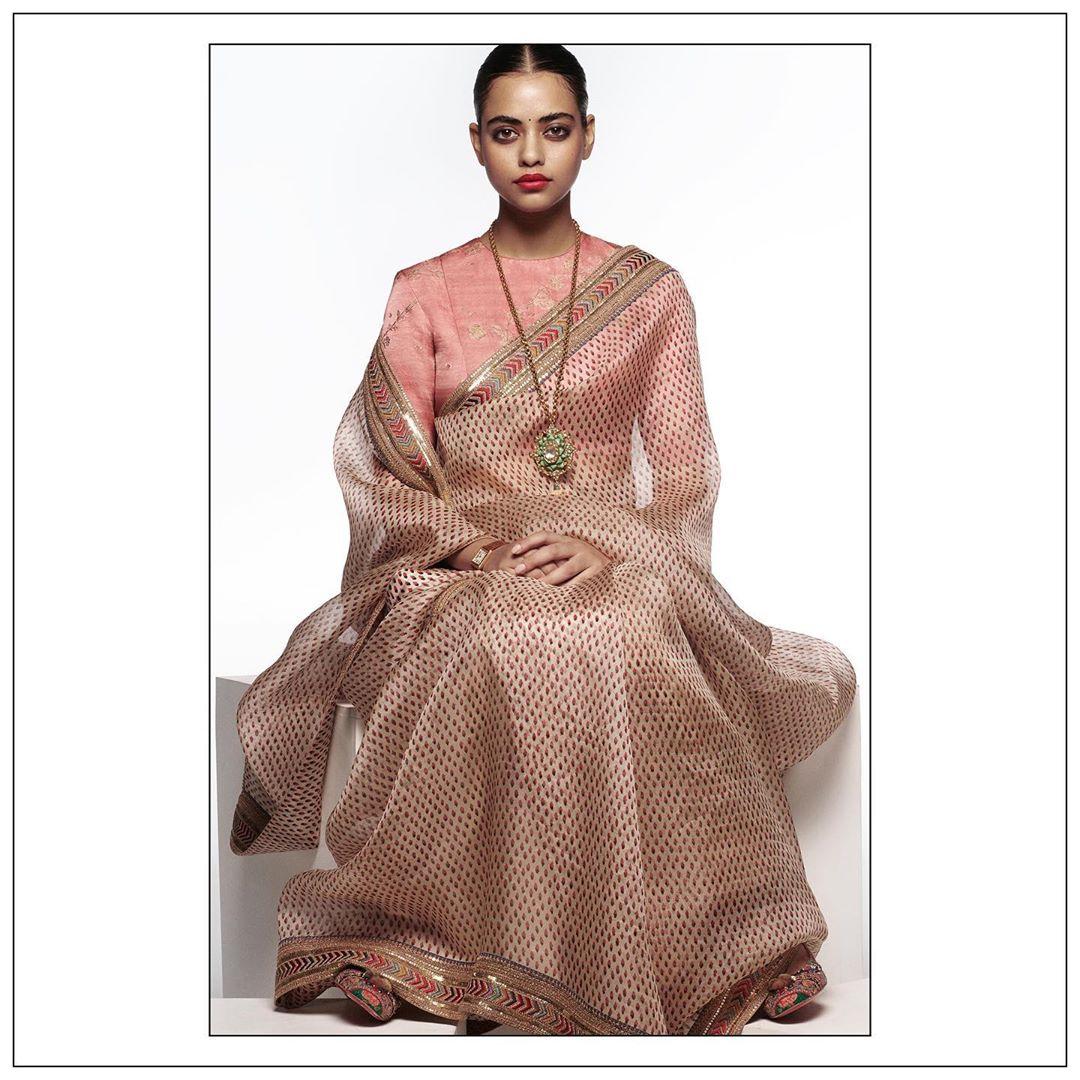 Image Courtesy - Sabyasachi Official
Your nuptial fashion statement can serve up the best of both worlds, with a traditional lehenga and blouse design on your wedding day and the latest stylish blouse design paired with an eclectic lehenga or saree on your reception. If you are looking for inspirations to draw from your traditional roots and revamp your look, these blouse design images can ease your dilemma.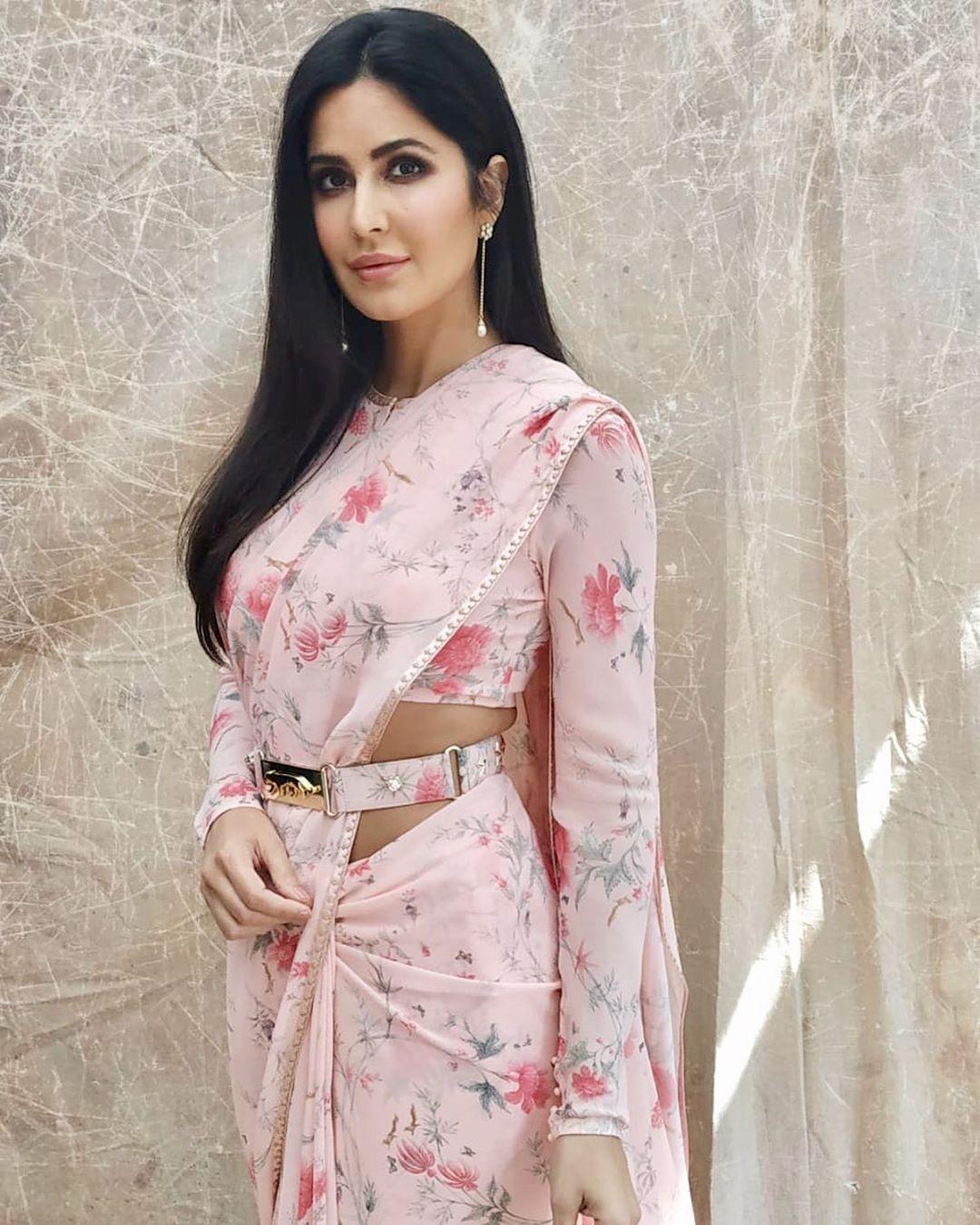 Image Courtesy: Katrina Kaif's Official Instagram
Looking for a sleek blouse to complement your slender figure? This floral printed blouse with the world-famous Sabyasachi belt is to die for! If you cannot afford an original belt (we are in the same boat!), you can always ask your tailor to make a matching belt with the remaining fabric!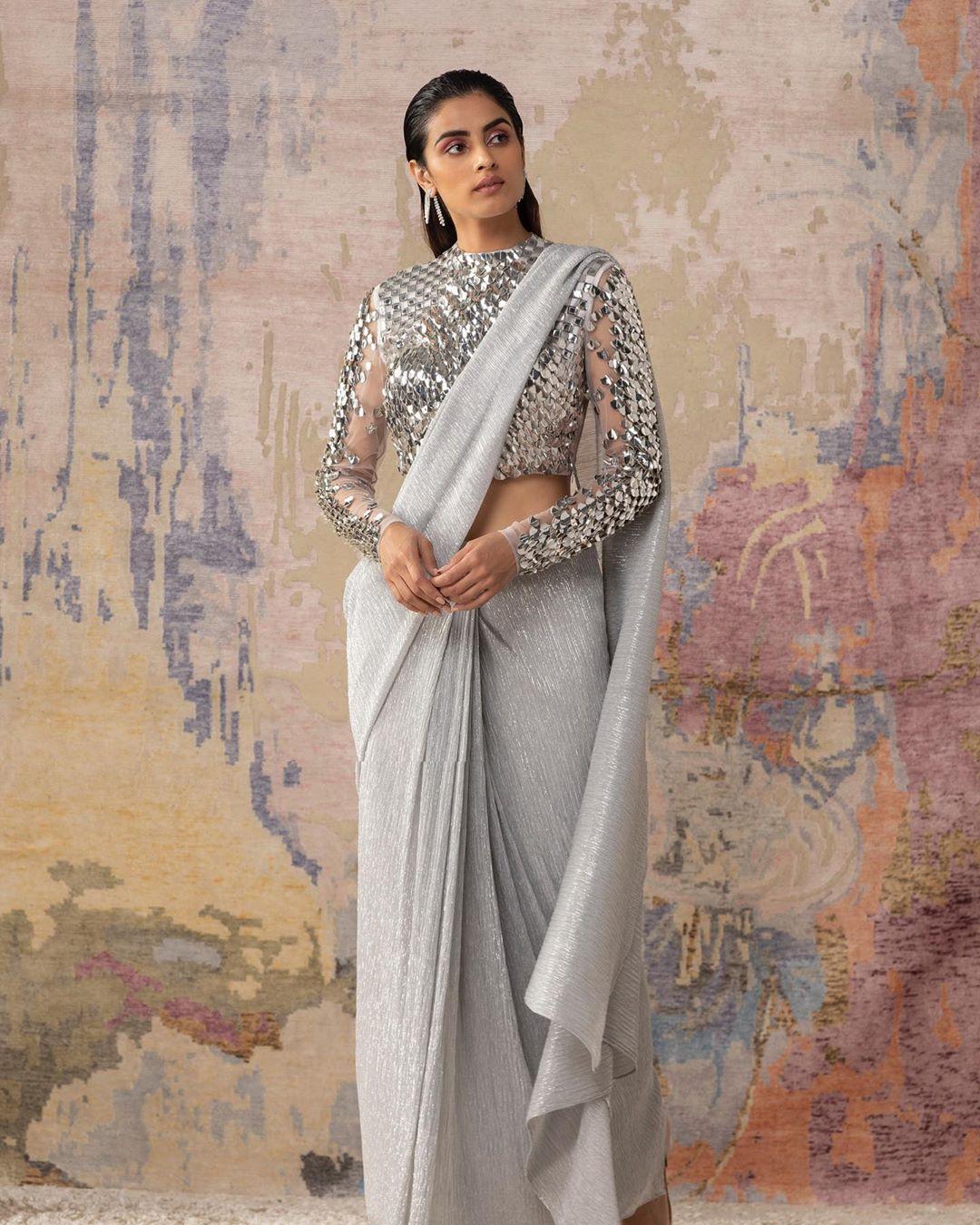 Image Courtesy - Pankaj & Nidhi
Speaking of an updated style quotient, nothing screams millennial like a high gloss metallic sheen saree. While Pankaj & Nidhi's metallic sheen saree is winning all the brownie points from us, the blouse design weaved with sheer fabric and metallic accents is icing on the brownie. This is definitely on the top of our list of latest blouse patterns for saree.
Collar Neck Blouse Designs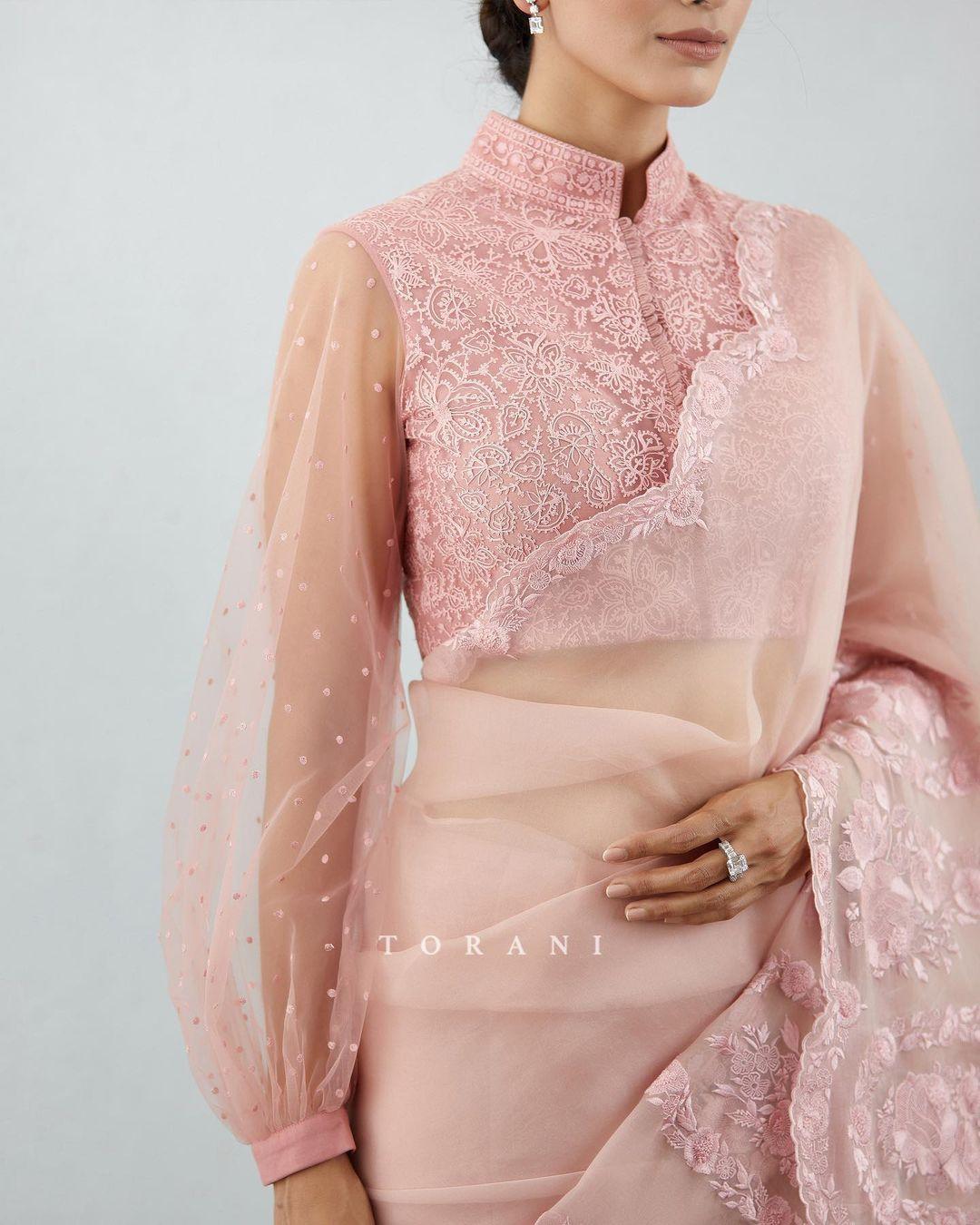 Image Courtesy: Torani Official
What makes this blouse design more perfect? The color, the light-weighted sheer organza fabric, the embroidery - Aari work, or the perfect neck design of this blouse? We are voting for the simple neck design of this saree blouse design. With smart collars, buttoned up with a touch of perfection on sheer organza combined with cotton, this full sleeve blouse design is a charmer for day weddings in the summer season.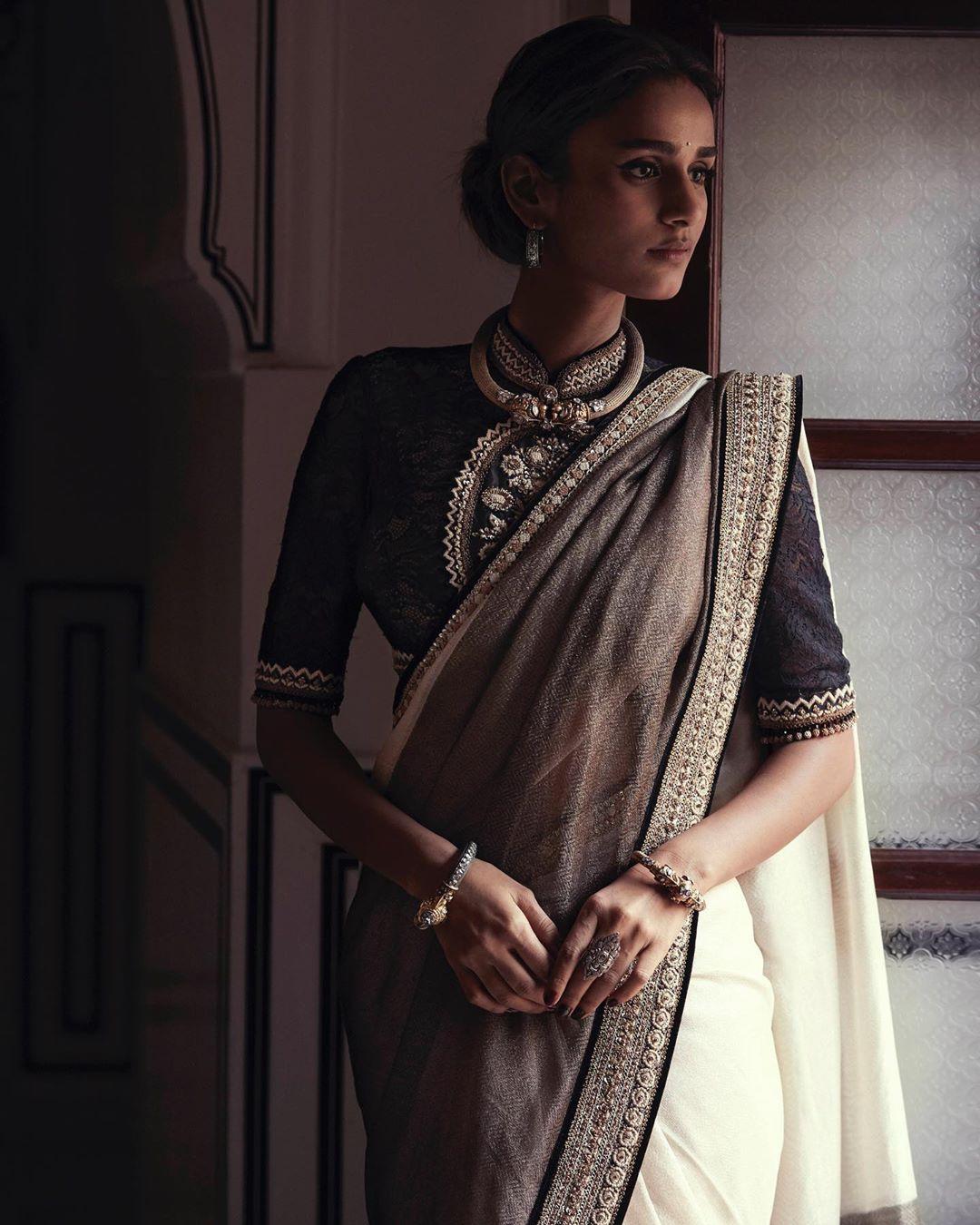 Ace that poised saree look with a blouse design for the neck that has its roots in the yesteryears but is still a ripe fashion to pluck! You know you can't get this saree blouse design wrong with a band collar.
Sweetheart Neck Blouse Design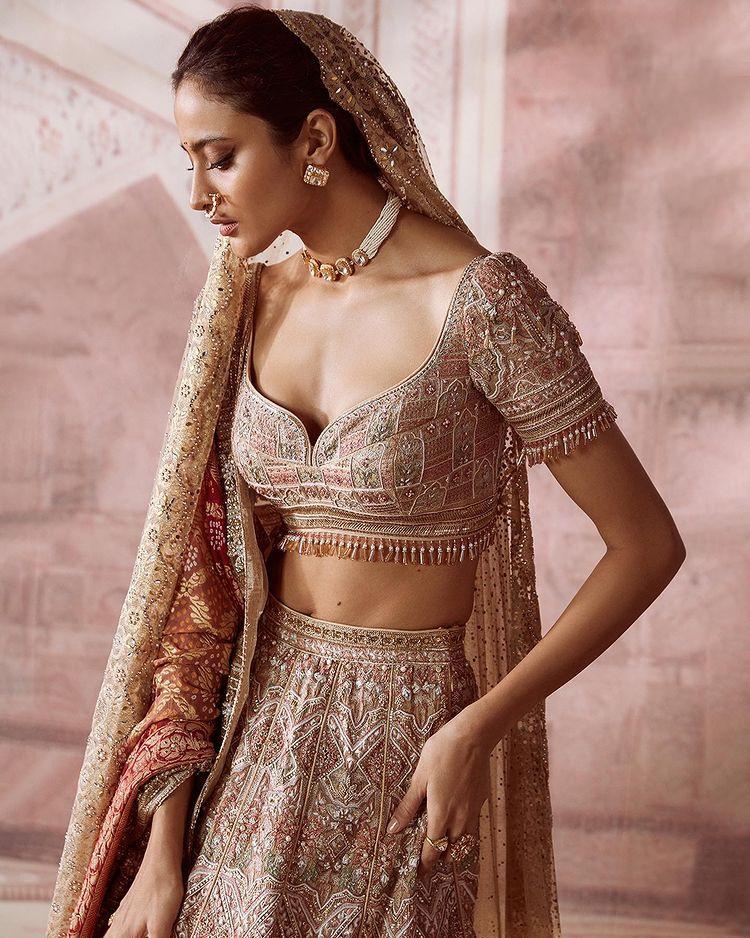 Looking for simple blouse neck designs for your bridal lehenga? This brocade golden lehenga blouse design by renowned couturier Tarun Tahiliani is on our favorites list! The sweetheart neckline is simple and yet one of the most popular choices for millennial brides.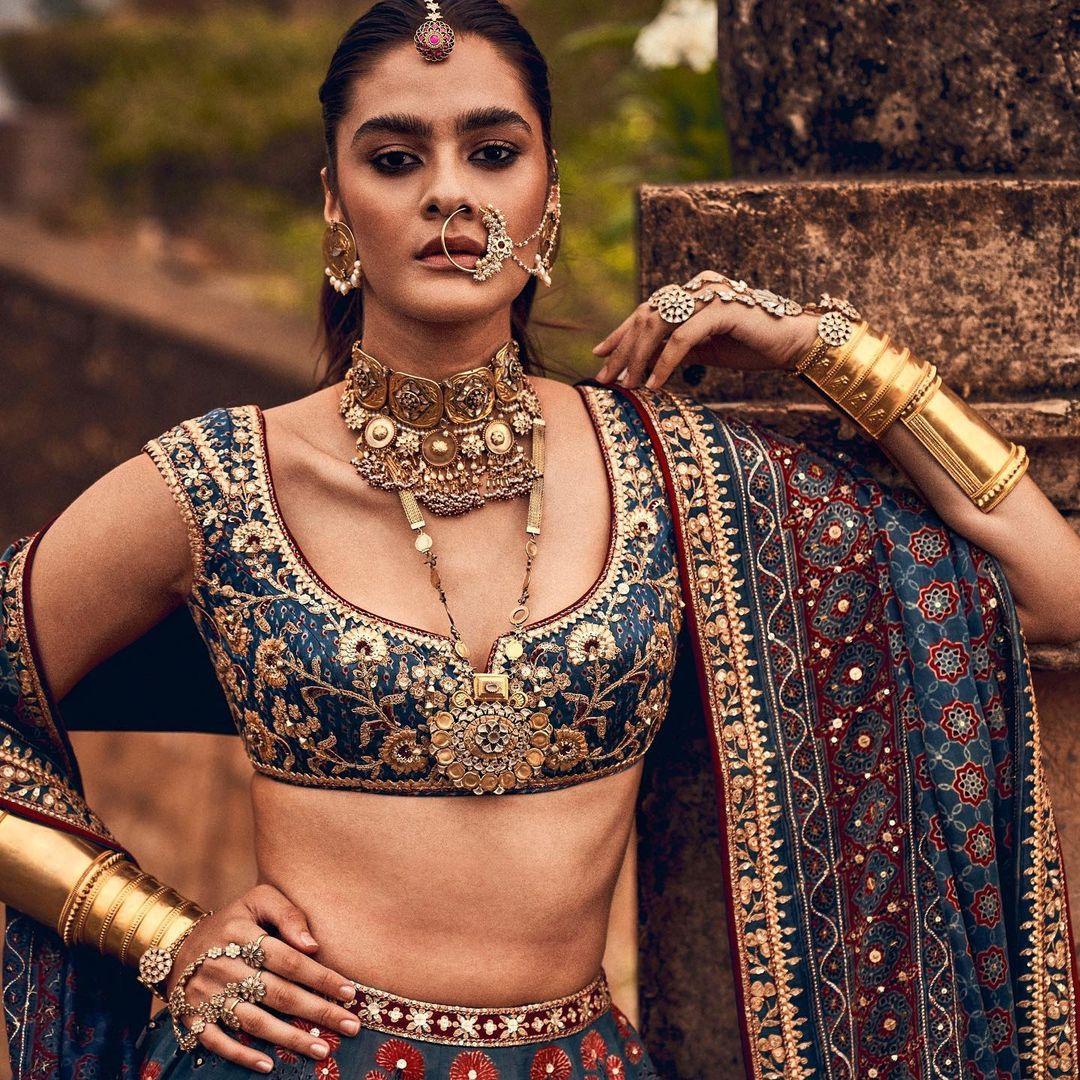 Here's another sweetheart blouse neck design style we love! The Pavaki Ajrakh Lehenga from Anita Dongre's latest collection is paired with a simple yet stunning blouse style that never goes out of fashion and strikes a perfect balance between modern and traditional.
V-Neck Blouse Design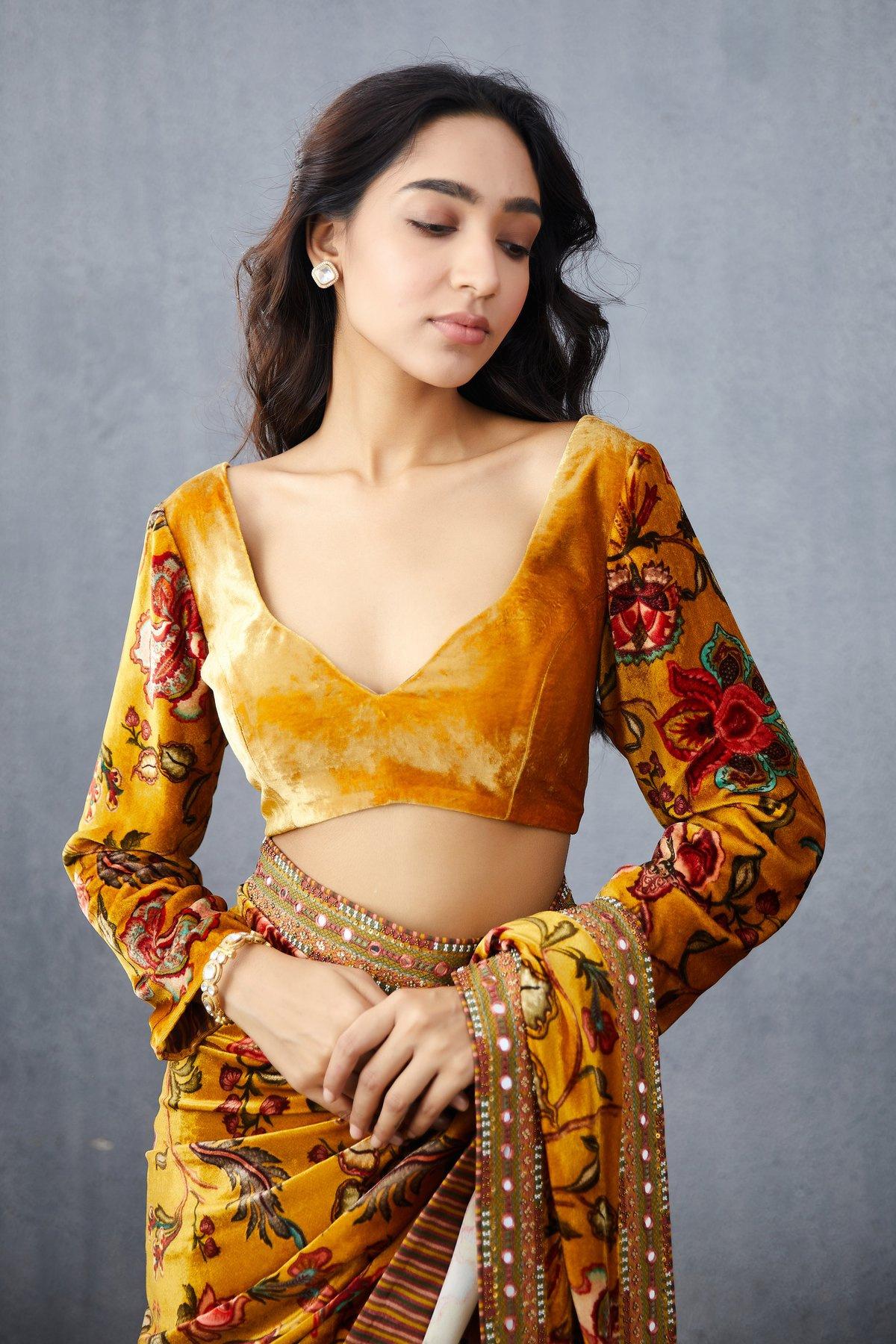 Image Courtesy: Torani Official
This impeccable mustard velvet blouse design is great for any of your wedding functions or parties. Team this full sleeve blouse with mustard or maroon velvet lehenga or a velvet saree and you are all set to steal the show! Statement earrings and a choker necklace layered with a Rani Haar will also look stunning with this attire.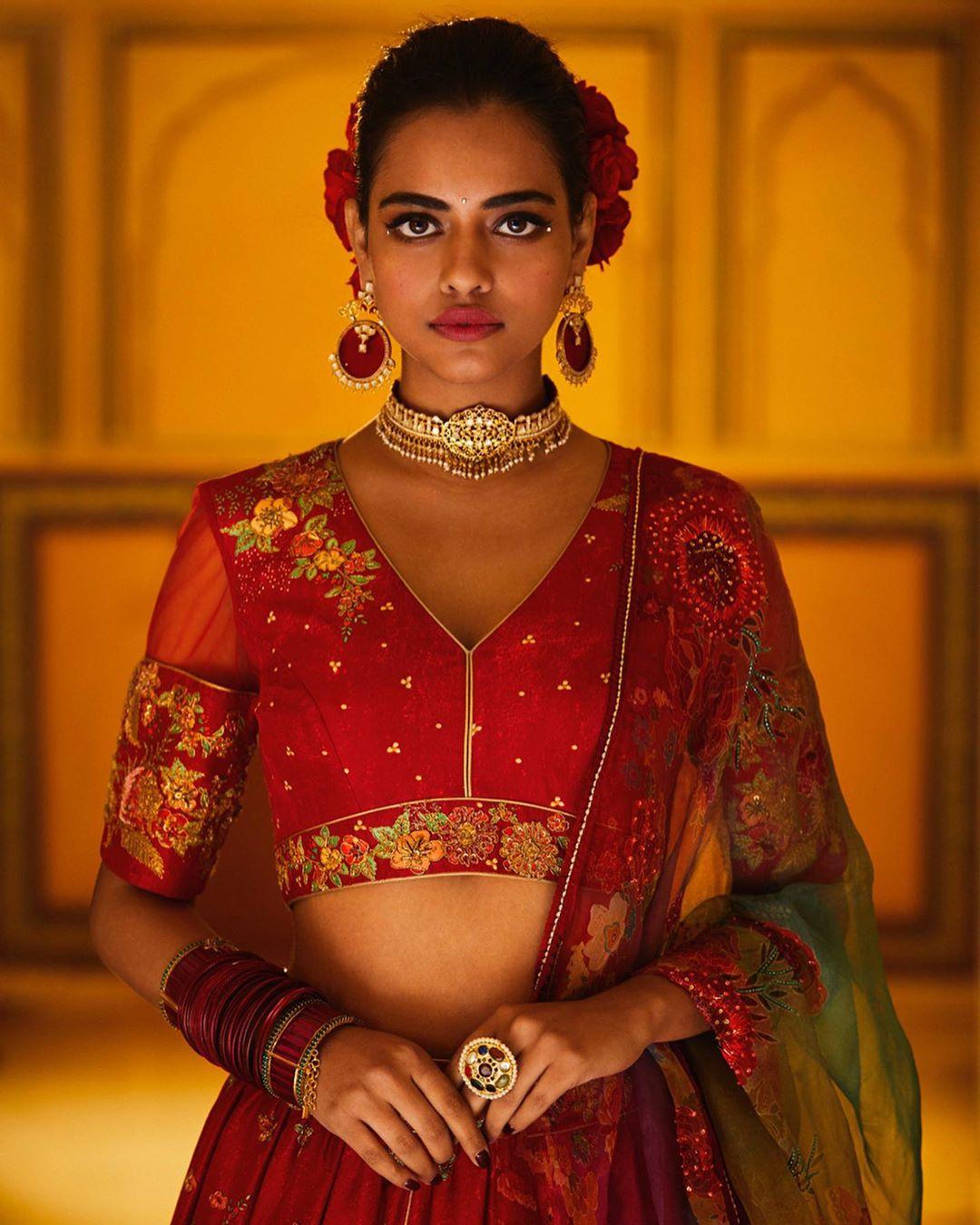 If you are looking for a simple blouse design that can add a touch of conventional in their wedding ensembles, the V neck blouse design can be your perfect choice for sarees as well as lehengas.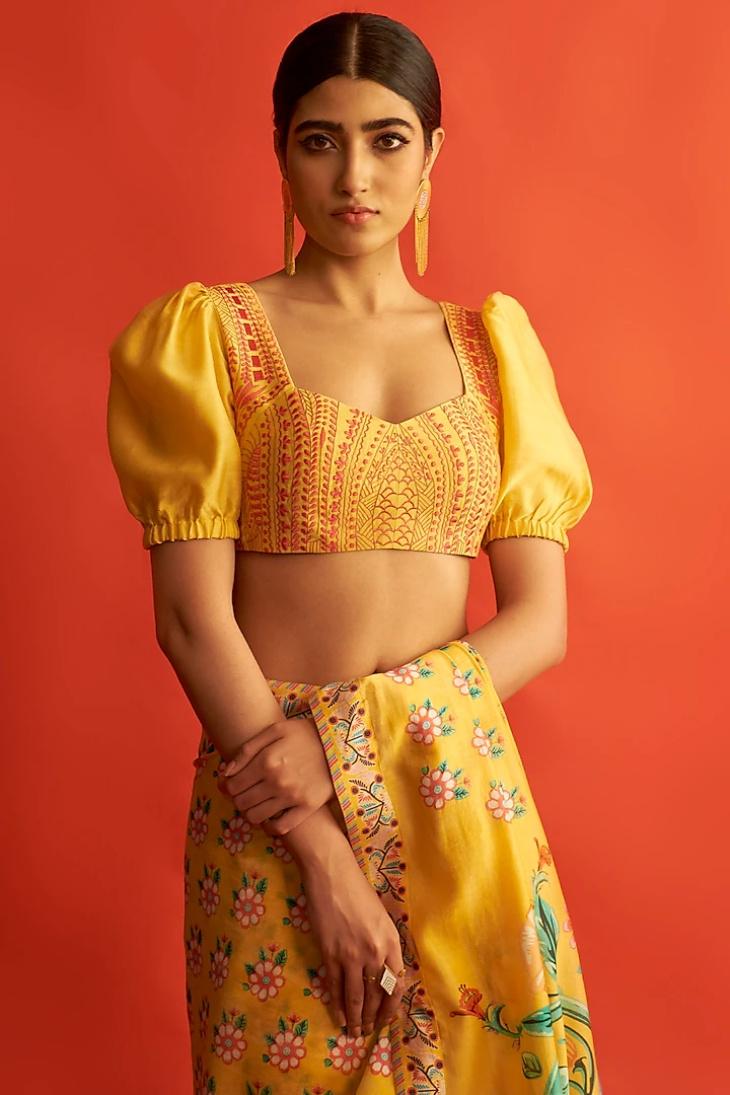 Image Courtesy: Saksham & Neharicka
Kantha stitch is a very popular blouse embroidery design with its origins in Bengal. This puff-sleeve blouse design in yellow with the crimson red Kantha embroidery goes perfect for your Haldi ceremony. The delicate threadwork makes it great for any day wedding ceremonies too.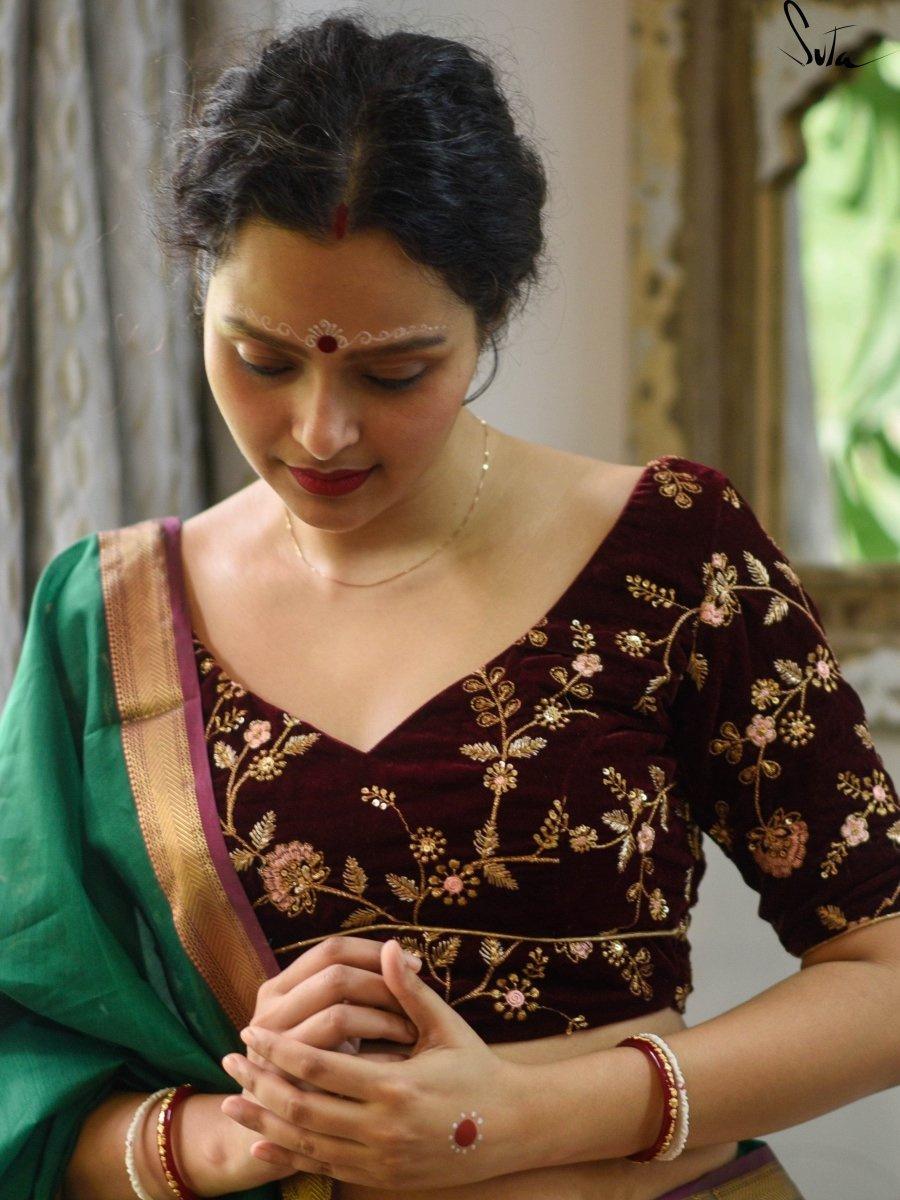 Image Courtesy: Suta Bombay
Bordeaux velvet blouse designs are also a good option when it comes to winter wedding wear, especially for a December wedding. Intricate Zardosi work on the sleeves is enough to make this blouse look stunning. A saree, skirt, or lehenga will match up perfectly with this velvet blouse. The color is equally striking and adds a touch of Mughal glamour to any drape that you pick for the big day. Great for weddings and family functions, pair heavy jewellery and traditional Jutti to complete the look.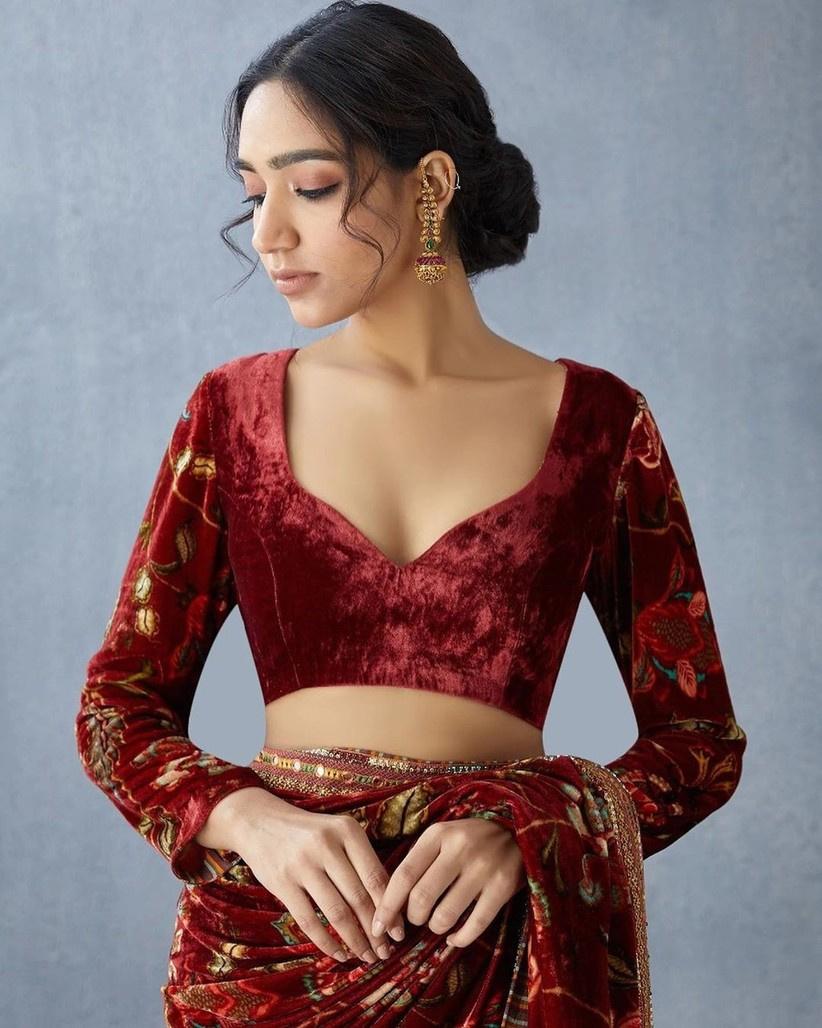 Image Courtesy - Torani Official
An absolute favourite in every designers' look books, sweetheart necklines make timeless blouse designs that can be easily paired with your sarees as well as your lehengas and ethnic parallels. Bring this 'must-have' blouse neck design home with Torani's red velvet blouse design that can be your first pick for every season. We are awe-inspired by Torani's blouse designs for fancy sarees, are you?
U Neck Blouse Design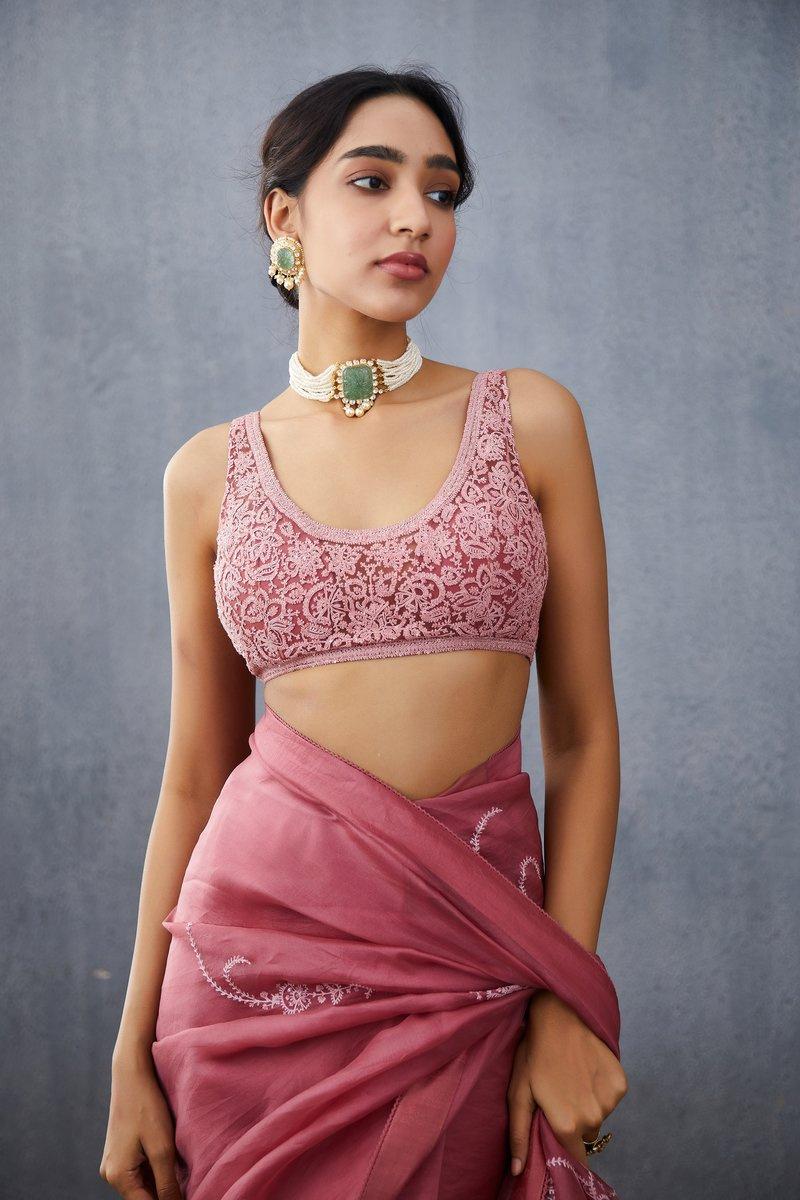 Image Courtesy: Torani
While brides have often picked blouses with dramatic sleeves for their wedding ceremonies, this sleeveless blouse design is a charmer for any of your pre-wedding ceremonies. The handwoven Chanderi blouse with hand-embroidery chikankari work is an ideal addition to your summer wedding wardrobe.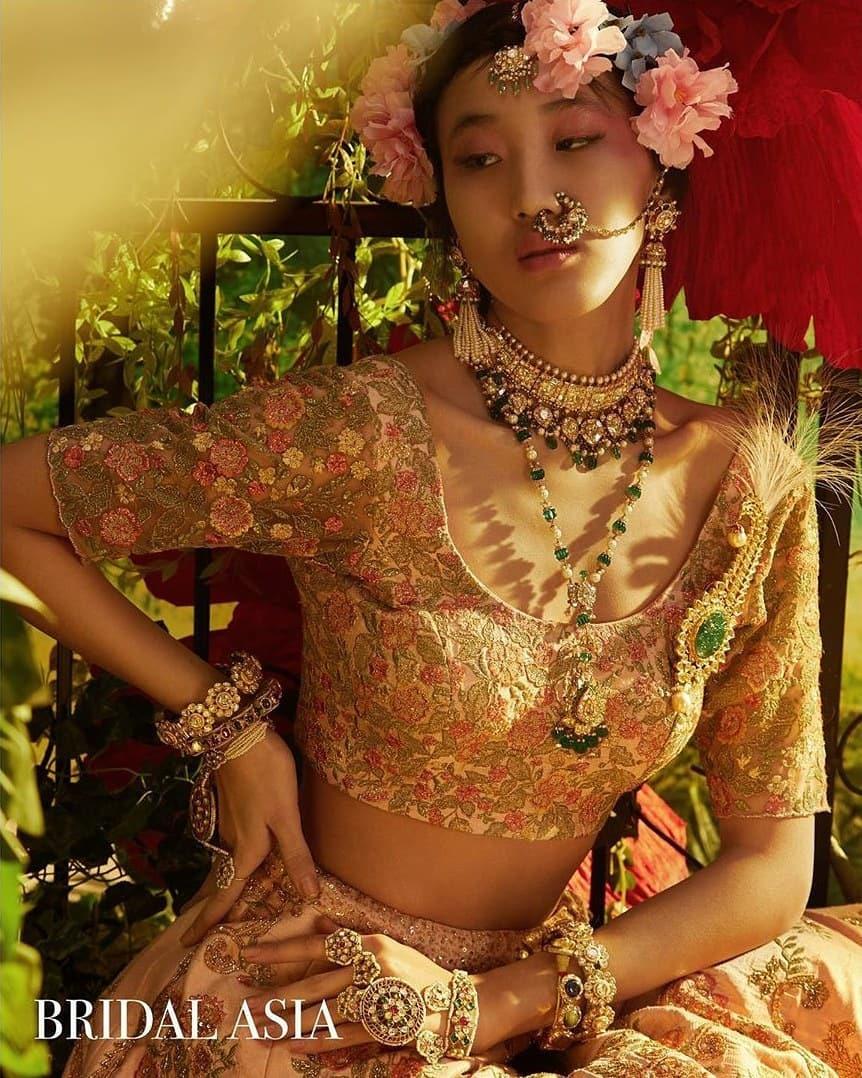 The evergreen U neck blouse design is here to stay! Stand out effortlessly in a traditional blouse design and lehenga embroidered with floral accents on your wedding day.
Latest Blouse Neck Designs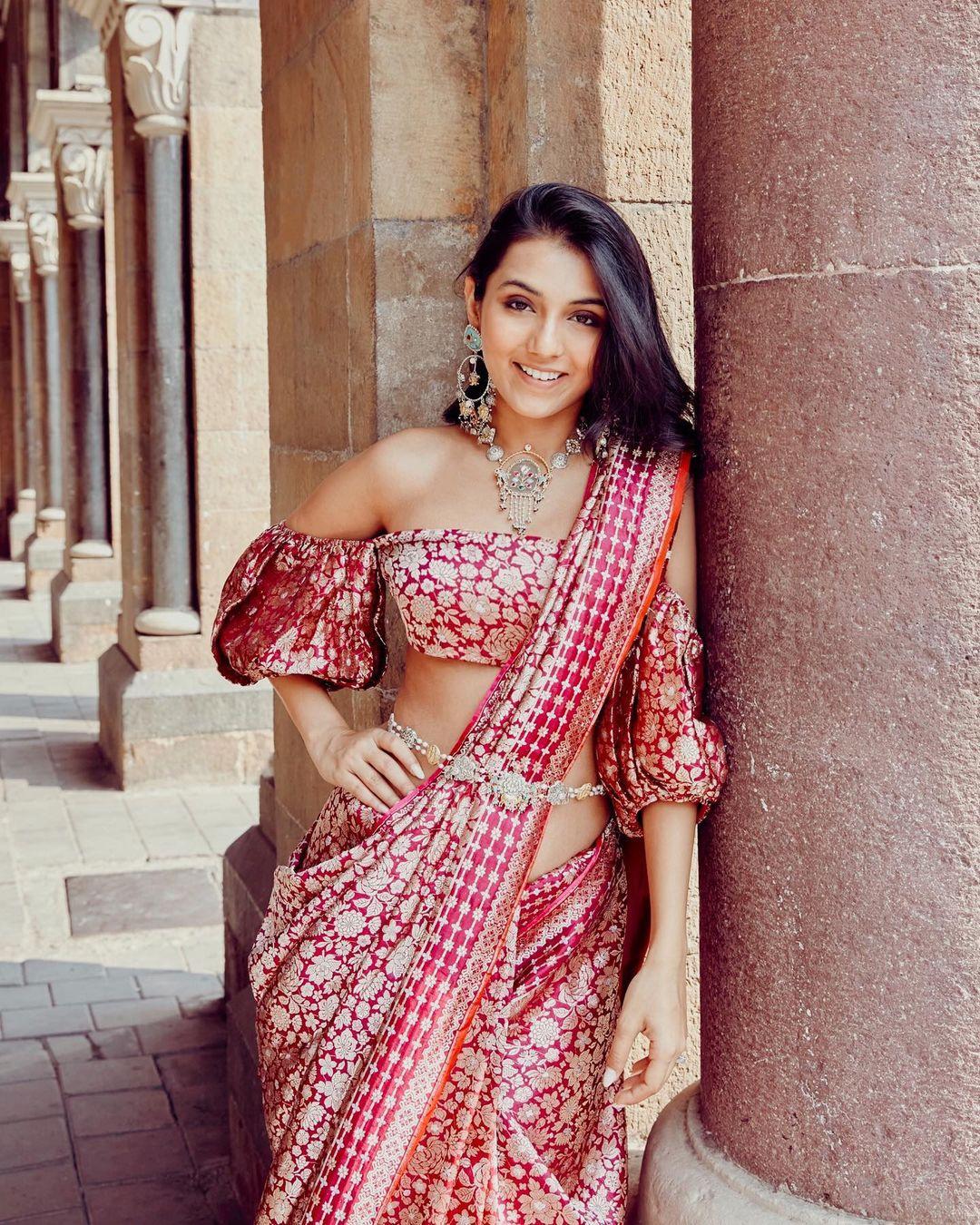 Image Courtesy: Masoom Minawala in Ekaya Banaras
Setting your style statement right, this handwoven maroon silk saree blouse is a class apart. Masoom Minawala has styled her maroon silk saree with this off-shoulder silk saree blouse design and a Kamarbandh that accentuates her curves and makes her look stellar.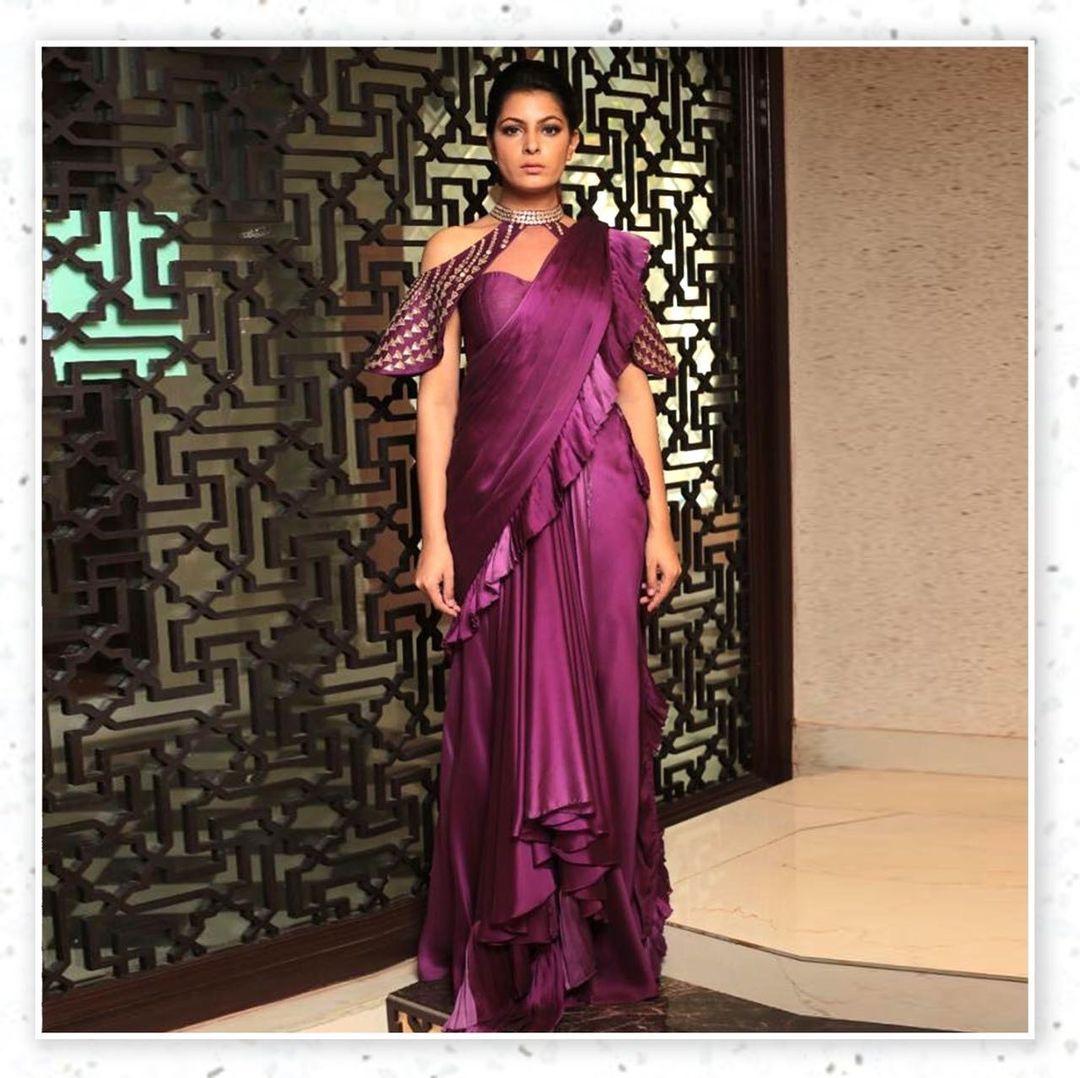 If over the top is your style but you also want to keep it chic, then this amazing silk saree blouse design by veteran designer Reynu Taandon has to be included in your wardrobe without a miss. The colour and sheen of the fabric make it appropriate for your reception or even your Cocktail night.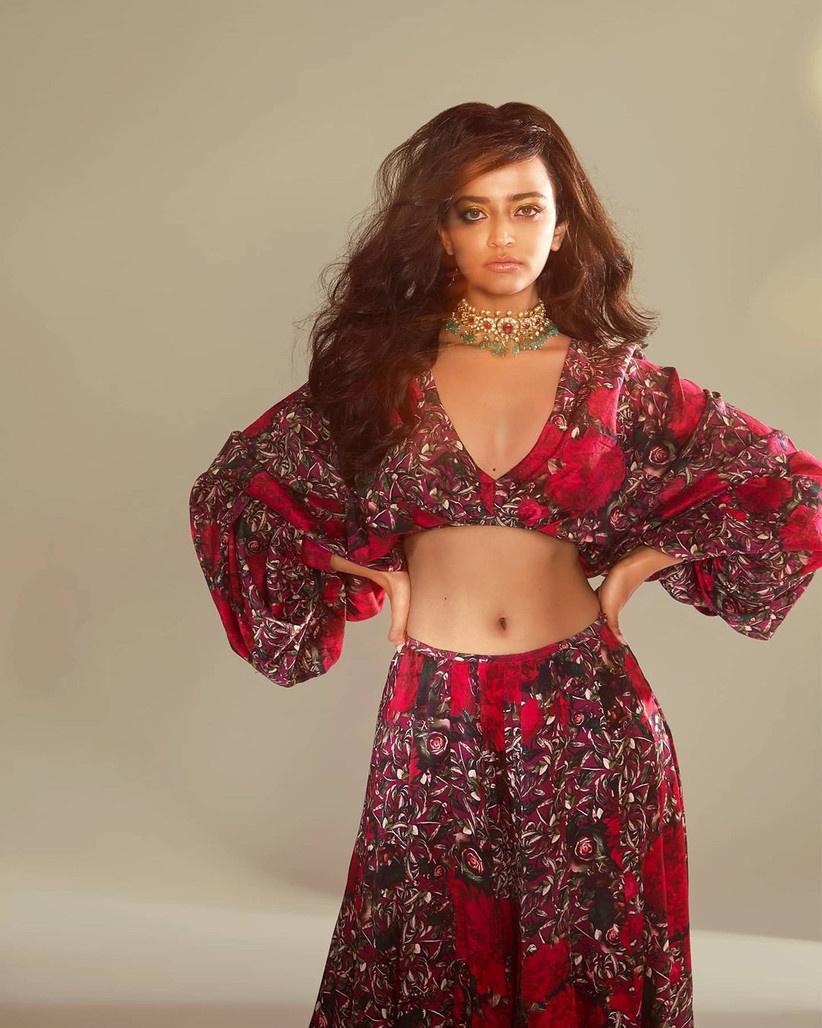 For a beach wedding or an intimate wedding in your backyard, wear this Magenta rose print cape style crop cotton saree blouse designed by none other than ace designer Shehlaa Khan. Your outfit is going to steal the show and leave your guests mesmerised.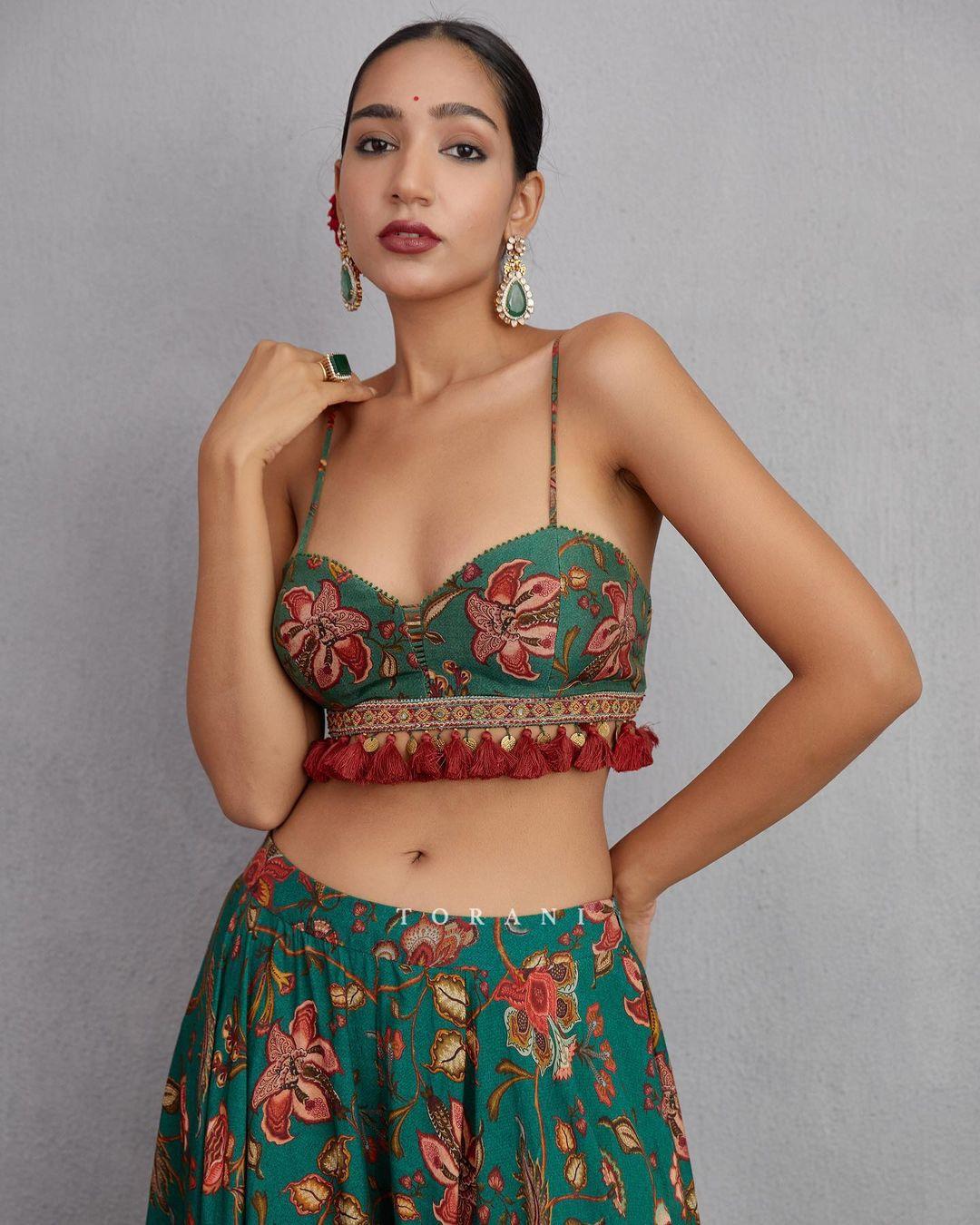 Image Courtesy: Torani
Discover the signature work of Torani with this delicate saree blouse design. Serving the Torani looks in a sumptuous palate of Rema, Sindoori and Chandan shades and handcrafted in the most classic chintz for the festive season, this bustier blouse with spaghetti straps is a charming addition to your wedding wardrobe especially if you are looking for top bridesmaids fashion trends.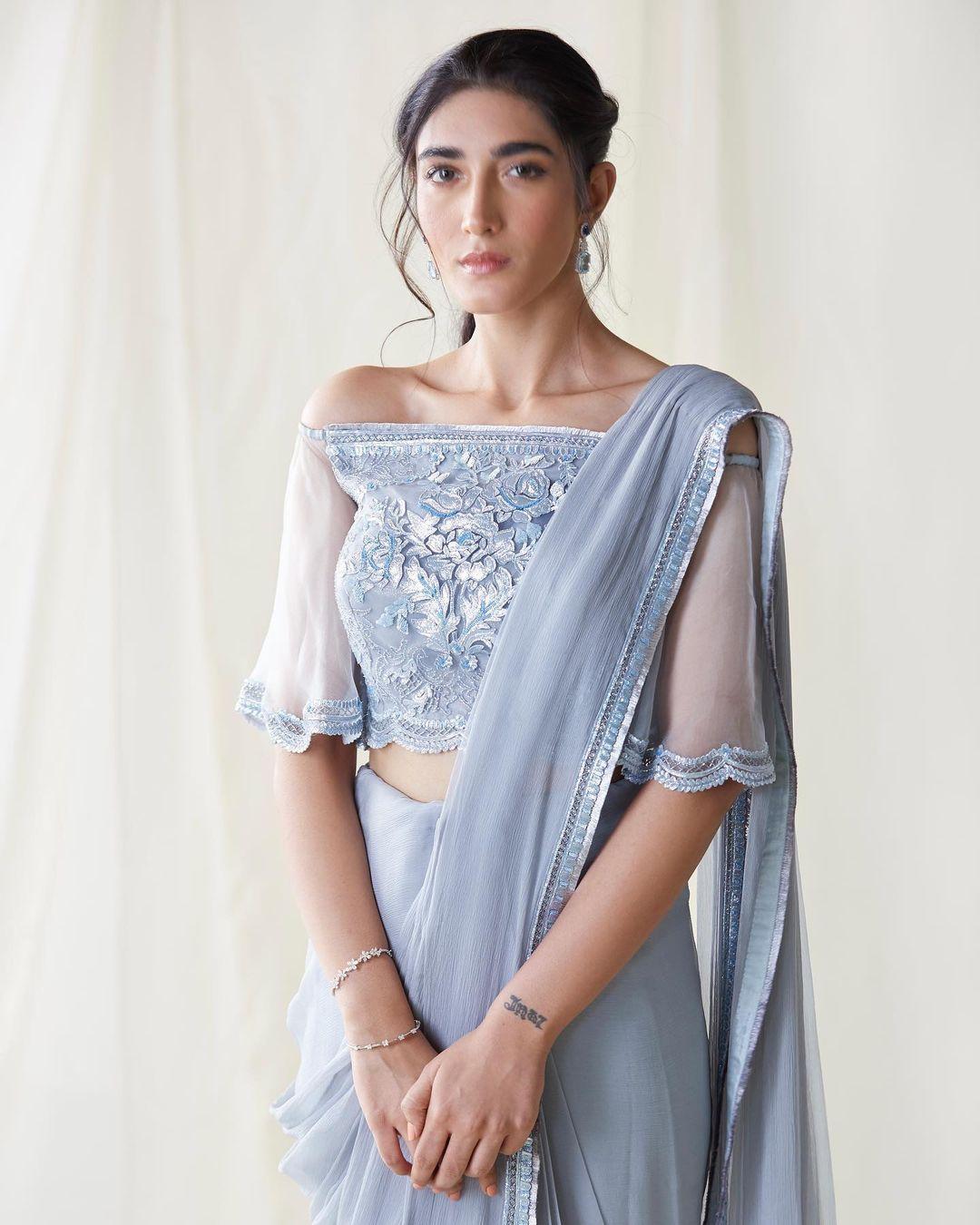 Image Courtesy: Pankaj & Nidhi
Mineral blue embellishments radiate an iridescent sheen over the translucent tulle in this elegant off-shoulder net saree blouse design. Pair this with a chiffon or tulle saree, and watch the heads turn in awe of your outfit.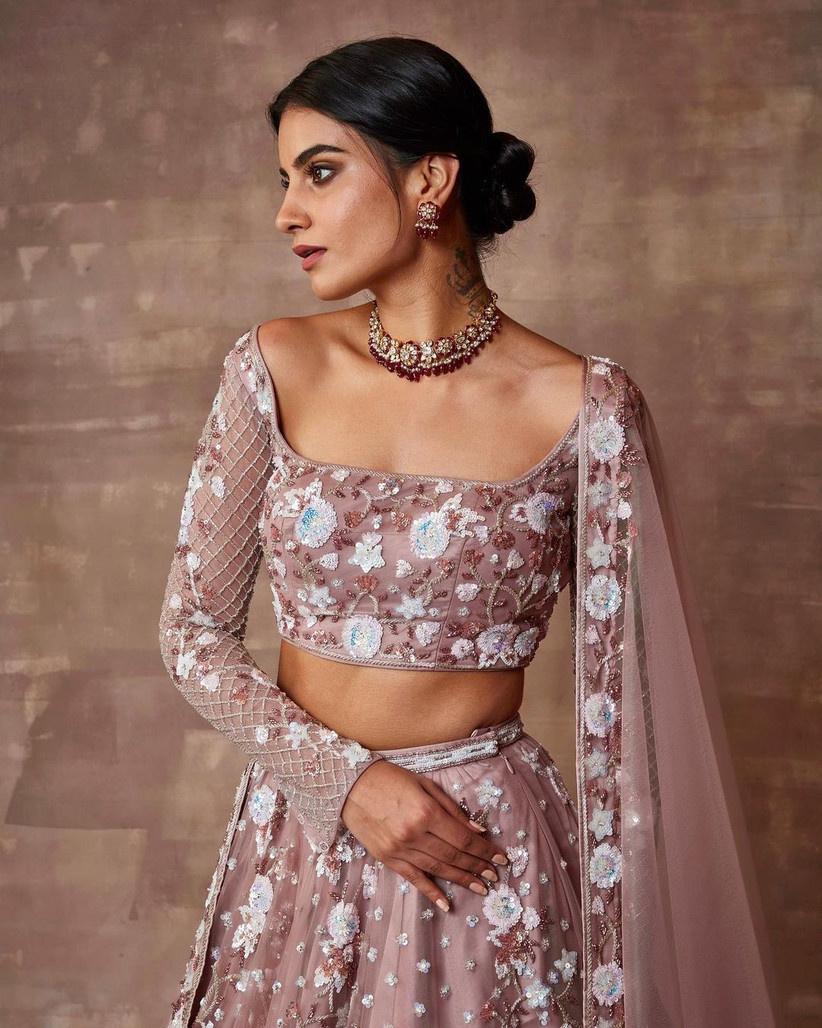 Image Courtesy: House of Neeta Lulla
This raw silk off-shoulder full sleeve blouse design with floral patchwork embroidery and Aari blouse work is a beauty that will not only accentuate your saree look but also make you look alluring when you pair this up with a lehenga. The full sleeve net blouse with intricate threadwork all over the sleeves with beads and sequins will make it worth every penny you spend on it!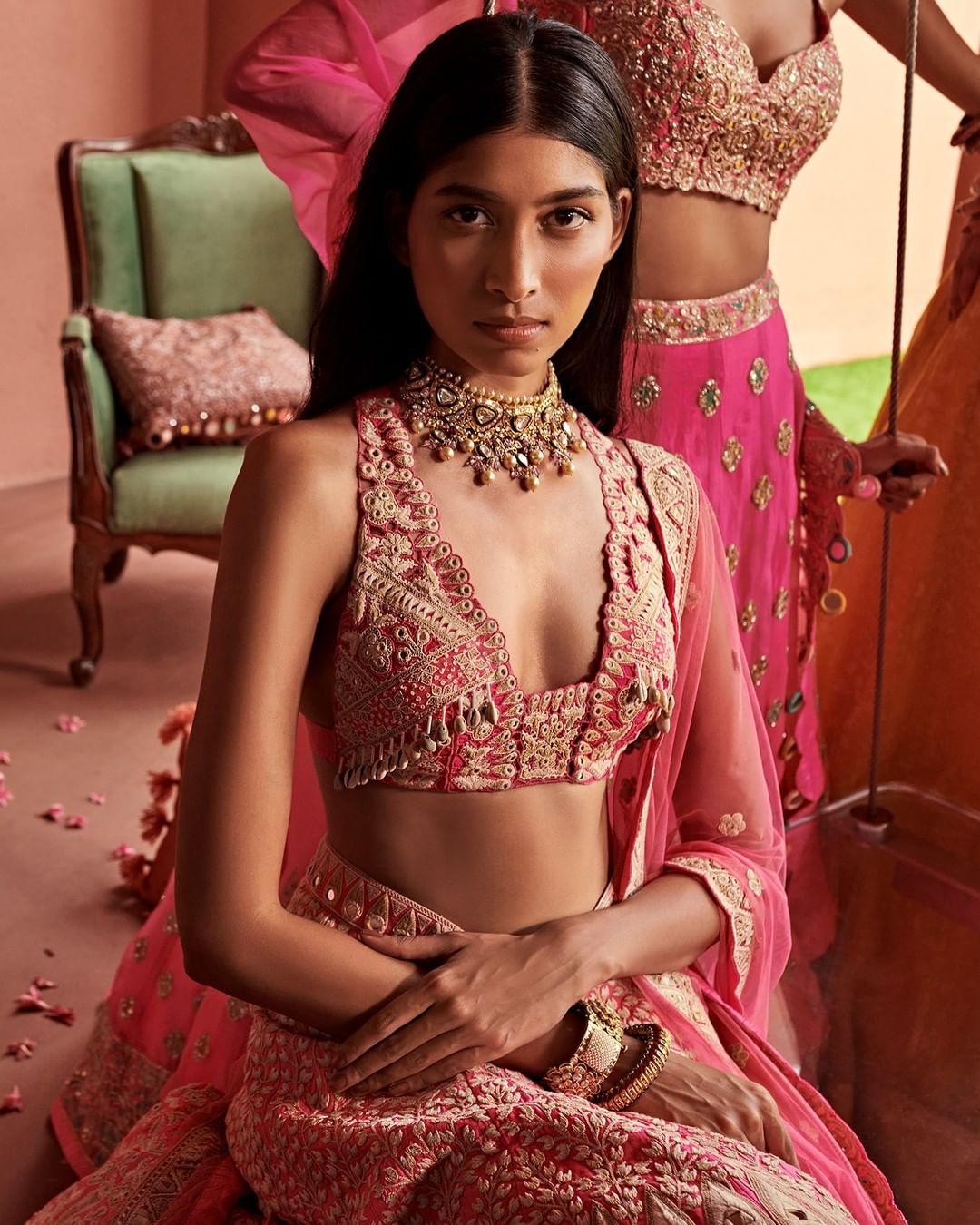 Take a look at this raspberry pink and cream organza sleeveless chiffon blouse design with Ahir and mirror-work hand embroidery. The plunging neck blouse design with intricate embroidery and cowrie shell detailing adds to your overall look.
Image Credits - Suneet Varma
This surely counts among the most gorgeous and popular blouse work designs which make you stand out. Go, bookmark this blouse work design and push yourself for that extra glam. This will surely grab glances!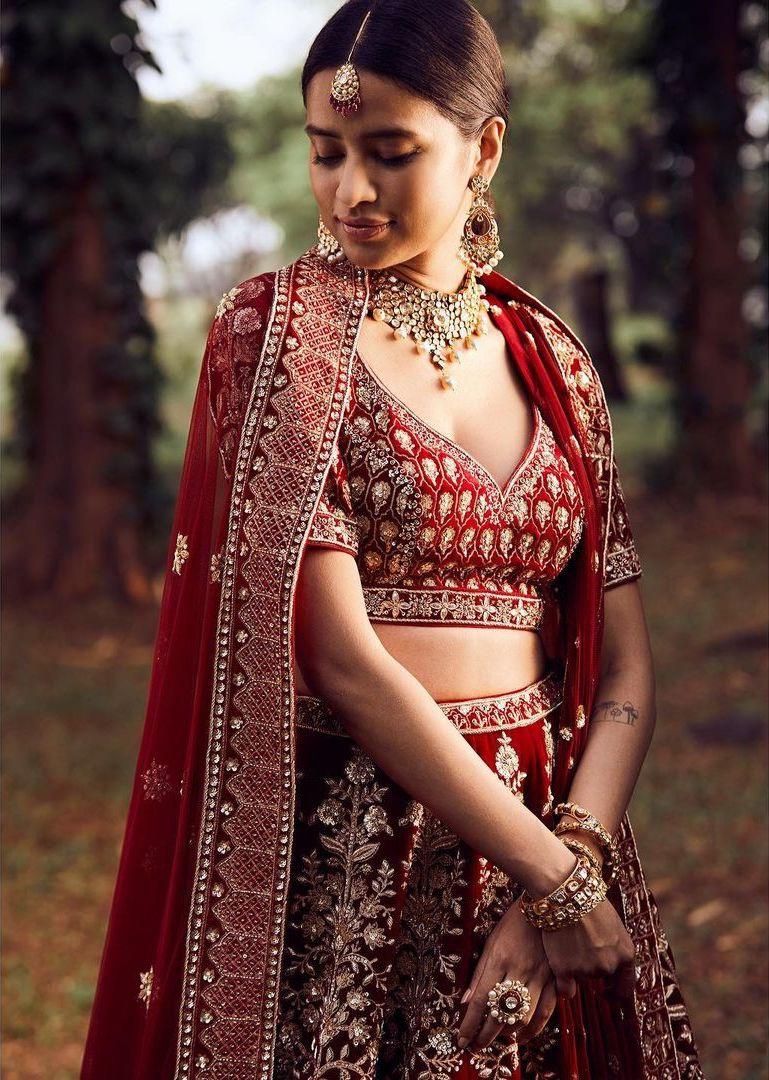 Image Credits - Anita Dongre
Maggam work blouses are traditionally embroidered blouses that have existed for over a century now. The embroidery technique of the Maggam work blouses requires the use of a needle. Maggam needle is finer and meant for more precision. Some needles are also shaped like an awl, but with a small hook at the end of the needle. Now let's bookmark some trending Maggam Work Blouse Designs.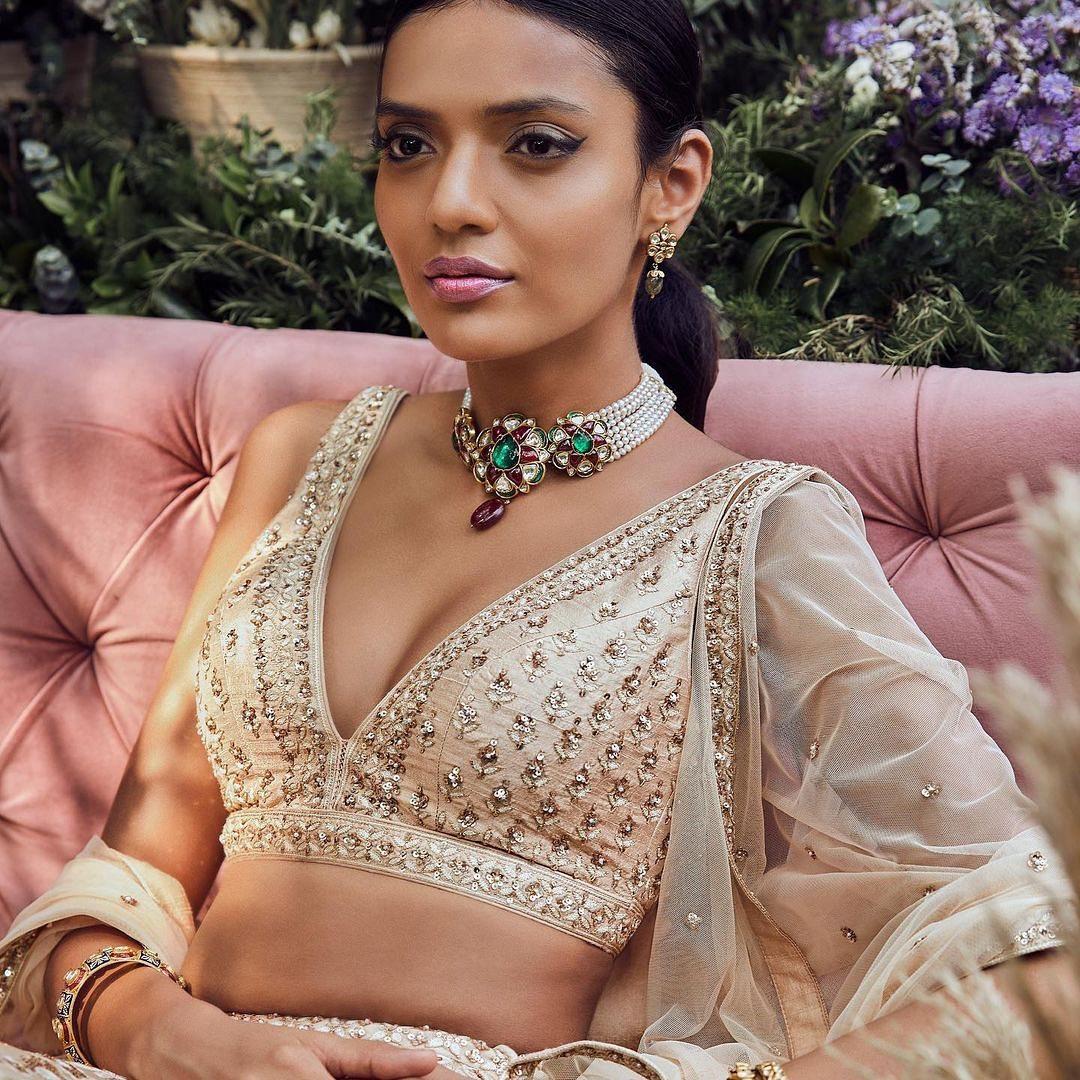 Image Credits - Anita Dongre
This new simple Maggam work blouse flaunts beguiling embroidery with intricate patterns to create an elegant blouse design for contemporary brides. You can wear it as your pre-wedding outfit or post-wedding event.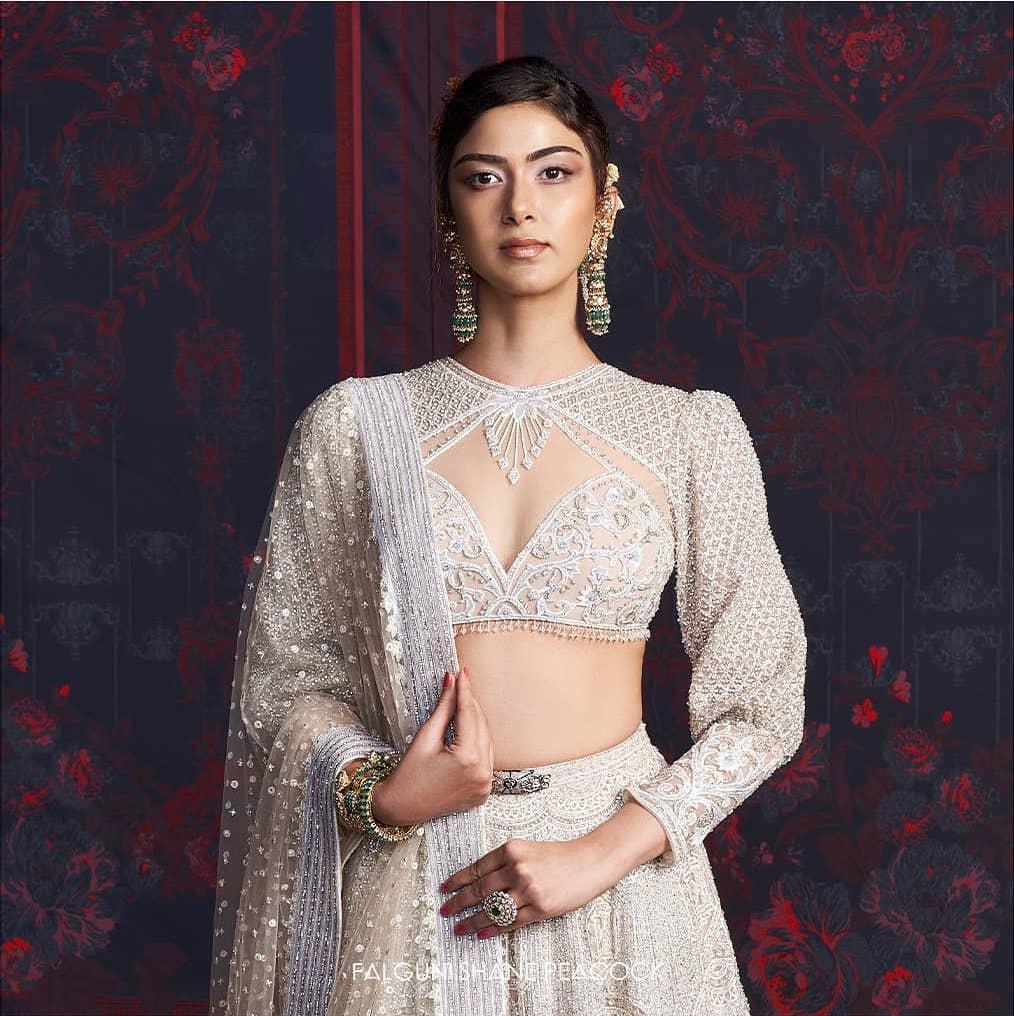 Image Courtesy: Falguni Shane Peacock
The color pallet by Falguni Shane Peacock is set on a regal day wedding theme where summer hues are looking mesmerizing and elegant. Pick this wedding blouse design to steal the show with enough panache.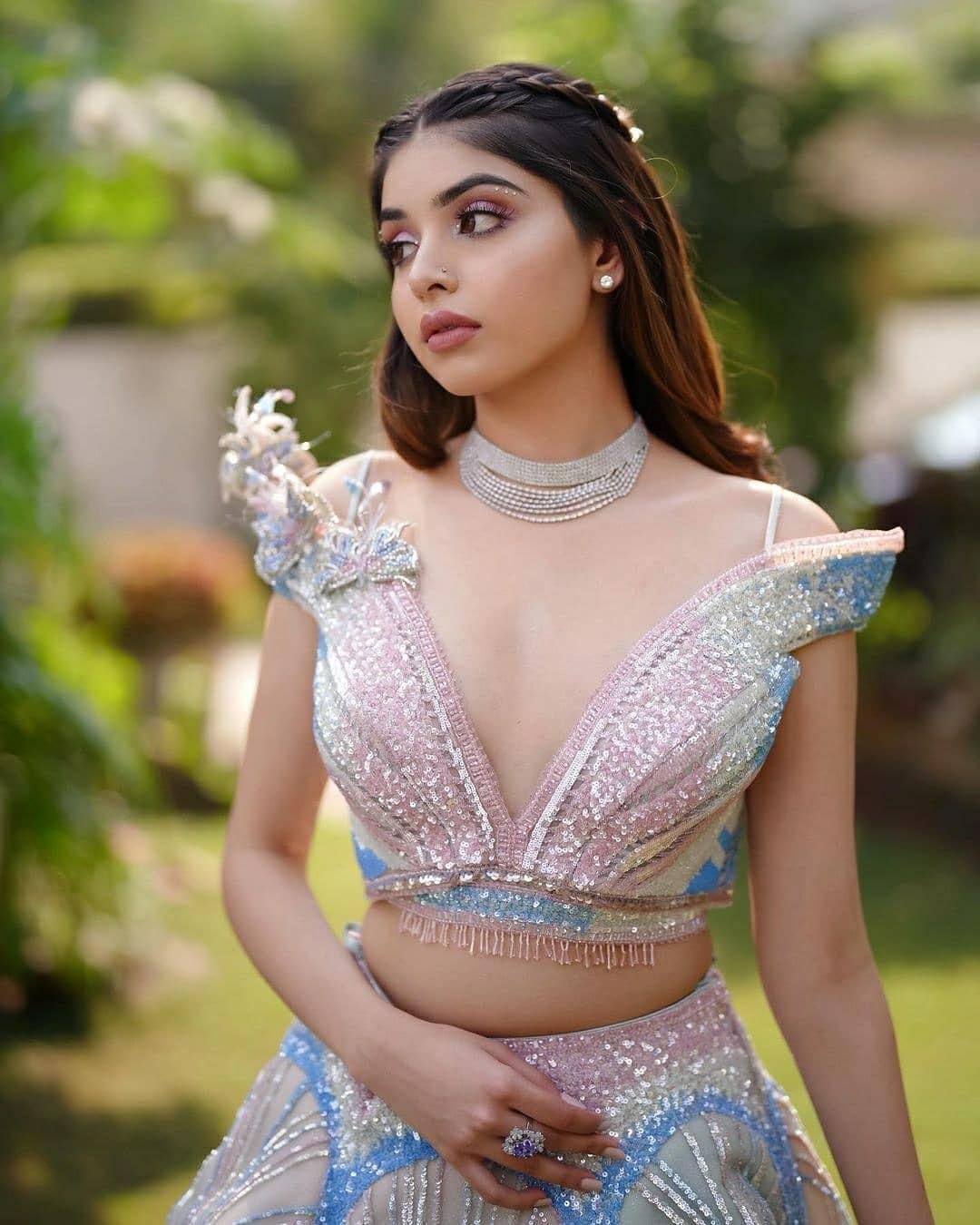 Image Credits- Soltee.Ludhiana
The sense of dreamland that Sulakshana Monga explores in her latest collection can be found in this wedding blouse. This wedding blouse will make every bride feel like a beautiful princess.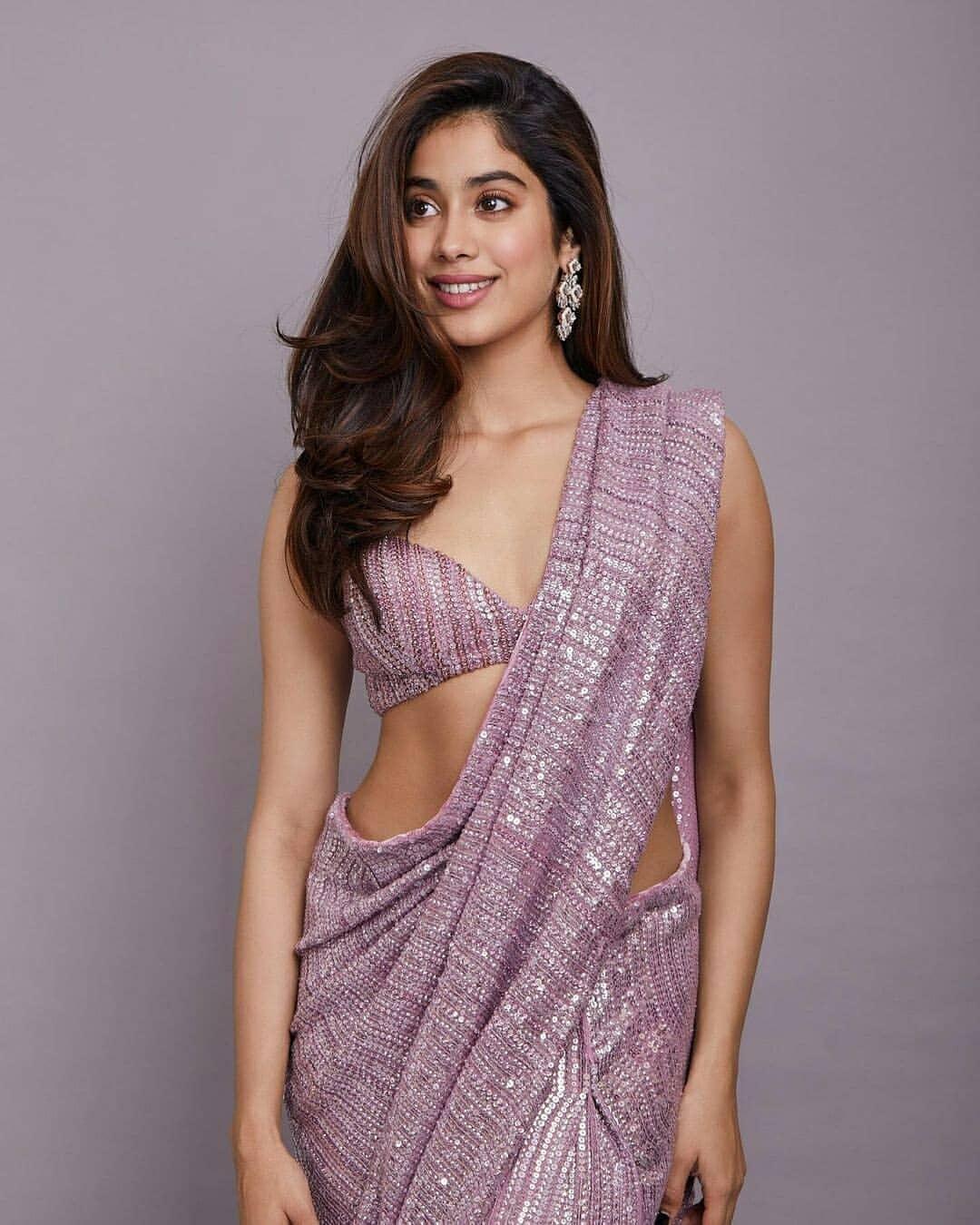 Image Credits - Pinterest
Making the bodice of this fancy blouse design all the more charming, the sequence work on cut sleeve blouse neck design is everything bridal. This can be a great outfit for your Sangeet ceremony.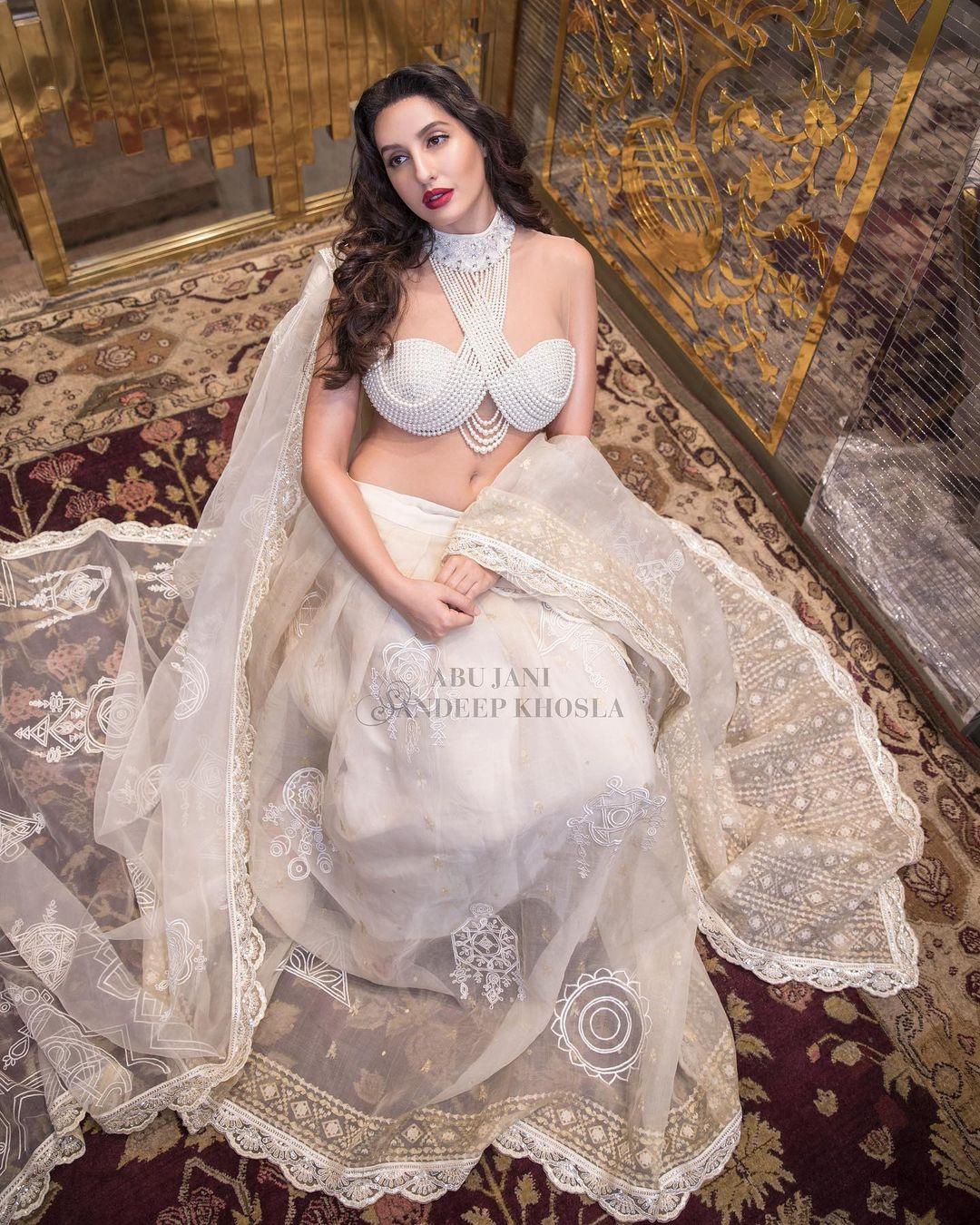 Take a good look at the oh-so-hot wedding blouse design and find yourself falling in love with the ensemble created by the veteran designers, Abu Jani Sandeep Khosla.
Halter Neck Wedding Blouse Design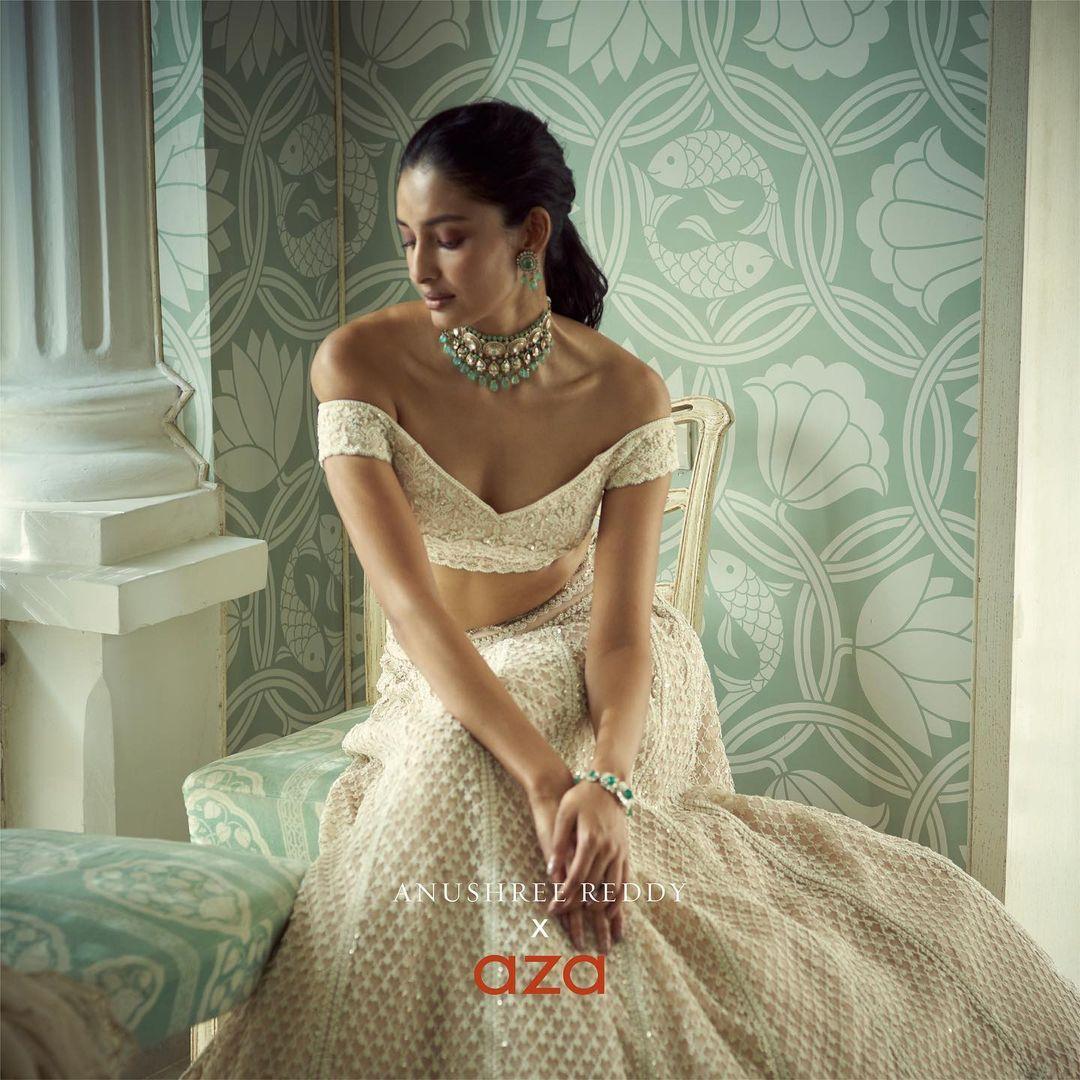 Image Credits - Anushree Reddy
Let's not forget about the stunning wedding blouse design that's giving us some royal vibes with its wide curvy neck and quarter-length sleeves. You can pair this look with a choker and some statement earrings.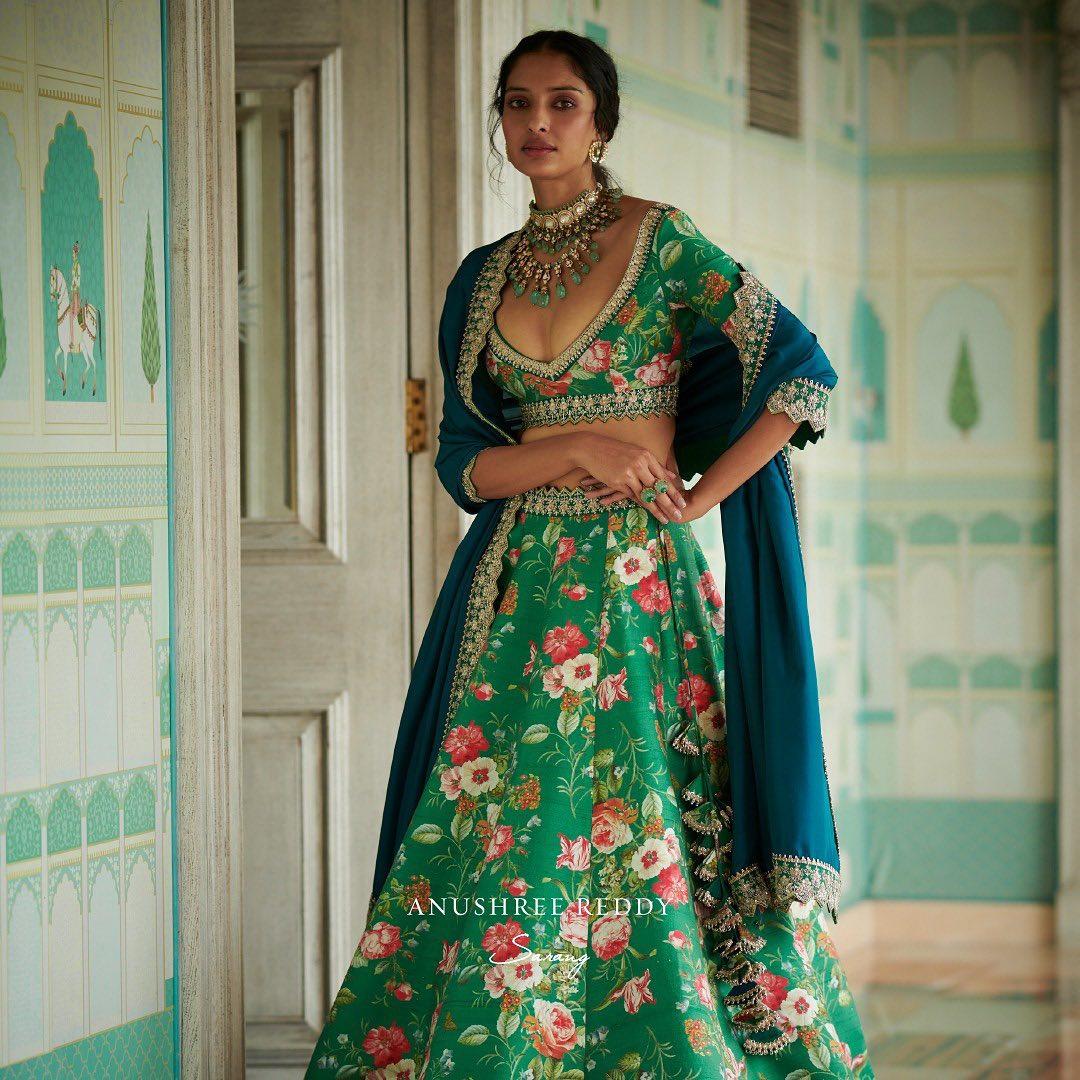 Image Credits - Anushree Reddy
Florals can never be wrong and floral blouses are evergreen in the trend game. Brides these days are ditching the same colored dupatta altogether as they get experimental with their crop tops and backless blouse designs.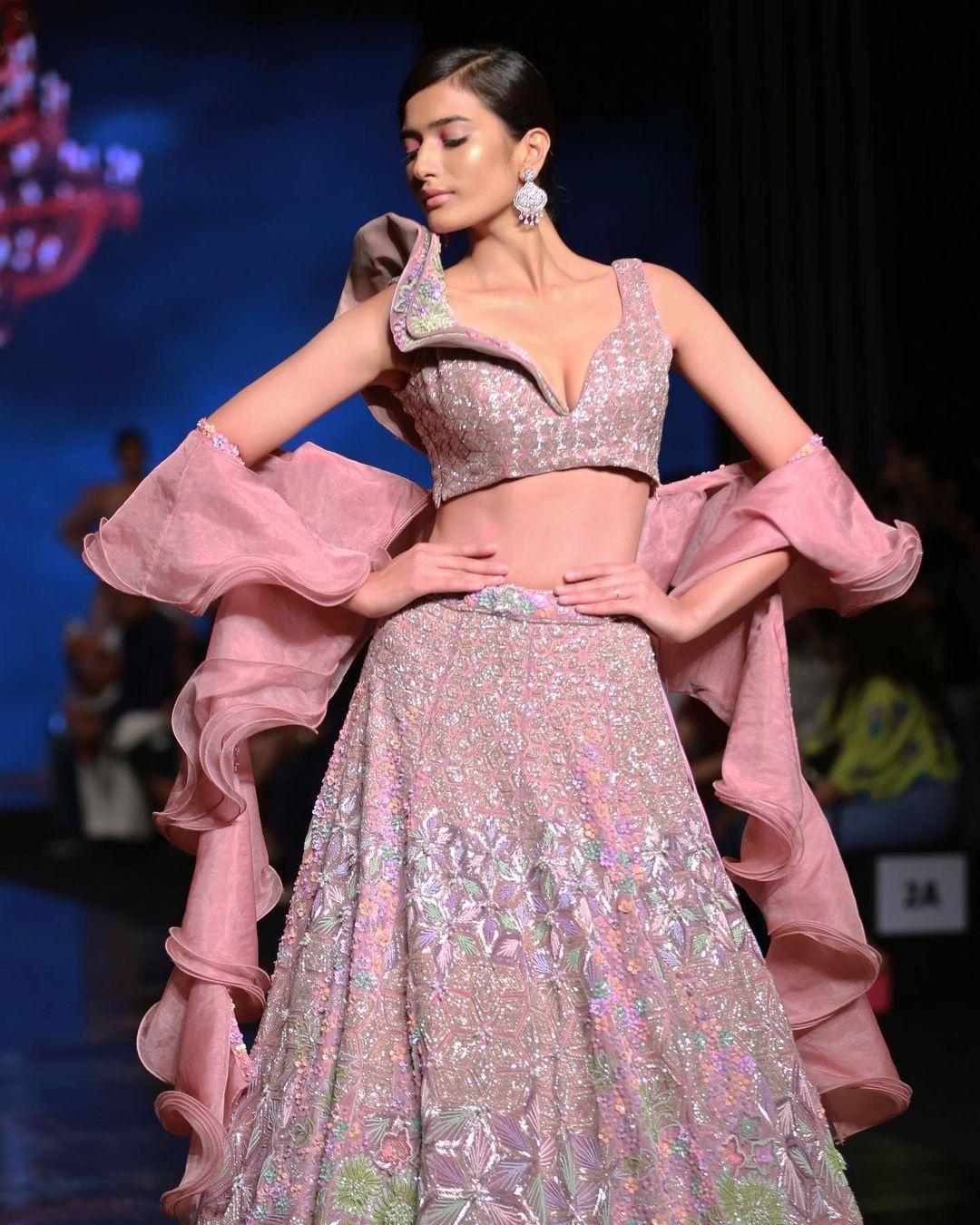 Image Credits - Kalki Fashion
Your lehenga blouse designs for bridal can completely transform your outfit and put your best fashion foot forward. Isn't this powdered pink wedding blouse design with such scintillating work helping you to do this?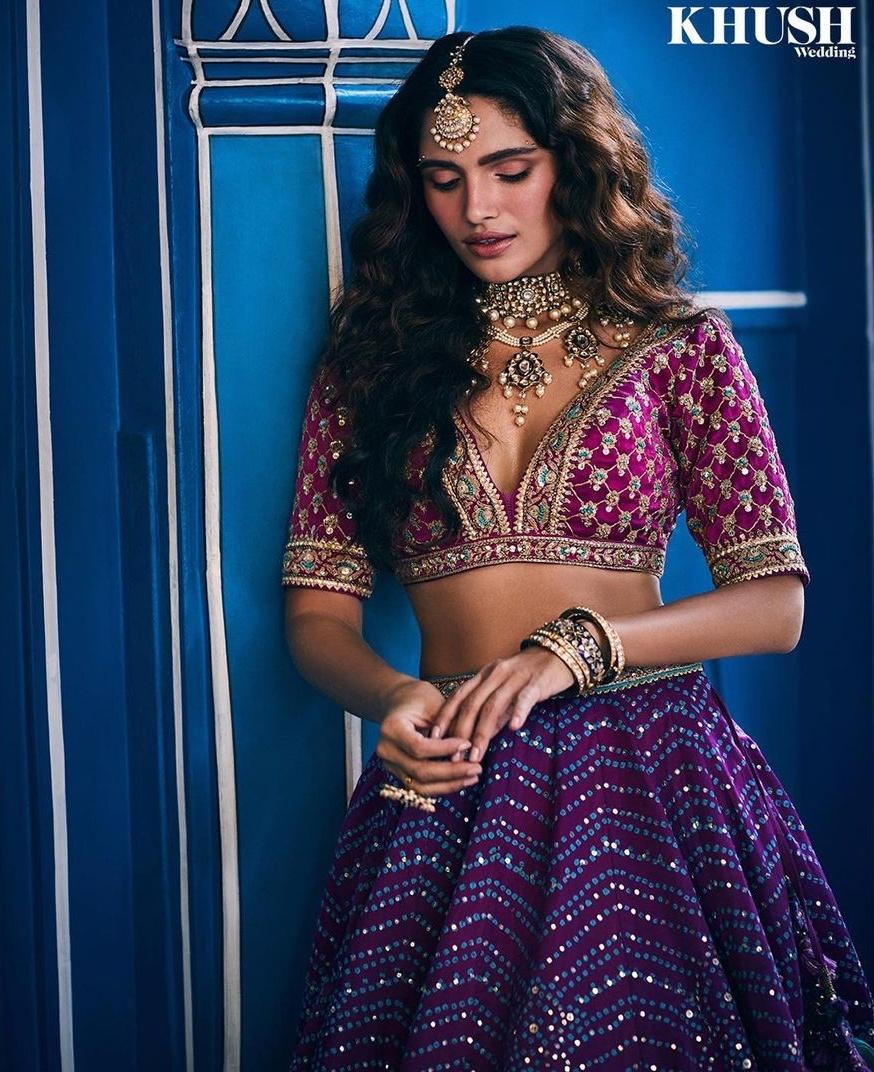 Here's another bridal blouse design we love from Anita Dongre's latest collection. Named the Mihik Bandhani Lehenga Set – Purple, the ethnic extravaganza is brought to life with zari embroidery, while the deep v neck cut style adds hints of modernity for a millennial bride.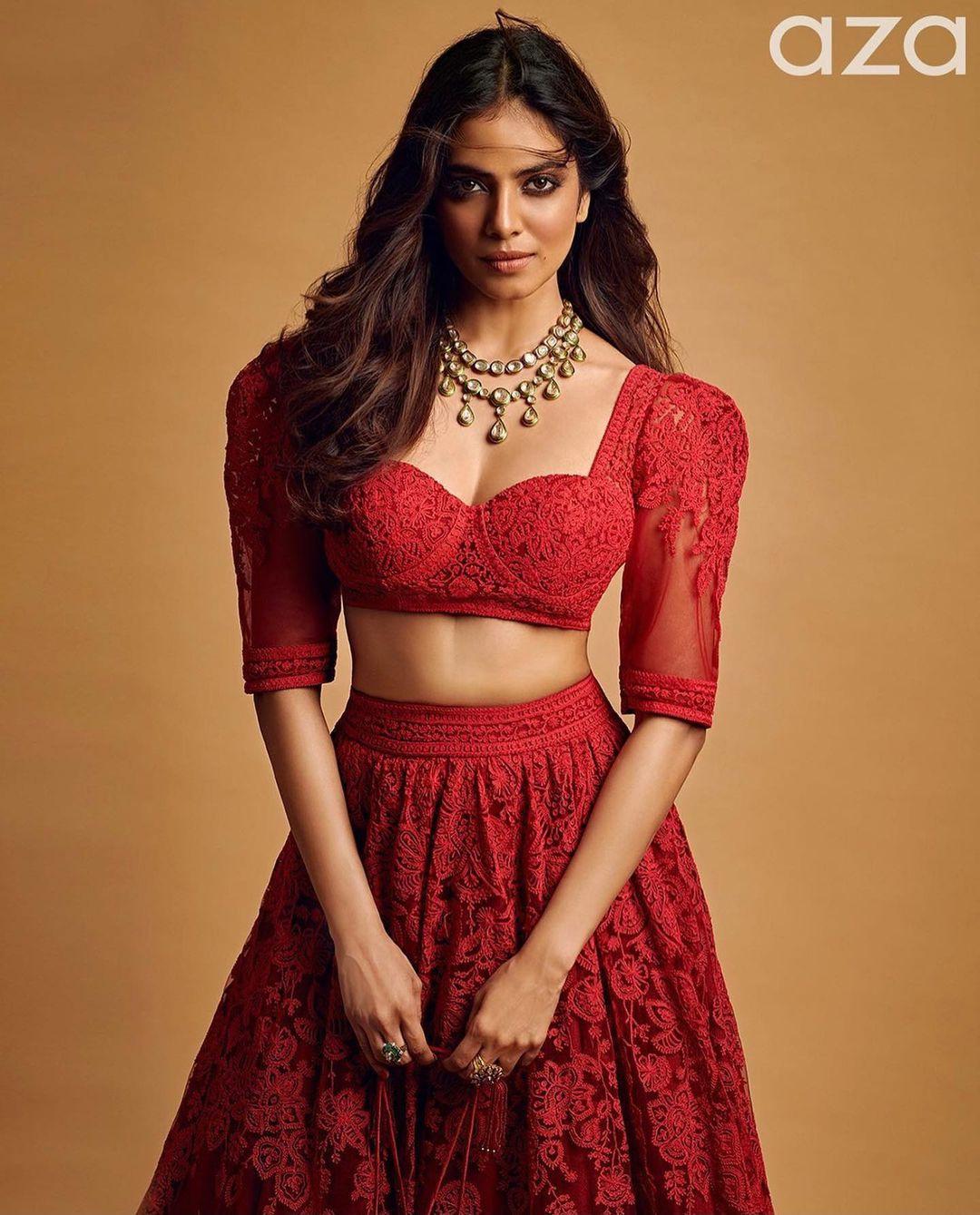 Image Credits - Torani
A beautiful and simple blouse neck design made extraordinary by Torani with sheer embroidery. This elegant blouse style is called the mrinal choli cut blouse and is every elegant bride-to-be's favourite pick.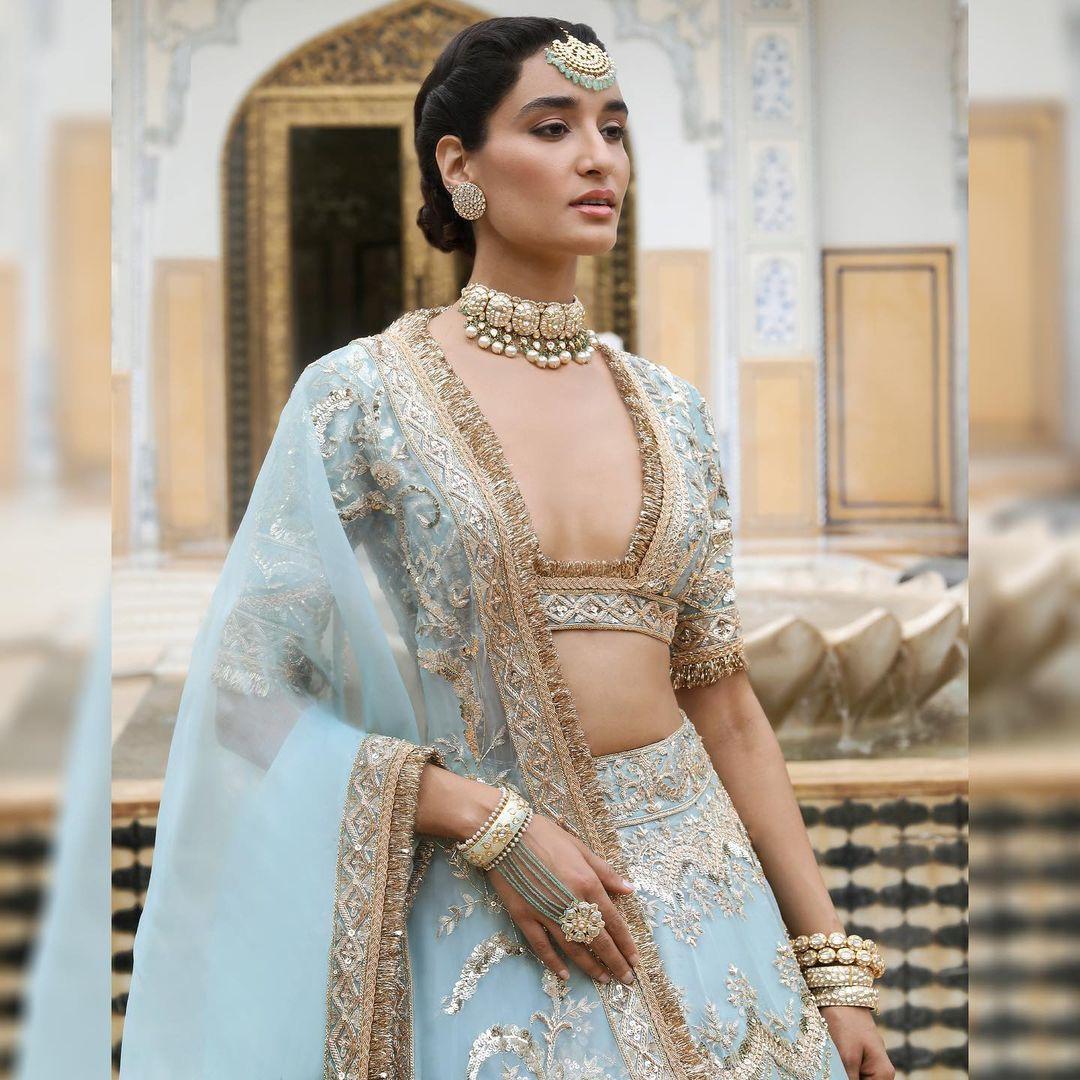 Image Courtesy - Manish Malhotra
If you have opted for a heavy lehenga for your wedding day pair it with a bodice with a scalloped drape to add oodles of modern and trendy blouse style to your otherwise traditionally zari embroidered blouse. Go regal and how!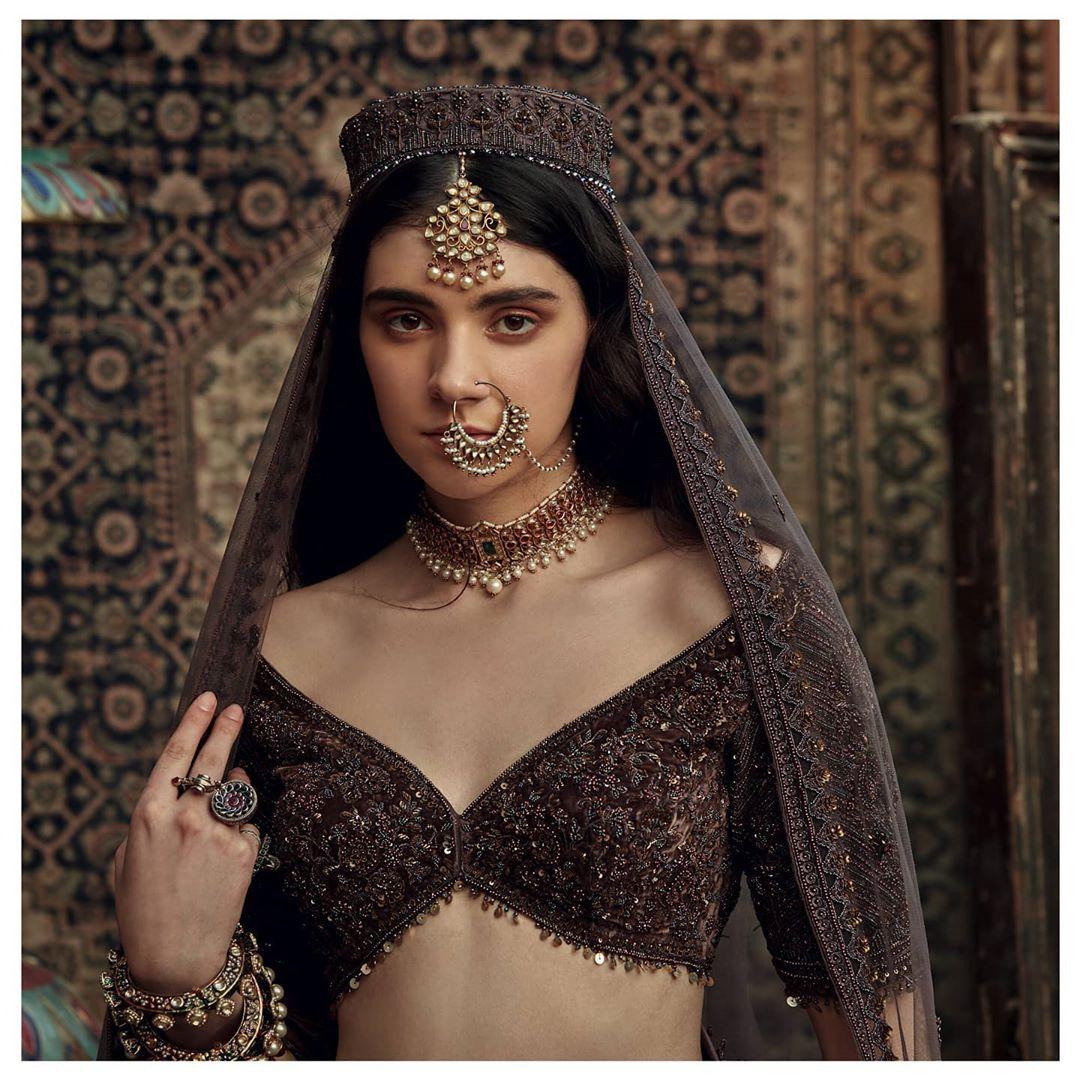 Here's a butterfly neck fancy blouse design with heavy sequin embroidery for those who love to play around with regal looks. This latest sequinned embroidered blouse design by Payal Keyal is here to slay your look at the wedding party and how!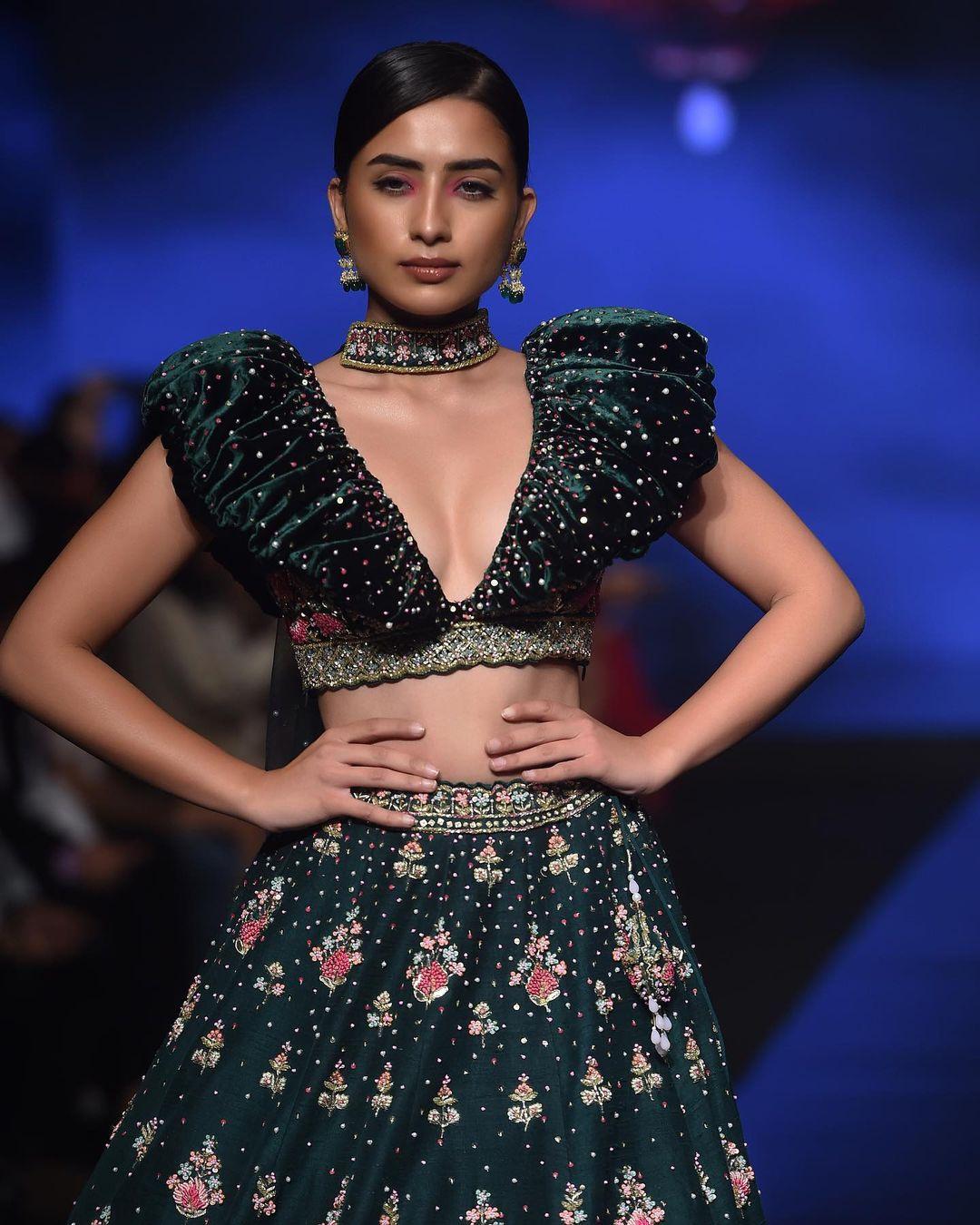 Want to look next-level gorgeous at your best friend/sister's wedding? Fret not! Kalki Fashion's exquisite bottle green velvet lehenga decked is paired with one of the finest modern front blouse designs. We can't get enough of the elaborated puff details layering the sleeves of this choli. And who doesn't love a plunging neck design for a lehenga blouse?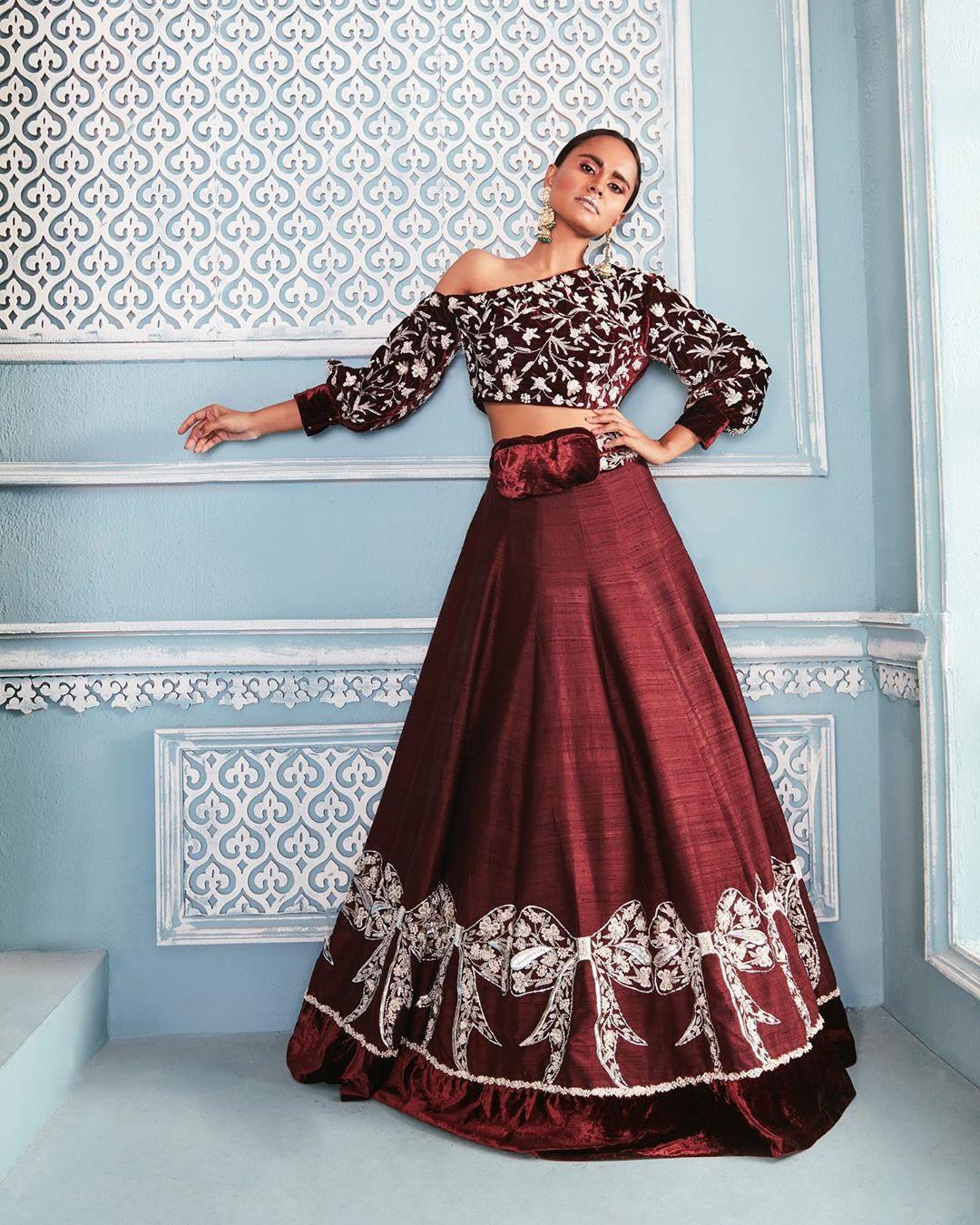 Image Courtesy - Natasha Dalal Label
A fresh and dramatic sleeve blouse design on our radar? One-shoulder blouse designs that strike a perfect balance between modern and traditional. Let your shoulder peek-a-boo as you walk the aisle in a beautiful designer lehenga choli.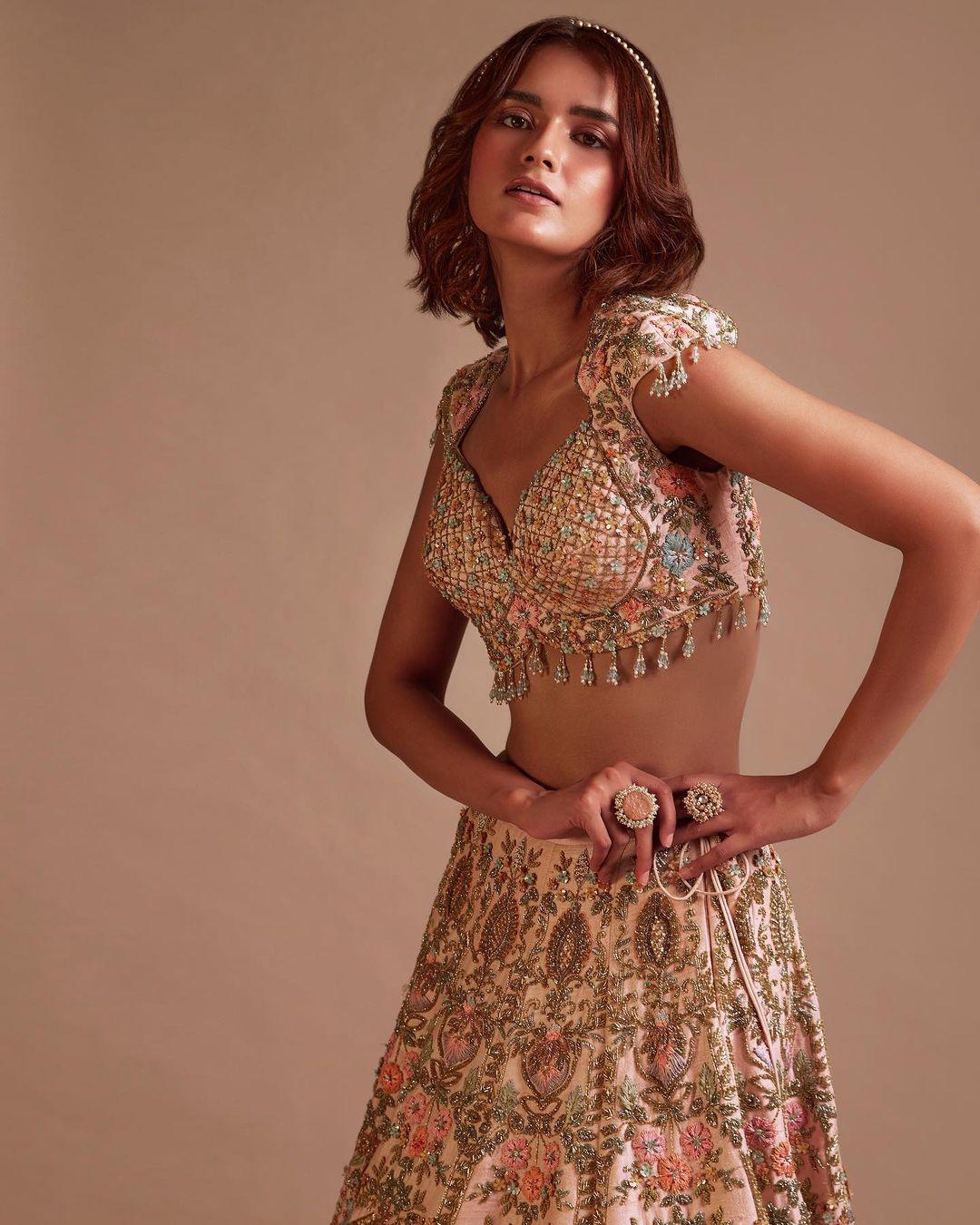 A silk blouse with Aari work patchwork on the neck looks classy and is one of the most-loved and most worn types of blouse neck designs with patchwork. Pair it with a matching lehenga or you can try your hand at teaming this look with a plain organza saree. The royal Maggam blouse patchwork on the neck of this blouse with intricate Zari embroidery and floral accents makes it an alluring piece. Carry a designer Potli bag that matches the patchwork to sweep them off their feet.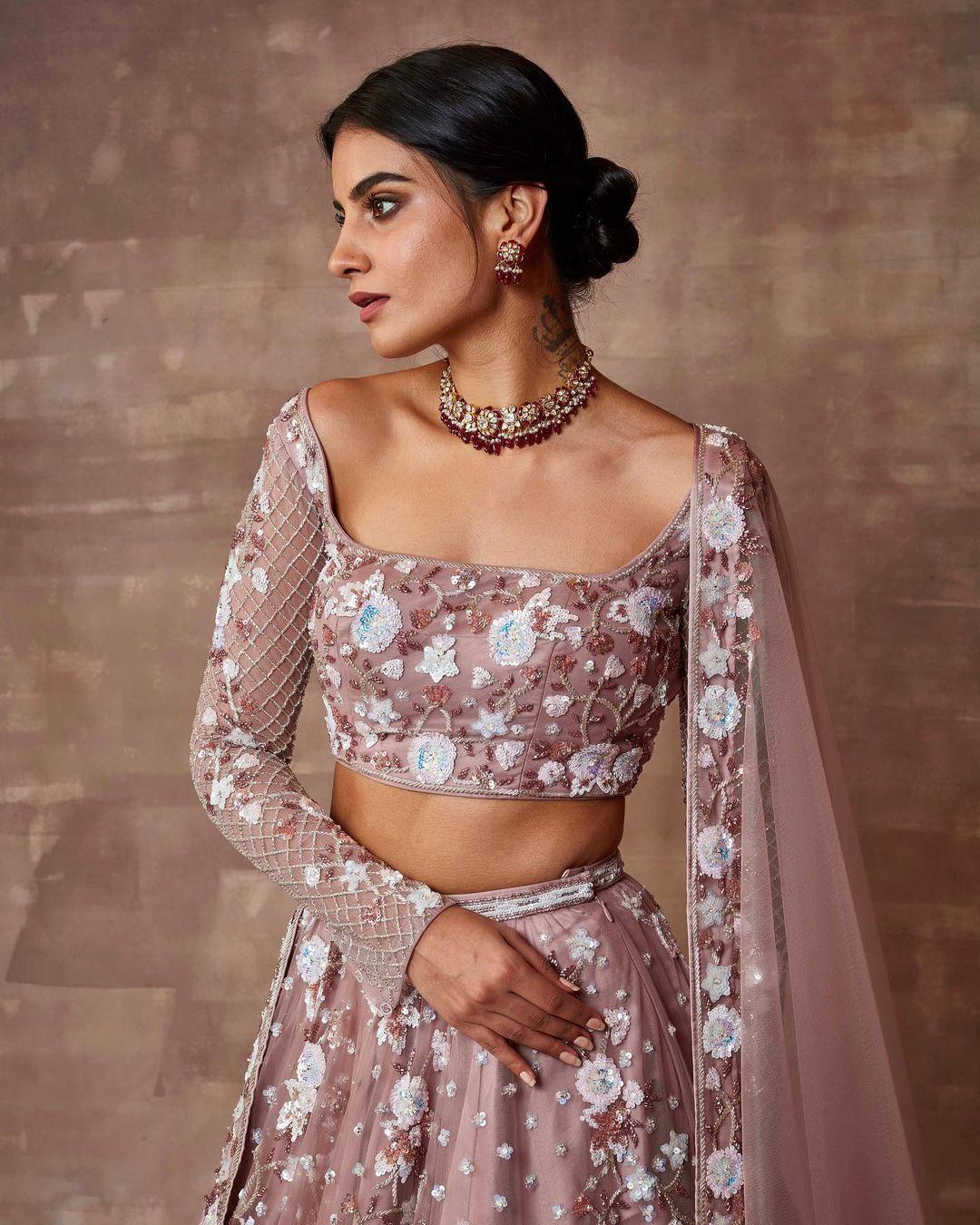 Image Courtesy: House of Neeta Lulla
This raw silk off-shoulder full-sleeve blouse design with floral patchwork embroidery and Aari work is a beauty that will not only accentuate your lehenga look but also make you look alluring when you pair this up with a saree. The full sleeve net blouse with intricate threadwork all over the sleeves with beads and sequins will make it worth every penny you spend on it!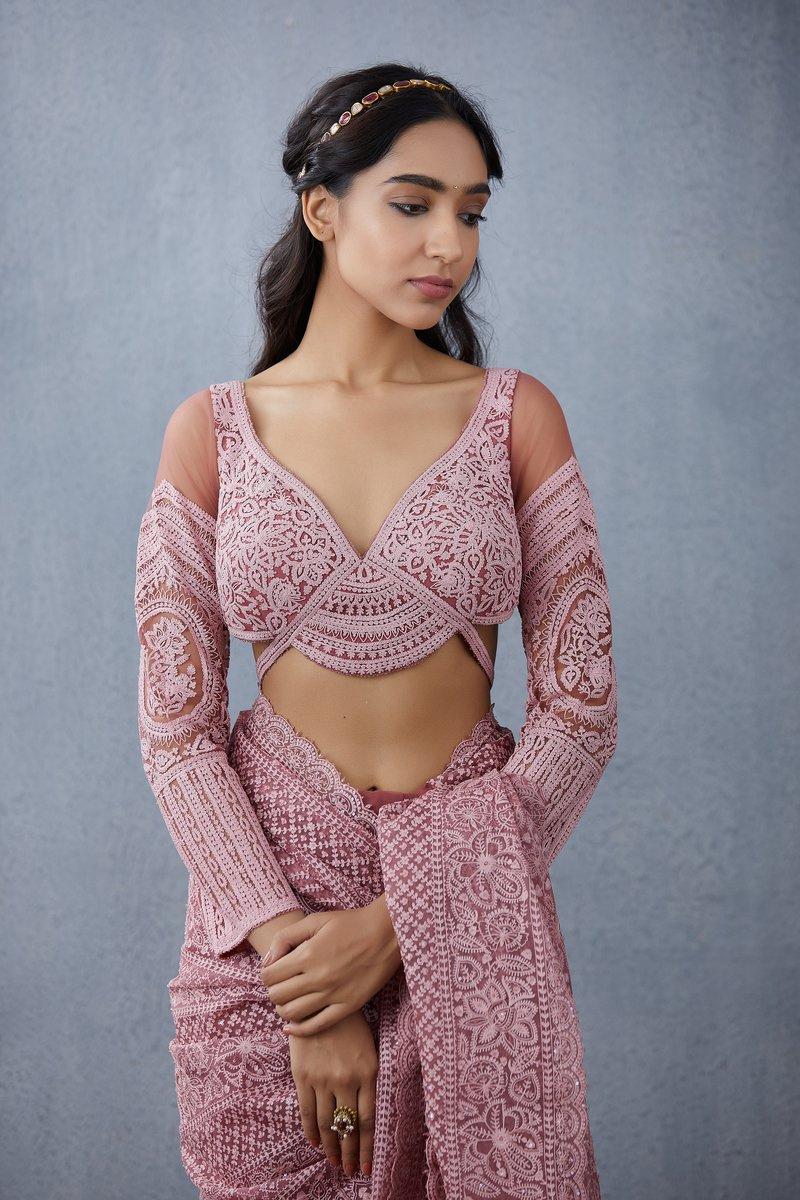 Image Courtesy: Torani
This full sleeve blouse design by Torani will make you look like the perfect bridal muse. The tulle handwoven blouse with intricate embroidery all over the sleeves adds a regal touch to your wedding outfit in a jiffy.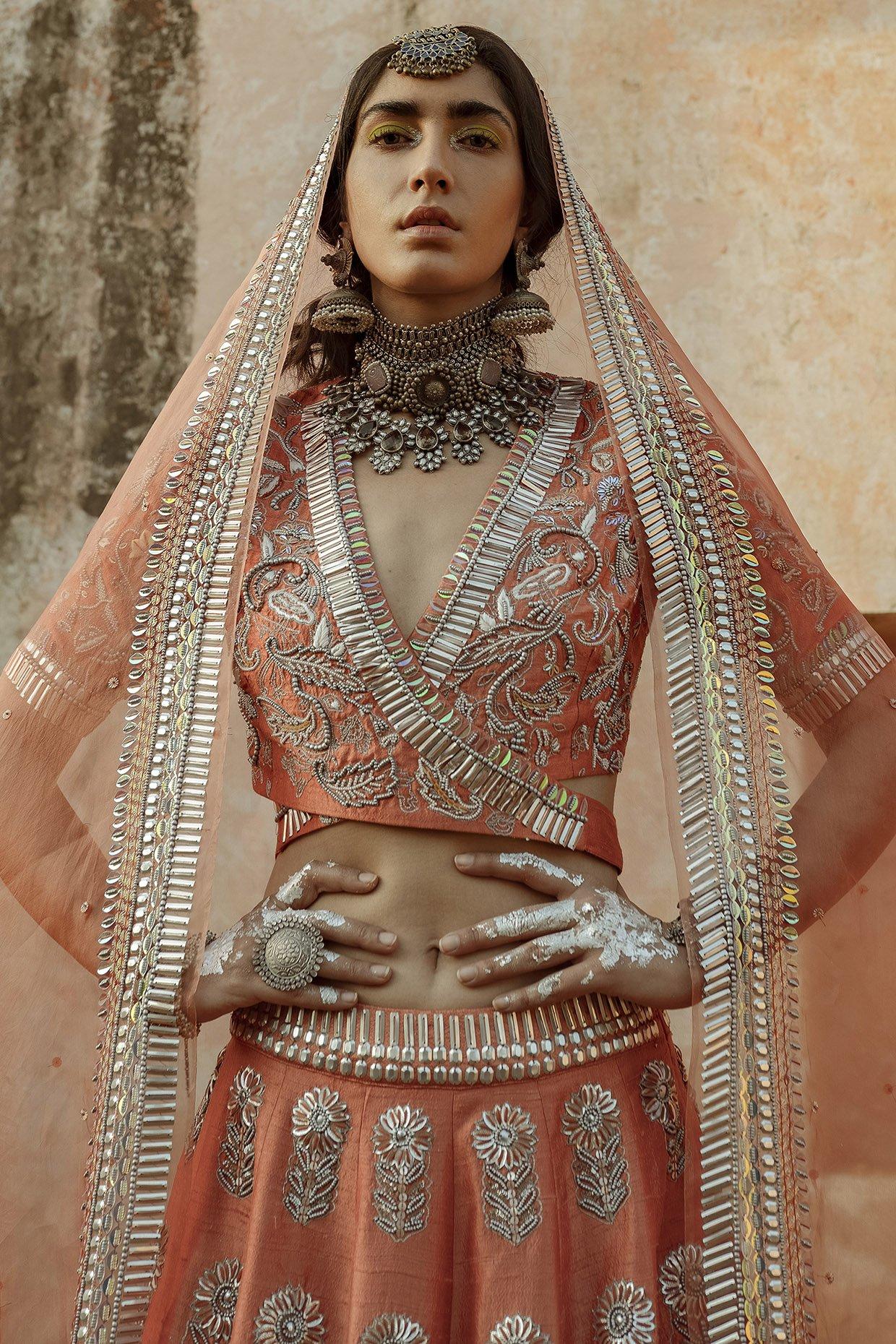 Image Courtesy: Saksham & Neharicka
Zari embroidery is an age-old embroidery design that is especially used to design clothes that are meant for special occasions. This Zari embroidery blouse design with alternative sequin and beads makes this V-neck blouse a gorgeous one.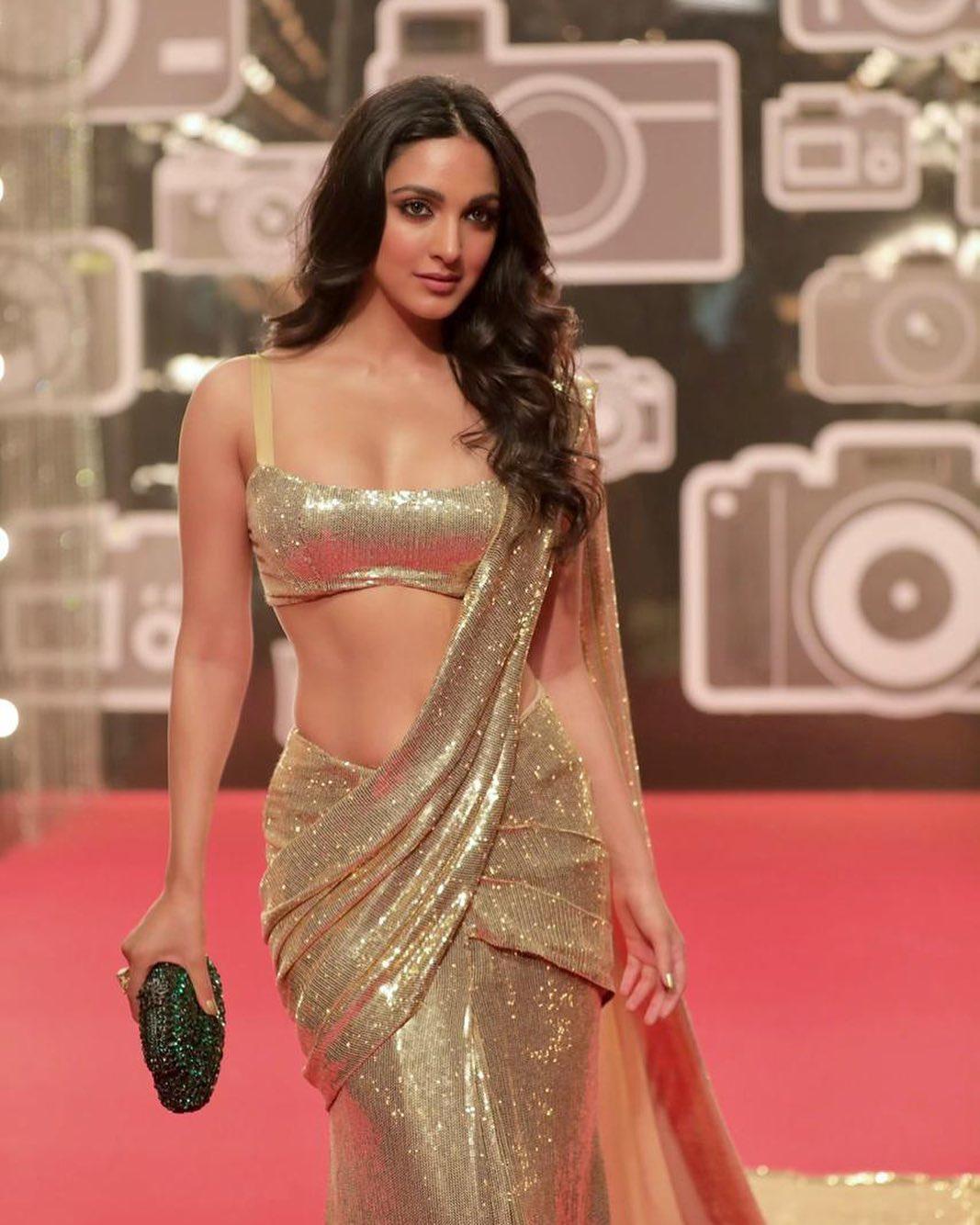 Image Credits - Manish Malhotra
Browsing through blouse design images on the internet to find the perfect inspirations for your traditional wear? Find this blouse neck design inspiration you need for your wedding. This fancy blouse design will perfectly complement your sartorial choices in a classy manner.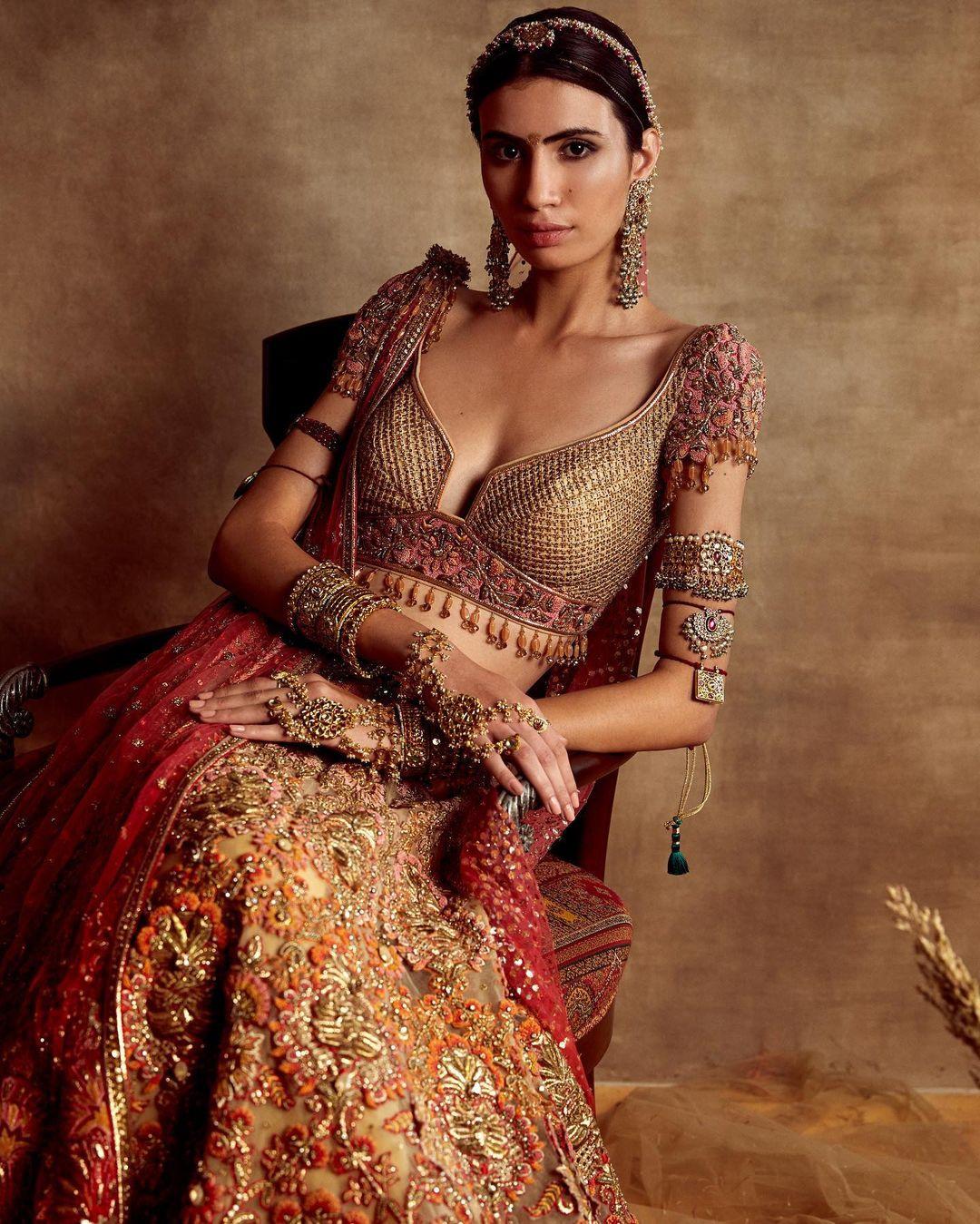 This blouse with a plunging neck design by Tarun Tahiliani modifies the traditional sweetheart neckline with finesse. The standard sweetheart neckline is given a broad split that gives this neck design a modern twist and an alluring one without a doubt. The intricate trellis, Gota, and crystal pave with shaded French knots and embroidery makes this blouse one of a kind. The use of crystals and shaded embroidered wings is the cherry on top.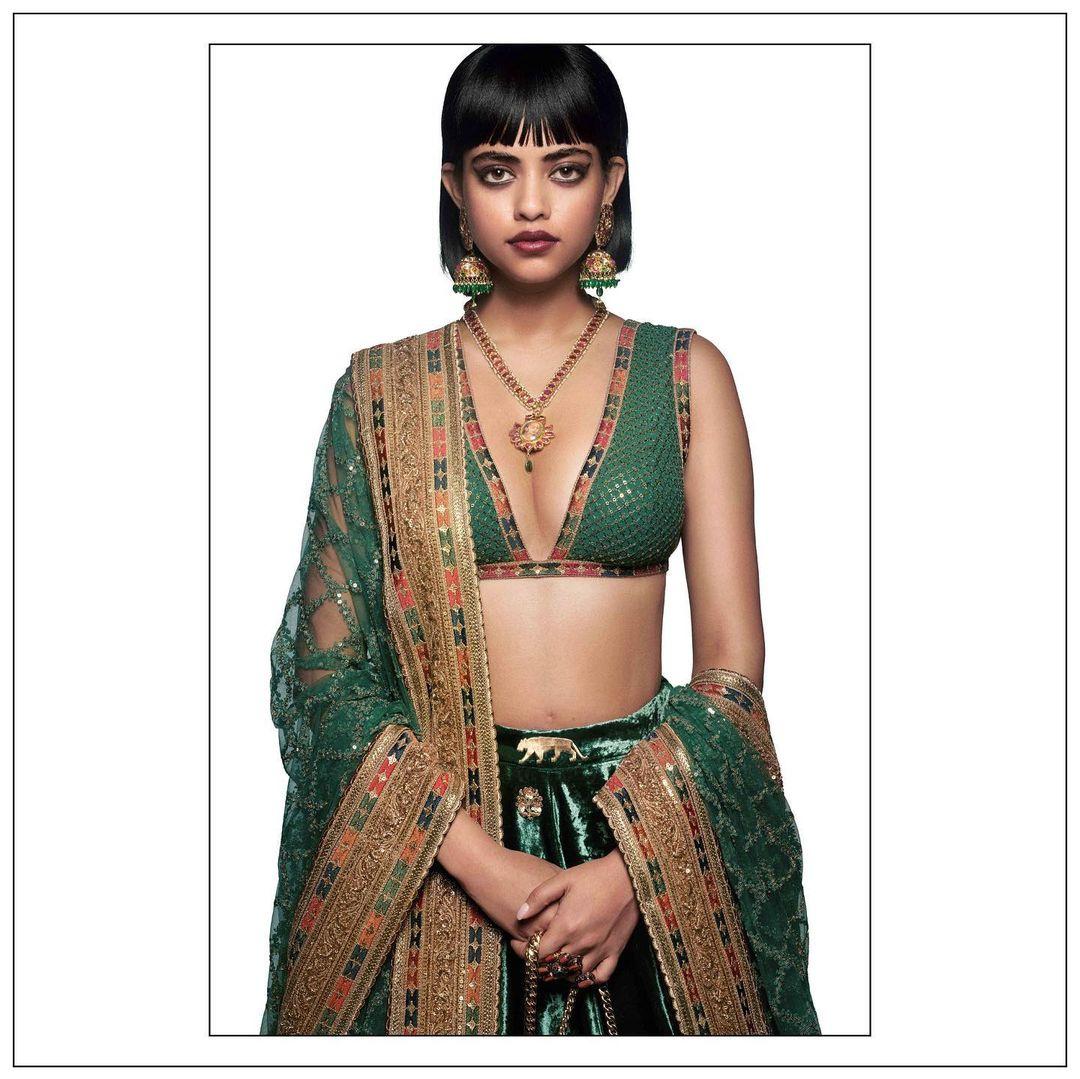 Image Courtesy: Sabyasachi
This simple and subtle emerald green coloured sleeveless blouse design is a charmer. Balancing the grace and the simple yet sensual appeal finely, this Sabyasachi Chaand blouse is sure to make you look enchanting as ever. Pick some Temple jewellery pieces or heavy gold jewellery sets to enhance the neckline with the best of necklaces and look ravishing as ever when paired with a green velvet lehenga.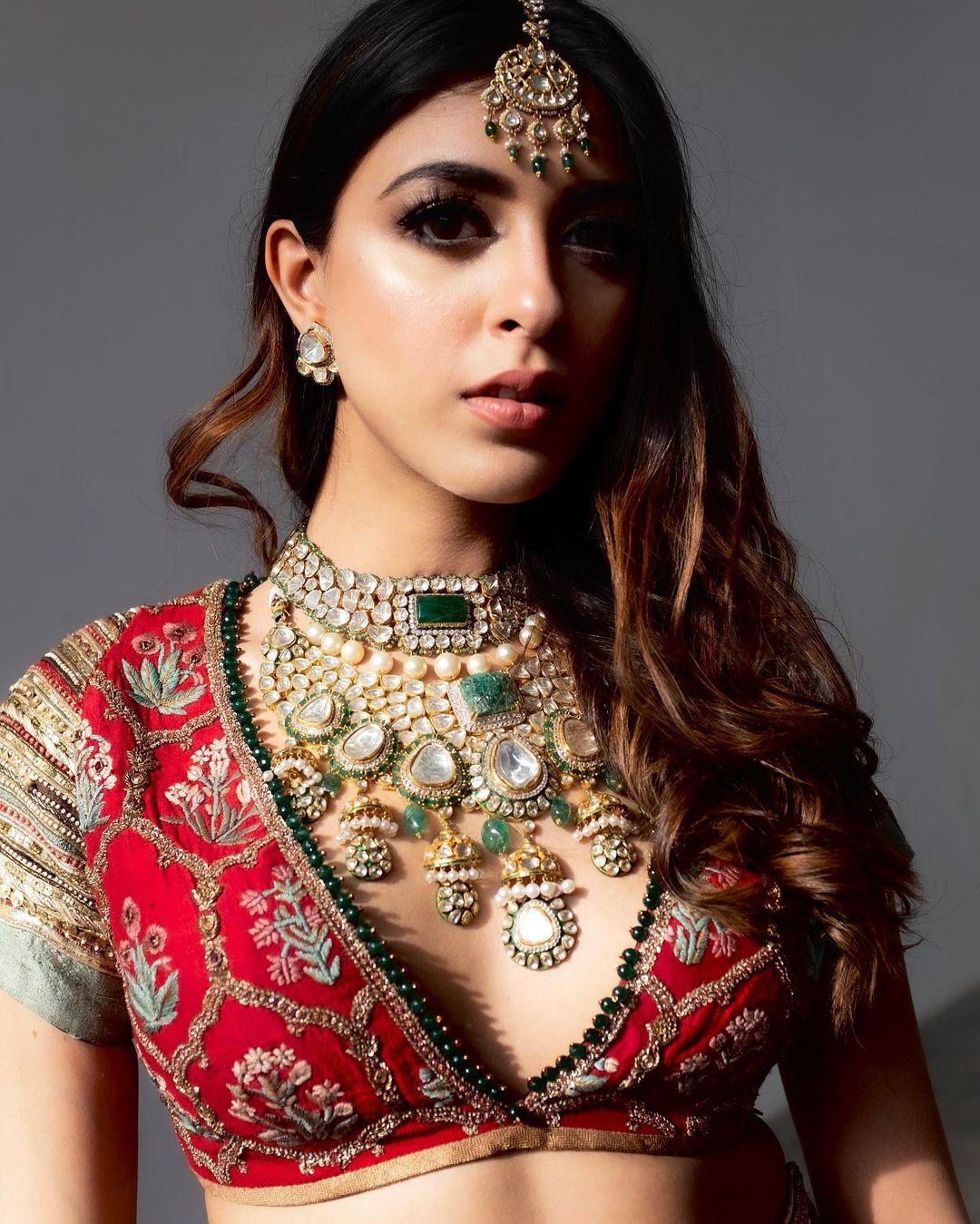 This plunging neck blouse design flaunts a simple deep V-neck, but what makes it stand out and turn heads is the gorgeous emerald green beaded detailing that runs throughout the neckline and ends in an overlapping fabric. The gotta and zari work along with the antique gold embroidery on the blouse makes this regal blouse perfect for your D-day. Pair a heavy Polki necklace to complete the look with grace.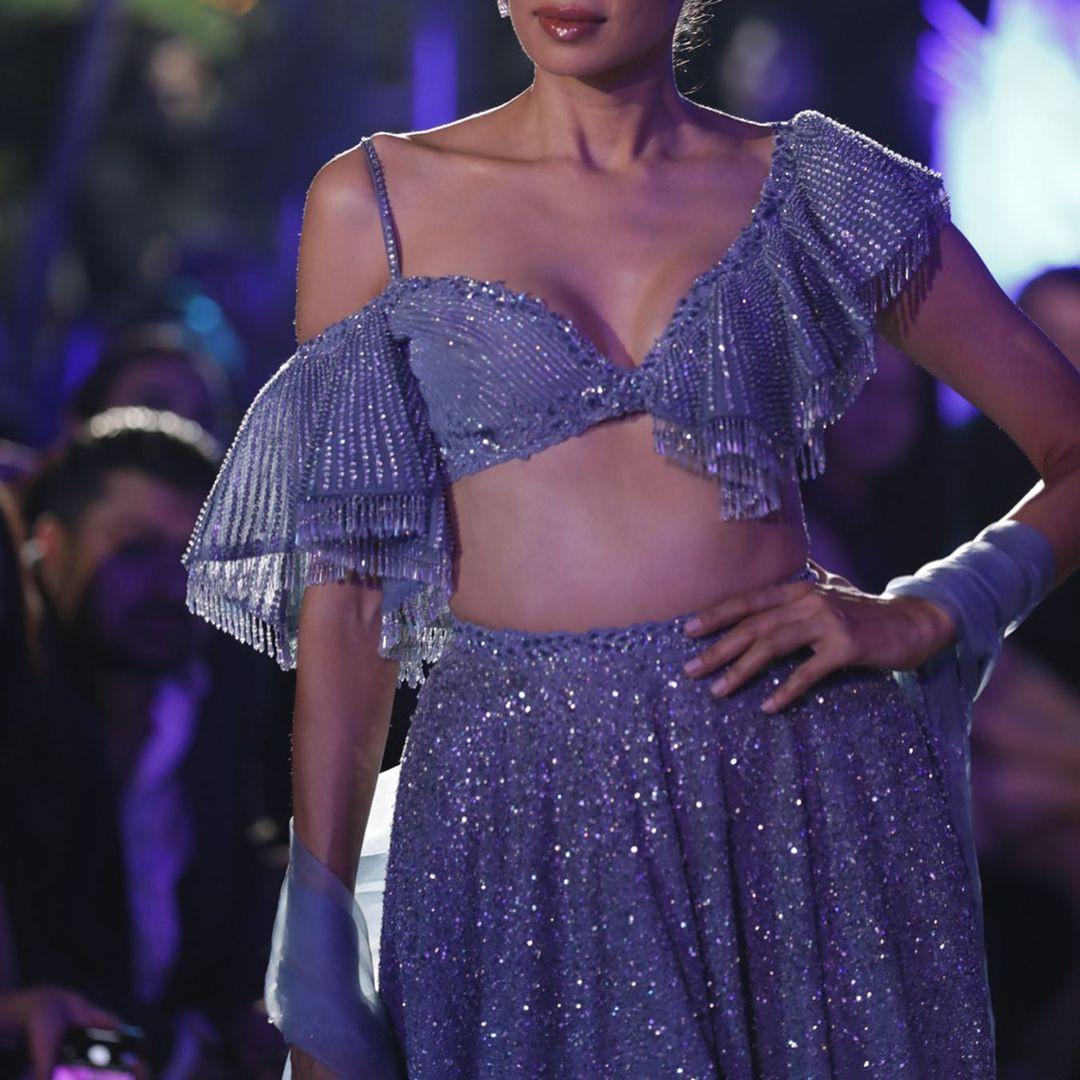 Image Courtesy: Kresha Bajaj
Another fine plunging neck blouse design by Kresha Bajaj is this bralette paired with a lehenga with a simple sweetheart neckline and noodle straps with ruffle detailing - cold-shoulder ruffle detailing on one side and ruffles on the shoulder on one. The dramatic sleeve design of this blouse is a showstopper without a doubt. Only diamond jewellery sets will complement the look to the T.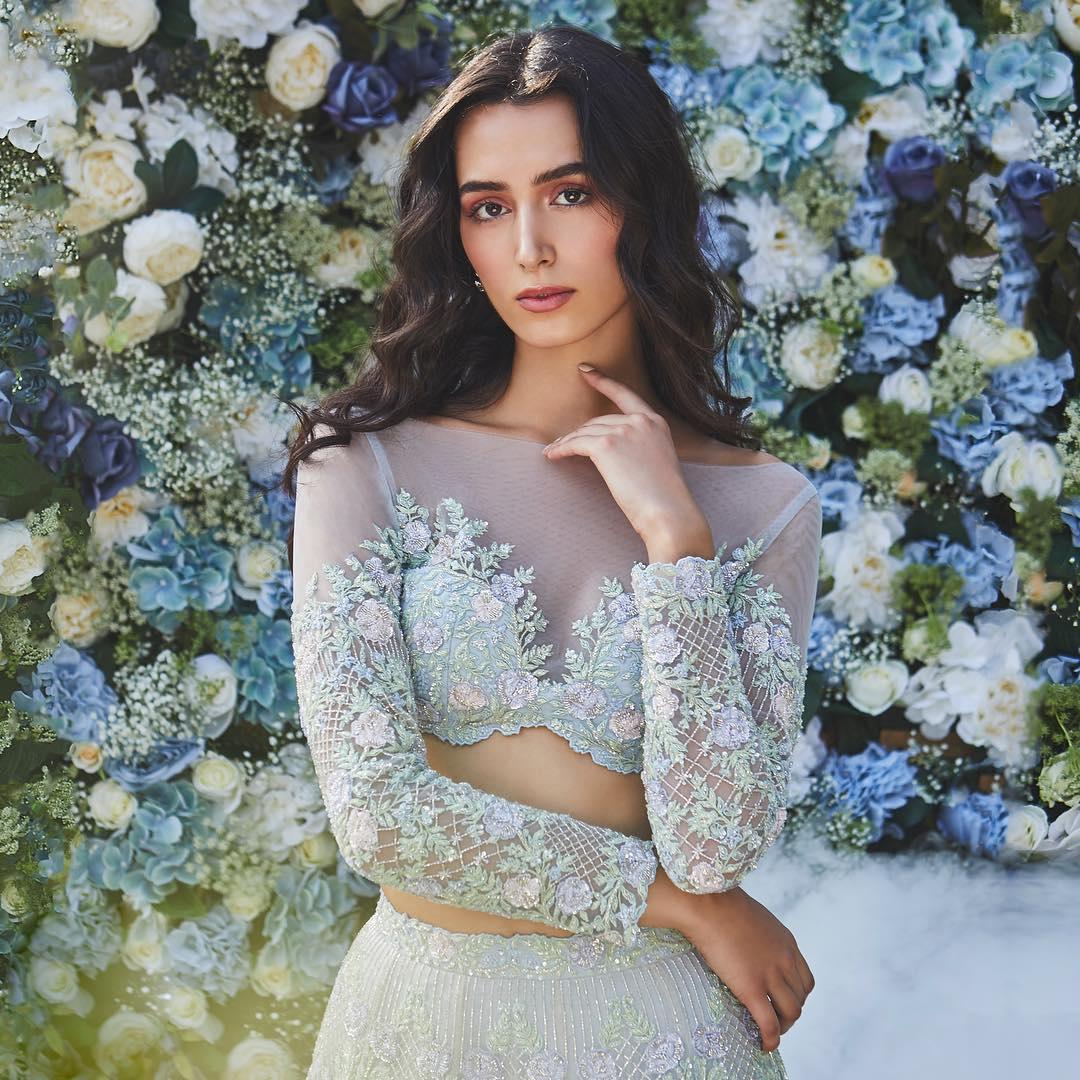 Image Courtesy: Kresha Bajaj
Illusion necklines are a huge hit among the millennials who like to keep it edgy but also balance it with a fine line of subtle. While the neckline creates a mirage of an off-shoulder lace embroidered blouse with floral accents, the original design of the blouse is a boat neck due to the use of tulle. This full-sleeve blouse design by Kresha Bajaj looks dreamy and perfect for a pastel lehenga that you can wear at a beach wedding.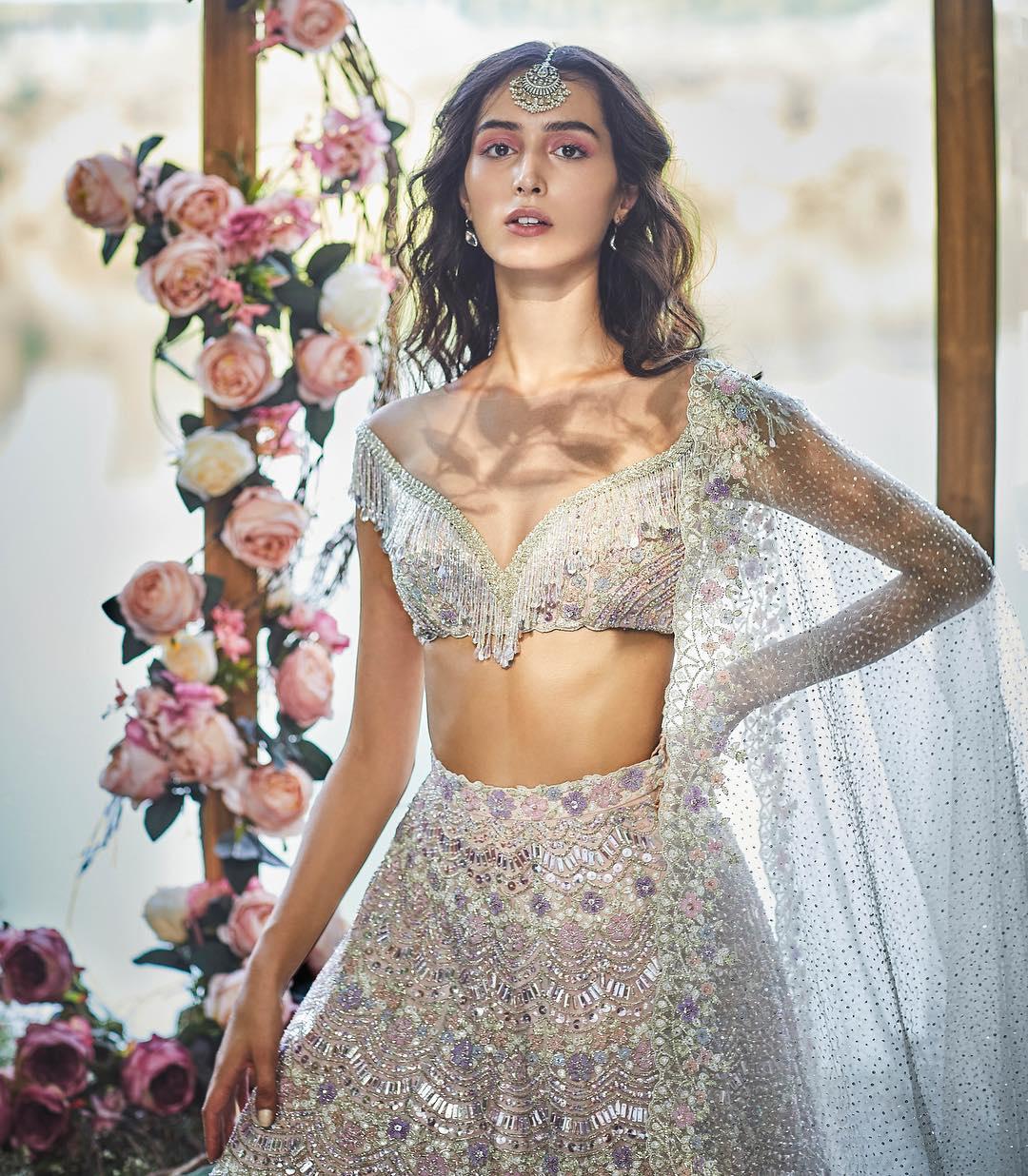 Image Courtesy: Kresha Bajaj
Last but not the least, this off-shoulder lehenga blouse design by Kresha Bajaj stole our hearts and how! This blouse sure gives us the dreamy princess feels. The beaded frill detailing that fall like tassels all around the neckline with intricate sequin and crystal-studded detailing makes this outfit perfect for your Sangeet ceremony or a mesmerising Mehndi ceremony or even a beach wedding.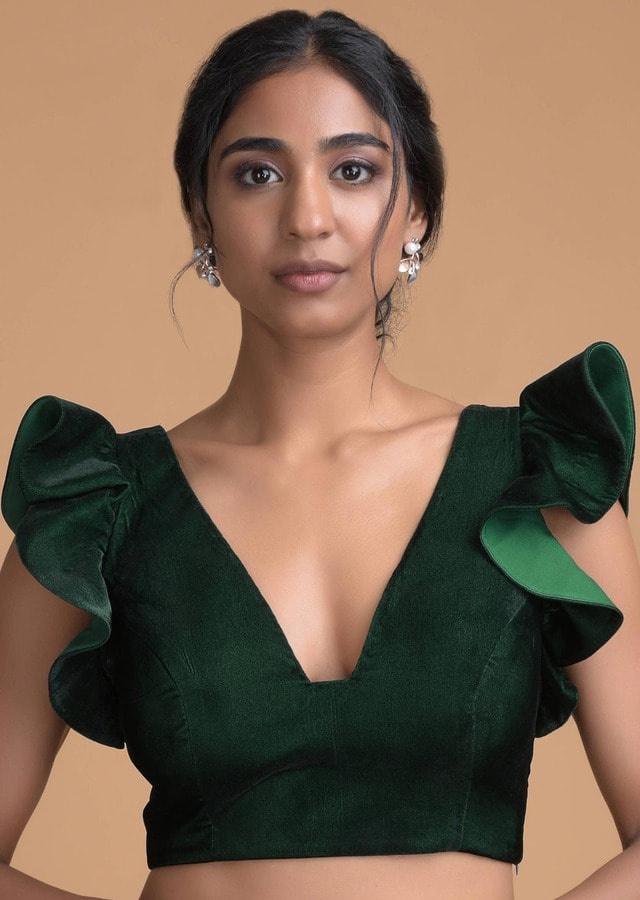 Go in for a simple yet OTT velvet blouse design when you're stuck wondering what to wear for the big day. Check out this emerald green velvet blouse with a side chain and flutter sleeve detailing. The deep V Neck blouse is going to be the perfect wardrobe pick if you are planning to flaunt some impeccable Aad necklace or layered necklaces. The plain fabric in its most regal colour is perfect for modern brides.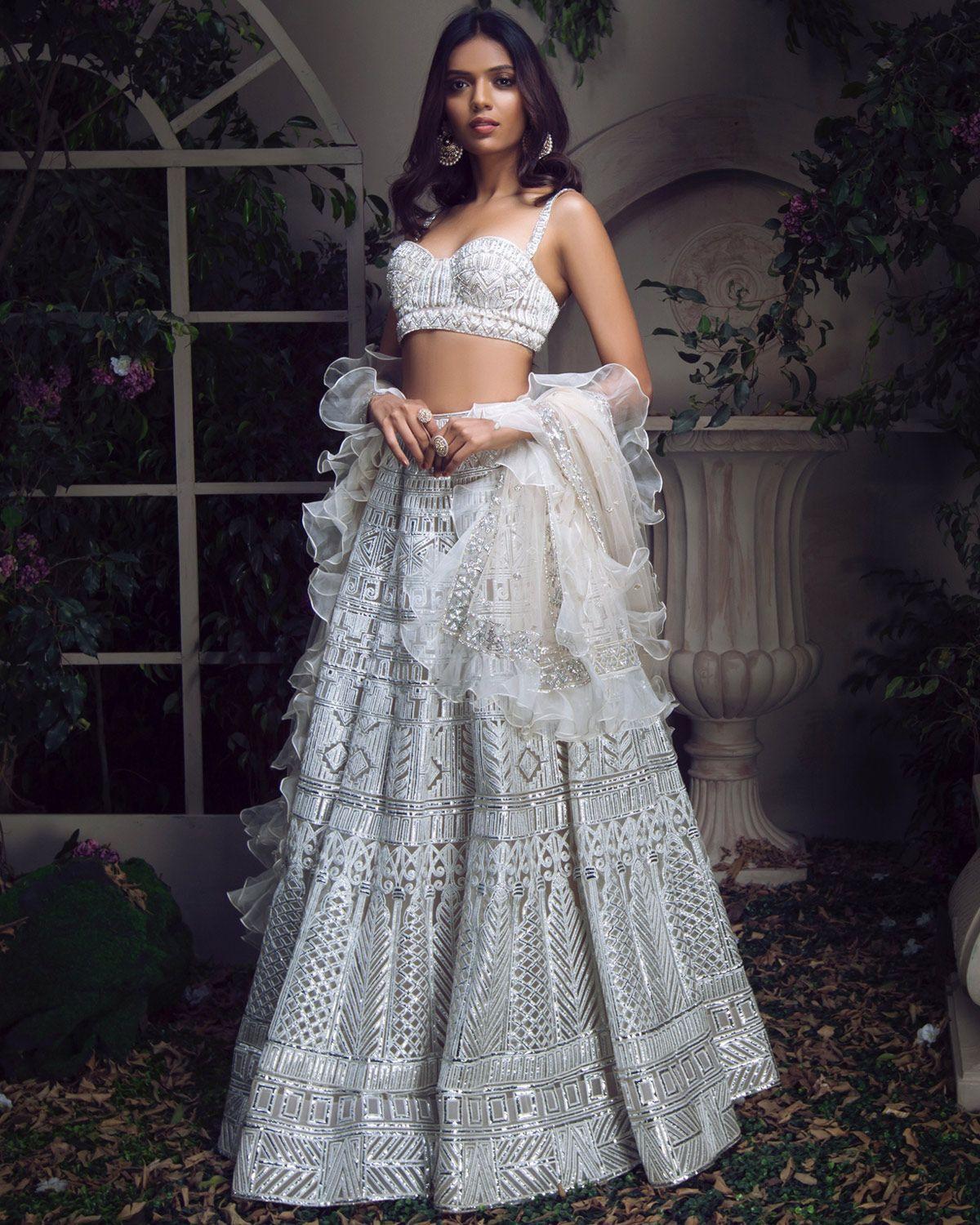 Image Courtesy: Falguni Shane Peacock
Looking for a picture-perfect blouse for your wedding functions? This ivory corset blouse is going to be your saviour for the day! We are going gaga over this pearled ivory blouse paired with a gleaming chrome lehenga. The best thing about a corset blouse is, it gives a sheer look and swirls the world of style with eminence. Trap the attention of the guest by wearing this strappy corset blouse from the collection of Falguni Shane Peacock. Opt for this elegant corset blouse design to stay in style and comfort at the same time.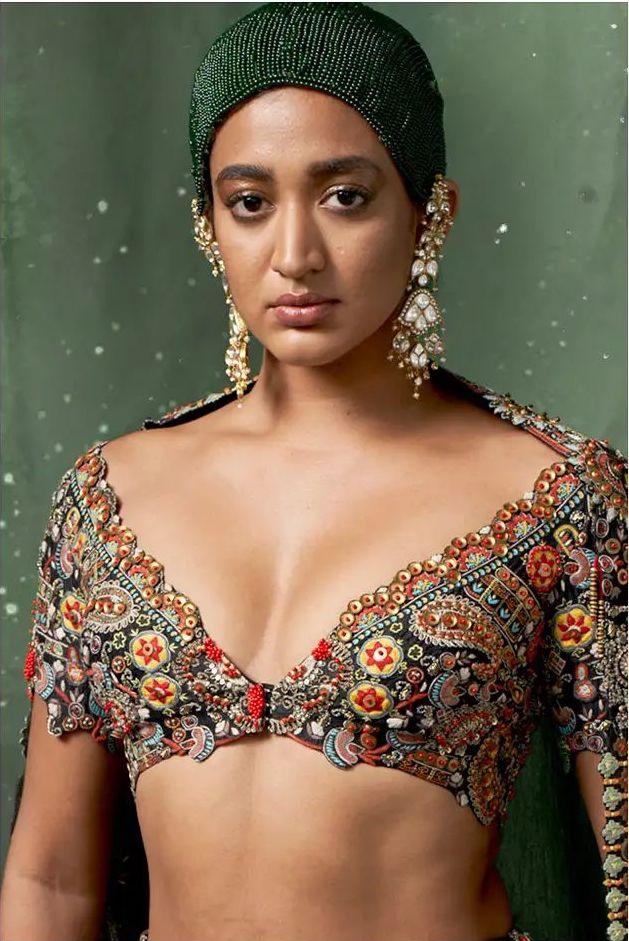 Image Courtesy: Anamika Khanna
This intricately hand-embroidered designer fancy blouse neck design by Anamika Khanna is an out-of-the-box design that will make your wedding outfit an unforgettable one.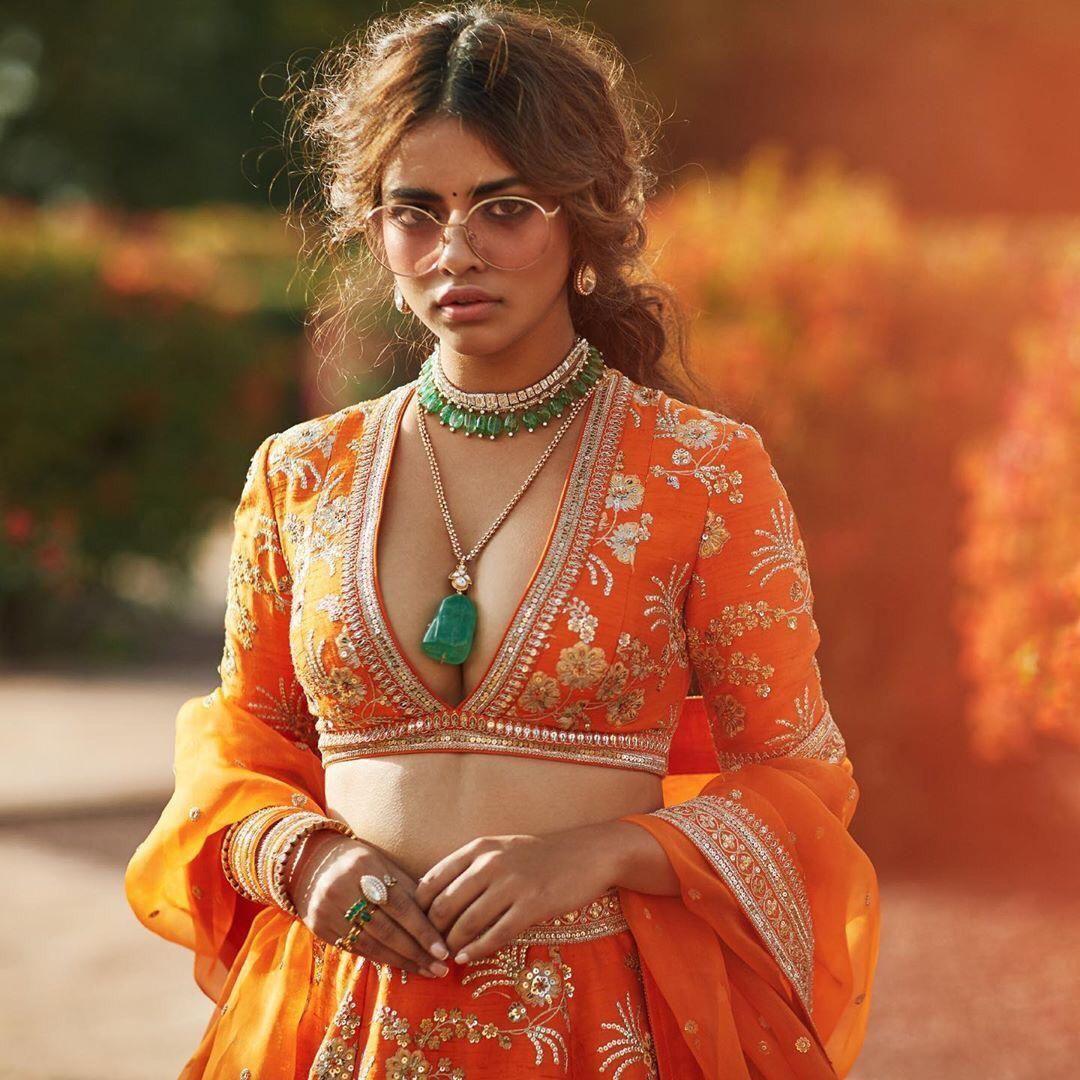 Image Courtesy: Sabyasachi's Official Instagram
For brides who wish to wear a saree for their main wedding ceremony, a fancy blouse is a must! This beautiful v-neck blouse is one of the freshest trends that has surfaced and is getting much-deserved attention for its uniqueness as well. The orange embellished design of the floral Zari, complimented with half sleeves is a match for any traditional Indian saree or lehenga.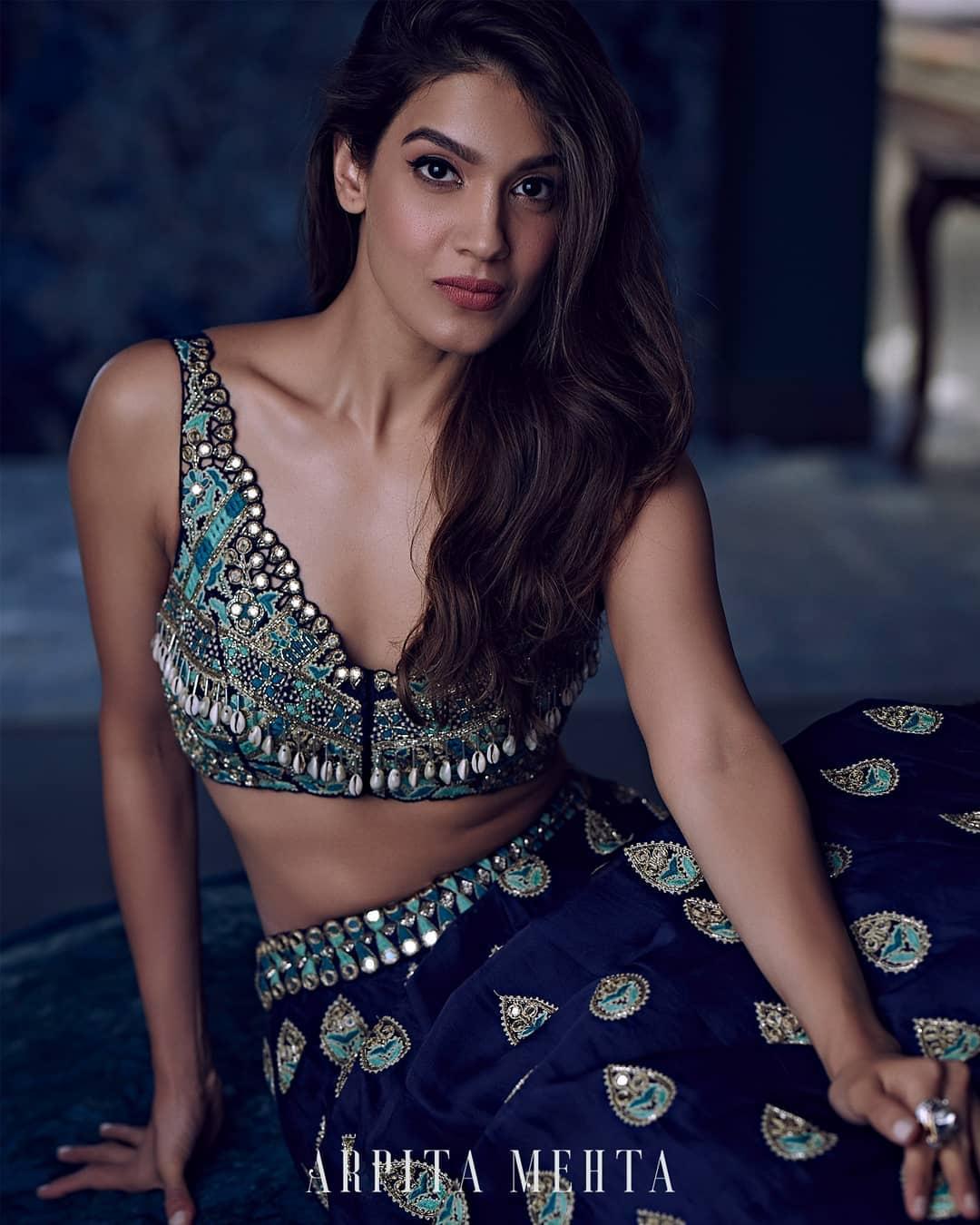 Sabyasachi has been the flag bearer of deep-V neck blouses with the most conventional outfits. Taking the deep-V blouse a level up this blouse flexes a scalloped hem with mirrorwork in it. The mirror work blouse in royal blue with the cowrie shells is an amazing piece of art created by Arpita Mehta and makes for a stunning outfit for your Sangeet night.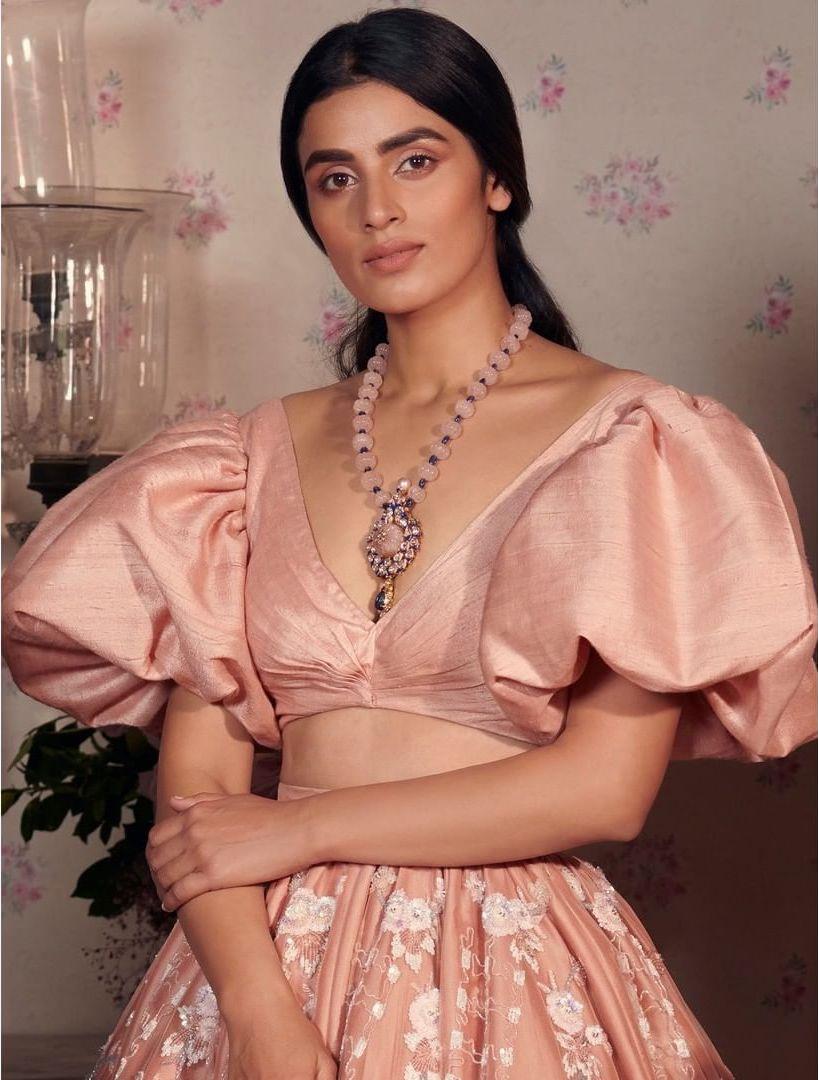 Image Courtesy: House of Neeta Lulla
The ethereal elegance of feminine details, subtle majestic grandeur, and delicate intricacy have been the constant reference for this blouse design. This blouse design is a revival of a fashion theatre at its splendid best!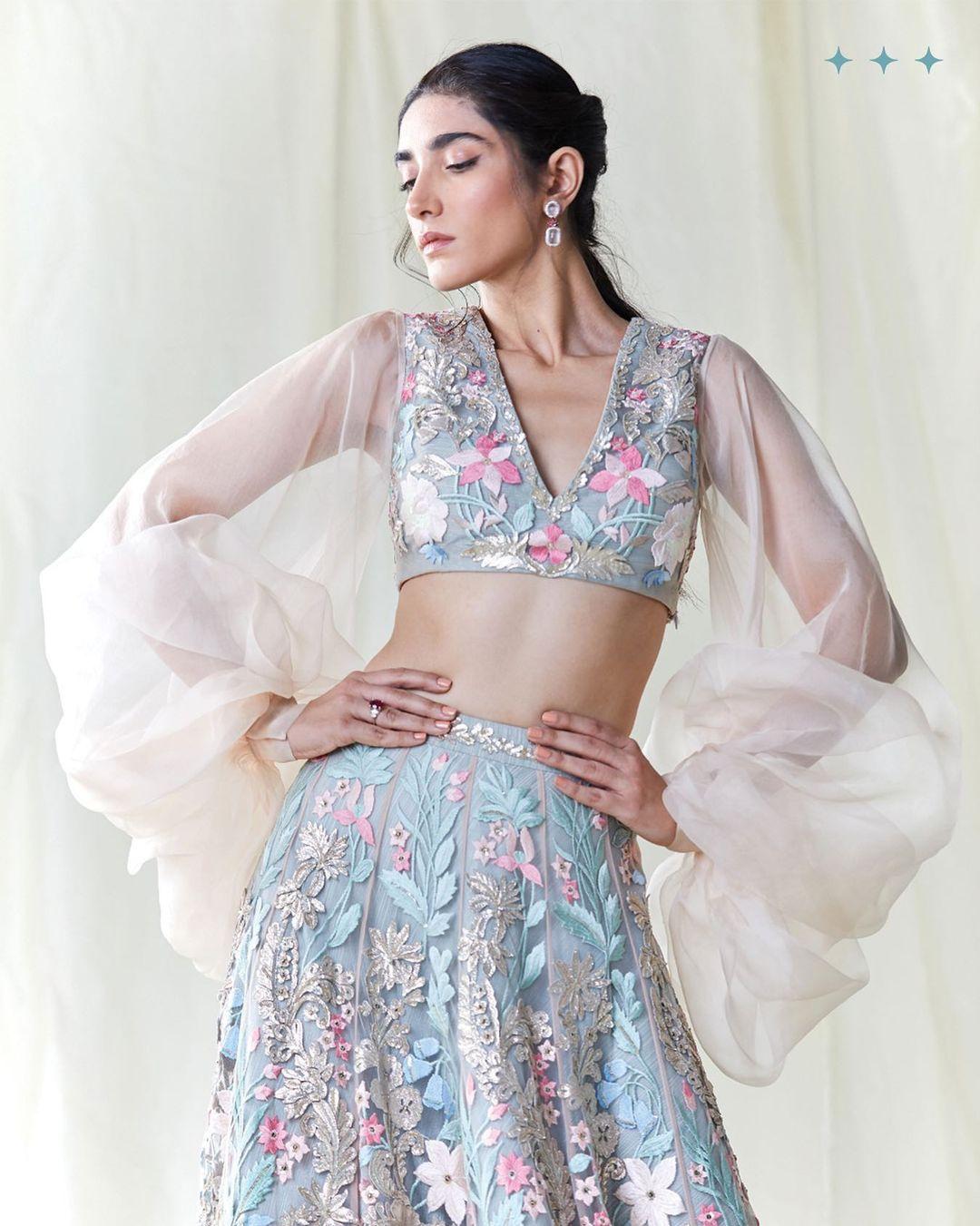 Image Courtesy: Pankaj & Nidhi
Misty pastel silk threads are intertwined with gold and embroidered on this translucent tulle blouse design, with romantic and stylish puff-sleeves making this blouse a show-stopper. The bishop OTT sleeves are the USP of this fancy blouse design.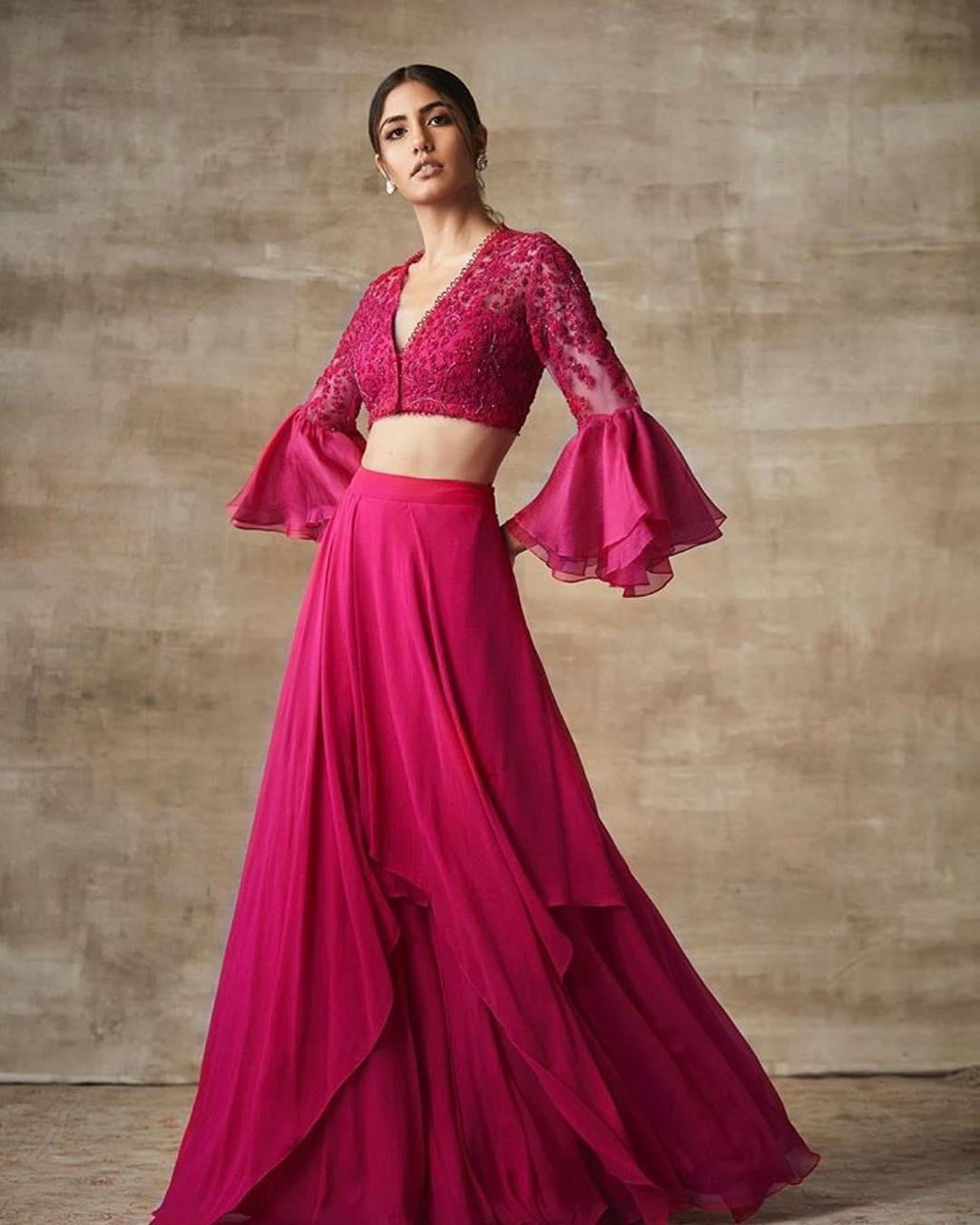 Image Courtesy: Ridhi Mehra
Bringing flares into weddings and making it all the more stylish, this Ridhi Mehra deep V-neck blouse with front buttons and a dramatic bell sleeve in Fuschia pink is a hoot. The receding embroidery towards the elbow adds to the beauty of the bell sleeves. Also what is better than bell sleeves - a layered bell sleeve to add to the volume. Pick this blouse to pair it with a lightweight lehenga or a lightweight saree for your pre-wedding ceremonies to wow the crowd.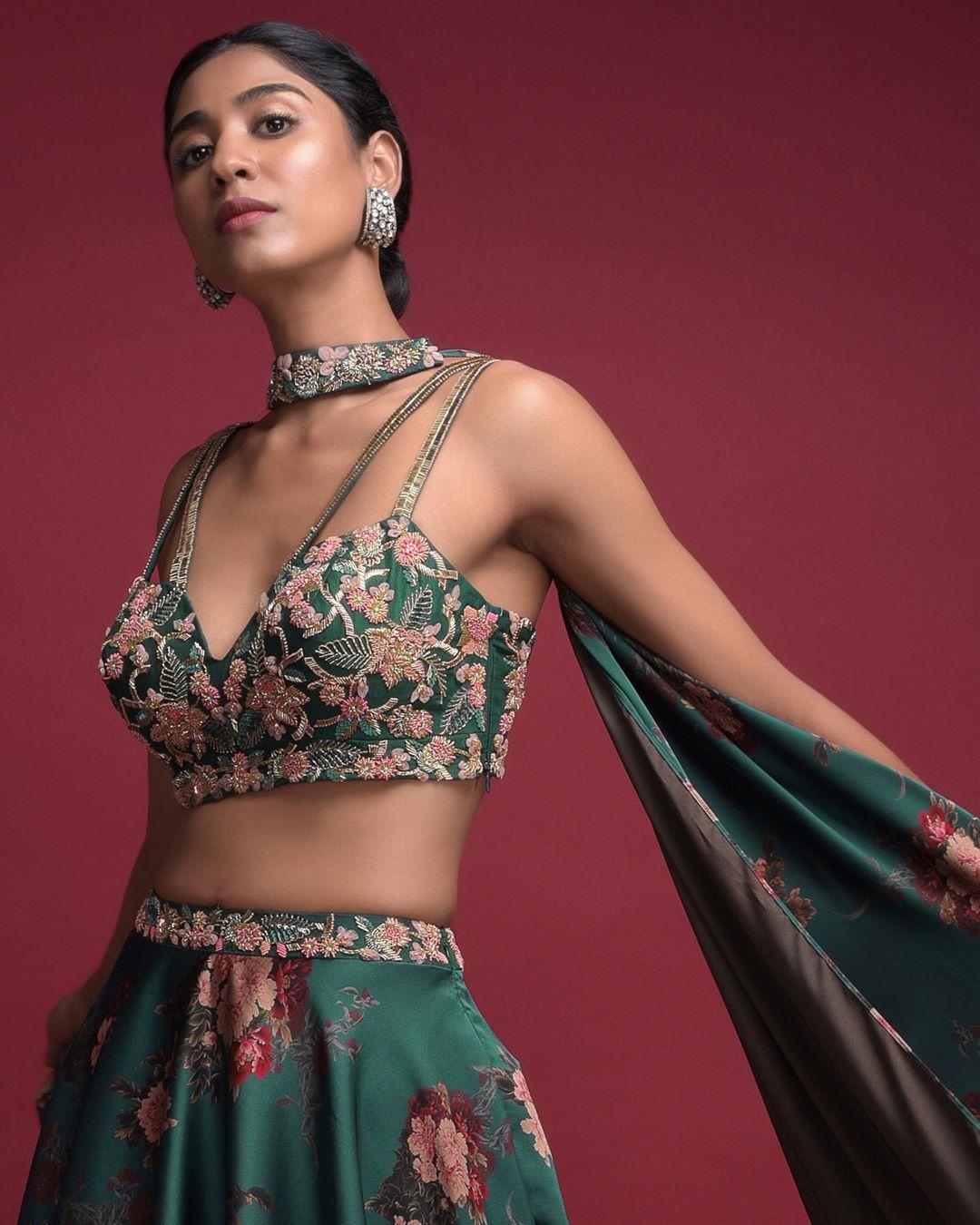 The emerald green bustier is exquisitely intricated with bugle beads, origami embellished floral jaal and further highlighting it with scattered sequins. This piece from Kalki Fashion is all about chic, couture, and pure simplicity with a strappy cut blouse that flaunts a plunge for maximum effect! This number will be the quintessential part of every girl's wedding wardrobe as it combines fashion and comfort effortlessly.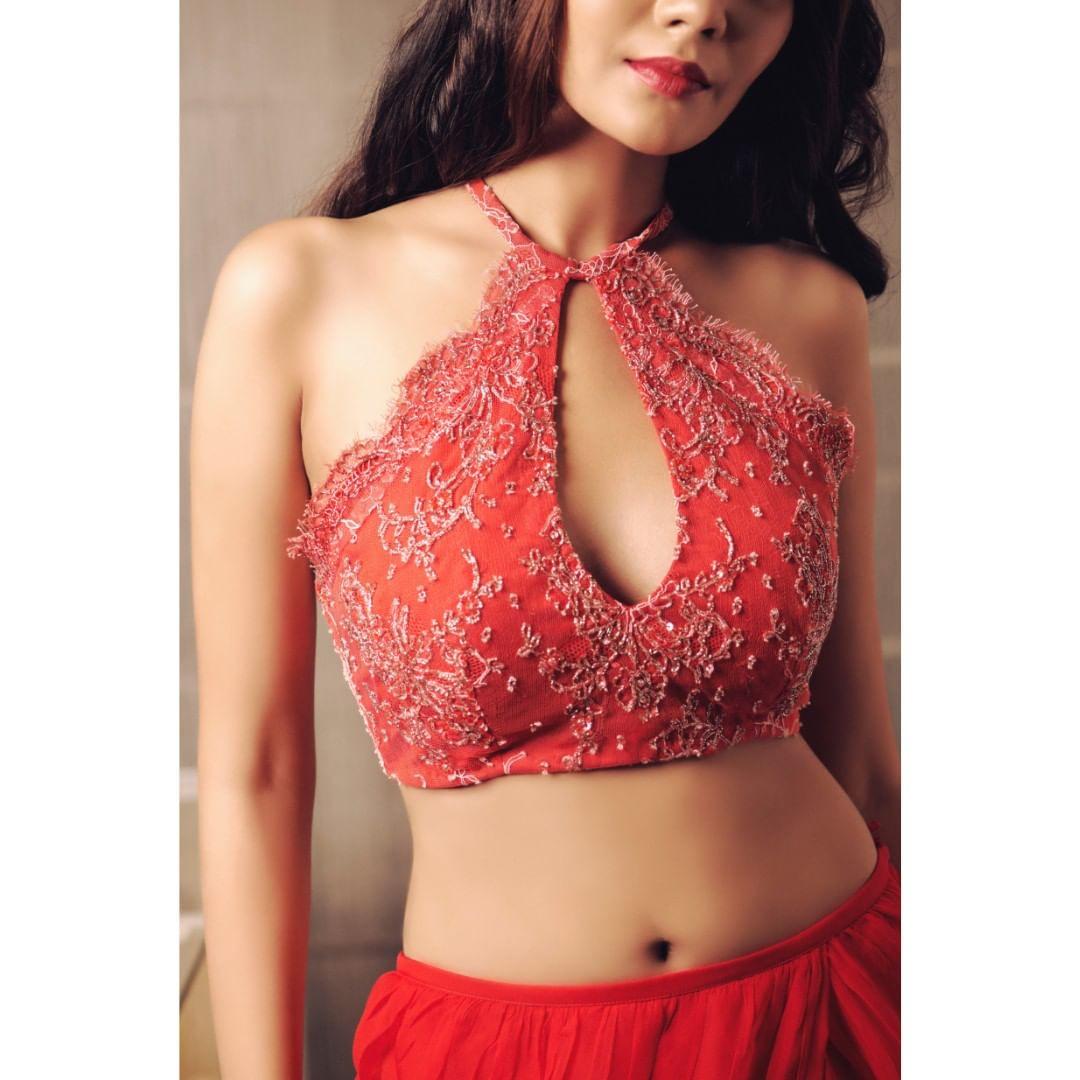 Image Courtesy: Shehla Khan
Emanating elegance through delicate embroidery by Shehla Khan, this red fancy halter neck blouse design with a deep keyhole cutout is a ravishing piece to be worn for a cocktail or a sangeet ceremony. Adding to the charm is the rough scallop-shaped hem of the blouse. Pair it with a red lehenga or a high waist skirt and a dupatta to rock the look.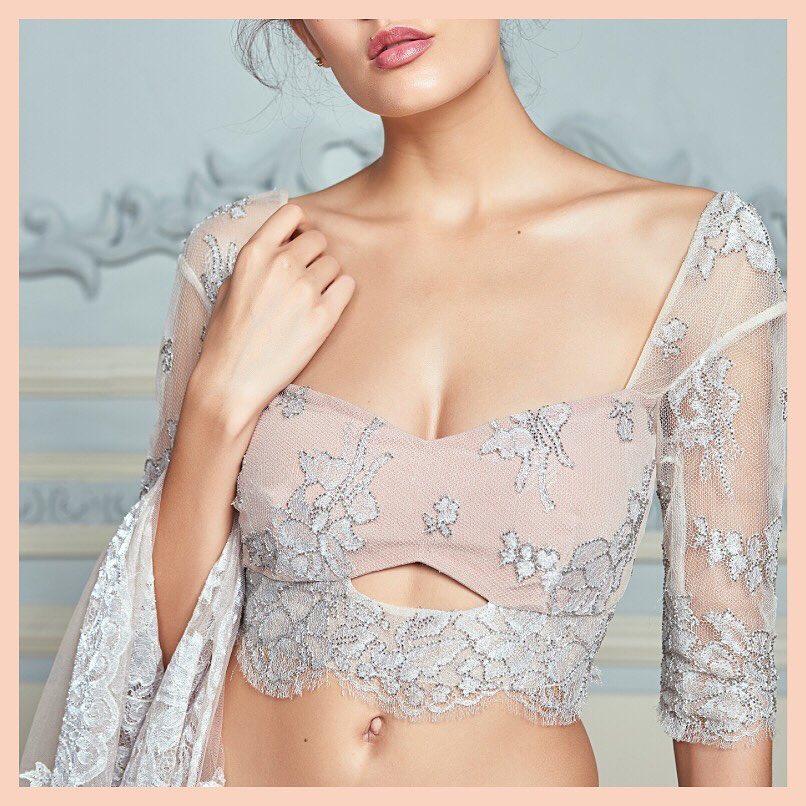 Image Courtesy: Shehla Khan
Another piece of absolute brilliance by Shehla Khan is this Chantilly lace blouse with a delicate cutout giving it the illusion of a bandeau top. The intricate embroidery running delicately through the piece adds to the charm of this fancy blouse. This can be paired with a saree or a lehenga for a day wedding ceremony.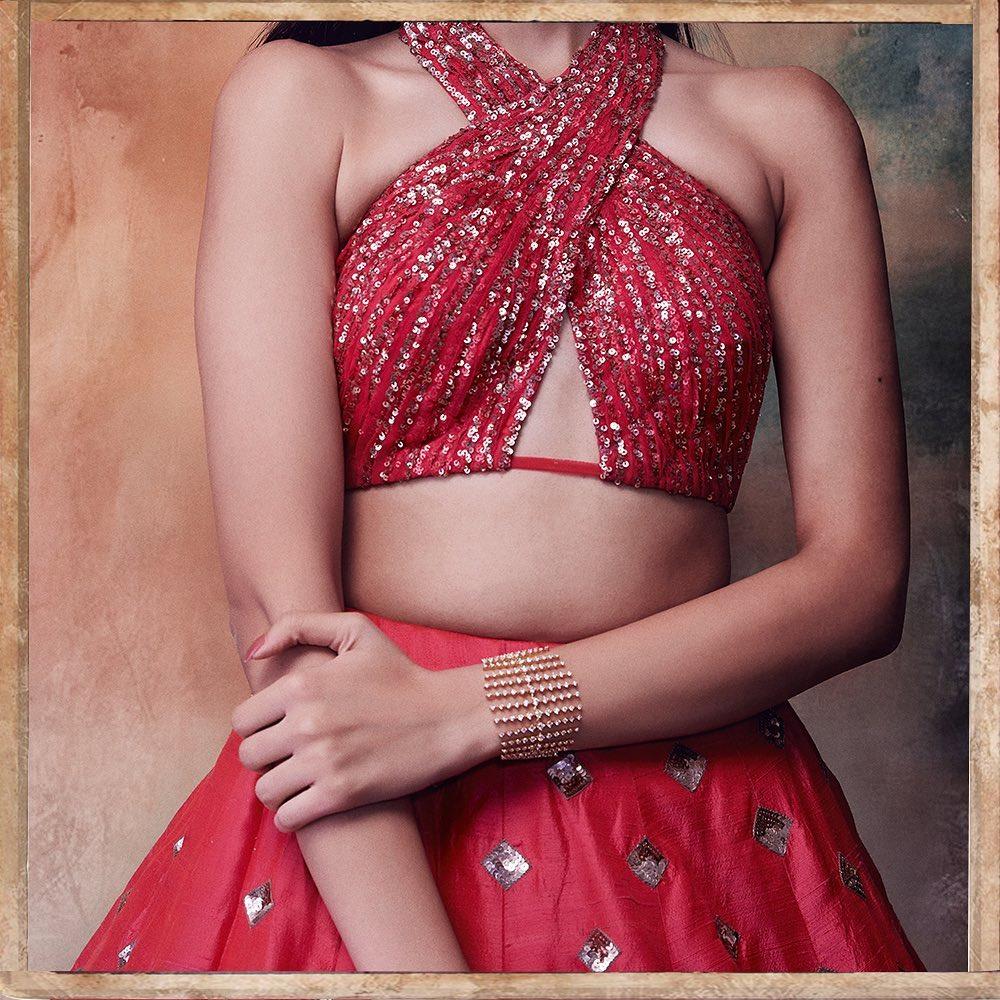 Flattering, unique, and bold, this cross-over halter neck blouse by Vvani by Vani Vats adds a pop of glitter to the occasion. Don this exceptionally classy and modern outfit with a matching red lehenga skirt on your engagement or your cocktail or maybe to your BFF's Sangeet night.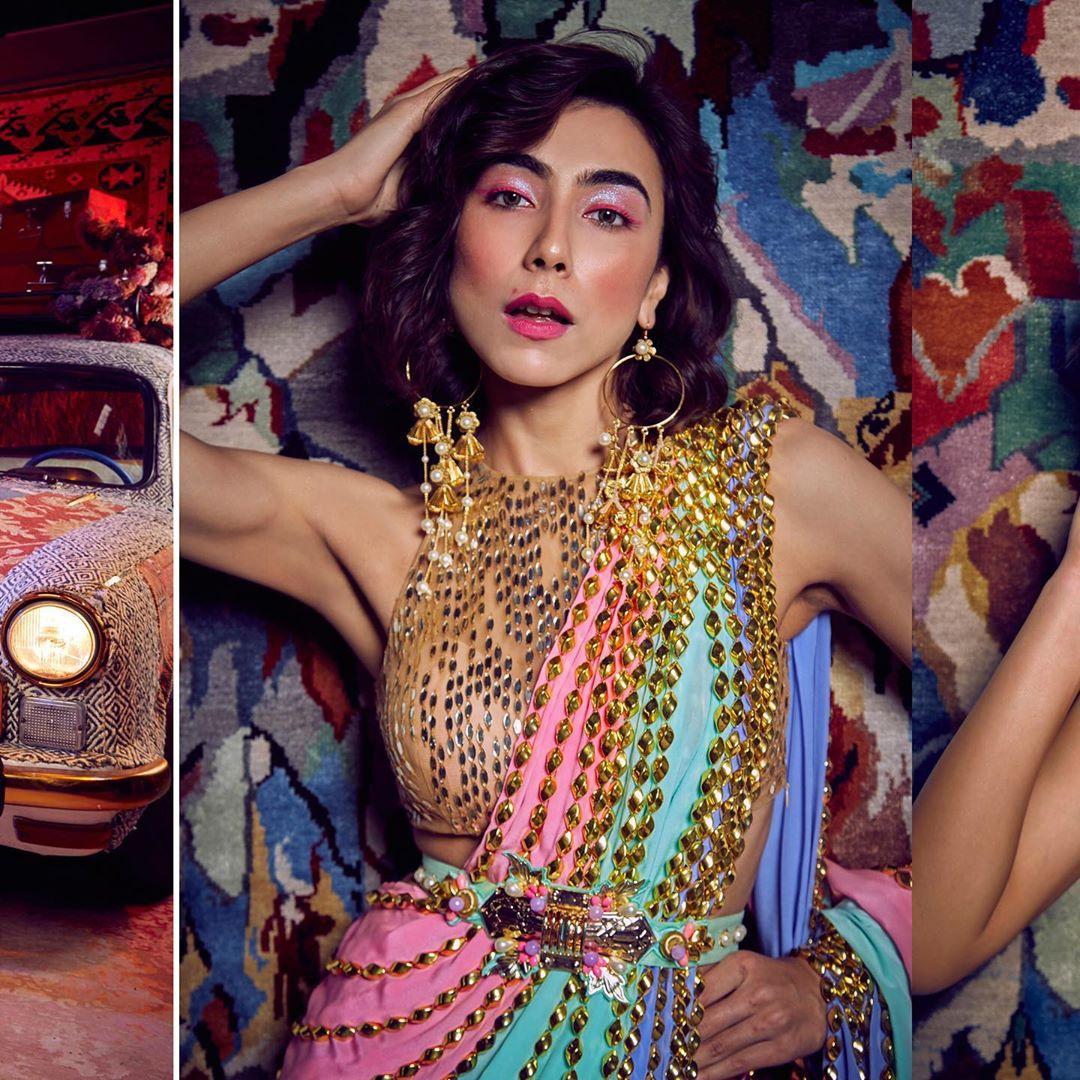 If you don't want to go with the traditional mirror work heavy blouse, pick out a nude halter neck one to match with your multi-hued lehenga or saree. Take cues from this Papa Don't Preach design; the nude blouse compliments the vibrant hues on the saree exceptionally well.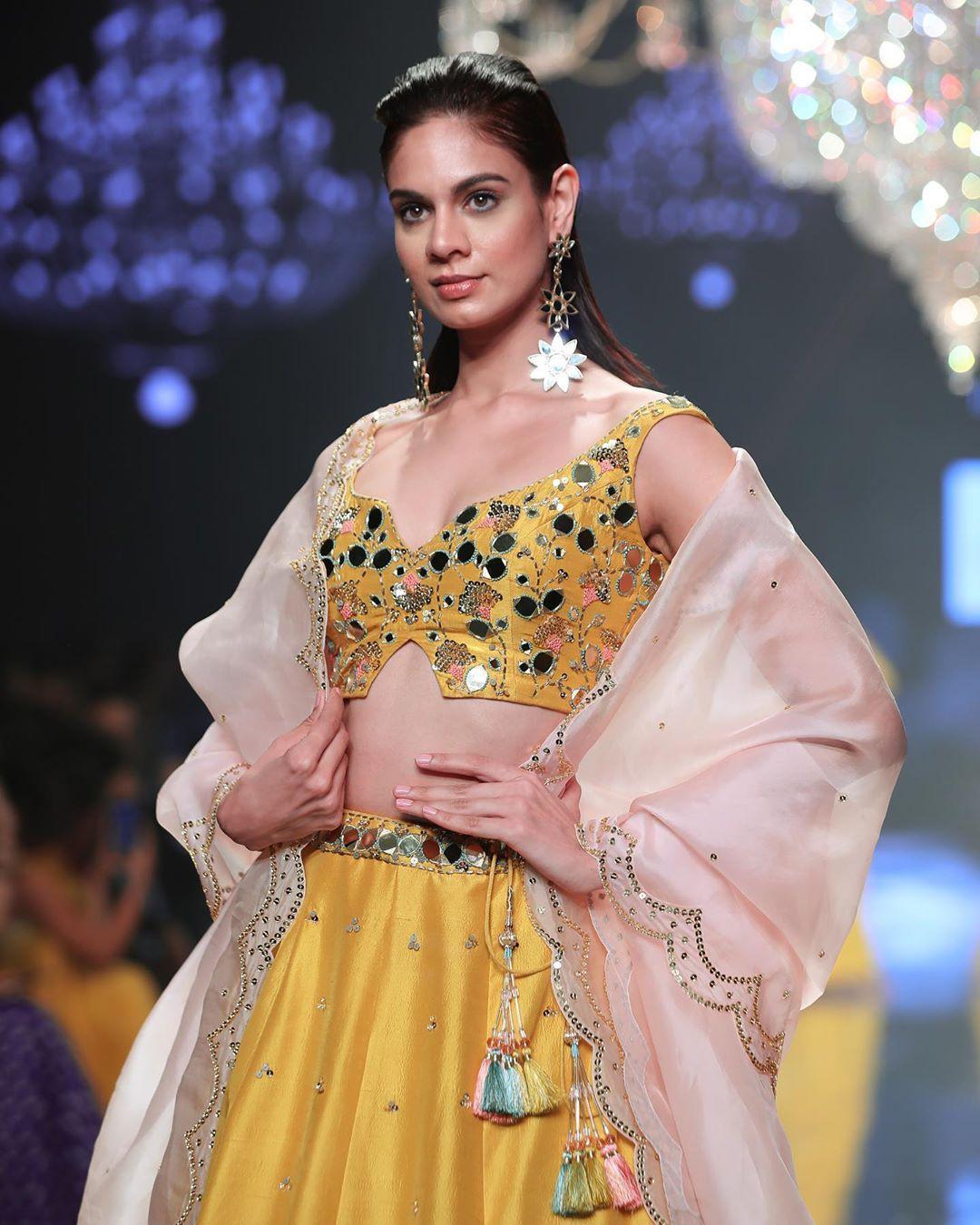 Shades of yellow are increasingly getting popular and have been on the trending charts this wedding season. Handcrafted with mirrors in floral and leaf motifs, this sleeveless choli style blouse in dupion is a great pick for bridesmaids who want to go for a mirror work blouse that is not too heavy.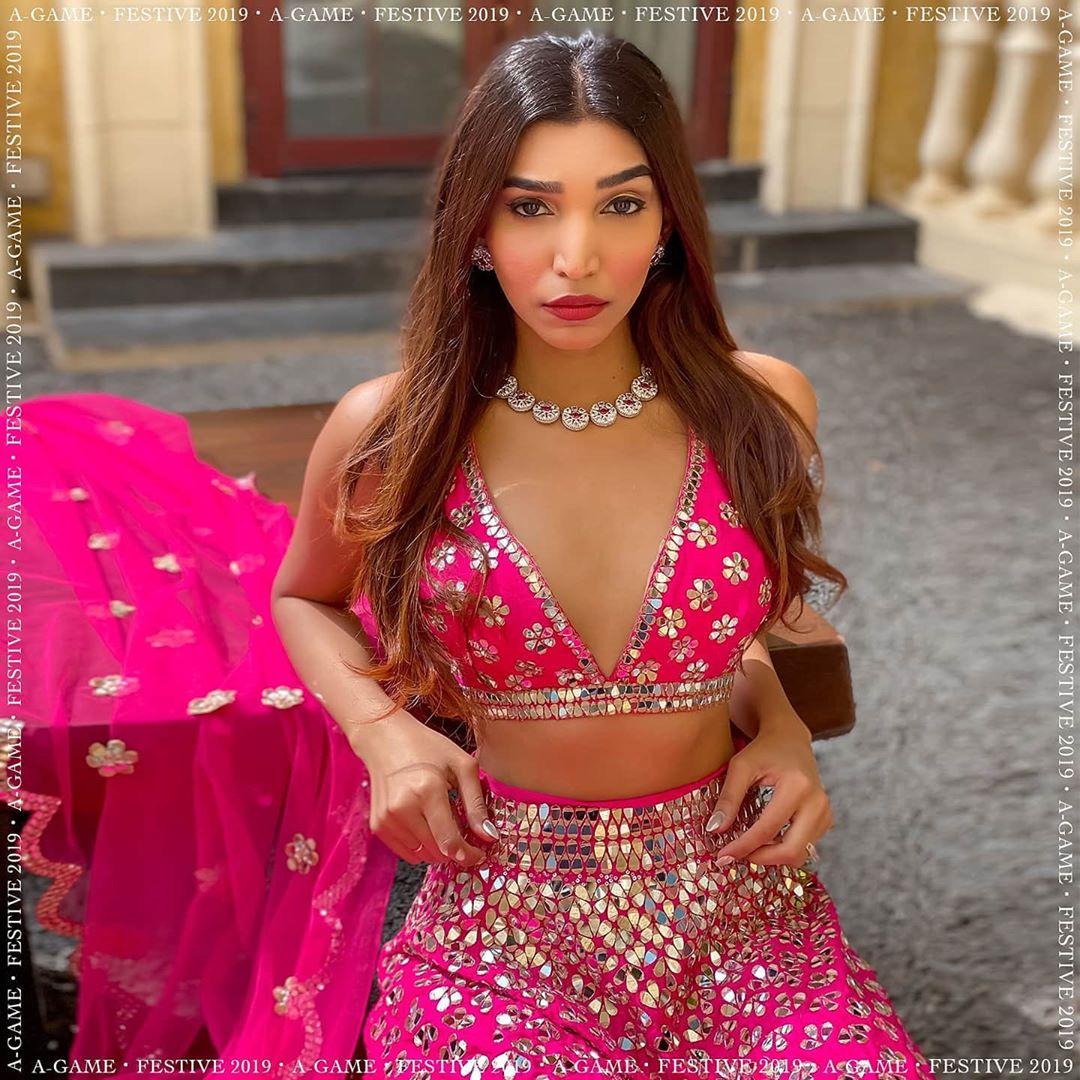 Image Courtesy: Akanksha Gajria
This deep V-neck blouse has Gota Patti floral motifs and mirror work detailing all over its neck and the bottom hem. V-neck blouses look great when paired with lehenga skirts; You can opt for a mirror-work style blouse like this one to go with a similar complimenting lehenga skirt.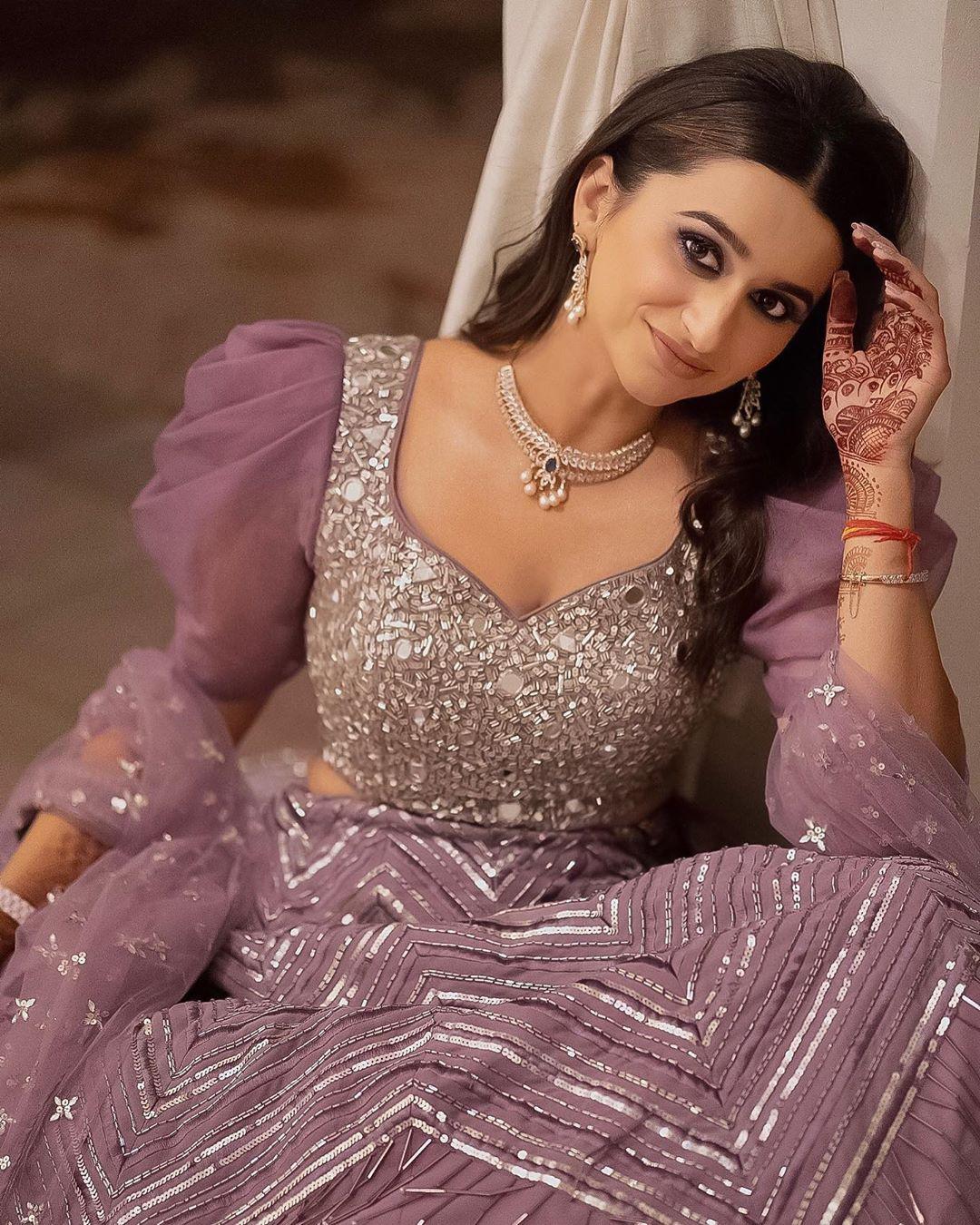 Image Courtesy: Yoshita Couture
A sweetheart neckline with mirror work all over the front and back and sheer puff sleeves is a classy take on the modern-day blouses with a hint of tradition. Go for a blouse with liberally done sequin work and scantily placed mirrors for an appealing look.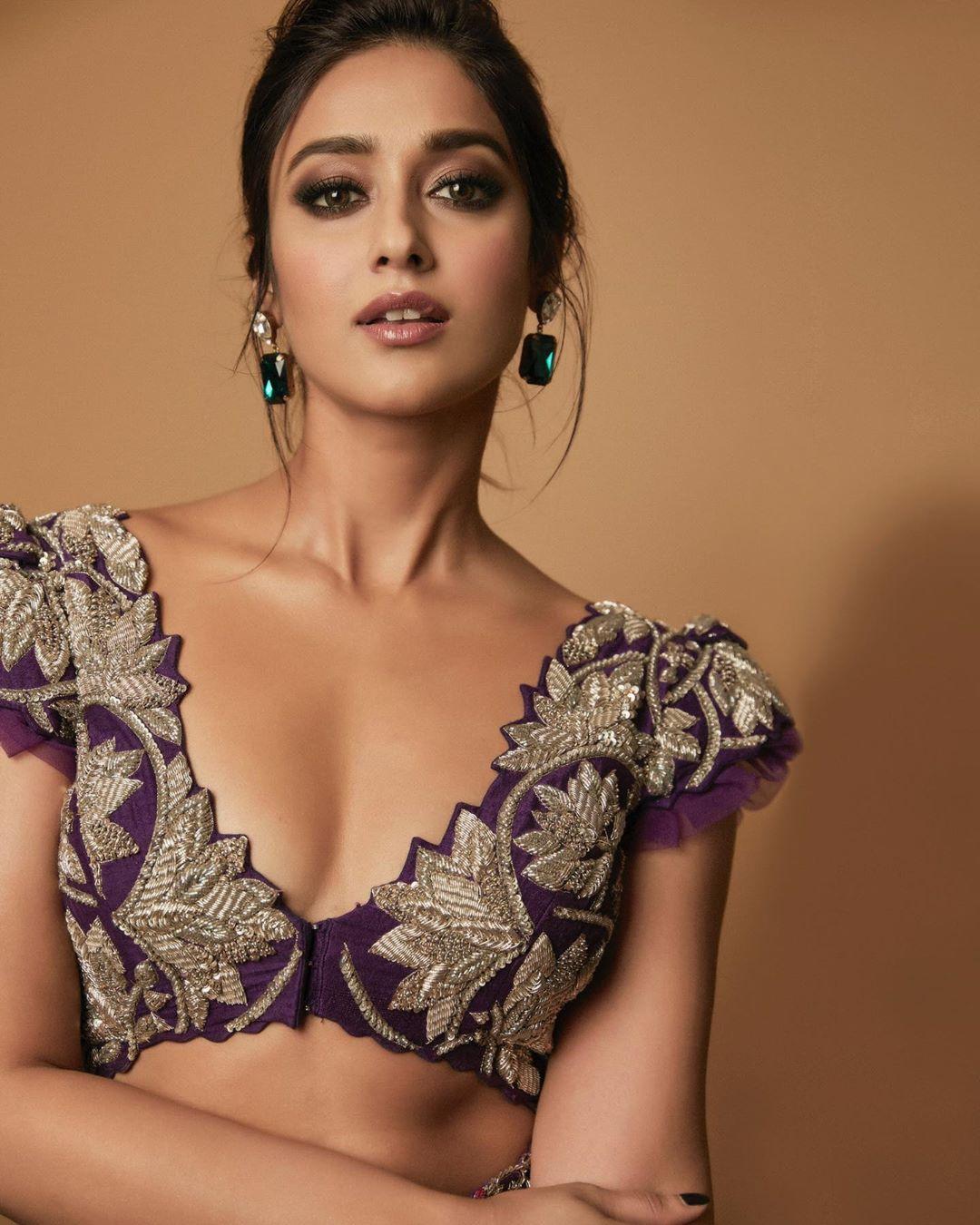 Image Courtesy: Mrunalini Rao
Another addition to our list of cutwork bridal blouse designs is this gorgeous purple-colored blouse for our bold brides. With striking work, a plunging neckline, and frilled short cap sleeves, this one makes for one of the prettiest cutwork blouse patterns that we have come across recently.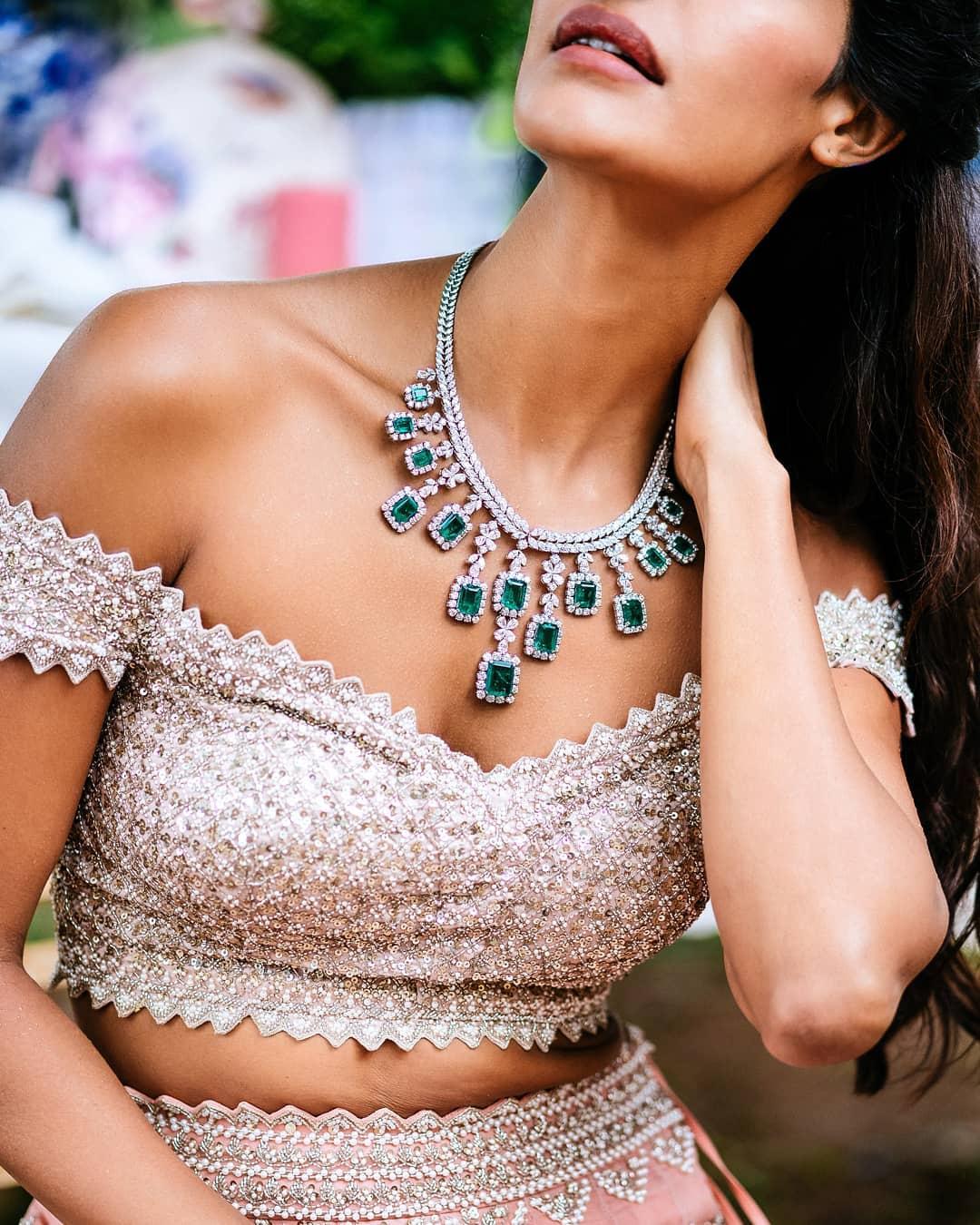 Now here's a pick for brides who love cutwork blouse embroidery designs and wish for it to be subtle yet sexy. This off-shoulder blouse with thread embroidery and embellishments all over makes for the perfect pick for a light lehenga for a day function. The V-neck blouse makes for a stunning addition to every bride's wedding trousseau as well.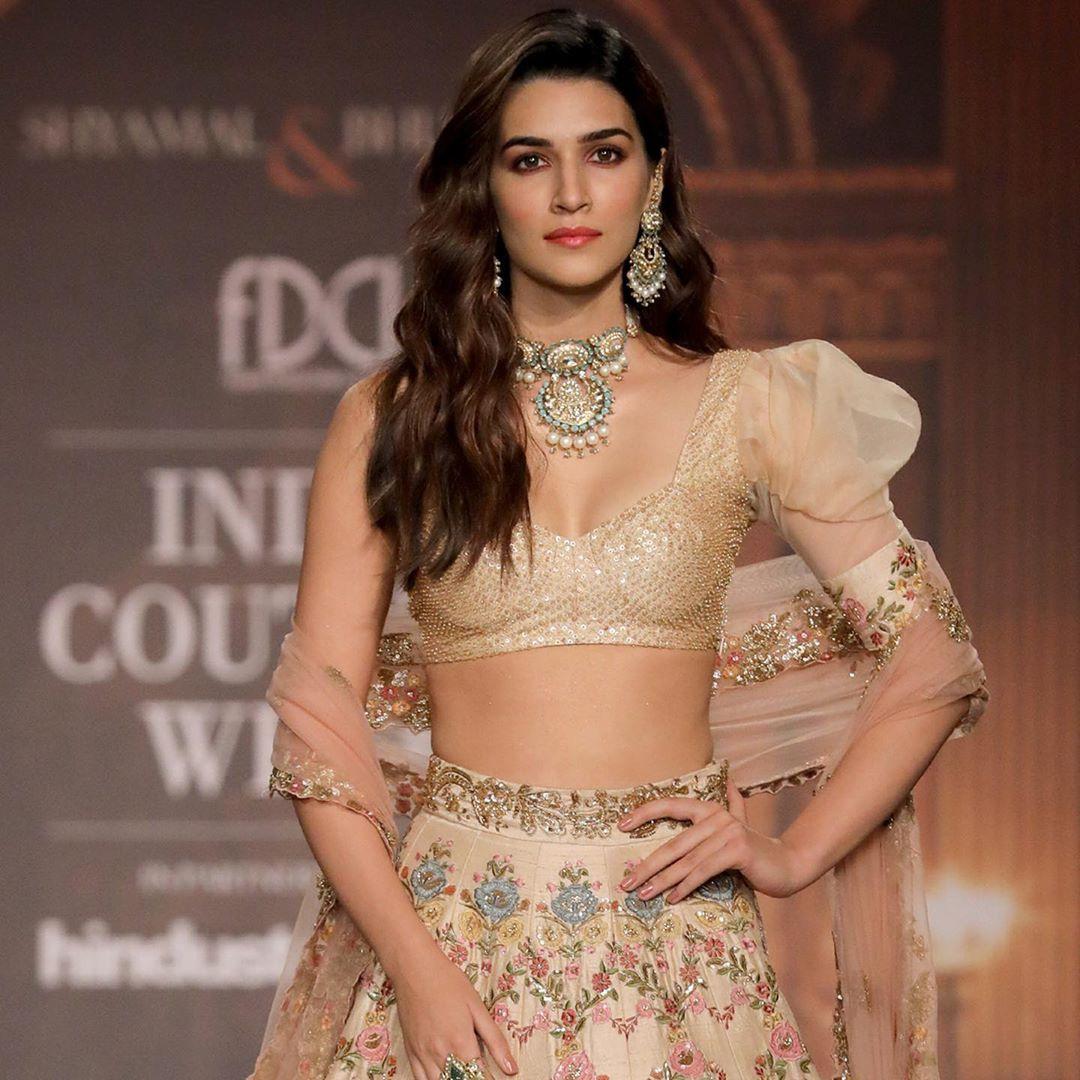 The next addition to our list of sultry one-shoulder blouse designs is this gorgeous golden blouse with sequins all over. However, what melts your heart is the puffed sleeve in a sheer fabric that gives the entire outfit a dainty look. Bridesmaids must pair these with a pair of heavy lehengas this wedding season.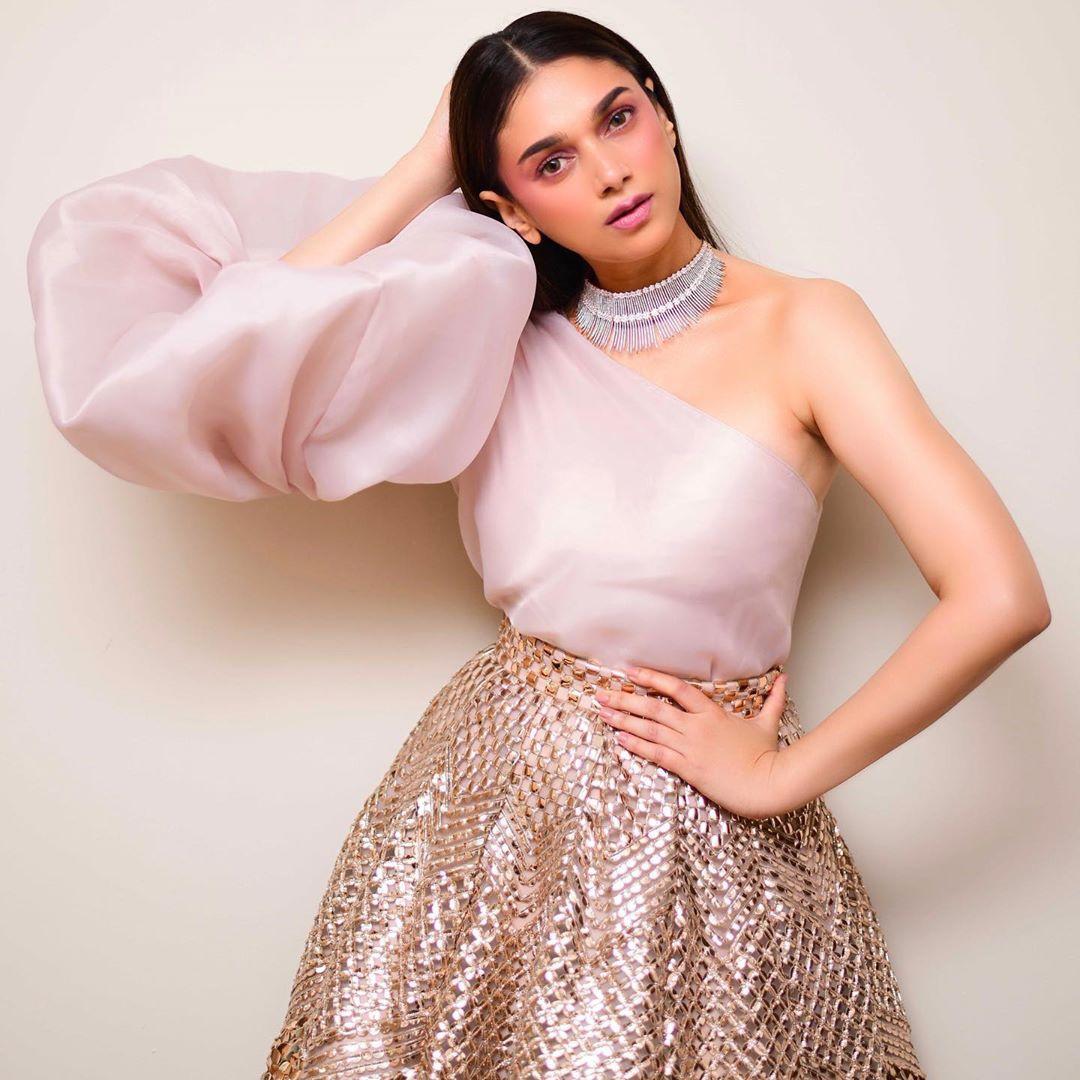 Image Courtesy: Pankaj and Nidhi
If you think organza has been the trend of the season in western wear, have a look at this sultry one-shoulder blouse in blush pink. The voluminous puffed does not just add a lot of drama to any outfit but also makes a plain blouse look trendy. This one is for the bridesmaids that wish to pair a heavy lehenga or skirt with a simple one-shoulder blouse.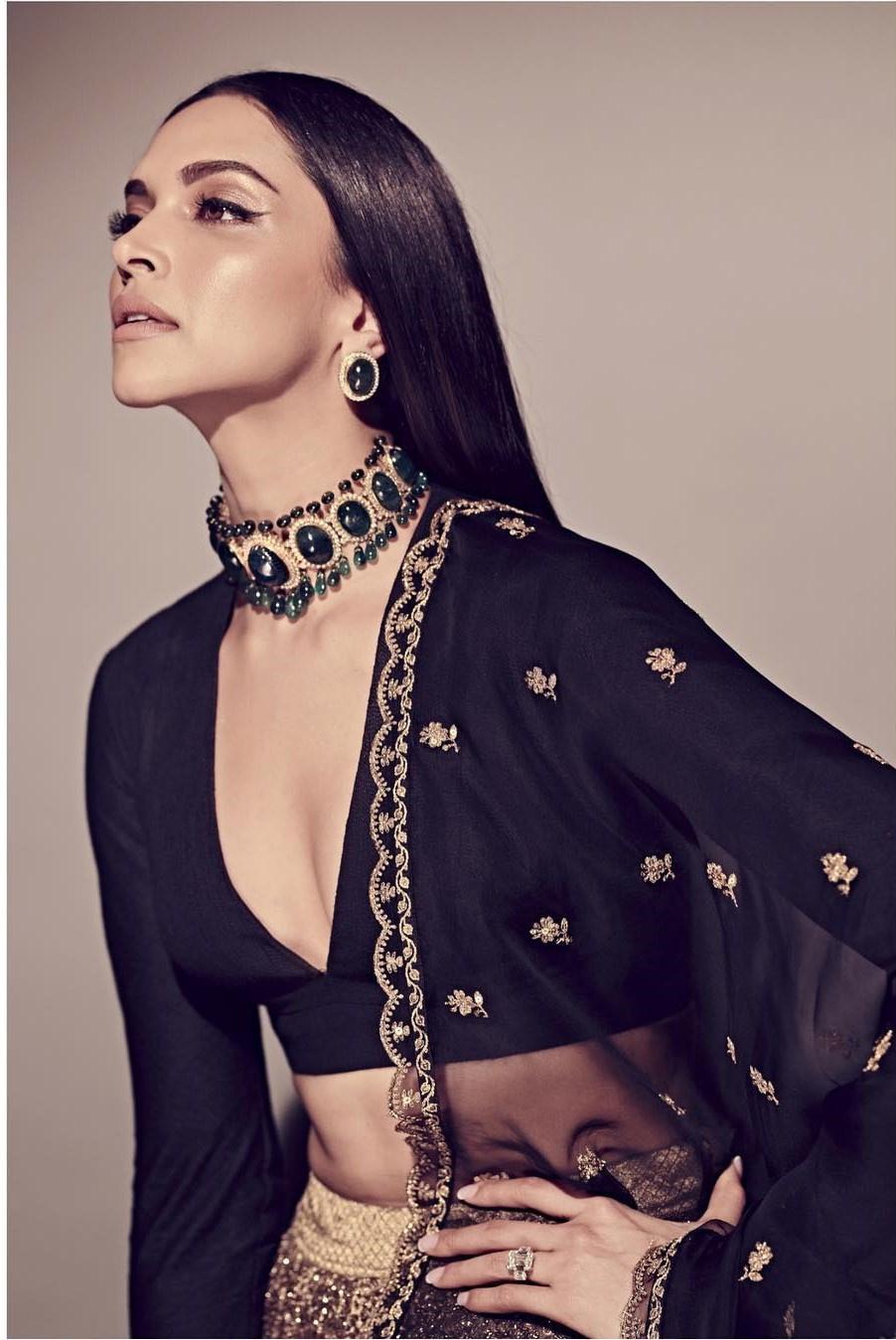 Image Courtesy: Deepika Padukone's Official Instagram
The first is a simple black blouse with full sleeves with a sexy twist. If you think you are daring enough to rock a plunging V-neckline, this blouse is perfect!
Crew neck blouse & full sleeves in floral blush pink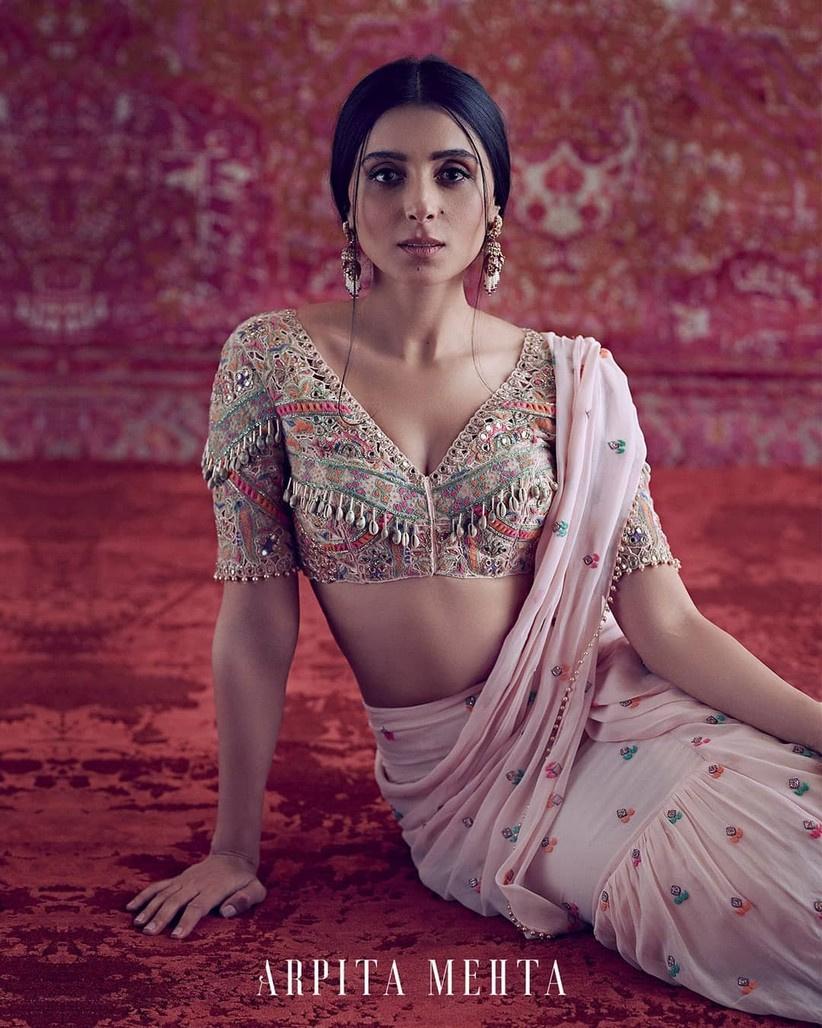 Image Credits - Arpita Mehta
We are swooning over this Arpita Mehta hand-embroidered with shells blouse design for all the right reasons. If you are a minimal modern saree design lover, a hand-embroidered blouse design accentuated with shells on the body of the blouse or the hemline is a classy twist to the latest bridal blouse design for sarees. The trend-setting idea of incorporating stunning shell designs to your blouse can also work wonders in your latest blouse design for lehenga.
Image Courtesy - Torani official
If a white cotton saree weaved with simplicity and elegance is your ultimate choice for a wedding or festive party, Torani's flared sleeve blouse design for cotton sarees is the hands-down winner! This white off-shoulder blouse design has taken the list of top and trendy, latest blouse designs for sarees of 2020 by a whirlwind.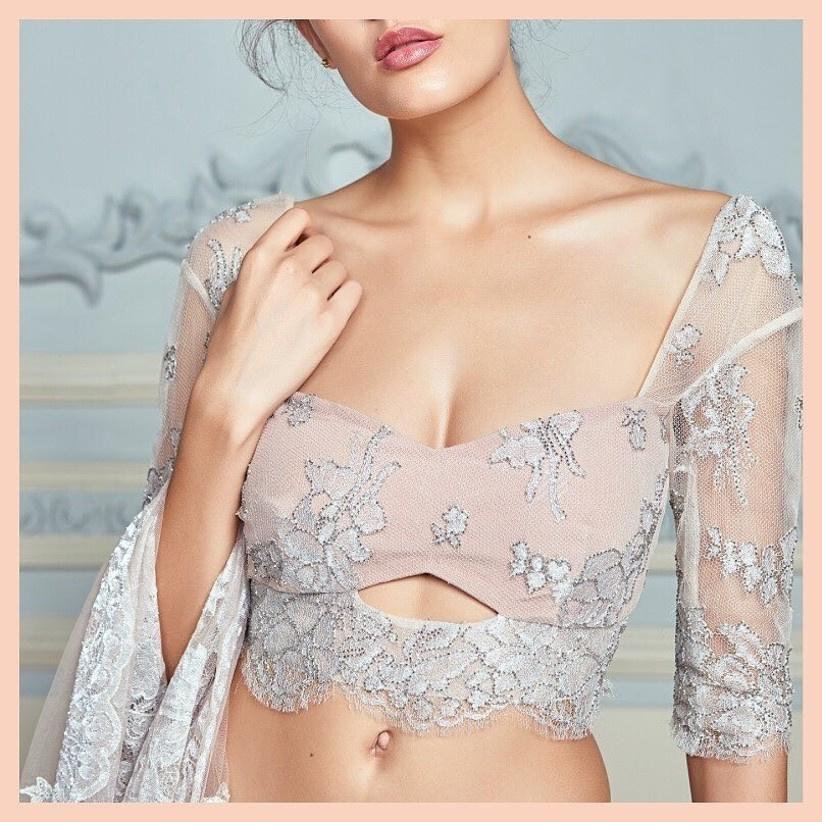 Image Credits - Shehla by Shehla Khan
An ardent fan of the detailing in your blouse designs for lehenga? Check out the Cutout Lace Blouse Design - a top favorite women's blouse design for 2020 brides, and accentuate your wedding look with a touch of femininity and modernity. If you are scrolling through blouse designs for lehenga images, don't miss out on this cut-out lace blouse from Shehla Khan.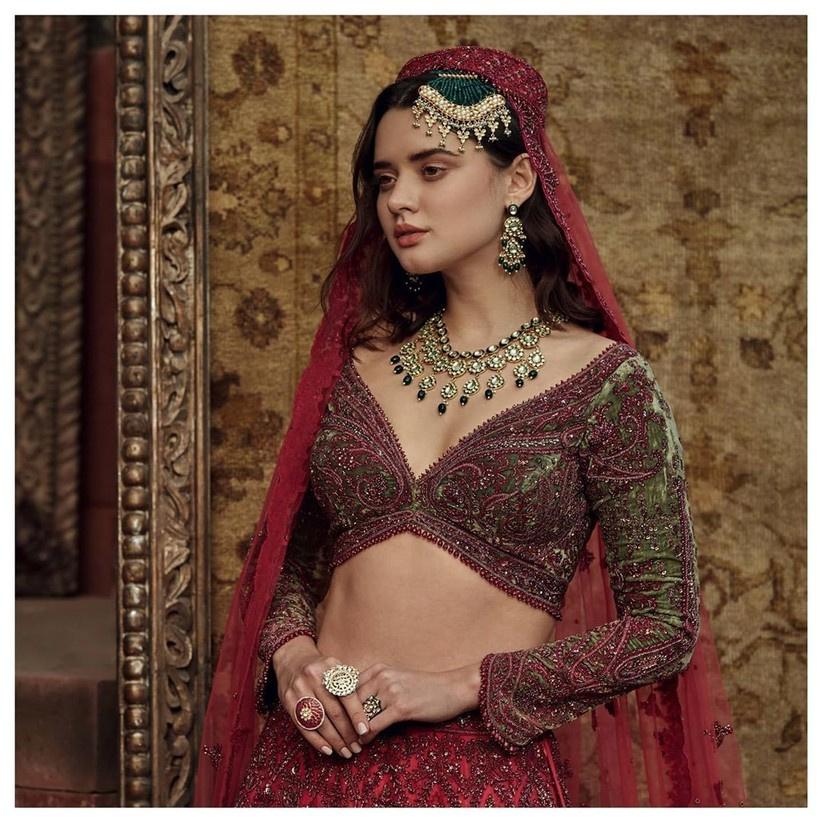 Image Credits - Payal Keyal Official
Boat neck designs are here to stay, but what makes it our evergreen blouse design choice? The regal embroidery choices of our favorite designers. This Payal Keyal official latest blouse design for bridal lehenga swings the traditional boat neck in an ethereal and glamorous heavy lehenga blouse look.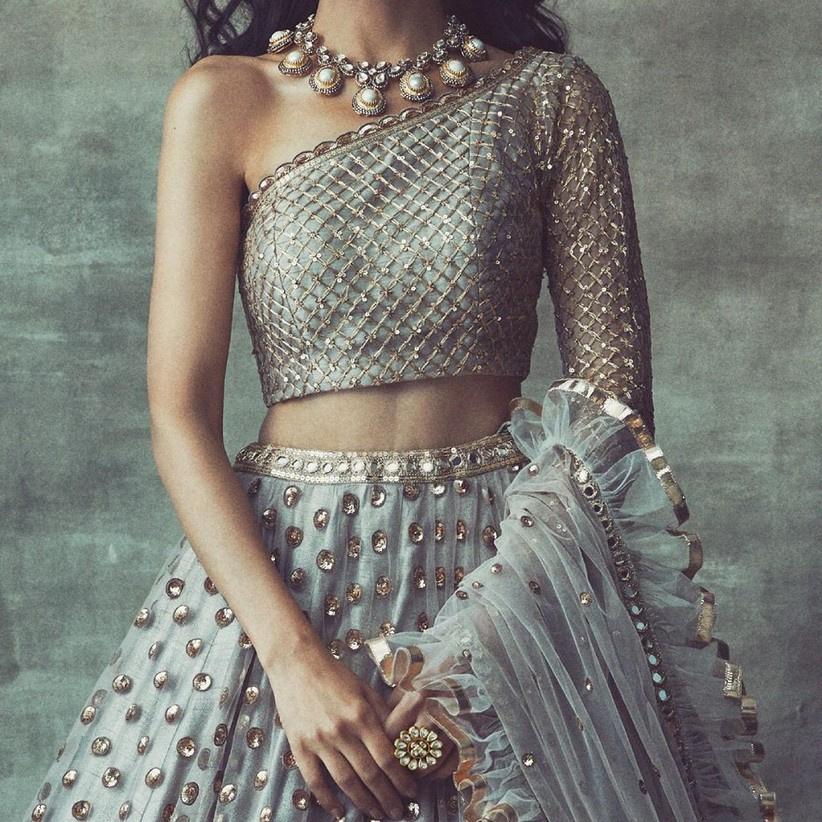 Image Courtesy - Vvani By Vani Vats Official
Want a sleeve but don't want a sleeve? Ah! we know the dilemma. One Shoulder Blouse designs are eternal favourites for brides who don't want away - too much-covered look. The latest one-shoulder blouse designs for lehenga also come with very interesting patterns and designs for the back. This is one of our favourites from the extensive list of blouse designs for lehenga images from 2020. What about you?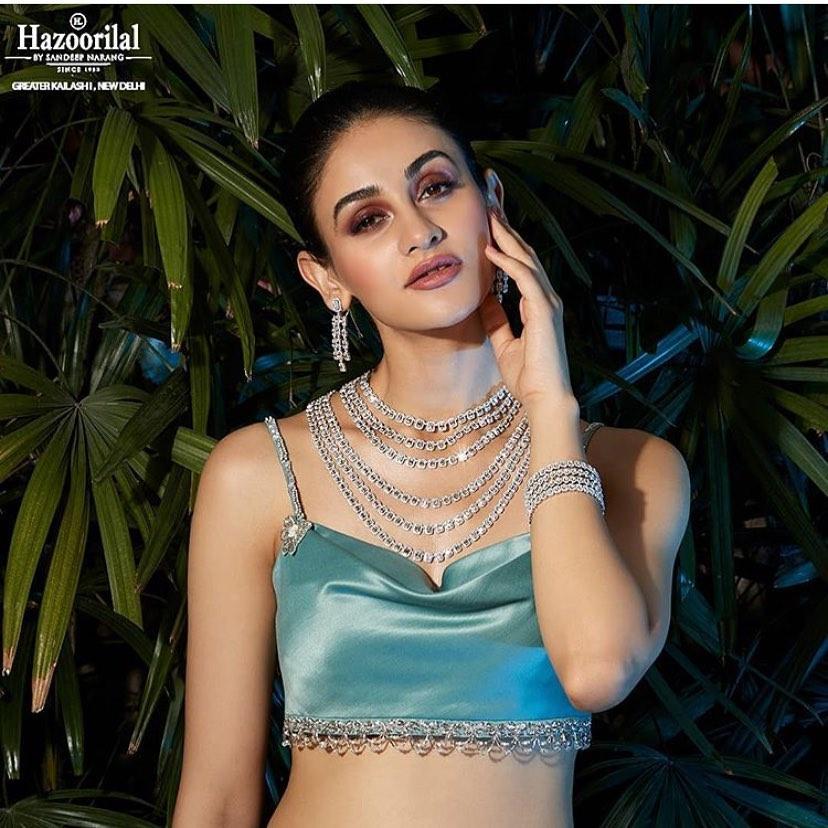 Image Courtesy - Mahima Mahajan
Shimmer and shine with this dreamy blue latest blouse design for a lehenga with a cowl neckline. This perfect blouse design for the wedding lehenga has been here for years and stays fresh as new in the fashion cycle every year. The smooth and silky flow of this design adds a charming sense of style to your wedding ensemble.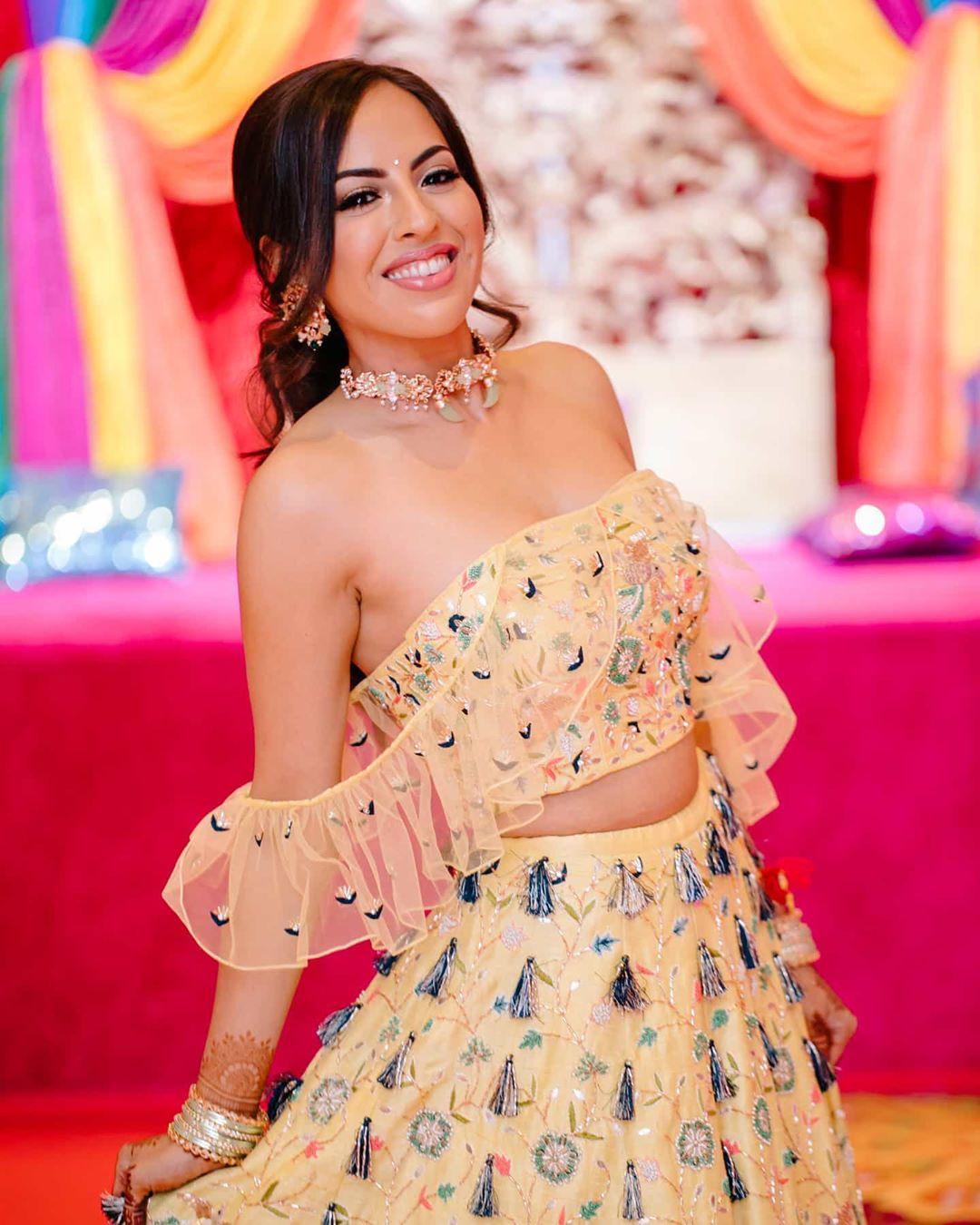 Image Credits - Payal Singhal
Trendsetters Alert! This Payal Singhal strapless latest blouse design for lehenga is a perfect wedding ensemble for your sangeet ceremony. Your contemporary wedding look needs no other upgrade other than a blouse design for lehenga choli that is meant to slay!
Read More -
Mehndi Design | Proposal Lines | Simple Finger Mehndi Design | Arabic Mehndi Design | Propose Day Quotes for Boyfriend | Wedding Anniversary Wishes for Sister | Change Aadhar Card Name after Marriage | Tamil Wedding Calendar | Simple Mehndi Design | Pre Wedding Quotes | Engagement Anniversary Wishes | Funny Wedding Wishes for Bestfriend | Blouse Design | Rangoli Design | First Night Tips for Bride | Wedding Anniversary Wishes