11 Modern Saree Designs That Must Make It to Your Trousseau
Nothing compares to the grace of that of a saree which makes it a quintessential addition to the trousseau. So, here are some modern saree designs every to-be-bride must check out!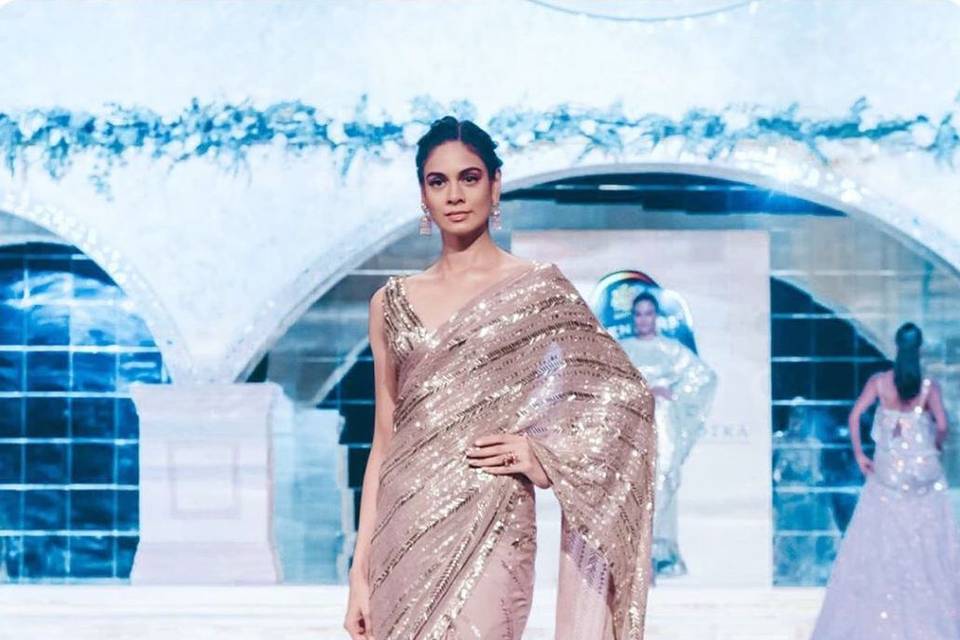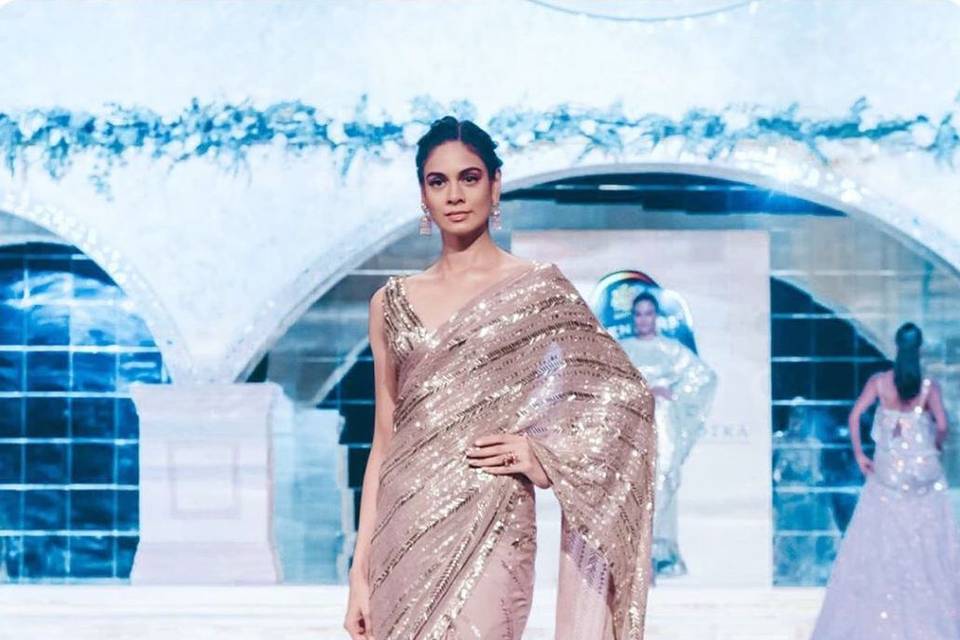 Image Courtesy: Manish Malhotra
As a matter of fact, trends will come and go but a saree is one of those silhouettes which is a harbinger of undying femininity draped in the essence of our culture. Traditional or unconventional, sarees will always hold a special place in our heart. Every woman, once in her childhood, sure has stood around her mother with a twinkle in her eyes every time she wrapped her self in 9-yards of elegance. But come adulthood, and we've seen those stars turn into gloomy grey skies, merely on the thought of draping a saree and adjusting its pleats, which does take forever.
Thank you, for sure, is an understatement to the kind of innovation the fashion fraternity of India has made over the past few years. With an array of options, right from pre-stitched to dhotis or skirt sarees, the modern saree designs today are nothing like you've already owned or have been passed down to you by your mother or grandmother. With a major shift in the lifestyle of the women of today, modern saree designs are the need of the hour and we guess it's safe to say, it's near impossible for go back to the mainstream drapes and ignore the plethora of innovative options available today.
So fetch no further, we've selected some of the best prints, drapes and styles for your modern saree design to complete your trousseau.
The Satin Saree in Wine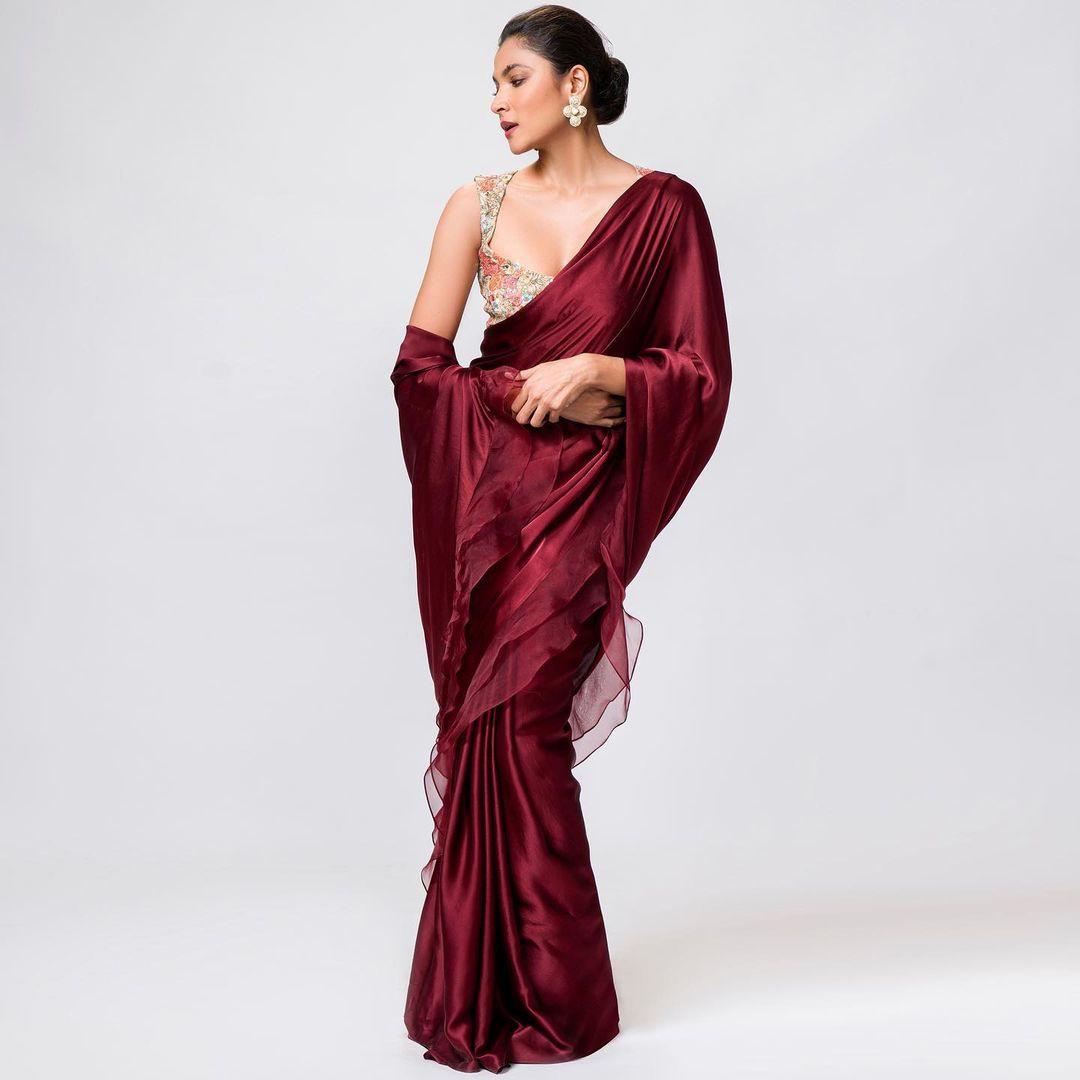 A whimsical wine hued satin saree hemmed with ruffled organza is the look that is sure to steal the show. Bringing the elegance of satin and the oomph of organza, this design by Shyamal & Bhumika is a gorgeous drape that is sure to make you look stunning for your BFF's reception. Keep it light and fluttery!
The Pre-Draped Dhoti Saree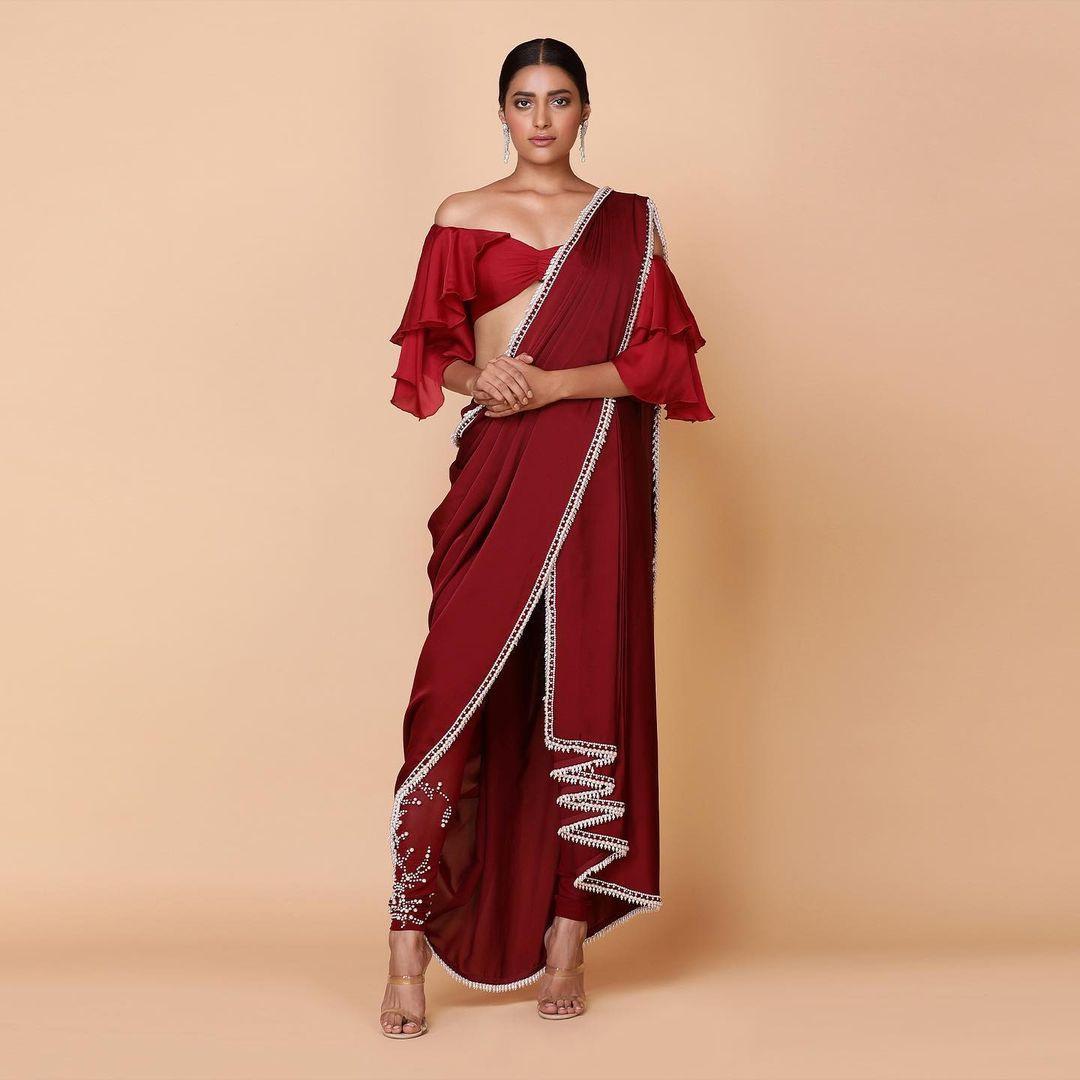 Image Courtesy: Neeta Lulla
This pre-draped dhoti saree is a part of Neeta Lulla's neo-draped saree collection. This is literally the new LBD of weddings. A must have in every wardrobe this is an assorted mix of eclectic pre-draped saree ensemble that is apt for every occasion this summer. The off-shoulder blouse with dramatic sleeves add to the look and make you absolutely gorgeous especially when paired with a set of contemporary diamond jewellery and a sleek hair bun style.
Saree with Cape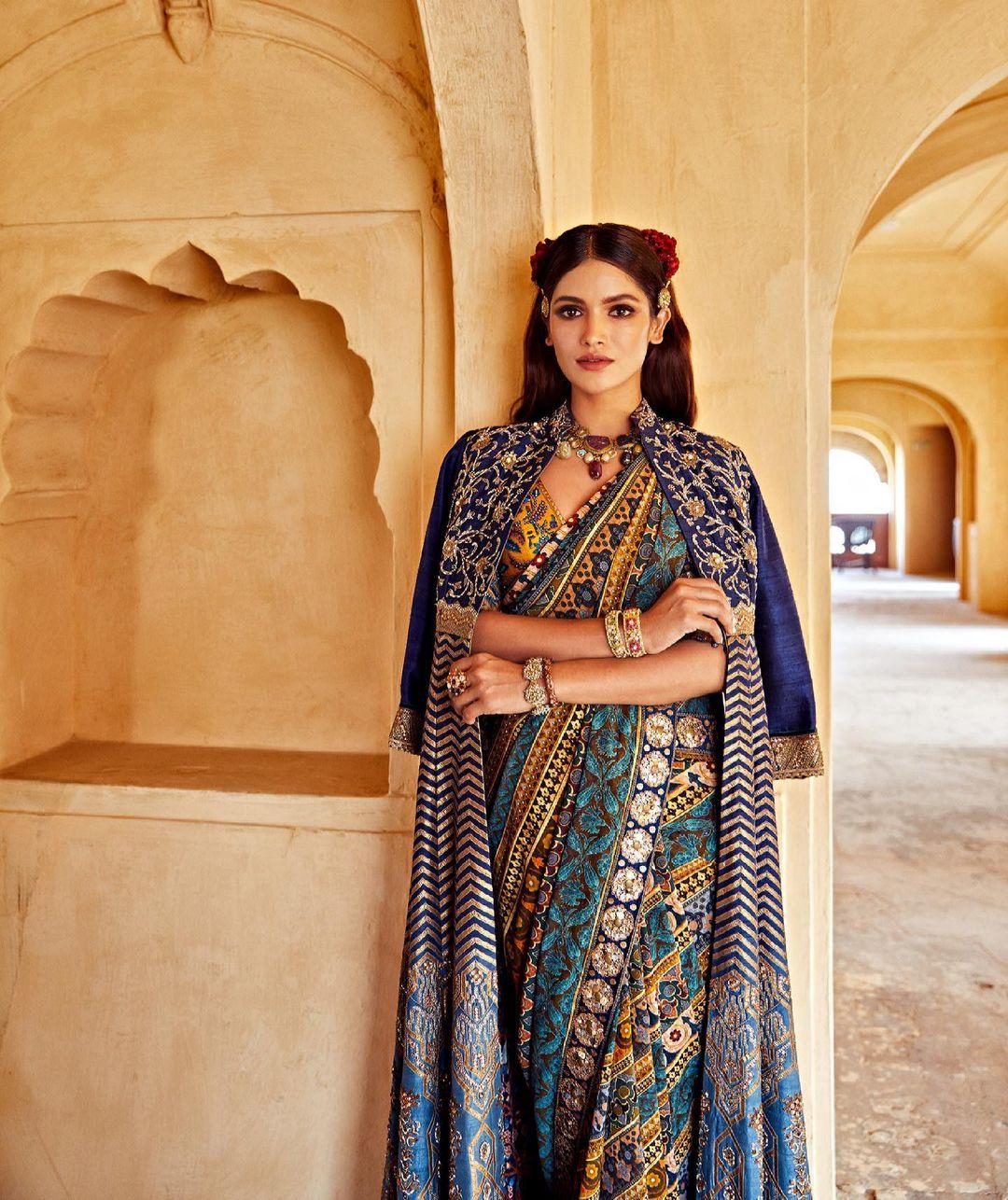 Bringing the beauty of art and history together in contemporary drapes, JJ Valaya's collection - Bursa 2, has this impeccable designer saree that is topped with a long cape. Is it wrong to say almost all women are heroes and a cape just makes it better?
Structured Drapes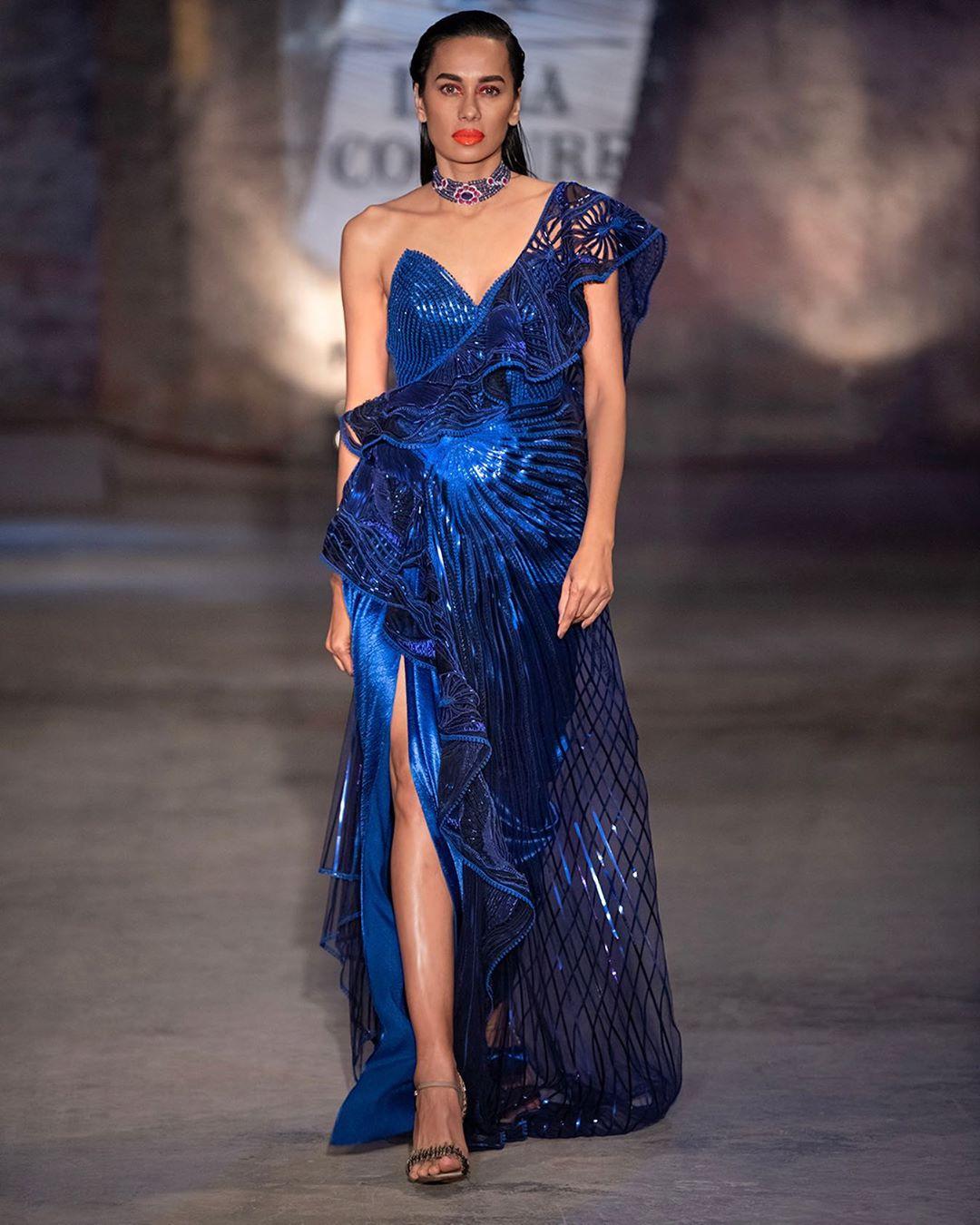 Image Courtesy: Amit Aggarwal
Structured drapes are going big with sarees and lehengas and it's hard to not have at least one of such mesmerizing designs in your trousseau. With a mix of textures and patterns, this thigh-high slit royal blue saree with a corset blouse makes for an avant-garde option for the brides to wear for her Sangeet or Reception ceremony.
Dhoti Saree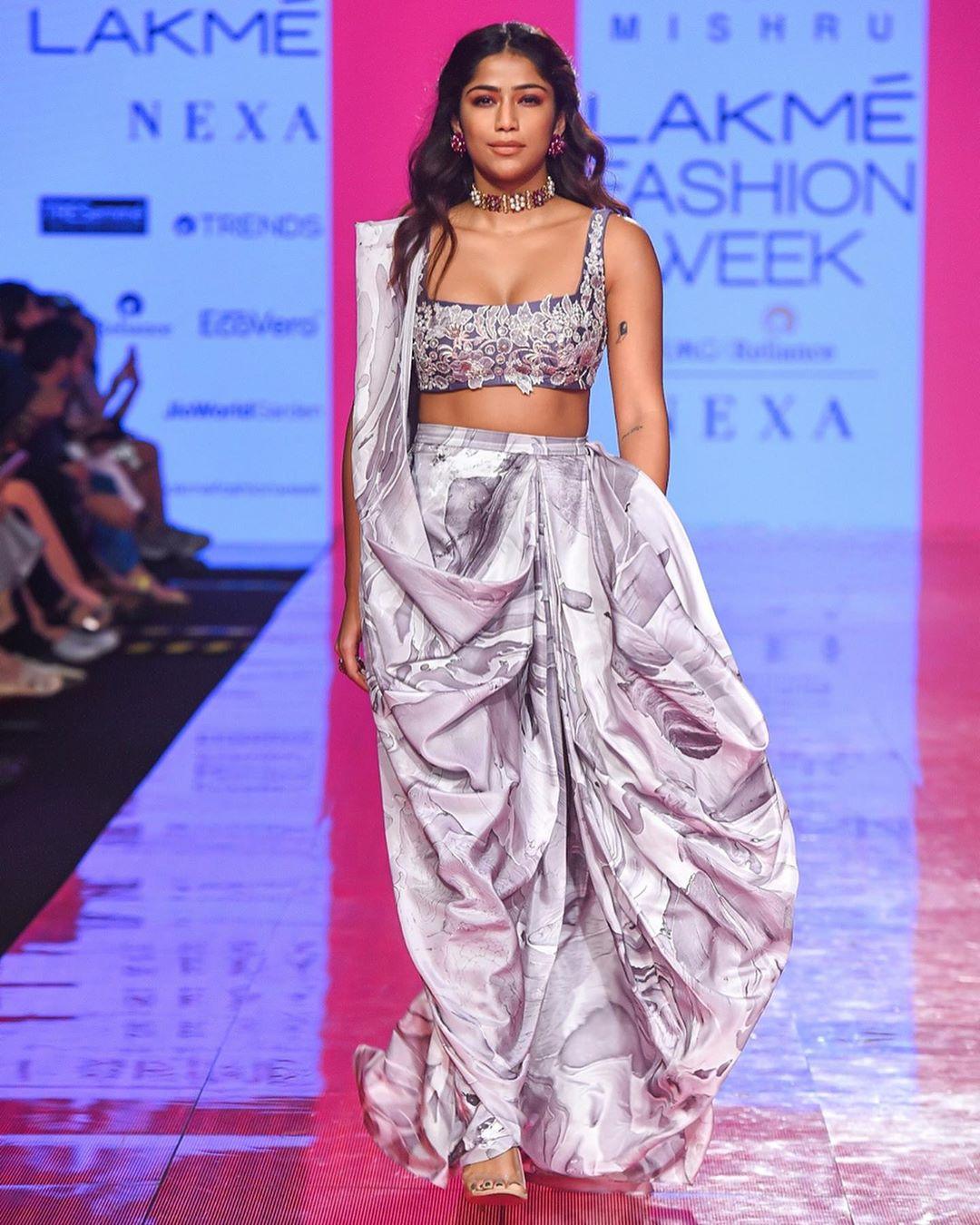 Image Courtesy: Mishru
The one thing, we as millennial women desire are ensembles that have a perfect balance of comfort and style. And this simply elegant printed dhoti saree is a versatile outfit to pack in your trousseau. You can pair this saree with a solid shirt and some minimal accessories to easily pull this off for a work meeting or a brunch outing with your girls.
Crumpled Silhouette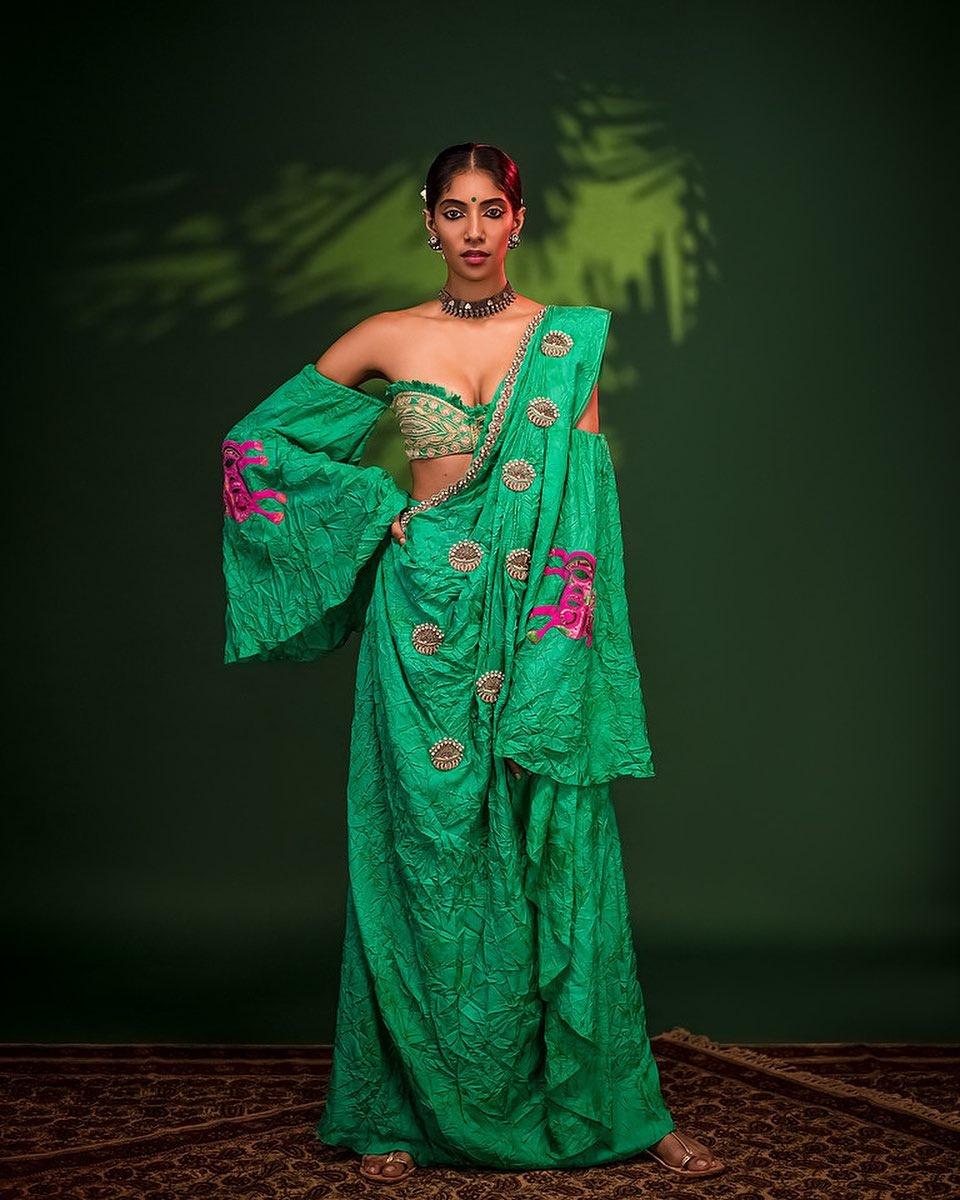 Image Courtesy: House of Masaba
Talk about unconventional sarees and designer, Masaba Gupta is on the tip of our tongue. This very-bohemian crumpled saree with note-worthy motifs and a blouse that can make jaws-drop makes this saree an ideal pick for the bold and fierce bride. Style it up with a low sleek bun and some junk jewellery pieces for your own mehndi or someone else's post your wedding.
Gown cum Saree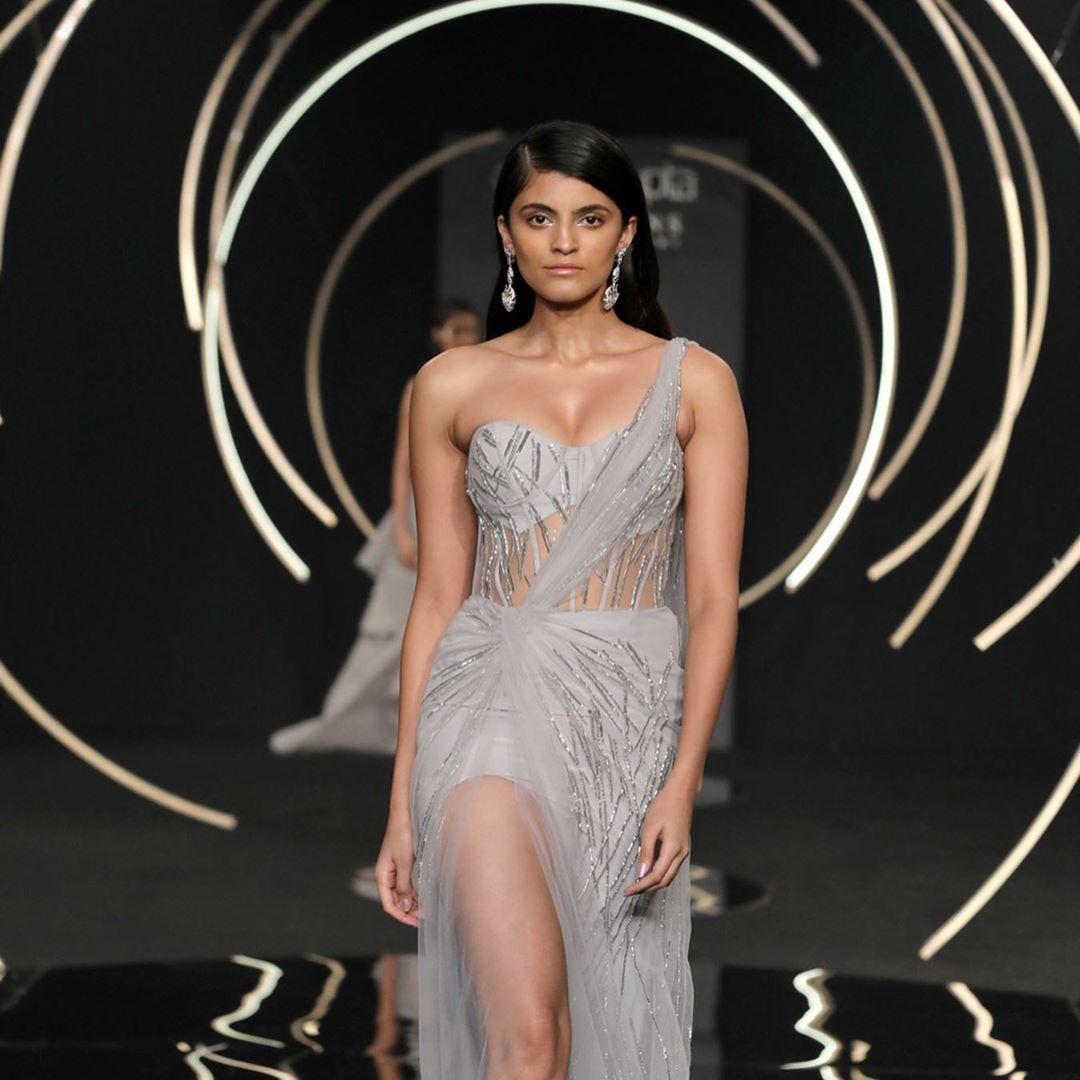 If you're a digger for both sarees and gowns, instead of adding both of them, pick something as stunning as this gown saree by Gaurav Gupta. The corset blouse, sleek palla and striking silver embroideries make this ensemble perfect for a cocktail or bachelorette party.
Tiered Ruffle Pallu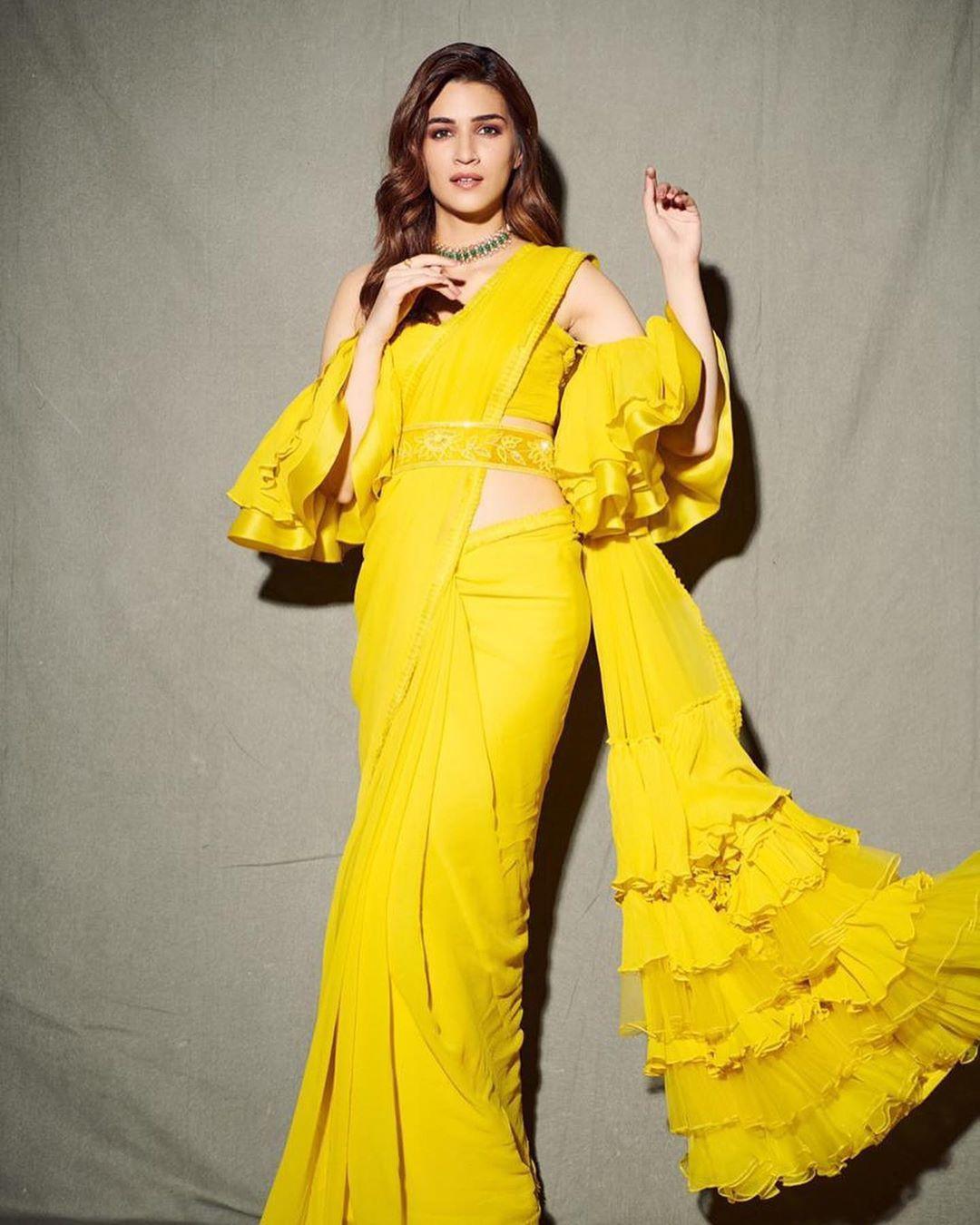 Image Courtesy: Manish Malhotra
Brimming with panache and drama, this modern saree design by Manish Malhotra is love at first sight. Right from the sheer embroidered belt to dramatic sleeves and multi-layered ruffled pallu makes this a stunner outfit to wear at post-wedding dinners and parties.
Saree Skirt with Short Kurta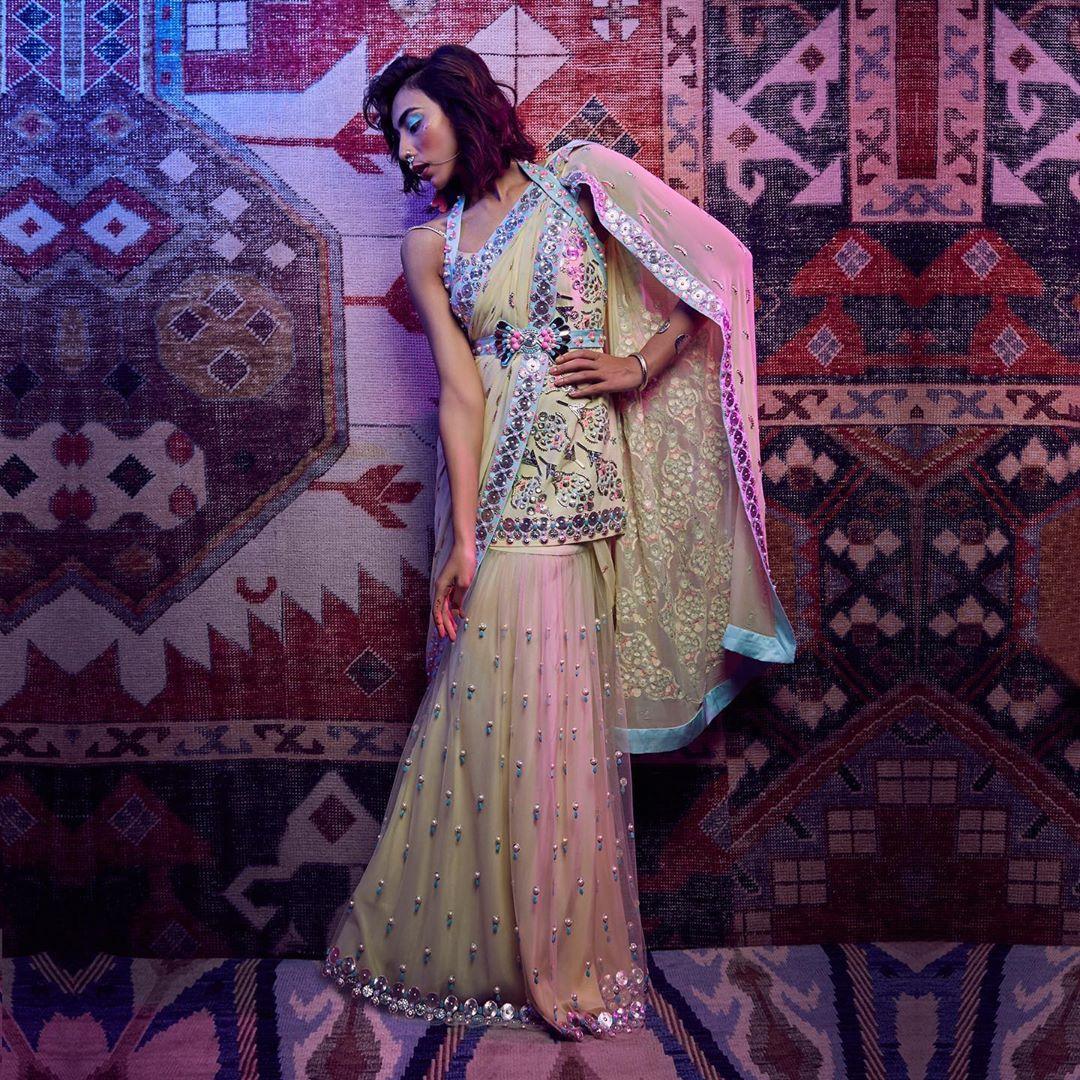 What do we know of sarees? A blouse and 9 yards of cloth. How do next-gen designers see sarees as? A concept with endless possibilities. This Papa Don't Preach number is a beautiful mix of individual garments brought together like a saree–A short kurta, a tulle skirt with 3D embellishments, a dupatta and a chunky belt. This is innovation at its best!
Saree with Sheer Jacket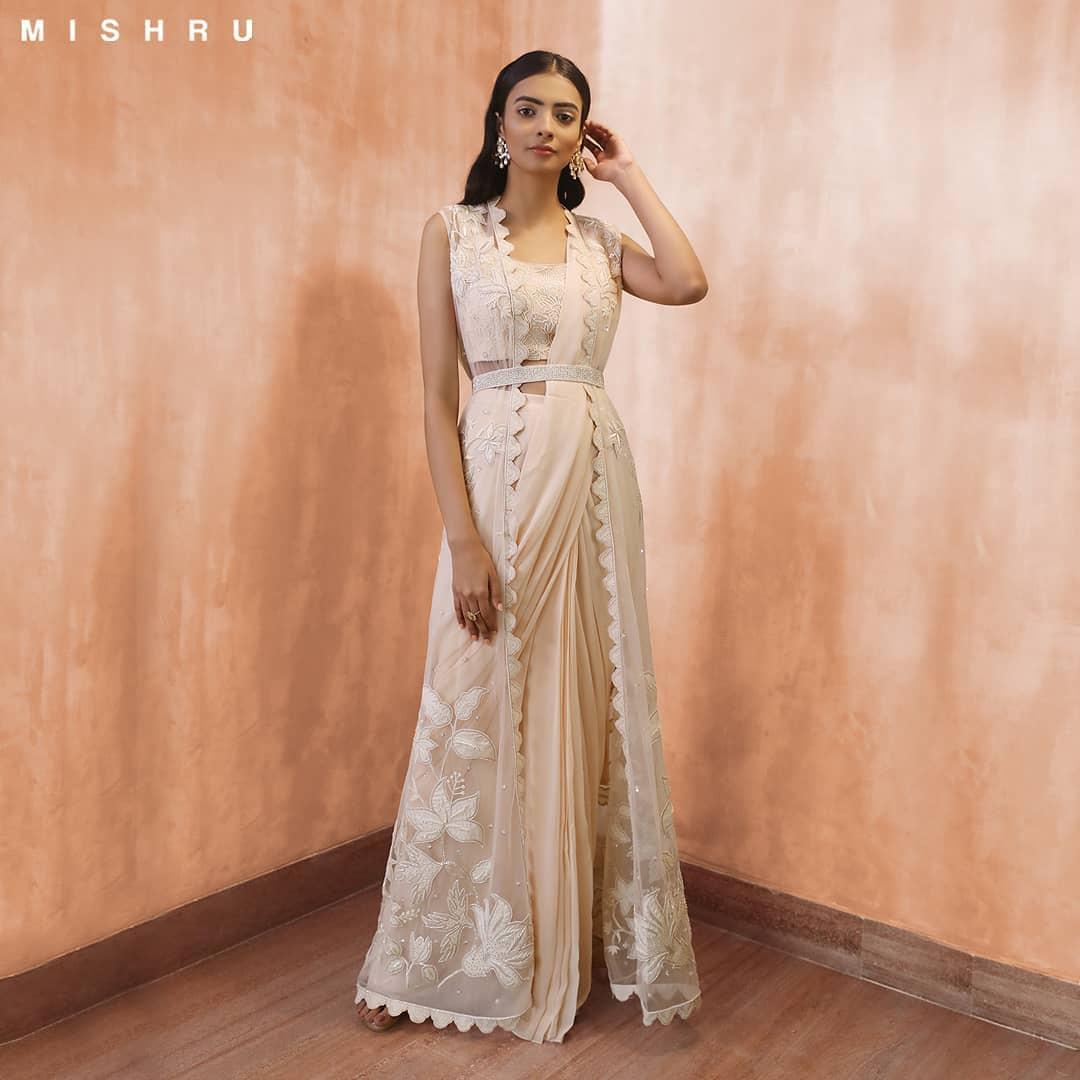 Image Courtesy: Mishru
Love the OG saree drape but want to give it an unconventional feel? Pair your simple saree with a fully embellished sheer long jacket to increase the grace of the ensemble by multi-fold. Bring the look together with a fabric belt that cinches the waist to give the otherwise flat silhouette, a body.
Tiered Ruffle Saree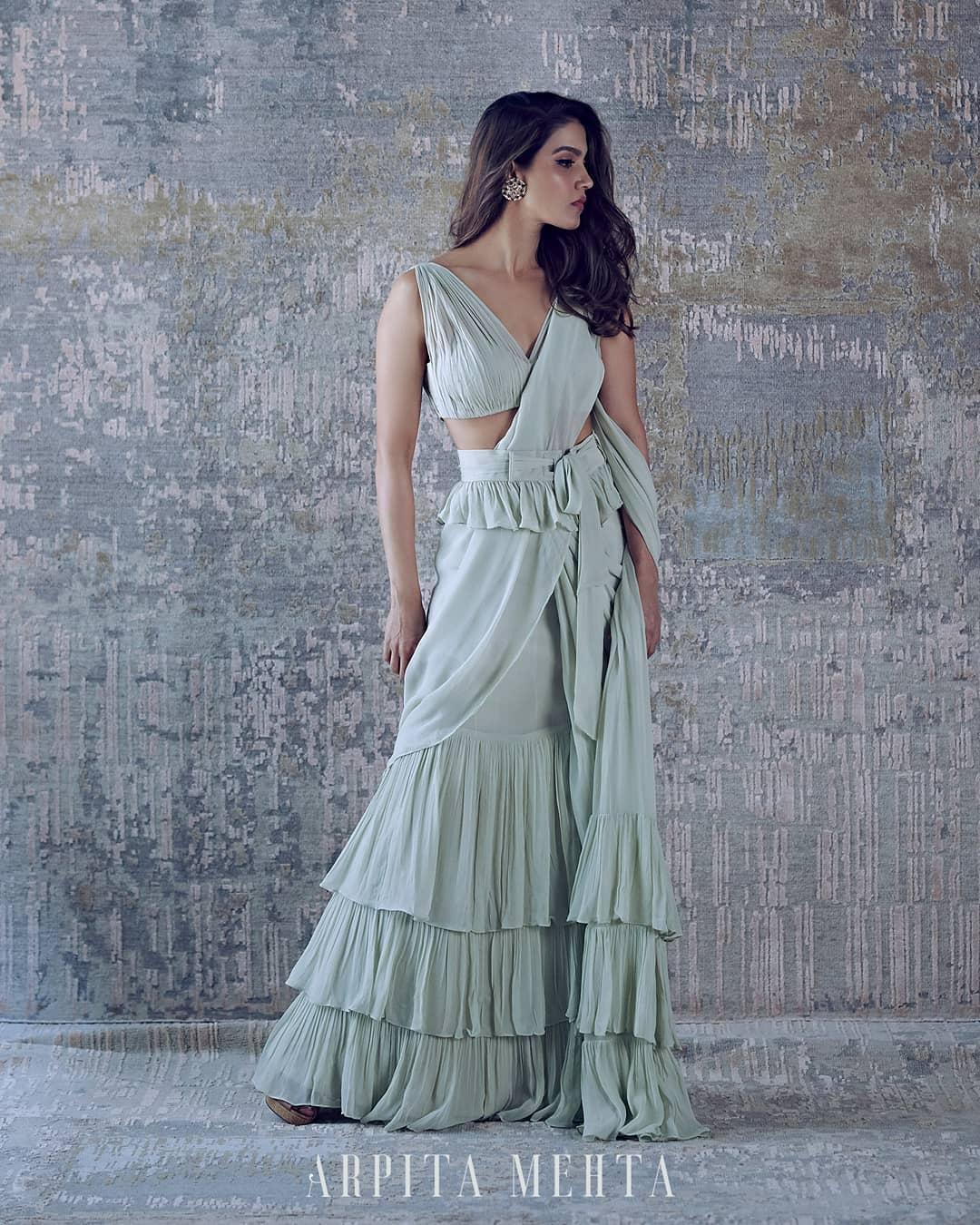 Ruffles have taken over the fashion space and how! Gone are the times when pleats were the only thing we needed to master in a saree, there's so much to a saree today. We love how breezy and comfortable this modern saree design by Arpita Mehta looks with tiered ruffles, pearl embellished blouse and ruffles belt.
While some designs are a tip of the hat with exaggerated silhouettes, heavy embellishments, some revolutionised the age-old craftsmanship with modern designs, draping techniques and off-beat styling. With all the innovation and transformation that sarees have undergone, the time it now takes to don a saree is less than half it would in the previous times, which in itself makes modern sarees a must-have in every millennial to-be-brides trousseau.
Did you pick the best design for yourself to complete your bridal trousseau? If not, check out the best designers and their modern saree designs, now!
-With words by Bhavika Vallecha.