Latest Lehenga Choli Online Shopping Guide With Price For You
Looking for Lehenga choli online shopping with the price experience can be daunting. To make it easier for you, we have a line-up of most stunning lehenga choli ensembles available online.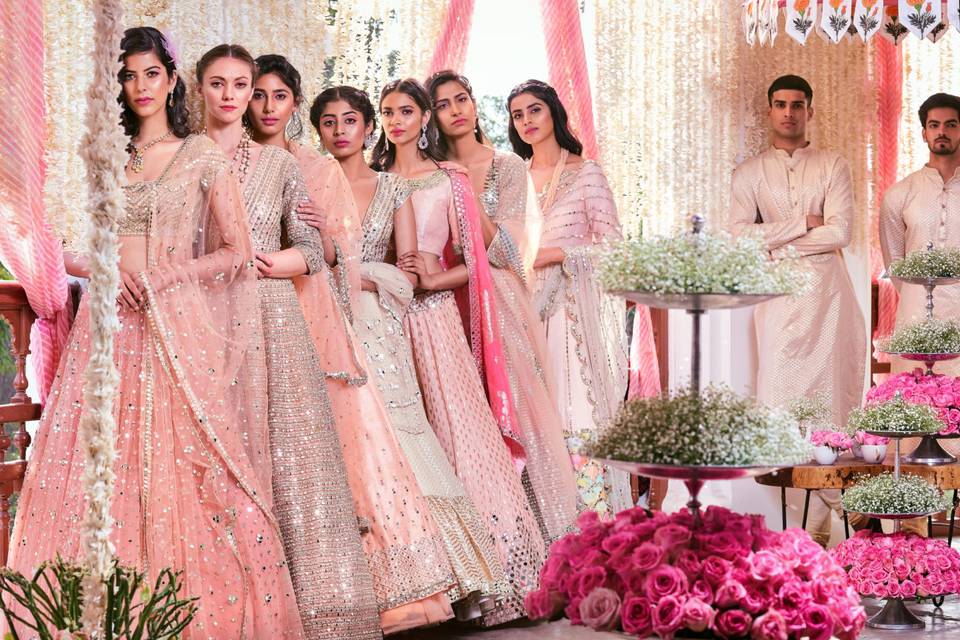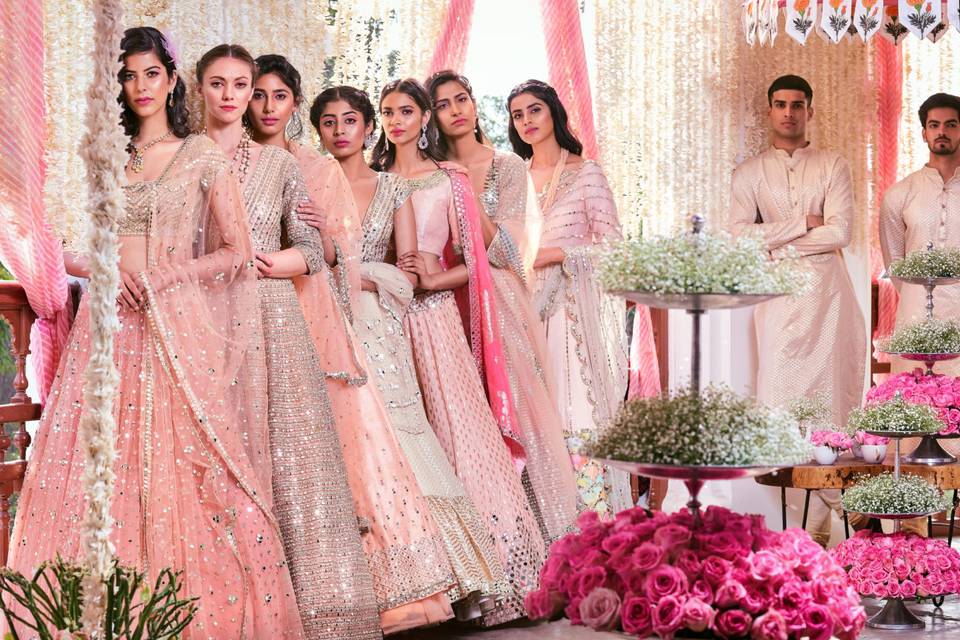 Image Courtesy: Abhinav Mishra's Collection
Abhinav Mishra is an up-and-coming designer name in the fashion industry. Known famously for his generous use of Gota Patti, lace, net and mirror work on almost all of his ensembles, the brides-to-be can be seen booking back-to-back appointments to grab an Abhinav Mishra design for their wedding wardrobe. Bright colours, super-light fabrics, laid-back silhouettes and embellishments that look heavy but don't put on much weight on the overall ensemble are some of the winning factors of an Abhinav Mishra design.
Such lehenga choli online shopping with price styles will offer you multiple options to choose from for your entire wedding's wardrobe, sitting in the comfort of your home. The key is to first short-list climatic conditions in which you will be getting married, your choice of colours if any and the style of lehenga that you wish to adorn for the day/night.
Once you are sorted with these factors, go ahead and splurge on one of these beautiful lehenga styles from authentic resources for a great online shopping experience.
Blue And Pink Lehenga Choli Online Shopping With Price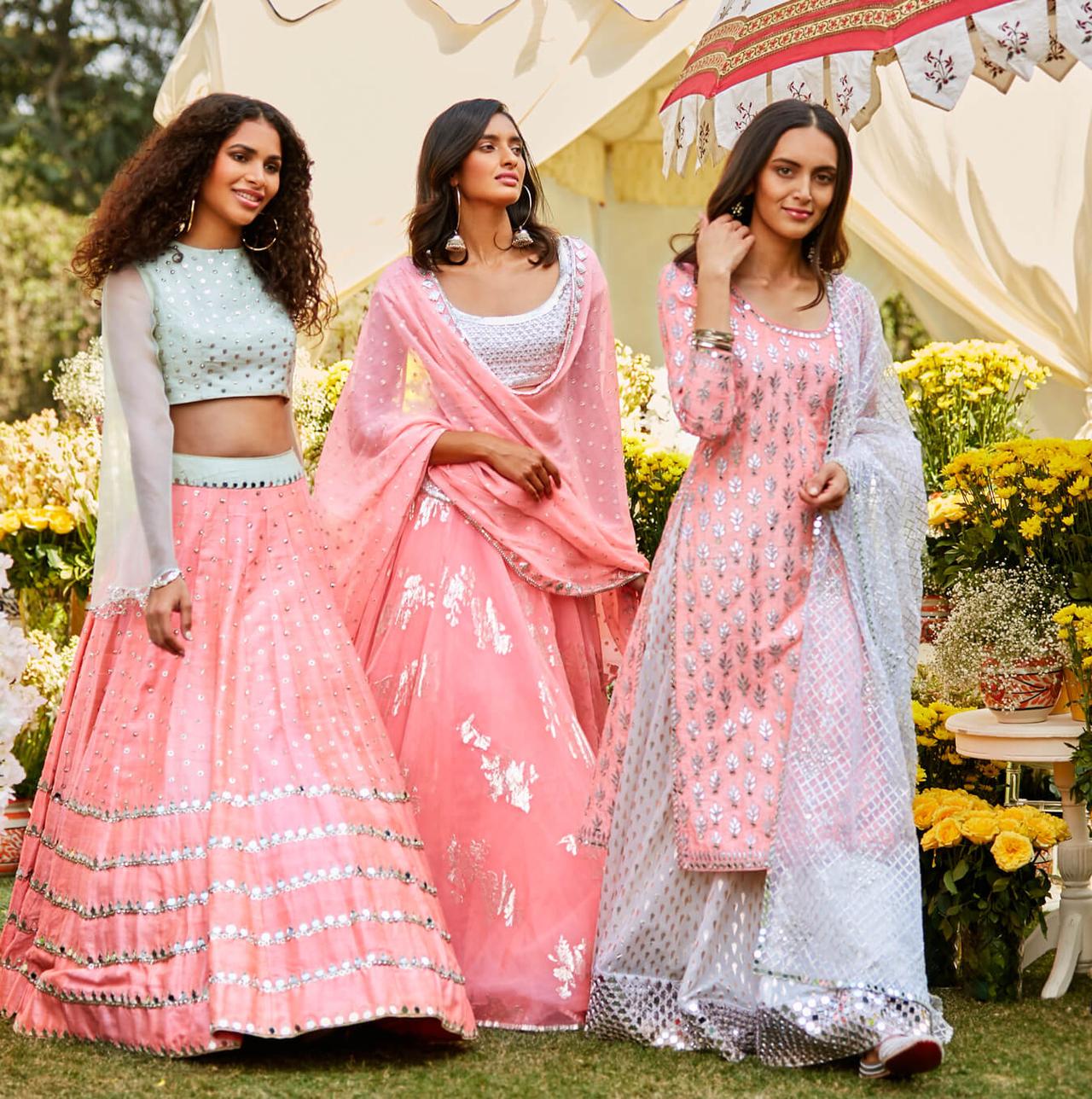 Image Courtesy: Abhinav Mishra's Collection
This powdered blue and pink lehenga is a breath of fresh air and will appear like true sunshine when any bride-to-be will adorn it for her morning Mehndi ceremony. The designer has the balanced softness of the colours with muted Gota Patti work and highlights of mirror work, making this lehenga choli online shopping with price experience quite worth it.
This lehenga set with mirror work is listed at a price of ₹75,000 online and is made to order. So make sure that you book such a lehenga well in advance for it to be made and delivered well in time for the wedding ceremony.
Yellow Ombre Lehenga Choli Online Shopping With Price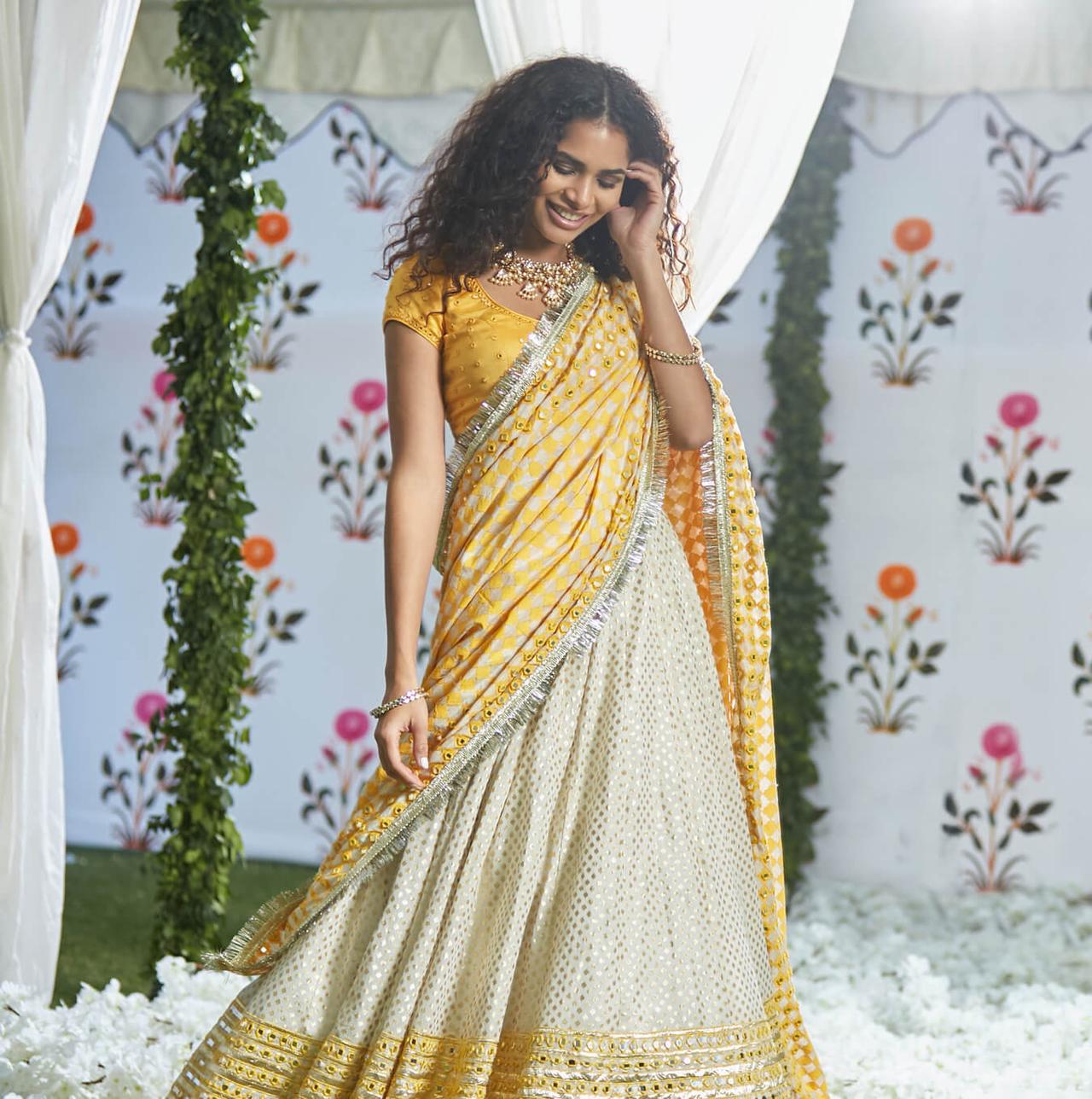 Image Courtesy: Abhinav Mishra's Collection
If you have been busy surfing lehenga choli online shopping with price for your Mehndi ceremony, then look no further. This lehenga creation by Abhinav Mishra is one of those rare stunners that will make the bride-to-be glow 'au natural', even with the Haldi smeared on her face.
An amalgamation of pearl white with sunflower yellow, decorated with mirror work and Gota Patti work makes this an exceptional design. This embroidered lehenga Choli set is priced at ₹90,000 online.
Yellow Silk Lehenga Choli Online Shopping With Price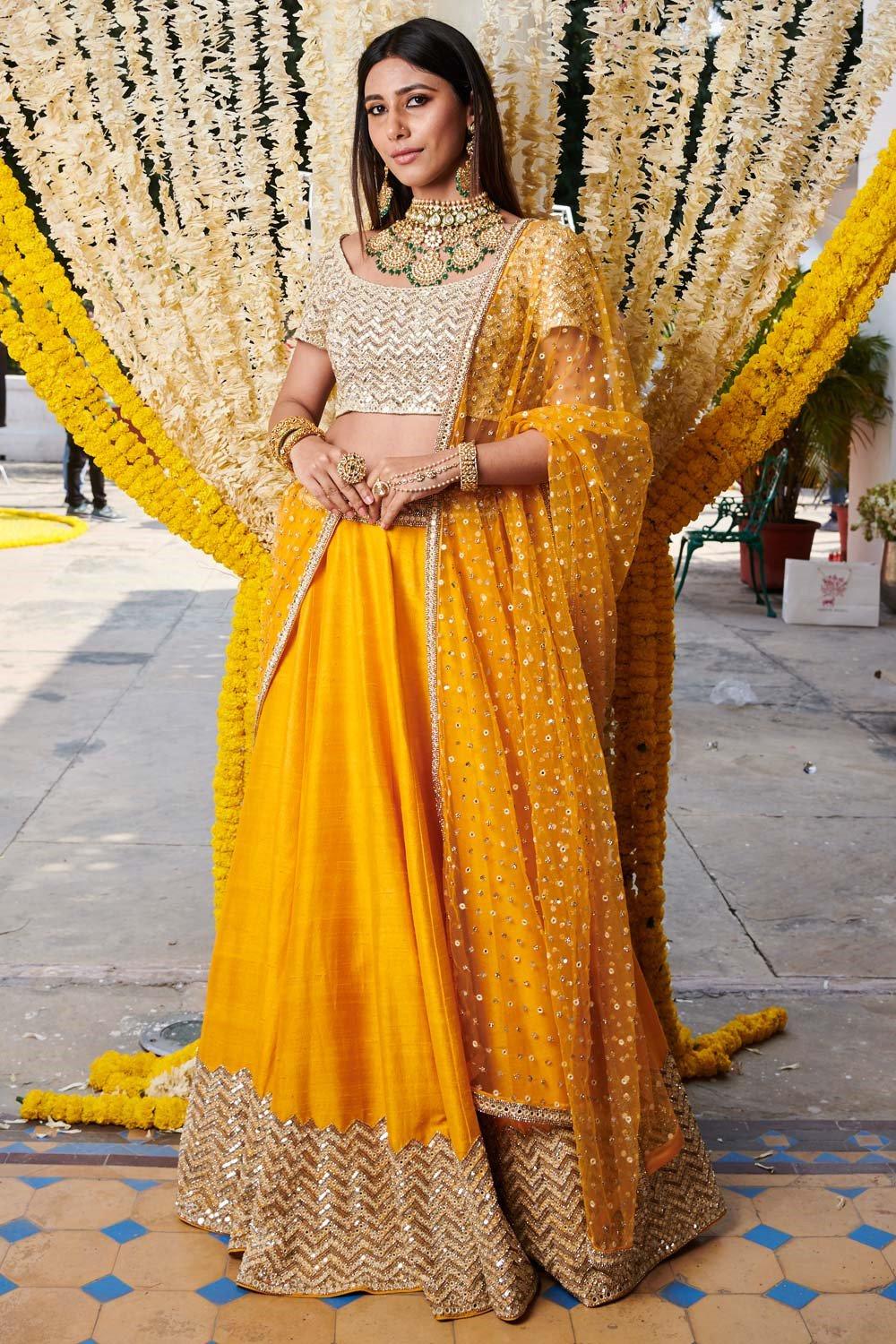 Image Courtesy: Abhinav Mishra's Collection
For brides-to-be who don't want to settle for anything but bling, a heavily embellished lehenga is what you should be browsing for on the internet. This beautiful all-yellow and ivory lehenga is every bit a stunner.
With geometric patterns and delicate handwork, this lehenga looks heavily embellished but regal and balanced at the same time. One of the USPCs of adorning an Abhinav Mishra creation is that his lehenga designs are not very heavy in weight, leaving the wearer feeling light throughout the course of the adornment.
This ivory luxe lehenga is made on order and comes at a cost of ₹1,34,400. The detailed embroidery on raw silk makes this design an ideal statement maker for a Mehndi to a Haldi function.
Leheriya Lehenga Choli Online With Price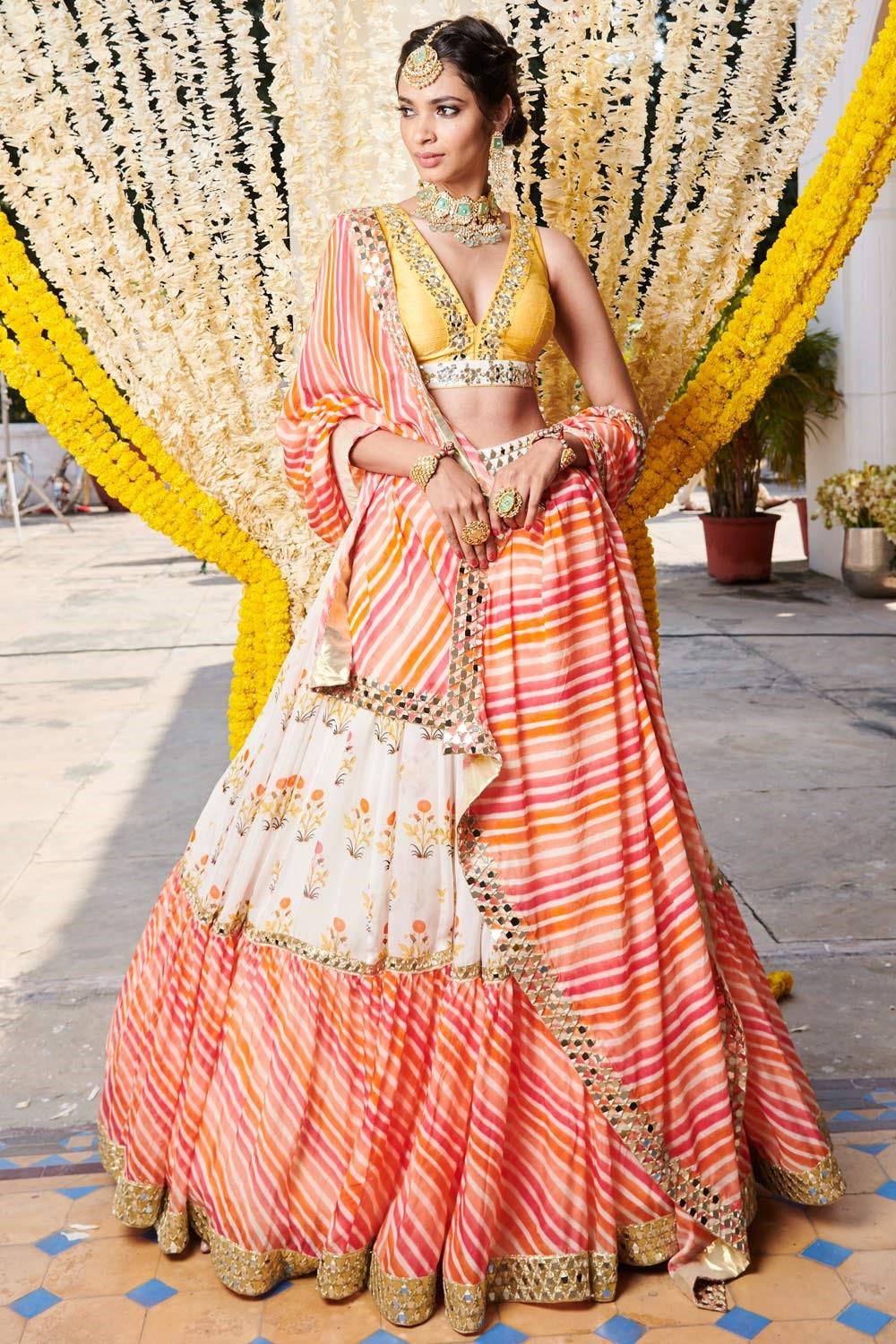 Image Courtesy: Abhinav Mishra's Collection
Celebrities can often be seen adorning and promoting the famous Leheriya pattern of Rajasthan at press meets and red carpets. There are several such lehenga choli online shopping with price options available in Leheriya style but are often mismatched in terms of aligning the dyeing technique right. This beautiful amalgamation between Leheriya dye and Bandhani technique is perfect to make any bride-to-be look like a true Rajasthani princess.
The best way to stylise this lehenga choli set is by adorning a complimenting choker necklace and a Meenakari cocktail ring on both the hands. This lehenga is available online for a price of ₹78,400.
All Beige Lehenga Choli Online Shopping With Price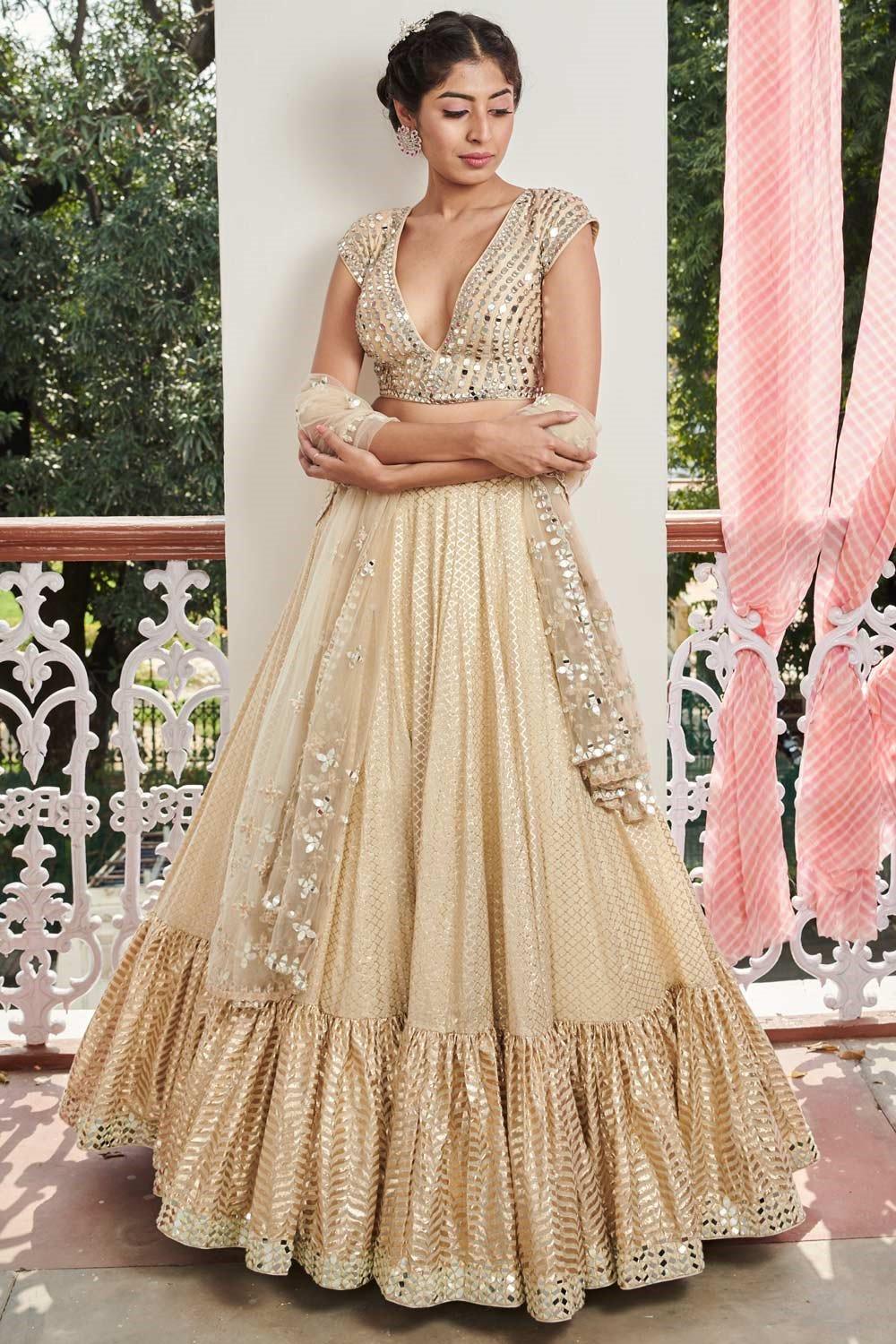 Image Courtesy: Abhinav Mishra's Collection
For a cocktail or Sangeet night, the trend that is fast catching up is going all neutral with colours but high on the bling factor to make up for the extravagant aspect of the wedding function. Take for instance this beige lehenga set by Abhinav Mishra. The deep-neck blouse with mirror work running all over is a statement maker in itself. Match with it a net dupatta embellished with intricately woven Gota Patti and a Chanderi infused flowy lehenga skirt that is a muted crowd pleaser in itself.
Such lehenga choli online shopping with price experiences needs to be monitored with attention given to the detailing in work and quality of the fabric and decorations done on it. This beautiful lehenga is priced at ₹67,200 and will guarantee to make you feel like a glamorous Desi diva on the Sangeet night, effortlessly.
There are many lehenga choli online shopping with price options available on the world wide web, but not all are authentic platforms. Make sure that you do some research and purchase the ensembles either directly from the seller's e-commerce website, or rely on the authentic and well known online stores that house many other known designers on their panel.
Don't get tempted by the idea of saving up a few bucks on random websites only to receive a damaged or fake product upon delivery. And while you are at it, do request for a semi-stitched or a fitted lehenga with the scope of altering it to fit you just perfectly.
Check out the official platforms of the designers listed on our vendor's panel to explore more authentic lehenga choli online shopping with price available with them.