Sabyasachi Bridal Lehenga Price Guide & What Makes This Designer More Accessible Than Most!
When the wedding season rolls around, everyone has couture fever. If you're kickstarting the shopping by searching for Sabyasachi bridal lehenga price points, keep reading to know what you can expect!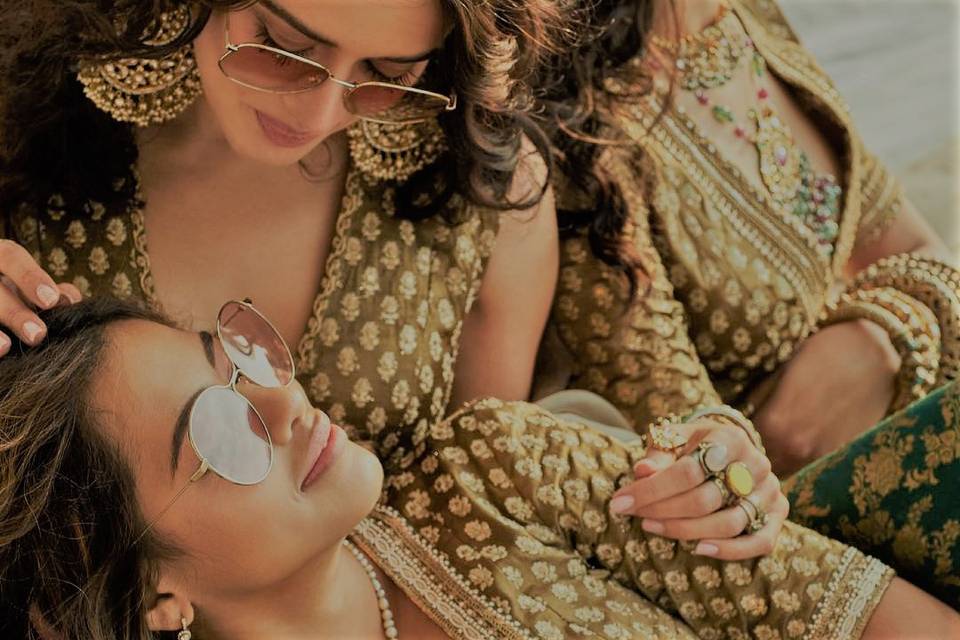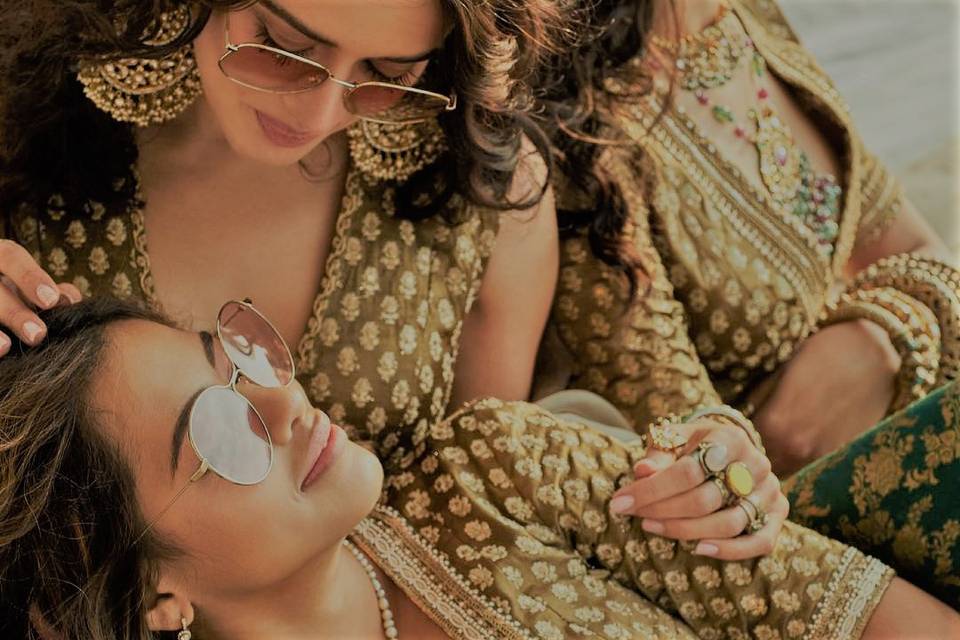 Sabyasachi's lehengas have been dominating the fashion industry as the pinnacle of fashion for every bridal It Girl. With designs and traditional silhouettes loved by everyone, it's hard not to see why. The designer has made a name for himself through countless endeavours and is now one of the foremost designers in the country. His lightweight bridal lehengas offer the perfect blend between richly crafted garments and contemporary aesthetics, making them easy to carry and to style. No wonder one of the most common searches during the wedding season is 'Sabyasachi bridal lehenga price'!
If you've been wondering about the same, we've got a whole gallery of lovely Sabyasachi bridal lehenga price and styling tips for you to look at! As this designer does not reveal all his prices, we will be giving you price ranges that you can expect, based on similar garments in his previous and current collections!
1. This midnight blue piece!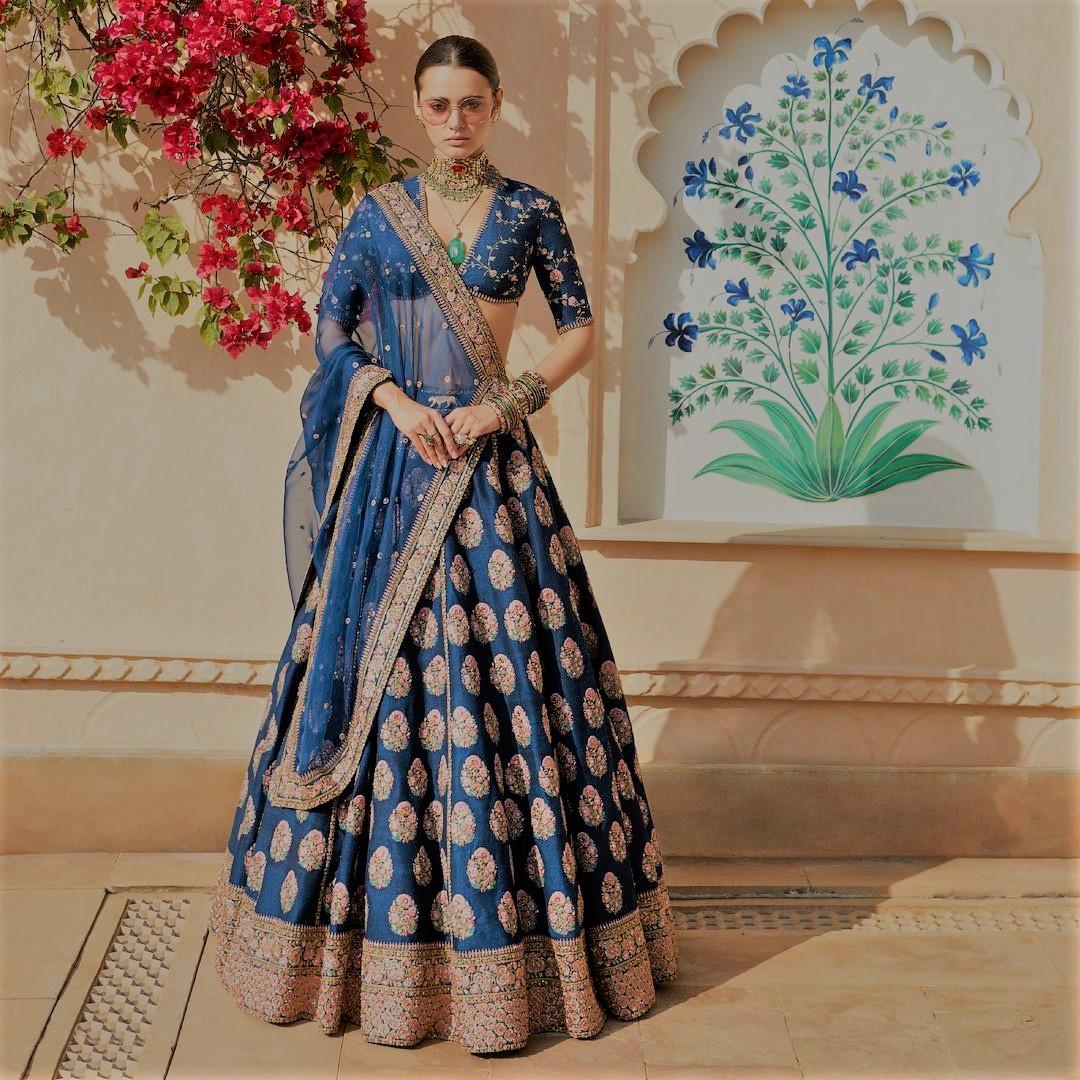 Blue has become a huge colour this season and we can see many designers adding shades of this hue in their collection, including Sabyasachi. The deep neck blouse design has light pink flowers all over, and they're so small that one may mistake them for polka dots from afar! The skirt of the lehenga has similar flowers on it, except they are quite magnified, bringing little pops of pink all over. With the sheer dupatta having a heavy gold border, this ensemble is completed with small gold borders on the choli and lehenga.
Styling tips: With a garment like this, old school Kundan chokers are the ideal jewellery pieces to pick. Style your hair in a sleek top knot and add pink carnations around the bun to match with the lehenga.
Sabyasachi bridal lehenga price: approximately upwards of ₹2, 65, 000
2. This green and beige piece!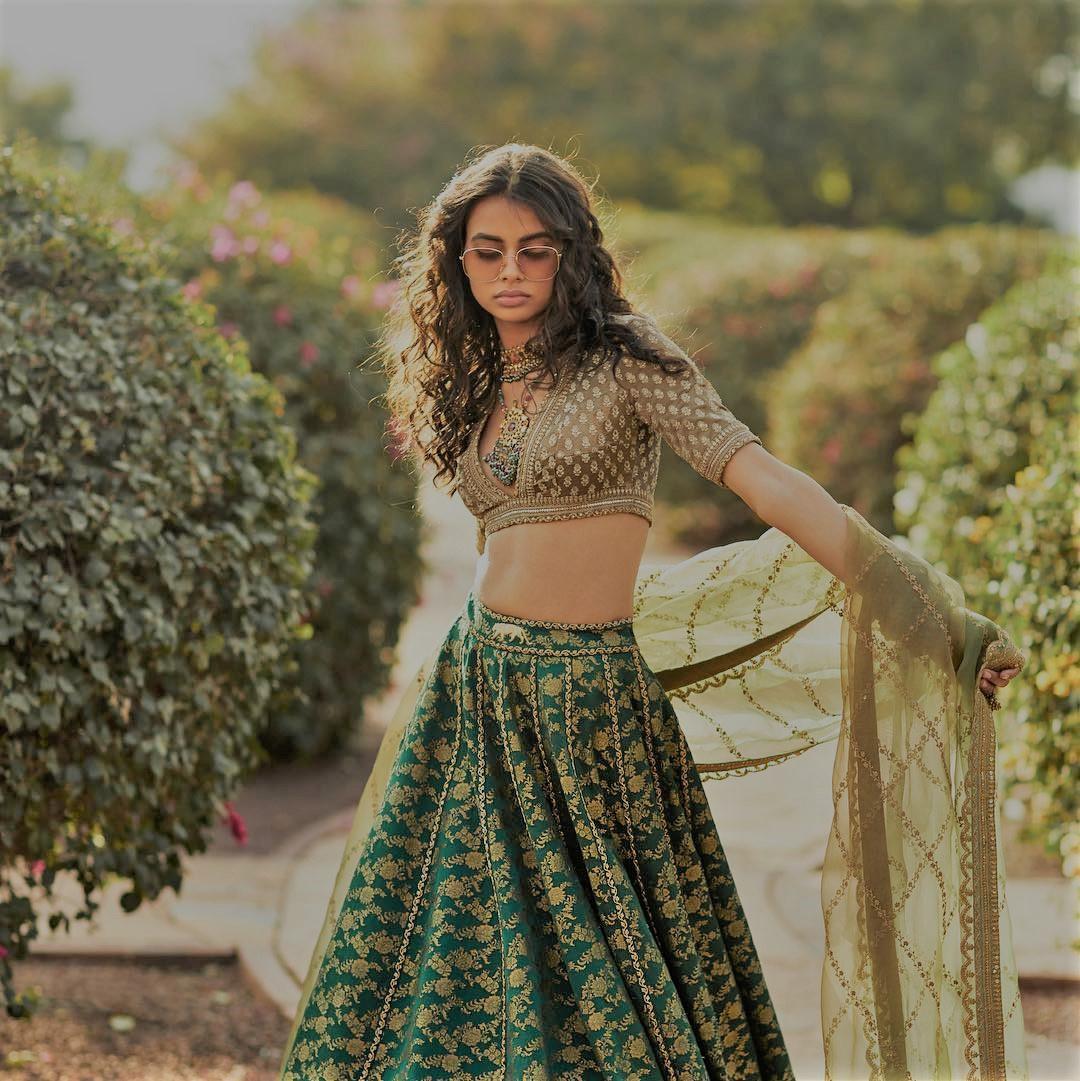 With a deep beige blouse that has gold print work, this is a garment that is accessible to many brides. As the green lehenga has been making quite a splash in the Indian wedding scene lately, this particular outfit is a great one to bring that into your collection. The gold print work all over the lehenga makes the skirt quite heavy and appropriate for bridal finery while the blouse reigns in the look of the gold, making sure that it does not become too loud. The beige sheer dupatta breaks the dominance of the green from a visual standpoint and is a great addition to the ensemble.
Styling tips: Since this is a green lehenga, you should certainly consider pairing some stunning emerald jewellery with it. Even with the three-fourth sleeve length, you can get away with stacking multiple traditional bangles for a great look.
Sabyasachi bridal lehenga price: approximately upwards of ₹1, 95, 000
3. This nude pink floral lehenga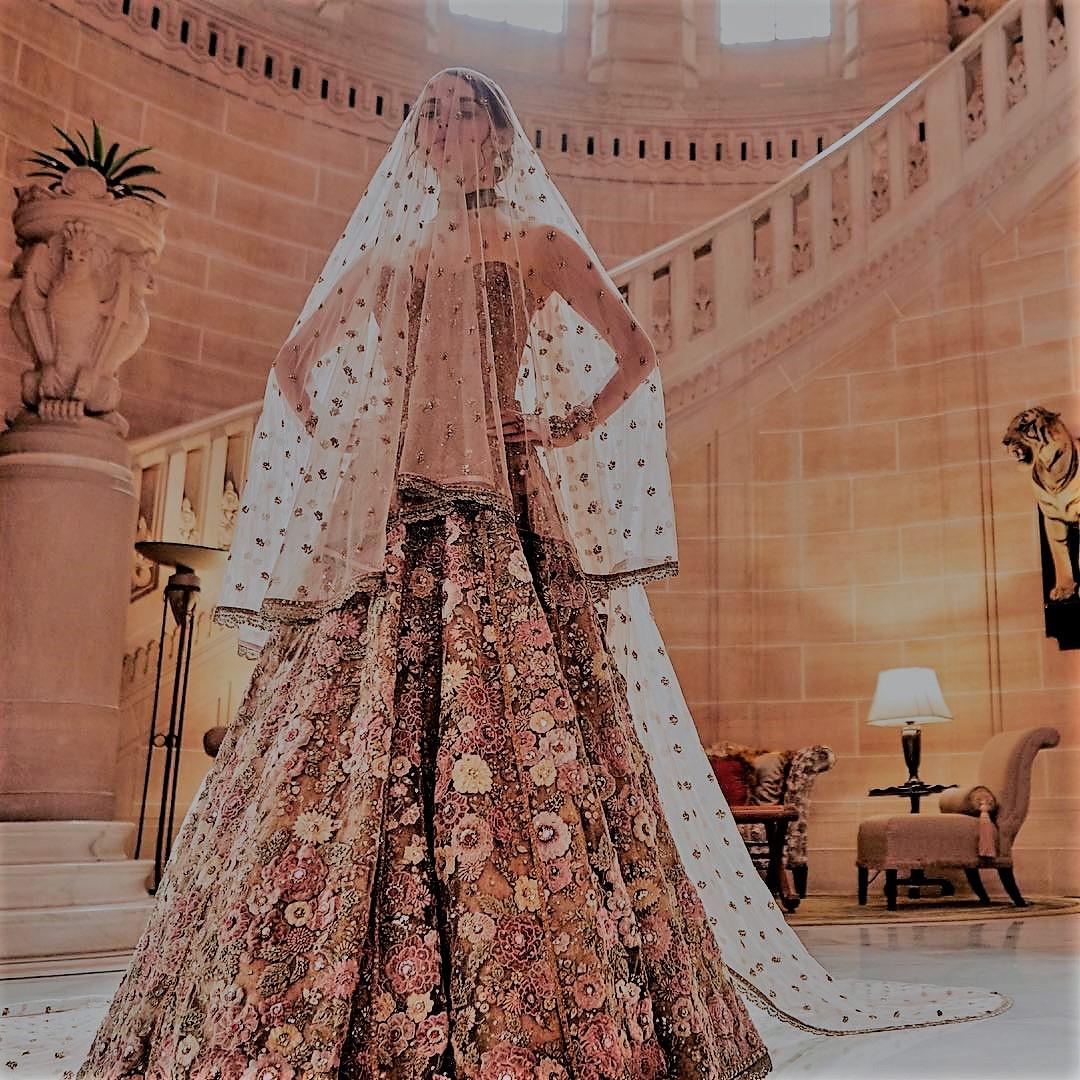 Nude pink being one of the most neutral colours, it can be a challenge to make a bridal lehenga with this aesthetic not look boring. The designer has achieved this by creating layers of lace and fabric for this 3D floral look. The heavily embroidered off shoulder corset top looks lovely paired with this busy skirt, and all this embroidery is brought together by the lightly studded sheer dupatta that they've styled like a veil in this photoshoot. This is a mild bridal look, one that needs the addition of heavy jewellery to bring some colour into the scene.
Styling tips: Wear rubies and pearls to stay within this aesthetic and colour family. Make sure that you rock a bright, glam lip because a nude one may be a little boring with this look.
Sabyasachi bridal lehenga price: approximately upwards of ₹3, 50, 000
4. This ivory and pink printed lehenga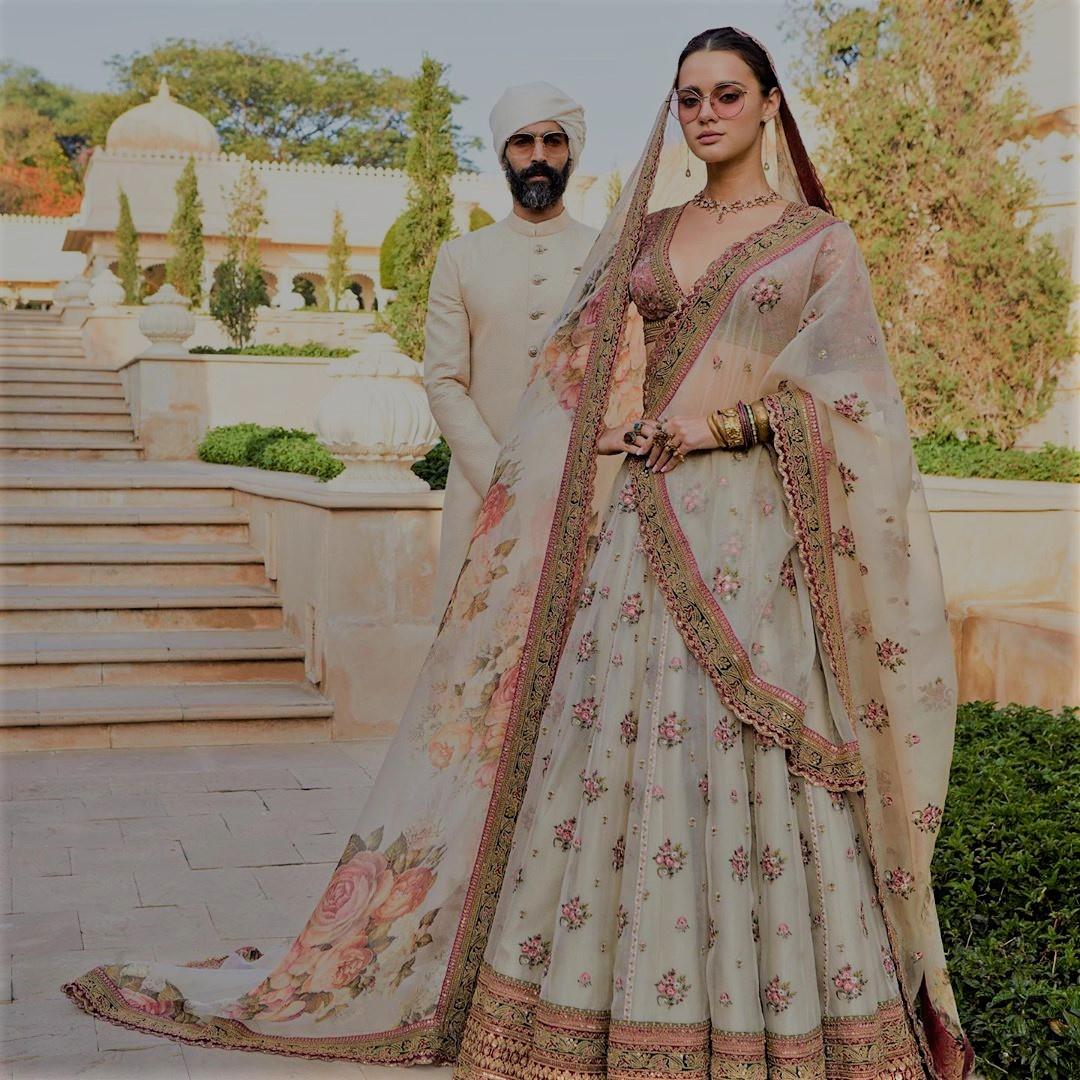 A part of the Udaipur collection, this is another affordable bridal lehenga crafted by Sabyasachi. The dupatta of this outfit is a statement piece, with most of the prints concentrated on it. The large floral motifs and the gold embroidered borders make this a great dupatta that brides can mix with plainer suits later in life too! The pink printed blouse is what allows the pink tones in the outfit to feel more at home, while the ivory and pink skirt are the third components that complete the attire.
Styling tips: If you love the idea of contrasting textures, wear south Indian jewellery with this outfit!
Sabyasachi bridal lehenga price: approximately upwards of ₹1, 95, 000
With designs that are always a hit commercially and prices that are more inclusive than many other designers, it's no wonder that every bride wants to be a Sabya bride. Sabyasachi bridal lehenga price points generally range from ₹1, 50, 000 - ₹7, 95, 000. This is because the Sabyasachi bridal lehenga price point depends entirely on the level of embroidery the garment has.
Once you've picked out your bridal lehenga, pick out your makeup artist too!
Note - All images are from Sabyasachi Mukherjee's Collection