Traditional Bangles: What Do They Mean for the Indian Bride and How to Accessorise with Them
The complete attire of a bride depends on her ethnic culture and background. In the jewellery the bride wears, the bangles play a crucial role as they alone can determine the culture or ethnic group that the bride belongs to.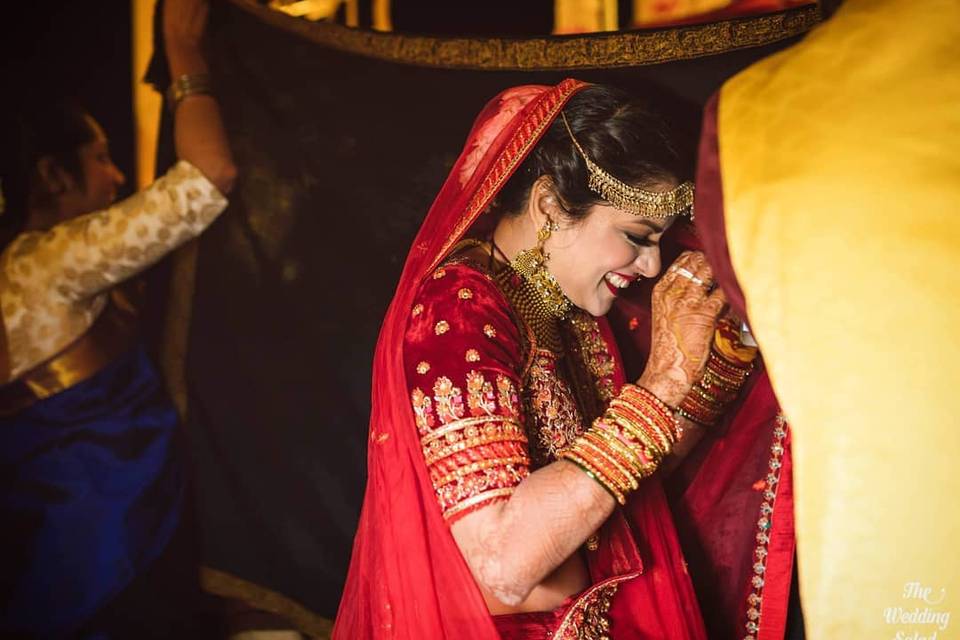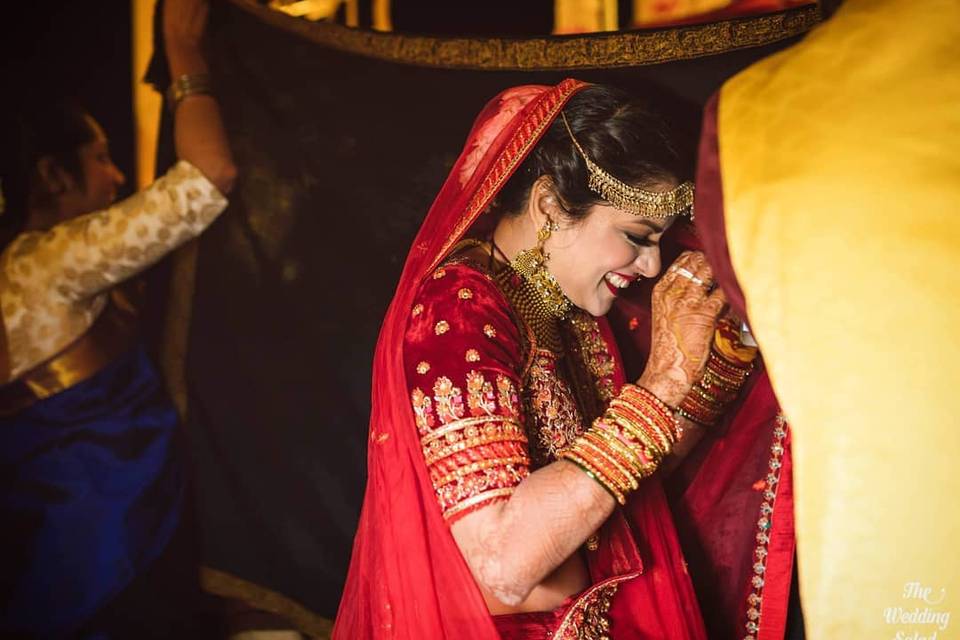 For an Indian bride, traditional bangles play an immense role in the wedding, as the bangles are not just a piece of accessory but have various meanings attached to them. More than the bangles, it is the colours that matter, with different colours having different meanings. Some brides wear the traditional bangles for more than a month after the wedding, while some wear marriage bangles just on the wedding day and some may not wear them at all! It all depends on the culture and traditional values you and your family have been following for the last few generations.
You can be wearing bangles from in of the traditional colours like red, green, white, ivory, gold and then maybe add more colours to the set. You may then pair your traditional bangles with bangles made of gold, diamond or silver. This is the beauty of an Indian bride, as she can explore so many options for her wedding. While some brides have a minimalistic approach, while some take a blingy approach in their looks. Therefore, it would not be wrong to say that the bangles used and their numbers and designs are all not just related to the traditions but also the personal preference of the bride.
Since India is such a diverse country, the following are quite a few different traditional bangles and their interpretations when you see an Indian bride wearing it on her wedding day.
Different cultures and their traditional bangles
1. The traditional Punjabi Chooda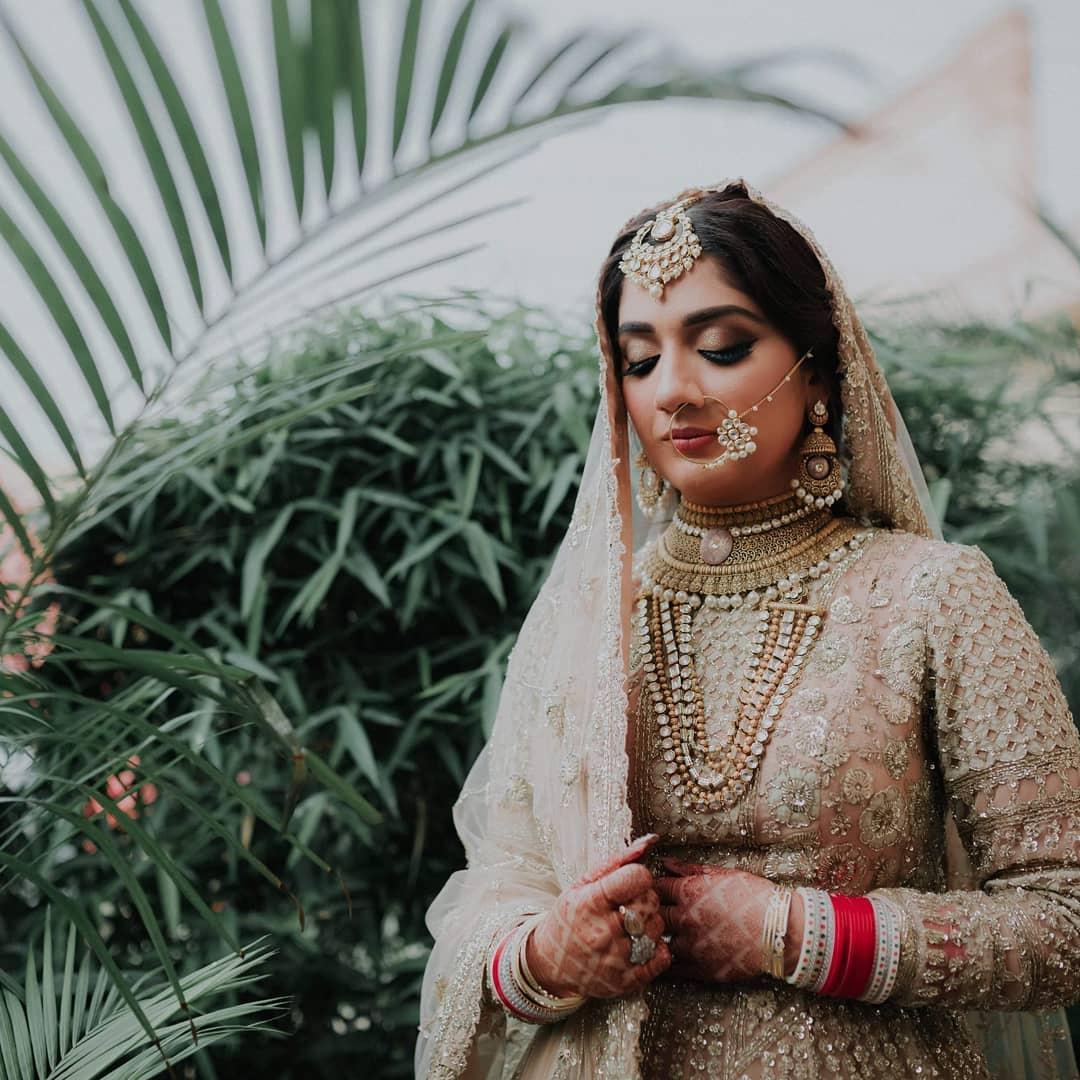 When you think of wedding bangles, the first thing that comes to most bride's mind is the Chooda. It is such a traditional and historical part of the North Indian wedding circuit that people remember their ancestors wearing it even centuries ago. So much is its popularity that brides from other parts of the country too are adopting this style. The basic colours used here are white and red. While some brides enjoy a majority of red bangles, others prefer a majority in the number of white bangles. These bangles are made of plastic with no use of lax or glass. The white bangles usually have design work or are studded with stones as well.
2. The Bengali Bride look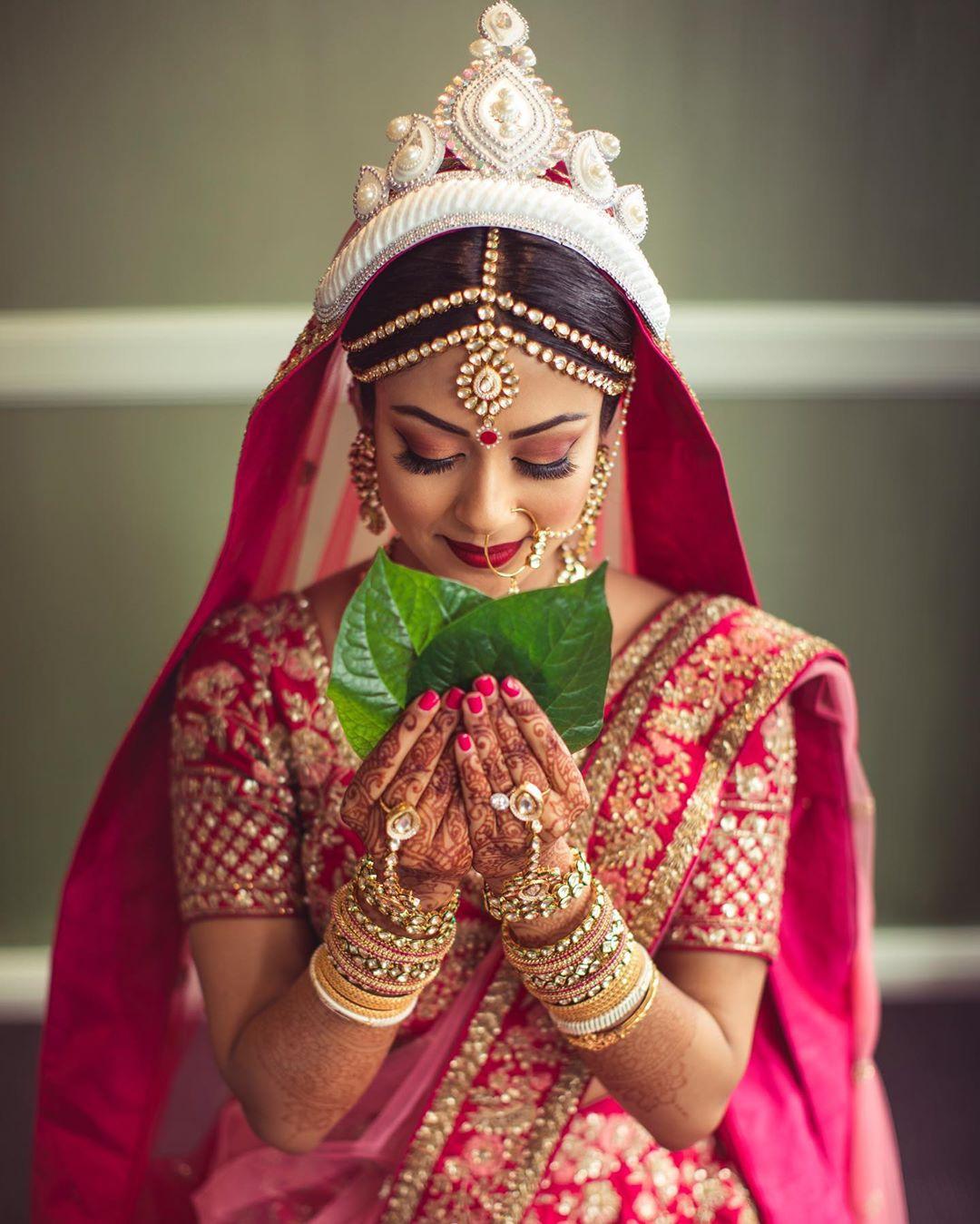 A Bengali bride usually wears traditional bangles with colours like maroon, white or green. You can wear other bangles as well that match your attire but some shade of white should be on it. Even mirror works are acceptable. However, here, the major attraction of a bride is the Topor she wears on her head.
3. The Marathi Bride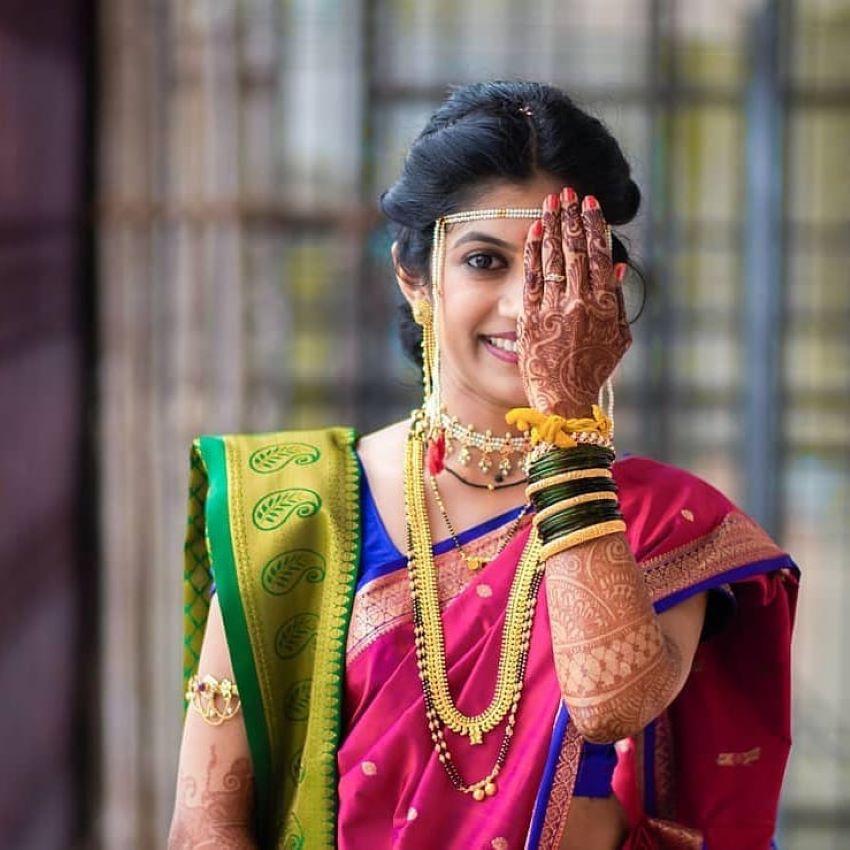 Image Courtesy: Green Gold
One of the first things that differentiate a Marathi Bride from others is her traditional bangles. In the Marathi culture, green is considered a special colour with multiple positive meanings like fertility, auspicious and good luck. Furthermore, Marathi brides also wear red or maroon coloured bangles as well. However, that is not the only colour they wear as they mix their glass bangles with several gold bangles too.
4. Ape the Kerala bride and Look like a model from a jewellery ad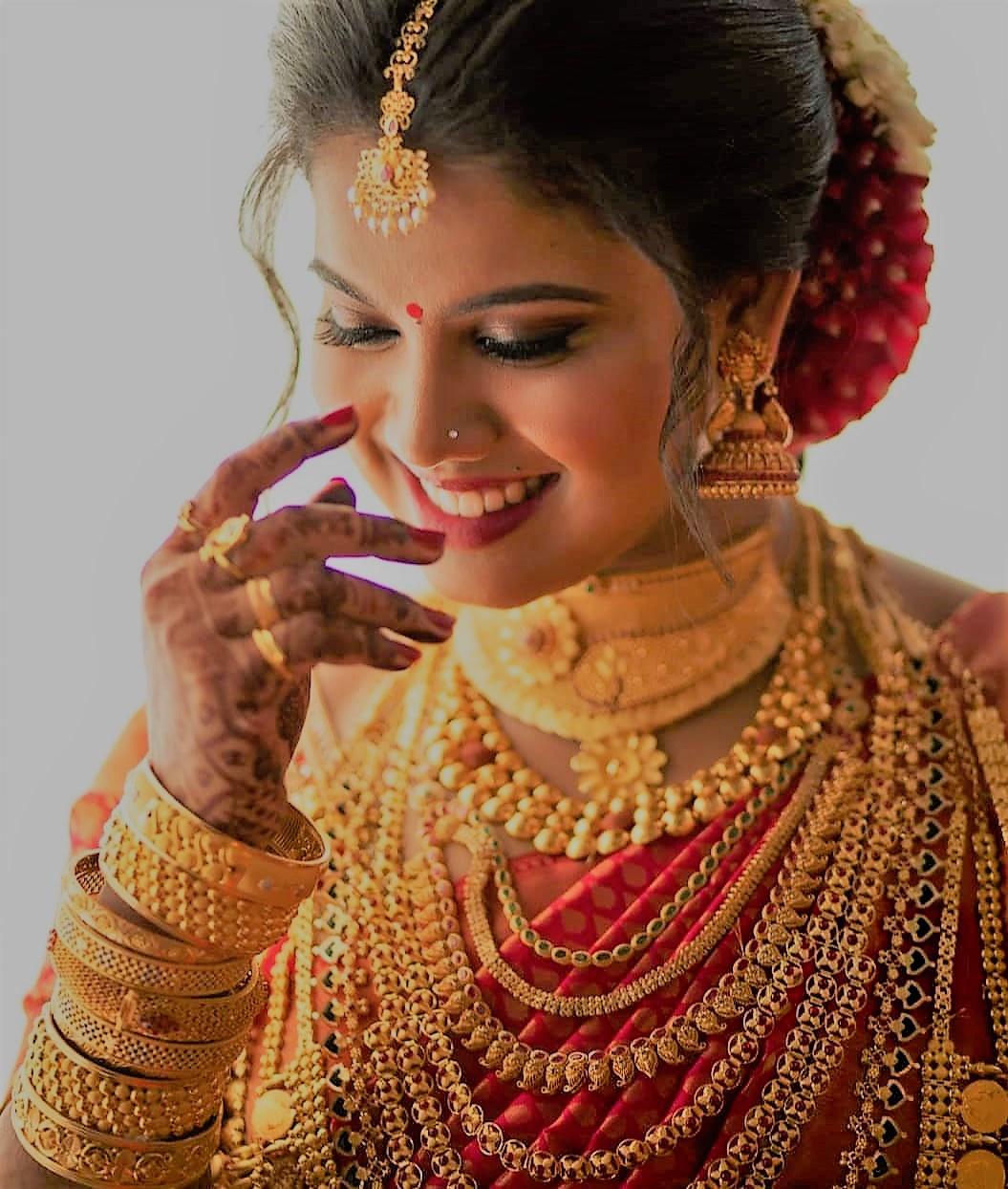 Image Courtesy: Kerala Bride's
Looking at a Kerala bride can leave you stunned because of the amount of gold jewellery she wears. In Kerala, wearing large amounts of gold jewellery is quite common. To achieve that look, the bride wears multiple necklaces and chains, traditional bangles, earrings, nath, Matha Patti and so on. At times, the bangles can almost reach the elbow. This much gold surely does make the bride look like a jewellery model. The best thing about wearing so much jewellery is that you can experiment with different local styles of jewellery and temple jewellery as well.
Bangle wearing tips to follow to look your best!
Now that you know about the meanings that these traditional bangles hold in different cultures, here are a few styling tips that apply to all types of bangles!
1. Match your bangles with your bridal outfit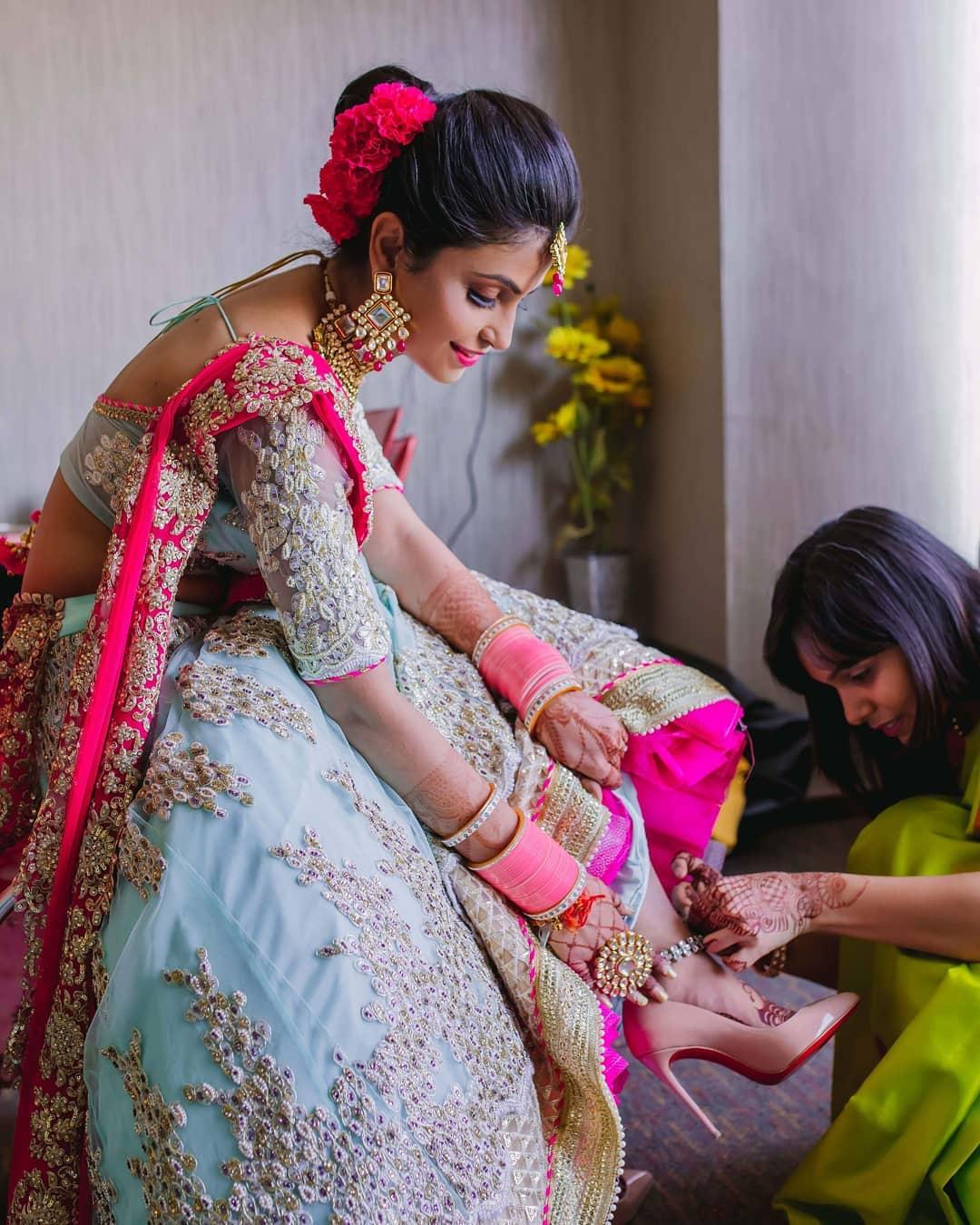 Now, this is a completely different take on wedding bangles, as it need not follow the traditional colours all the time. The idea here is to match the colour of your bangles to your outfit. If your lehenga has pink tones to it then you might as well go for pink bangles as well. However, do not forget to wear gold or diamond bangles in between as well. You do not want to look too monotonous there. You can follow similar styling with colours like dark blue, mehndi green, crimson red or other such darker shades.
2. A combination of the beautiful Haath Phool and bangles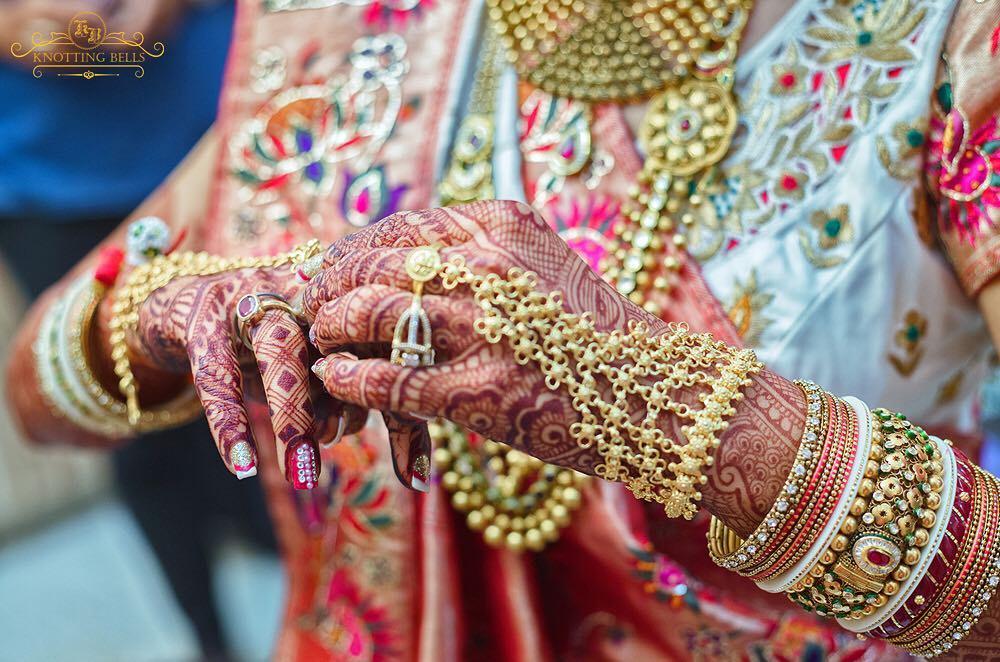 Who does not like Haath Phool? Every bride certainly does! It adds to the aesthetic value and makes you admire how beautifully it blends with the other bangles. It also accentuates the beautiful mehndi work on your hands. For the bangles, you can go a bit modern by choosing to wear different coloured bangles with studs on it throughout. This makes the complete look beautiful, different, new and yet traditional at the same time.
3. Be subtle with gold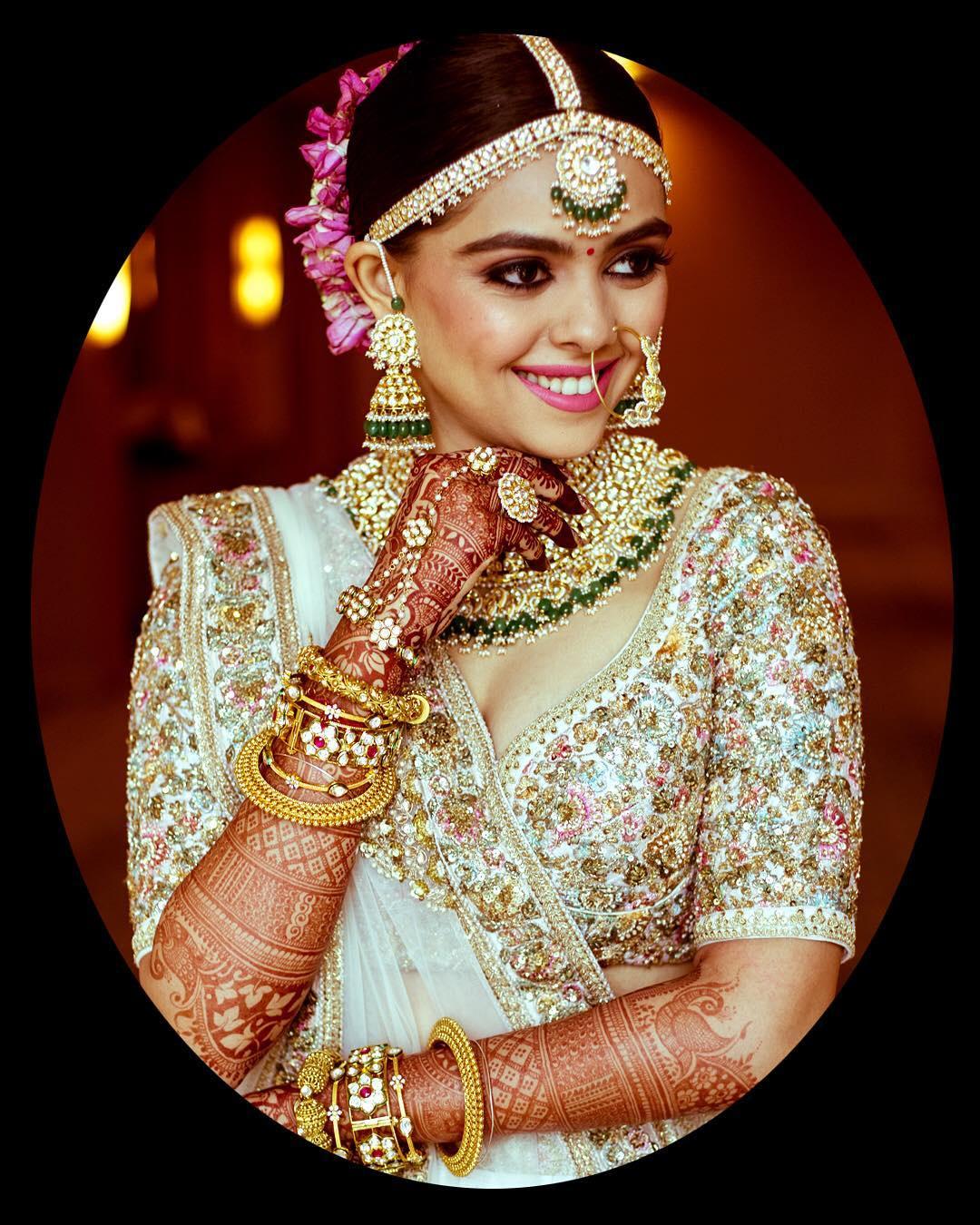 If you are wearing an ivory coloured lehenga or saree, gold bangles are a great choice to pair with the outfits to make them look great. Go subtle with this look by only wearing 4-5 bangles on each arm. Make every bangle count and let it stand out it. While mixing bangles, ensure they complement each other and also the attire. You may also wear Haath Phool if you like!
4. Go minimalistic with a single bangle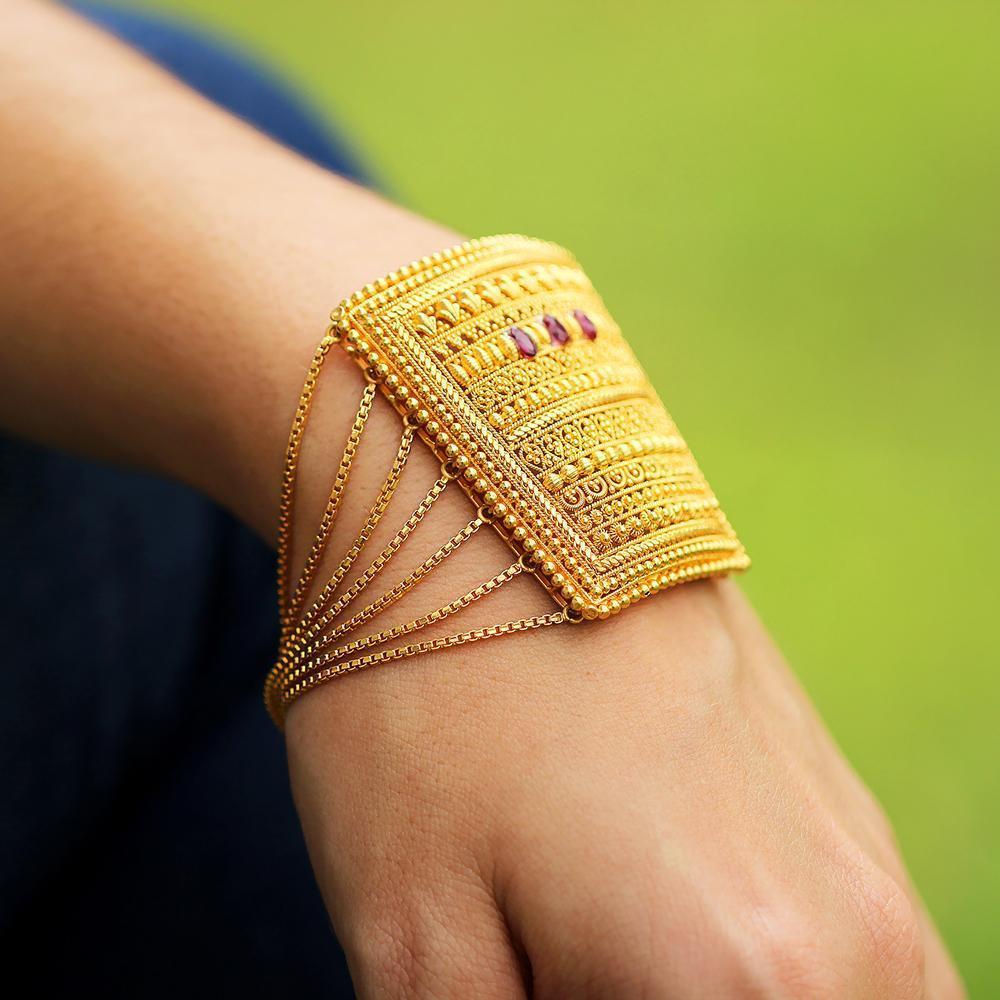 Image Courtesy: Once Upon A Diamond
If you are a bride who is not into jewellery as such and wants a simple minimalistic look, then you do not have to think too much about traditions or colours of the bangles or even the material used. You just need to care about your attire and make a wise decision while selecting the material of the bangle that would go best with it. Whenever you are confused, go with gold. Just grab a pair of beautiful bangles and wear them with the outfit. That's it. A bold move but it certainly does work.
5. The Goan flavour with green bangles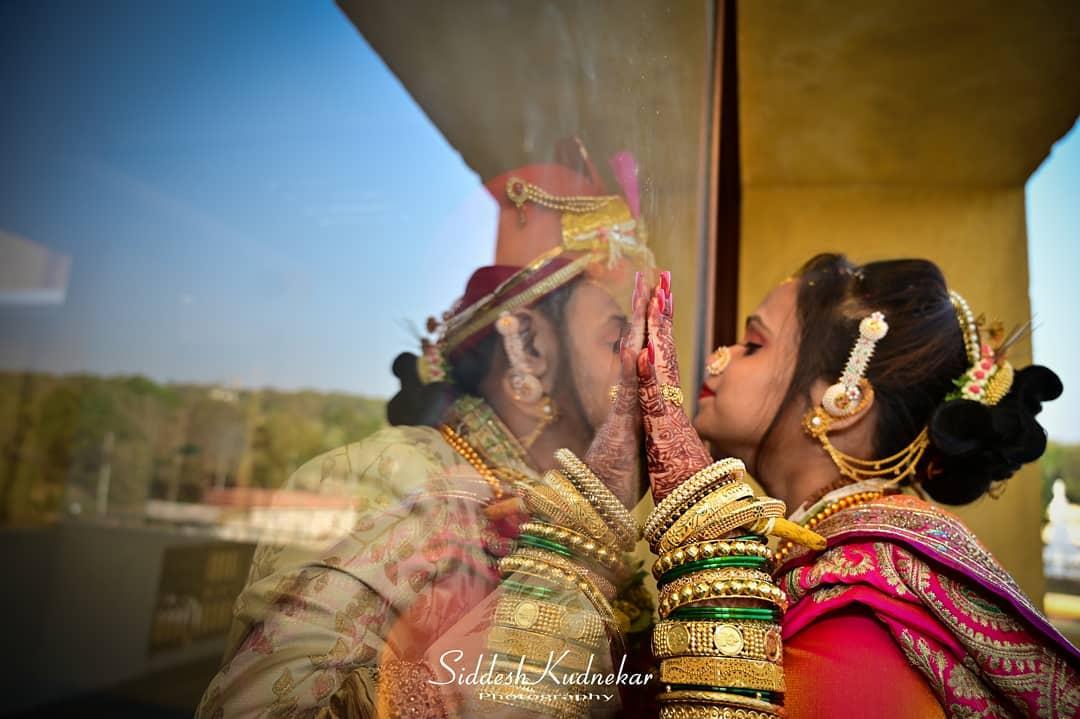 A Goan bride has somewhat similar traditions to a Marathi bride, as both belong to the Konkani culture. For a Goan bride, the major colour of the traditional bangles is green. You can wear all the gold bangles you want but incorporating the green bangles is a must as it is the essence of a Goan Konkani bride.
6. Be vibrant and flaunt the maximum colours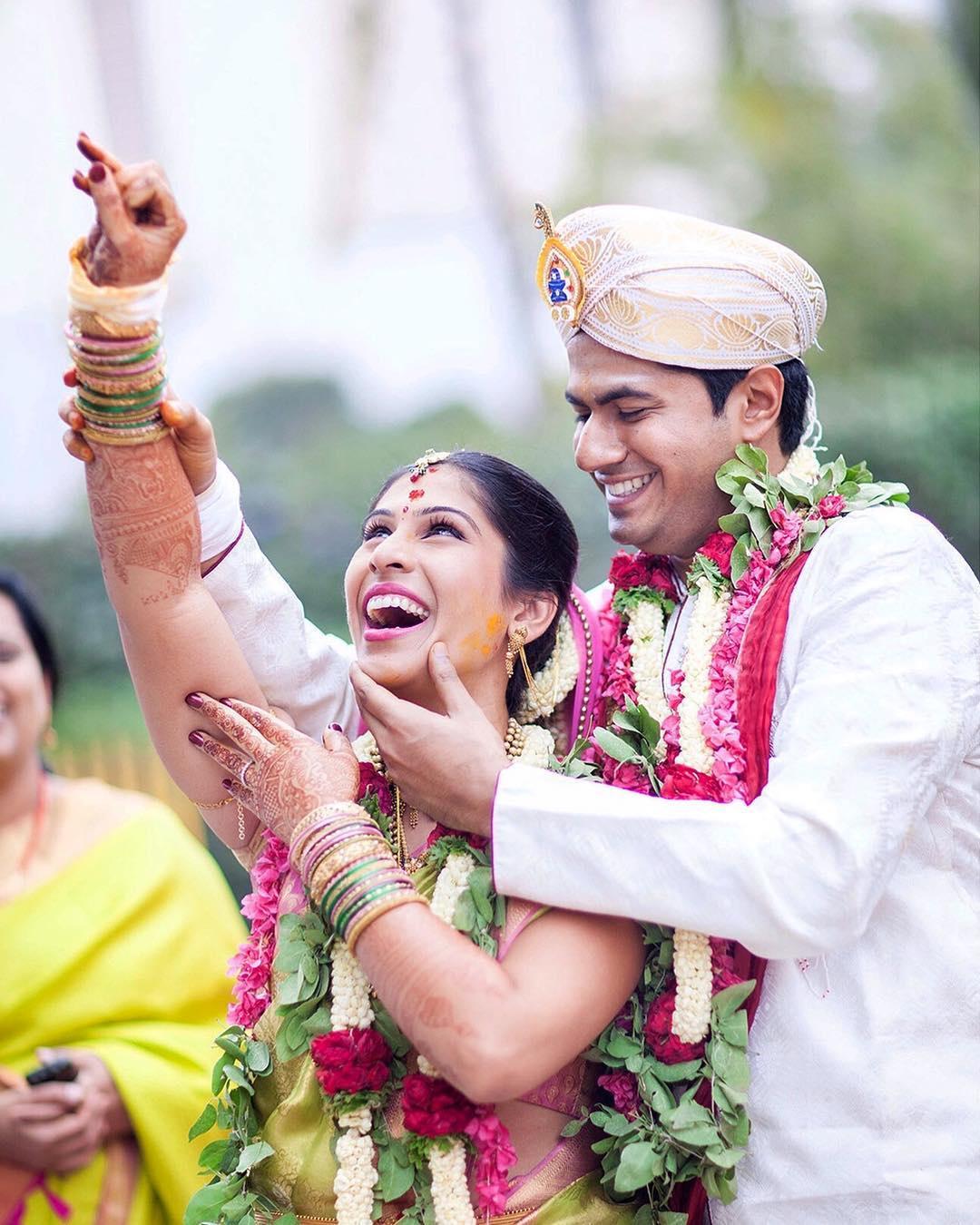 A common trend that quite a lot of Indian brides are following these days is the use of bangles of different colours, making it a perfect combo with the outfit. The basic idea is to choose colours that are present on the wedding outfit and then wear it in similar order on both arms. You can mix it with a few golds or pearl traditional bangles as well to make it look more beautiful.
7. Be Elegant with ivory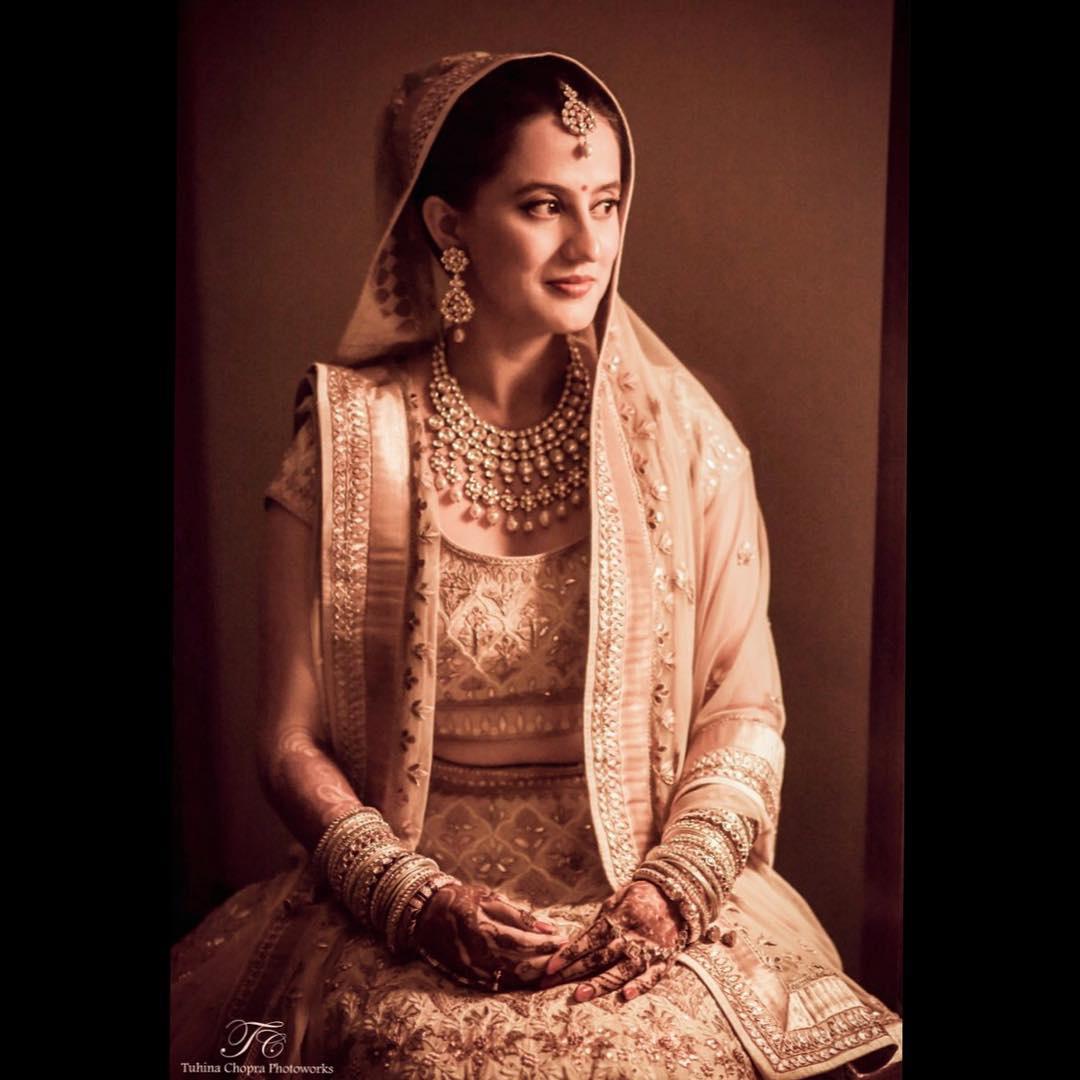 Ivory bangles can never go out of fashion and are one of the examples of the oldest traditional bangles when it comes to an Indian wedding. There was a time when the Royals used to wear such bangles made out of real ivory. The tradition and importance of the colour have stayed on. Having your wedding look centred on the colour Ivory is the easiest way to look elegant and regal.
No matter what traditional bangles you wear with your outfit, you must ensure that they match and make you feel great about the way they look against your skin!
Get in touch with our bangle vendors for great options!