9 Traditional Bridal Gold Bangles That Add A Tinkle To Most Weddings
Wedding jewellery is incomplete without a pair of gorgeous bridal gold bangles. We bring to you these traditional designs to help you style yourself.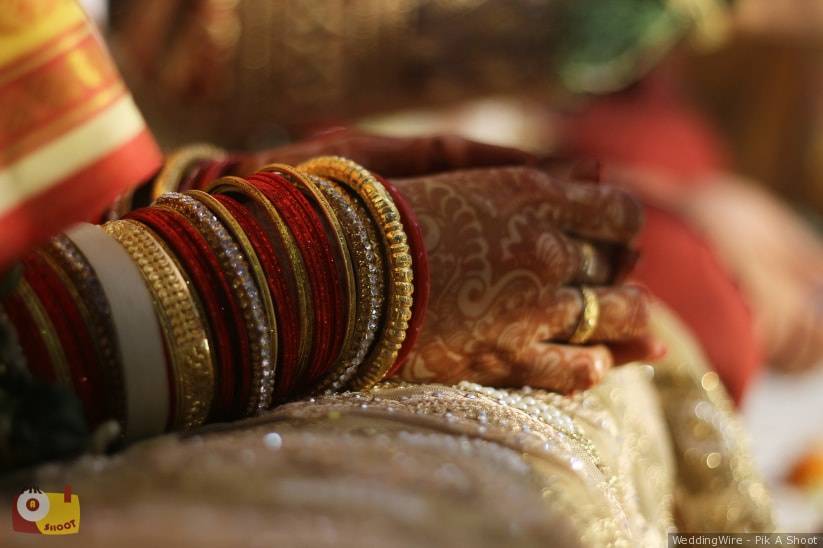 We can't agree enough that an Indian bride's jewellery catches your attention the very moment you lay eyes on her. All the wedding ornaments that she wears look visually interesting due to the intricate art designs. But one piece of jewellery that catches the maximum attention is the bridal gold bangles.
Available in different styles makes, and colours, they help to complete the look of the bride. If you are getting married and are in the lookout for traditional bridal bangles, do take a look at this exhaustive list below!
1. Marwari Patalo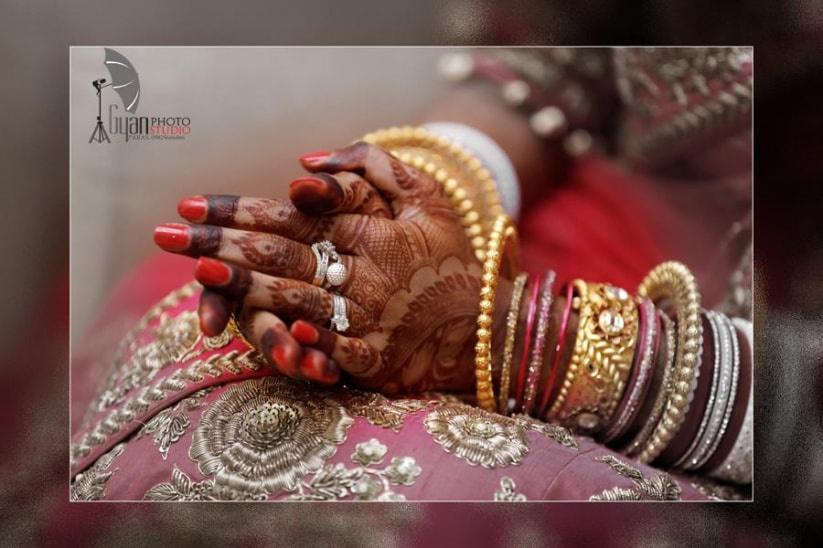 A Marwari bride's look cannot be deemed complete unless she wears a Patalo. A Marwari Patalo is an important part of the handpieces that a Marwari bride wears on her wedding day. It comes in different styles, among which the gold and Kundan Patalo are very famous.
Sone ko Patalo or a Kundan ko Patalo are denoted as thick bangles or kadas which stand out in a conventional set of bridal gold bangles. Depending on your choice, these can be plain, engraved or even embellished with semi-precious stones or glass beads.
2. Bengali Bali or Bala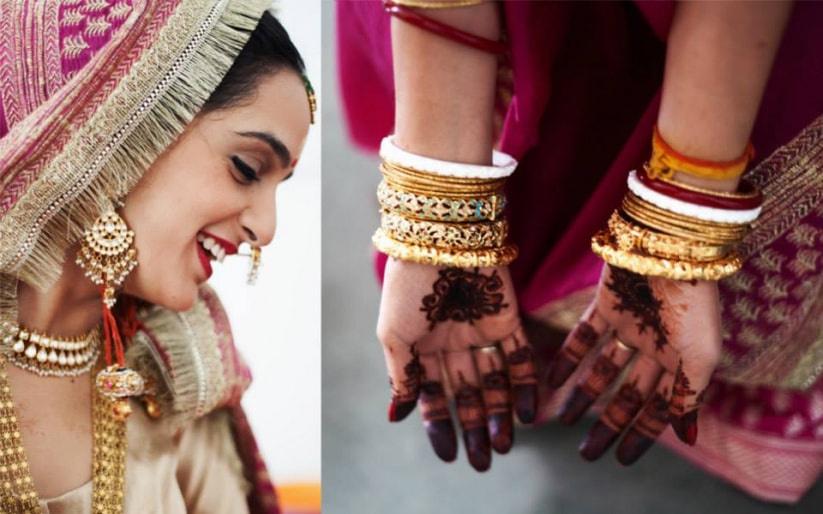 Bengali handpieces are exquisitely designed by skilled craftsmen of Bengal. Among the many handpieces, the Bengali Bala or Bali is one of the most beautiful. Balas are available in intricate designs such as the Gaala Bhora gold bangles.
These bangles feature Naksha work and are filled with wax inside. The ends on both the sides of a Bala feature an ornamental head of either a lion, peacock, fish, or an elephant at the end of the piece. So, these bridal gold bangles tend to be thicker than a conventional set of bangles.
3. Nizam Kangan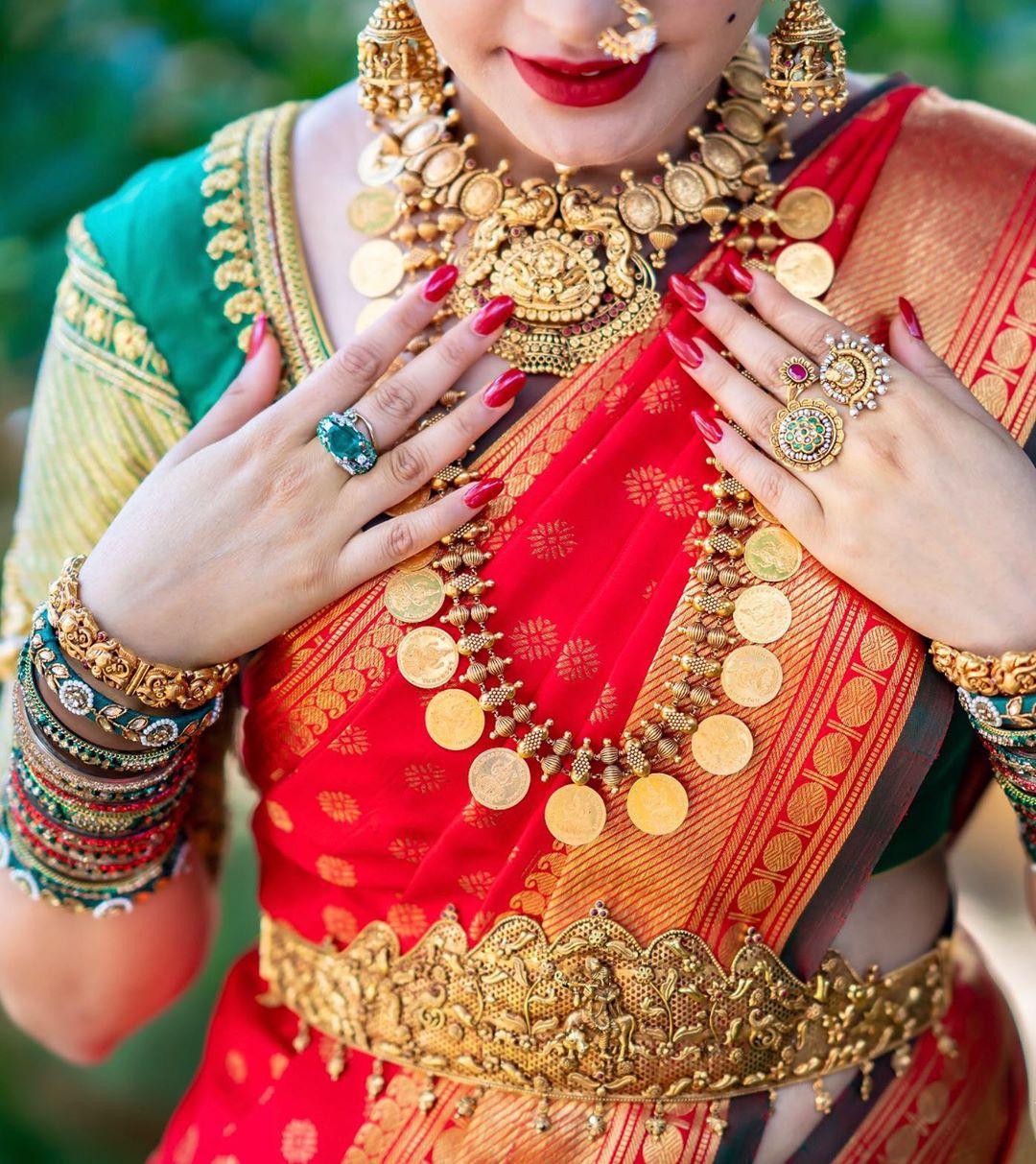 Image courtesy: Vijay Seem
Nizams ruled Hyderabad for a considerable period of time and left their remarkable imprint on the bridal jewellery. A Nizam bride from Andhra looks like a queen when she dresses in the finest of attire, and traditional ornaments that feature precious gems like diamonds, rubies and pearls. A very unique jewellery piece worn by a Nizam bride is the Nizam Kangan.
This type of bridal gold bangles feature intricate carvings and is available in a plethora of shapes. One of the most gorgeous Nizam Kangan is the Kundan Manek Chura, loved by every bride for its heavy carvings and beautiful appearance.
4. Kashmiri Bingar and Kakoodi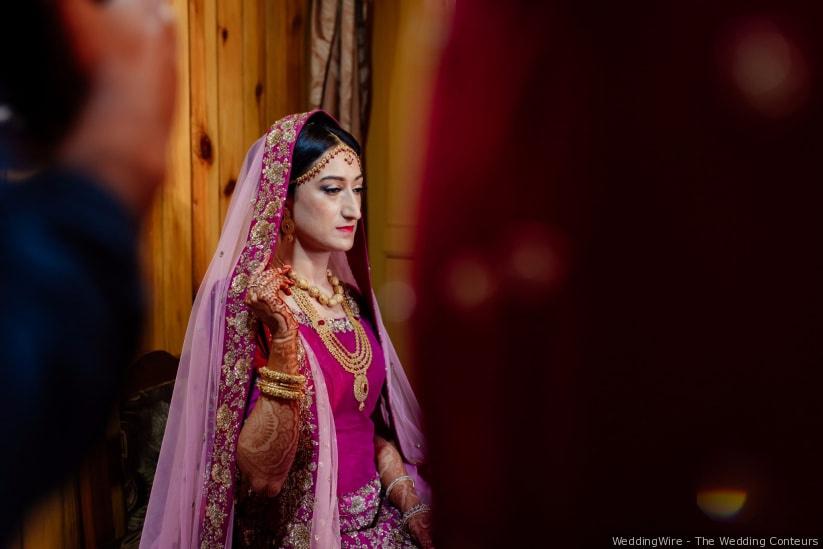 Dressed like a queen, a Kashmiri bride looks every bit an angel. Among the ornaments that she wears on her wedding day, the Bingar and the Kack koor look exquisite.
These Kashmiri bridal gold bangles include a Bingar, which appears like a twisted, thin bangle, the thick, cuff-like Kack Koor bangle (which is often plain in nature), the heavy, gem-encrusted Manthoora kada.
5. Gujarati Bangdi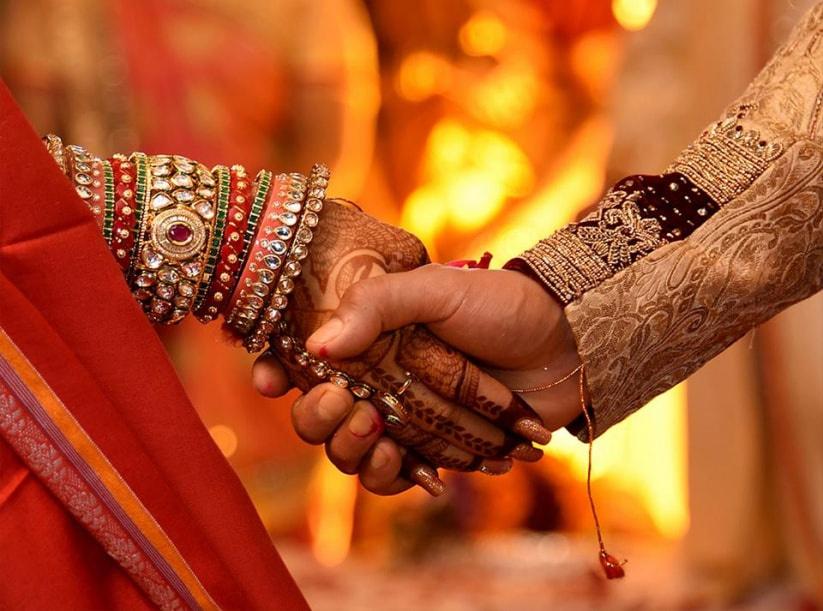 Gujarati bridal gold bangles are known as Bangdi and are crafted with intricate designs. These are made out of pure gold and suit every bride's tastes.
One version of these Bangdis are decorated with Kundan work and taper from the centre to the edges in a triangular shape. The red inner side gives the set a unique look, just like the inlaid stones or the over-embellished variants. Another has the stones rising over a central band - be it in the shape of studs or Matkis.
6. Reddy Kadiam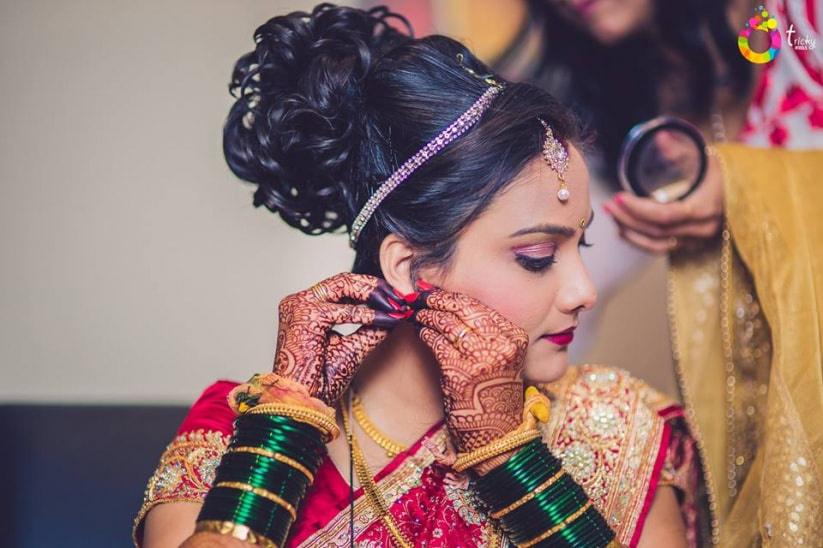 Every Reddy bride wears heavy gold ornaments on the day of her marriage. The wedding jewellery comprises of numerous pieces which are set with different kinds of precious stones like diamonds, rubies, emeralds and sapphires. The bangles of an Andhra Reddy bride are known as Kadiam and are set with heavy designs of stones and filigree work. Some bangles also feature remarkable lac work.
The thin beaded set here stands in stark contrast to the bride's set of chosen glass bangles.
7. Tamil Valayal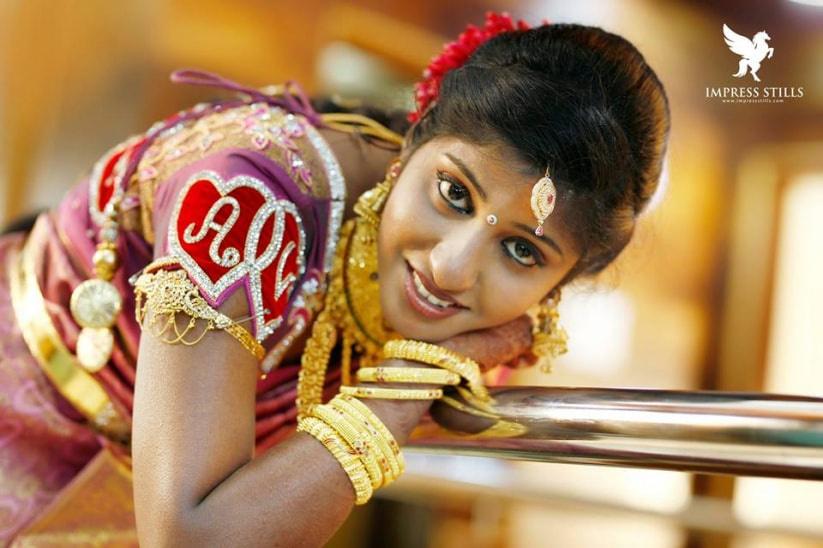 A Tamilian bride looks no lesser than a princess for she is attired in the finest silks and ornaments that can take your breath away just like that. Tamil wedding jewellery is inspired by temple jewellery and hence features intricate carvings and designs. The ornaments are studded with precious stones like emeralds and diamonds. Tamil bridal gold bangles are known as Valayal look royal with studded designs.
The plain golden Valayal is called Kappu. Tamil brides can wear as many bridal gold bangles as they please along with an armband known as Vanki.
8. Kerala Bridal Gold Bangles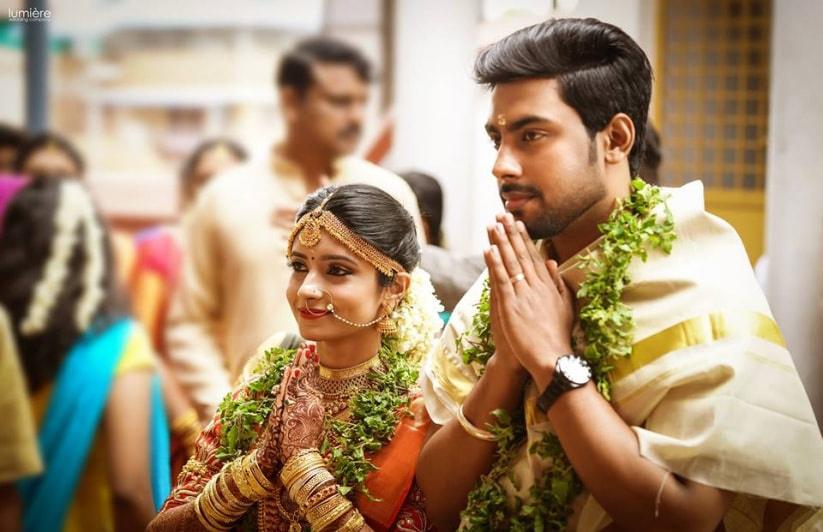 A Malabar Christian Kerala bride wears traditional ornaments that are set in pure gold and mirror the culture of Malabar in a very exquisite way. Gold bangles worn by a Malabar bride are traditionally designed with hints of a modern touch.
These include bridal gold bangles like the Thoda Vala, Kurumulaku Vala and half-moon Vala. Some bangles are also coated with rhodium and are very popular with brides in the Christian community of Kerala.
9. Kannadiga Bridal Gold Bangles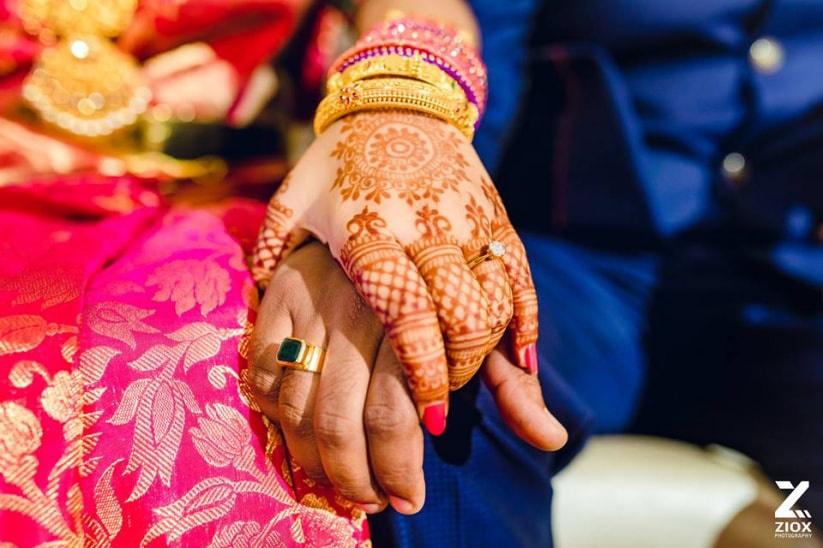 A bride from Karnataka is decked up with heavy jewellery from tip to toe. Her ornaments reflect her rich heritage and culture. Mostly all Kannadiga ornaments are traditionally designed. However, some wear contemporary styles as well. Kannadiga bridal gold bangles like Kasina Bale, Kettu Bale, Guruvina Kade and Kampina Bale look exquisite with yellow gold as the main metal.
Now, that we know how to tell each of these bridal gold bangles apart, let's move to how to pick the right one for your big day.
Choosing the right set of bridal gold bangles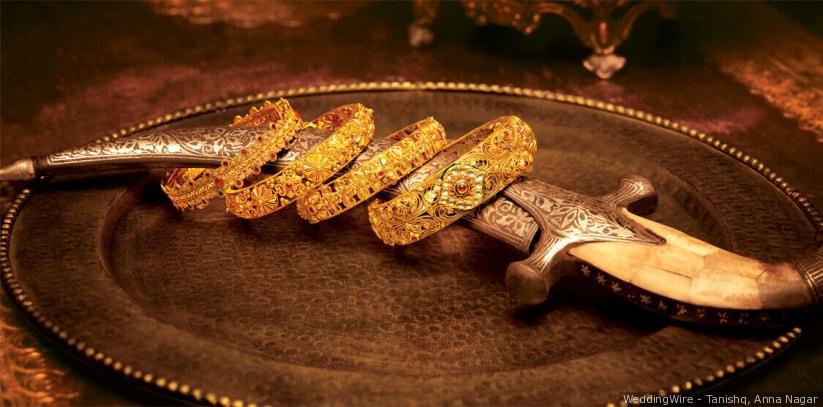 Now, that you know what set of bridal gold bangles you'd choose to adorn on your wrists, here is how you go about finding them for yourself:
1. Shortlist bridal jewellery vendors who stock the set of traditional bridal bangles you're looking for.
2. Go check for traditional designs. Often, seeing is believing and you need to be convinced with your chosen style.
3. Try your shortlisted set of bangles. If they are not available in your size, enquire for custom fitting or tailored creations as per your size.
4. Check the design on your own hands - what may look good in the display, may not work well on you.
5. Check for quality - hallmark and ISI certification.
6. Check for a breakdown of charges - making charges, price estimates and the overall price of the bangles. Manoeuvre, if possible, for some discounts.
Bangles such as the ones shown above can make a bride's day even more special. No Indian wedding attire is complete without these gorgeous pieces.
So what's your pick? Which bridal gold bangles would you like to adorn on your big day? Let us know through comments.