12 Jaw-Dropping Gold Kundan Necklace Ideas for Your Wedding
Still wondering what jewellery to wear to your wedding? Well, we think gold kundan necklace is the ultimate choice for a bride's jewellery. Here are 12 examples why.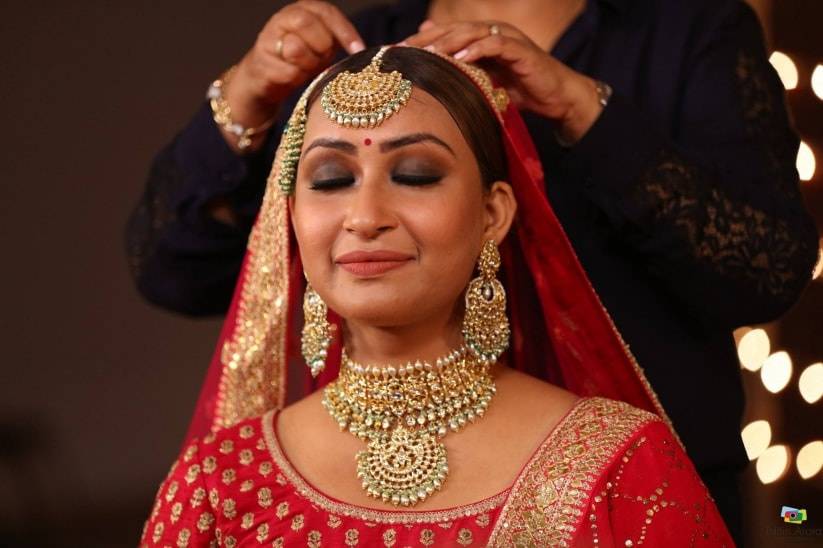 Whether you are a modish bride or a simple one when it comes to jewellery you've got to religiously abide by the classic trends that never fade. Gold Kundan necklace is one of those trends that always rule the market. The intricate making and extraordinary designs of the gold Kundan necklace make it a stunning jewellery choice for brides to wear.
These designs have been found from the royal houses of Rajasthan and Gujarat and therefore look like royalty itself. Kundan is made with different types of stones inlaid in gold. The best thing a bride can see in a Kundan set is that it is a more ancient form of jewellery than polka or others. Let's look at some of our favourite gold Kundan necklace designs worn by brides that are sure to melt your heart.
1. The Rajputi Aadh Gold Kundan Necklace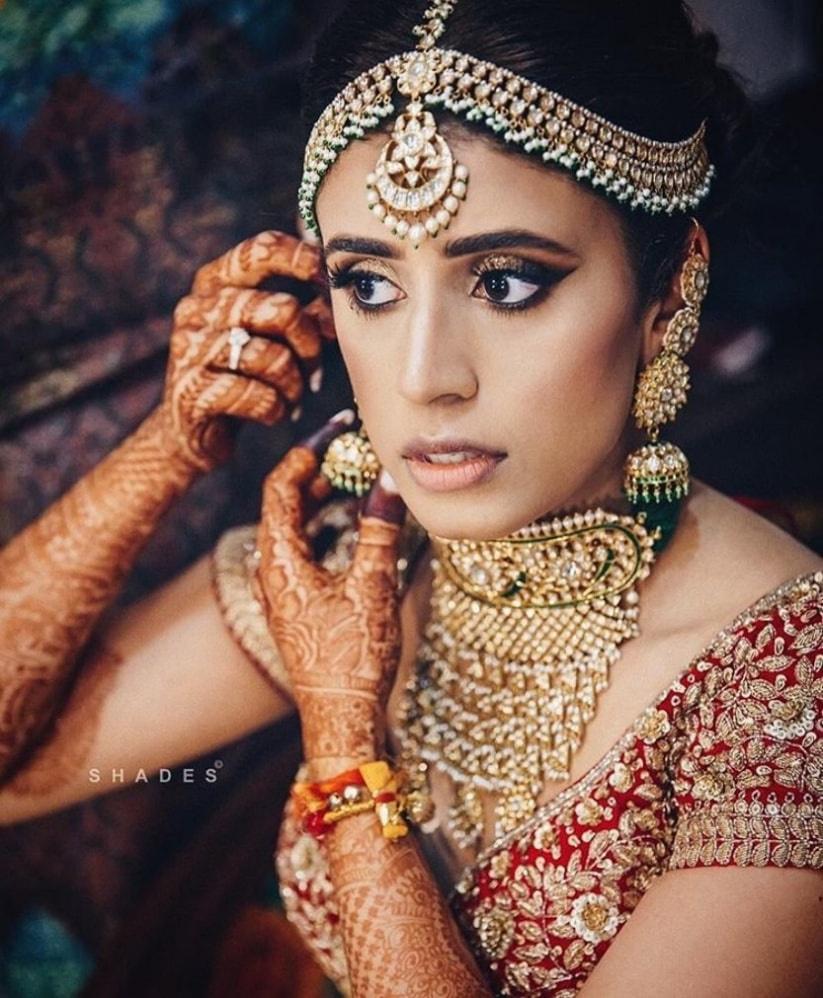 Rajputi Aadh is known to be one of the traditional jewellery patterns of Rajasthan. It is a square/rectangular shaped choker also known as the Rajputana necklace. It's made with Kundan and other precious stones with two strands to tie at the back. It not just gives a rich look but also adds immensely to the overall aura of the bride.
For the millennial brides, there are various forms of Aadh available with modern designs. In addition to this, brides can also wear a Rani Haar on their wedding day, which is long up to the navel.
2. Antique Portrait Gold Kundan Necklace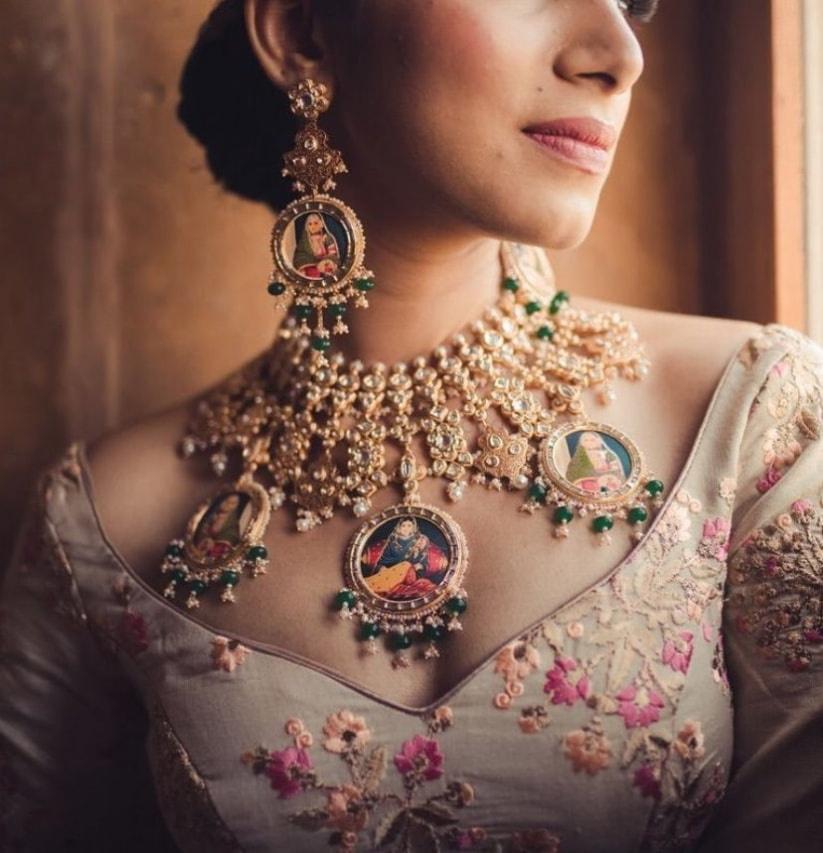 If you're a bride that loves to wear something that is antique and unique, then this is the right choice for you. This delicately put together piece has antique portraits with intricate Kundan work that adds a lot of charm to the necklace. This beautiful piece of jewellery will go well with your bridal lehenga and also add a dash of colours to it.
Complete your look with antique portrait Kundan earrings, to make headlines with your bridal jewellery.
3. Gold Kundan Necklace with Hangings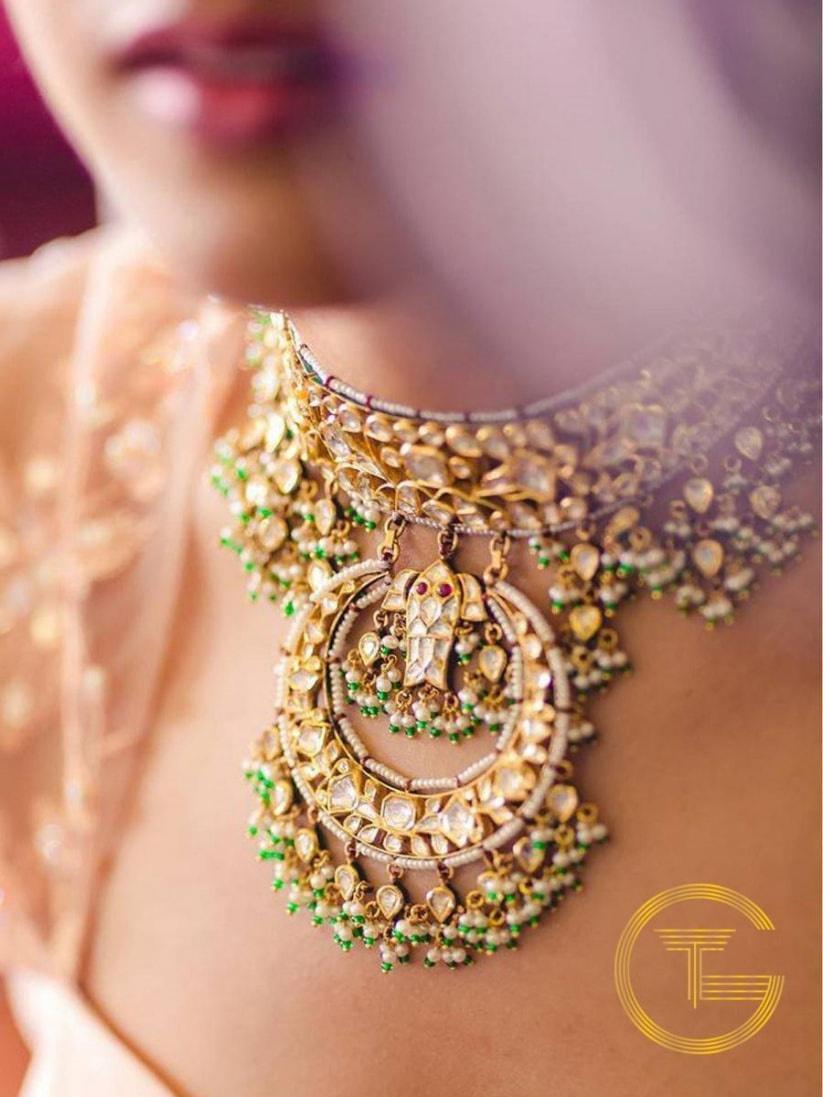 Photo Courtesy: Golden Threadz
This choker pattern necklace with hanging saves all you brides the pain of pairing two necklaces together. Although a choker pattern, hanging of this gold Kundan necklace ensure that it is elaborate enough to be worn on your wedding day. The pearl detailing on this necklace also adds a lot of beauty and delicacy to it. For those looking for a slightly less traditional choice, this could be a good pick.
4. Gold Kundan Collar Necklace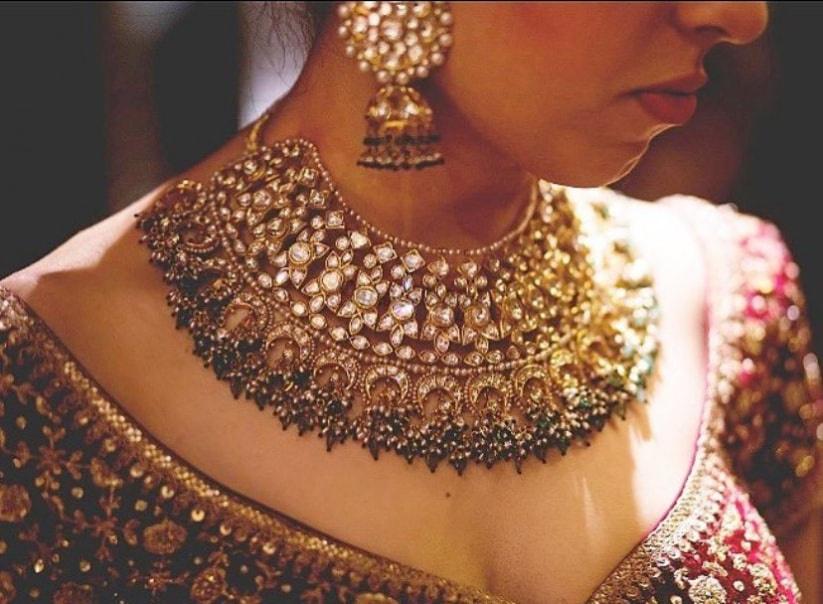 Collar necklaces, as you might know, are usually reserved for a necklace that lies flat to the body rather than hanging freely. In contemporary fine jewellery, like this gold Kundan necklace collar designs are generally 12-13 inches long. They are also known to be the twin sister of the choker necklaces as they encircle the neck around the collar area.
This particular collar necklace with Kundan detailing all over is perfect jewellery for your trousseau box. Apart from the fact that it will go with almost any outfit you adorn, it is also an intricately designed piece that will surely garner you compliments many years later as well.
5. Emerald and Gold Kundan Necklace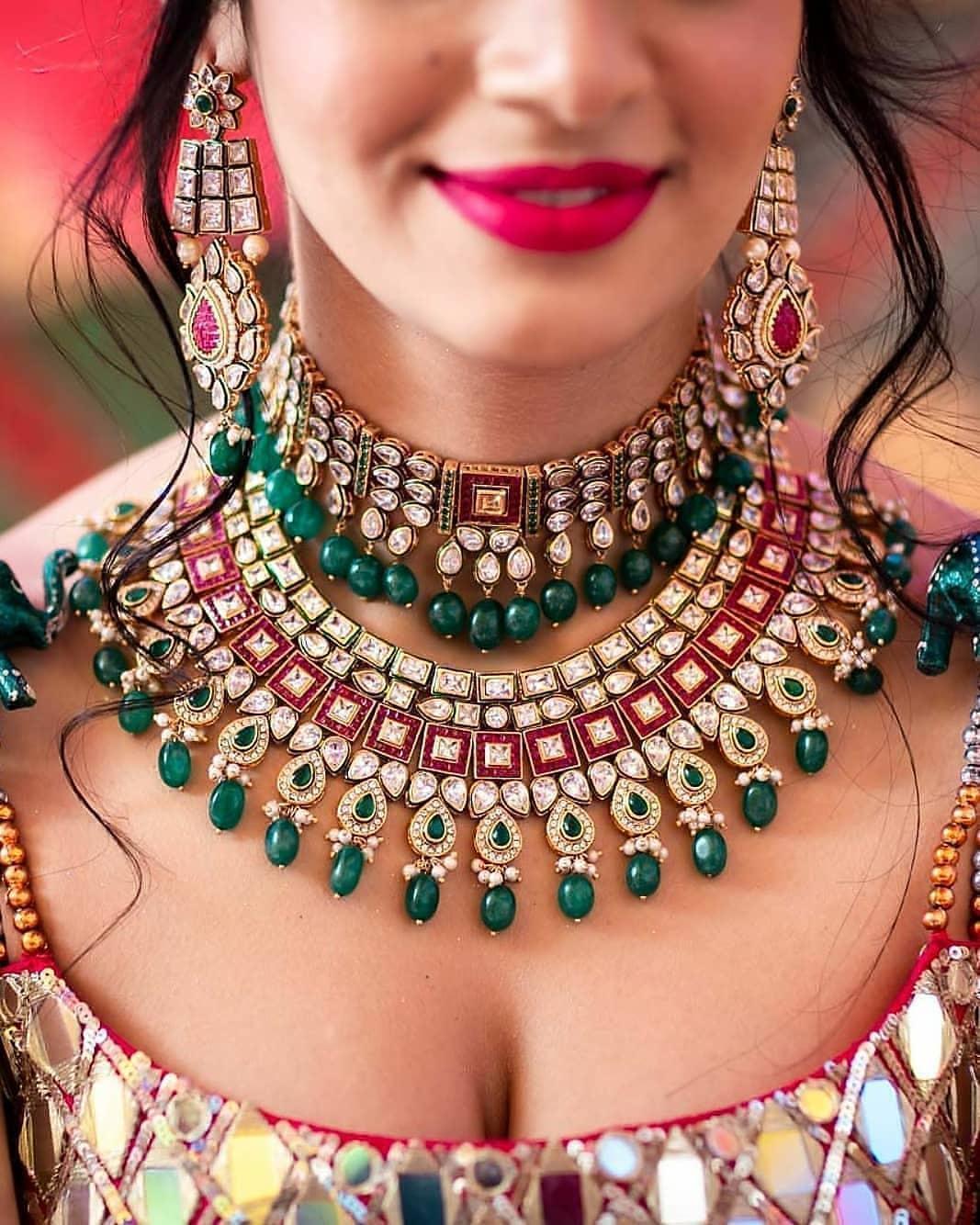 Image courtesy: Ankit Singh
The charm of Kundan multiplies when paired with emerald, and it goes without saying that we are in love with this stunning necklace. This one is also a collar necklace combination that has emerald gemstones adding colour and life to this classic piece. Pair it with your red and pink outfits to double its charm.
The current trend in clothes might not suggest you wear contrasting colours, but when it comes to jewellery, contrasting gemstones in your gold Kundan necklace can never go wrong.
6. The Flower Pattern Gold Kundan Necklace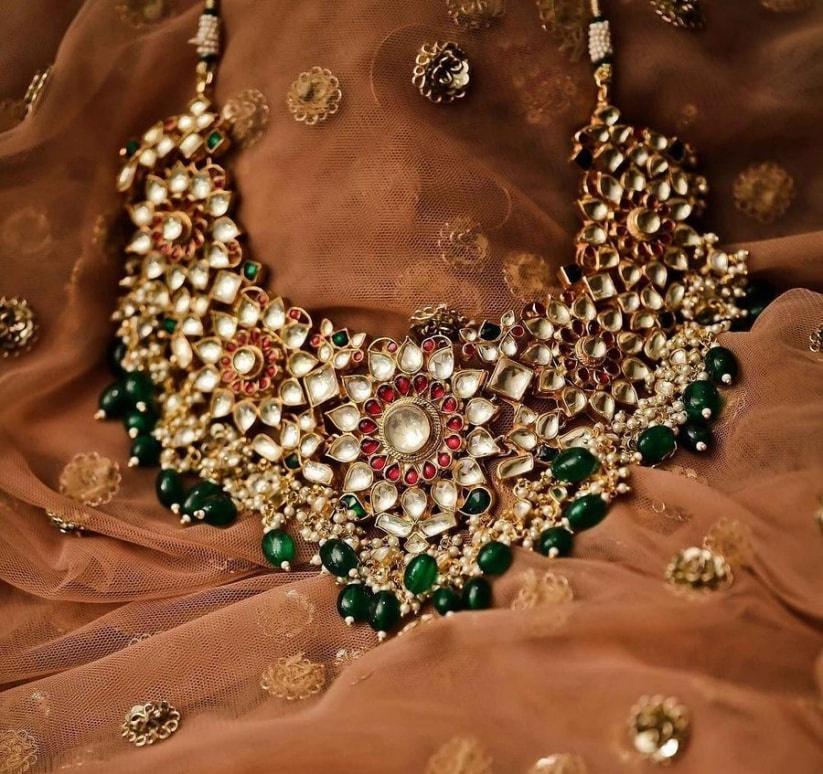 Photo Courtesy: Morvi Images
After a range of options in the choker and collar necklace category, this one is different in its detailing. For the modern brides, this is the perfect pick for their Sangeet night. With ruby and emerald gemstones adding colour to it, this one can go with any and every kind of outfit.
Whether traditional or Indo-western, this stunning gold Kundan necklace with flower pattern is an extremely new and unique concept that is sure to become the highlight of your look.
7. The Bib Gold Kundan Necklace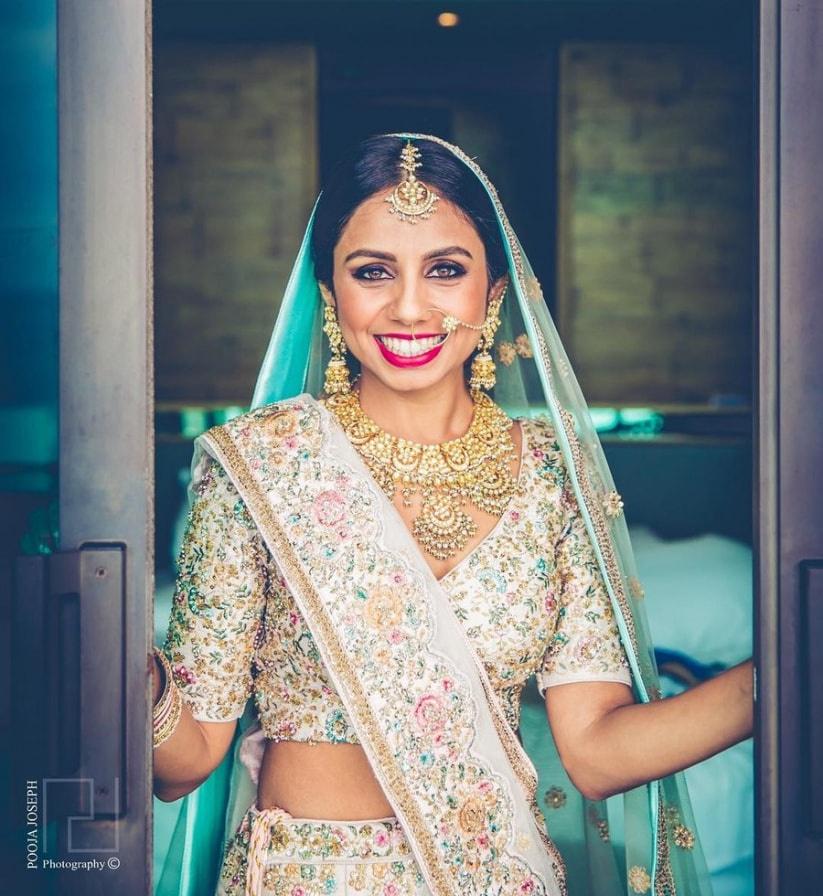 Photo Courtesy: Pooja Joseph Photography
Similar to the chokers, this one is more like a bib and is therefore named as the bib necklace. These necklaces are big in size and a good replacement for brides who want to wear a heavy necklace instead of two small ones.
Most often brides are seen wearing the bib necklace with crescent-shaped hangings. This one is a beautiful piece of jewellery to have in your trousseau and will definitely add a lot of elegance to your wedding day outfit as well.
8. The Gold Kundan Necklace with Pearls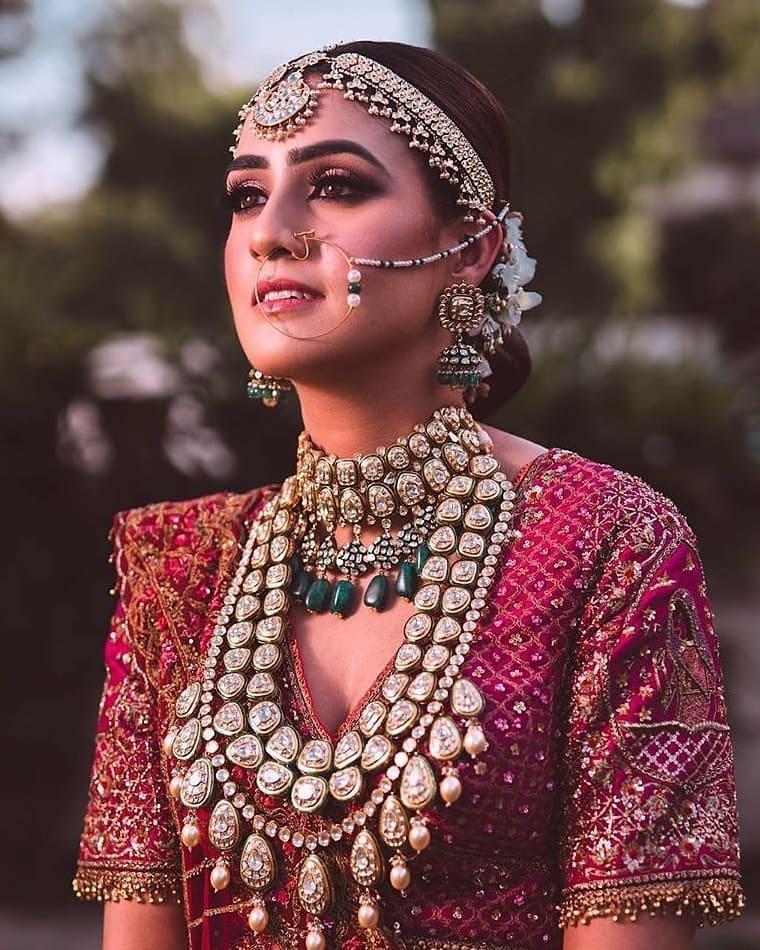 One of the more commonly known necklace styles, this is a gold Kundan princess necklace that has our heart already. This piece is bold and beautiful and needs to be carried with the utmost style and glamour.
Brides that are not scared to make a bold statement must go for this gold Kundan necklace with pearls. You can wear it for your Sangeet ceremony with a demure outfit and see how that increases its charm multifold.
9. The Royal Gold Kundan Necklace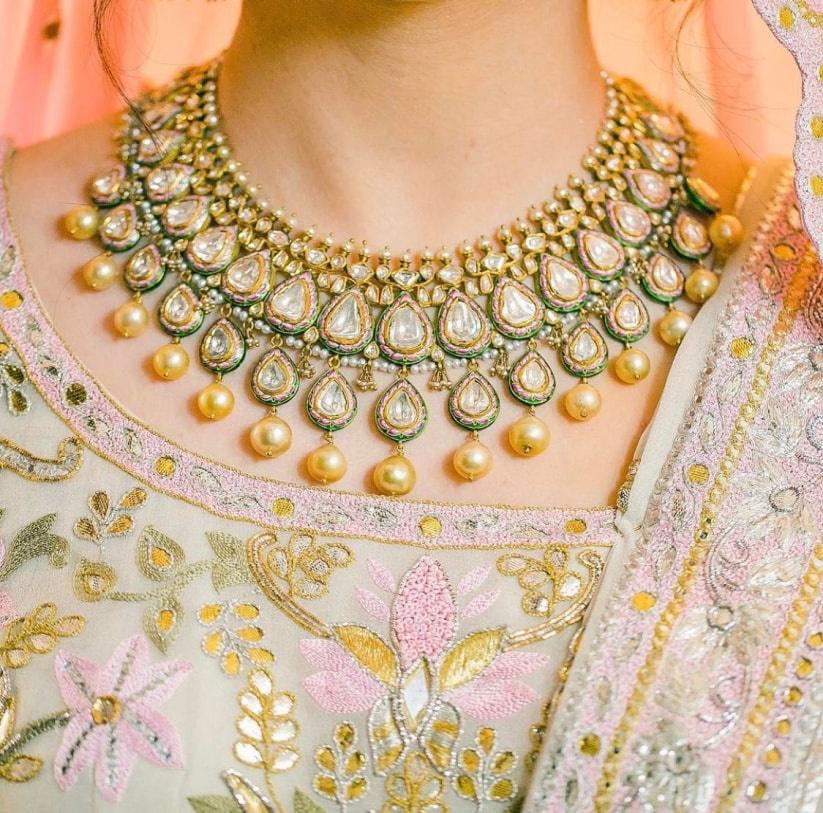 As you already know, Kundan is known to be one of the most royal patterns when it comes to bridal jewellery. With a foundation from the royal of houses of Rajasthan and Gujarat, this particular gold Kundan necklace is the classic royal pattern that has been adorned by ladies ever since. If you're a bride that wants to choose classic royalty over all the new patterns and designs, this is the choice for you.
This necklace is extremely authentic in its design and pattern and would look stunning with a classic lehenga-choli outfit. We'd suggest that you wear this Kundan necklace during your Pheras and add a touch of magnificence to your look.
10. The Ruby and Gold Kundan Necklace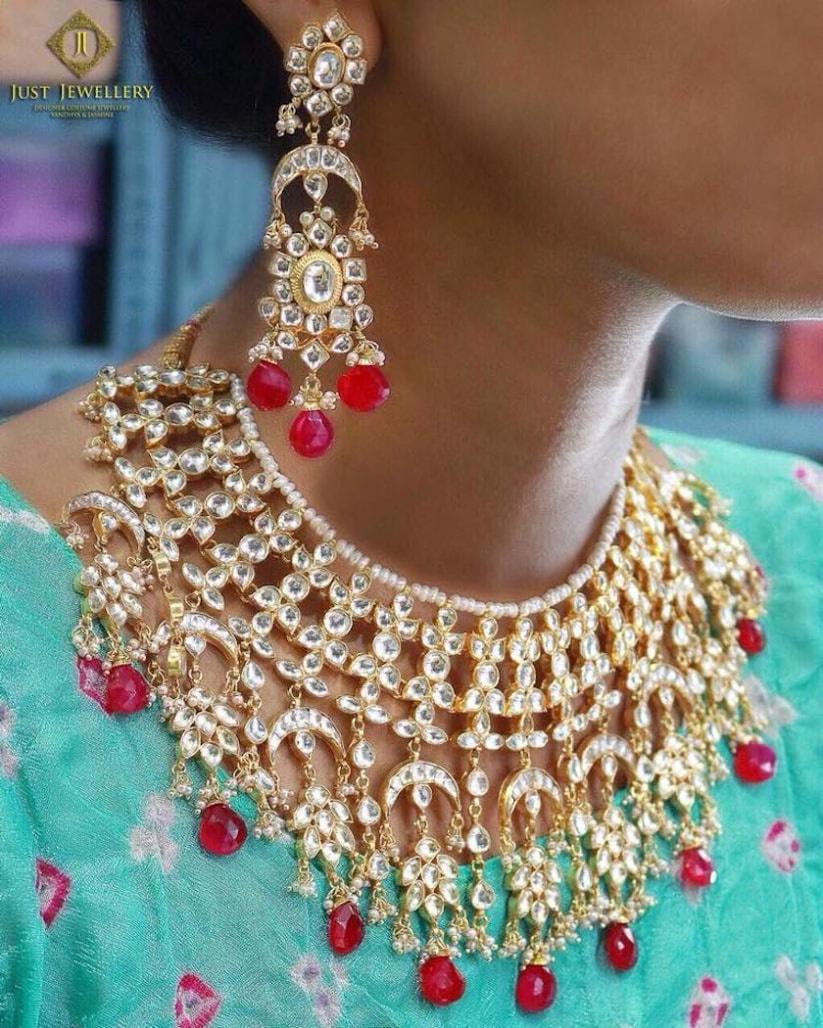 While you already saw how stunning the combination of kundan and emerald looked, this one is even more amazing, especially for the brides. This intricately designed piece of jewellery has ruby hangings that not just add colour but also adds grace to this statement necklace.
Brides can pair this with neutral or contrasting shade outfits and even their cocktail gowns for that matter.
11. Multiple Kundan Strands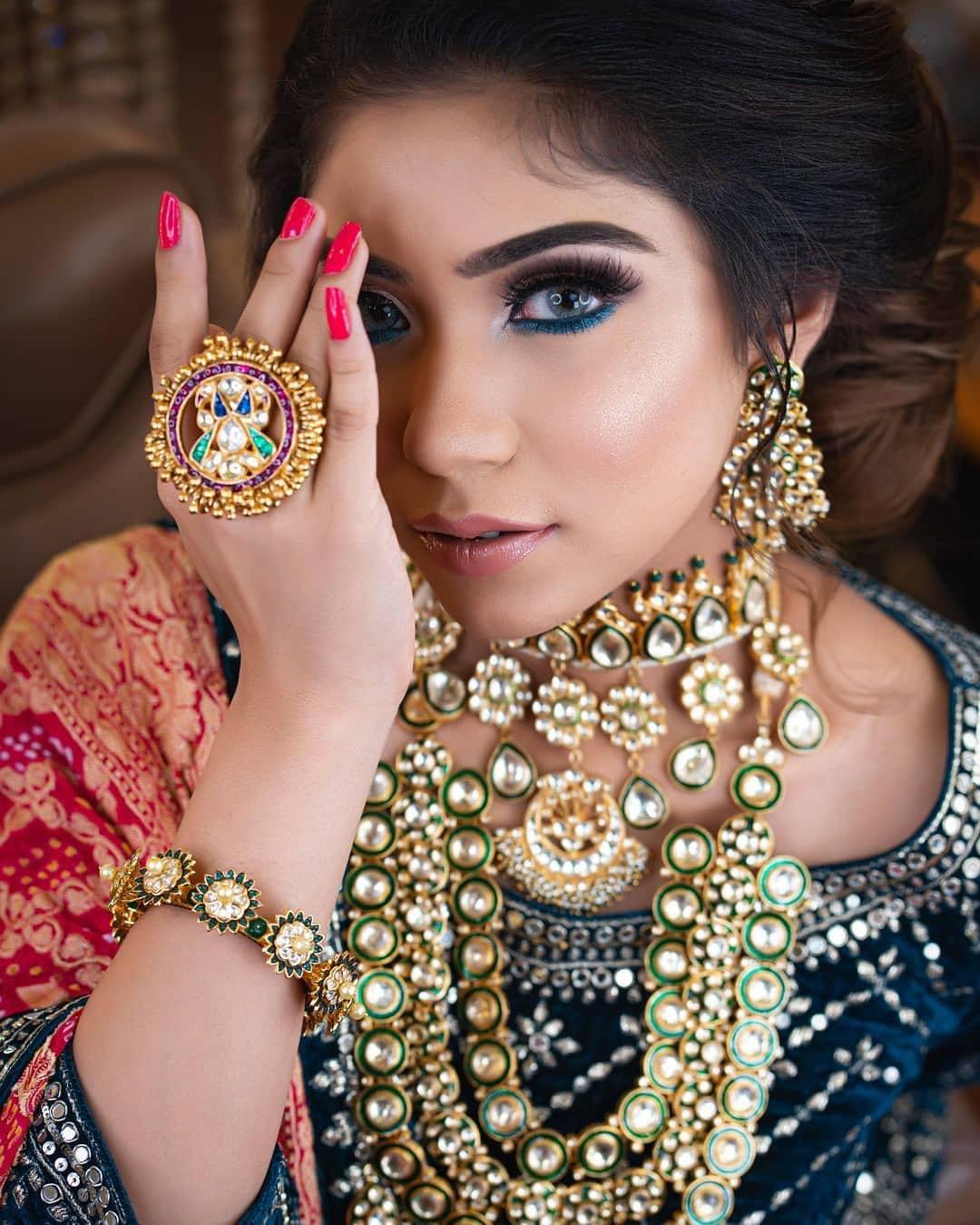 If a single strand of Kundan jewellery can make such a stellar impression, just imagine the kind that can happen from multiple strands. This gold Kundan necklace set is the complete deal as far as a bridal jewellery set is concerned. It has a choker, like the Aadh and a Rani Haar. The accompanying statement ring, earrings and bracelet make this all you need for your big day.
Reserve such a set for your wedding day and you will be sorted through it all - whether you're a minimal bride or one that likes a signature touch
12. White Statement Kundan Necklace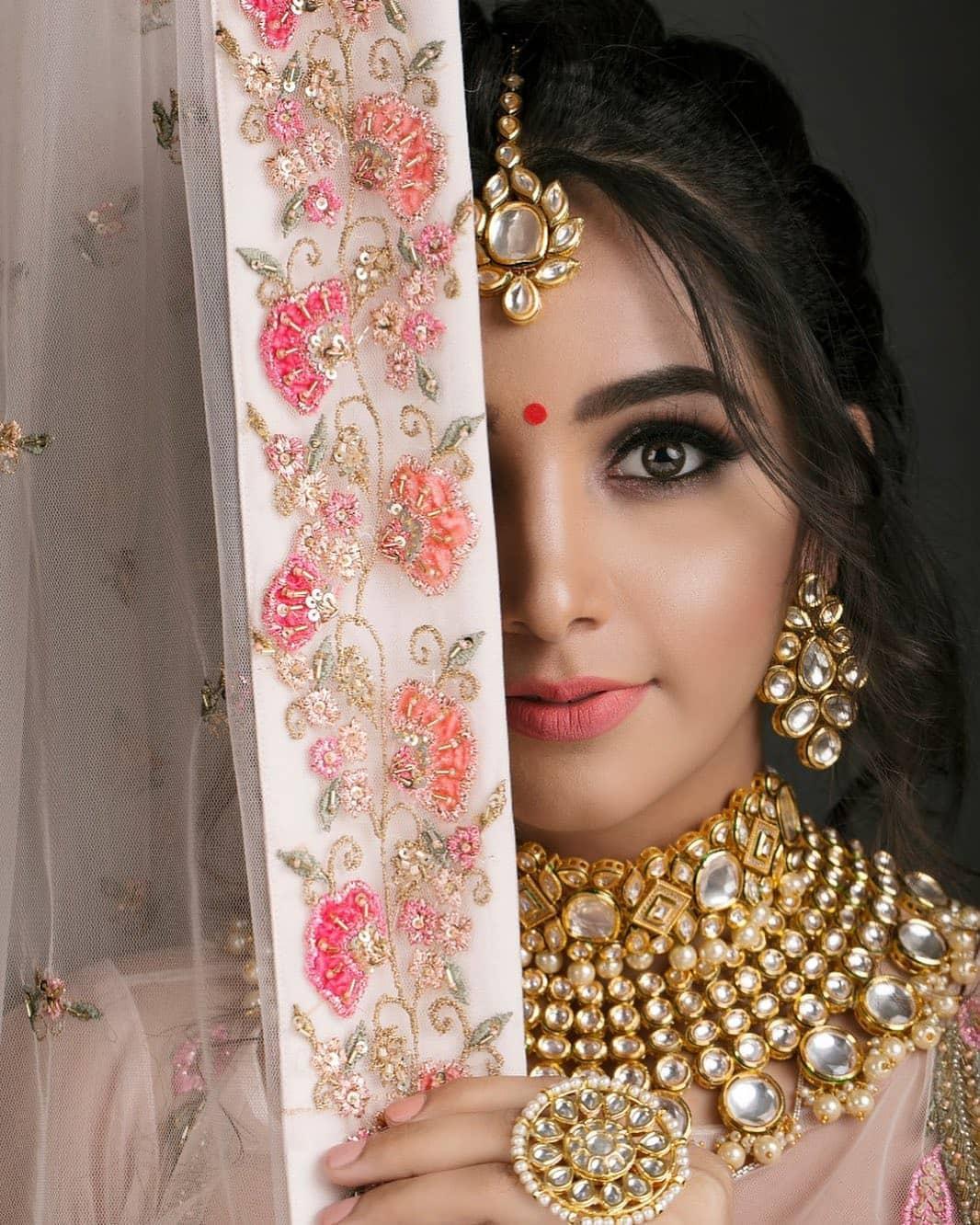 A white, diamond-like gold kundan necklace set to show against a pastel lehenga outfit? Yes, this Rajkumari shows how these ideas are as timeless, classic and yet appealing. We like the statement set as a collar Kundan necklace, the tear-drop Maang Tikka, the large bridal earrings and the striking statement ring on her hands.
This is the set that you need to invest in to make the cut for your Sangeet ceremony. This will go perfectly with a blingy outfit, a toned-down pastel piece or even a sunshine yellow bridal outfit.
While we love all these gold kundan necklaces, we know we can't wear them all. Each of them solves a different purpose and will look with various different bridal looks. We'd love for you to choose a design that not just adds magnanimity to your look but also adds elegance to your demeanour. So, brace yourself because it's a tough choice you've to make.
Are your eyes as wide open as ours? Then tell us in comments which of these gold kundan necklaces would you kill for?