8 Maharani Haar Designs to Give You The Royal, Bridal Look
Do you want a royal look for your regal wedding affair? Well, the most important thing you need is the Maharani Haar. Here's the all-comprehensive guide to this jewellery style.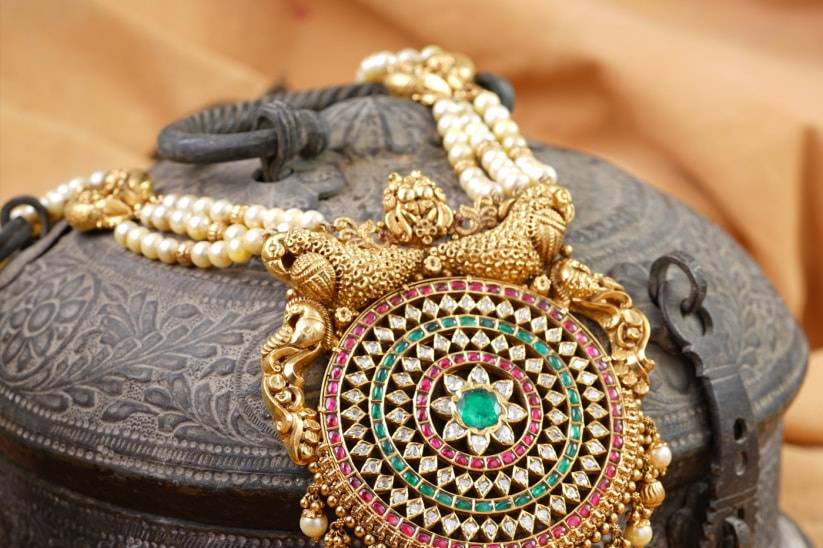 Maharani haar, even the word sounds royal and magnificent, doesn't it? So, what kind of necklace does really pass as Maharani haar? The Maharani haar, as the name suggests, is one of the traditional necklace designs of India. The necklace is long and mostly layered with different motifs holding it together.
The Maharani haar is elaborately designed using Kundan, Meenakari, or other intricate work. The tradition of the haar traces back to history when India was ruled by kings and queens.
Talking of all the royalty and magnificence, are you any less than a queen on your wedding day? Absolutely not! So, here're some Maharani haar designs for you to try out for your big day:
1. Shimmery Bridal Haar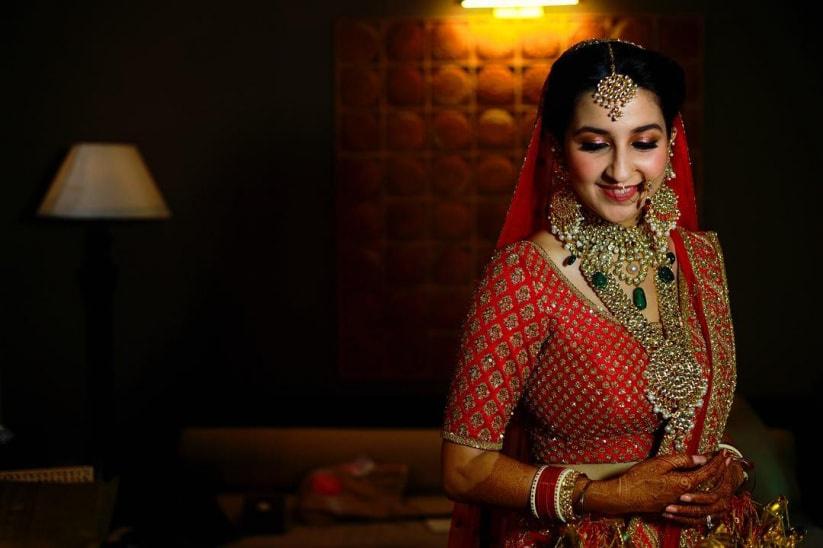 The bride chose a sparkling lehenga for her big day and hence choosing anything less glittery with it would have appeared dull. She matched stunning stone-studded Maharani haar with her emerald detailed haar to complete the look and it looks absolutely surreal, doesn't it? You can choose a similar look too, to sync with your shiny wedding day attire.
As the neckpiece is pretty heavy and detailed, you can go light on the earrings.
Function-wise: This is an essential wedding day look. You may don the Haar as a standalone statement jewellery piece as well.
2. Ivory Kundan Haar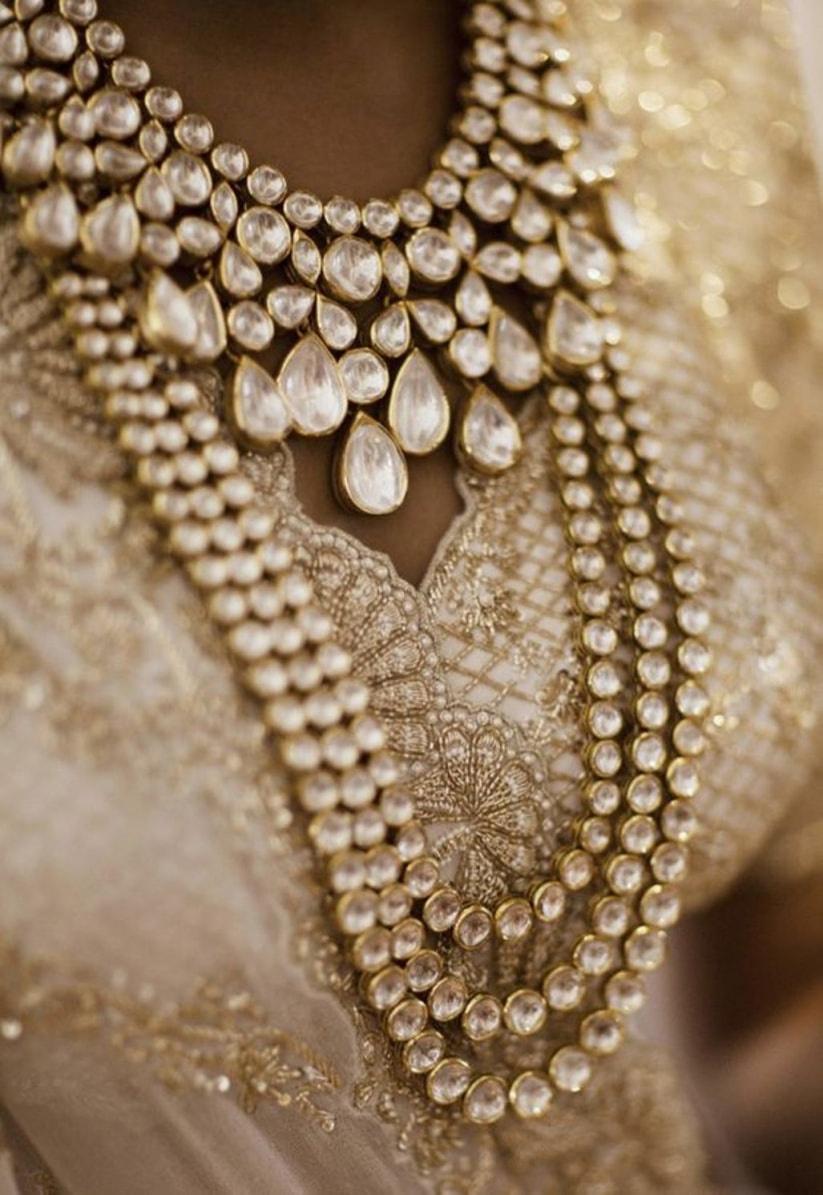 Had you always been in love with Kundan jewellery and accessories? Then here's your time to show it all off. This simple, yet gorgeous Maharani haar is a perfect match for your ivory wedding attire. Here, the other haar has bigger Kundan droplets but the Maharani haar is kept subtle to maintain poise. By tweaking the colours a little here and there, you can make it go with any other attire as well.
Function-wise: Opt for this type of a Haar to complete your glittery Sangeet ceremony look as well.
3. Solid Gold Haar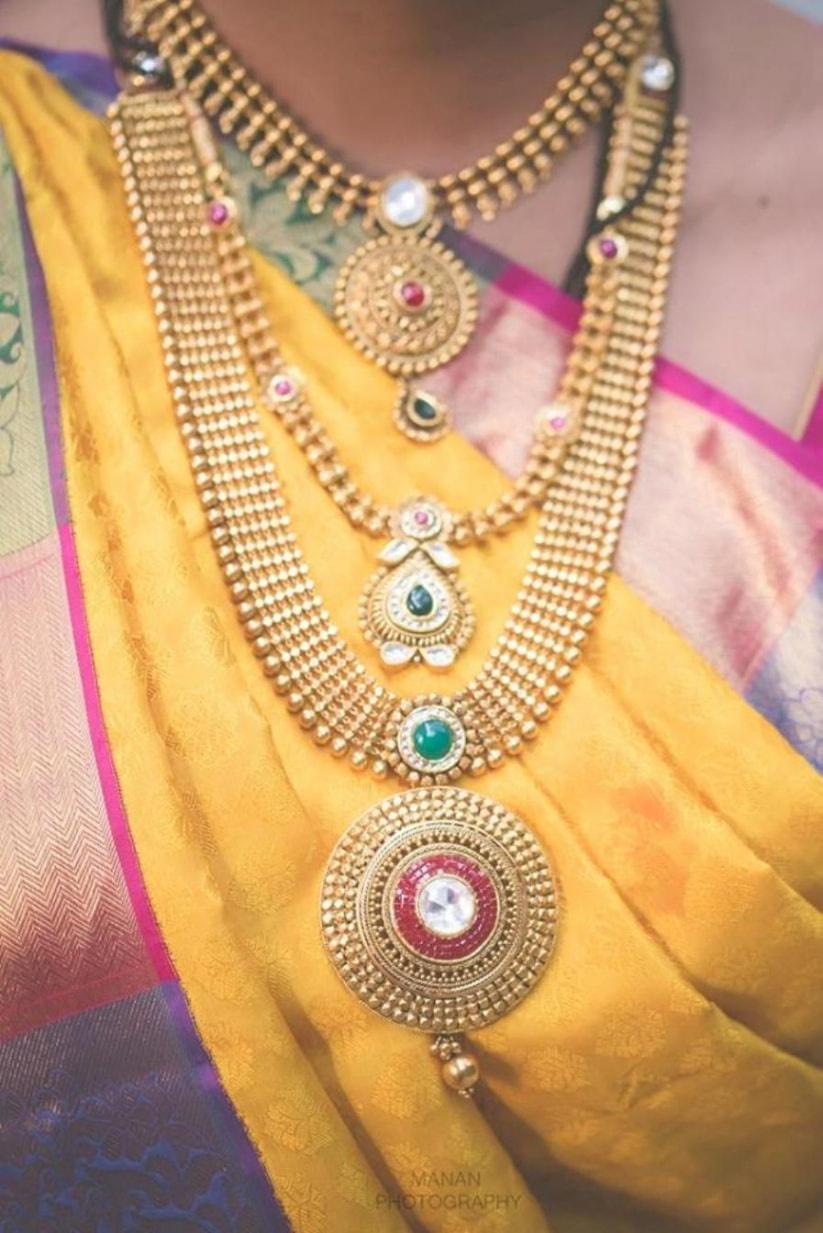 If you are wearing a traditional saree or anything less dazzling for your wedding day, choose solid gold designs for your jewellery. It maintains the soberness of the attire without losing any charm of it.
Here, the bride enhances her bridal saree with a number of layers of necklaces, with the Maharani haar providing a fine complement to all of the other layers. You can also add embellishments of your choice as the bride here has done with red and green.
Function-wise: Work this Maharani Haar as a standalone piece, for any of your day Puja events.
4. Cut Stone Emerald Haar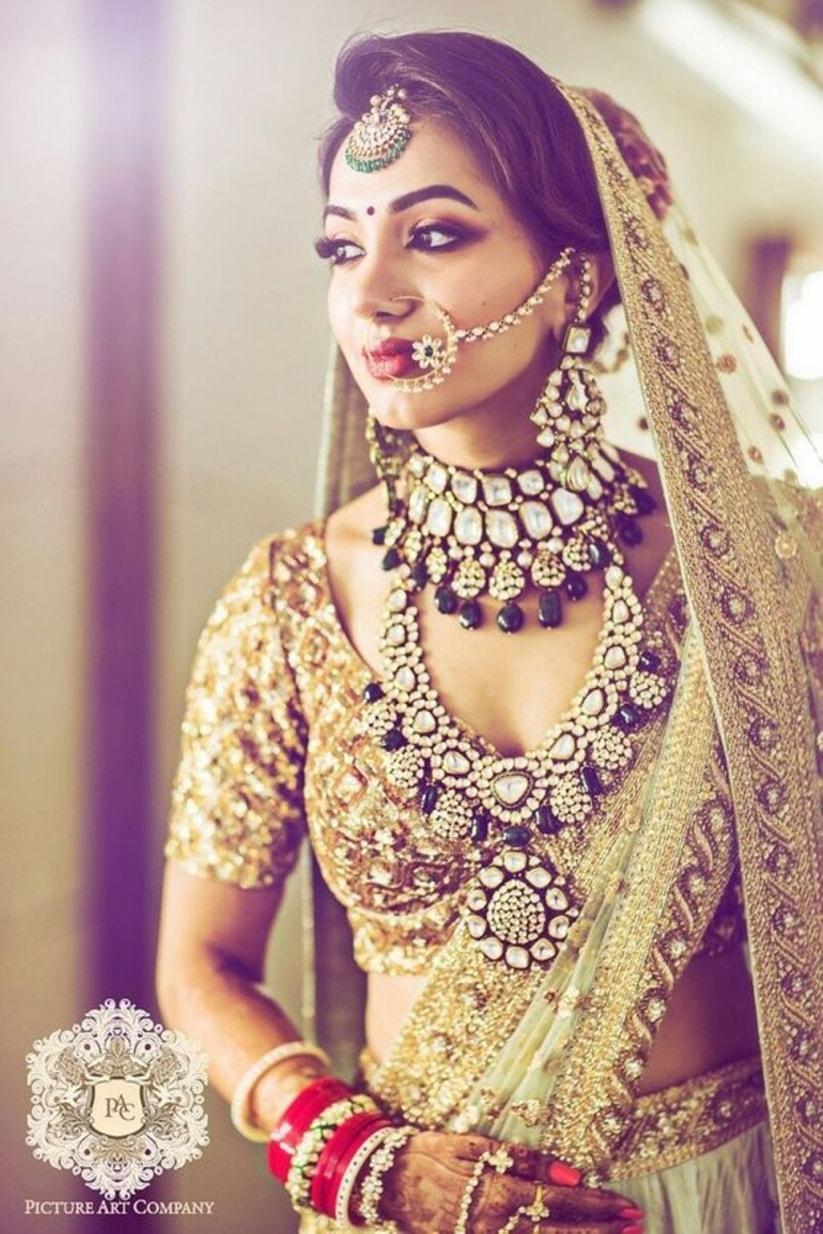 Here's something who don't like it conventional. The bride here chose a very unique Maharani haar design to completely match with her emerald studded cut stone choker necklace. You can also get your jeweller to design a haar that matches your other jewellery.
One more thing we can notice here is that the haar is more detailed towards the end to keep the beauty of the other necklace intact.
Function-wise: This is a formal necklace set, fit for either the wedding day or reception.
5. Stone and Pearl Haar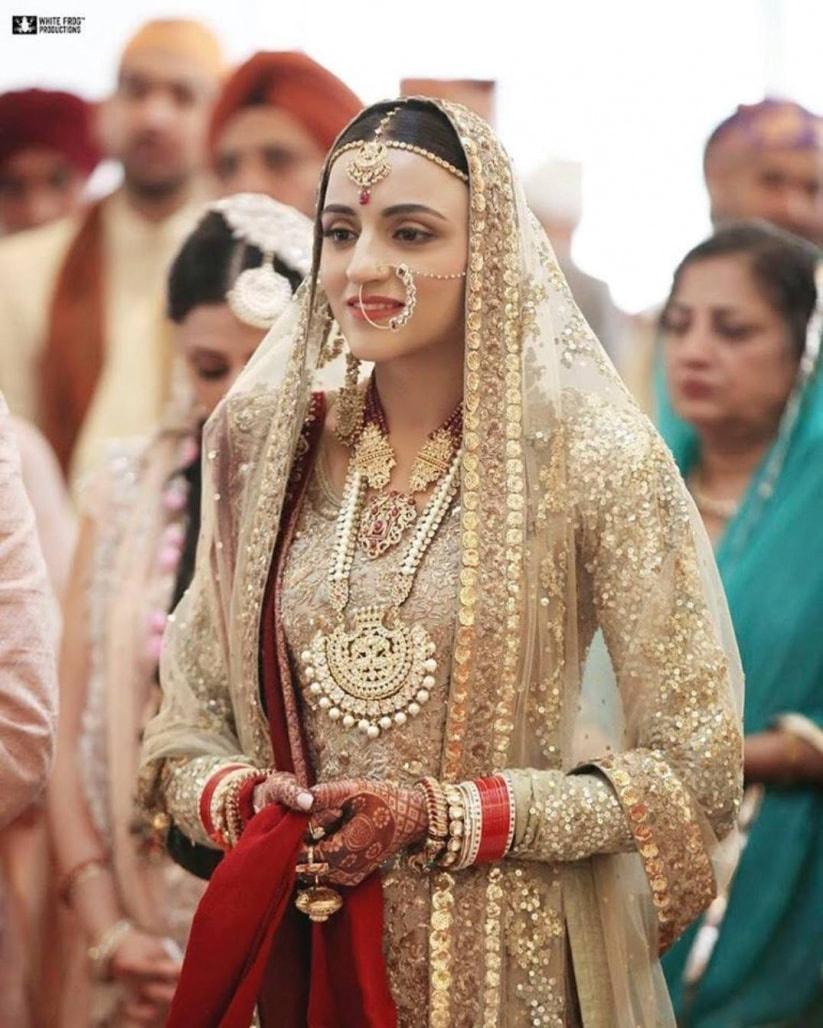 Gold and white is a great combination and the bride chose the same for her Jadau Maharani haar with pearls enhancing the look. The selection of a minimalist Matha Patti along with the haar balances the look just right. The ruby embellished necklace also goes great adding a little colour to the look.
Function-wise: This is your Anand Karaj set or one fit for such solemn occasions.
6. Meenakari Haar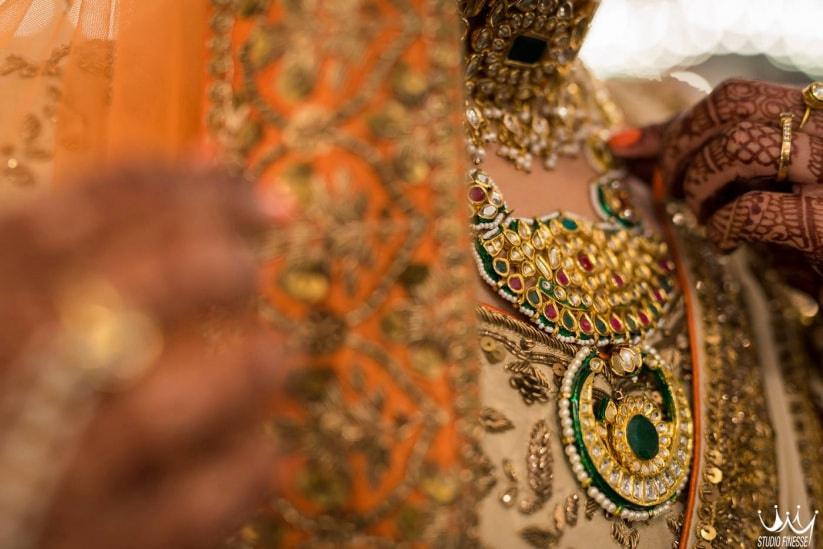 The Persian art of meenakari takes away the entire credit for this piece. It also flawlessly adds colours to the look without looking gaudy. The haar can be worn with simple minimalist lehengas as it is completely capable of defining your entire bridal look. As the haar is not very long, unlike other Maharani haars, you can carry it well with choker necklaces of your choice.
Function-wise: Work this one for all of your ethnic functions - from the Sagan to Jaago, the main wedding ceremony and important Pujas.
7. Beaded Haar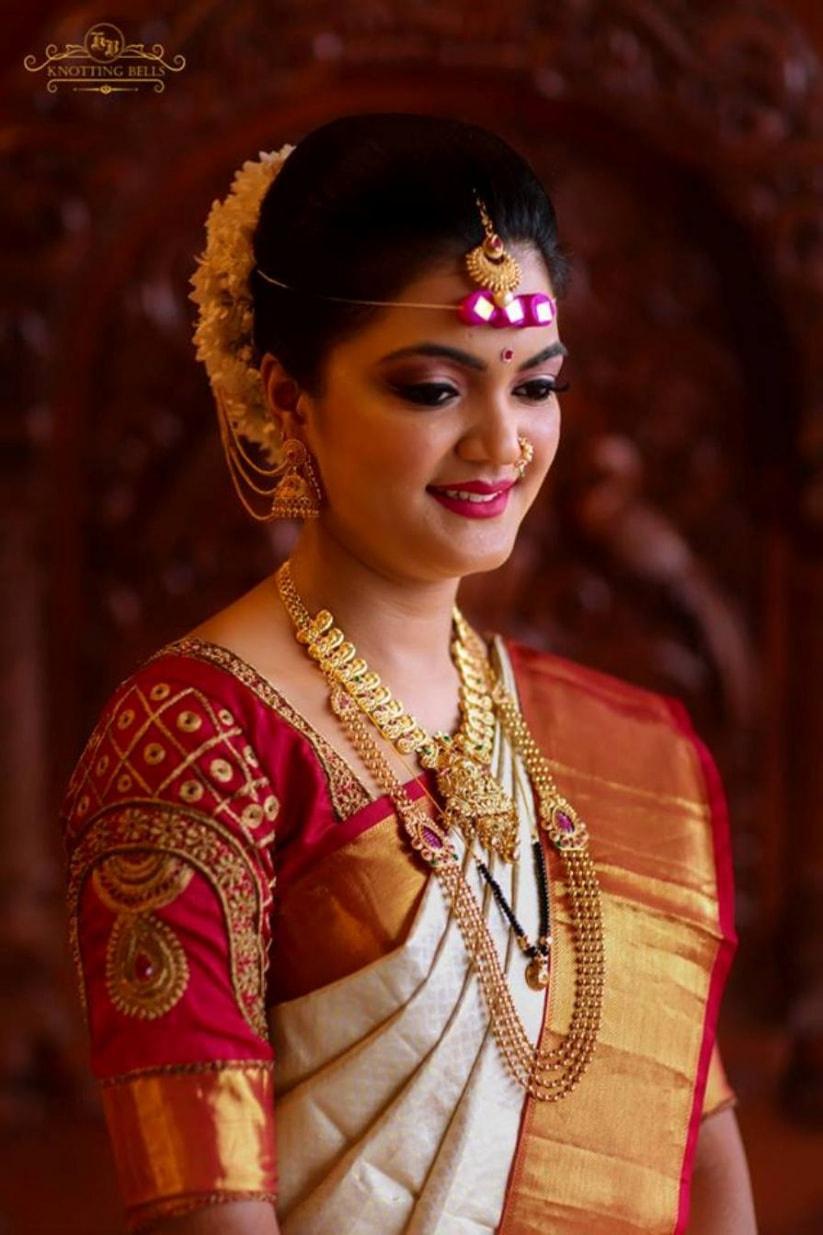 Another beauty in solid gold, here a pinch of colour has been added in the form of Meenakari work. The look is simple yet complementing to the bride's attire and rest of the look. You can choose beaded Maharani haar with lehengas as well. Make sure, the smaller necklace you wear with it isn't too gaudy so as it takes away the splendour of the Maharani haar.
Function-wise: Work this look for your minor wedding functions as a standalone piece. Use it in a combination for the main wedding ceremony.
8. Minimalist Haar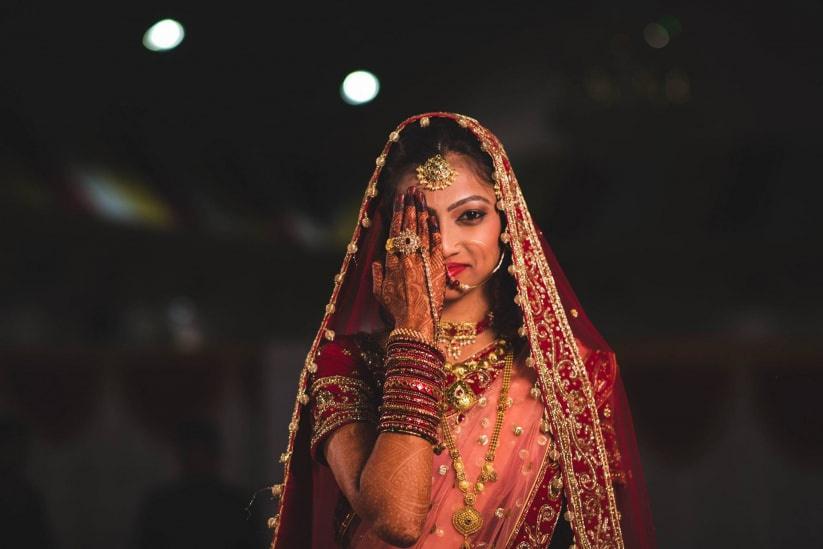 And if you think Maharani haar can't match your choice of being minimalist, have a look at this. The bride went for minimalist haar to sync with her other jewellery and keep the shimmer of her attire primary. If you plan to do the same, go for a similar Maharani haar design to complete your look.
Function-wise: Use this for all of after-wedding functions and appearances.
The Maharani haar is worthy in more than one way. It not only reflects royalty but tradition and history as well. The Maharani haar is not only an ornament but something that completes and complements your bridal look.
So, which one of the above designs are going to inspire the jewellery for your wedding? Let us know!