#Bridal Shopping Alert: A Catalogue of Latest Saree Designs for Wedding That Will Help You Choose the Right One
Indulge in the collection from Indian designers presenting exclusive and the latest saree designs for wedding every year. Each of these collections has a unique theme and intricate artwork that sets new bridal wear goals. So dive right in.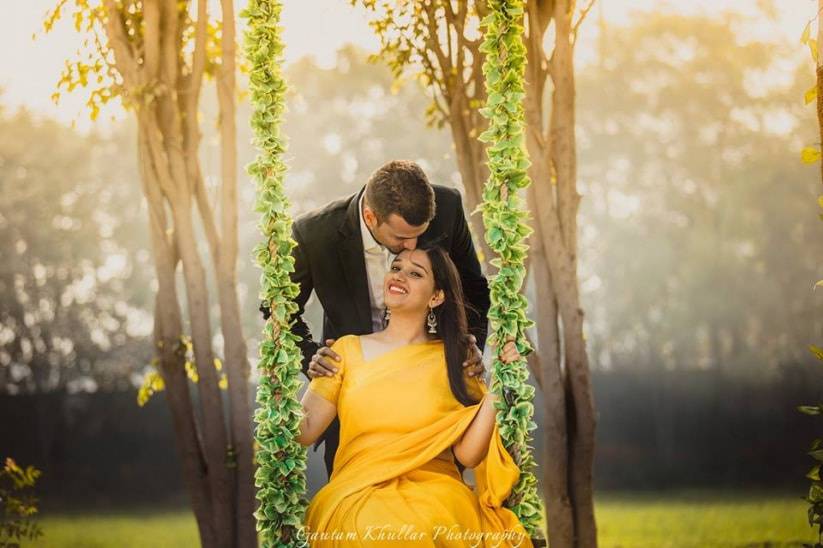 Are you looking for the latest saree designs for wedding? What better way than to turn to India's leading bridal wear designers. Every year and every fashion season, Indian designers present a unique bridal wear collection that brings forward the best of Indian artwork, traditional techniques, modern silhouettes and a whole new world of possibilities for the modern-day bride. These collections are a beautiful blend of new-age fashion and classic bridal elements.
A saree has always been recognised as an epitome of grace and tradition. The seven yards draped around you will be a cherished memory that you will keep safe forever. It is the zenith of grace and it will enhance the bridal feel and aura that you carry with you as you gently make your way down the aisle to take your vows and tie the knot with your significant other for a happily ever after. The wedding is that one day where all the eyes will be transfixed on you and you do not want to lose the opportunity to make it one of the best days of your life. To make the most of it on your D-day you will want to flaunt the latest saree designs for wedding and if you are looking for one, we would like to help.
The latest saree designs for wedding are keeping with the touch of grace, yet highlighting a powerful and fierce woman. What do these latest saree designs for wedding bring to the table? What are the central themes and inspiration that have brought together the latest saree designs for wedding? Let's take a look:
1. Anita Dongre - Odyssey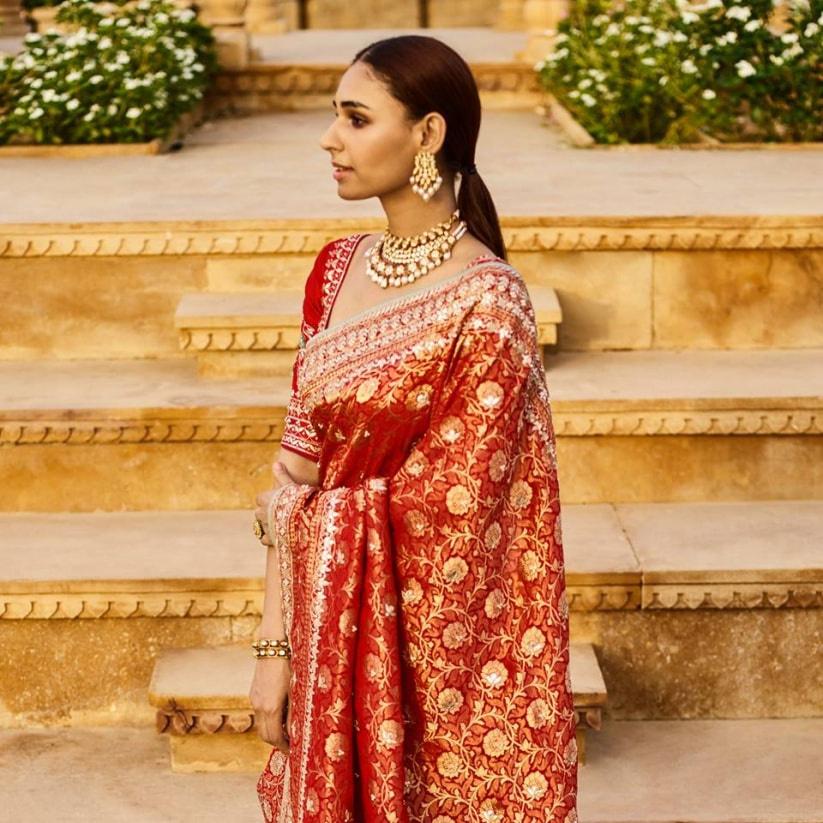 Anita Dongre's latest collection, 'Odyssey', is a walk through the forests. The collection blends rich silks with intricate thread work to represent the many elements of nature. The main elements include wildflowers, birds and animals and dense forest like intricacy. It is a beautiful representation and an ode to nature with rich silk fabrics in bold colours with glimmering gold and thread embroidery. It is one of those rare latest saree designs for wedding that is red with a dash of gold which left us speechless. With a designer saree for wedding as spectacular as this, you can choose to wear your hair in a bun with some flowers and you will definitely look like an ethereal beauty. Since the saree is so heavily designed, you can choose jewellery that does not overpower the beauty of the saree.
2. Neeta Lulla - La Belle Epoque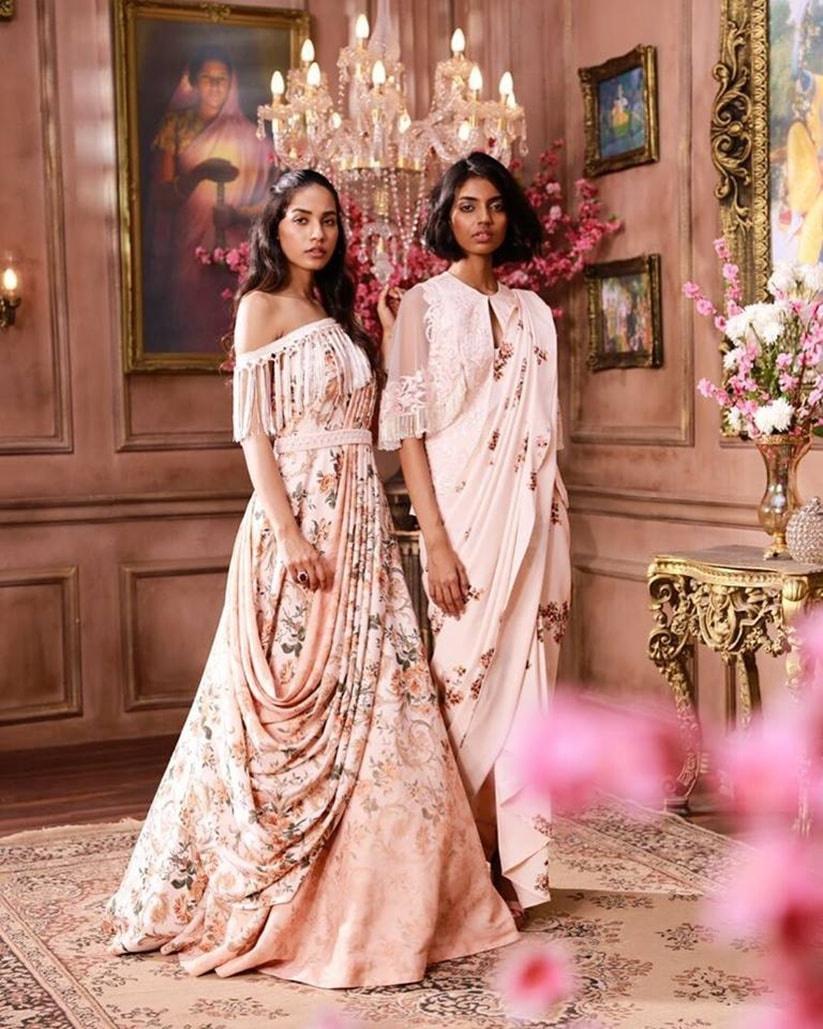 Photo Courtesy: Neeta Lulla's Facebook Page
Neeta Lulla's latest saree designs for wedding are from a collection called the 'La Belle Epoque'. It is a modern yet vintage collection that draws inspirations from the Edwardian era. It is a mix of dramatic silhouettes made with opulent fabrics. The central elements of these latest saree designs for wedding include sheer fabrics, tulle, frills and embroidery work that create a magnificent and dreamy look. If you were looking for some inspiration in terms of latest saree designs for wedding then this pastel shade beauty should be at the top of your bridal shopping list without fail. The tassels add a lot of drama to the overall look and you can pair up some minimal western jewellery or diamonds and so on that will complement the subtle look.
3. Tarun Tahiliani - In Elysium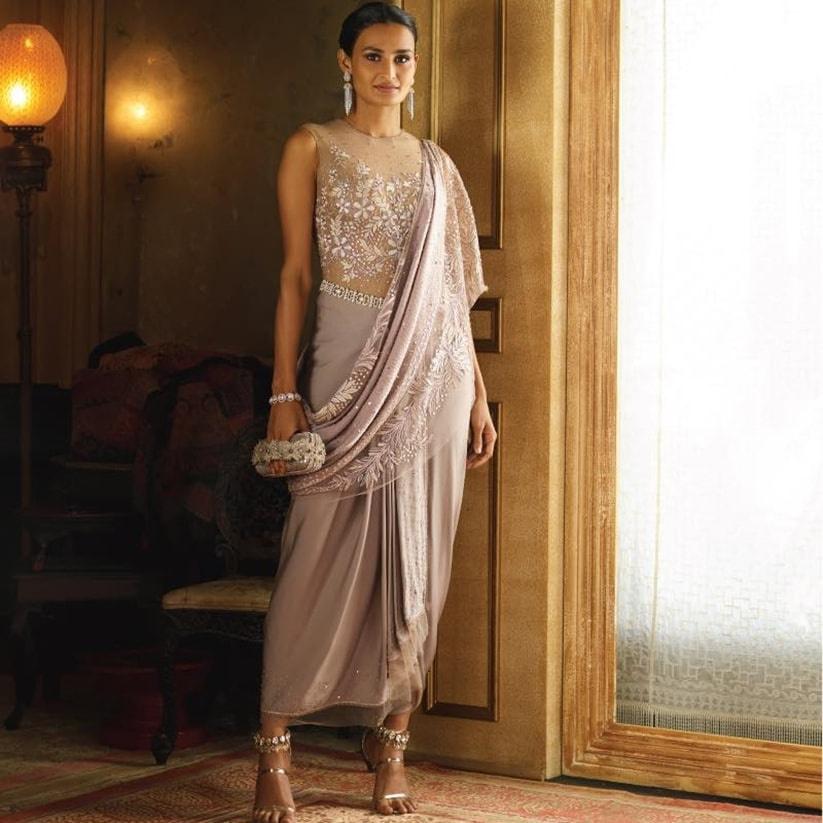 Tarun Tahiliani's collection 'In Elysium' is inspired by the mythical paradise of Elysium. It is the designer's interpretation of the mythical paradise and thus revolves around elements like angels and goddesses. It is a collection that represents the modern Indian goddess and draws inspirations from European accents mixed with traditional Indian techniques. Nude colours with sparkling embroidery work and powerful styles are the greatest highlight of this collection. If you always wanted to create a head-turning statement with your choice of clothing then this is one of those rare latest saree designs for wedding that makes the cut for just that. From the draping to the colour and the overall look it exhumes - it is a win-win. The precision of work and the free fall of the soft textured fabric makes it so much more better for you to breathe in style.
4. Manish Malhotra - Zween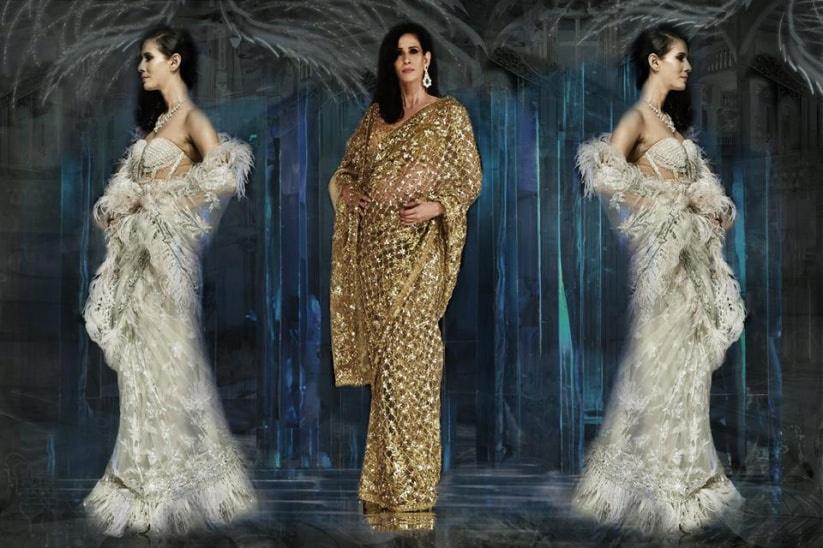 Photo Courtesy: Manish Malhotra's Facebook Page
'Zween' by Manish Malhotra breaks the stereotypes of bridal colour palettes. The collection includes earthy tones, browns, golds and ivory as the main colours. It can easily be classified as the new-age bridal wear with off-shoulder tops, corsets, drape dupattas and sheer fabrics making the latest saree designs for wedding. It is the true representation of modern glamour for the modern-day woman.
5. Rohit Bal - Guldastah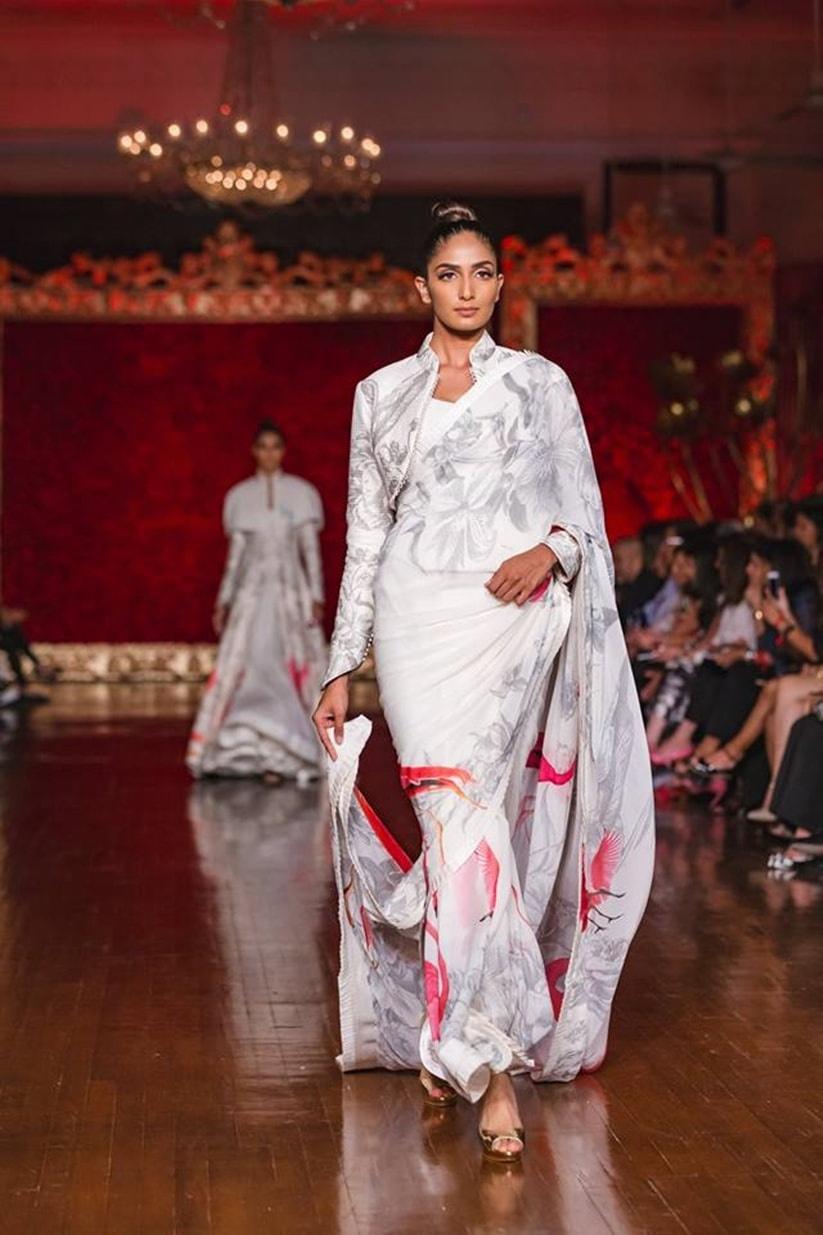 Rohit Bal's latest collection, 'Guldastah', literally translates to a bouquet of flowers in Hindi. This collection, true to its name, is an ode to the eternal beauty of flowers and nature. Bright pinks and corals on nudes and dark colours with a bouquet of flowers splashed across are both equally beautiful and the latest saree designs for wedding as curated by Rohit Bal. Flowers and floral print are an evergreen women's wear statement and this collection is a simple yet stunning addition to beautiful bridal wear this season.
6. Sabyasachi - Kesribai Pannalal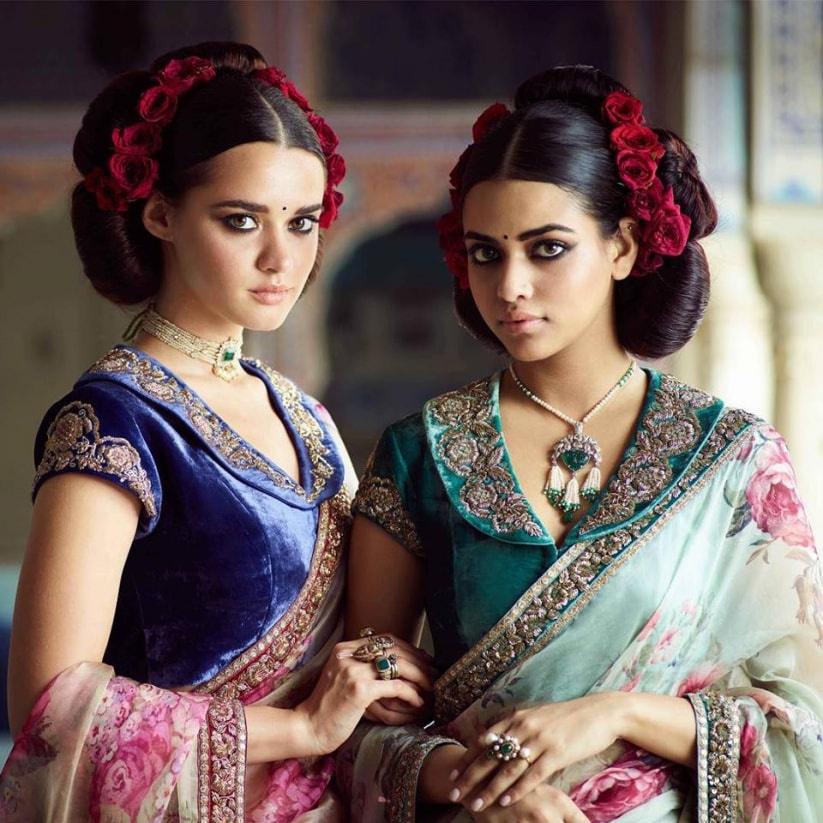 Photo Courtesy: Sabyasachi Facebook Page
Sabyasachi Mukherjee is known for creating the most opulent and intricate bridal wear. His latest collection 'Kesribai Pannalal' is a couture and jewellery collection that brings indigenous crafts and textiles to the forefront. From Benarasi silks to velvet saree blouses, Kashmiri shawl embroidery and Zardozi borders - the collection is an amalgamation of purist traditions that have made Indian bridal wear one so diverse and dynamic. From heavy silk sarees to light and breezy hand-painted organza sarees, this latest saree designs for wedding collection is for every season and every ceremony.
7. Varun Bahl - Dream Nouveau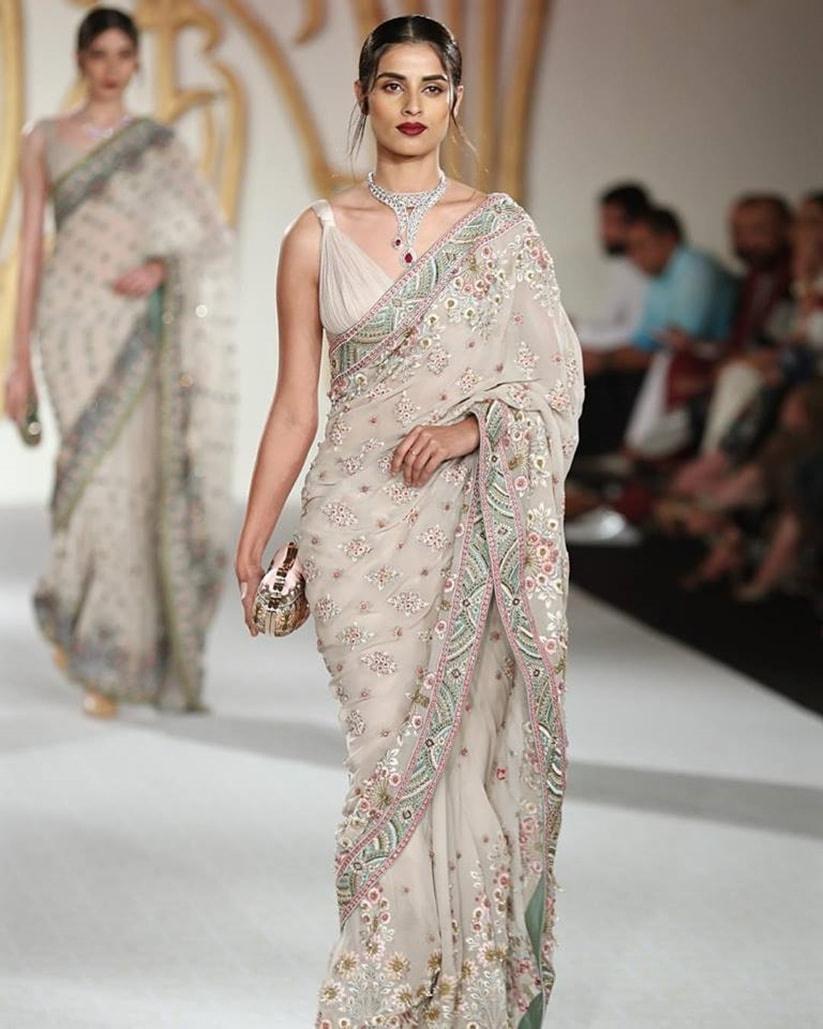 'Dream Nouveau' by Varun Bahl is a classic yet stylish collection of the latest saree designs for wedding wear. It brings together beautiful floral designs on ethereal pastel shades, with just the right hint of glimmer and sparkle. The sarees are what modern day brides look for.
Aren't these latest saree designs for wedding wear spectacular? Each of these designers has brought forward the best of traditional bridal elements and blended them with modern and stylish accents - just like the new-age bride. No matter which saree from our galore of latest saree designs for wedding you pick, you will look like a walking dream no matter what!
Did these latest saree designs for wedding inspire you? What kind of a saree will you drape on your wedding? Share with us in the comments below.