While the excitement of getting ready and shopping for your wedding trousseau is indefinable, there's no denying the fact that sometimes you'll have to recce the entire market to narrow down to one attire you love. And when it is about shopping for the wedding reception, it will make you even more jittery. And you'll find asking yourself, "What colour should I wear? Is this too blingy? Is it too plain? Is it stylish enough? Does this suit my personality?" After all, it'll be the first event for you as a couple after being officially hitched. Which is why, to help you calm your nerves, we did some research and selected a few designer sarees for wedding reception with price for your stylish soul so that you won't have to look any further!
1. Lehenga saree
A lehenga saree, this style is no news to anyone getting married, but the trick is to find the right cut and style, in the right colour with just the right amount of bling. You can opt for subtle hues like beiges, pastels and dull golds. Is it a lehenga, is it a saree? No one can tell!
Where: Anjalee and Arjun Kapoor
Price: ₹50,000 - ₹1,50,000
2. All about that net
The fabric is worn at almost every function and the best part is that it adds volume to any outfit. You can also consider wearing this designer saree on your wedding reception. However, make sure that you choose lighter colours as net in darker colour will take away your shine. Here's a piece you could take some inspiration from.
Where: Jagdish and Sons India LLP
Price: ₹5,000 onwards
3. Half saree
If you want to up your style quotient and make your in-laws go "wow," you might want to experiment a little. You can also opt to wear a half designer saree for your wedding reception. Just take a look, we're sure you'd like the contemporary style.
Where: Arfha boutique
Price: ₹20,000 onwards
4. Saree with a thin pallu
A saree is such a versatile outfit that you can style it in so many ways and yet look like a fashionista. Sarees with thin Pallus are in vogue this wedding season. They're basically one outfit only and everything comes attached so you can avoid the hassle of tying one.
Where: 1600 AD by Naisha
Price: ₹15000 onwards
5. Go pastel
Pastel is the colour of this year, thanks to every B-town celebrity who got married in 2018. Deviating from the concept of wearing only block colours, you can mix and match and have a blouse designed in shades of pastel, and then pair it with a saree in a darker hue. For instance, check out this outfit from our list of designer sarees for wedding reception with price.
Where: Megha and Jigar
Price: ₹33,000 onwards
6. All that glitters
If you like all that bling, you can also choose to wear a shimmery designer saree for your wedding reception. You're allowed to go a little extra, you're the bride!
Where: Astha Narang
Price: ₹36,000 onwards
7. Not a grey area in this saree
Grey is not a colour one would consider wearing on a wedding or a pre-wedding function. But if styled and paired well, you might just give many women some major #fashiongoals. Just like we've added one of these designer sarees for wedding reception with price to our kitty of quirky wedding outfits, why don't you?
Where: Shivani Jain Pret A Couture
Price: ₹10,000 onwards
8. High-rise saree
If you're one to experiment, why not take a step ahead go for a high-rise saree? It's chic and will definitely make you stand out of the crowd (of course we mean in a good way). Check this out and take your call.
Where: Tarun Tahiliani's outlets
Price: on request
9. The classic maroon and gold combo
The perfect combination of a newlywed woman is the classic maroon and gold saree. If you love dressing up traditionally and want to impress your mother-in-law, we have your back! Which is why, we have shortlisted this maroon and gold combo from a couple of such designer sarees for wedding reception with price. Just put some Gajra in your hair and you're good to go.
Where: Tarun Tahiliani's outlets
Price: on request
10. Corset saree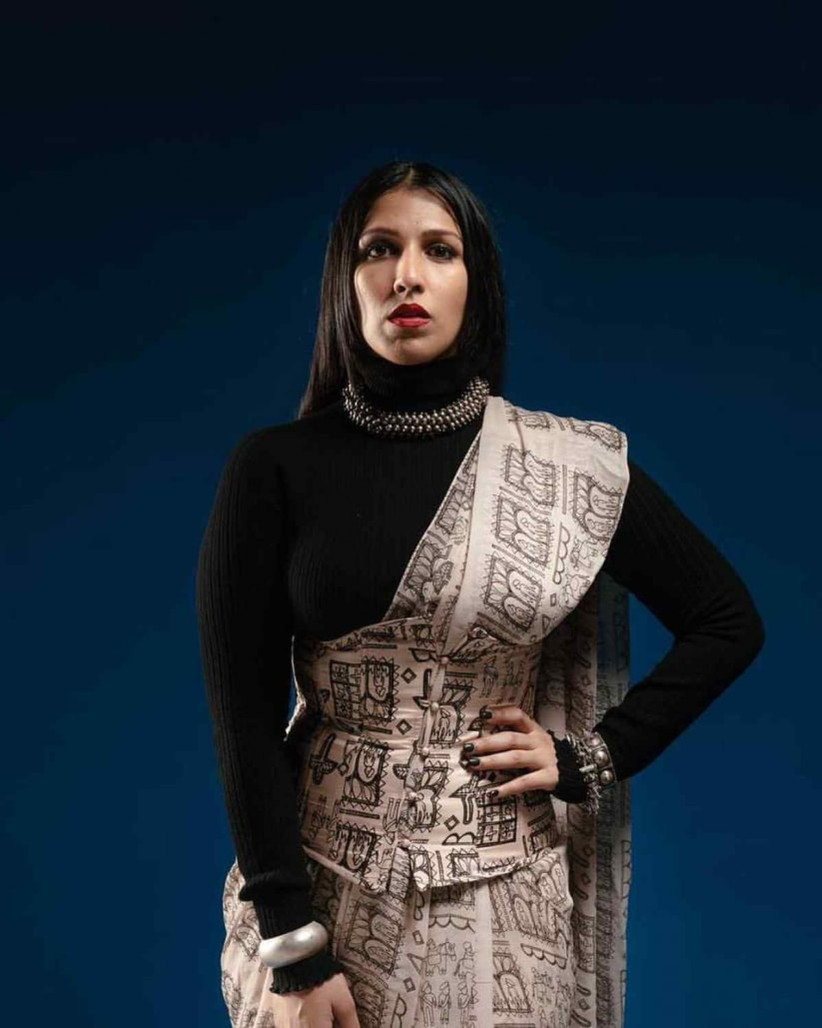 Photo Courtesy: Masaba Gupta Official
If you're anything but traditional and love to make statements with your fashion choices, then this corset designer saree for your wedding reception will be the best choice. You'll surely make heads turn!
Where: Masaba Gupta's outlets
Price: on request
11. The elegant black and gold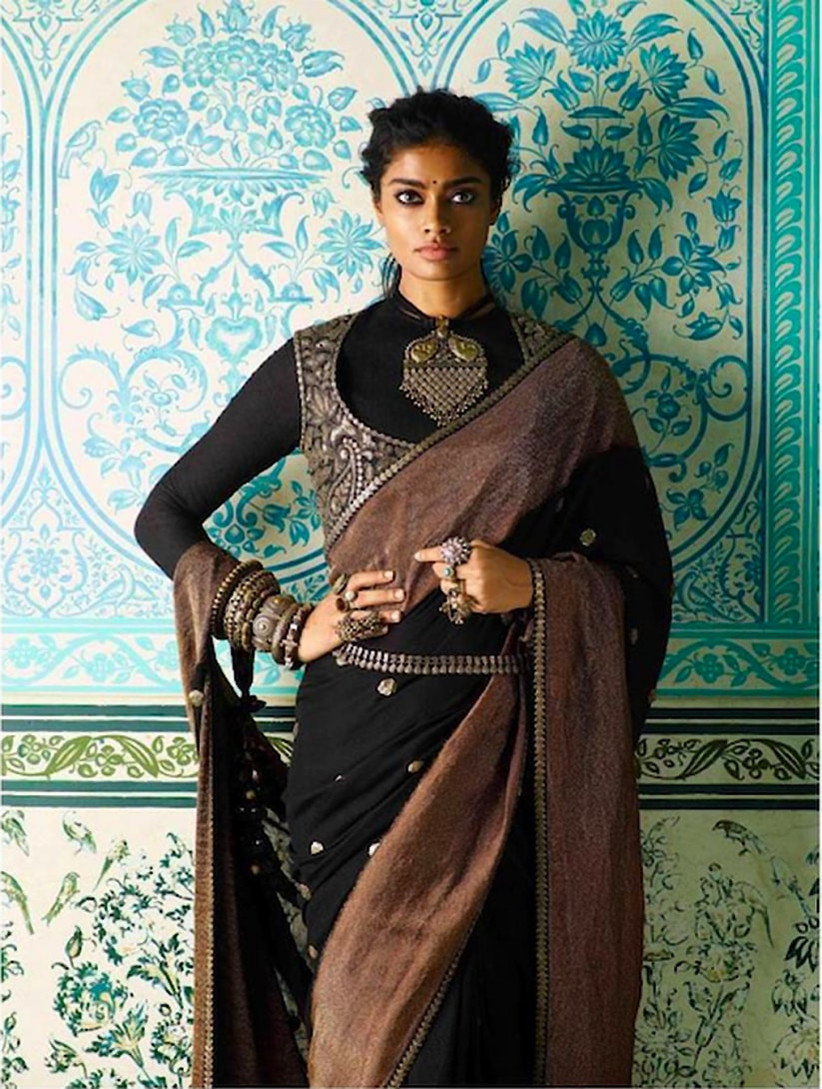 Photo Courtesy: Sabyasachi Official
Who doesn't want to be a Sabyasachi bride? Just pick any outfit from the designer's collection and you'll end up looking no less than a royal. The sheer opulence of this saree in black and gold will make you look like a goddess on your wedding reception.
Where: Sabyasachi Mukherjee's outlets
Price: on request
So, from corset sarees to high-rise, net and half sarees, these were some designer sarees for wedding reception with price that are in vogue this wedding season. Already thinking of going shopping, aren't you?
What designer sarees are you planning to wear for your wedding reception? Tell us in the comments below.