4 Breathtaking Lehenga Saree Bridal Ideas For Your Wedding Trousseau
Browse through our select choice in lehenga saree bridal outfits and find the right one for your wedding tone. These are the dreams for beautiful brides.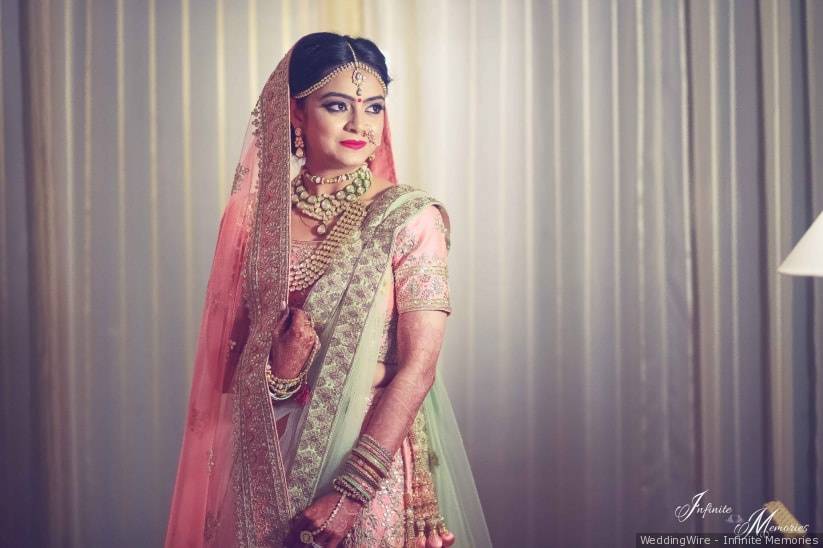 The lehenga saree bridal outfit has become a new style statement indeed. A trendsetter for bridal wear, most of the brides are opting to wear the traditional red and gold colours while some are going a bit out of the way and try out different colours. You can also find many shades of peach, pink and maroon making waves this wedding season with not just the lehenga saree bridal outfits but also with the wedding sarees.
The lehenga saree bridal outfit works because many brides prefer lightweight bridal outfits but don't want to compromise on the heavy embroidery, zardozi work or appliques and ornamental needlework.
Here are some of our favourite picks for lehenga saree bridal outfits:
1. Traditional Red and Gold Lehenga Saree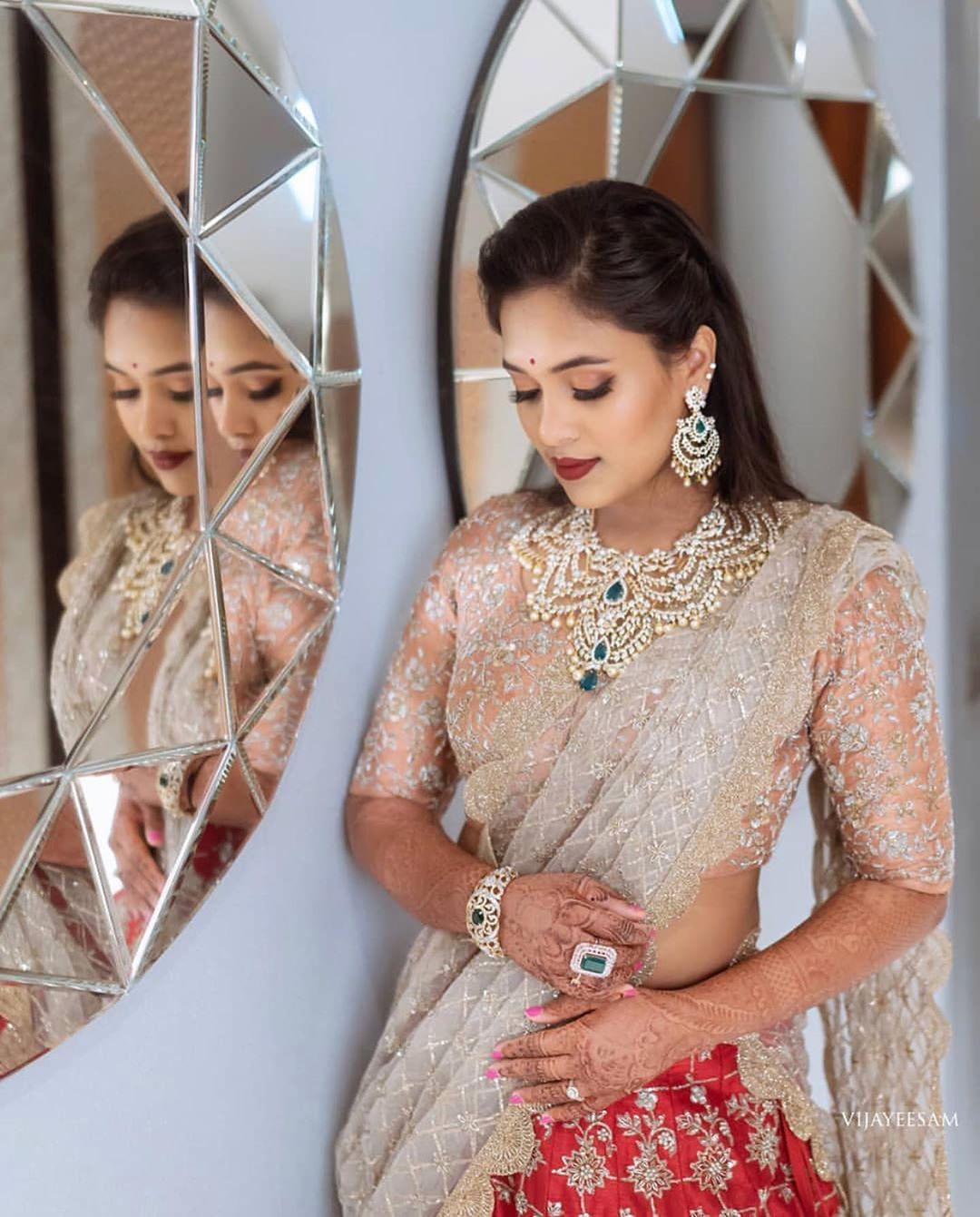 Image courtesy: Aakanksh
No matter what, but the traditional red and gold combination wins over all the other colours when it comes to a bridal outfit. That's probably because red is the warmest colour and gold adds the dash of royalty to the attire.
In the Hindu religion, red is related to Sindoor, red bindi, Tilak and prosperity. But it is chosen by most of the brides as it looks good on any complexion. Though brides traditionally wear Ghagra saree for the wedding, wearing a fancy lehenga saree bridal outfit is the new trend nowadays.
2. Make a Statement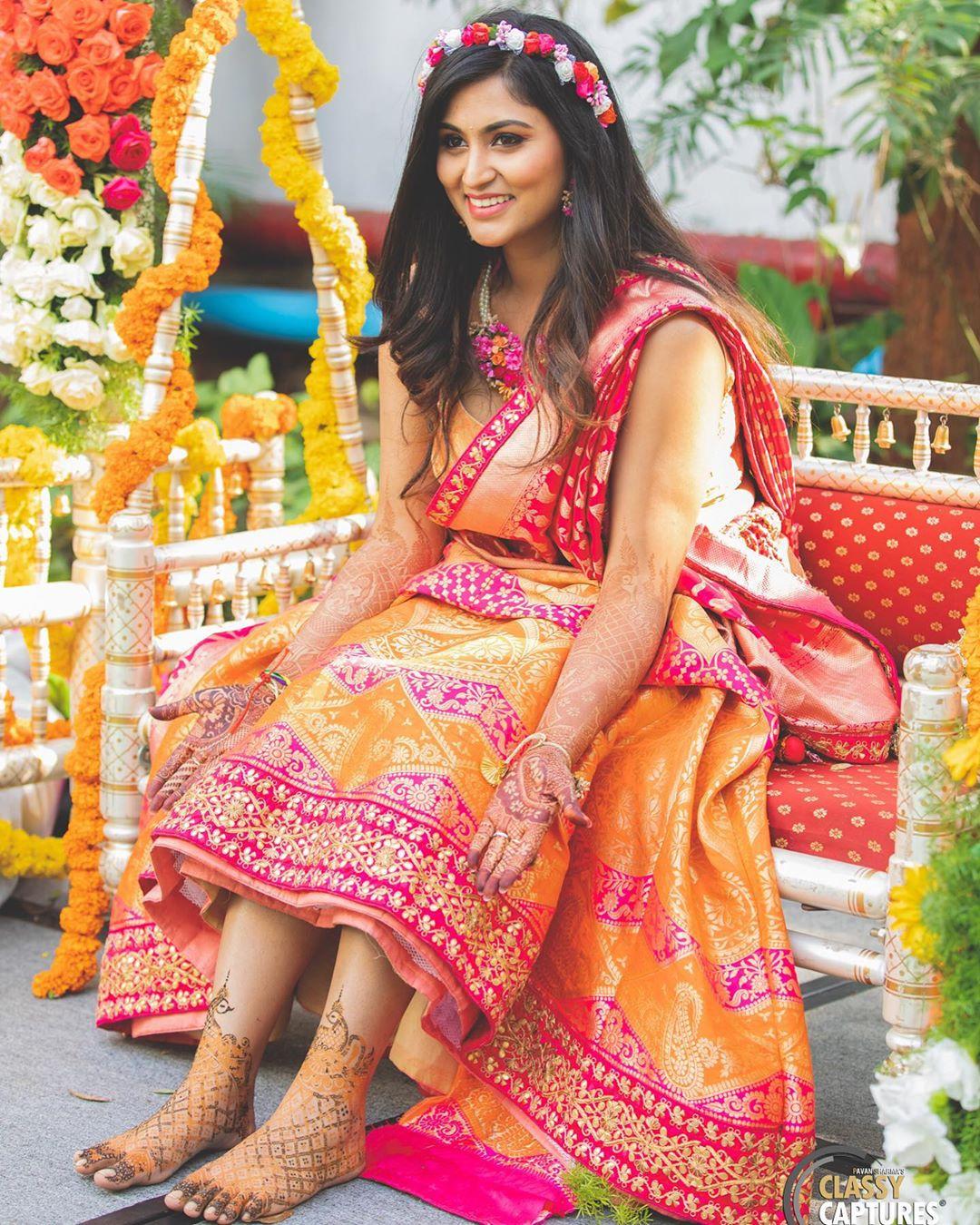 If you are planning to wear a lehenga in any colour other than red, then make sure that everything you choose to wear and glam-up complements your lehenga saree colour. If you want to look like a million bucks, the key is to make a statement without going overboard.
You can play with your jewellery and choose one of the pieces like a statement piece that's most flashy or royal among the others. Usually, brides choose the jewellery set after finalising their lehenga saree bridal wear, so it becomes easy to choose the statement piece, which is visible to everyone. It can be a necklace, a waistband or even the kalire, or you can pick a designer lehenga to do all the talking.
3. Break the Tradition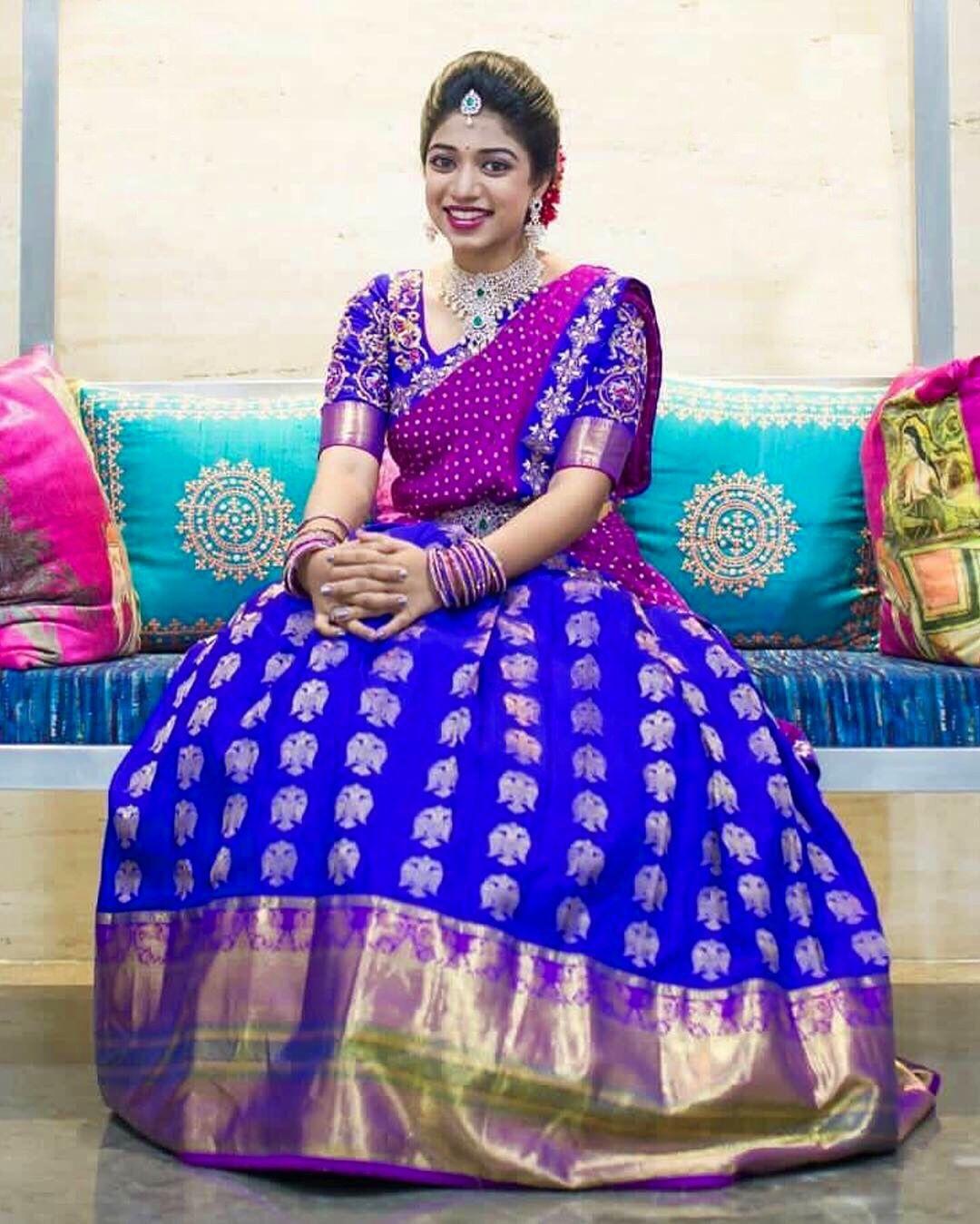 Image courtesy: Valka by Keerthi
If you are a bride who does not like to go with the flow, then wearing a lehenga, a saree, a lehenga saree bridal wear in an unconventional colour can make you stand out. You can go for a verity of lehenga designs in colours like olive green, bottle green, white or navy blue.
If you choose to wear green, pair it up with light colours like peach, light blue or lemon. If you are going for white, make sure to add a hint of some other colour to break the monotony of the look. You can add pink embroidery, have a dupatta in a different yet lighter shade or get it customised by putting gold appliques over the lehenga and dupatta.
Blue is a royal colour that suits almost all the skin complexions and a navy blue lehenga saree bridal outfit in velvet looks fabulous with a gold zardozi work dupatta, to which, you can add golden sandals and a golden clutch and complete the look.
4. Goddess in White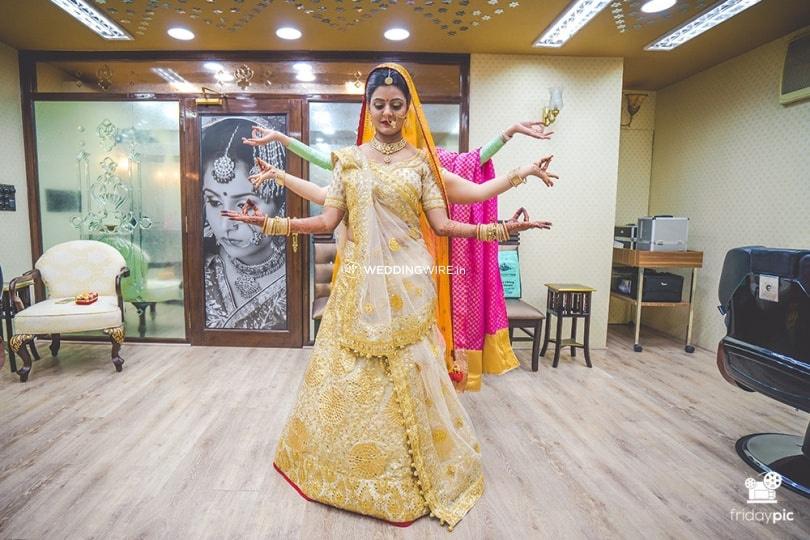 Contrary to popular belief, white, especially its cream version, is a colour associated with peity, knowledge and the virgin, pure versions of most Hindu goddesses. Be it Goddess Sarasvati or Lakshmi, both wear white sarees. In the Hindu religion, when a girl marries and goes to another family, it is believed that she is a form of Goddess Lakshmi that brings health, wealth and prosperity to the family. Hence, a lot of brides give preference to lehenga saree bridal wear in white and shades close to white. The traditional jewellery simply brings out the look.
There are plenty of colours and styles you can play around when it comes to a lehenga saree bridal outfit. You can even customise your outfit to match your groom's sherwani or the themed wedding décor. Just make your choice and rock your wedding in style! You will look like a dream come true in this bespoke ensemble and your hubby won't be able to take his eyes off of you!
These stunning lehenga saree made us believe in love at first sight. Who knew to go for something as traditional and epic as this could make a bride look so classy yet desirable. Brides today have a plethora of bridal dresses to choose from. From traditional to western, the choices are one too many. And, fusion to has been making the rounds in the market this time around. If you are unafraid to take the road less travelled by then incorporate some of these out of the box dress options and mix a little bit of tradition with a little bit of modern.
Would you dare to dress out-of-the-box on the most important day of your life? Tell us through the comments!