10 Bridal Necklace Set Destinations Where You'd Always Find Stellar Statement Pieces
Have the perfect lehenga combination to rock your big day? It may not be enough as the right bridal necklace set is what really brings your look together. Here are few designer brands that many brides swear by.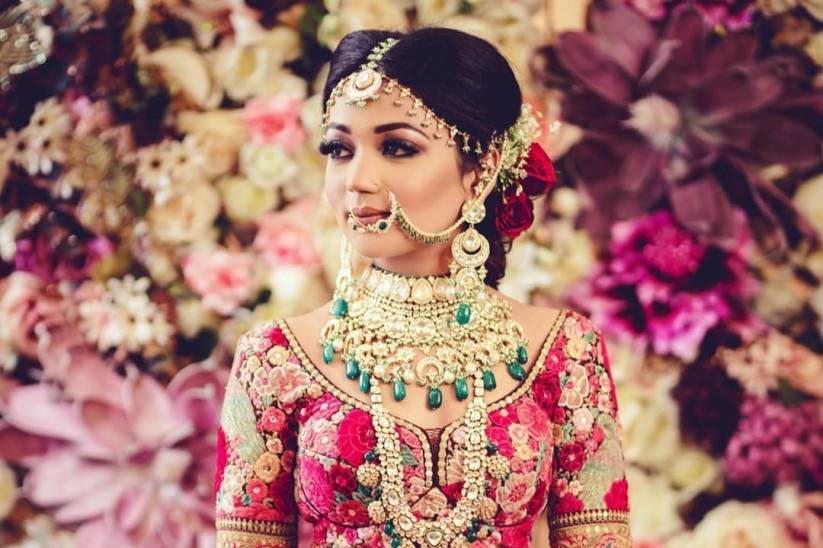 A stunning bridal necklace set, encrusted with the finest gemstones, accentuated with intricate metal-work and completed with a spellbinding finesse. That's what every bride requires to bring her outfit together for her big day. And when you're running around on shopping sprees, recommended one-stop outlets are a saving grace. So, we have gathered a list of jewellery designers with drool-worthy bridal necklace set collections with distinctive themes and inspirations.
Take cues and plan your shopping expedition accordingly.
Popular Designers for Bridal Necklace Sets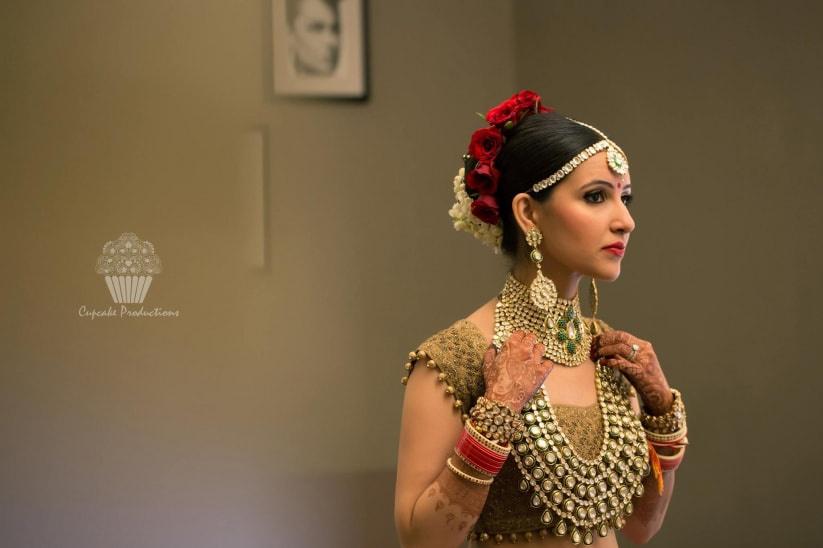 These are some of the most popular designer brands for bridal jewellery in fine gold and ornate, costume jewellery. We recommend clarity on your wedding budget before you walk in.
1. Krsala jewels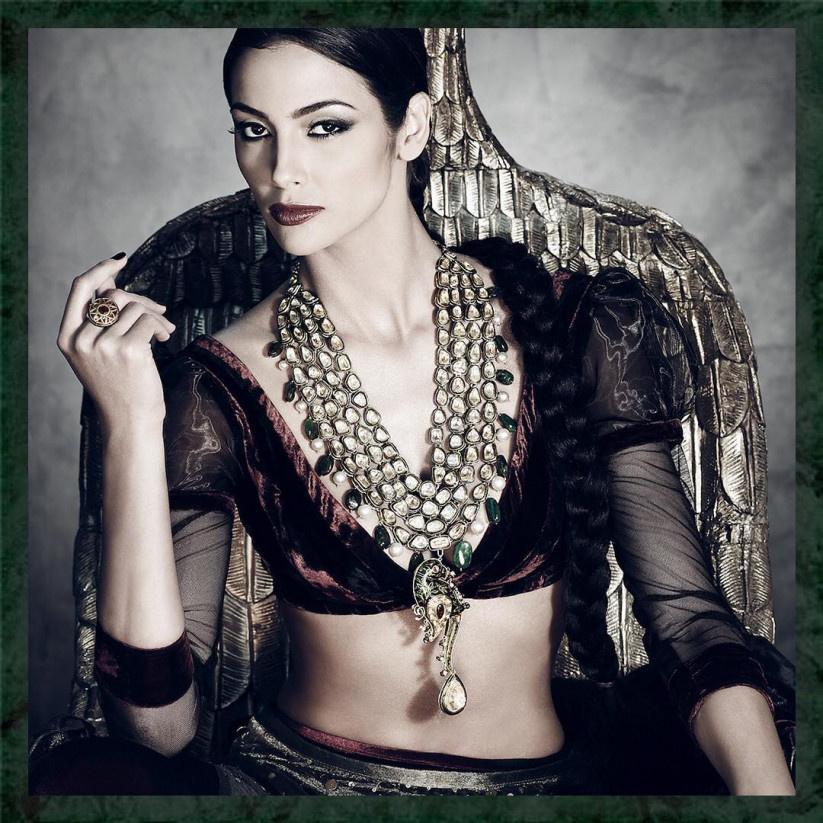 Need a hand at couture jewellery that would splendidly stand out against your bridal lehenga? Try your hand with the collections at Krsala, The House of couture jewellery. Based out of Hyderabad, the brand is known for diamond jewellery as well as traditional, vintage and designer collections.
At the house, you may find bridal necklace sets, pendants, bangles, Kadas, armlets, bracelets and earrings.
USP: Couture jewellery, diamond jewellery and semi-precious stones
Price: Starting from ₹20000
2. Outhouse Jewellery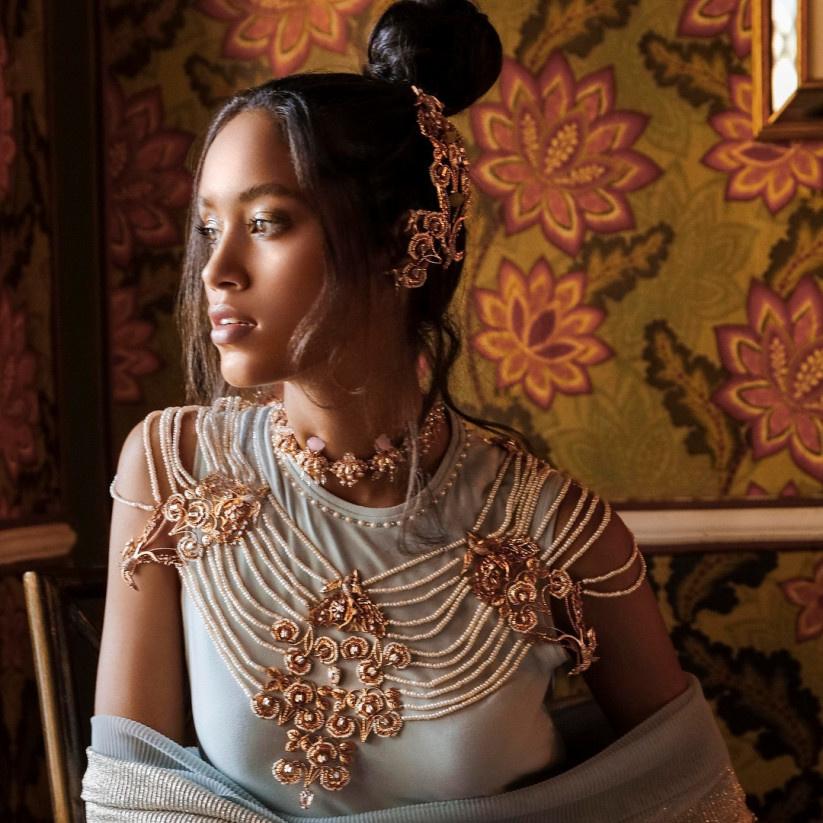 Believe that your choice in a bridal necklace set should be as unique and eye-catching as you? Then, try your hand with the unconventional, concept designs that you can pick up at Outhouse Jewellery. With an outlet in South Delhi, the brand is known for concept jewellery ideas as varied as floral inspirations, Aztec headdresses and even thread elements alongside semi-precious stones.
Pair these pieces with your pre-wedding theme or pick up enough to cover your day and easy functions.
USP: Real jewellery, semi-precious stones
Price: Starting from ₹15,000
3. Aaharya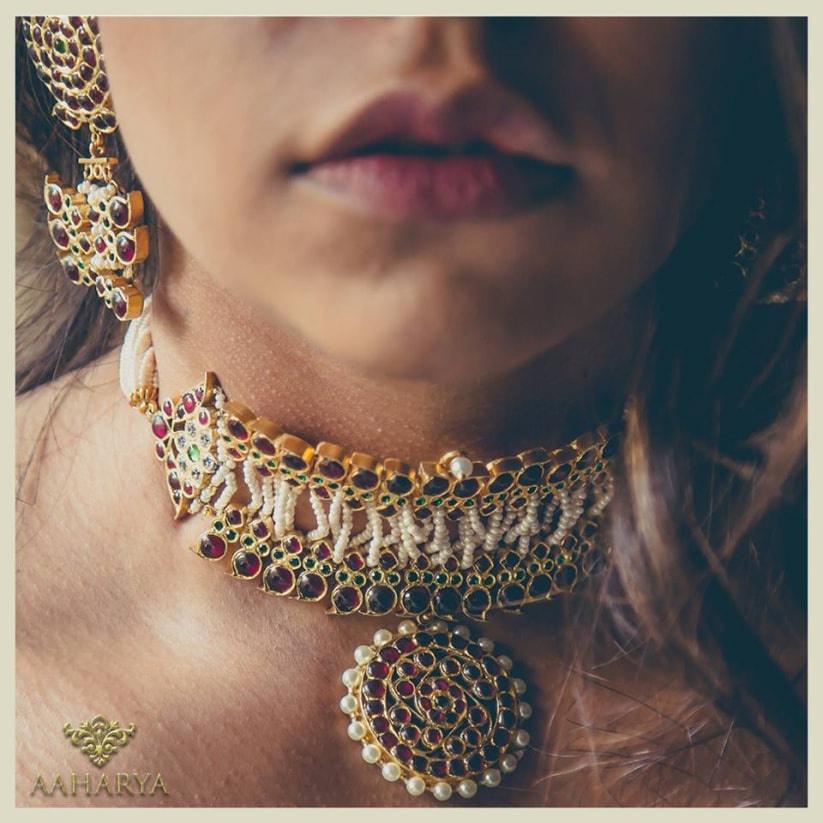 The South Mumbai-based brand Aaharya by Rhea Hirani works on handcrafted silver pieces, dipped in gold. They can also customise designs and deliver within 15 days. They're known for temple jewellery-based designs, with each design authentic to the inspiration behind it.
For example - The piece above includes a choker necklace, strung in micro pearls with elegant geometric patterns and red and green gemstones. The set is completed with an equally stunning pair of earrings that revolve around the same design theme as the necklace.
USP: Imitation, artificial jewellery and semi-precious stones
Price: Starting from ₹ 5,000
2. Amrapali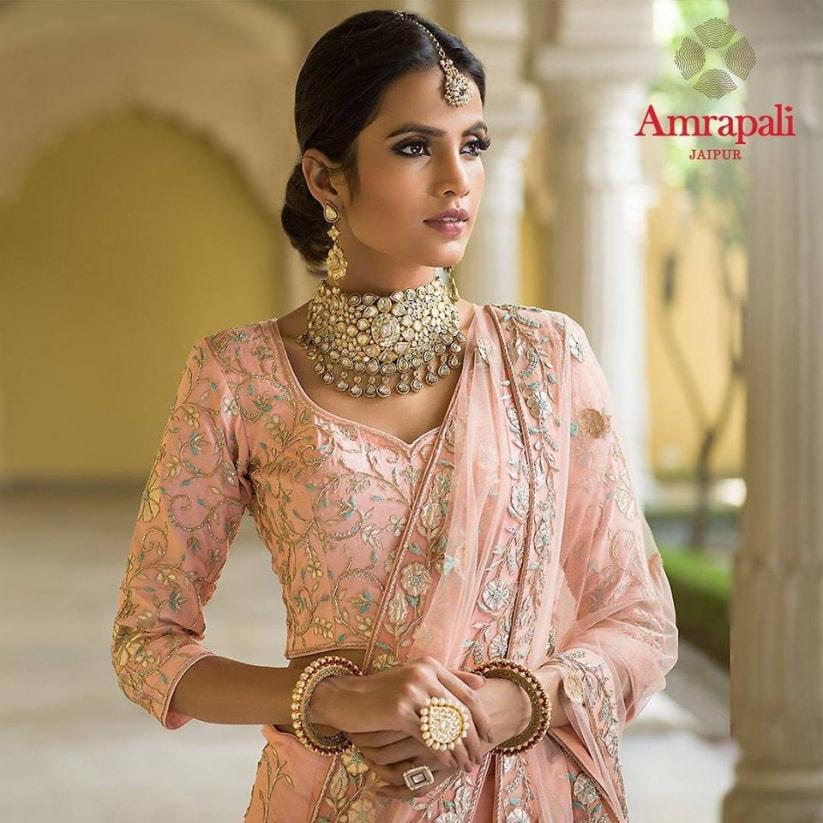 A truly sought-after designer jewellery brand, Amrapali is a good stop whether you're looking for luxury, gold jewellery and gemstones or imitation wear. Their designs range from contemporary to classical, vintage to ethnic, regional variations.
Case in point, this gorgeous piece exhibits a massive choker necklace completely made with uncut Polki diamonds of different sizes intricately placed next to each other creating a mesmerising pattern. The necklace is the showstopper and the other jewellery elements are kept simple adding a dash of sparkle where they lie.
USP: Luxury jewellery, semi-precious stones, tribal jewellery, silver jewellery
Price: Starting from ₹5,500
3. Ra Abta by Rahul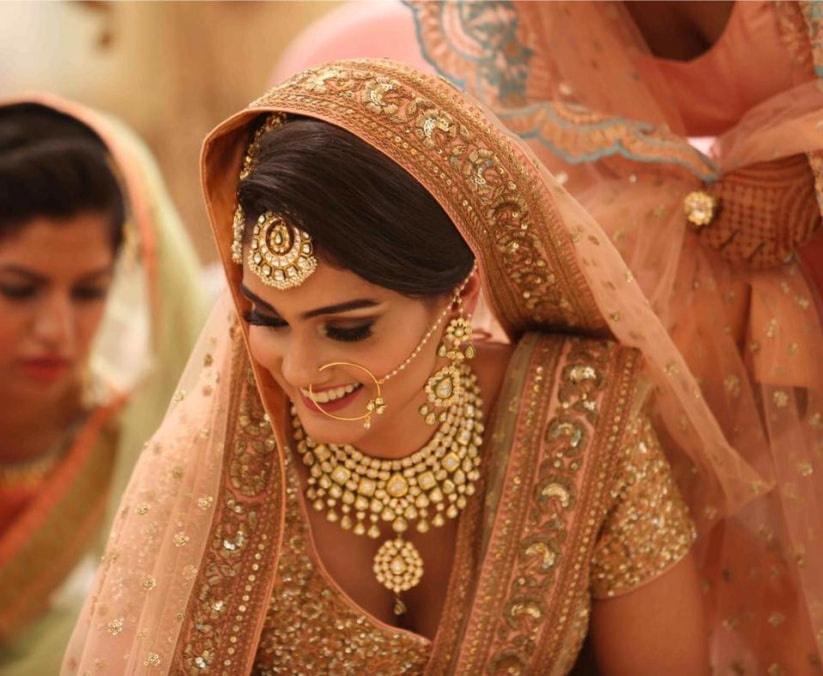 Delhi's premium jewellery designer, Ra Abta by Rahul celebrates the joy on the most special day in a girl's life with their exquisite bridal necklace set collection. They understand the importance of choosing the right jewellery and will help you do just that.
A bride-to-be can see that in the sheer attention to detail here. Uncut Polki diamonds set in elegant, geometric bezels with a glaze of green enamel around each gemstone. All of the elements are assembled together to make a truly stunning necklace. What adds rhythm to this gorgeous piece is the dangling pendant in the centre that complements the flow of the diamonds in the stunning chandelier earrings it is paired with. The look is completed with a dainty nose ring, Matha Patti and a Passa.
USP: Kundan jewellery, silver jewellery, gemstone jewellery
Price: Starting from ₹2,500
4. Just Jewellery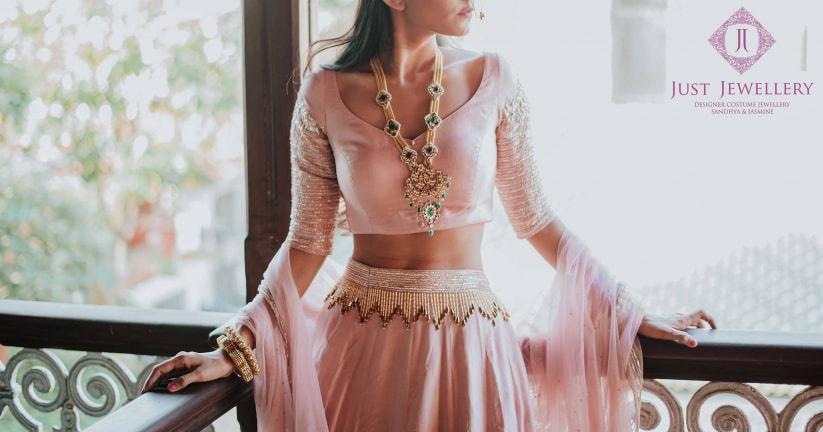 The mother-in-law and daughter-in-law duo behind the brand offers a stunning range of ready-to-wear wedding jewellery. Their collection exhibits traditional touches as well as modern motifs with the option of customisation. As the name of the brand suggests, it is 'just' an exquisite collection of jewellery that you are sure to fall in love with.
In this bridal necklace set, other accessories like bangles and nose pin are kept simple and dainty, whereas, the long necklace makes a regal statement. Strung in multiple strands of micro pearls and accentuated precious gemstones like uncut diamonds, emeralds and rubies, this necklace speaks of elegance. Adorn a pair of large stud earrings with matching motifs to complete the look.
USP: Costume jewellery, semi-precious jewellery
Price: Starting from ₹ 80,000
5. Purab Paschim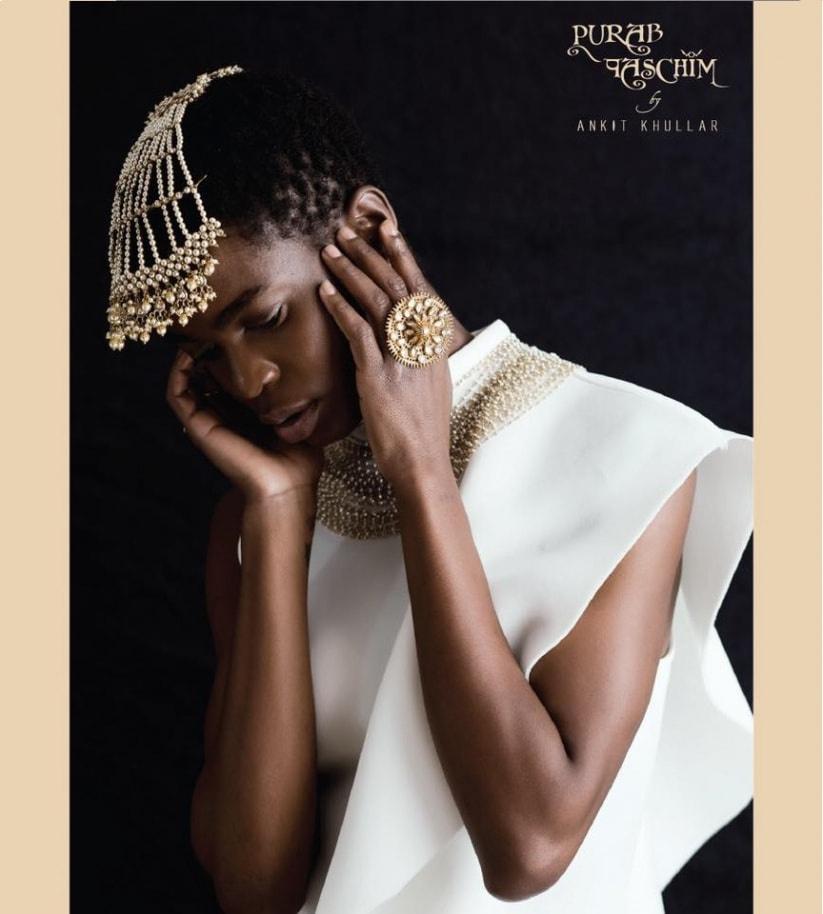 From designs inspired by the temple jewellery to tribal jewellery, from Kundan-Polki to pearls, this Delhi-based designer has something in store for every bride. They give you an opportunity to customise your designs and even create your own designs so you adorn a truly unique piece on your big day.
The Mughal Mystique collection by Purab Paschim showcases ornate designs that are a perfect blend of the richness of the regal era with contemporary and elegant silhouettes.
USP: Headgear jewellery, precious jewellery
Price: Starting from ₹6,500
6. Suhana Art and Jewels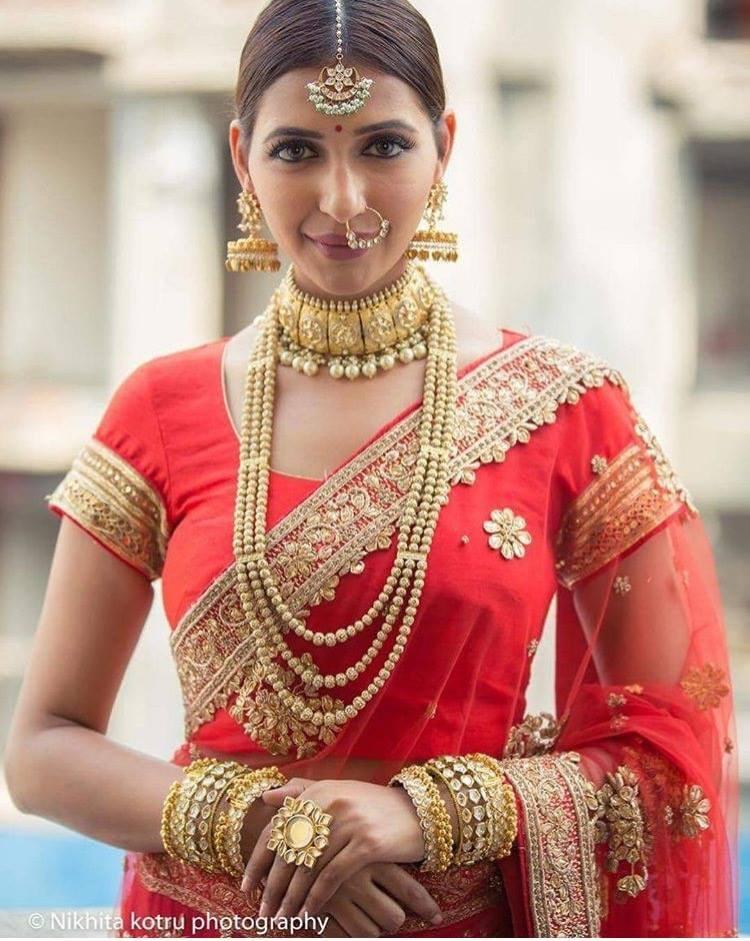 Suhana Art and Jewels is a Delhi-based brand that offers bridal jewellery set collections for every kind of bride to reveal her unique personality. Their unique pieces exhibit the perfect jewellery for the quintessential traditional bride.
A choker necklace with temple motifs accentuated with white pearls paired with a long multi-strand gold bead necklace reflects divinity and has a regal essence to it. The look is completed with Kundan and gold, Jhumka earrings, Maang Tikka bangles and a cocktail ring.
USP: Designer jewellery, Kundan jewellery
Price: Starting from ₹2000
7. The Mauve Unitx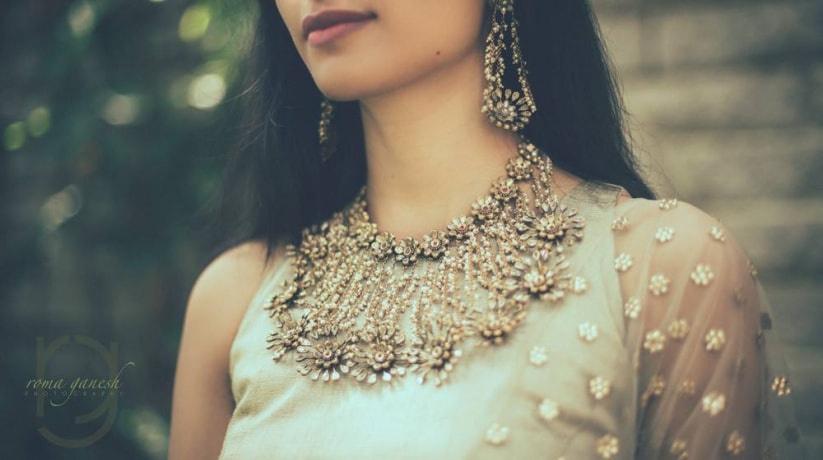 Bangalore-based Mauve Unitx jewellery label offers stunning contemporary jewellery handcrafted to the elegance that speaks to the millennials. You even have the option of customising your jewellery pieces as per your liking and they only take 2 weeks for it to reach you.
A contemporary twist to bridal jewellery for a quirky bride. This exquisite bridal necklace set exhibits the play of a single floral motif used repeatedly to create a stunning waterfall-like pattern. It is studded with uncut Polki diamonds and accentuated with a ruby in the centre of each flower.
USP: customised jewellery, semi-precious jewellery, precious jewellery
Price: Starting from ₹50,000
8. Anjali Bhimrajka Fine Jewels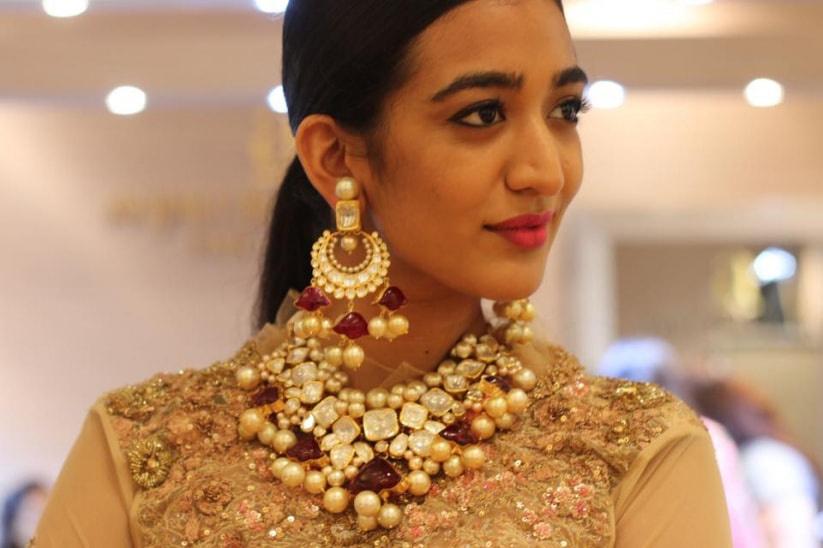 A fine jewellery label based out of Mumbai, Anjali Bhimrajka Fine Jewels offers opulent wedding jewellery in layers of gold, encrusted with precious gemstones. They create custom designs for each bride making sure that each piece is flawlessly unique.
This piece showcases a lavish use of majestic pearls, rubies and uncut Polki diamonds. The bauble effect that the pearls and the floral shape of the rubies give a poetic rhythm to the piece that blends with the geometric traditional Polki diamonds, resulting in an exquisite piece of art jewellery that is truly one-of-a-kind.
USP: Customised jewellery, semi-precious jewellery, precious jewellery
Price: Starting from ₹50,000
Every woman makes a piece of jewellery shine when she adorns it with her admiration and awe, and a bride tops that tier. A bridal jewellery set that complements the bride's personality and brings out her outfit is an essential element of her bridal attire. Explore the different collections that these designers have to offer and find the one made for you.
Which designer's work did you find the most admirable? Let us know in the comments below!