5 Chic Bridal Lehenga Choli Colour Combinations for the D-day
Seeking colour inspiration ahead of your own bout for bridal lehenga choli shopping? We compile the dependable list of evergreen bridal colours just for you.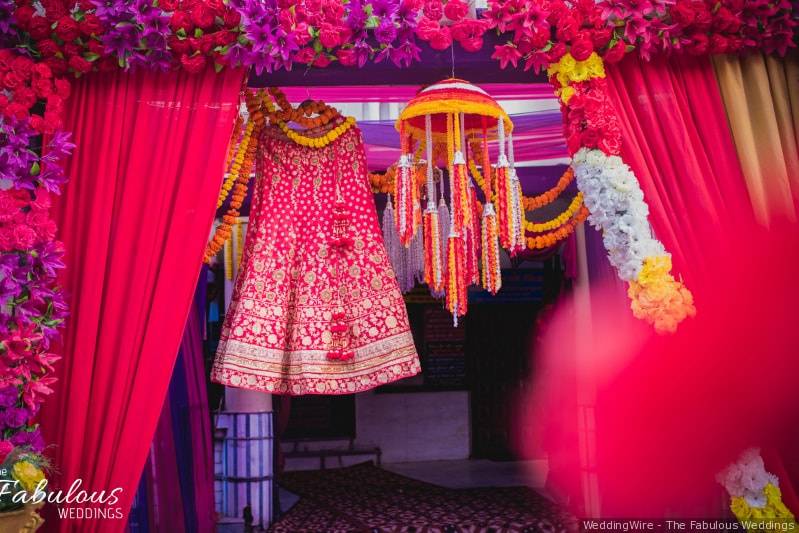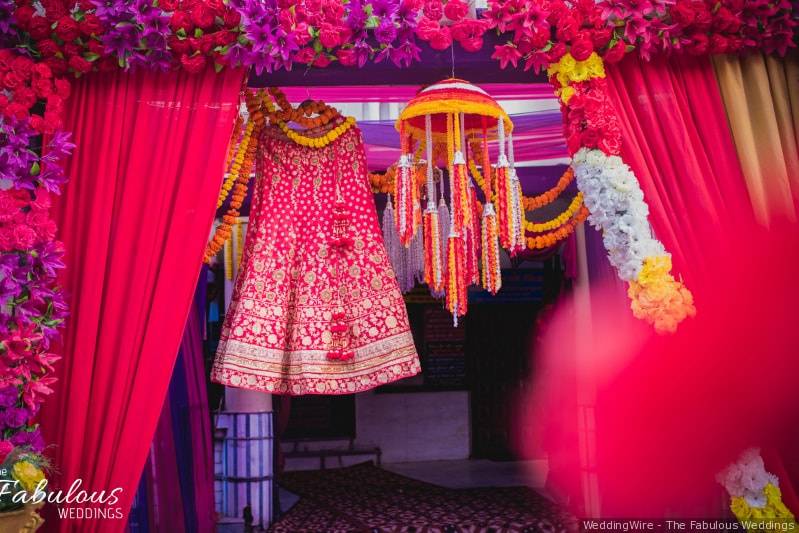 Image courtesy - The Fabulous Weddings
This is it - the big one. Nothing comes close to the emotional turmoil that you go through (except possibly the moment when you had decided that this was Him) when you go shopping for your bridal lehenga choli. We know the kind of pressure you are going through - checking in on the colour, style, embroidery and a gorgeously-cut choli.
You've probably been through a dozen channels already, trying to find the most on-trend inspirations. And the ones which really speak to you.
And that's why we have put together this list of evergreen colour options and inspirations that you can safely go for when shopping for your set of Once-Upon-A-Lifetime bridal lehenga choli. These suit every season, every reason and time of day that you can think of, for your 'I-do'.
1. Classic Red and Gold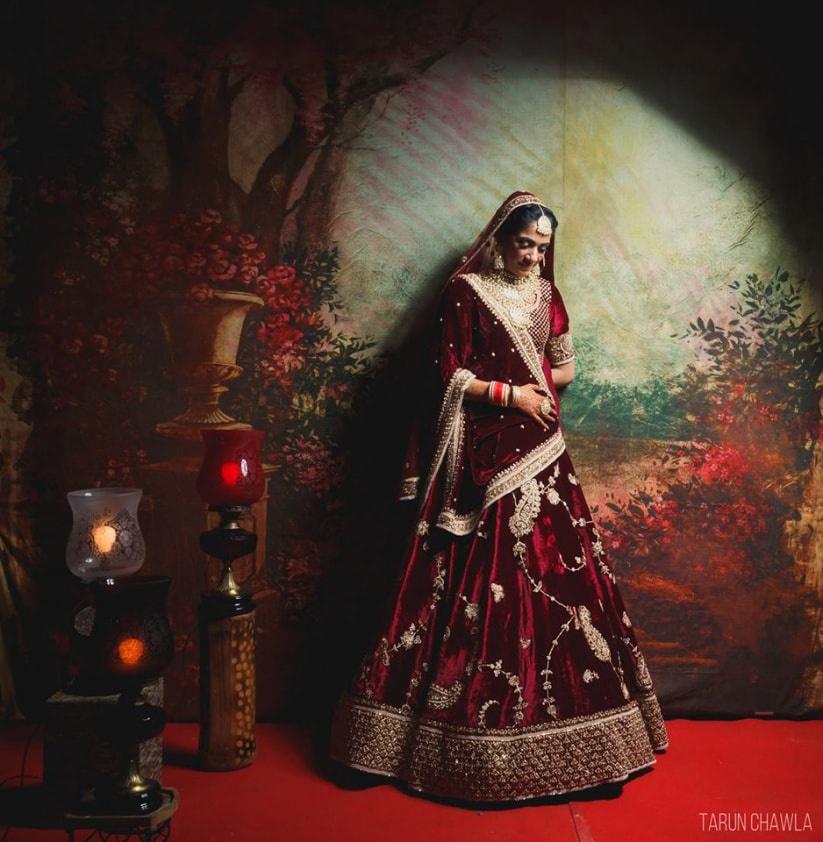 The red lehenga choli with gold embroidery is a classic combination. However, if you want to add a little twist to it and make your outfit stand out then the best way to do so is by playing around with different fabrics and experiment with new colour tones. Here is how you can go by the reds by fabric, season and time of day:
1. By Fabric:
Summer - Organza, Chiffon and Georgette
Organza holds stiff, away from the body, making for a good buy for thinner brides. If your look is for a silhouette, opt for Chiffon or Georgette. The light fabric will be a perfect buy for summer weddings and even day time ceremonies.
Winters - Velvet, Silk
Velvet is a great fabric to try on, it looks regal and gold embroidery really grabs your attention. The heavy fabric flow of the velvet lehenga will be a treat to watch as you walk down the aisle. Silks are a classic too! The royal sheen of the silk will make you look perfect for the D-day.
2. By Time of Day:
Day - Brighter shades from the red palette, which will look rich in daylight. Try Tomato reds, Crimsons
Night - Darker shades from the red palette, be they Ruby (jewel tone lehengas), Pomegranate or Rust.
Expert Tip: If you want to go with a single shade and a single fabric then you should keep the design light and simple so that it doesn't take away from the colours.
2. Maroon and beige with colourful embroidery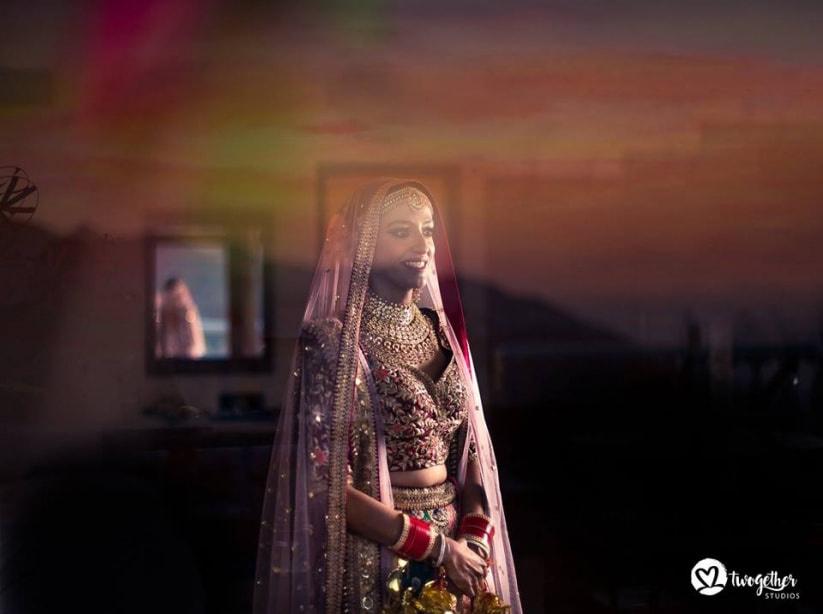 Another elegant yet classic combination is of maroon and beige bridal lehenga choli. You could add your own style to this by adding embroidery in pink, bronze, red and even light blue. If your lehenga is completely embroidered then keep the choli and dupatta light, it adds a comfortable contrast in design.
By Season and time:
Summer, Day weddings - Burgundy and brighter shades
Winter, Night Weddings - Jewel, Richer Shades of Maroon
Expert Tip: If the lehenga and choli are the same colour and material, then the dupatta could offset it thereby adding a contrast. On the dupatta you could get some of the same motifs that have been embroidered on the lehenga, this little touch really brings the whole outfit together.
3. Cream/ Pale Gold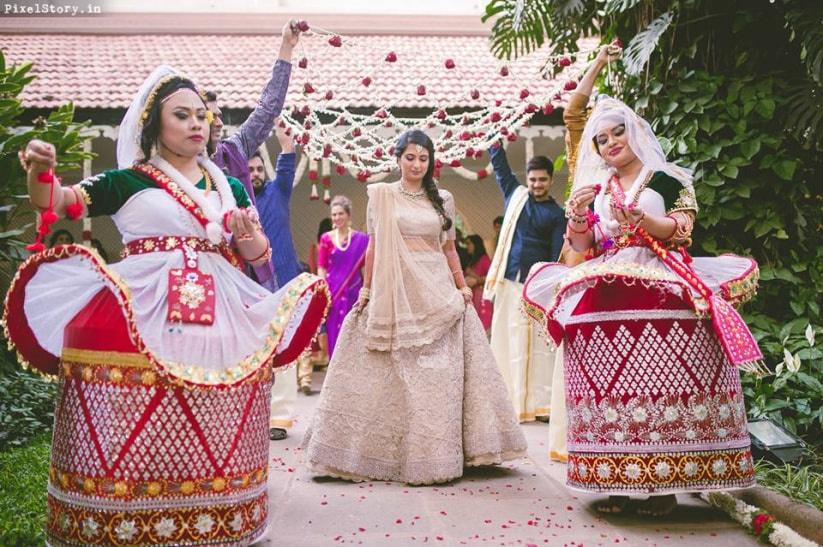 If you're having a summer wedding or a day wedding and want to keep your bridal lehenga choli light yet regal then here's the perfect look for you. Opt for cream, light gold or a pastel variant near these colours. And then choose a fabric with heavy embroidery on these, like Chikan, subtle stonework (possibly mukaish) or other such variants.
Chikan work is very intricate and has beautiful floral motifs, you can have your entire lehenga embroidered and add some 'mukaish' work in gold or silver to add subtle bling. This teamed up with a simple choli and a dupatta with heavy lacework on the borders would be a show stopper. Not many brides opt for a subtle option but it is sure to make heads turn!
1. By Season:
Summer - Pastels, Light Peach, Cream, Delicate pale Gold
Winter - Gold, Champagne, Sepia tones
2. By Time of Day:
You can adjust these shades as per your personal preference. With adequate lighting, they can make you stand out.
4. Pretty pinks and blues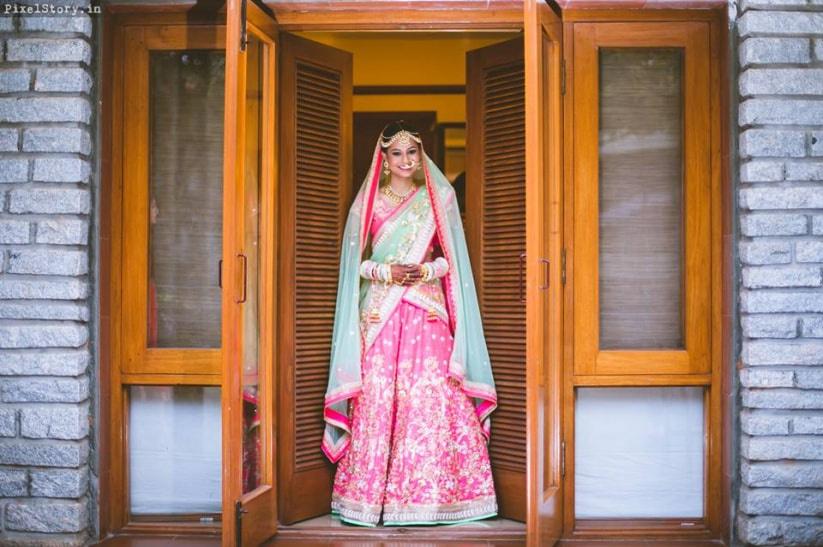 If maroon isn't your shade or you want to wear colours that are bright, then, pink and light blue is a great option. A pink lehenga choli with matte finish gold embroidery along with a light blue dupatta complete with a pink embroidered border is sure to be a stunner.
1. By Season:
Summers - Pastels, Light Pinks (check against your skin tone)
Winters - Darker Pinks or Blues (opt for one), Navy, Deep Pink
2. By Time of Day:
Deeper colours by Night, Brighter by the day
Expert Tip: Opt for beautiful Kundan jewellery to complete this look. An offbeat, unconventional combination, it looks charming.
5. Multicoloured for the win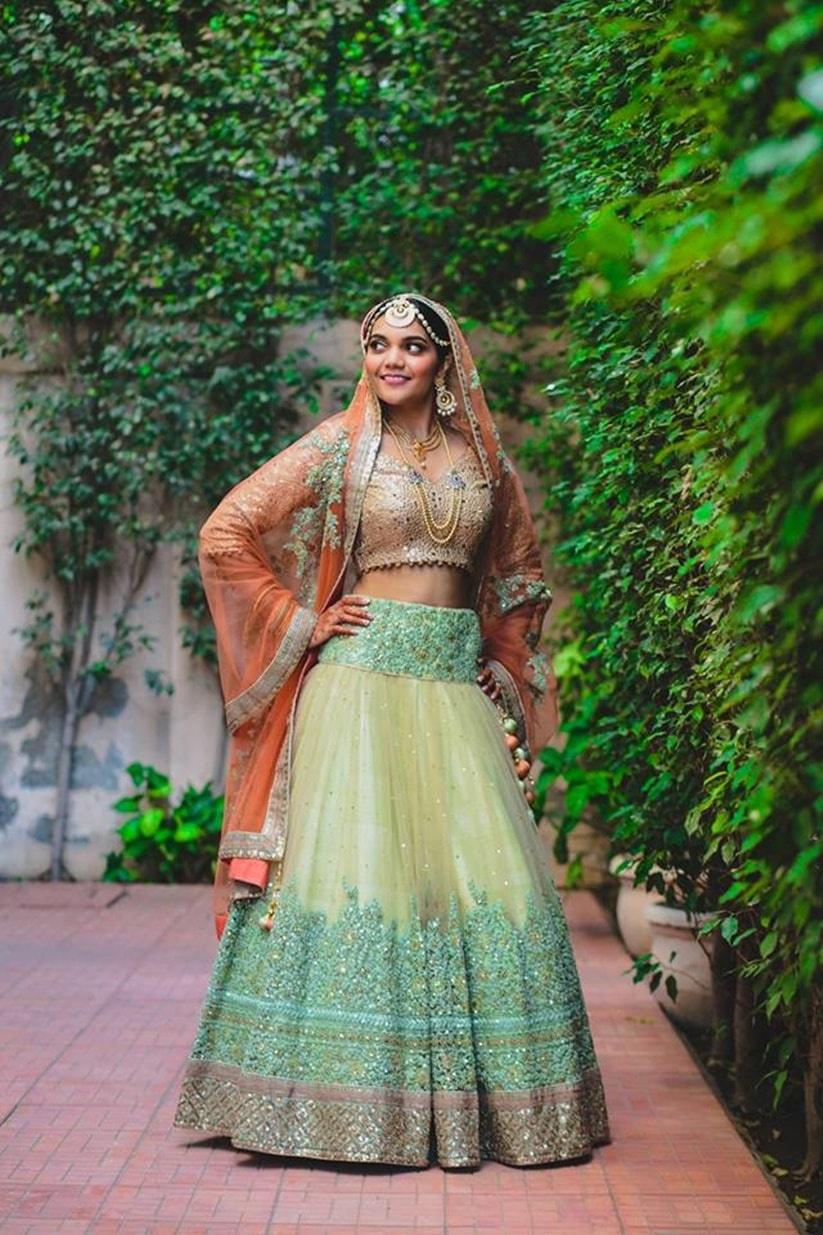 A bold yet chic choice for a bridal lehenga choli is going multicolour. While it isn't the standard choice for a bridal outfit, it sure does look like a million bucks. Beautiful embroidery on the lehenga on net and satin fabrics along with a gold embellished blouse is a great choice. Team this up with a rust dupatta which is embroidered in a different shade as the lehenga.
This lehenga choli is simple yet stunning, the design is low key and teamed up with the right jewellery could be the perfect look for your fairytale wedding.
By Season and Time of Day:
Opt for lighter shades for Summer and Deeper ones for Winter
You can also play mix and match by the time of the day for the Pheras
Tips to Make Your Bridal Lehenga Choli Look Even More Stunning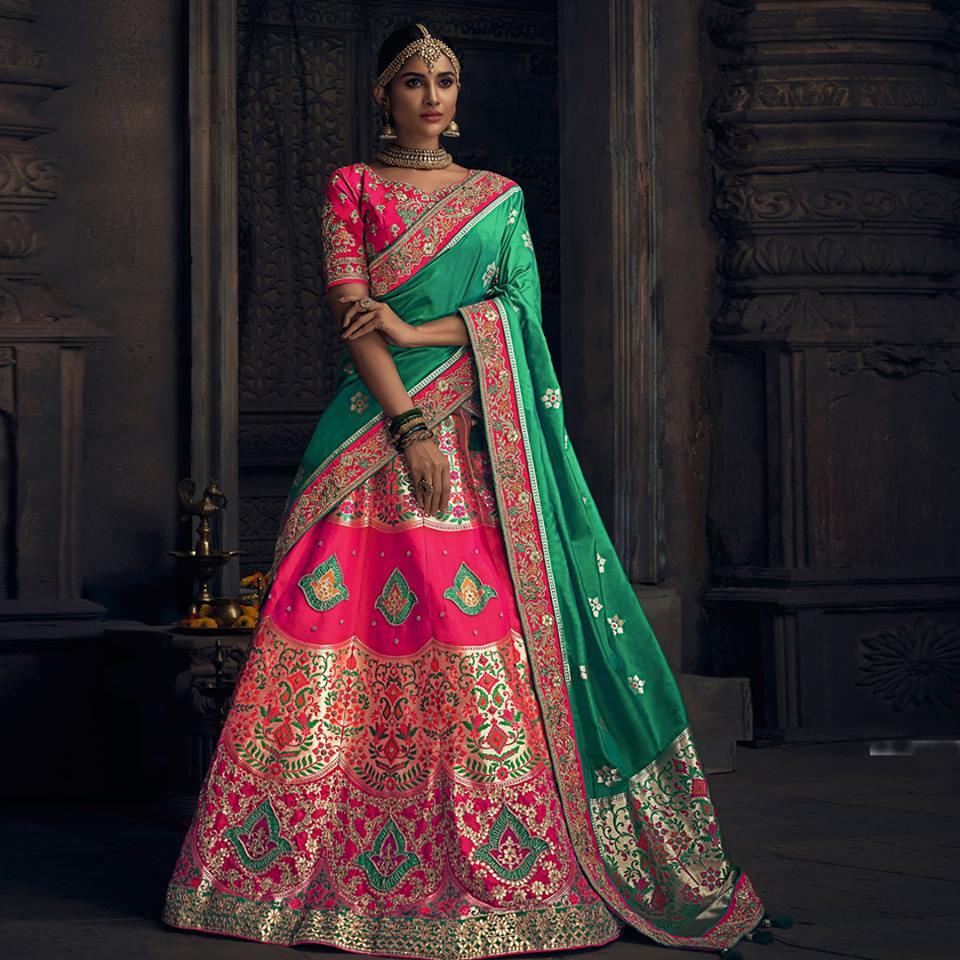 Now that you have a fair idea of the various colour combinations that will make your bridal lehenga choli look more stunning than it already is, we will help you fix your makeup and hairstyle as well so that you look like a million bucks!
1. If the colour of your lehenga choli is dark in tone then you must opt for a neutral makeup tone. Contrast it with using some colour palette that has nudes, shimmers and pastels instead
2. If the colour of your lehenga choli has a lighter undertone, then you can go for bold and matte furnished makeup. If you always were a fan of the famous smokey eye then now is the time for you to shine through and through
3. If you are planning to wear the Dupatta of your lehenga choli over your head, then opt for a floral bun as they are literally all the rage this wedding season
4. There are many beautiful Dupatta draping styles that you can choose from for your big day. If you are draping your Dupatta on the shoulder then you can let your hair down and amp it up with some hair accessories.
5. You take a creative way to style your Dupatta in a different manner or choose a contrasting colour for it. You can even choose to wear your bridal jewellery in a contrasting colour that will definitely definition and glamour to your overall look.
6. You can even choose your bridal blouse in a different colour and style and it would be a stunning new design to flaunt on your big day festivities.
7. Check the fitting of your bridal lehenga beforehand so that all the tailoring needs can be taken care of prior to your big day and you can dress up perfectly in your glamourous bridal glory.
8. You can even choose an ombre or duel-tone lehengas that are perfect for your big day. They are great options which can even come into work after your big day to mesmerize every onlooker.
9. Always choose your bridal makeup in sync with your bridal lehenga so that all of your elements are perfectly balanced and you can shine like a star on your big day as well as all of its related festivities.
10. If you do not wish to adorn a red lehenga on your big day, you can incorporate a red Dupatta in your outfit. It would offer traditional elements as well as ensure that you are ready to take the biggest step of your life with style.
An off-beat bridal lehenga choli is a bold choice, which will ensure a lot of conversation. Top these with your own flair and pop - break rules if you think that's you. Pick a combination of colours and fabrics that you're comfortable with and which make you feel like yourself.
Which colour combination did you like the most? Tell us through the comments!