Stunning Indian Wedding Gowns Ideas For Your Bridal Trousseau
If you want to wear an Indian wedding gown on your big day, but don't know which style will suit you best, then we are here to help you out. Find out which gown is perfect for your body type, now!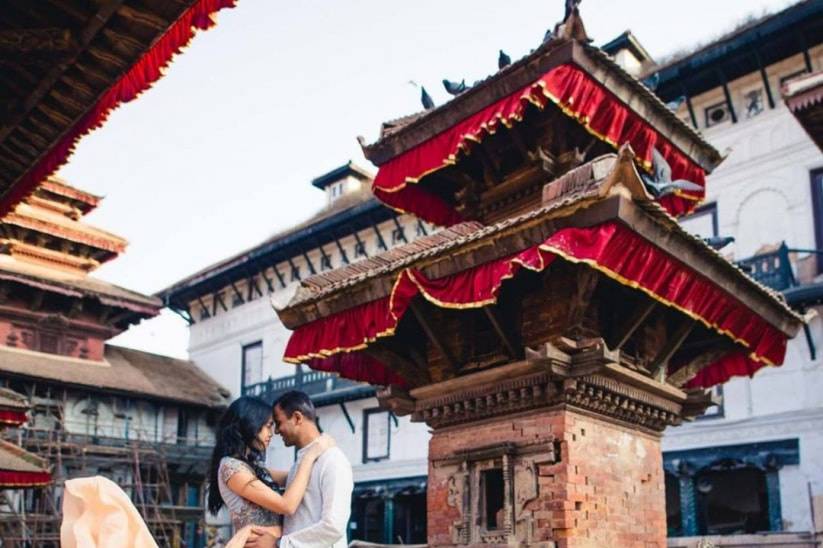 Every bride wants to look stunning during her wedding functions and if you are planning to wear an Indian wedding gown for one of your wedding functions, you're just in the right place. Brides often get worried whether a gown will suit them or not. Well, don't worry. We've got you covered with a list of different types of Indian wedding gowns that'll suit all body types. Check them out, now!
1. Indian Wedding Gowns For Petite Body Type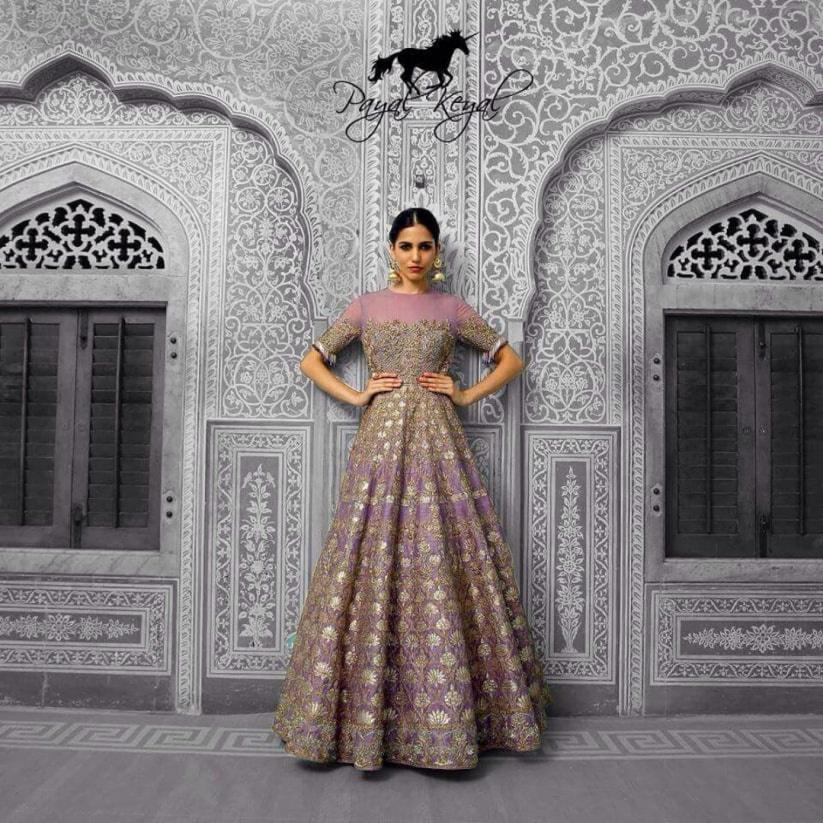 Petite, pear-shaped, or for an oval-shaped body type an A-line flowy gown, without a belt, is a perfect choice. It'll make you look taller, sharper and chicer than ever. The tricky part of wearing an A-line gown is the shape of the neckline and the sleeve length, so pick one that accentuates your body the most. Go for a minimal overall look and add some bling to your attire. The best part about an A-line flowy gown is that it makes you appear taller than you already are and gives your body the accentuating factor that each of us looks for in our choice of clothing.
2. Indian Wedding Gowns For Apple Shaped Body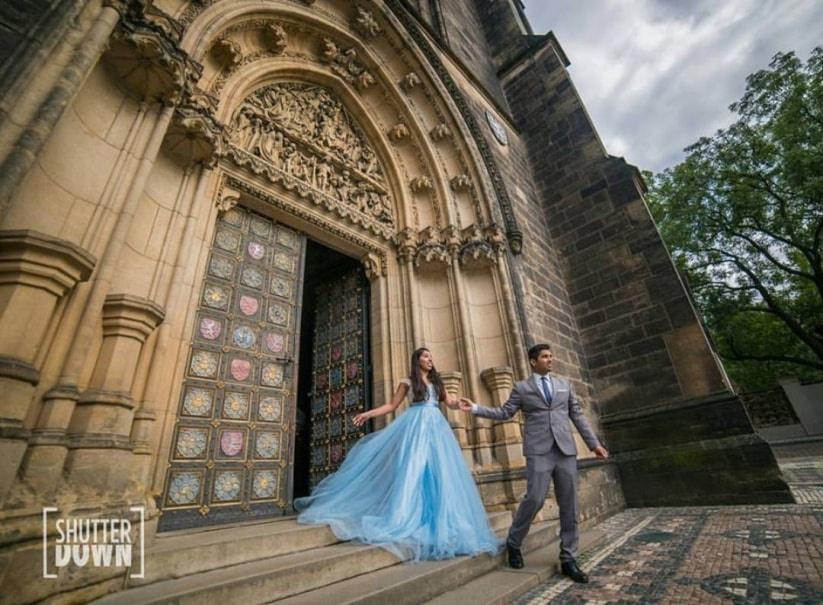 For an apple shaped body type, the best fashion advice for you is to bring the focus on your neckline and waist. You should definitely try out a boat neck or an off-shoulder gown or maybe a ball gown to accentuate your figure? Your ball gown should be the highlight of your look, instead of the other elements in your overall attire. Let your hair fall effortlessly on your back with a diamond choker necklace. We are sure you'll bedazzle your wedding guests with this minimalistic yet regal look. The beauty of an off-shoulder gown is that it gives more attention to your chiselled collar bones which in turn makes your figure look more sensual and splendid. Also, with an off-shoulder gown, you can throw in a chic choker and your whole look fill fall right into place.
3. Indian Wedding Gowns For Triangular Body Type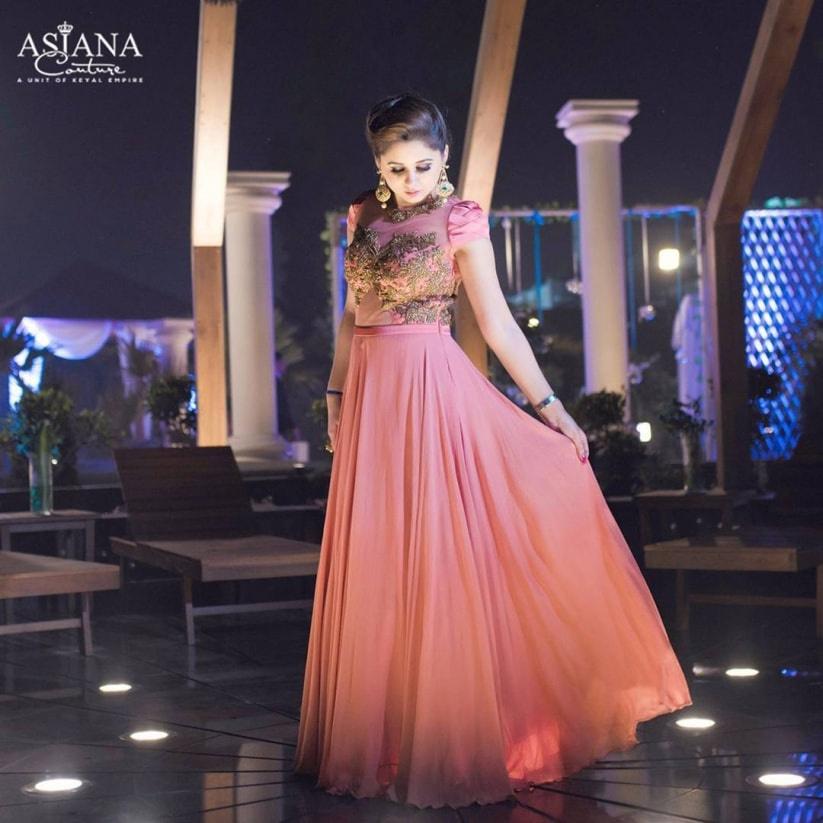 If you're lean and your lower body is your best feature, then a sheer gown is an ideal choice for you. A triangular body type is defined with a slender waistline and long legs and so, you can wear an empire waist gown to bring all the attention towards your upper body. You can even wear a gown with full sleeves to accentuate your best features. Complete your look by pairing it with statement earrings and smouldering makeup.
4. Indian Wedding Gowns For Oval Body Type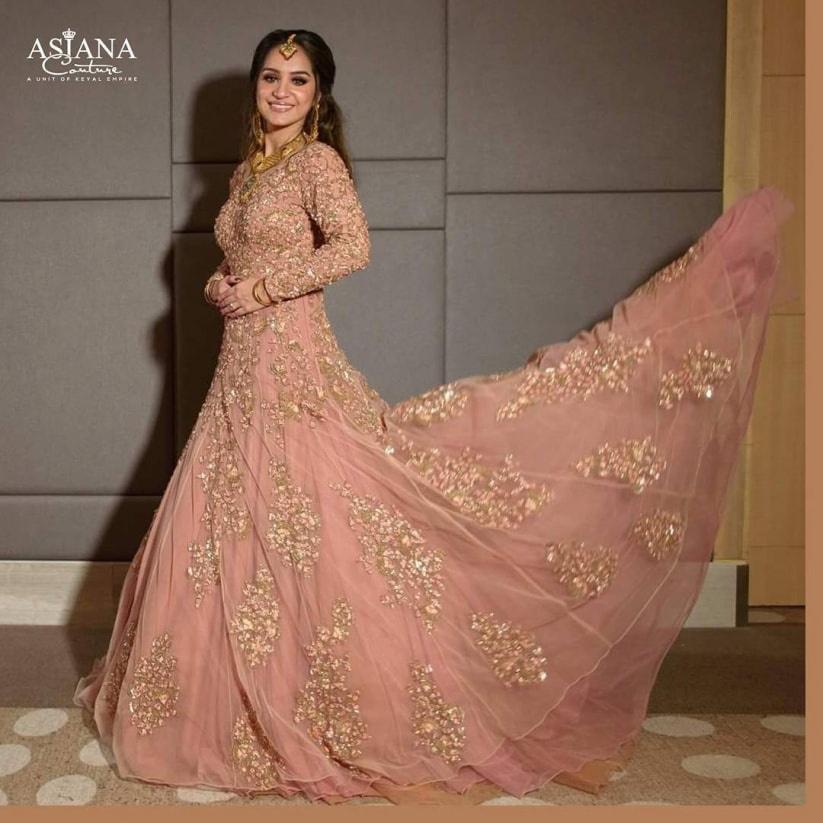 If you're a woman with an oval shaped body type with a fuller upper body, then a mermaid or a trumpet-shaped gown has your name written all over it. You can go for a detailed neckline or a see-through gown which reveals your skin in all the right places. Go for pastels shades and add some bling to your outfit by wearing statement necklaces and danglers. Flaunt your body, own it with a tailor-made gown and make some heads turn as you walk down the aisle. When we say pastel shades we don't mean it as astringent byline for you to stick into. The thing about pastel shades is that they make your skin look more polished as they are light in colour and when exposed to natural light, their real beauty comes into play. Also, when opting for pastel shades, you can always go for a dark and smouldering makeup, so it's a win-win.
5. Indian Wedding Gowns For Pear Shaped Body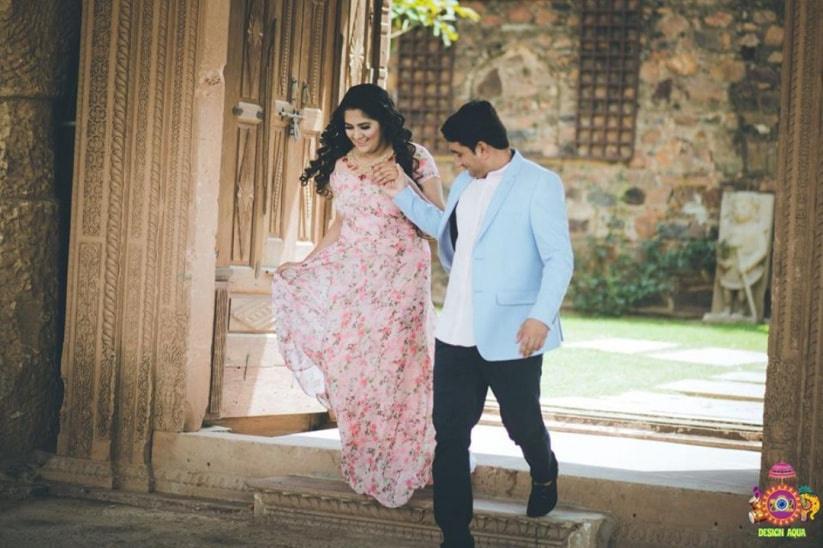 If you have a pear-shaped body with a fuller lower body, then modified A-line gown is one of your best choices amongst Indian wedding gowns. Go for darker tones and accessorise your look with some statement jewellery pieces. You can also go for an off-shoulder gown as that'll bring attention to your defined collarbones. Be comfortable in your own skin and most importantly slay! It's your body, loves it, flaunts it, however you please.
6. Indian Wedding Gowns For Hourglass Shaped Body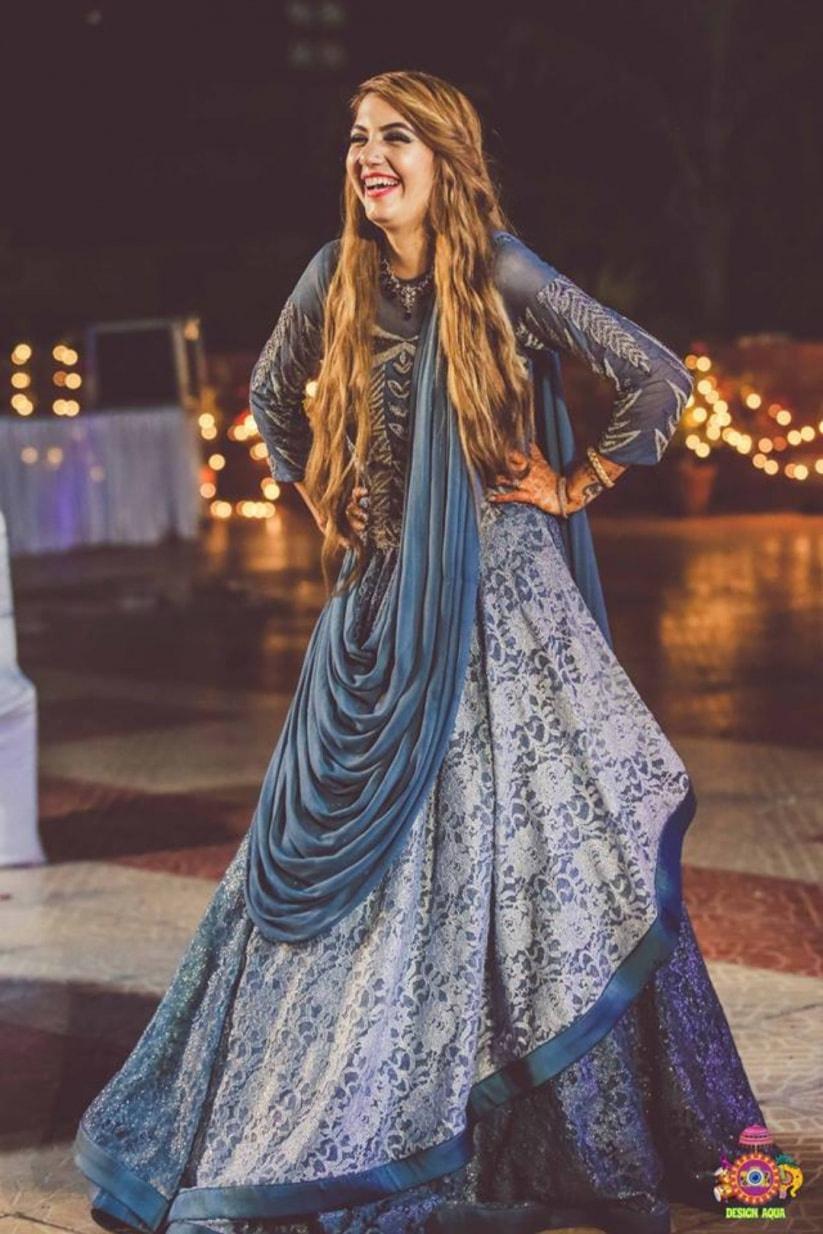 An hourglass body shape is one of the most desired body types. With that stunning waistline, you're definitely out there to serve some major looks. Go for a body-hugging gown that fits your bodice perfectly. Pair your evening gown with stilettos, a clutch and some fancy earrings. Go for darker tones and let your makeup be as fierce as your outfit. Unleash the diva in you by owning the floor as you make your way through the crowd.
7. Indian Wedding Gowns For Rectangular Body Type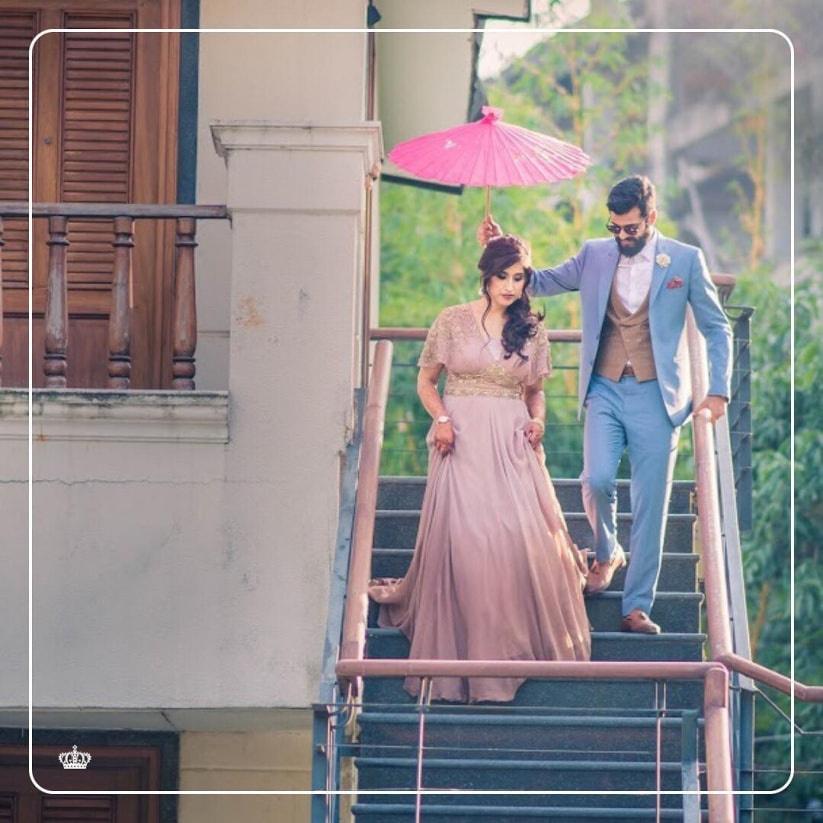 If you're one of those lucky few who were born with perfectly squared shoulders then this one is for you. Go for a gown that brings out your perfectly smouldering shoulders the most. Off-shoulders, cold shoulders, see-through upper body gowns are some of the many gowns you can adorn on your D-Day. You collarbones will look flattering as you flaunt your body in these gowns. You can go for any shape but make sure to pick a belt along with it. Pair it with studs or small earrings to complete your look.
Tips to Style Your Indian Wedding Gowns Perfectly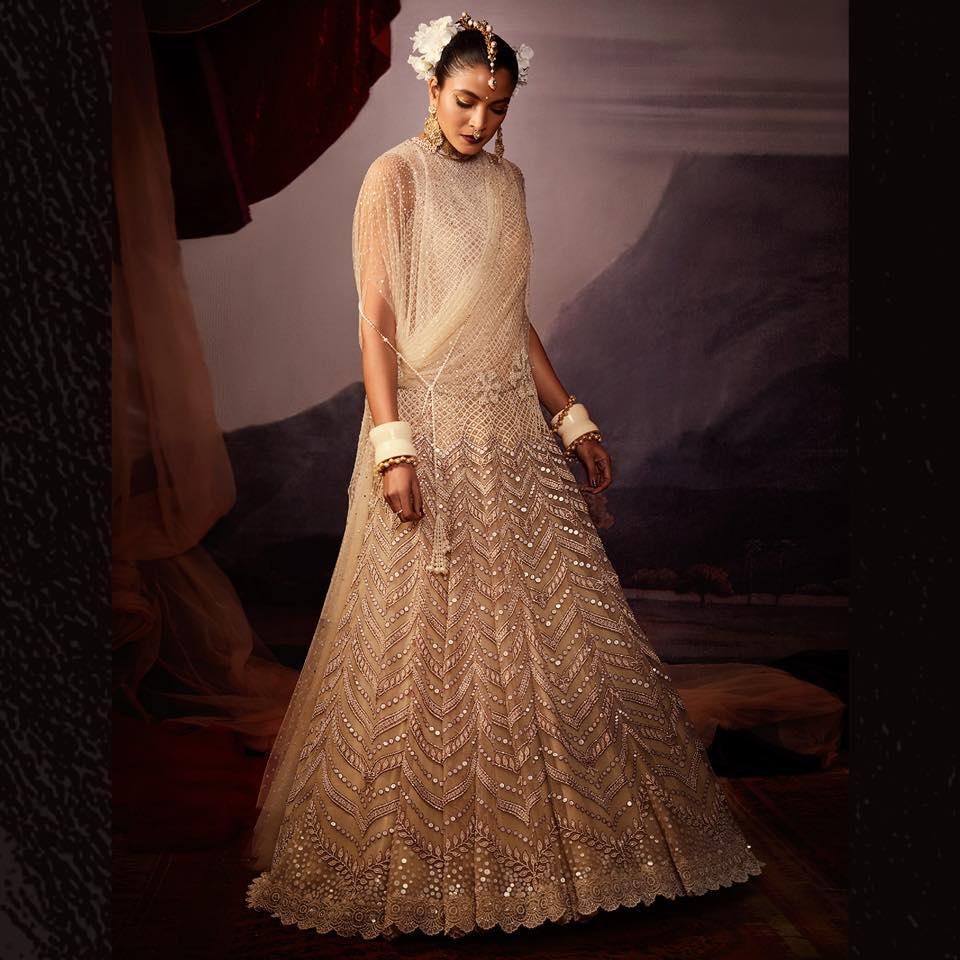 Since most of the women want something unique and beautiful for their wedding, the trends keep on changing. But you can always choose an outfit that you like best and carry it with confidence. Only that would be needed to make it a style statement in itself.
Colour - Choose a colour that suits you and the one that you are comfortable in flaunting. If you are having a day function, you can always go for a brighter shade of colour like pink, green, orange etc. But if your wedding festivities are in the night, choose darker colours with warm makeup to balance out the entire look.
Theme - Ever since the theme weddings have become a major trendsetter in the fashion and wedding industry, everyone wants to be a part of it. You can choose a theme for your wedding and get your Indian wedding gowns to make perfectly to fit it. Whether you wish for a colour based theme or a fairytale wedding, there will definitely be an outfit to make you feel like a princess on your big day.
Work - Indian wedding gowns are synonymous with heavy work done on them, whether it is the shimmering sequence, thread embroider or the lacework. You can choose the kind of work that you would want on your wedding gowns so that it is in sync with the theme of your wedding as well as works well in contrast with what your groom would be wearing.
We hope you now know about a gown that will be your favourite wedding outfit will suit your body type. Choose wisely and we're sure you will look nothing less than a dream. There are a plethora of options available for the bride-to-be to choose from when one even begins to think of wedding gowns. From flowy to body-hugging to cut-outs, the choices are endless and you should stop at nothing unless you find the one that brings out your beauty in the best manner possible.
Until then, why don't you browse through some of the best wedding gowns?