Kundan Necklace - the Delicate and Opulent Masterpiece That Needs to Be in Your Bridal Jewellery Collection
Over the years, kundan necklaces have found a place on every bride's wish list owing to its inherent royalty and elegance. So, before you make a big investment in this staple piece of fashion, check out these brides for some major inspiration!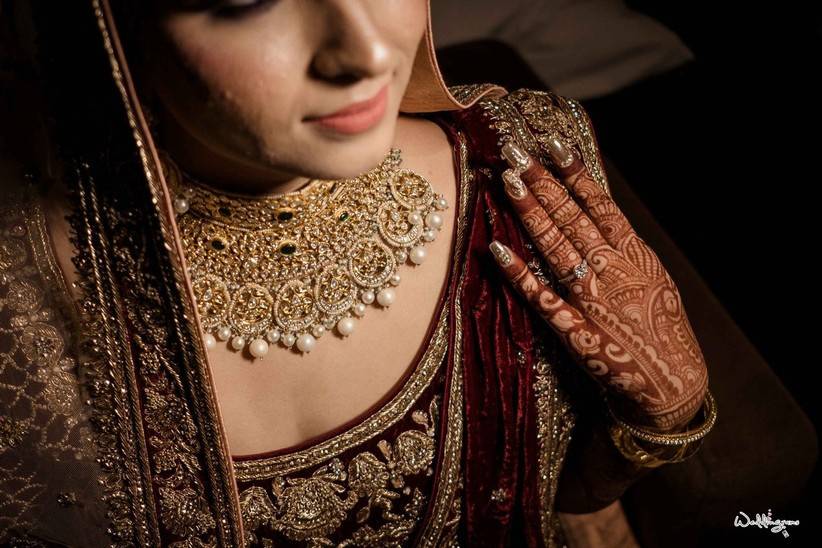 Kundan has its origin in the royal courts and was cherished by noble blood. Kundan artisans perfected the art of making elaborate jewellery revolving around a gem set with a gold foil between the stones and its mount. The precise and opulent nature of kundan jewellery ensured its sustenance and love through the ages. These kundan necklaces have low gold content as these chains boast the stones, most generally glasses not diamonds set in gold.
The love for kundan necklaces has pulled it through the centuries, and one could even say that its popularity has increased manifold in the past few years in the bridal fashion realm. This is not a surprise just considering the kundan necklace's beauty and evergreen style. Even a simple set can ensure a regal look from a bygone era.
1. The minimalist bride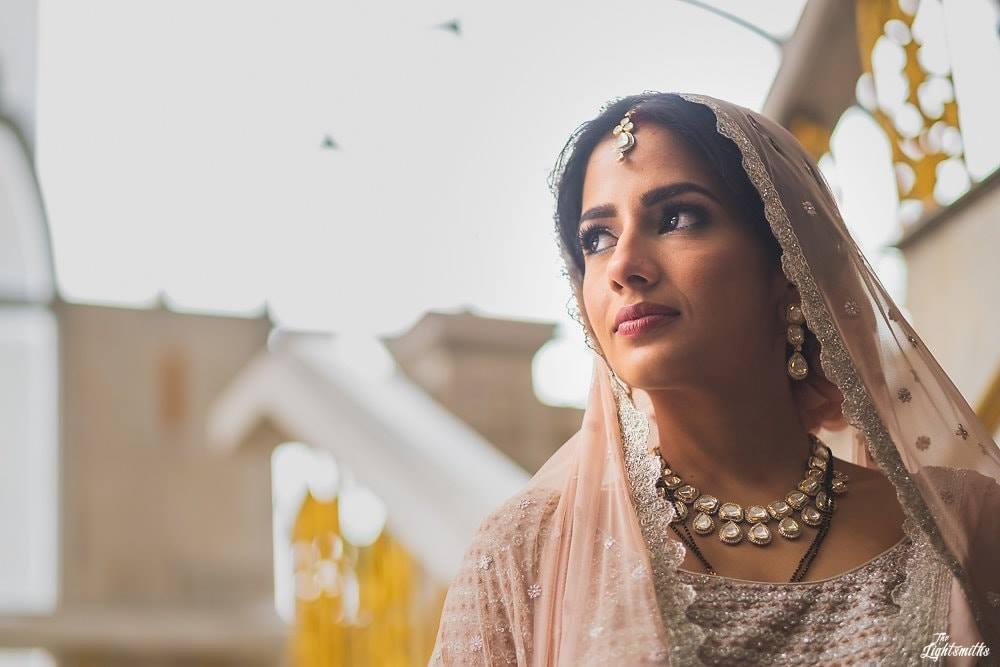 Are you all about the simplicity and don't want to go overboard in your bridal jewellery collection with a bridal set you might never wear again? Well, we got your back! This kundan necklace apart from being gorgeous and regal is also practical. It delivers the bridal look with much simplicity and elegance which we love! The delicate maang tikka and earrings paired with it just add to its appeal making it the perfect option for summer brides to beat the heat and discomfort that comes along with it. You could also sport a kundan necklace like this for other functions including engagement and reception.
2. Choker style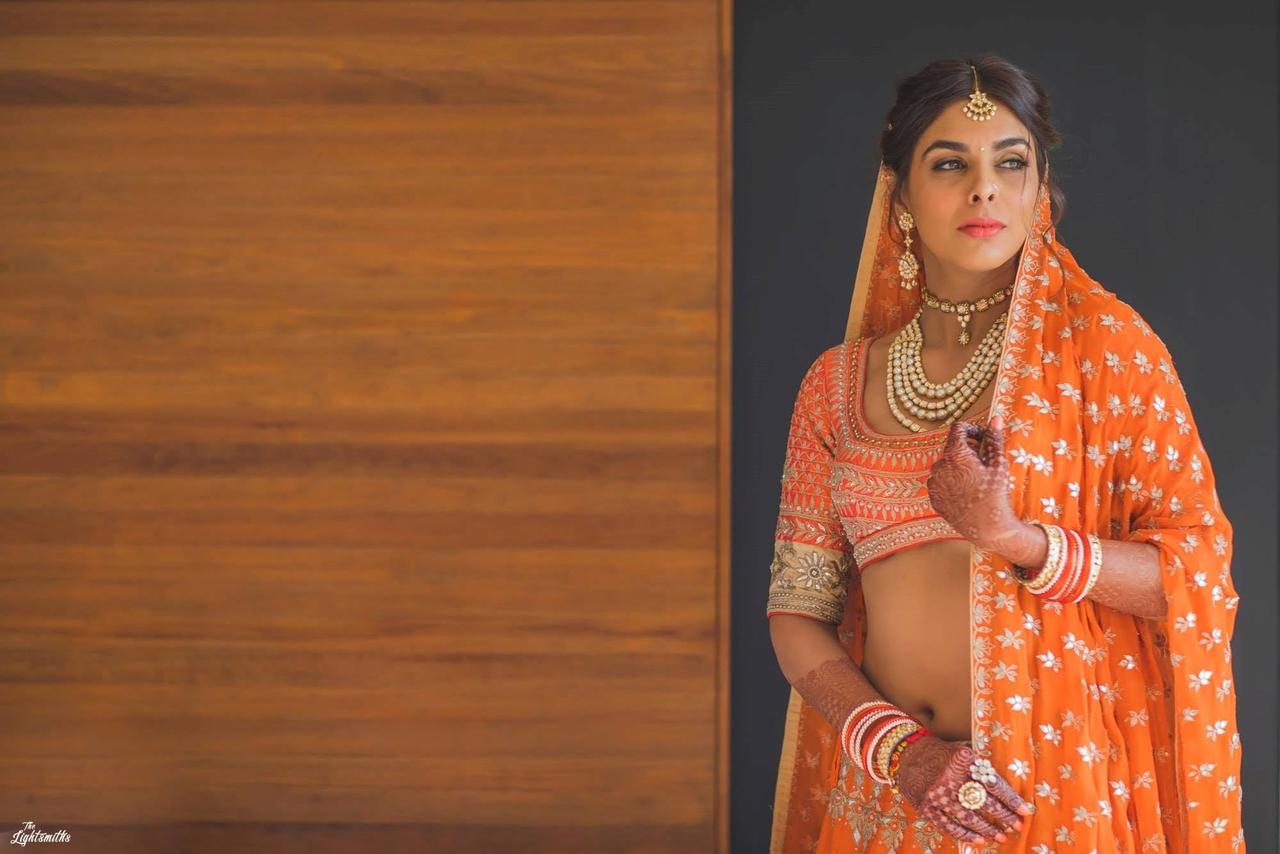 Who would have thought kundan work could make for such a pretty choker that too for a bride? Celebrity stylist Aastha Sharma radiates beauty in this neatly set two-piece bridal kundan necklace which includes a thin choker and a layered chain. You too can always pair two rather simple kundan necklaces in such a fashion to deliver a beautiful and opulent look. We especially love her dainty maang tikka which compliments her burnt orange Anita Dongre bridal lehenga oh-so-well!
3. Layer it up!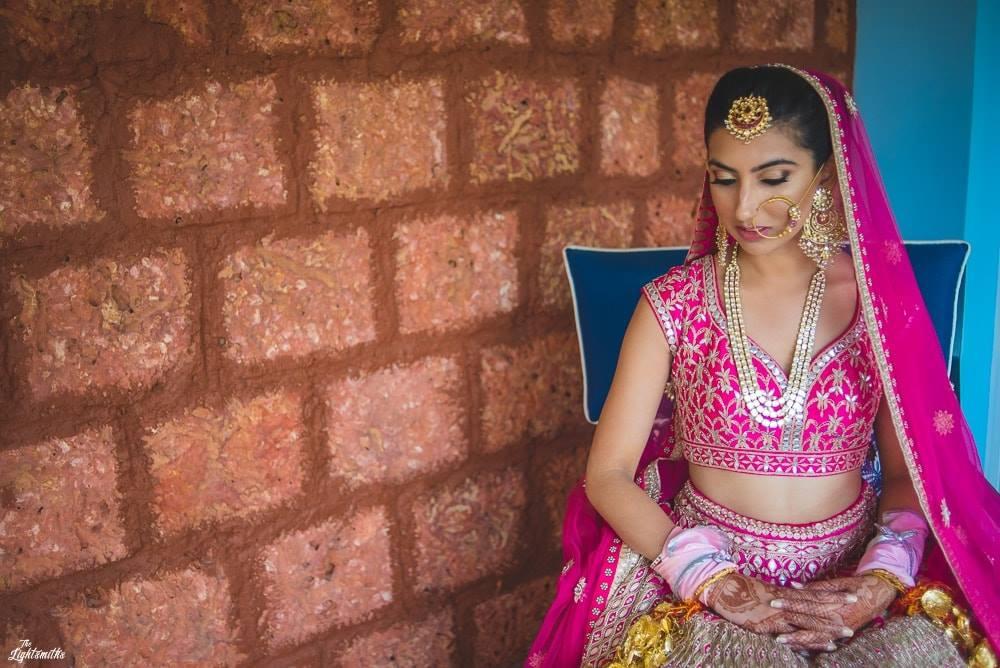 Prefer going bold with other jewellery pieces for your bridal get up over the bridal necklace? Well, just take a look at this bride to draw in all the inspiration required. As traditional as it might be to adorn a heavy bridal necklace for your wedding day, you can dump the usual route for such a unique yet gorgeous look. This bride paired a pair of heavy Chandbalis and maang tikka of the same shape with a delicate yet luxurious kundan necklace. This layered chain is often paired with other statement pieces but all by itself too it is quite the bridal look. This kundan necklace is totally worth the investment owing just to its sheer practical uses.
4. Bowled over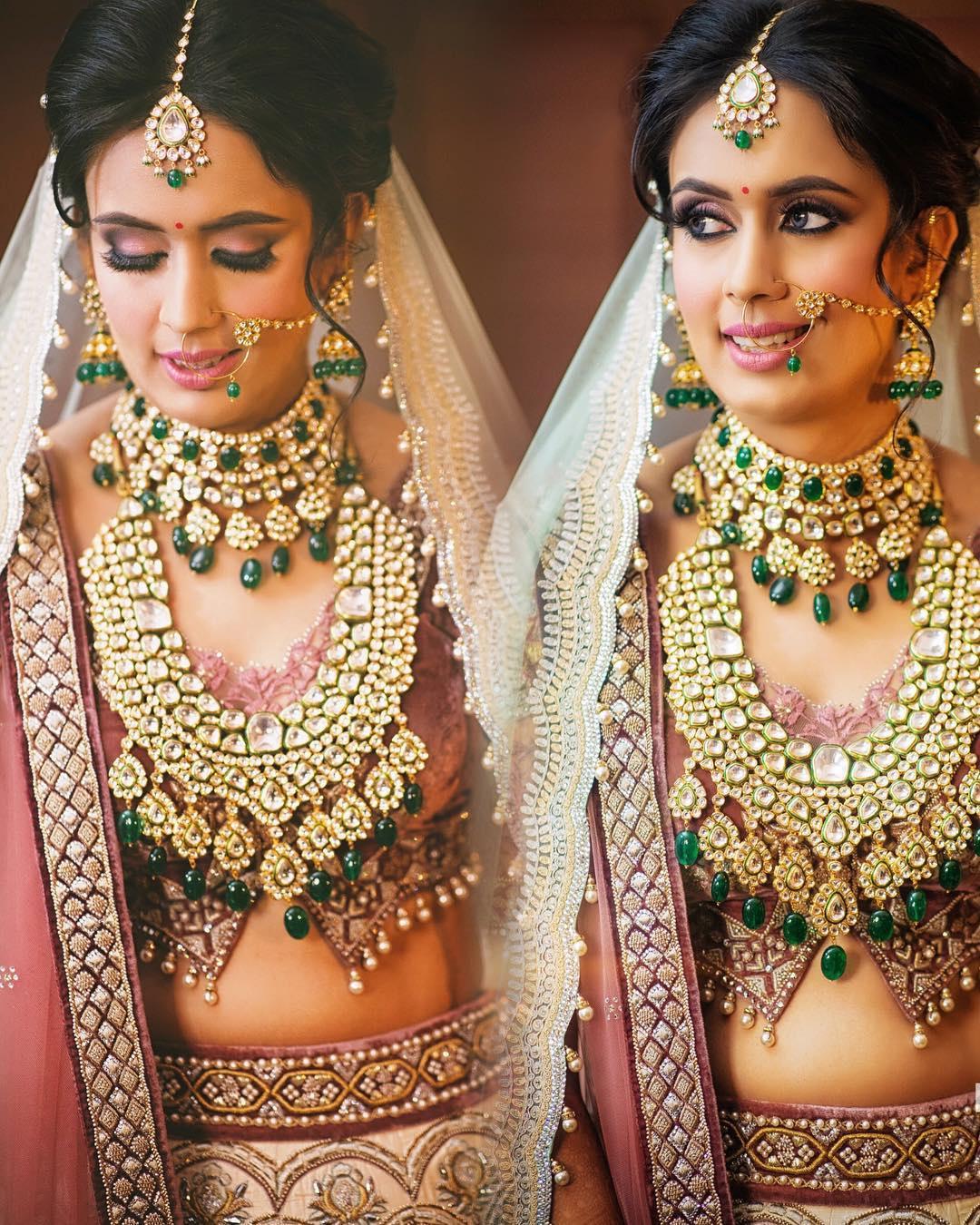 Moving over the realm of simplicity, there were so many kundan necklace designs that we loved but we had to feature this bride whose kundan necklace just exhumes an air of royalty and elegance. Providing colour relief to her mauve outfit, the touch of green amidst the delicate stonework, this kundan necklace is what dreams are made of. Paired with a layered chain and simple yet beautiful Nath, earrings and maang tikka, this bride's kundan necklace set gives us a glimpse into the past as to what royalty must have looked like back in the day!
5. The royal image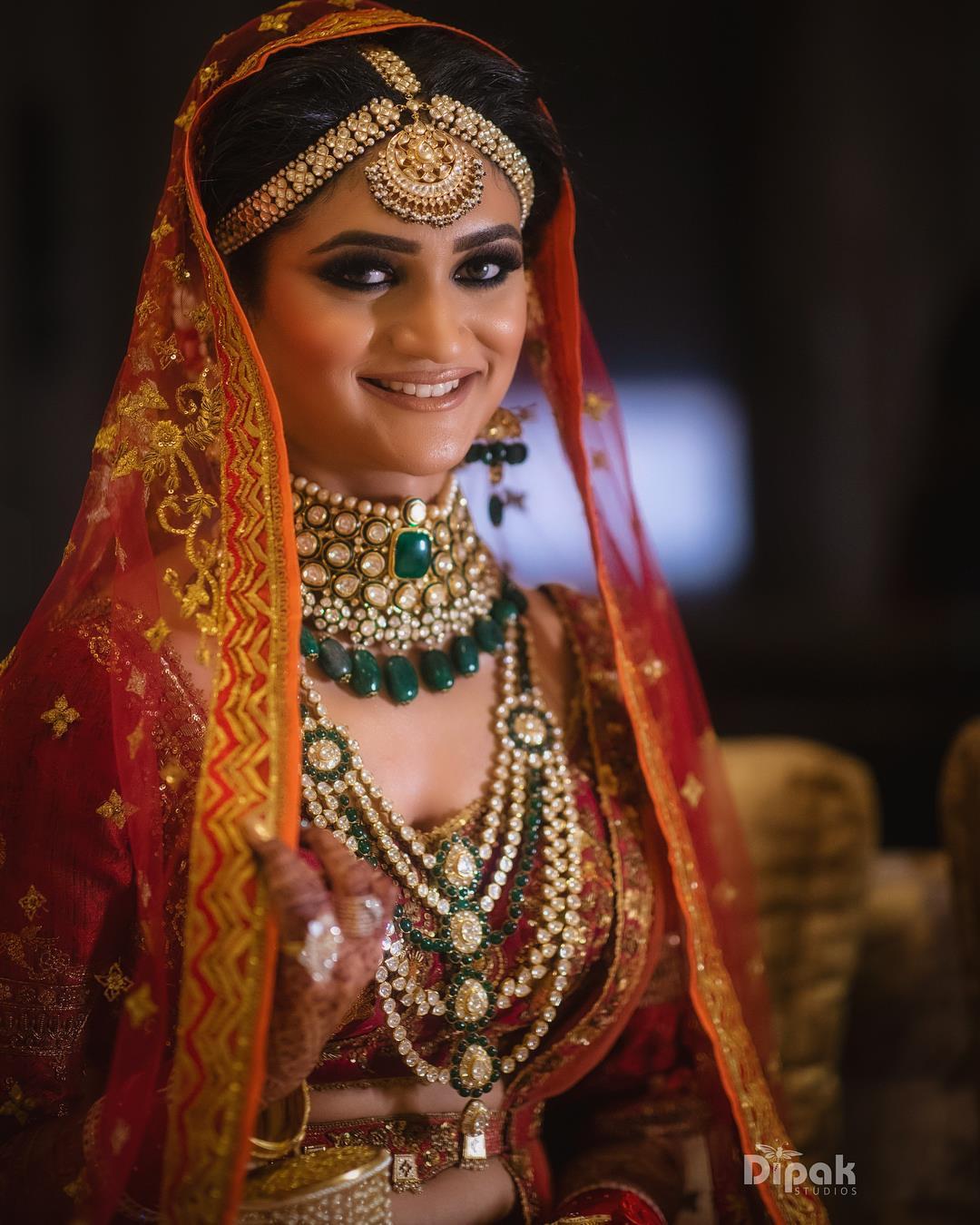 This bride's look is just something! Flaunting a unique heavy choker kundan necklace with a kundan maharani haar, this bride is all about the shine and glamour. Set alongside her traditional burgundy lehenga, this kundan necklace with contrast green ticks all the right boxes with its grace and quintessential traditional vibe just delivering a full-blown rani look! While choosing a kundan necklace set which is this heavy and alluring be sure that your blouse's design compliments it and works with it not against. It is always wise to pick out your jewellery after you have found your bridal outfit.
From the common and usual designs offered in kundan necklaces to the rather heavy and regal bridal sets, there is a design for every bride to suit your taste, outfit and the entire aesthetic of your wedding. Your bridal outfit should always be a reflection of what you like and the trends you've always wanted to try out! So while remaining true to your style be sure to experiment a little as well as with your kundan necklace you can do so while surpassing the risk of going wrong! Kundan necklaces are evergreen symbols of elegance and you can always pair it with any outfit. Owing to its versatility and delicate nature, we cannot help but advocate it to modern day brides.
So which kundan necklace design was your favourite? Do let us know in the comments down below!