Curate Your Own Bridal Jewellery Collection with These Stunning Designs!
In a dilemma of what to buy for your bridal jewellery collection? We have curated a list of stunning jewellery pieces that are absolutely stellar and will together complete your bridal jewellery collection.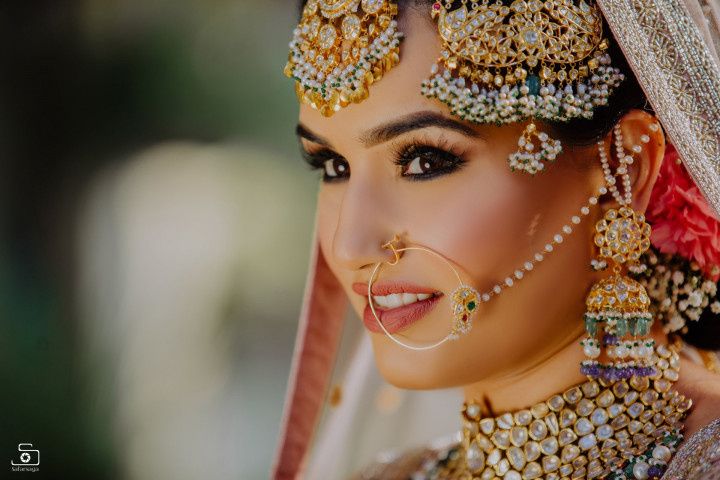 Building your bridal jewellery collection can be a daunting task, especially when you consider the plethora of designs available in the market and the heavy price tags they come with. now is the time to make wise choices for your bridal jewellery collection with versatile and classic pieces that will go a long way with you. Read on to discover the absolute essential pieces that you need in your bridal jewellery collection and how to select a style that will fresh for years to come.
1. Earrings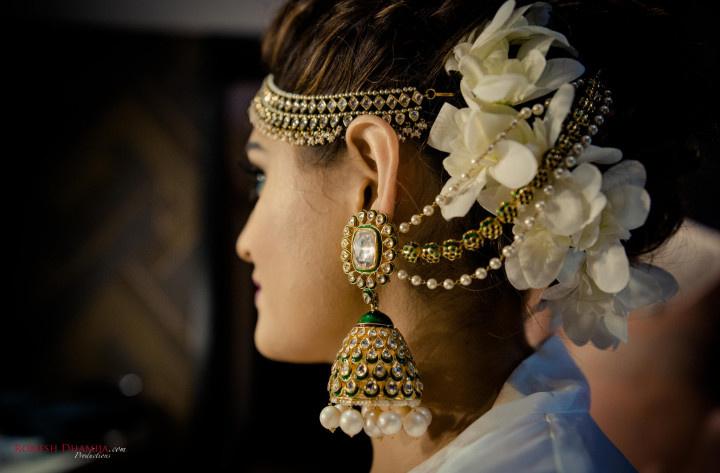 Jhumka or Jhumkis are a classic pair of traditional earrings with an umbrella or bell shape that many cultures of our rich country have adopted and adored for generations. They are cute, they are fun and the designs the vibrant array of designs that you get today for Jhumkas have no creative bar. From different motifs, shapes and materials the different design options are bottomless. They can be underdressed or overdressed, worn with a heavy traditional ensemble or an Indo-western attire. The flexibility of wearing Jhumka earrings, making them a must-have piece in your bridal jewellery collection.
2. Chand Bali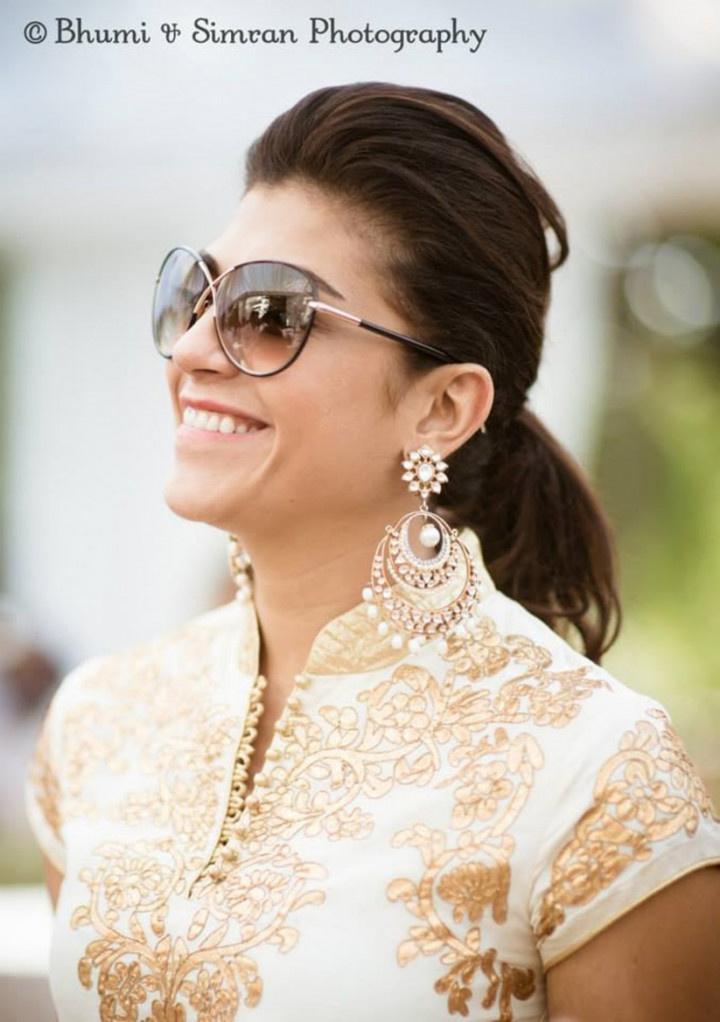 Inspired by the moon itself, Chand Balis are in the shape of a crescent moon bejewelled and bedazzled with encrusted gemstones and dangling crystals. It's hard to go wrong with this piece of jewellery as they go with pretty much any traditional attire. While you are selecting a design of Chand Balis to add you your bridal jewellery collection, choose one that has either neutral gemstone colours or is studded with multiple versatile colours so that you don't have to think twice before adorning them for any future event.
3. Rings
Engagement ring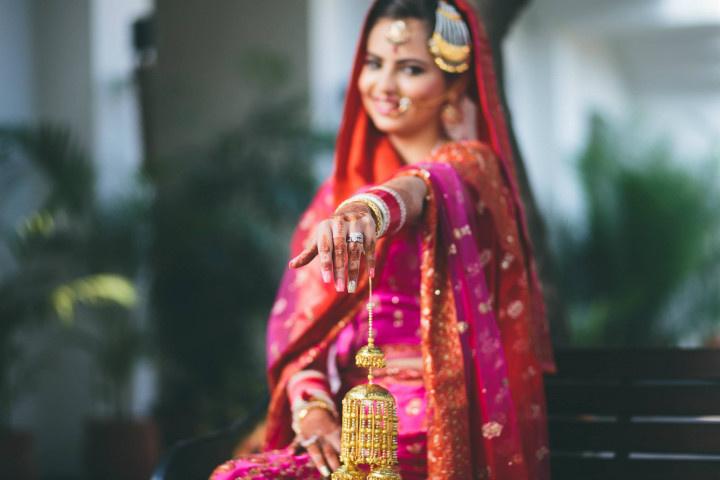 One solitaire is essential in every girl's bridal jewellery collection. And what better way to flaunt it than on your hand. A precious rock set in white gold with a classic four-prong setting that exposes most of the crystal while still keeping it secure in place. Ah! The sight is drool-worthy. The engagement ring anyways holds a special place in your heart for the meaning it has in your relationship. Making it a classic piece in your bridal jewellery collection will only make it more special.
Cocktail ring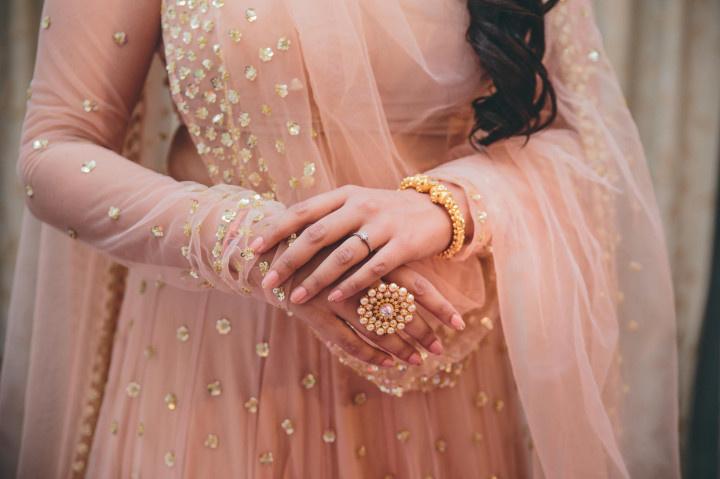 You can't wear and justify your engagement ring at every occasion even if it is classic and classy and goes with pretty much everything. Every girl needs at least one cocktail ring in her bridal jewellery collection that is a head turner and makes a statement. A hack to keep this lavish ring pocket-friendly, is to choose a design with filigree or cut-work that covers more area while keeping the weight and priceless.
4. Necklaces
Choker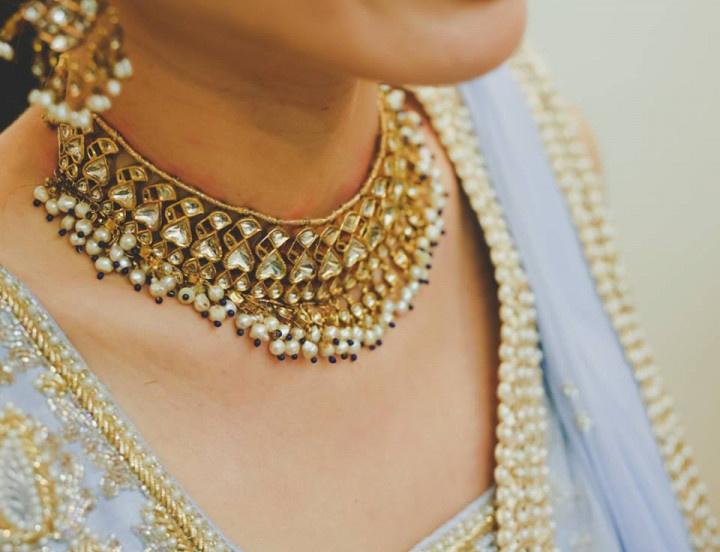 Image Courtesy: Shades Photography
A thick choker necklace has a grand and royal appeal to it which makes it a must-have piece in your bridal jewellery collection. While choosing a design for a choker necklace, either choose an all gold design with intricate details or select a style that has less gold and is lavishly studded with gemstones. Heavy gold choker with many gemstones will only add to the price point and not the appeal. Think smart and be classy!
Rani Haar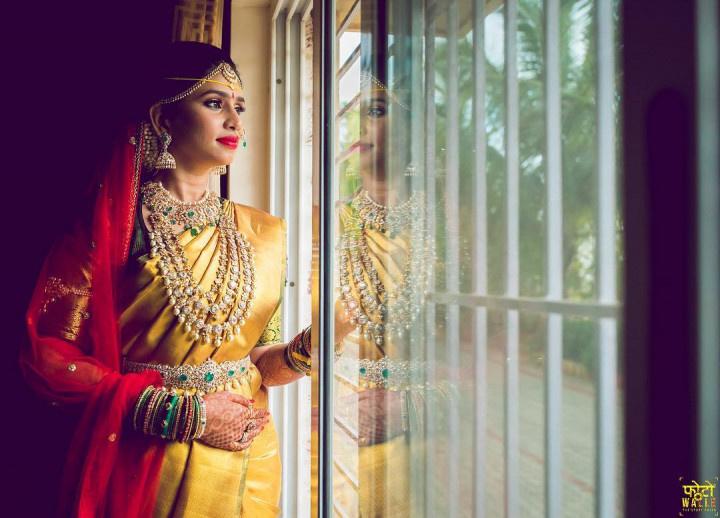 Rani Haar has been a part of traditional Indian jewellery since as long as we can remember. Since they have a good length to them, they look stunning when worn on their own and also pair well with a choker necklace that sits at the top. Select a design that has adjustable Sarafa (thread) ending to it instead of a clasp as that will give you the flexibility to adjust the length as per what looks best with the outfit you adorn.
5. Bangles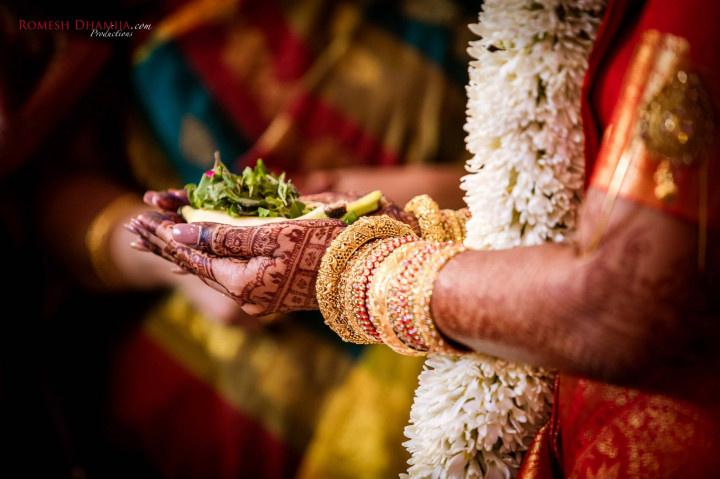 Bangles are an auspicious accessory in many cultures and many brides are required to wear gold bangles when the get married and for some time post the wedding as well. While it is a nice idea to choose a pair of bangles what match your Chooda and your bridal attire, selecting a specific colour might not serve you long term. So, either opt for a gold Kangan design with intricate details or a classy and classic pair of diamond bangles that will never be victimised by fashion.
6. Hair accessories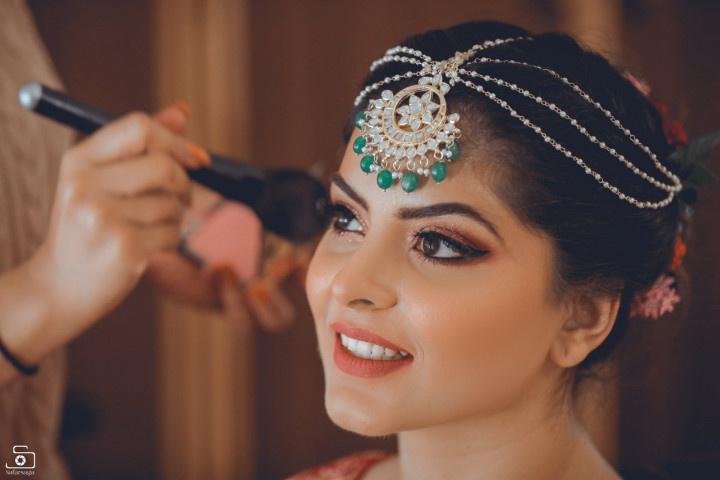 Maang Tikka and Matha Patti frame your face with precious metal and jewels making you look like a true goddess as you walk down the aisle exhibiting your divine aura. This piece of jewellery is the perfect finishing touch to your bridal jewellery collection as it instantly brings together the look when you adorn it. Choose a gold Maang tikka studded with precious uncut Polki diamonds for a timeless piece that pretty much goes with your every outfit of choice.
Now that we have covered the list of essentials, let's take a walk around the common points that they all have which makes them the best fit for your bridal jewellery collection.
Evergreen and classy design that overpowers all fashion trends
Neutral shades of gemstones, so that they match everything
Multicoloured gemstones so that you can wear them with many outfits
Cutwork of jail design – a lesser dent in your wallet for a more lavish spread and look
Classic shapes and cuts of gemstones – they cost less than fancy shapes and never go out of style.
With these hacks and tips, we are sure that you will build a bridal jewellery collection that will hold a special place in your heart and you can adorn and adore them for years to come.
Explore a plethora of designs for your bridal jewellery collection with Wedding Wire bridal jewellery partners and discover the styles that pair with your personality!