Gold Jhumka Design Photos: Flaunt Them as These Real Brides Did
Take inspiration for these real brides and show off your Jhumkas this wedding season. Calling all the brides to strike a pose!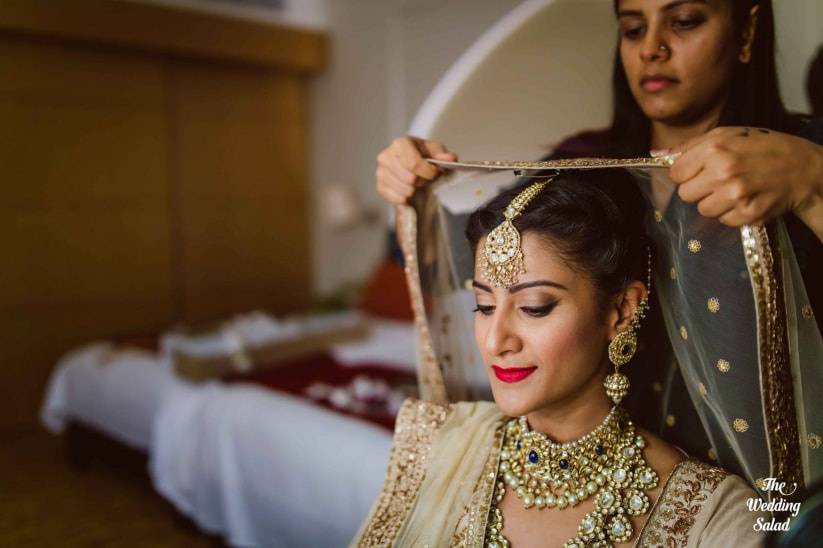 What is better to flaunt on your big day than your bridal jewellery and what better jewellery than your stunning pair of gold Jhumkas. We have curiously curated a selection of awe-striking gold Jhumka design images spotted on real brides. These will inspire you to choose head turning out-of-the-box designs for your wedding festivities ensuring that you will flaunt them yourselves.
1. Luxe Leaf Jhumkas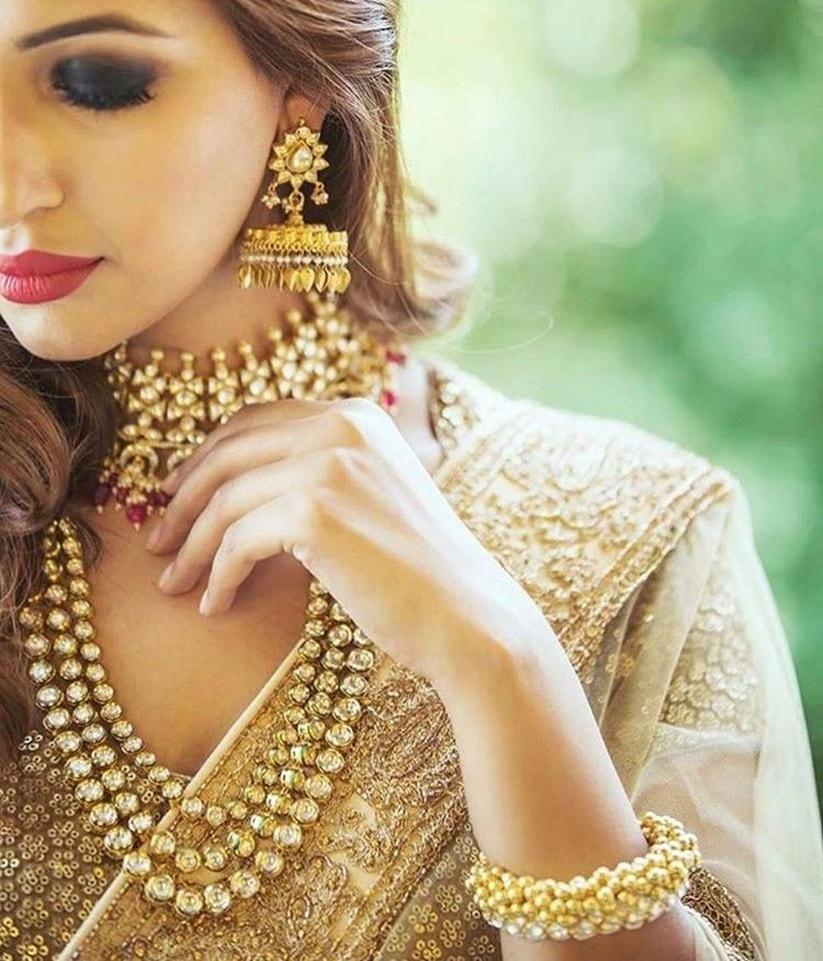 Delicate gold leaves softly dangling, the intricate embossed design finished off with uncut Polki diamonds, make this Jhumka design truly desirable. Adding a cherry on top is the 'Ada' in which the bride poses on her big day. They will look stunning when adorned on your wedding day and will go with any colour scheme that you pick for your bridal attire.
2. Flamboyant Florals Jhumkas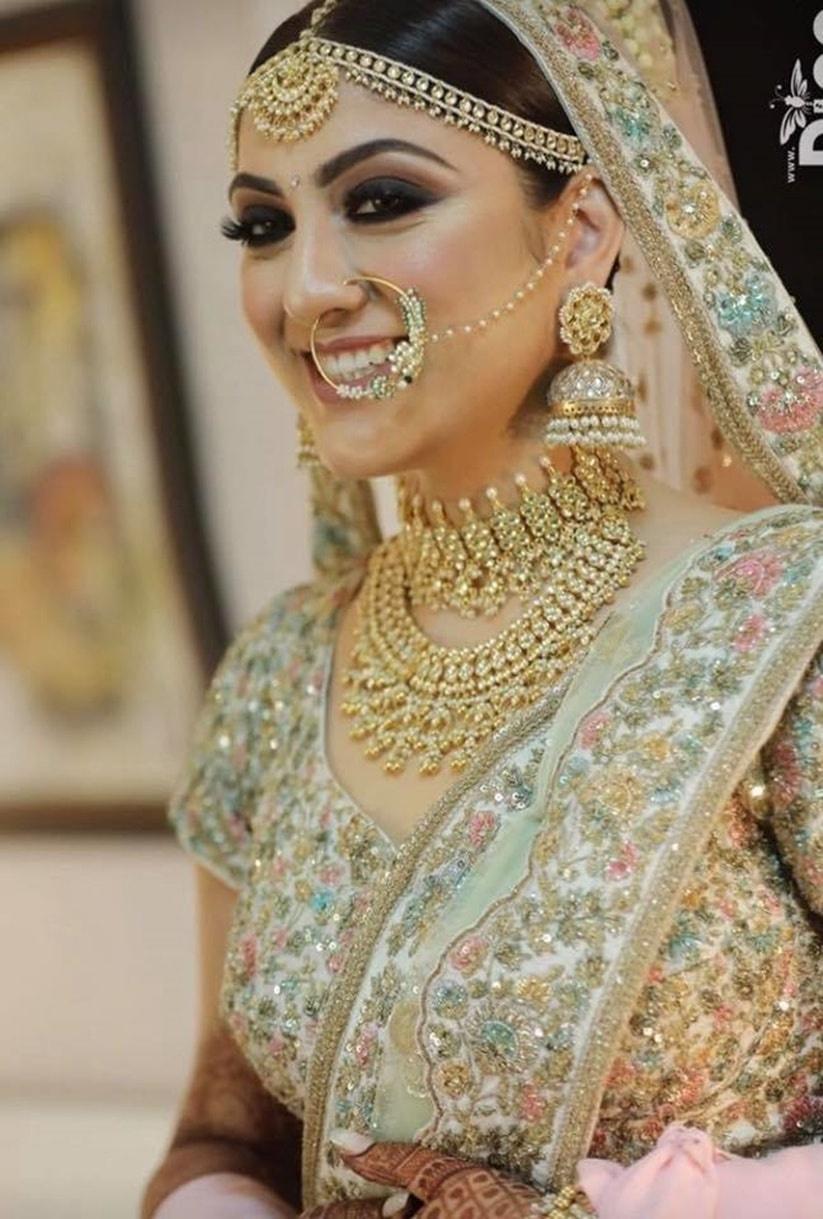 Now, that's a pair well worthy of a bride of her big day. The rose cut diamonds glistening and gleaming, covering the entire shell of the Jhumka make these earrings truly unique. The piece is completed with a classic pair of floral button studs. The soft look given by the use of micro pearls makes this piece a top contender for your list of gold Jhumka design photos
3. Gorgeous Gota Jhumkas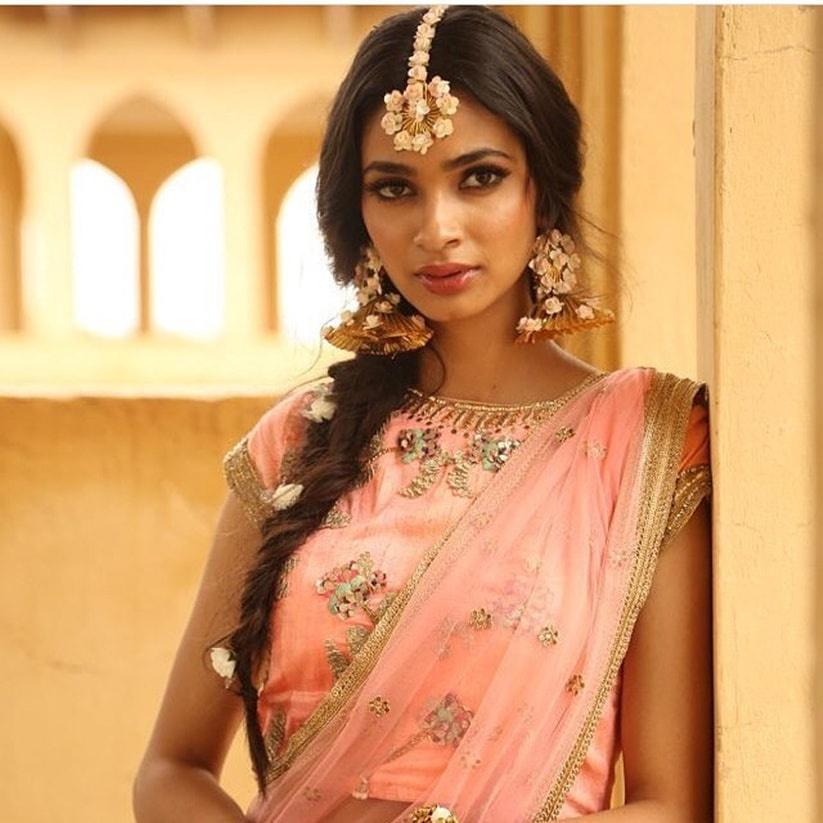 Ace the game of quirky Mehndi jewellery on your ceremony with these opulent floral Gota Earrings. Gorgeous golden Gota poetically ruffled to create Jhumkas and accentuated with small and dainty floral motifs. Make sure to add this style to the top of your gold Jhumka designs photos to make all the eyes turn towards you on your mehndi function for more reasons than one. You can also have a look at some other Gota Patti jewellery options too.
4. Double Layered Diva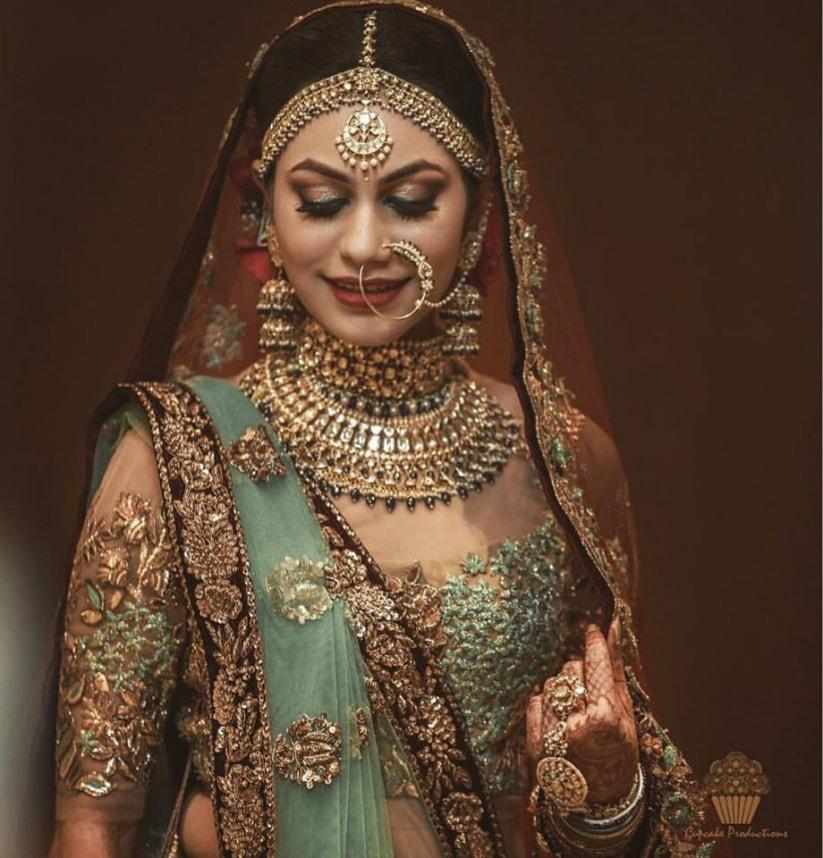 If one was not enough, here is double gold Jhumka designs photos to inspire you for your big day. accentuated with the use of precious gemstones like emeralds, uncut Polki diamonds and pearls, this pair of gold Jhumkas is undoubtedly breathtaking. The double-layered Jhumkas are supported with an admirable circle stud with fine details on intricate designs.
5. Charming Chandelier earrings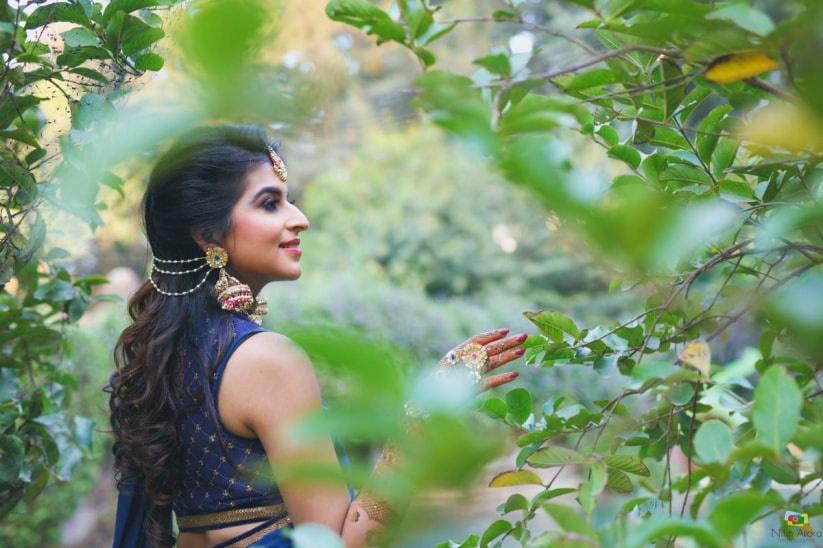 More than just a Jhumka, this design takes a stunning pair of chandelier earrings designed like a Jhumka and then takes it all the way to the back with strings of delicate pearls making it a gorgeous headpiece. Despite the intricate design details and use of stones and pearls, this piece is very light in weight because of the Gota used to create it. Makes a great selection to be adorned by the bride during her Mehndi function.
6. Magnificent Multi-layered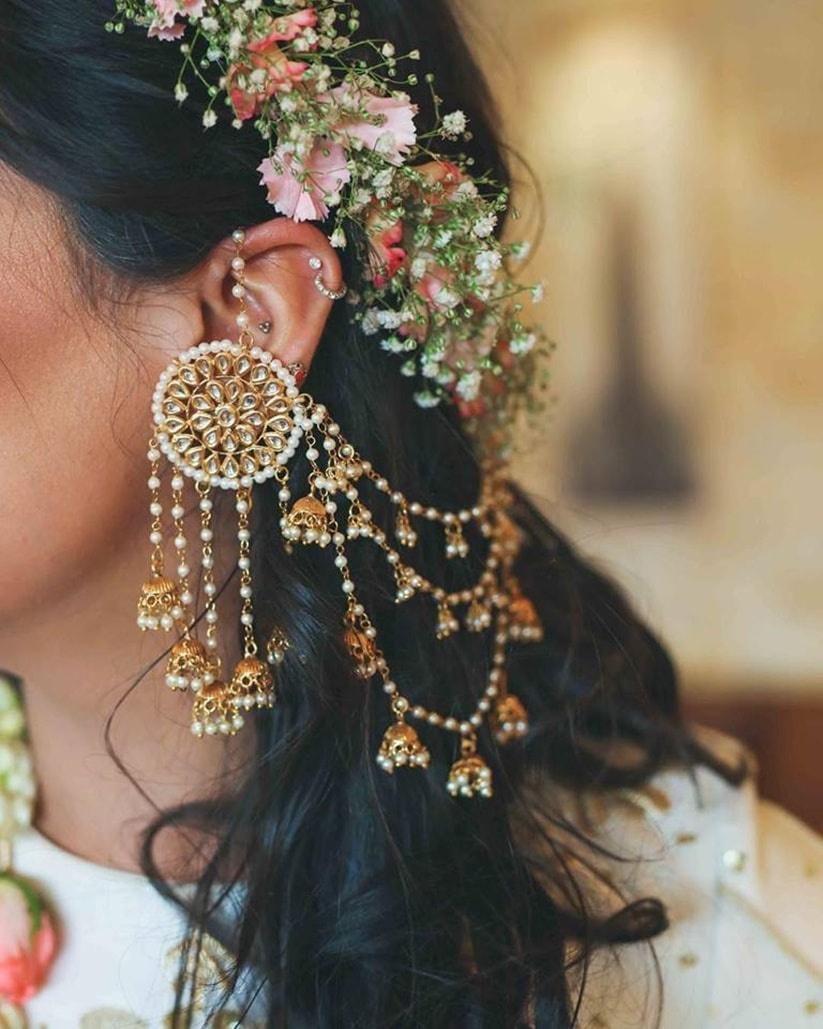 For the fin and quirky millennial bride looking through gold Jhumka designs photos to find the perfect one for her, the hunt ends here. And a twist to tradition by adorning a pair of earrings with multiple small Jhumkas instead of just one. Taking the design to a whole new level are the strands of micro pearls with dangling micro Jhumkas all the way to the back of the head like a headpiece. The use of classic uncut Polki diamonds finishes off the piece just perfectly.
7. The Traditional Treasure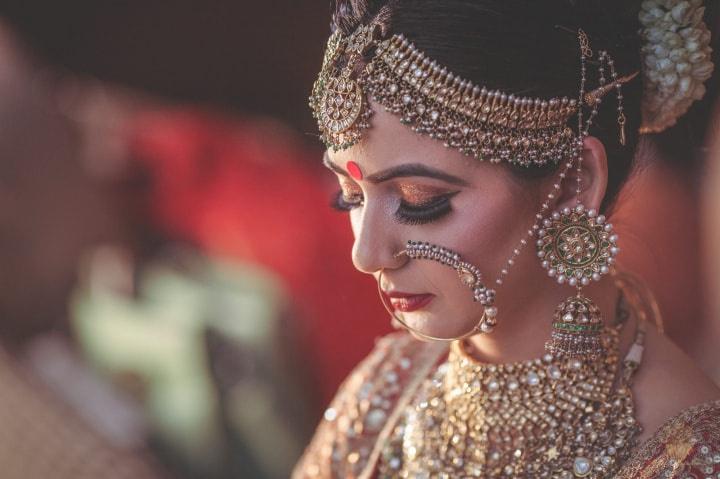 Nothing is more beautiful than a classic piece of traditional jewellery. With intricate design details, fine craftsmanship and defined use of precious gemstones like Polki diamonds, emeralds and pearls, a classic style is a must for every bride. Add this to your list of gold Jhumka designs photos and make sure to include that as a piece in your bridal jewellery.
8. The Pretty Pastels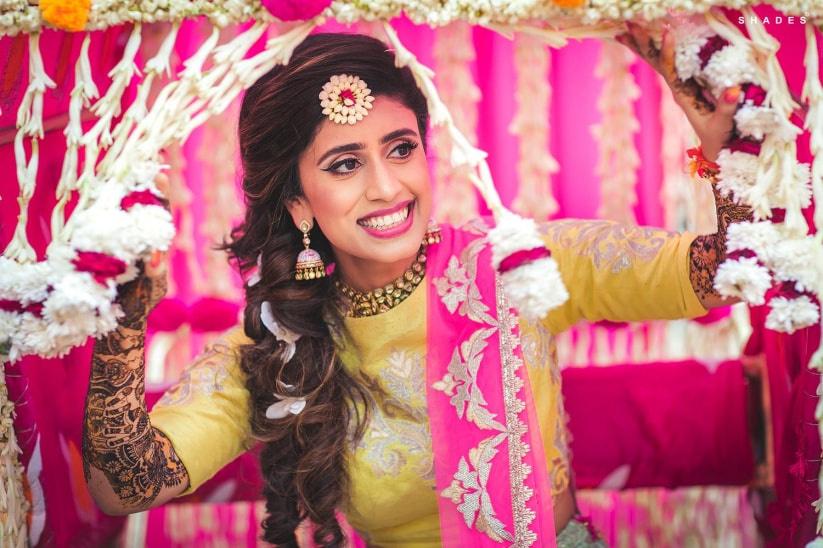 Image courtesy: Shades Photography by Ashwin M.
If you are the bride who does not like to go completely OTT with her jewellery, then this gold Jhumka designs photos is the answer to your prayers. A smalls stud of uncut Polki diamond descending into a Jhumka with beautiful Meenakari work is pretty pastel hues. Finishing off the piece are delicate trinkets of small Polkis dangling from the Jhumka. These will look absolutely adorable when adorned by the bride on her Mehndi function. Don't forget to add on a few pieces of real flower jewellery in the spirit of the occasion.
Every bride needs a pair of keepsake Jhumka earrings in her set of bridal jewellery that she has taken on with her while embracing the beginning of a new life. This interesting mix of gold Jhumka designs photos will inspire you to pick your style for your big day.
Head over to our bridal jewellery partners and experience a plethora of design choices that are there for you!