Mehndi Function Ideas to Add Oodles of Fun to Your Pre-wedding Ceremony
Mehndi ceremony always has an extra dose of fun, colour, and whimsy. Add a splash of entertainment for your guests with these Mehndi function ideas.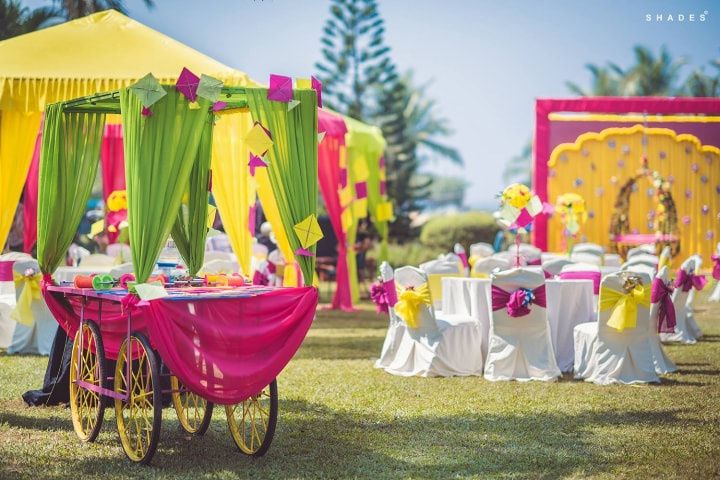 Vivid colours, upbeat music and fascinating decor, Mehndi function is the most fun-centric out of all the ceremonies. Organising some entertaining activities for your guests will make this day ceremony one to remember. These will involve each member present and will be a brilliant way to bond with your near and dear ones. We have gathered a list of interesting Mehndi function ideas that are hassle-free to arrange and are sure to be loved by all your guests.
Mehndi Function Ideas for Maximum Fun!
Here are some ideas that are crowd-favourites and will earn you brownie points amongyour guests. They won't be able to stop talking about them even at other people's ceremonies.
1. Live Bangle Making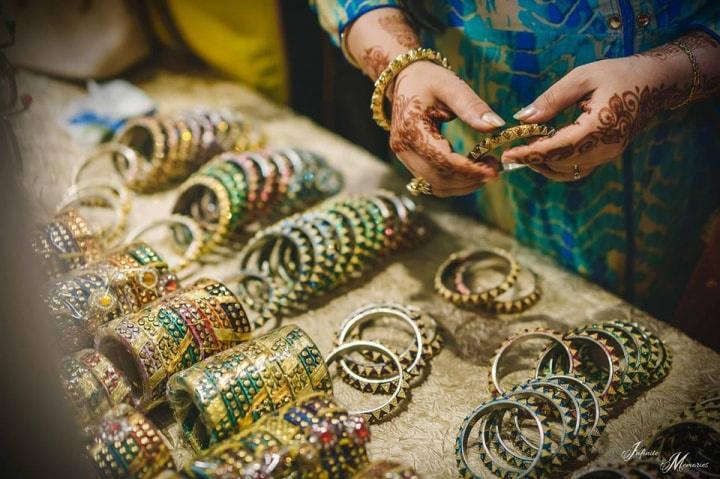 Mehndi function always calls for some vibrant accessories, so, having a live Lak bangle maker will surely be a hit. Your guests can choose the colours and designs that they want and can even match them to their outfits.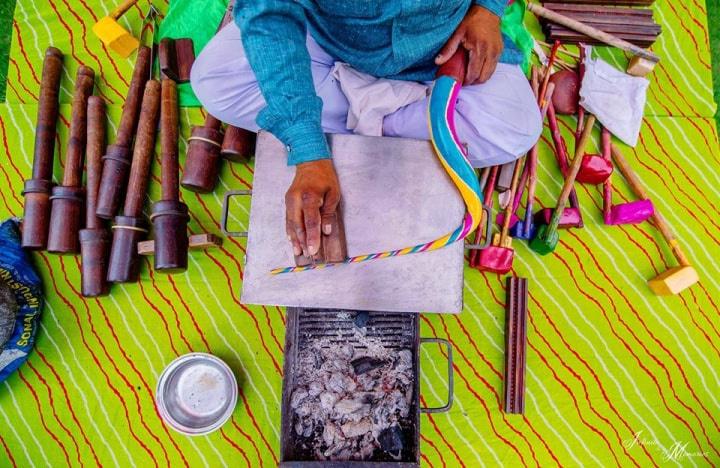 Watching the process will be fun for kids and adults alike. We know you always wanted to put it on your Instagram Live.
2. Live Entertainment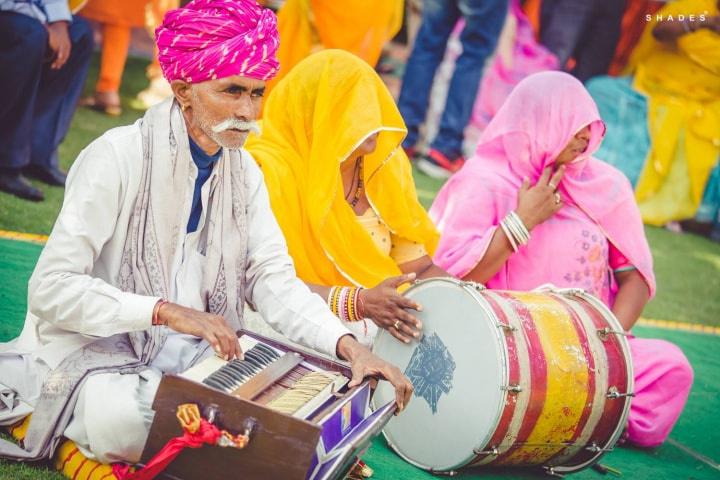 A pleasant dance performance or a captivating voice will make the Mehndi function livelier. The charisma of live entertainers is always loved and they help you to engage all the present members in the function.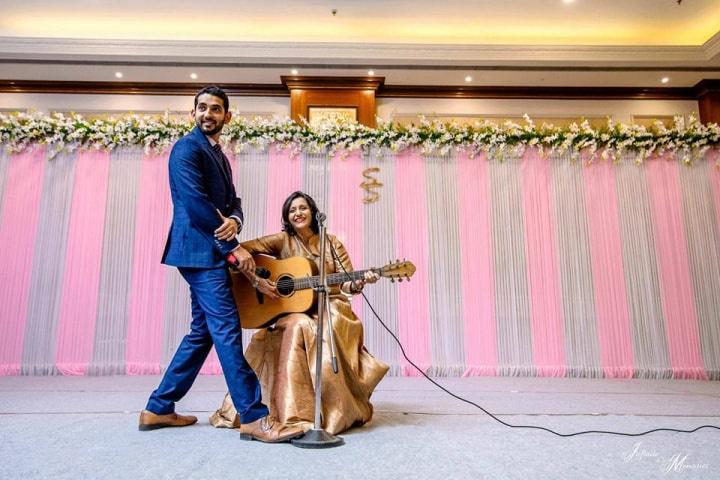 Imagine how romantic it would be if the groom performs for the bride or vice-versa. We can see that it will soon become a trending affair with bands involded and what not!
3. Karaoke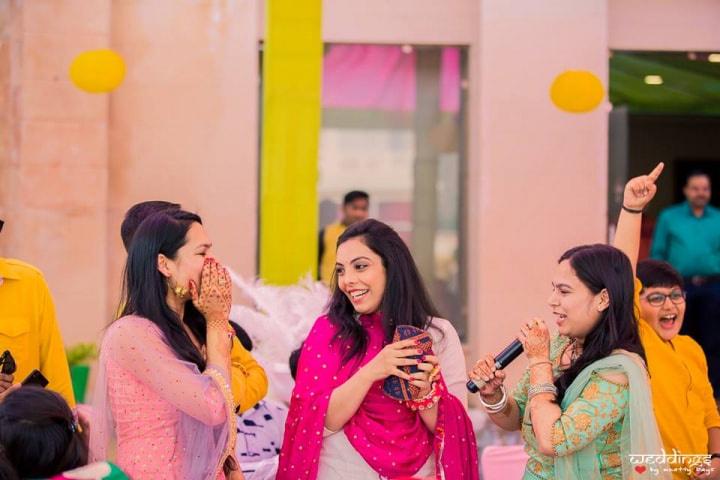 Take the entertainment to the next level with karaoke. Make a selection of the most popular and well-loved wedding songs and let your guests pick their jam and test their vocals. We all are anyway singing our hearts out when on the dance floor so why not make an activity out it?
4. Dance with the DJ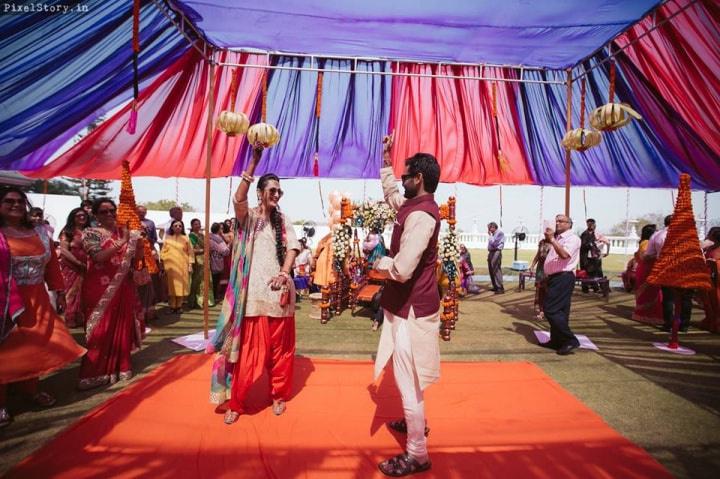 No wedding function is complete without setting the stage on fire. Going from Boliyan to Bollywood with an extra-long Rail Gaddi reaching every corner and picking up every family member and friend, a wedding DJ is a must in every Mehndi function.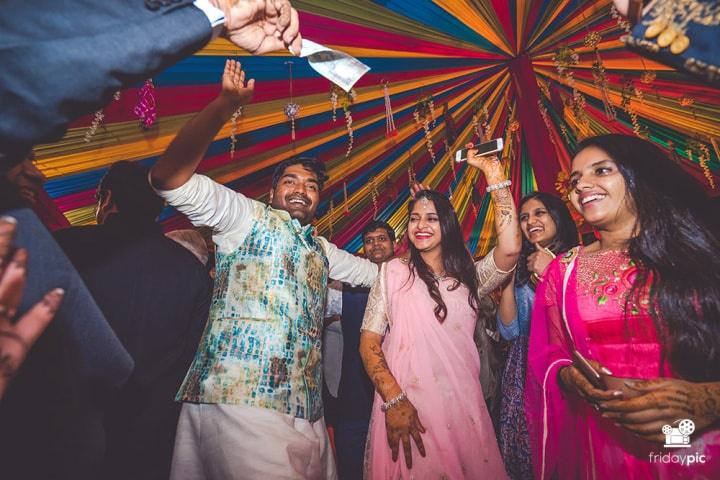 You can take a cue from Priyanka Chopra's marriage and have it as a team bride vs team groom affair.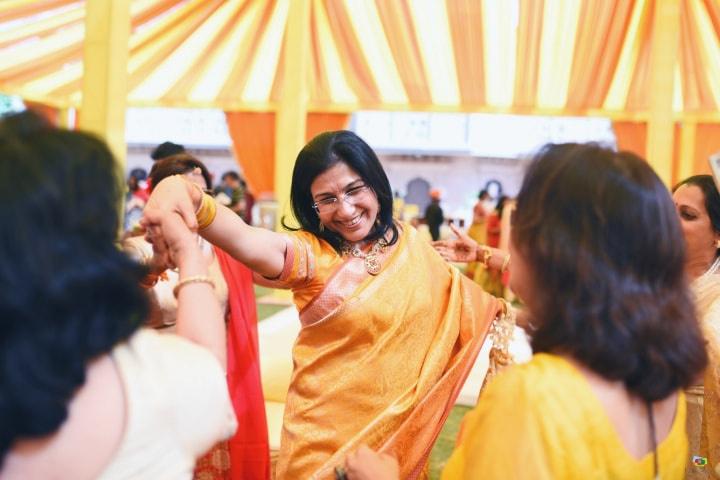 Not to forget Uncle's signature step and Auntie's Thumka!
5. By the poolside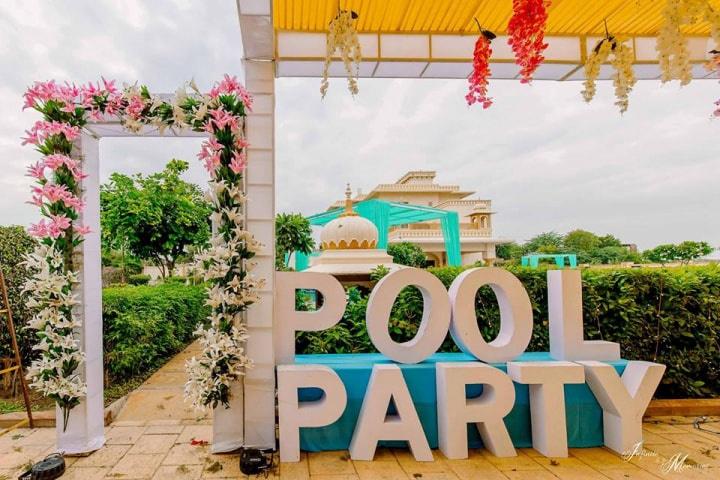 Poolside Mehndi function is a good idea for any summer wedding. Throw some floaties and accessories in the pool for your guests to take a dip and beat the heat. Once in the pool, the Masti quotient will only rise.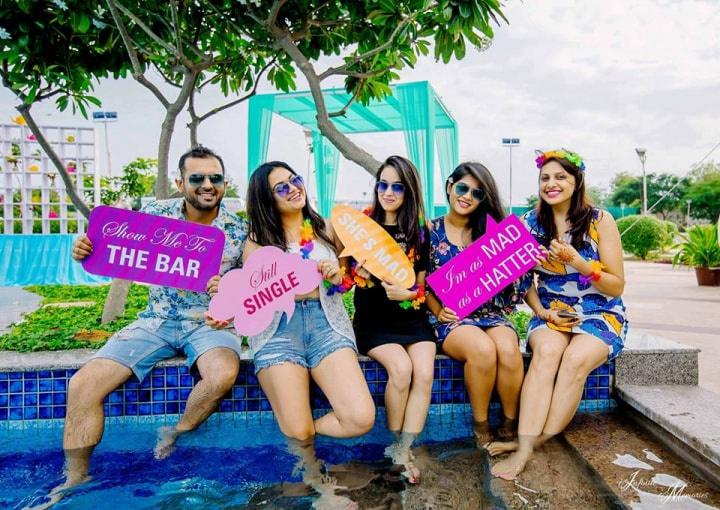 Have some of the popular pool party games ready so that everyone feels involved from the minute they enter your party.
6. Message Basket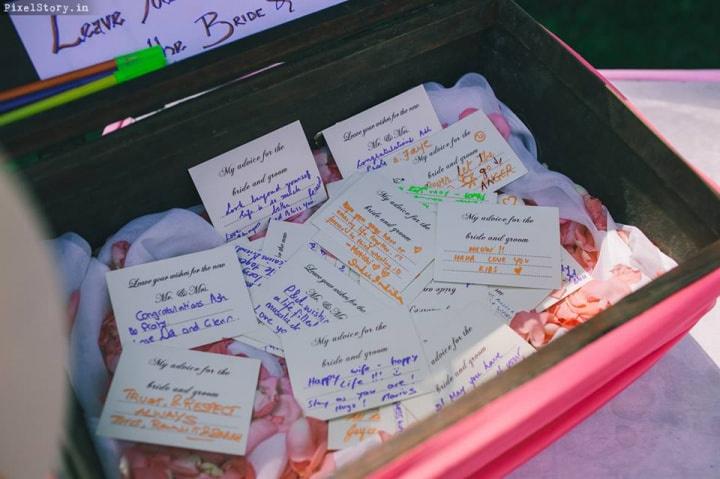 A sweet and creative way to enable the guests to give their blessings to the bride and her family is to make a message basket. You can add options for different stickers and coloured markers to choose from to make it even more creative. Want to take it a step forward? Hand twines or strings with clips and ask each guest to clip on the message slip after writing. It will also add a unique and creative charm to the décor.
7. Nail Bar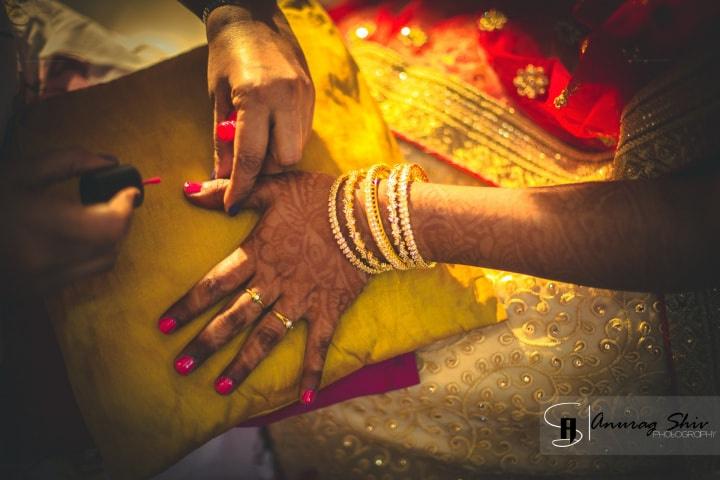 It's Mehndi night, so, it's only fair to lay focus on those pretty hands. Having a nail art bar will perfectly pair with henna. Your guests can get their nails done for the function and even get it customised to match their outfits for the wedding functions. And who does not love gorgeous nail art on their hands?
8. Make your own cocktail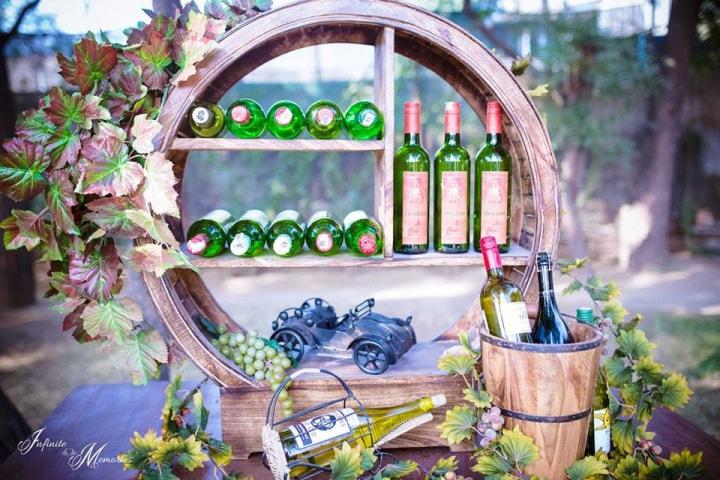 Let your guests go behind the bar and make their own cocktail concussions. This can be a fun experiment with different ingredients as they explore the world of spirits to make their signature drink. To add a little dash of wit, they can even give names to their original mixes.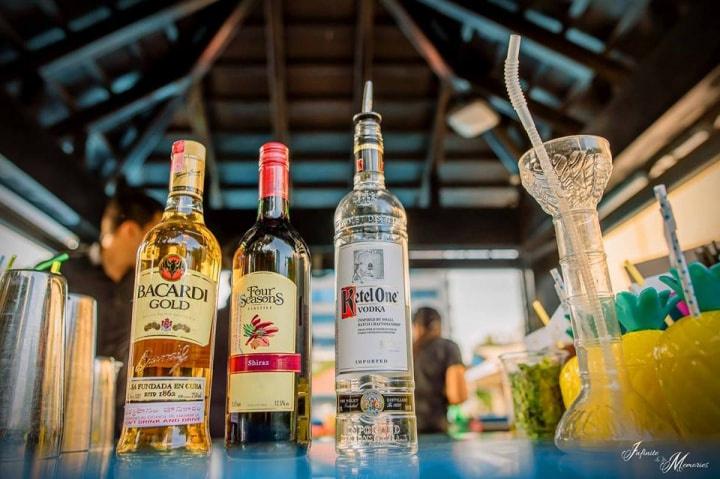 Have extra liquor at hand for this one. Some guests might not be able to make good combinations and some just might drink their heads off.
9. Mela Vibes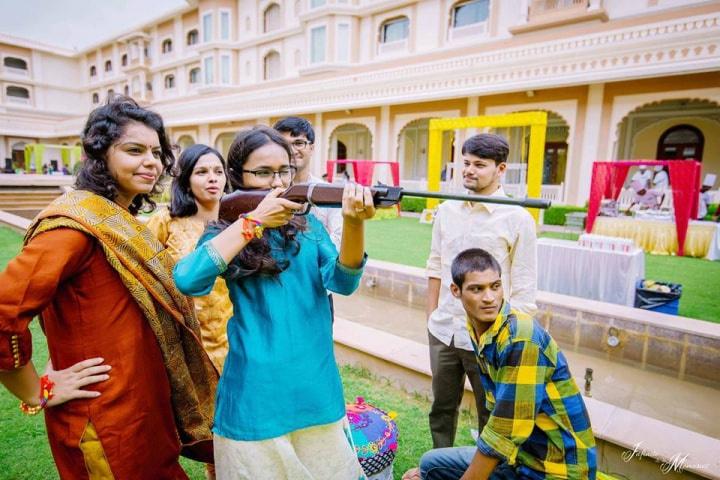 Nothing is more eventful, full of colours, music, happy vibes and excitement than a Desi Indian Mela. Bring that to your Mehndi ceremony with a Mela theme.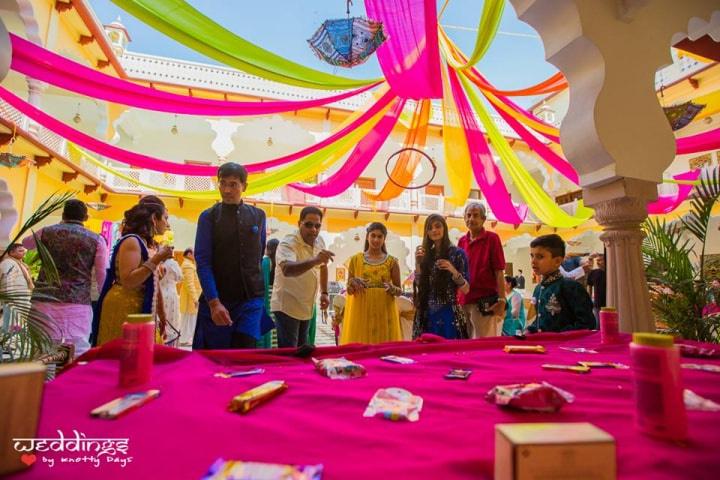 Recreate Mela vibes in your mehndi function with incorporating light-hearted activities like balloon shooting and throwing rings on a prize. Adding games like, Tambola, Jenga, Carrom board etc. involving all the guests will take the excitement to the next level.
10. Photobooth and props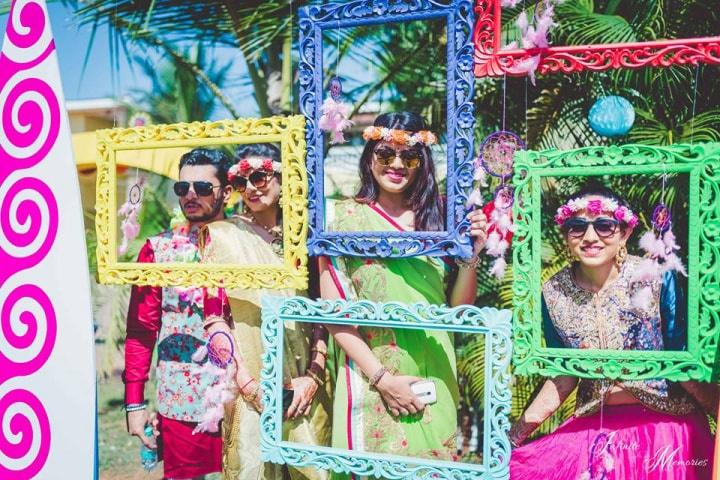 Create an 'Insta' area with different frames, props, quirky placards and gorgeous backgrounds where your guests can take fun pictures. You can even arrange for Polaroid cameras for immediate printing of those precious moments. This is one of the hit Mehndi function ideas that are readily available.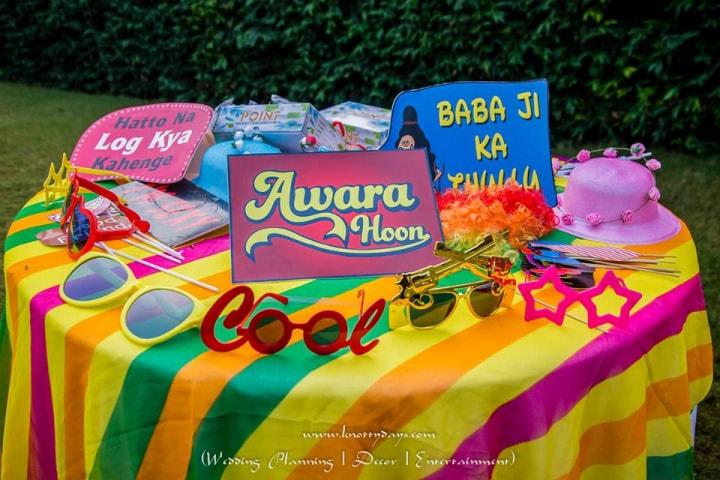 Everyone loves a creative photobooth and we can guarantee that it will be one of the most crowded stalls at your Mehndi ceremony.
11. Function Favours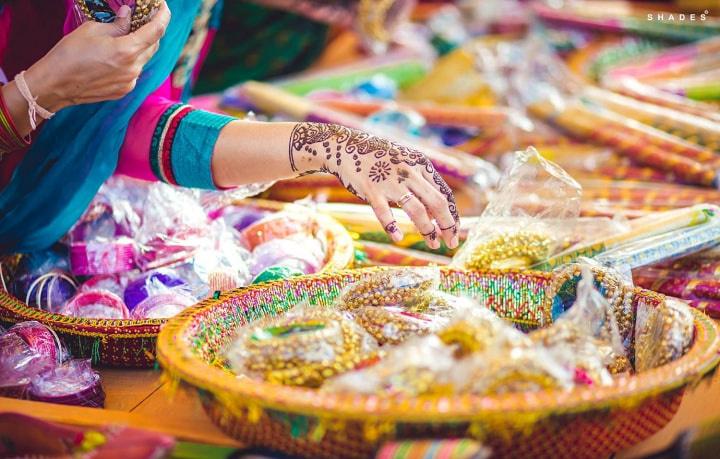 Get creative with your Mehndi function ideas and add interesting favours that your guests can take back with them.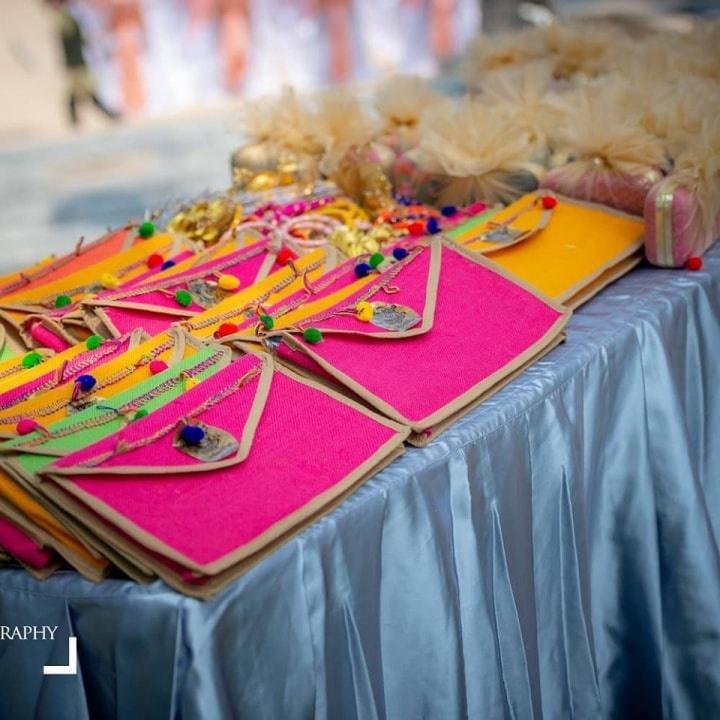 This could be anything from crackers, colourful accessories, jewellery, potli bags, cupcakes, chocolates etc.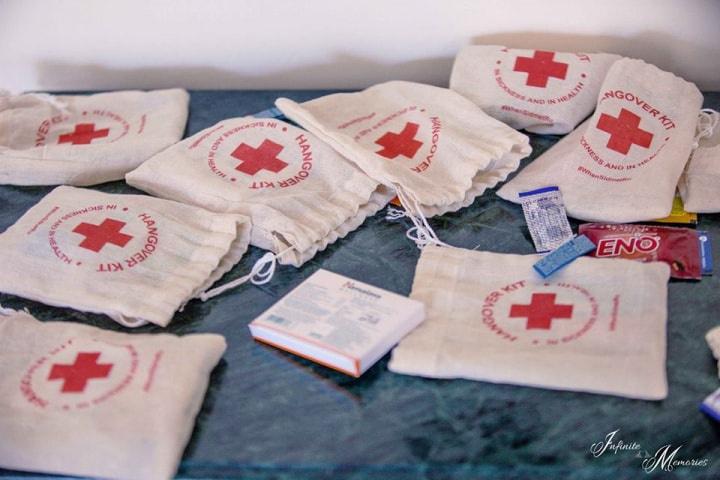 You can even make a small care package for them to relax the day after and include could pyjamas, eye mask, face sheet masks, and a hangover kit.
12. Fun Food Stalls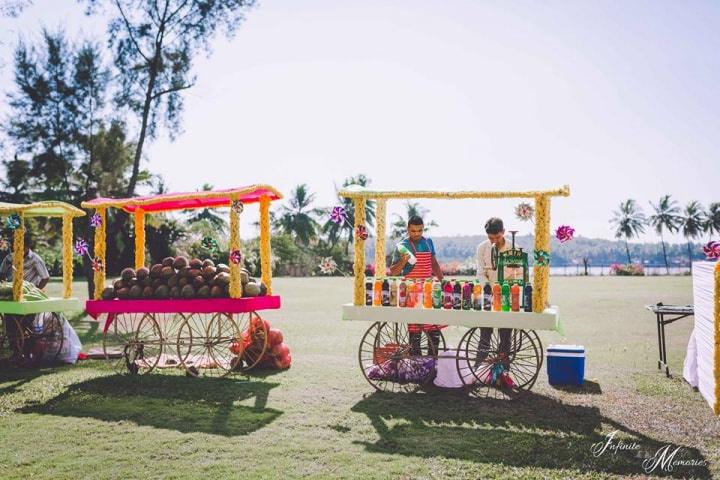 Think outside the usual buffets and include unique food combinations and stations to please all the foodies. Live teppanyaki counters, sushi bars, make your own pizza, chocolate fountain, customisable waffle counter, gourmet popcorn, give the crowd what they like the most and expect the least. One of the fail-proof Mehndi function ideas would be to include the childhood favourites for nostalgia - cotton candy, Barf ka Gola, Bhelpuri and the likes. You can never go wrong with good food.
Apart from these Mehndi function ideas, try some more Mehndi decoration ideas which we have earlier explored. Make it cool, casual and quirky for all to blow off the steam before the big day. Let them relax and have fun making it the most memorable. Having cute and creative images that hold precious memories is just an added advantage!
Which one of these Mehndi function ideas are you planning to include in your wedding? Let us know in the comments below!