Think fun, glamour and a day with your lovely, lovely ladies? While the Shaadi experience remains a hectic rollercoaster, the Mehndi ceremony is this one day for you. Picture it beneath colourful sunlit canopies with flowers and other beautiful Mehndi decoration elements and you know it will a gorgeous day set-up indeed. We explore all of these details with inspirational ideas that would match your dreams and have your wedding photographer's approval too. Bookmark these pictures and start planning from today!
Traditional Mehndi colour themes? Keep exploring the palette
Repeat after us, a mehndi event does not have to be orange! Over the years, we've seen an overdose of orange and yellow mehndi decoration themes. These events are pretty, no doubt, but leave little to the imagination. To stand out, we suggest adding the usually ignored shades of blues, greens, and pinks to your mehndi colour palette. Take inspiration from these fresh mehndi setups created by The Wedding Designers.
Think about your bridal seat
This season, we've seen some truly stunning bridal corners created for brides who are not restricted to the dulhaniya jhoolas of 2016. Don't ignore comfort or style, especially because you'll spend a few hours in this space. If yours is a low-key home mehndi, this is the one area you should focus on. Experiment with gotas, ribbons, tassles and mirrors to create a gorgeous photobackdrop for all your bridal mehndi pictures.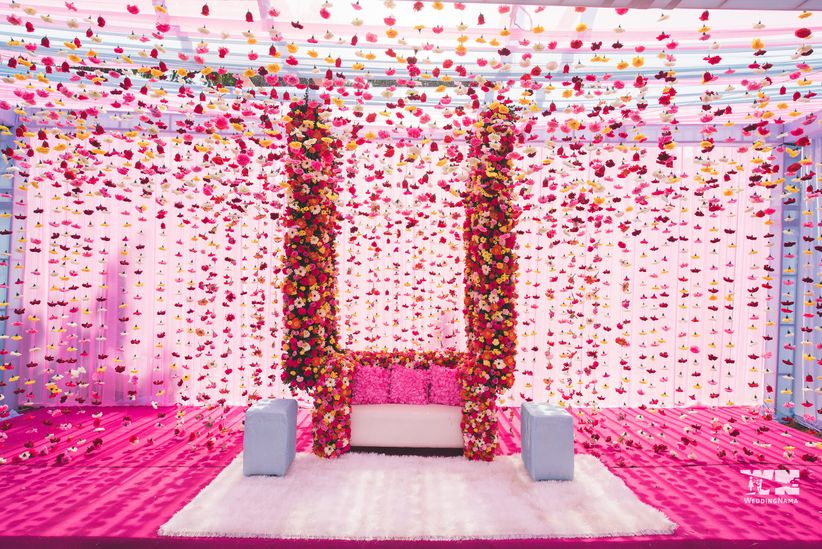 Think beyond flowers for decor accessories
This year, wedding decorators are moving away from flowers and towards quirky décor props, the favourites being tassles, ethnic dreamcatchers, and gota hangings. While you cannot completely remove flowers from an Indian wedding, we suggest creating a balanced décor plan, which has a bit of both. Beautiful yet affordable!
Create the perfect print story
This season, we've seen mehndi setups where prints do all the talking. Think ikat cushions, Aztec bar tops, and floral dance floors! This wedding decoration trend is here to stay as it simplifies work for both the decorators and the bride. Find a print that works for you and include it in different aspects of your mehndi, right from your invitation to your outfit and finally, your décor.
Match Mehndi decoration theme to yourself
Remember, Mehndi is one wedding event where you, the bride, get to do all the decision making. Don't follow trends blindly. Boho chic, filmi, Parisian, carnival - find a theme that screams 'you' and stick to it throughout. Talk to your closest friends and come up with a concept you'll love ten years later also. That will be the mehndi of your dreams.
DId we inspire you enough with these Mehndi Decoration Ideas? If yes, book a wedding decorator who will do justice to your Mehndi day dreams, right away!