Nailing Your Mehndi Wedding Theme: A Lesson From The Experts
The Mehndi wedding theme is what we see these days if you look at the sheer elements that are becoming part of the main wedding ceremony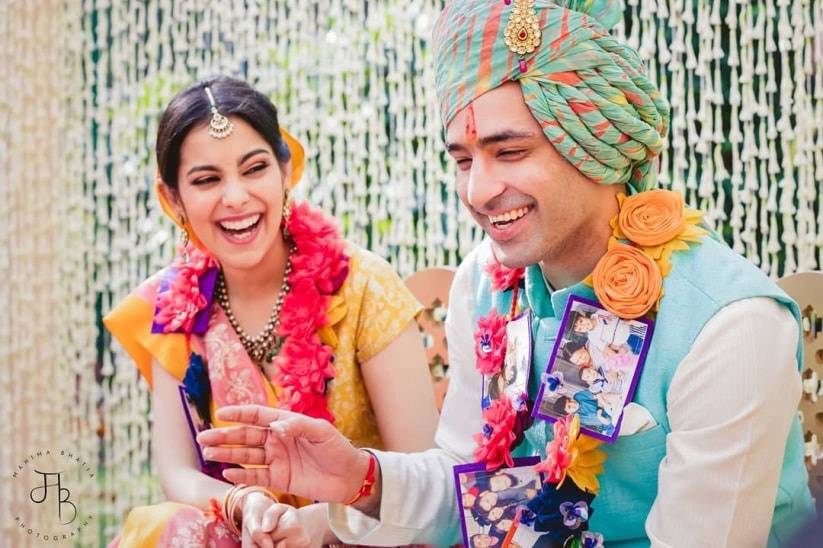 A Mehndi ceremony these days is all about a sunny, fun day with all the women who matter in your life – your mother, grandmother, sister, siblings, soul sisters and brigade of friends. Thinking in terms of Mehndi decoration, you would talk about pop inspirations, vibrant colours and styles, favours and giveaways. And you know what would be better? Combining these elements with your wedding day as well Piqued? We bring you an Indian wedding theme idea which will work wonders for you – the one and only Mehndi wedding theme!
What's a Mehndi Wedding Theme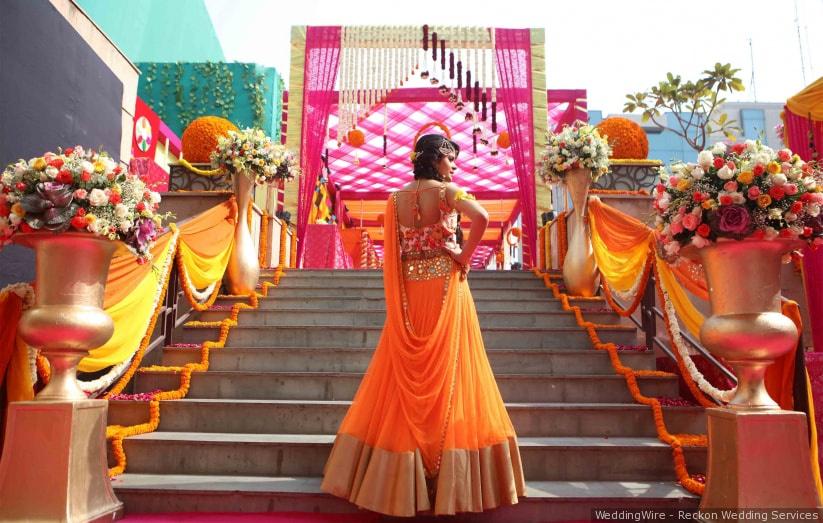 Though not in name, the Mehndi wedding theme is the one that we seem to be coming to these days, if you look at the sheer elements that are becoming part of the main wedding ceremony. Pop colours in venue, décor and the bridal lehenga, daytime weddings, desi chic elements and a focus on the fun and family time. There is a lot that you can do when it comes to prepping up for your Mehndi functions. And, you owe a million ideas to Bollywood. The movies nowadays give us an array of ideas in terms of decor and wardrobe to gorge our eyes on.
How to get a special themed wedding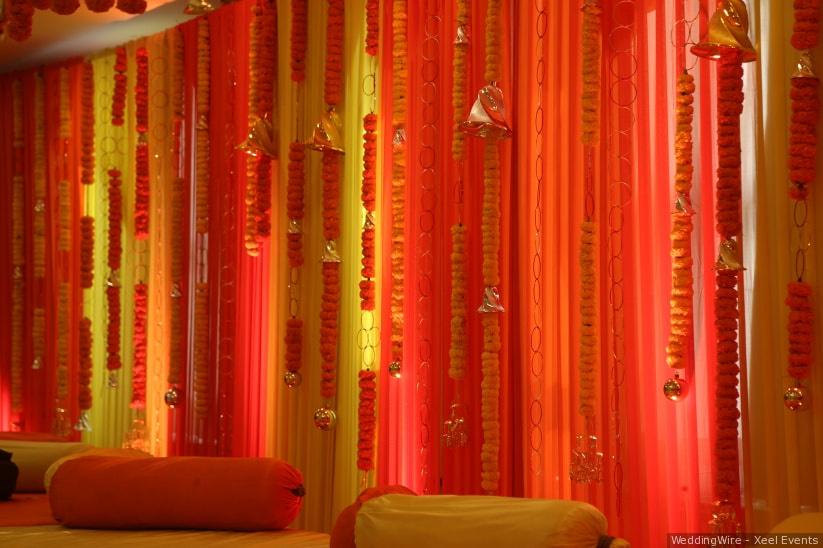 Planning a wedding as per a wedding theme isn't a new idea – we've seen a lot of them executed well – from the royal Rajasthani theme to a floral wedding, a beach wedding to a vintage wedding theme. This is what you need to keep in mind:
Get your wedding vendors – your wedding planner, wedding decorator, venue and caterer on board with your wedding theme ideas.
Discuss in detail how you plan to get it right – the kind of props needed, how to incorporate your idea into your ceremonies and match it with your choice for wedding attire.
Know your wedding budget and how to incorporate your idea into it, without going onboard.
Have a check and a backup – especially when you want to include authentic cuisine in your wedding theme
So, how do you do this with a Mehndi wedding theme?
We break it down for you.
The Mehndi Wedding Theme: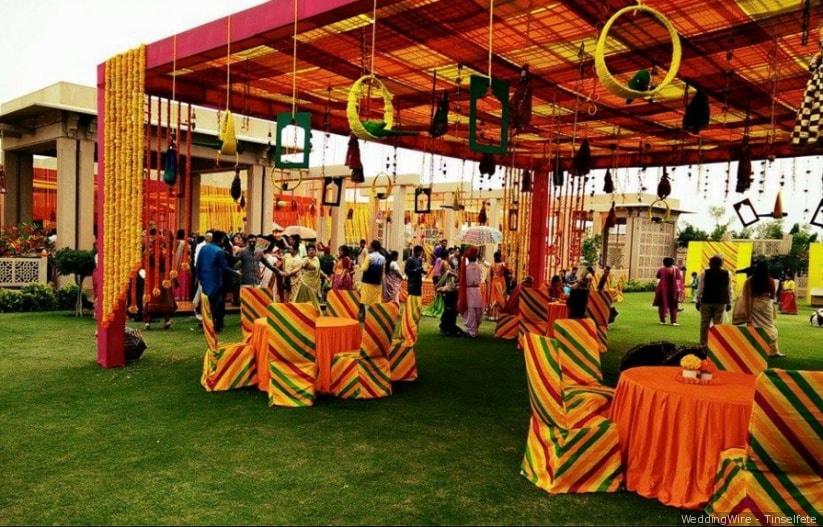 The Mehndi Wedding theme is a pop-inspired desi chic affair, which is brought into place with the right cues in a venue, décor, props, choice in outfits and engaging with your wedding guests. Here is how you bring all these cues together:
1. Timing it right –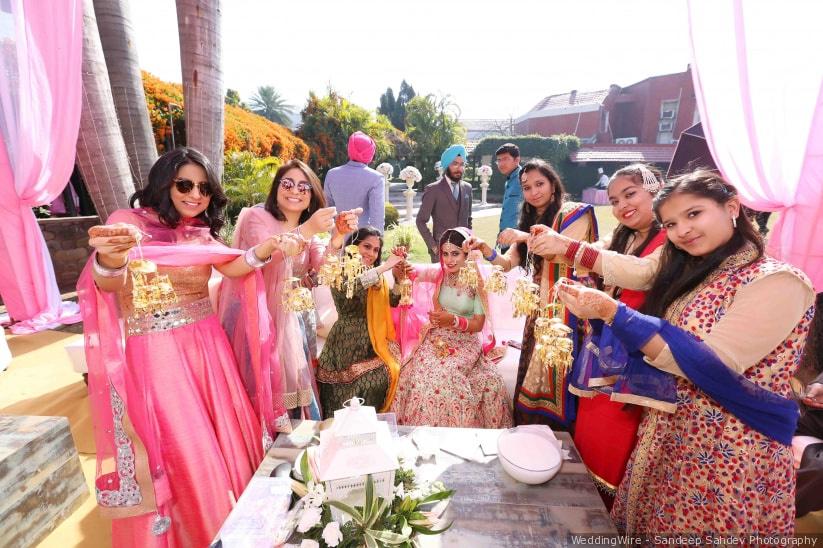 A Mehndi wedding theme idea works best as a summery, daytime affair, with your intimate set of friends and family. The idea is to make it as much of a day with family and friends, rather than an uber-formal traditional, wedding affair.
We see it happening in daytime weddings.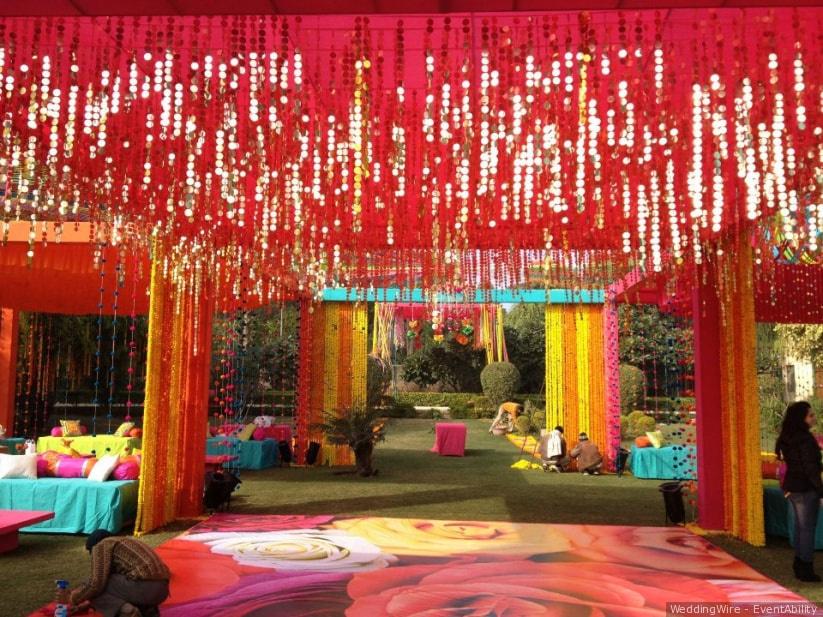 2. Wedding Décor –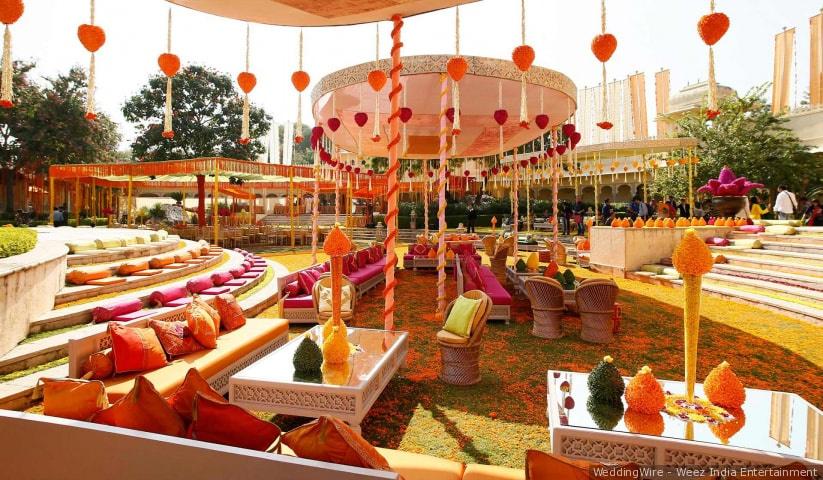 A Mehndi wedding theme comes together first through the look and feel. Having a good, outdoor location with amply covered setups in vibrant colours will set it up splendidly, but it's not essential to this theme. This is not necessarily an extravagant wedding venue (so it meets your wedding budget), but one with ample space, done up with the right décor.
You can have the same effect indoors too (see the Mehndi for Ayesha Ahuja's destination wedding in Karjat).
What you need to work on are the following elements in your décor
- Floral decoration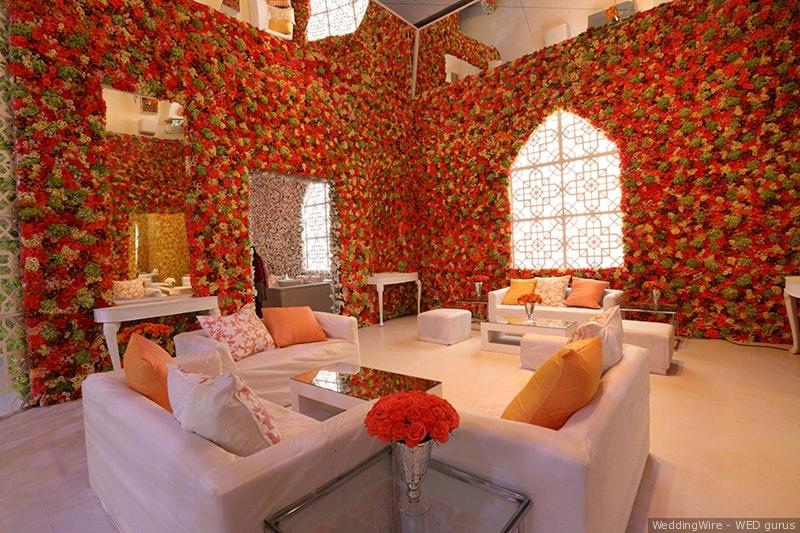 - Props, setups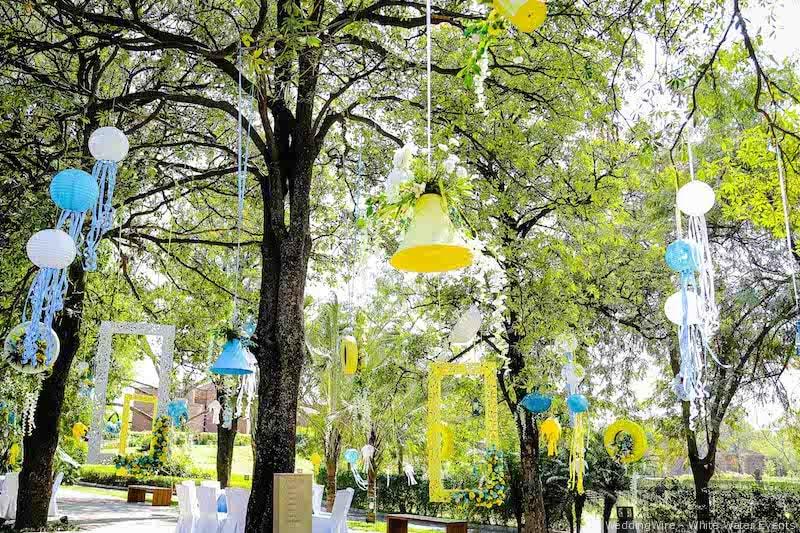 - Multiple activity centres
3. The Bridal / Groom outfits -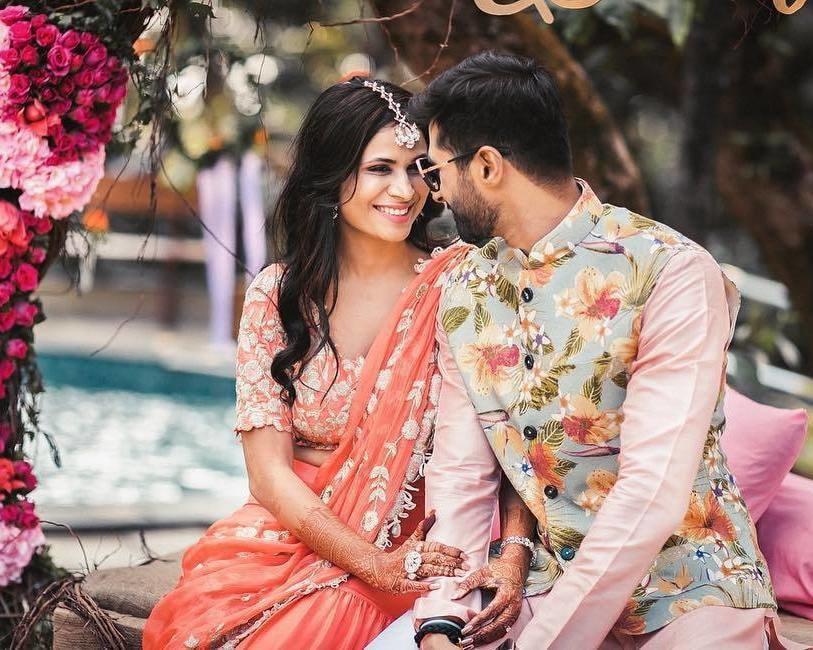 A theme often comes together (or falls apart) on the extent with which it is carried through. And this includes what you, as a bride-to-be, decide to wear for the big day. Opting for an unconventional bridal lehenga or bridal saree can do it for you.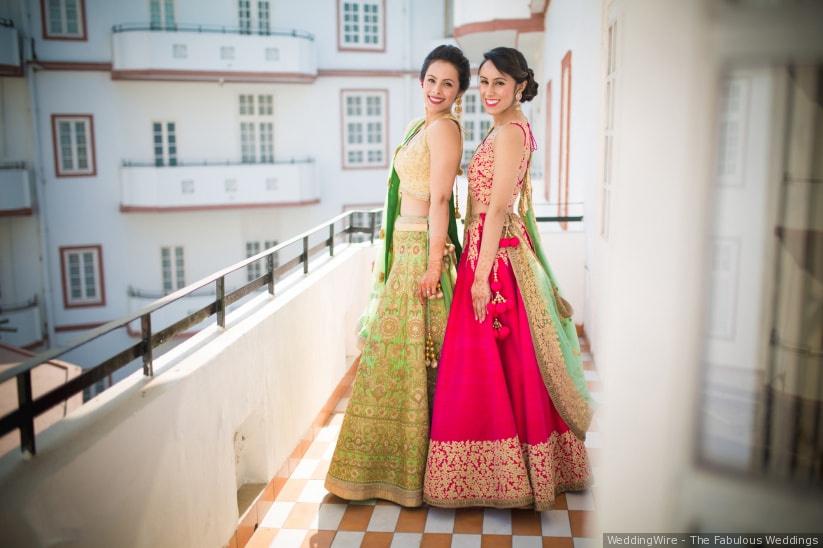 Image courtesy: The fabulous Weddings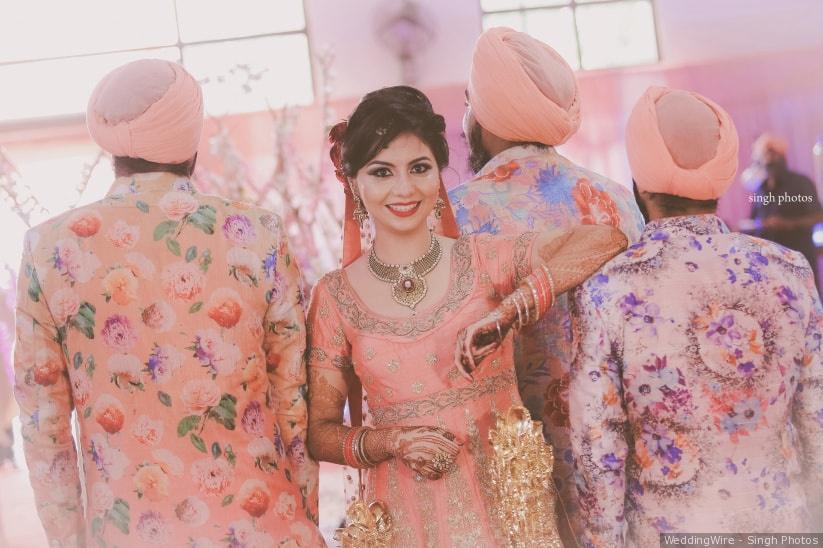 In fact, a floral idea for your wedding outfit, the groom or your siblings can work it in well. We have explored it at length in how to coordinate wedding outfits with your siblings.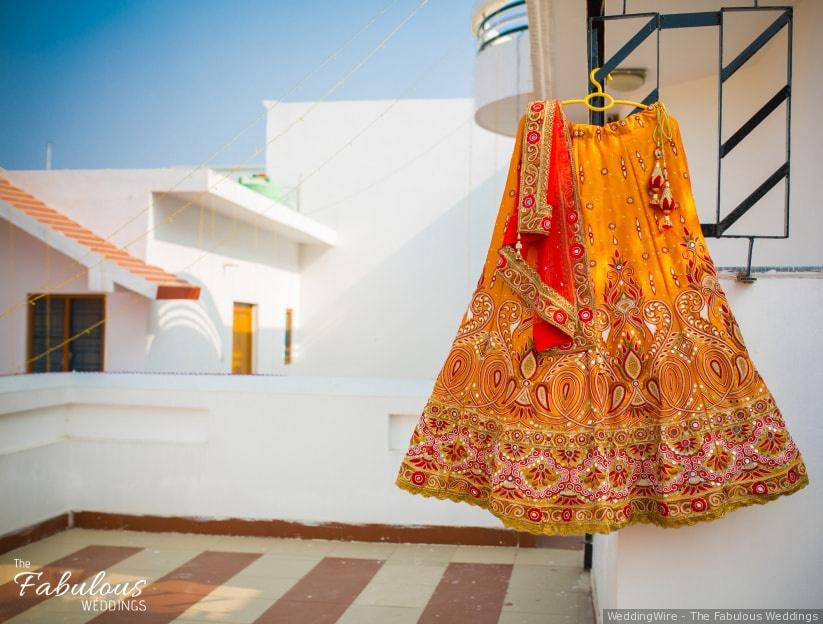 Image courtesy: The fabulous Weddings
You can also opt for bright, pop colours in your outfit and take it easy from the heavy, conventional bridal wear (a reference which has been applauded even by designer Sabyasachi's lehenga collection).
Moreover, you may also consider more breezy ideas for your bridal jewellery. In fact, this bride decided to add floral jewellery, like one sees now at Mehndi and Haldi functions, for her big day.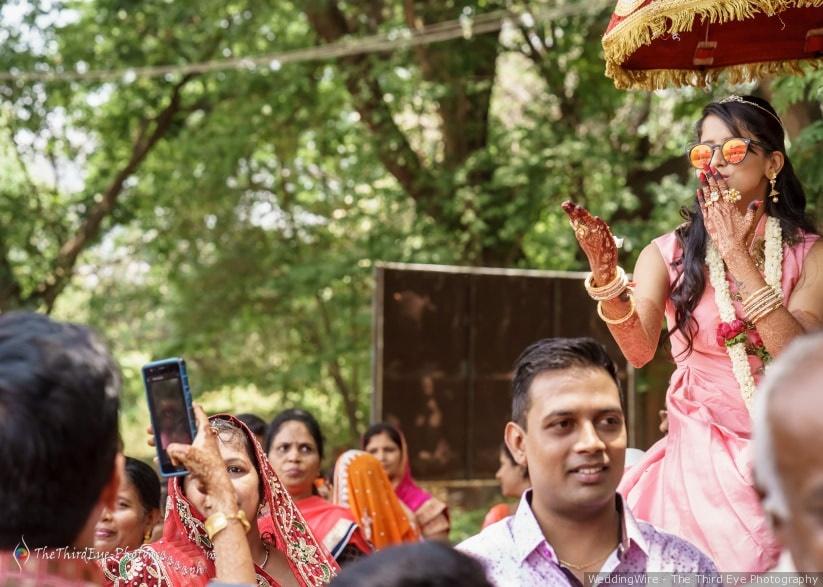 4. Engaging your wedding guests –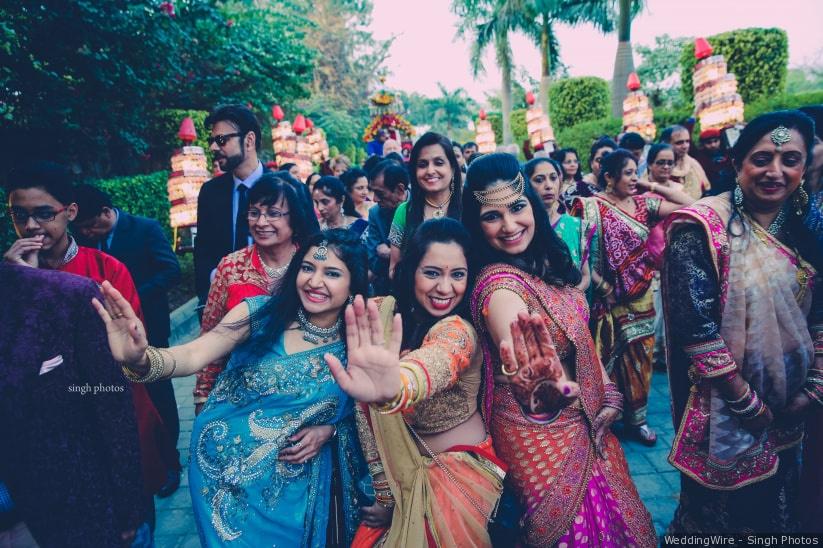 What's the biggest difference between a Mehndi ceremony and a wedding? It's the formality of the occasion and the fact that most of your wedding guests may not be as involved with the rigours of your big day, as the ones whom you would call for a Mehndi, or a Haldi.
This means bringing in a lot of activities to engage everyone, beyond the traditional photo booth ideas, a play area for the children and waiters plying your guests with snacks. We recommend organising some of these popular Indian wedding games and adding these personal touches for your older guests.
However, doing this in the right way also depends on the number of wedding guests you've invited for the big day. An intimate set of wedding guests means that the engagement would be far higher.
5. Get your food right –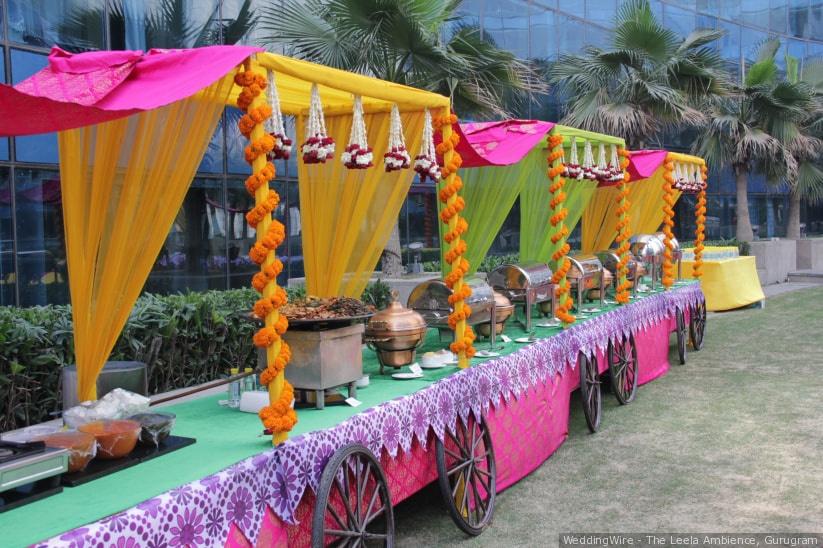 The last, but in no way, the least. When you invite wedding guests to a themed wedding, they expect a look, a feel and a taste to go with it. So, what would your wedding menu be, for a Mehndi themed wedding?
Choose one that goes with the setting and your own personal style. If that's a seven-course menu with three international cuisine options – do that. If you want great food in a homely setting, do that.
You could also consider our idea for a summer wedding menu.
In the end, here is a short list of the things you need to keep in mind
Daytime affair
Desi chic, preferably in pop colours
Easy engagement
Dressing for the theme
Memorable favours and giveaways
In the end – a Mehndi artist?
Would a Mehndi wedding theme be complete without a Mehndi artist? Raising eyebrows – would your guests opt for a Mehndi when they're dressed in their finery?
We recommend Henna tattoos at the venue and asking your guests to dress easy (even if you would want them to dress traditionally). Mehndi functions bring in a pop of colour with a pool of laughter and merrymaking. There is not just one way of amping your functions right. For a person who wishes to go for minimalistic set up can go for a colour theme and keep things in accordance with it. For the breezy soul, you can include one too many things and it would still look awesome. From blue umbrellas for Mehndi decor to multicolour floral bouquets for table centrepieces, pick whatever you like.
We hope our ideas for a Mehndi wedding theme have given you a few ideas for your own wedding ceremony. If yes, get in touch with a wedding planner today.