Destination Wedding Planning Done Right – Ayesha's Wedding in Karjat
Destination wedding planning isn't an easy idea. Here's how Doli Diary was able to do it for Ayesha Ahuja's nuptials - balancing 6 events, 500 guests and 2 venues with expert ease.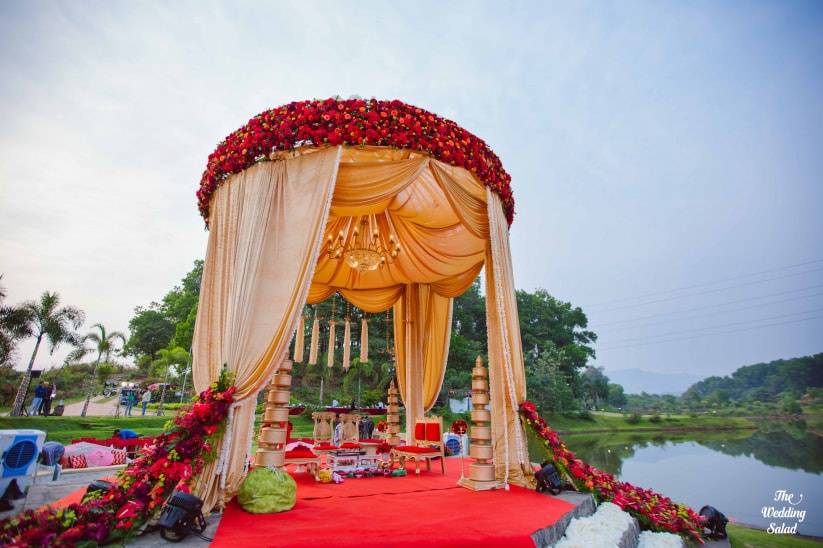 Thinking of a grand destination wedding overlooking a lakeside? So did a recent bride Ayesha Ahuja who was about to tie the knot to her beau of seven years, Arjun. She is the co-founder of The Papier Project, one of the leading wedding invitation and stationery company. We find out how she achieved it in this story of destination wedding planning done right.
The venue - Her ancestral farmhouse, The Royal Elm in Karjat which is perfect for a destination wedding near Mumbai.
The Lake View Wedding Idea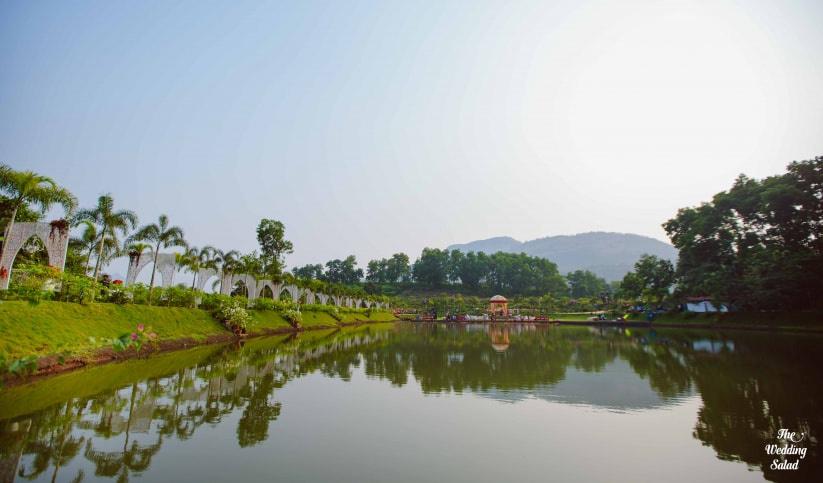 Karjat has become a dream location for destination weddings near Mumbai over the years. The lush green Ulhas valley, overlooking a bountiful river, turns into a very romantic backdrop for a bride's special day. The Royal Elm, where this lavish wedding took place, lay right in the midst of this paradise. Overlooking a serene, peaceful lake – it provided a perfect backdrop for their three-day lavish wedding plan.
Destination Wedding Planning – Step by Step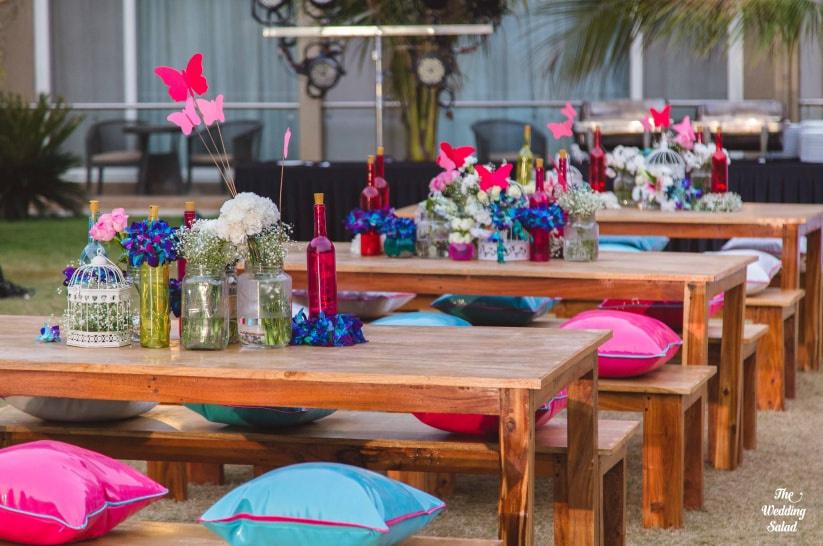 Ayesha and Arjun's wedding was for them, 'the logical, next step forward'. However, from a planning perspective, it was no less than a challenge with 500 guests, an unconventional venue and a lavish, no-holds-barred affair spread over three days. Then there were the events that had to be executed, one after another – a pool party, Mata ki Chowki, Mehndi, Sangeet, Haldi, the wedding and the reception.
So, how did it happen? A wedding planner who put in and executed a year's worth of preparations for it all. They called in The Doli Diary.
And how did it go? In Ayesha's own words - magical. She feels elated about how the Doli's Diary planning was meticulous and detailed. She was free to simply enjoy her own wedding while they were busy making her dreams come true in a seemingly effortless fashion.
Destination Wedding Planning with Different Themed Events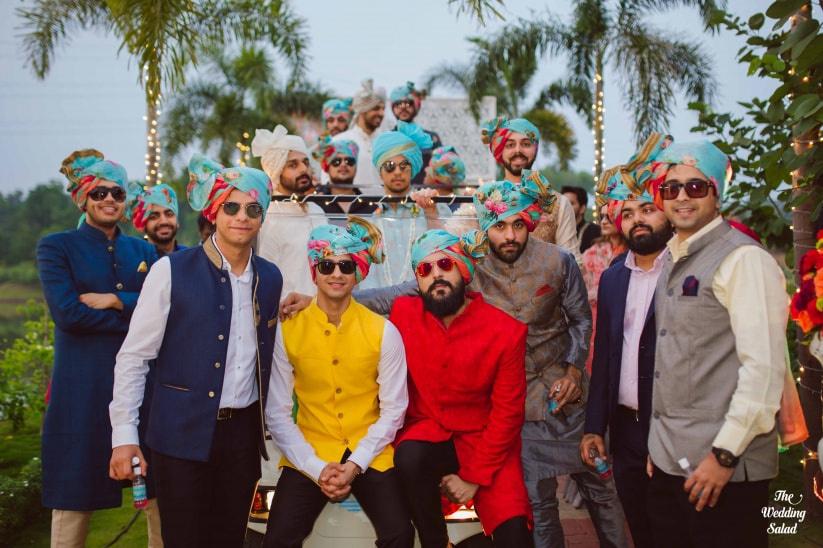 This big fat Indian wedding was spread over three days. The guests were to be welcomed with a pool party, before a Mata Ki Chowki, then attend the Mehndi and Sangeet which was an extravagant, Bollywood-themed night. A Haldi for the close-knit family was to be followed by the grand wedding and reception at The Royal Elm. The scale involved events spread over two venues, Radisson – where the guests were housed and the ancestral property. Logistically, that meant transportation, security, lights and housekeeping on top of the event planning. This is how they did it all:
The Welcome Pool Party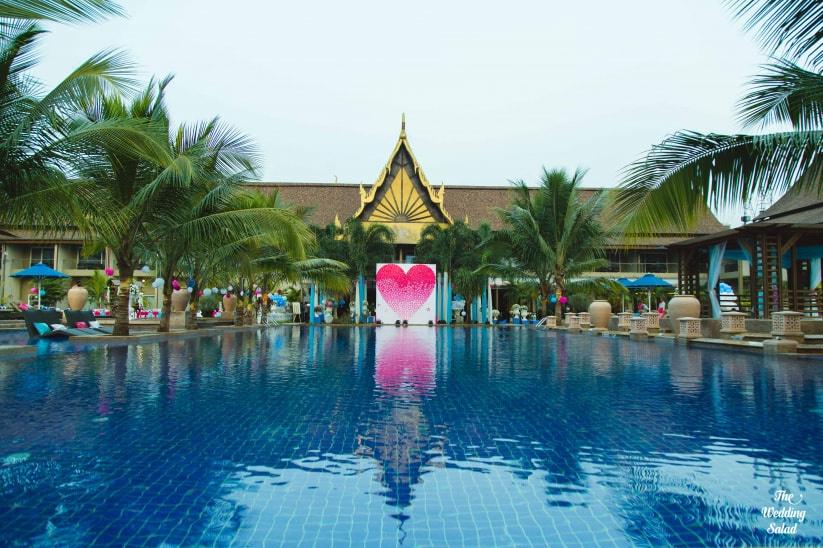 The wedding guests were welcomed at Radisson, Karjat with a Niki Beach themed pool party. The look? White décor elements by Dreamzkraft, interspersed with middle eastern items. The guests were offered scarves and belly dancing belts. They could be seen lazing around the poolside, sipping on drinks and hookah, with professional belly dancers performing around them. Relaxing foot massages were also available. This is easily the best bit of this destination wedding planning.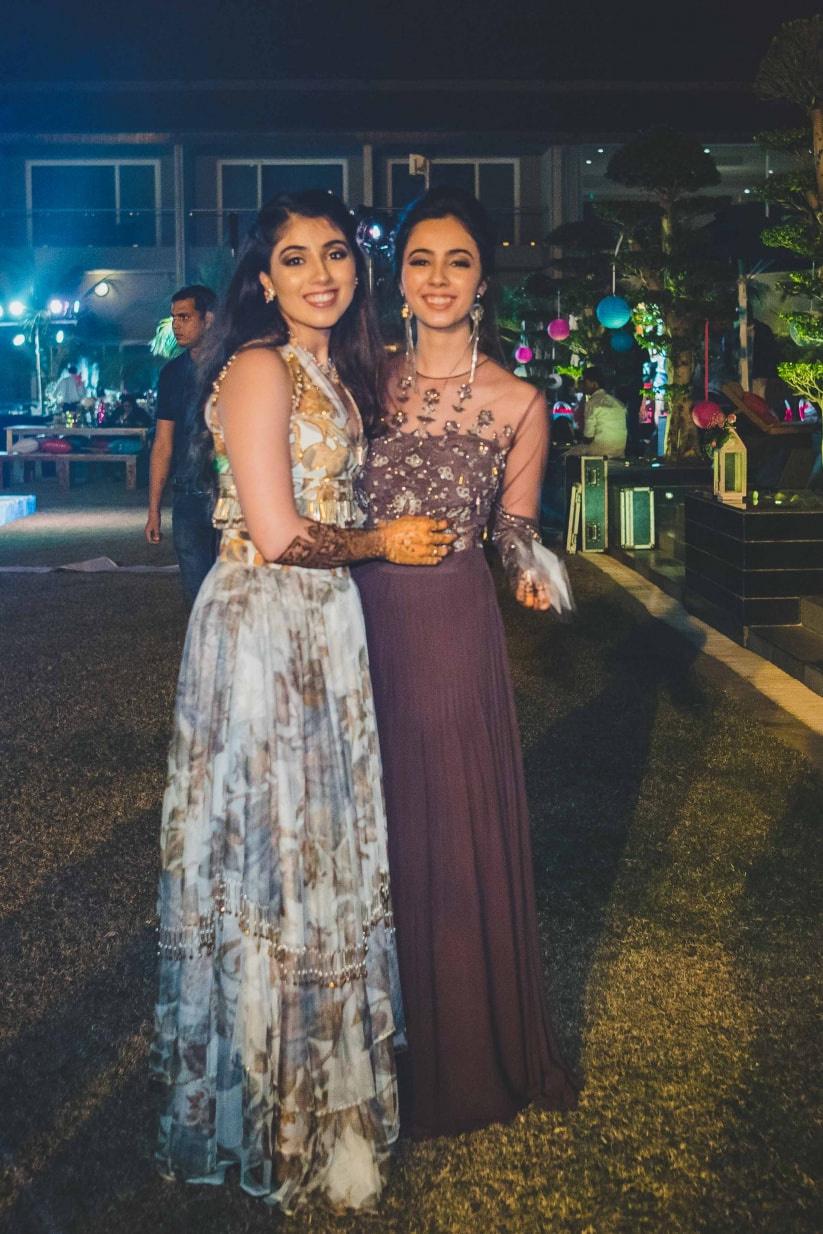 What she wore – Coordinated botanical outfit from Farah Sanjana
The Mehndi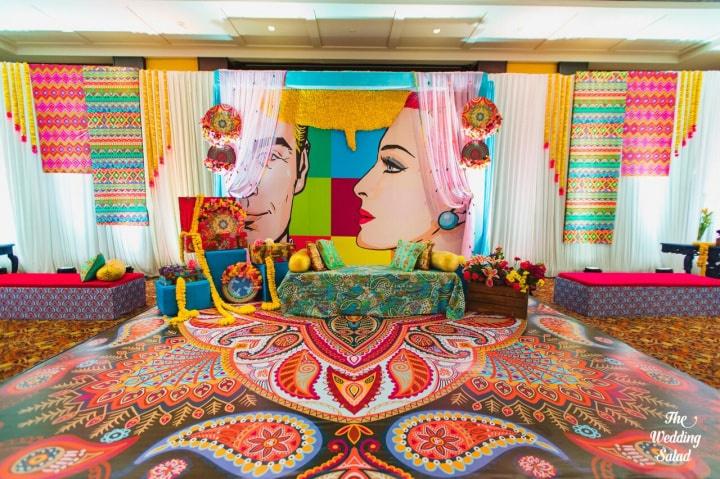 Bright colours and a pop art theme is what the guests found after the chilled festivities of the pool party. Magentas, lime greens and yellow marigolds were draped all over the scene of the indoor function (courtesy Dreamzcraft), alongside festive giveaways like Bandhej dupattas, bangles and fabric jewellery. And then, she came to the scene. Ayesha's bridal entry occurred under a floral umbrella (helpfully carried by Arjun) from Srishti Floral Art.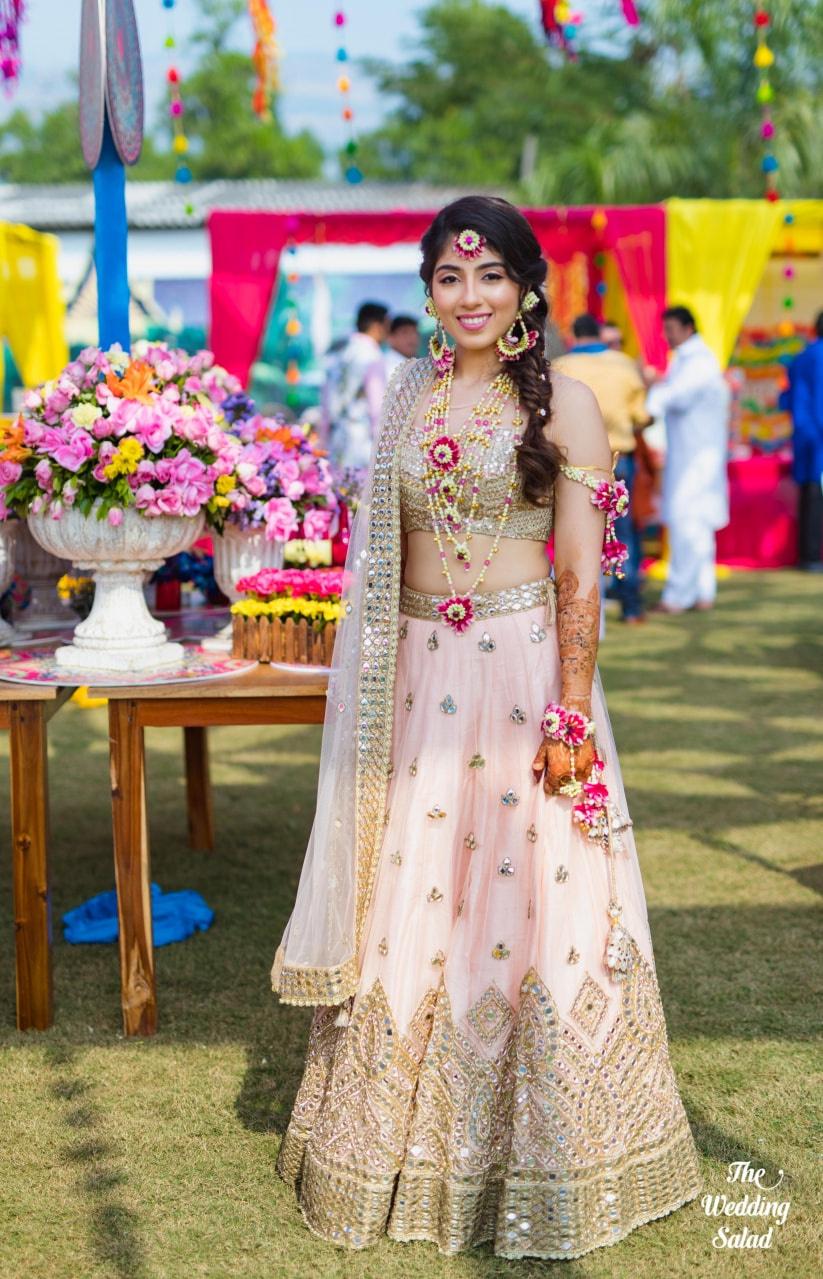 What she wore – Pastel pink lehenga with mirrorwork from Tamanna Punjabi Kapoor, floral jewellery from Shristi Floral Art
The Sangeet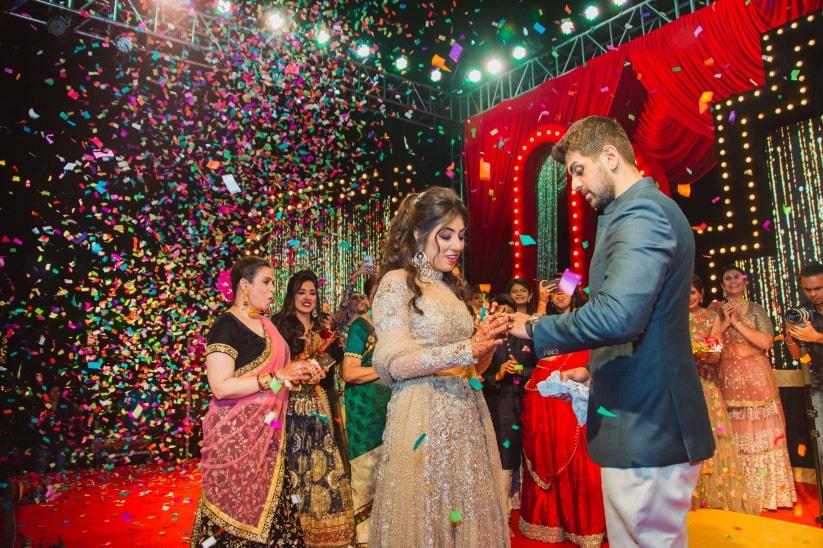 Bollywood night, in the house! The Sangeet was the first big function at The Royal Elm (to be followed by the Wedding and the Reception) and it occurred on a grand scale. The setup included a grand stage for all of the expertly choreographed performances and two bar popups. There was also an after-party before the guests left for the hotel.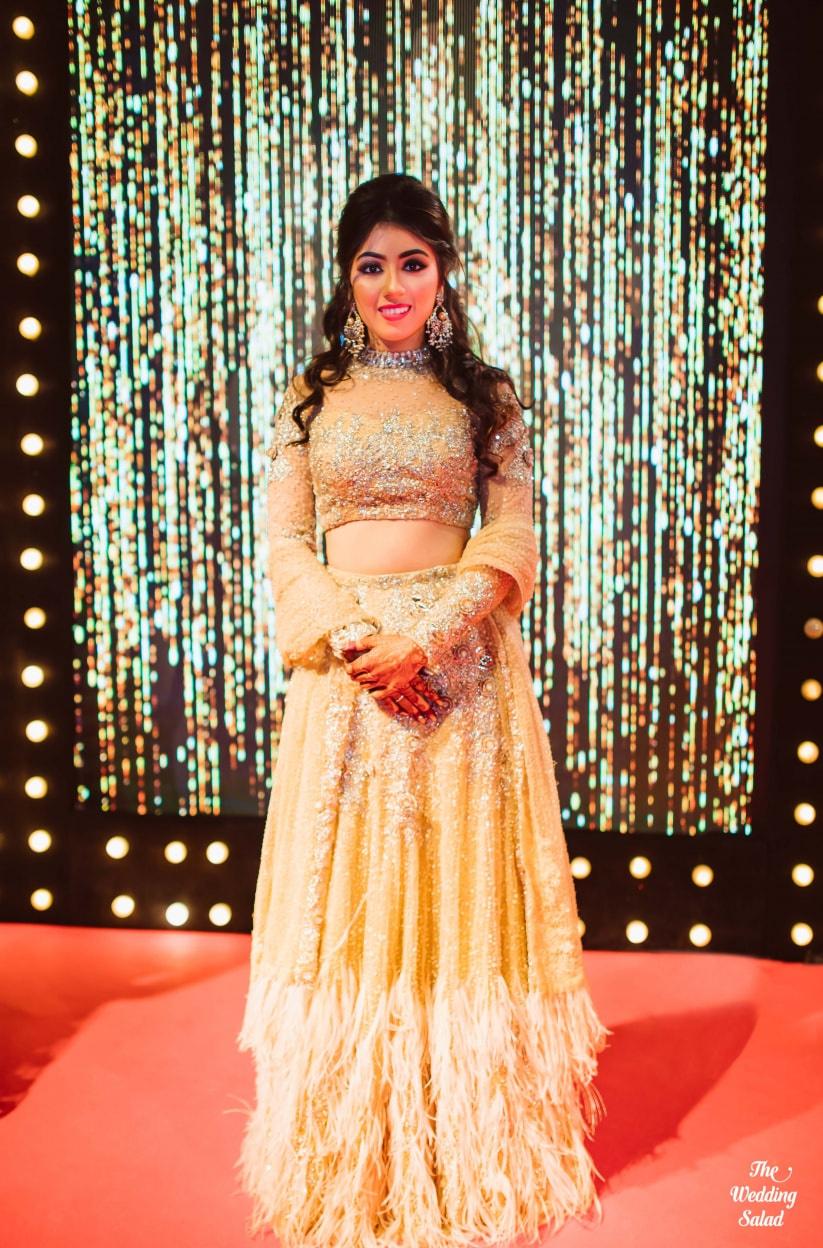 What she wore – Rose gold Manish Malhotra outfit with frill details
The Wedding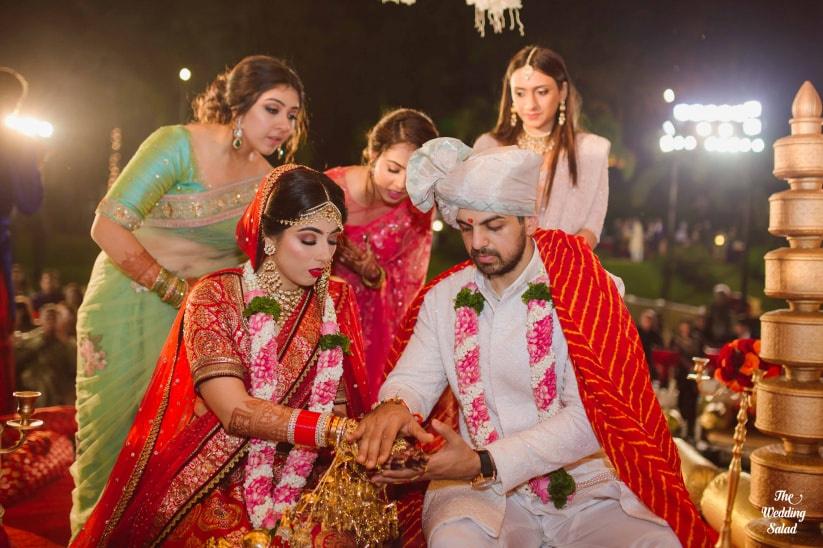 This is where it all came together – the dream for a lake view wedding, the ancestral connection and the ceremonial beginning for this made-for-each-other couple. Out in the open, the venue was set up with a grand entrance for the Baraat, interspersed with white arches. The duo exchanged Jaimalas under the open skies before they sat down for the rituals under a red mandap.
Ayesha was a bride who knew her style. We quizzed her about how she put together her bridal look. She said, "I went around with an open mind. I was sure that I wanted to wear a Benarasi lehenga for my wedding as I'm not a big fan of too much zardozi. So, when my sister spotted this beautiful Tarun Tahiliani lehenga for me, I knew it was a match made in heaven."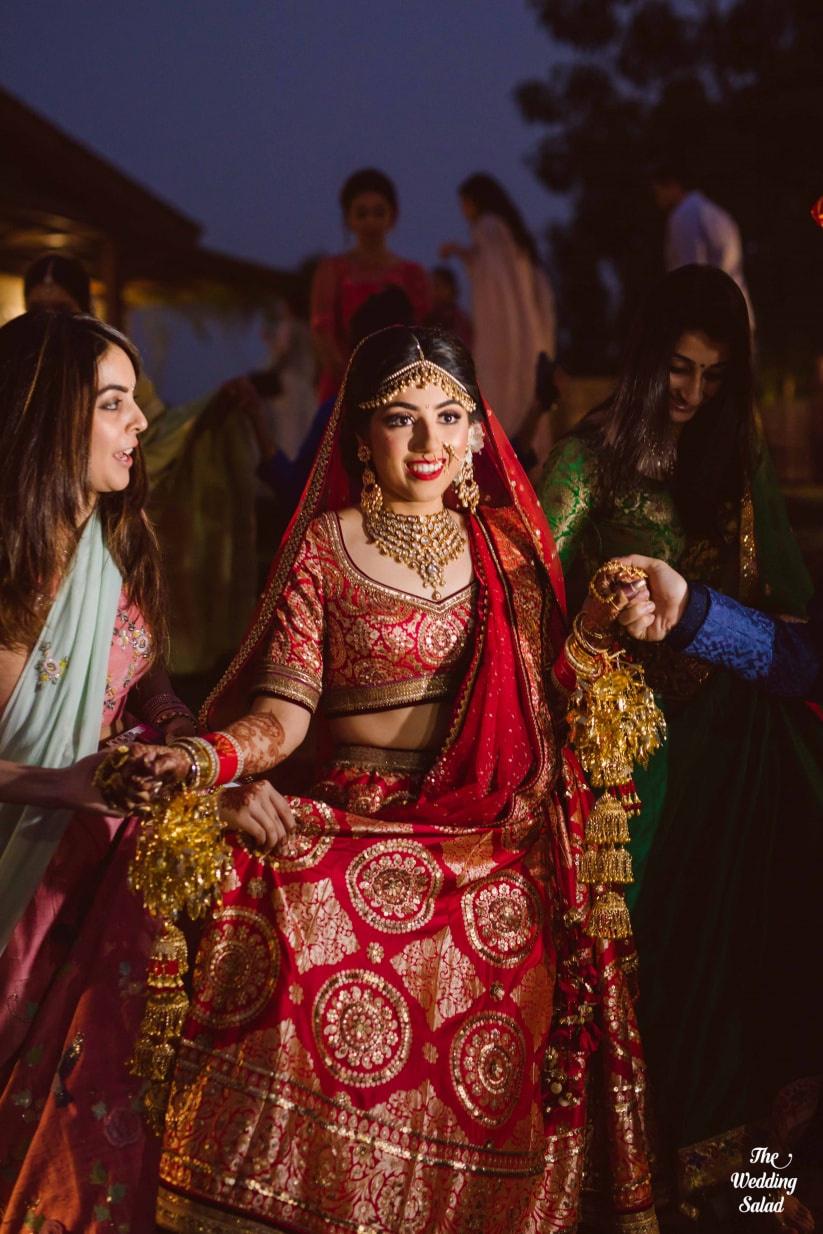 What she wore – Tarun Tahiliani Lehenga
The Reception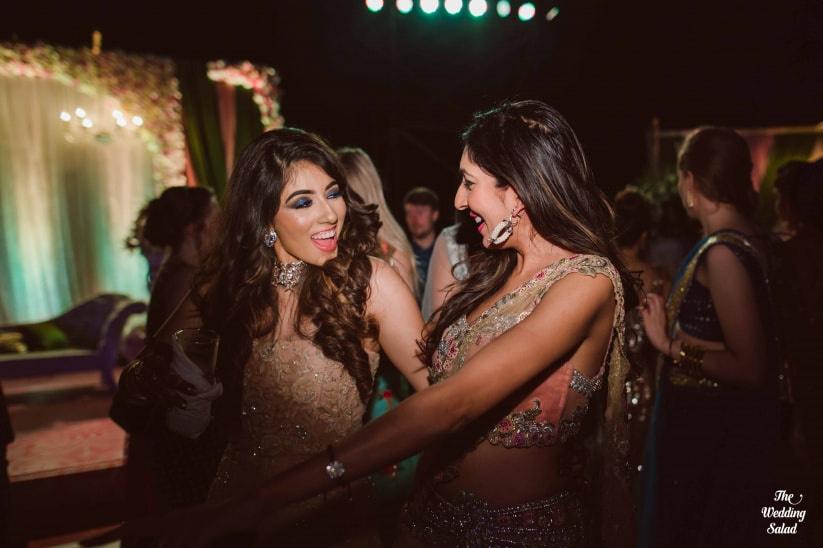 The grand night gave way to a floral, chic reception, with pastel arrangements and western outfits. Special mention to the grand floral circle for picture-happy guests and the wedded couple. The newly-weds were toasted under the stars and everyone broke into a song and dance!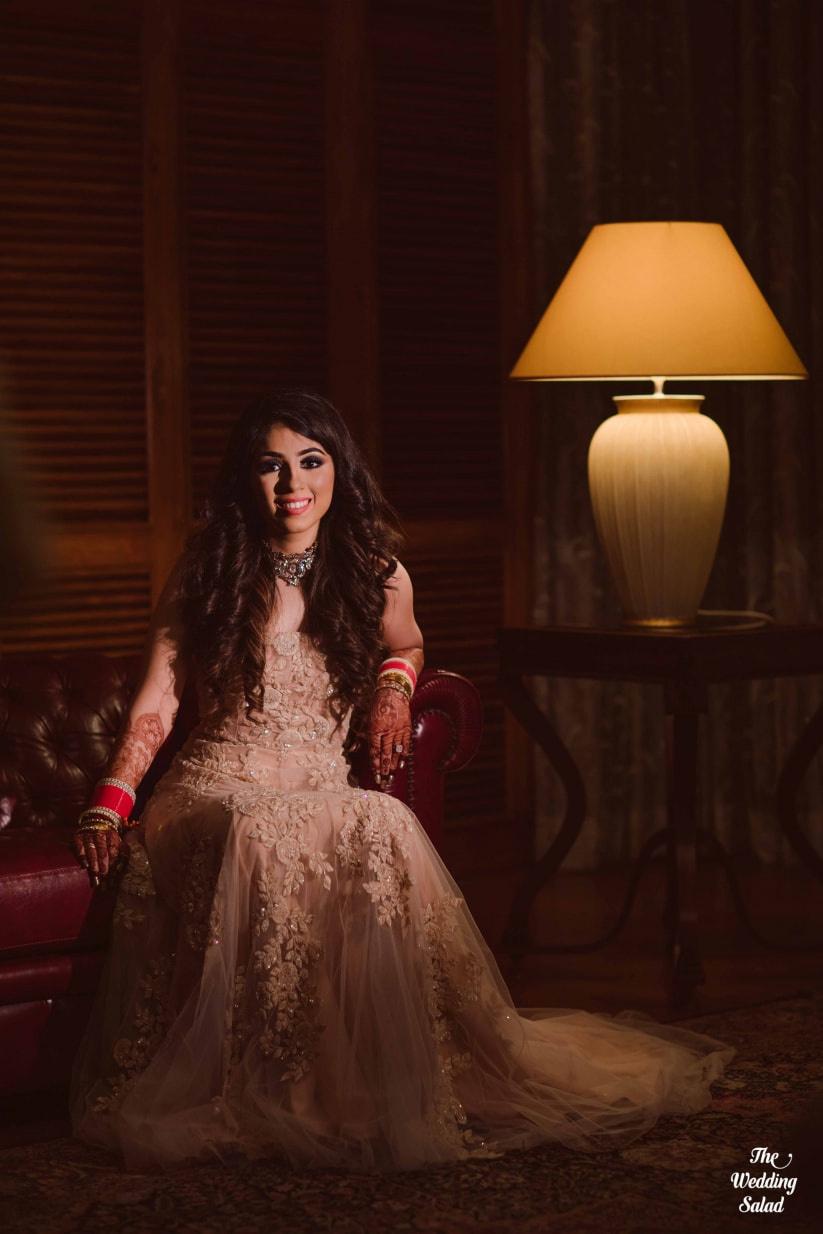 What she wore – Manish Malhotra dress
At the end of it all, we asked Ayesha about her experience of the entire destination wedding planning and seeing a lake-view one come to life. She said, "Neha and Jinal took care of every part of our wedding and we had nothing to stress about. I do not think we could have had a better wedding."
Want to have your own destination wedding near Mumbai? Check out all wedding planners in your choice of location to help you with your destination wedding planning.