Maang Tikka for Round Face - the Guide to Frame Your Face Right and Look Stellar for Your D-day
Searching for Maang Tikka for round face? Here are all the styles you can try! We have curated for you a galore. Pick the one that strikes your fancy the most.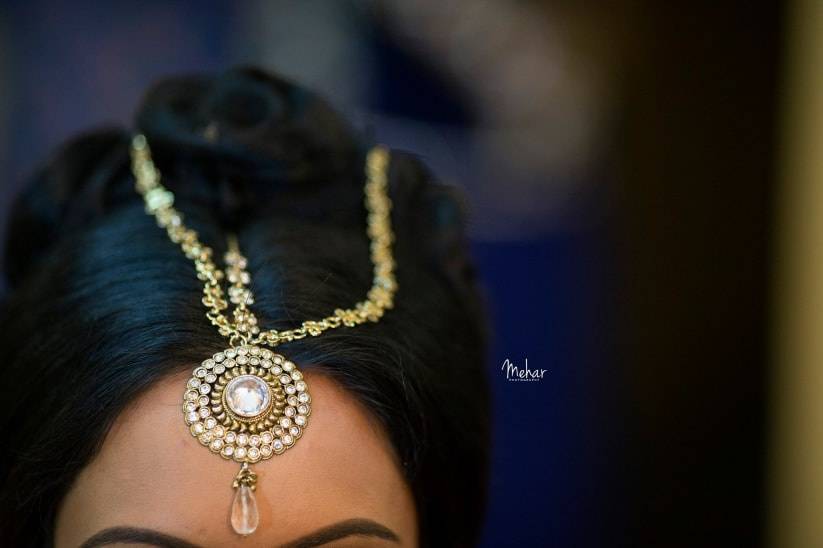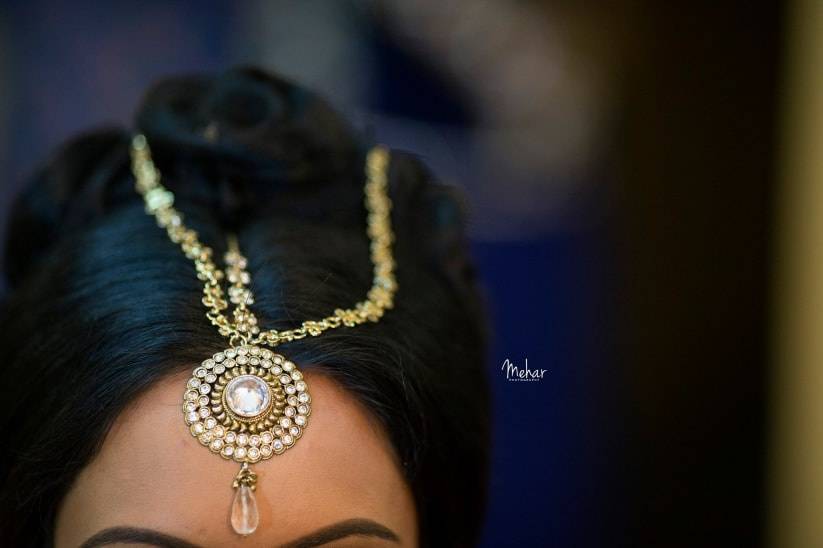 Image Courtesy: Mehar Photography
Elaborate Maang tikka for round face is all the rage this wedding season. Maang Tikkas are a great accessory if done right. Choose a style that perfectly frames your face and accentuates your features. Don't restrict yourself to the traditional Maang Tikka made from precious materials. Maang tikka is one of the necessary pieces of jewellery that you will be adorned in for your big day to add to your glamour and get you ready with the regal touch to fit the royal celebrations. The feet have the anklets, the arm has bangles and armlets, the nose and ears have rings, the head has its own crown to flaunt and all hail the Maang tikka.
The Maang tikka does not necessarily have to be one of gold with diamonds or stones studded on it, it can even be the one that has flower - both real and artificial ones, or one that has a fabric with glass decoration on it. There are a plethora of creative materials you can choose from among a selection of precious pieces. We have curated a list of drool-worthy designs to inspire you.
1. Flower Power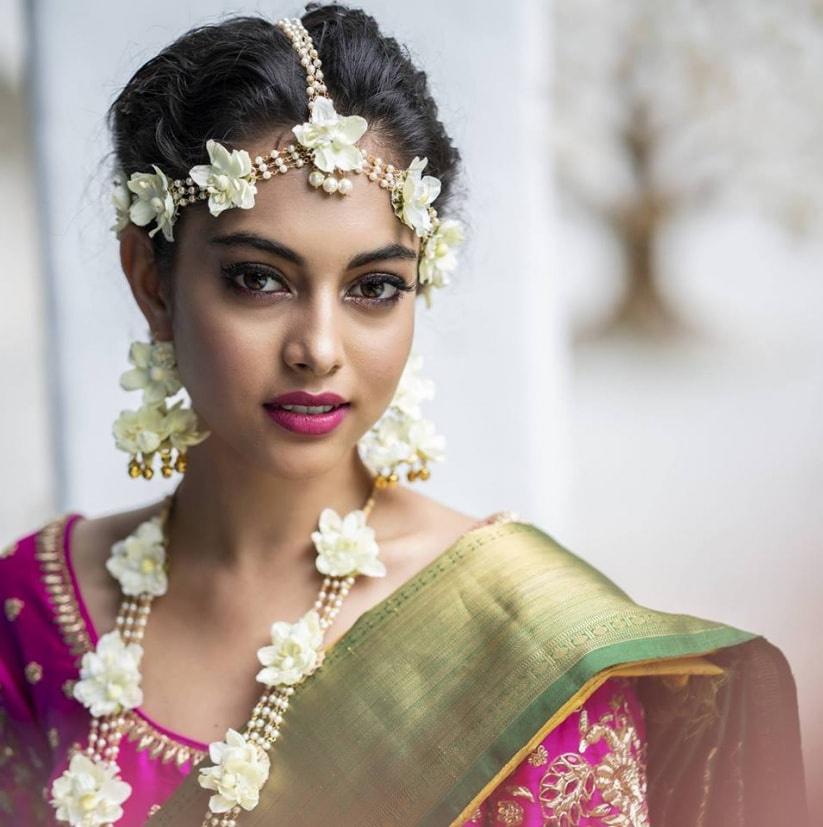 A bang on floral crown makes the perfect accessory to be adorned by the bride on her Mehndi ceremony. From a trend and a fashion fad, it has almost become a tradition for the bride to adorn floral accessories and flower Maang tikka for round face are a great accessory that will compliment you. It isn't just the tiaras that can have the flowers to crown you, brides can now flaunt the floral jewellery and they are the best fit for the mehndi. The multi-stranded floral Maang tikka is your show stopper.
2. Tassel Toss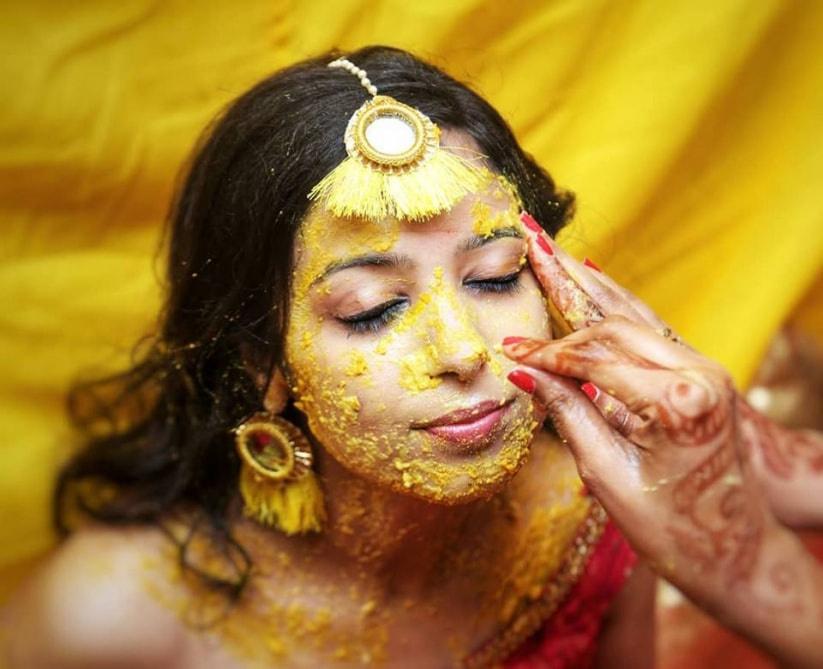 Well, if flowers are not your thing, then take the tassel trend to the next level by adorning a tassel Maang tikka for round face on the day of your Mehndi or Haldi ceremony. Mirrors, Gota, peals, rhinestones, you can get many embellishments to choose from to make it unique and coordinating with your outfit. The colours in the palette are way too many and will leave you spoilt for choice. You can pick one that matches your attire or a contasting one, whatever suits you best.
3. Minimal Muse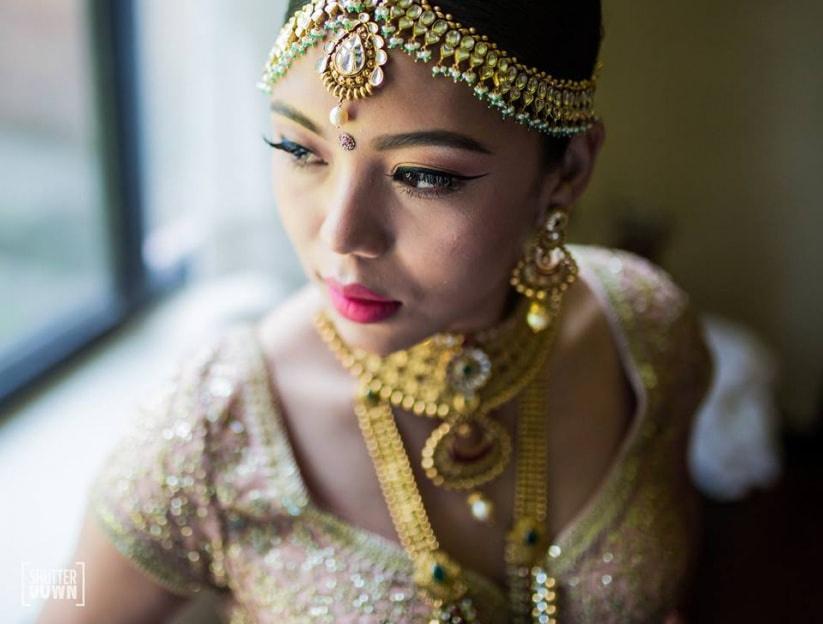 With minimalism being all the rage among the millennials, a minimal Maang Tikka for round face is not far behind the trend. To suit your face shape, make sure to select a style that is delicate and long. When accentuated with stunning precious gemstones, this style of Maang Tikka can be absolutely breathtaking. The delicate and dainty look has a romantic charm to it, just like the bride herself. However minimal does not always mean plain and simple, the intricate designs make sure the regal feel is left untouched.
4. Contrasting Tones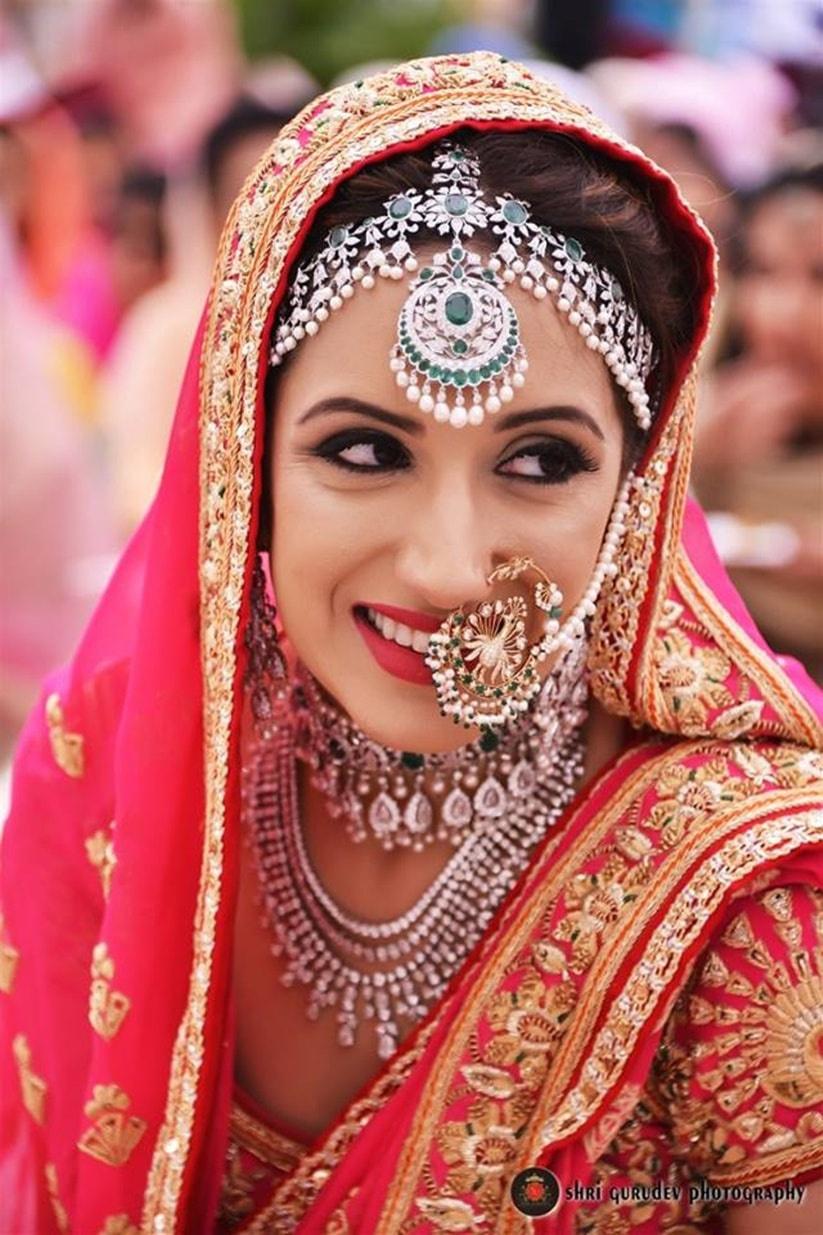 In the world of experiments, out-of-the-box choices and the urge to do something different, why should Maang Tikkas be left high and dry? Catch all the eyes and attention by adorning a statement Maang tikka for round face that is in a different tone than the rest of your outfit. Adorning an ensemble with golden details? How about pairing it with a majestic silver Maang tikka. If you can break the monotony and get out of the trend that the crowd is flowing in, then you can be the trendsetter.
5. Magnificent Matha Patti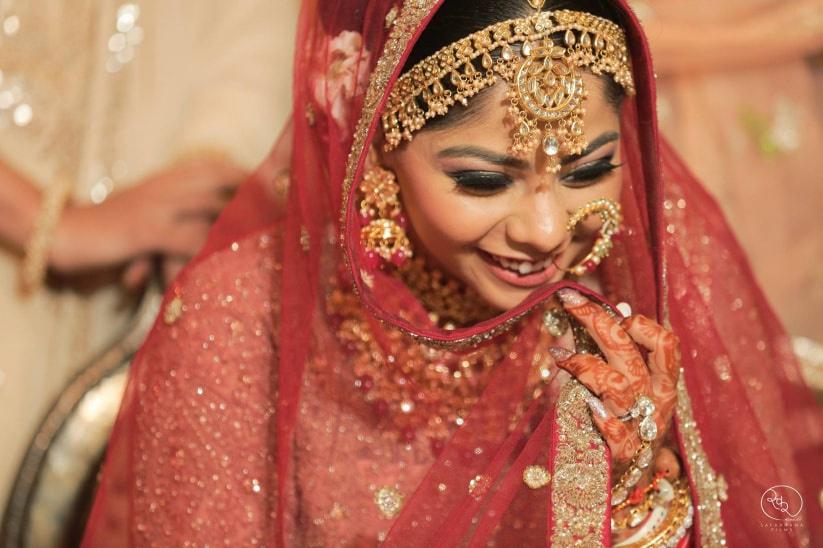 If you are a bride that loves going OTT with her fashion choices, adorn a magnificently elaborate Matha Patti on your big day. Make it truly special by accentuating the piece with uncut Polki diamonds and a sprinkle of micro pearls. This classic yet impactful piece with be a head turner and well worth the investment as this style is not fade with age. Gold is always the safest bet to play for your big day and it goes well with colours like pink, red and even purple and so on. You can also opt for golden jewellery with a golden lehenga.
6. Gorgeous Gong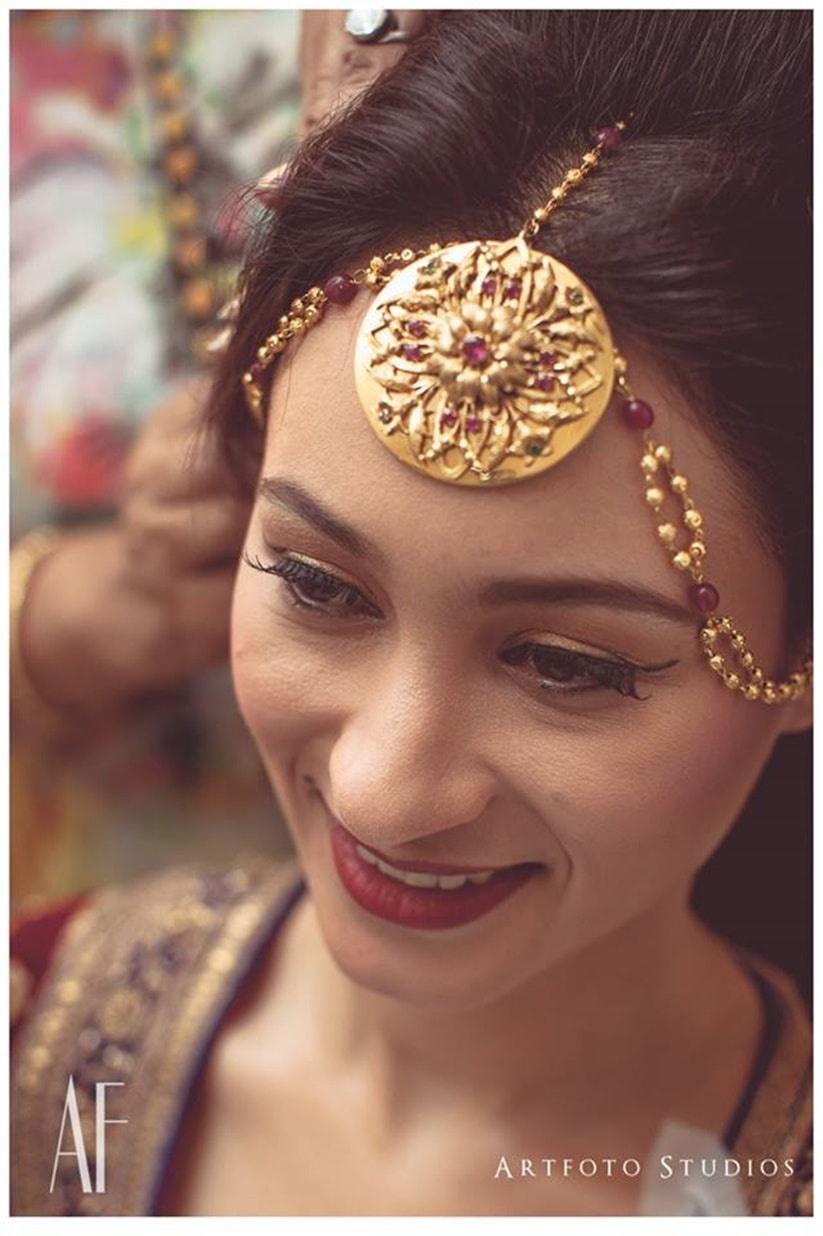 Inspired by the shape of a gong and accentuated with bold floral embossing details, this Maang Tikka for a round face is truly an eye-catcher. There is no way that this stunner can go unnoticed. The simplicity of the elements is compensated with the embossed details highlighted with precious red rubies. The strings of delicate gold beads will add rhythm and grace to your overall look. If your forehead is a little more stretched then this piece will fit best because it will have the right space to be adorned in.
7. Bharatanatyam Beau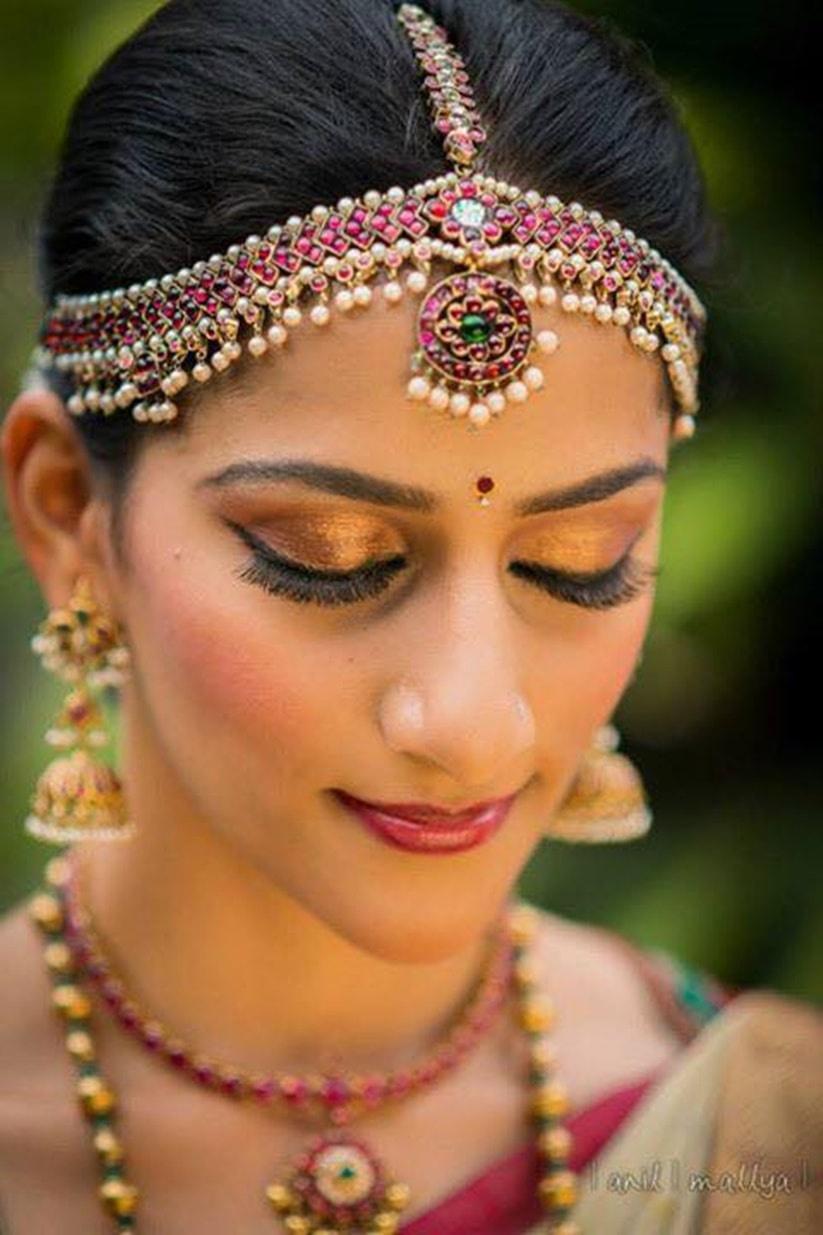 If this gorgeous dance jewellery does not reflect stepping into your new phase of life in style, then we don't know what does. The seamless blend of traditional jewellery with your trendy outfit will be the highlight of the day, giving you a truly unique look, you want as a bride. Be a muse for the others around you and give them the inspiration to plan the accessories or their big day. The skillfully encrusted precious rubies along the entire piece make it a true show-stopper.
8. Emerald Elegance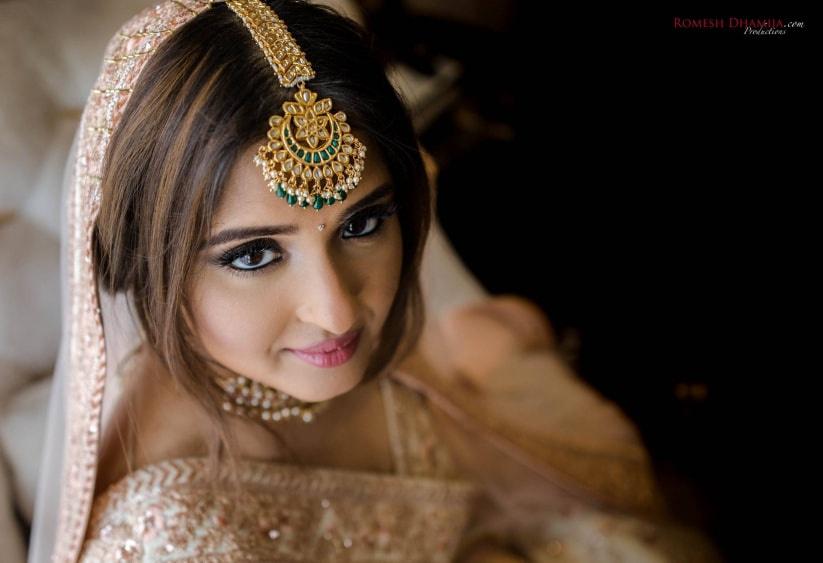 Hitting the trend of ginormous Maang Tikka with a touch of tradition and elegance is this beauty encrusted with precious uncut Polki diamonds and accentuated with the play of emerald crystals and beads. Adding a cherry on top are the sprinkle of micro pearls bring the whole piece together. This is the style of Maang Tikka for round face that you need to make note of.
Now that you have dipped your toes in the pool of endless options of Maang Tikka for round face, get down to selecting the styles you want to adorn and the outfits you want to pair them with. It's never too early to start planning the details of the biggest day of your life.
Which one of these styles did you like the most? Let us know in the comments below!