6 Gorgeous Maang Tikka Designs That Can Inspire Your Bridal Look
Amongst essential jewellery pieces, every bride must have is the maang tikka. These traditional pieces have been twisted and embellished for the modern taste with elegant! Check out these maang tikka designs.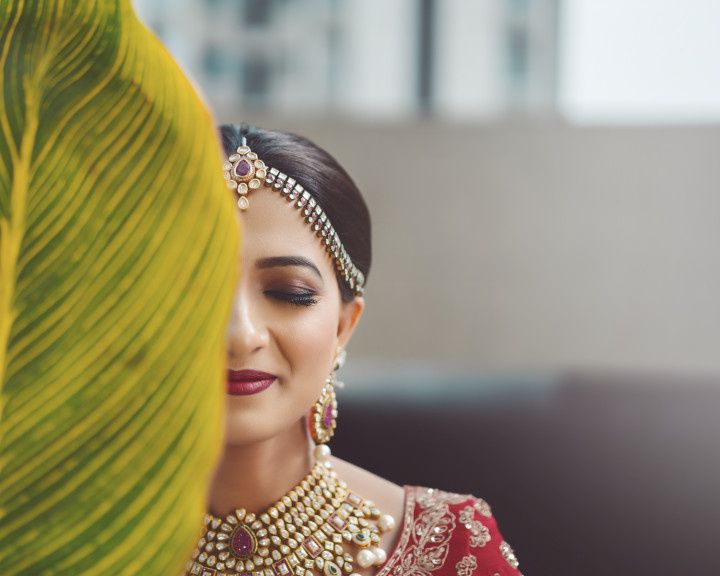 Maang Tikka is a traditional piece of jewellery which are intricate and immediately stand-out between all your spectacular adornments. These simple, delicate and essential jewellery add the finishing touch to the bride's attire, despite the design.
After all your bridal outfit is all about attaining the perfect look, where everything is a smooth symphony working to make you look gorgeous and accentuate your features one special day! With the ever-changing bridal fashion, we have curated this list of maang tikka designs we spotted on real brides! Even though maang tikka was always present in the bridal collection, it has now gained more significance in recent fashion.
Whether you are a bridesmaid or a bride, maang tikkas are something you must invest in! They are a trend now which is here to stay, and this classic element is guaranteed to ramp up any of your ethnic outfits! So, read ahead to find the style which sings closest to your liking!
1. Kundan maang tikka with pearls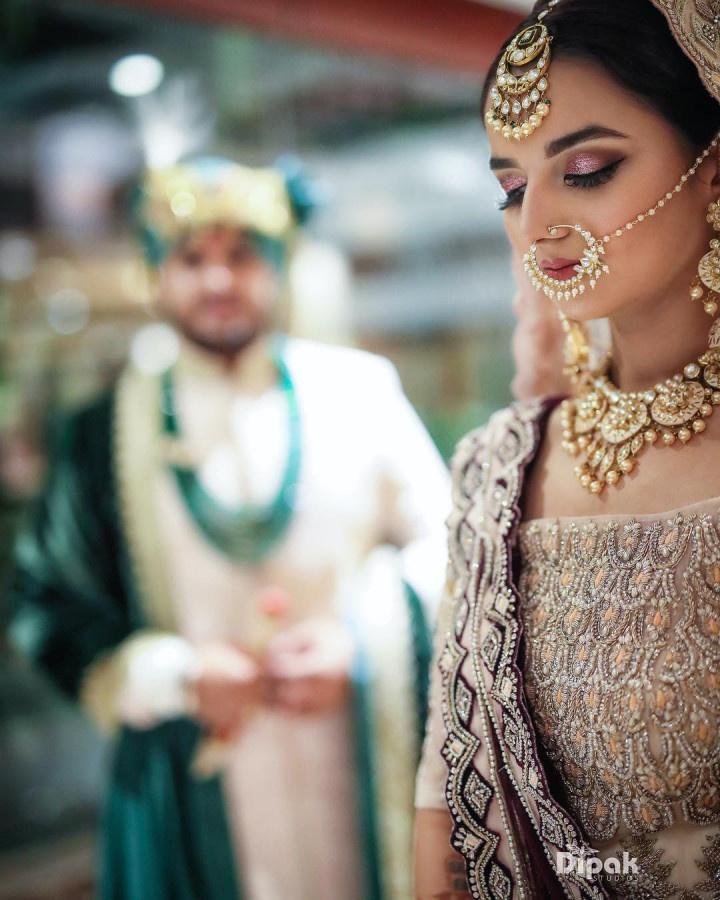 Kundan, pearls and maang tikka, how we love to hear those three things together in one element! Even with classic elements in a traditional design, this maang tikka design has managed to move one step further. We love the semi-circle below the circle and the little droplets of pearls hanging at the end. This maang tikka design is simple and elegant perfect for any function! We especially love how all her jewellery is so well coordinated, from the earrings, neck piece to even her outfit. The semi-circle pattern all over her blouse seems to be keeping track with her jewellery, it all looks so perfect!
2. The traditional one!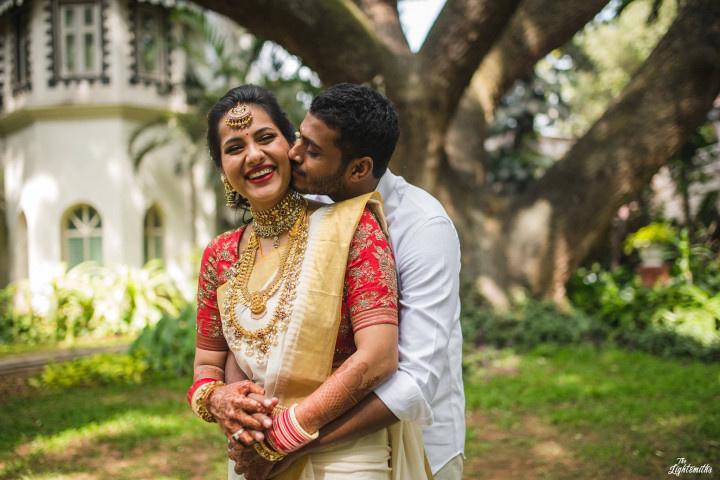 Keeping up with this bride's minimalist and classic style, her jewellery seems spot on! The maang tikka design is traditionally made in a temple jewellery style as it is set in a crescent shape with gold droplets and has delicate rubies set it in. This design has a South Indian touch to it. This bride's look is so simple and yet elegant with a touch of red and traditional jewellery to pull it all together. She looks like a dream!
3. Something unique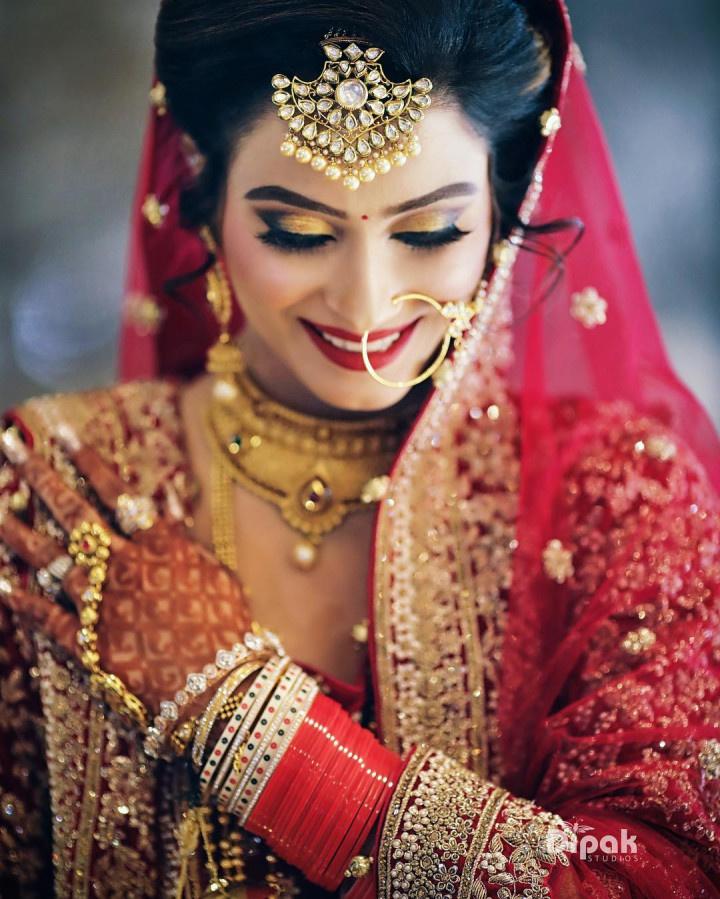 Some shapes are quintessential to maang tikka designs like sphere and crescents, but we can assure you, this shape is not common at all and yet we wonder why? This maang tikka design is so unique and yet perfect. While one may be scared to stray away from the traditional designs, this design is for the modern bride, who wants the traditional elements in a modern setting! It also makes for a perfect picture.
4. One maang tikka but many layers!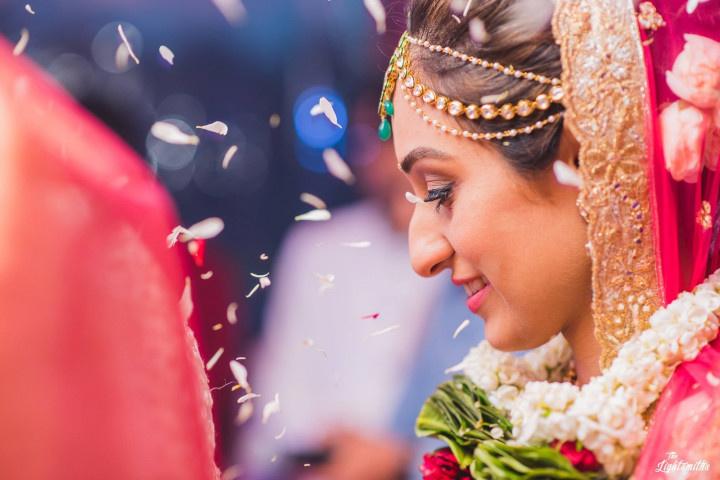 Want a maang tikka design which also functions like a Matha Patti? Well, you are covered. This maang tikka design is so pretty with the strings of pearls, Kundan work and emerald stones hanging in contrast to her bright red bridal outfit. It is the perfect accessory for a bride who wants something more than the classic maang tikka which just covers the centre of her parting!
5. Floral maang tikka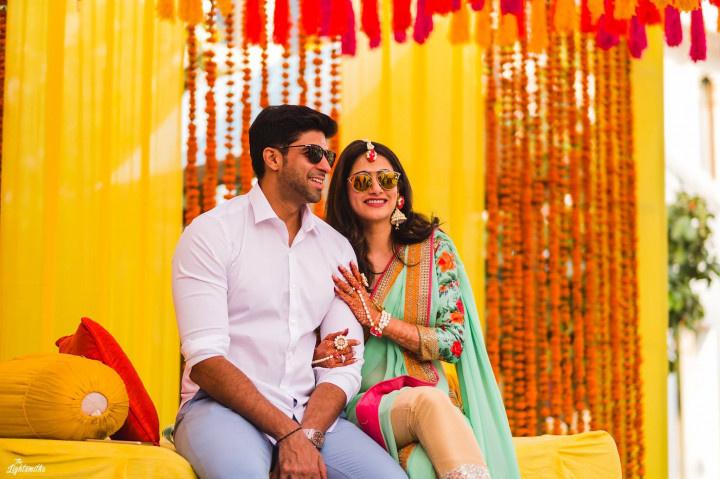 Who said maang tikkas can only be worn as a piece of heavy jewellery? For functions like your Mehndi, Haldi and any day function the floral jewellery come to the rescue. All the rage right now, these delicate strings of fresh flowers strewn together to form maang tikka designs are so adorable and pretty! The fresh feels from these delicate ornaments add to the simplicity and yet the whole theme of morning functions while making for perfect pictures. Also, a special shout out to this bride's floral jhumka, how adorable do they look!
6. Dainty and pretty
Whenever one imagines a maang tikka, it is almost always a big crescent-shaped piece of jewellery but that is not all this versatile piece of jewellery is limited to. When we saw this picture of celebrity stylist Aastha Sharma so elegantly carrying off this dainty yet beautiful maang tikka design we could not help but include it for all you brides who are all about the minimal and yet impressionable pieces of jewellery.
There are so so so many maang tikka designs that it might seem like a daunting task to pick one. But once you've chosen your outfit, go and try out different styles, colours and shapes to find the one that best suits your face shape and even your jewellery set. You could even buy it in a set with your bridal jewellery as they are well designed and coordinated. You can always choose a contrasting colour maang tikka design for a much-required pop of colour in your outfit!
You can also consult your hairstylist on which maang tikka style she would suggest to accommodate the best possible look for you. There are never too many details you can chalk out for a wedding! There are so many ways to go with this simple yet essential accessory.
So which style would you like to pick?