Dial up the Grace Factor with South Indian Jewellery and Flaunt an Exquisite Bridal Aura
South Indian jewellery is all about traditions, elegance and intricacy. Brides across the country simply love the exquisiteness of the jewellery designs. Take a look at all kinds of bridal jewellery from South India and get inspired!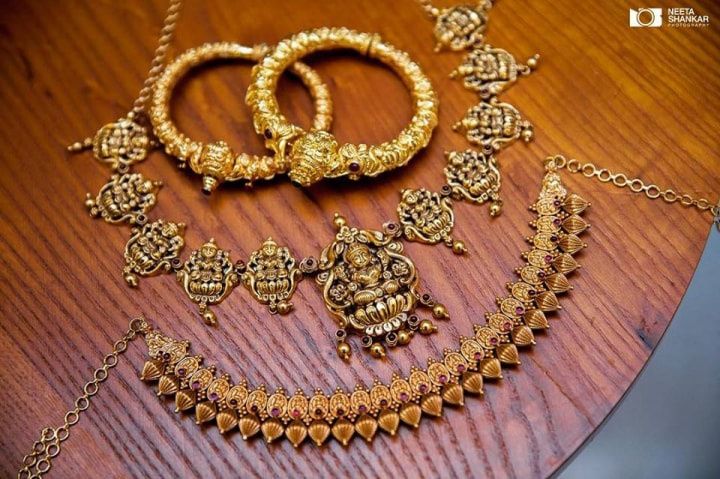 If you're looking for elegance, grandeur and loads of ethnic vibes in your bridal jewellery, we might just know the answer! From Jada Bila to Kasumala and Vankis, South Indian jewellery has the touch of divinity in every piece. Especially the temple jewellery is a sheer exhibit of spectacular works of art that enhances the beauty of your bridal lehenga in every way. That's why it has become increasingly popular among brides all over the country. So do you want to flaunt such stunning adornments on your wedding too? Read on to know all about different kinds of jewellery hailing from South India:
1. Manga Malai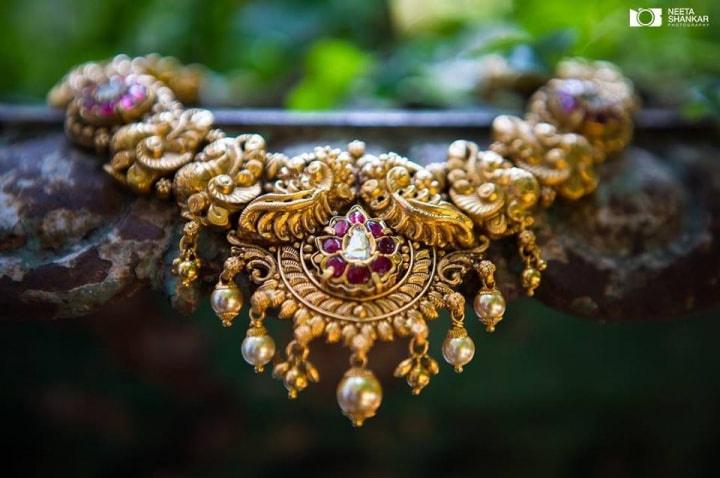 A stunning piece of jewellery, a Manga Malai just accentuates the whole bridal look. Because of its richness in design this piece of South Indian jewellery is adored by brides across the country. A Manga Malai is recognised by a big icon of Laxmi pendant at the centre and little icons throughout the necklace. Ideal with Maggam blouses, you can also go for just a big pendant dangling from a long chain.
Where to look: Ultra Jewels (Bangalore), Temple Antique (Hyderabad), Sree Chitranjali (Hyderabad).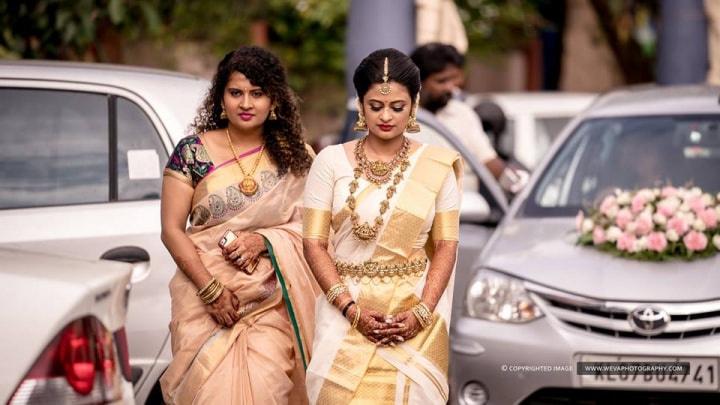 2. Kasumala or Kasulaperu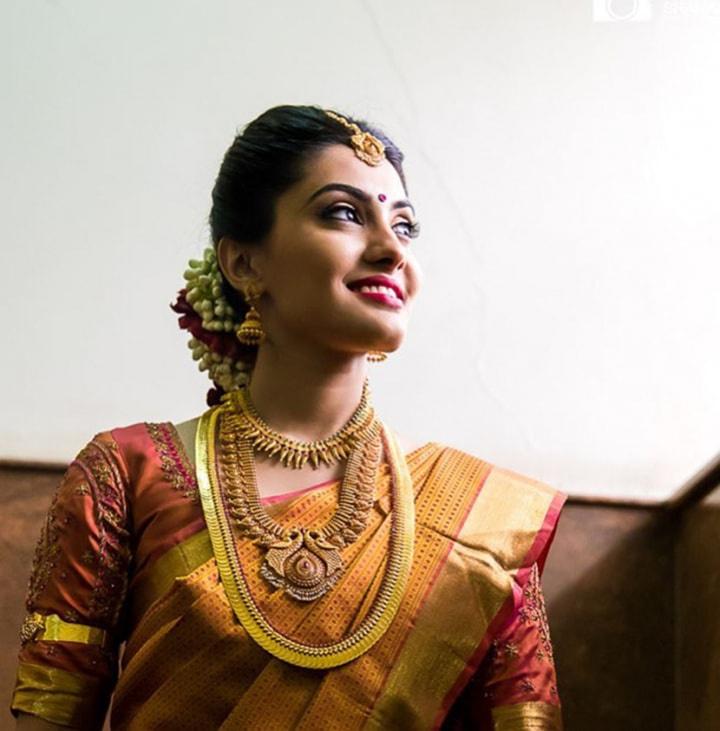 Beautiful long gold chain made of Laxmi coins strewn together, a Kasumala can be a part of your bridal attire in different fashions. If you want a grand look, go for a traditional double layered Kasumala finished with kemp stones, uncut diamonds and precious stones. Otherwise, you can also sport a long necklace paired with a smaller necklace for a simpler look. A Kasulaperu is one of the most popular ornaments of South Indian jewellery, (especially as a Kerala wedding jewellery set) because of its versatile styling options.
Where to look: Ambica Pearl and Jewellers (Chennai), Santhosh Jewellers (Chennai), Maya Mantra (Bangalore).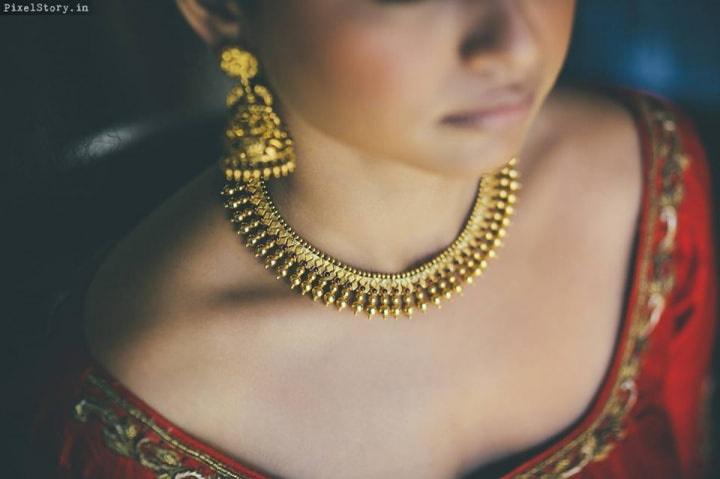 3. Jhumkas or Devasena Earrings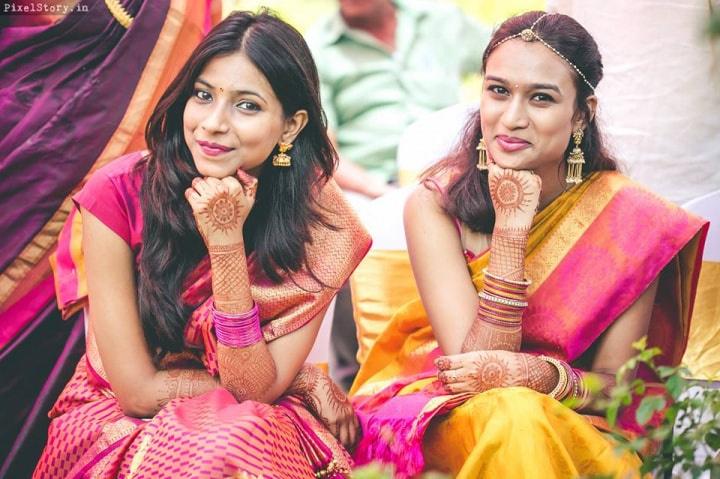 Inspired by Gods and Goddesses motifs, a Devasena earring is a bride's absolute favourite part among the South Indian jewellery. Usually, the earrings are large and heavy with elaborate work which would be just perfect to go with gorgeous Kanjeevaram saree blouse designs on your wedding day. Devasena earrings are also available in Chaandbali and Jhumki designs in case you're opting for a trendy lehenga choli.
Where to look: G.R. Pancharathan Jewellers (Bangalore), Bhavesh Jewellers (Mumbai), Malabar Gold & diamonds (Nellore).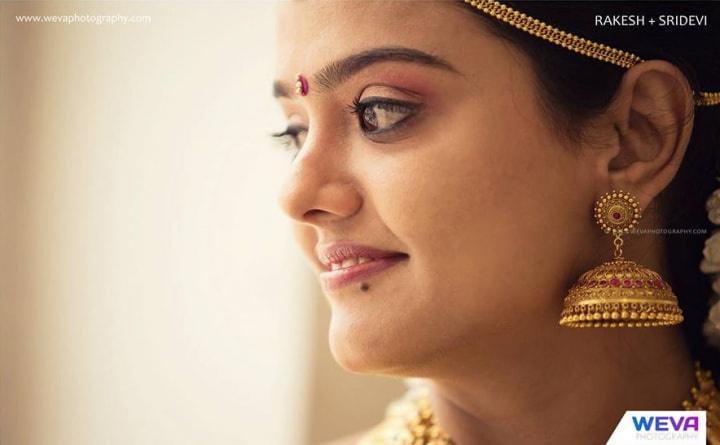 4. Vadiyanam or Vaddanam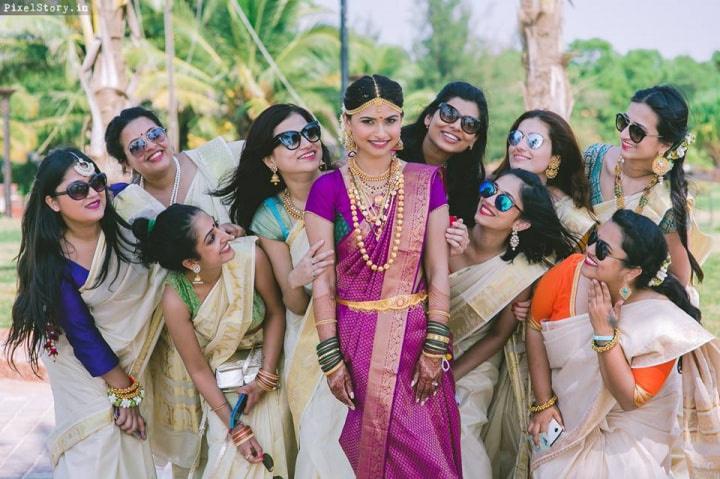 South Indian jewellery is just not complete without a Vadiyanam or commonly known as a Kamarbandh. Whatever your choice of saree is, a Kamarband is an absolute must for a South Indian bride. Traditionally, there is a Laxmi idol sitting on a lotus at the centre of a Vadiyanam band. However, brides are also opting for contemporary Kamarband styles made with precious stones, beads and even artificial jewellery for a wider range of design options.
Where to look: Panache Lavanya (Bangalore), Sitara Jewellery (Hyderabad), Tribhovan das Bhimji Zaveri (Pune).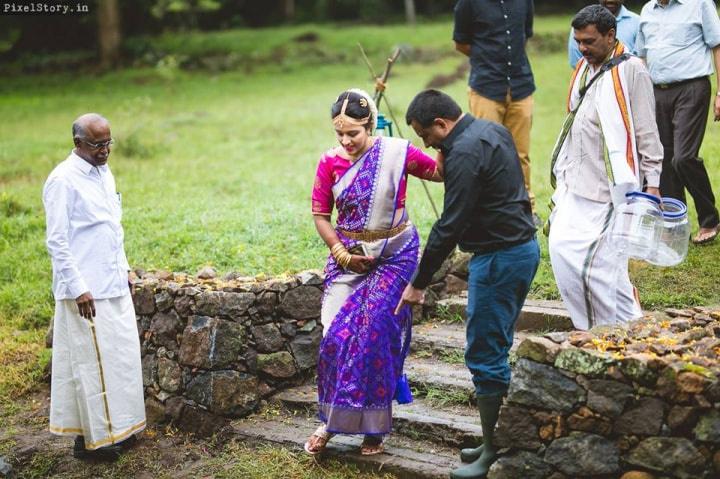 5. Nethi Chutti or Matha Patti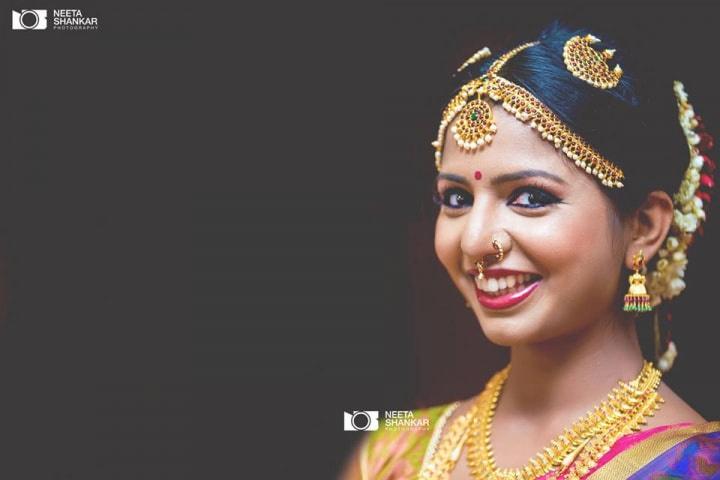 So far you've read about all kinds of Maang Tikka and Matha Patti designs that would perfectly complement your face and style. Now let us introduce you to a fresh term from the world of South Indian jewellery - Nethi Chutti. If you're a bride who would love a fuller design, a traditional Chutti with a large central pendant with two broad sidebands is just the thing for you. In case you're looking for something more subtle, you can also go with thin strands or beads with just a pendant at the centre. Sometimes, a Netha Chutti is also accompanied with a Surya or Chand head pins.
Where to look: Sultan Gems and fine jewellery (Chennai), Amrapali Jewellery (Chennai), Orra (Hyderabad).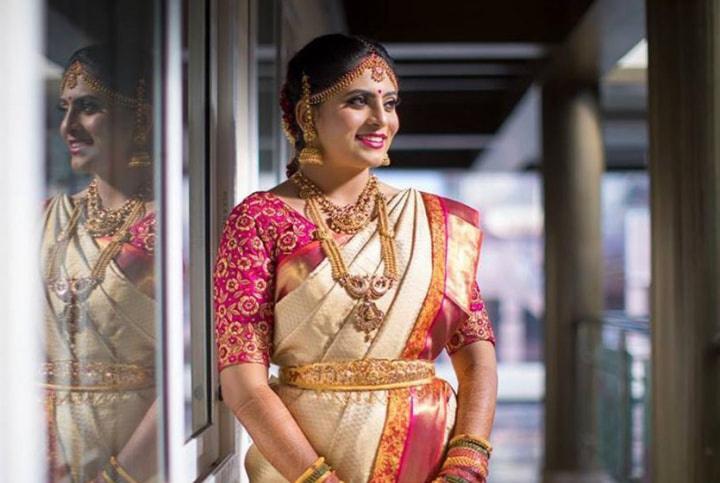 6. Jada Billa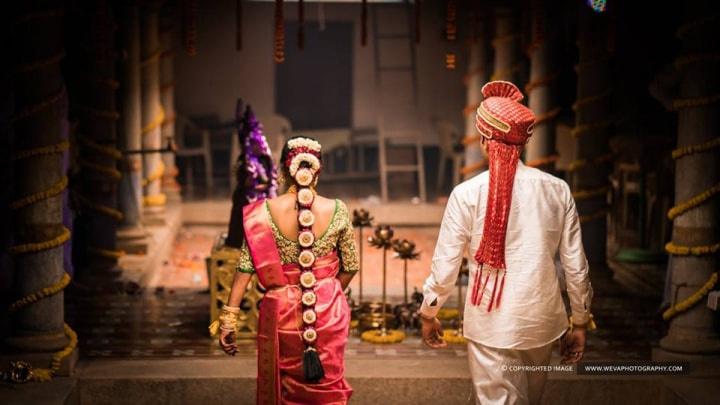 A South Indian bridal Shringaar is not complete without a Jada Billa. Bring out the divine you by embellishing a thick long braid with fresh jasmine or temple designed Jada Billa. If you're a fan of South Indian jewellery, this is one hair accessory you would love to add to your bridal trousseau. Talk to your hairstylist to try creative styles of arranging the Jada Billa.
Where to look: Swarnam bridal collection (Chennai), Sapna Jewellery (Hyderabad), Aaharya (Mumbai).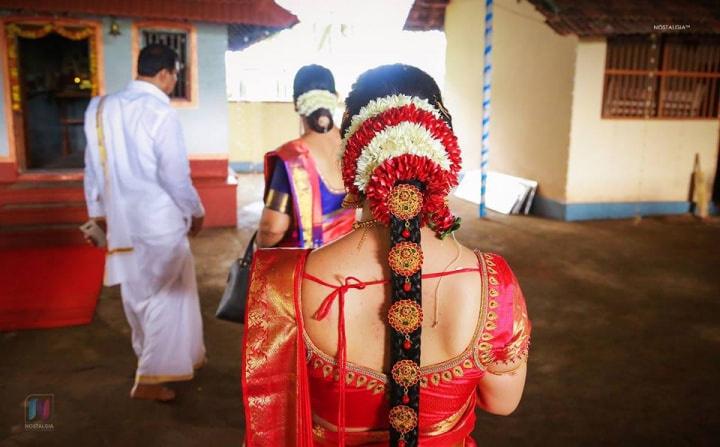 7. Vanki and Vallayal/Bale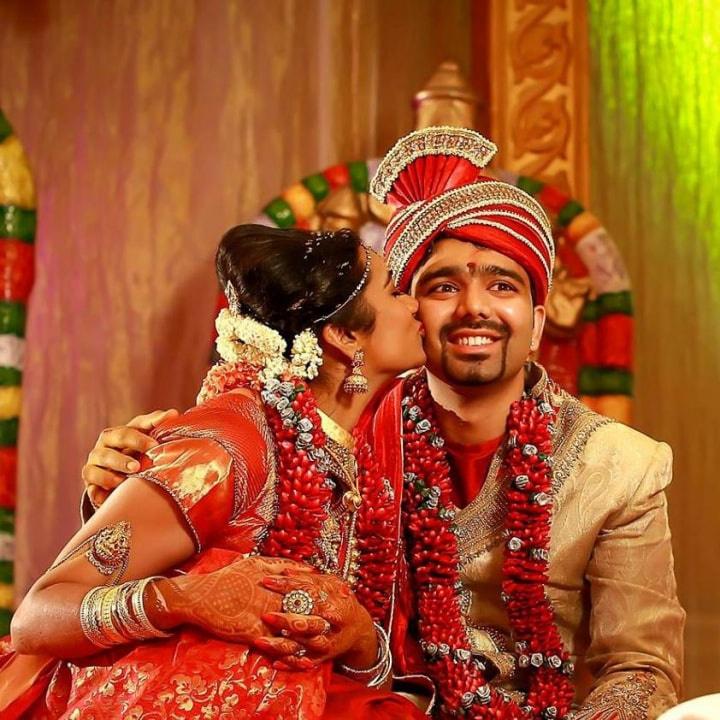 We know how much brides are fond of their bangles and armlets. This is that part of South Indian jewellery which decks up exclusively a bride's arms! A Vanki or commonly known as a Bajuband is usually worn on the right arm. The designs are inspired form ethereal temple architecture. Go with a smaller sleeved blouse or puffed sleeves to flaunt your Vanki. As for the Vallayal, Vale or bridal bangles, if you're opting for a heavy Kada you just one in each hand would be enough. However, you can also combine and pair up your traditional temple bangles with gold ones for a fuller look.
Where to look: Rathore bangles and cosmetic store (NCR), Deep Jewellers (NCR), Malabar gold (Kozhikode).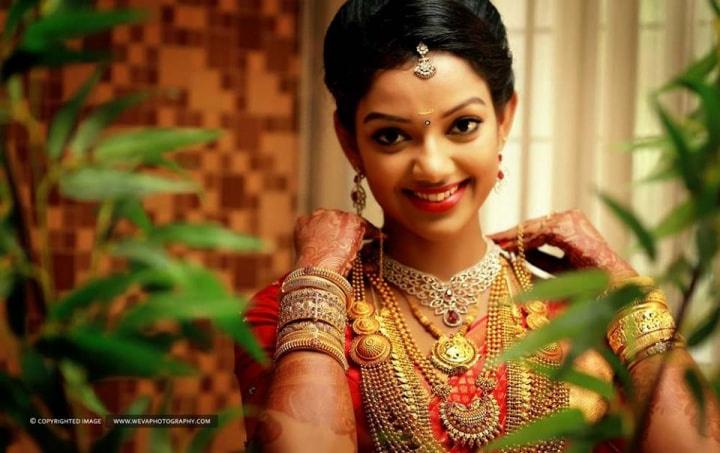 There is quite a high significance of temple architecture and religious idols in South Indian jewellery. Apart from the above-mentioned ornaments, there are evident temple designs on bridal attire too. Like Maggam blouse designs or a Pattu saree have an evident inspiration of temple designs using semi-precious stone and Zari works. You can even get your favourite designs for jewellery online. Just make sure to keep a few things in mind while you buy online jewellery. So if you too are in complete awe of the stunning designs of jewellery from South India, don't wait! Pick your favourite designs and let jewellery shopping begin now!
Looking for more bridal jewellery vendors? Head over to the trusted bridal jewellery vendors near you.