15 Kanjivaram Saree Blouse Designs Perfect For This Wedding Season
Your search for the perfect Kanjivaram saree blouse designs ends here. Browse through our list of gorgeous saree blouse designs that are truly inspiring.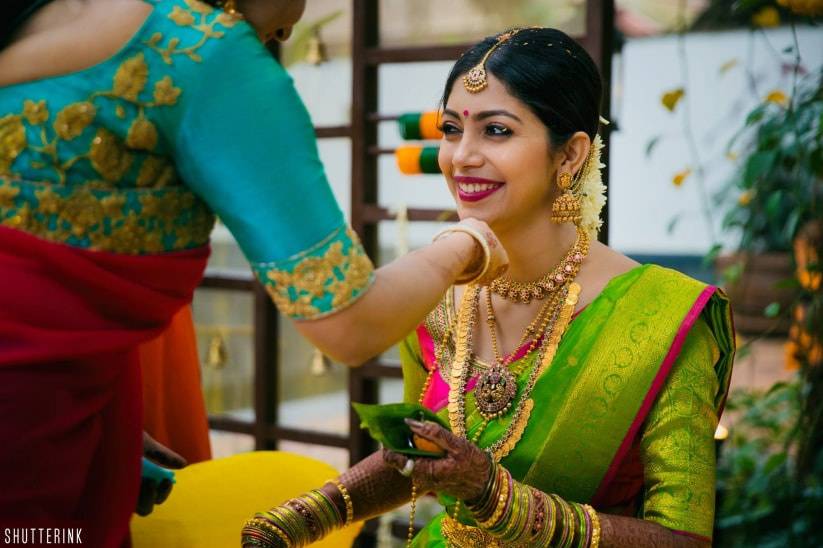 You've just bought a dazzling Kanjivaram saree in your favourite colour for your wedding. Now the next feat is to find the perfect blouse design to go with it. Choosing the right blouse design for your bridal saree is as stressful as the entire wedding planning...at least for the bride. Trust us, we understand completely. That's why we're here to help you with some exquisite Kanjivaram saree blouse designs for your special day.
How did Kanjivaram sarees come into the picture?
Kanjivaram silk sarees traditionally originated from a village called Kanchipuram in Tamil Nadu. Woven from mulberry silk Kanjivaram sarees are laced with intricate gold and silver thread work. Brides from almost the whole of South India, as well as other parts of India, are opting more and more for these gorgeous silk sarees. So, it's important to get perfect blouse designs to do justice to the sarees! Let's take a look at some awe-inspiring Kanjivaram saree blouse designs.
1. Embroidered blouse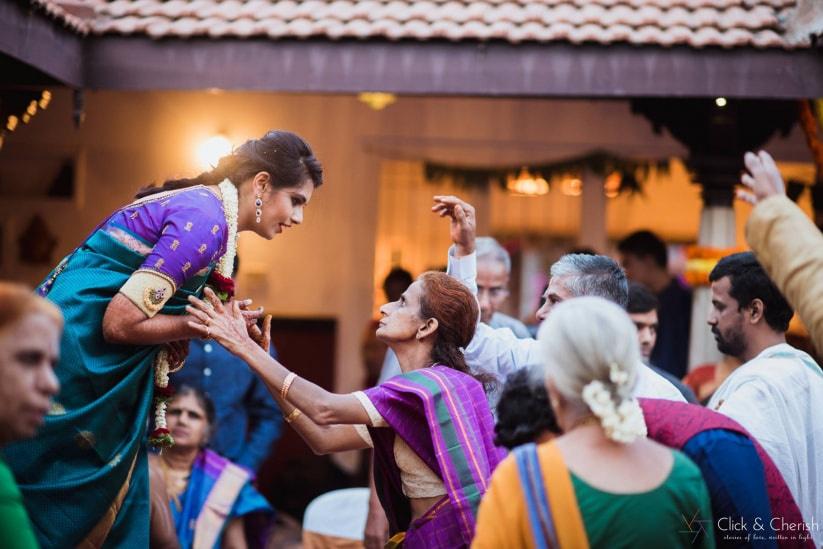 Golden embroidery is always a popular choice for saree blouses including Kanjivaram saree blouse designs. Apart from the south Indian blouse patterns, brides are also going for embroidered designs.
If you are going to choose one of these Kanjivaram saree blouse designs then choosing a colour that sits well with golden embroidery would be a smart choice. Colours such as deep red or a dark blue shade will look absolutely ravishing when paired with golden work.
2. Bordered blouse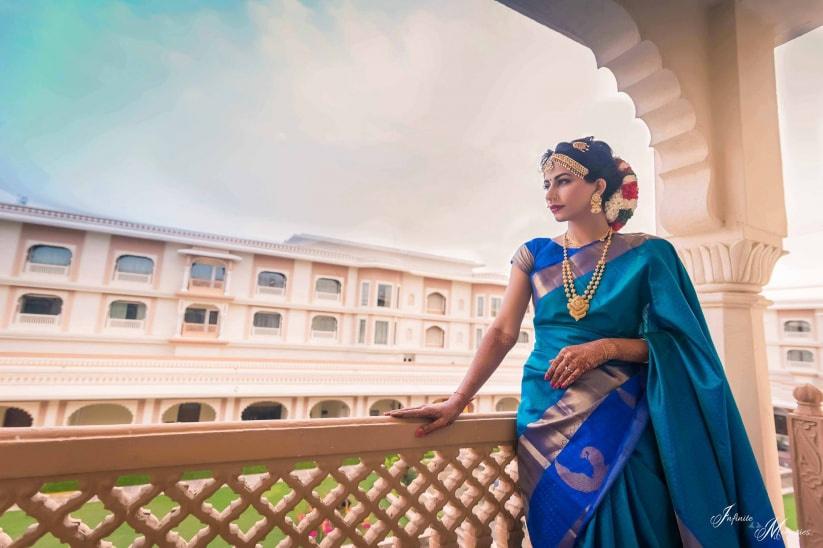 A traditional bordered blouse design never goes out of fashion. Choose a Kanjivaram saree from your Bridal Lehenga vendor which has a matching blouse piece.
A golden border is a quintessential element that comes to mind when one even thinks of Kanjivaram saree blouse designs. Often times we come cross brides who go for a long and elaborate border whereas others opt for a smaller band across the arm.
3. Mirror work blouse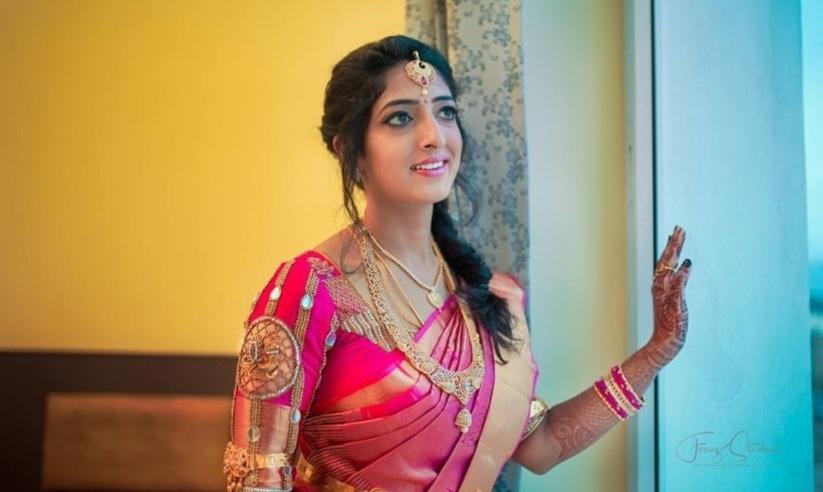 Go for cute little mirrors as your blouse design. Give your wedding photographer a golden photo opportunity. Mirror work glasses work great especially with Kanjivaram sarees as the sheen and elegance of the saree is met perfectly with the delicate work on the blouse.
4. Zardosi work design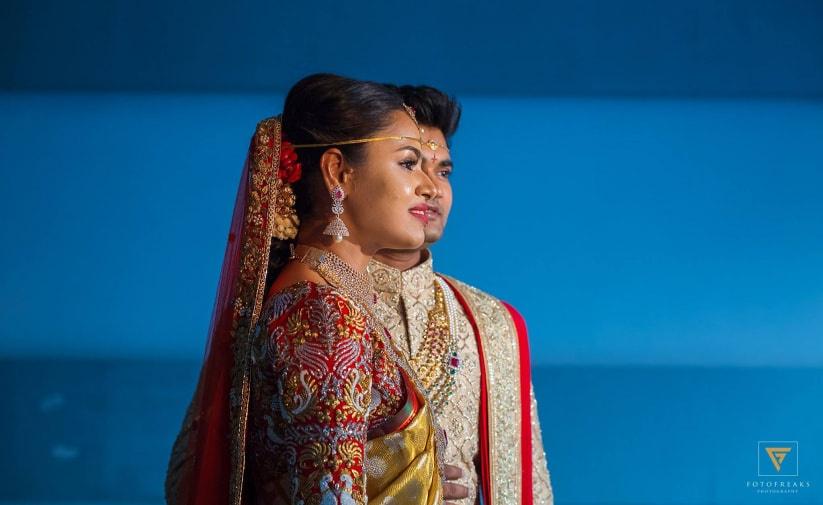 Want some grandiose for your wedding attire? Try Zardosi for your Kanjivaram blouse design for a royal look. Zardosi work is famous for being detailed and thorough and works great for all kinds of sarees.
But when combined with Kanjivaram sarees the elegance of the ensemble is increased manifolds.
5. Pattu blouse with Tulle sleeves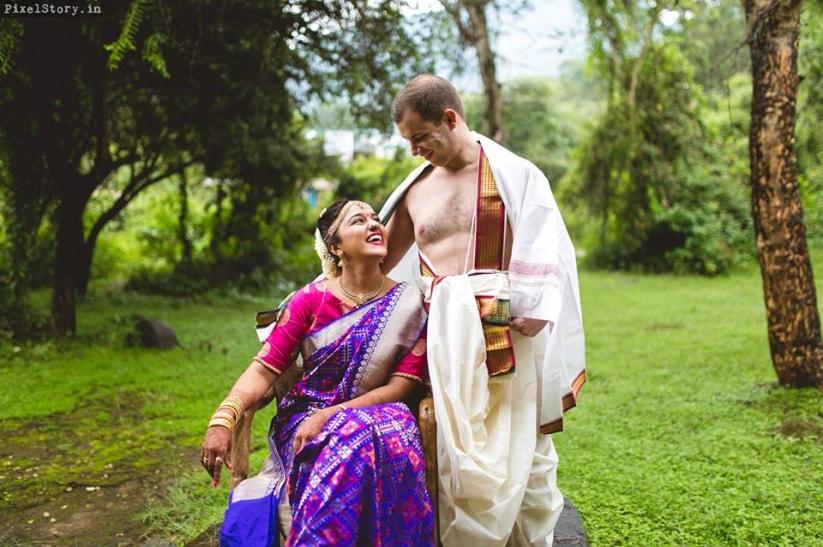 if you want a minimalistic approach with a twist, go for a Pattu blouse with your Kanjivaram silk saree with sleeves with tulle material. You can even ask your designer to add thin borders to the blouse sleeves.
6. Zari and stone embellished blouse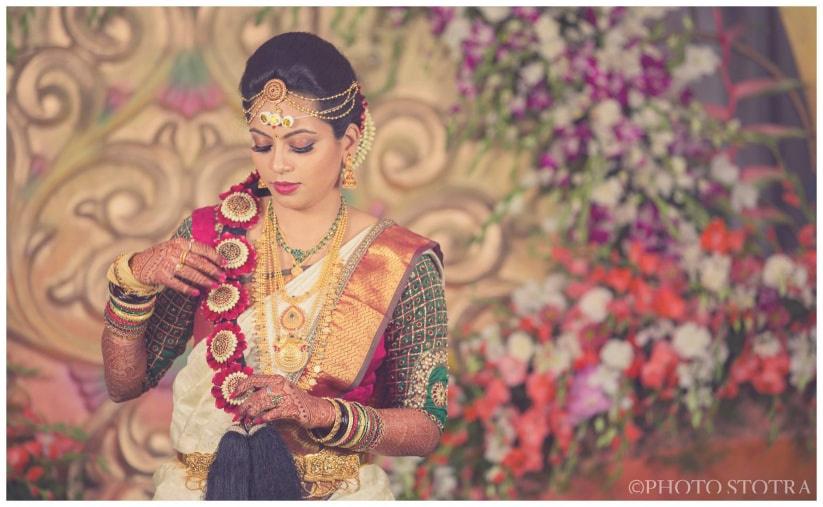 Don't hold back if you want an over the top bridal look for yourself. Golden thread work with stone embellishments will give your blouse a heavy pattern with just the right kind of depth.
Also, since traditionally Kanjivaram silk sarees don't have a lot of patterns, going for a heavy work blouse works great for adding a certain element of variety to the ensemble.
7. Kundan work blouse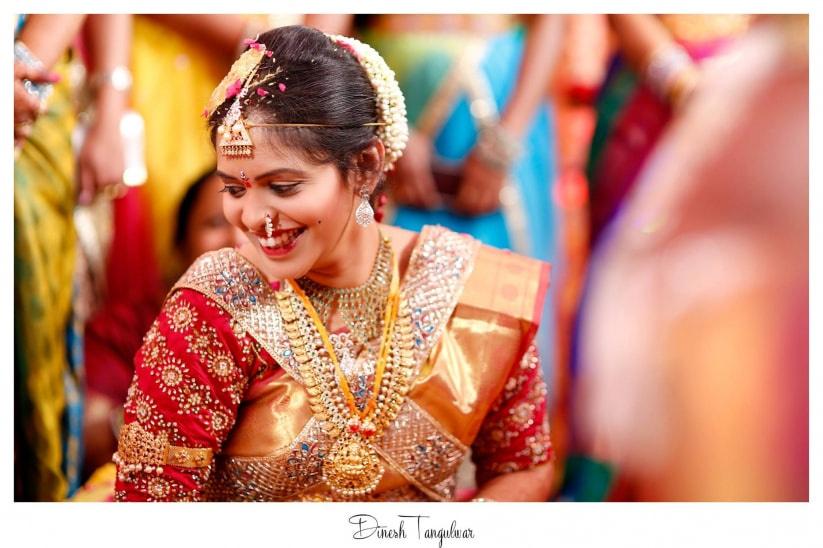 Kundan work is a rage in Indian wedding attires for the bride. Be it Bridal Lehenga, jewellery or Kanjivaram saree blouse designs - add a little Kundan touch to your bridal get up and let the magic work. Kundan work is a raging trend when we look at Kanjivaram saree blouse designs that brides are opting to wear at their wedding and related ceremonies.
8. Boat neck blouse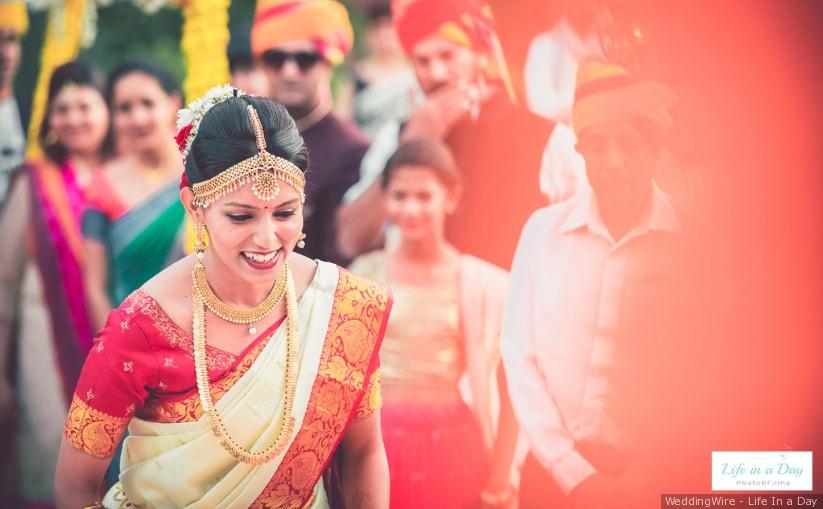 Simple, elegant and impactful. A boat neck blouse design is ideal for brides who believe in less is more. And the best part is, it suits any body type. We are huge fans of this kind of blouse neck designs and it only brings out the elegance of the Kanjivaram saree more.
9. Floral embroidered Maggam blouse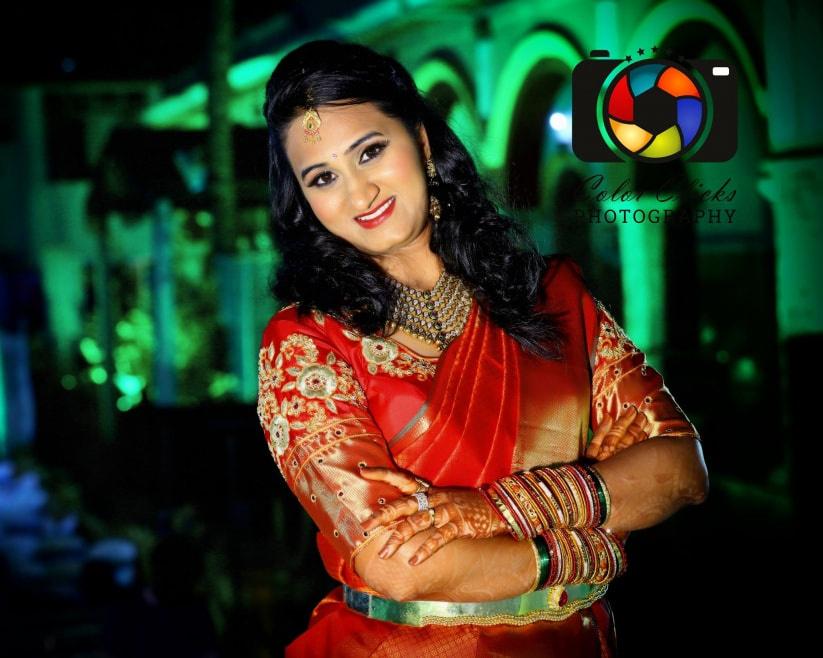 Floral patterns are the most loved designs among Indian brides. Flaunt your Maggam blouse with unique floral embroidery and designs to go with the glorious Kanjivaram saree.
10. Silk blouse with floral motif and puff sleeves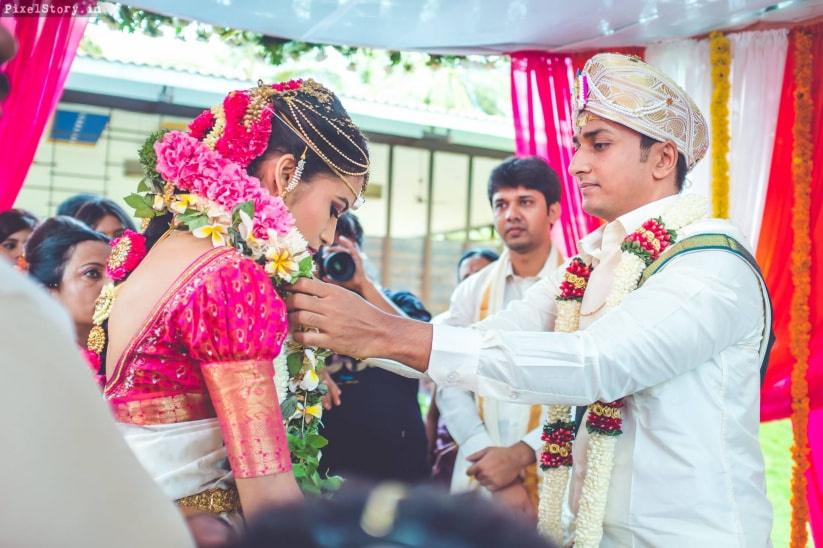 Break patterns, go innovative with your Kanjivaram saree blouse designs. Take inspiration from this beautiful bride. The puffed sleeves add a bit of drama to her otherwise simple outfit and we are loving it.
11. Contrast Pattu embroidered blouse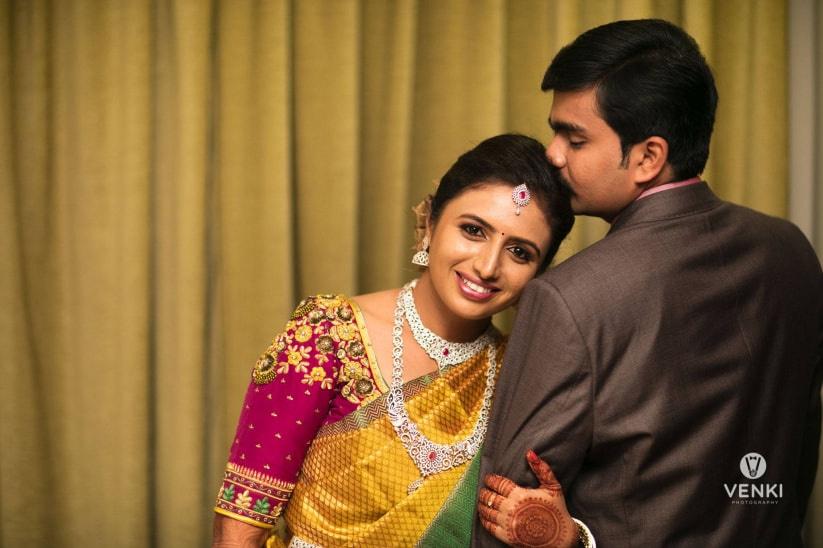 Another smashing hit among south Indian brides is contrasting Pattu blouse designs. If you have a bright magenta or indigo coloured Kanjivaram saree, go for contrasting purple or red Pattu blouse with floral embroidery.
12. Deep V-neck blouse design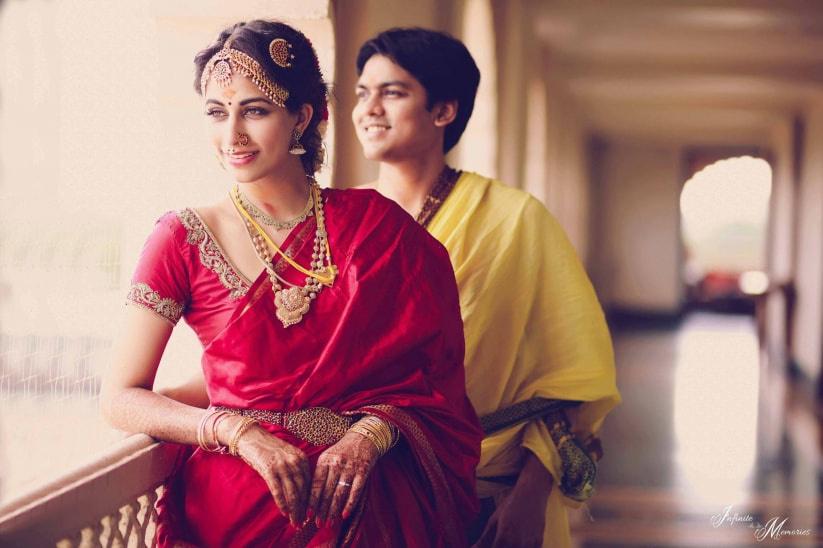 A simple deep V-neck in matching or contrasting colours is one of the preferred choices for Kanjivaram saree blouse designs.
13. Long-sleeved blouse/Jacket blouse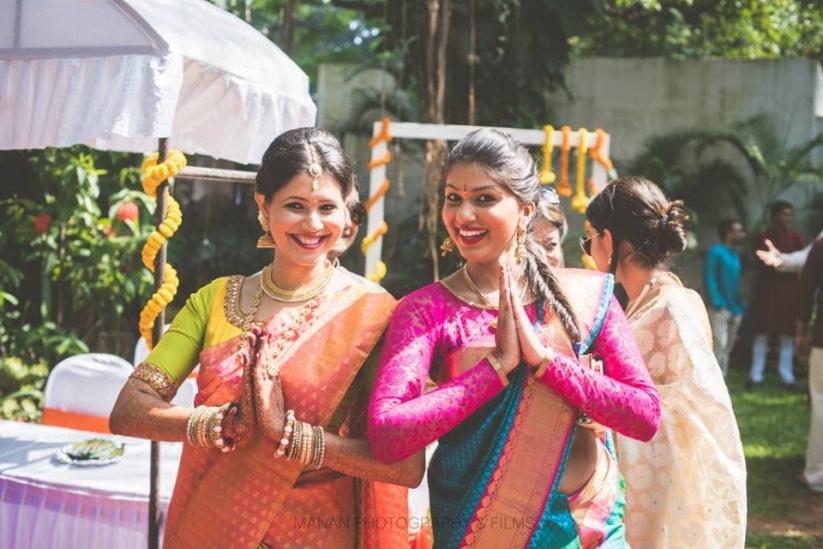 Long sleeves with Kanjivaram sarees are a sure shot if you're going for a dignified look.
14. High neck blouse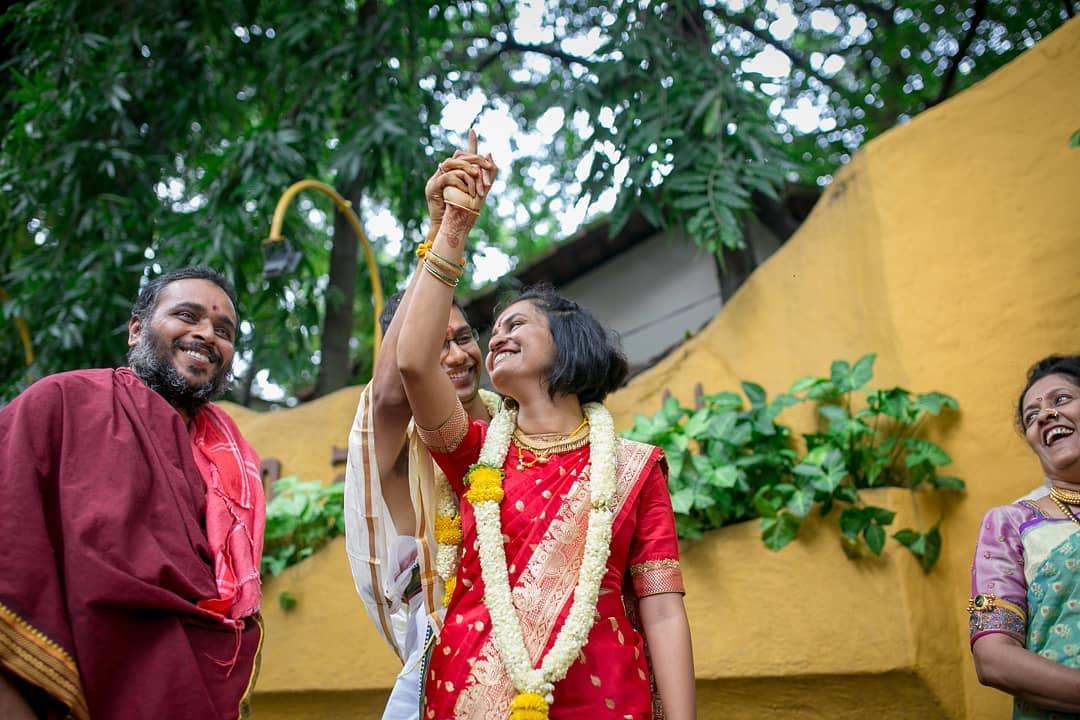 So you want a contemporary and stylish pattern for your Kanjivaram saree blouse design…this is just the thing for you!
15. Back neck Pattu blouse design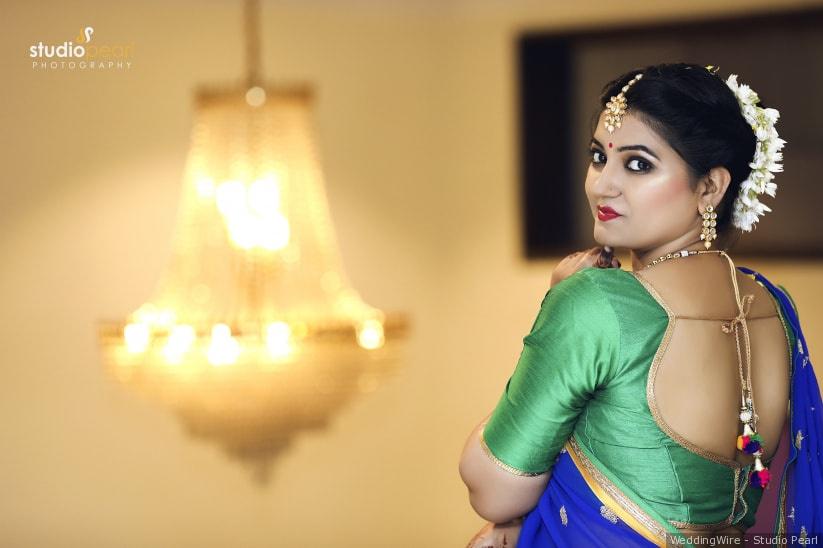 The most attractive part of blouse design is the back. Go creative with mixing a traditional Pattu saree blouse design with deep back for a modern touch.
There is a wide range of blouse designs and patterns for every bride. Elegant, simplistic, traditional or contemporary - choose a Kanjivaram saree blouse design that defines your taste. Consult your wedding designer for best deals on bridal wear, wedding jewellery and beautiful blouse designs. Don't be afraid to experiment with styles, colours and patterns. It's your day and you deserve nothing but the best of everything. After all, you make a perfect match with your spouse-to-be, your Kanjivaram saree blouse design shouldn't be any less. We hope you found the inspiration that you were looking for to find a bespoke set of Kanjivaram saree blouse designs that you can flaunt at each one of your wedding festivities.
So, tell us about your favourite Kanjivaram saree blouse designs from our selection, in the comments below. And if you think we missed any, mention those too.