5 Indian Wedding Dresses That Must Be a Part of Your Trousseau
Thinking beyond the traditional bridal lehenga? Choose from the many stylish yet elegant Indian wedding dresses and make a stunning statement.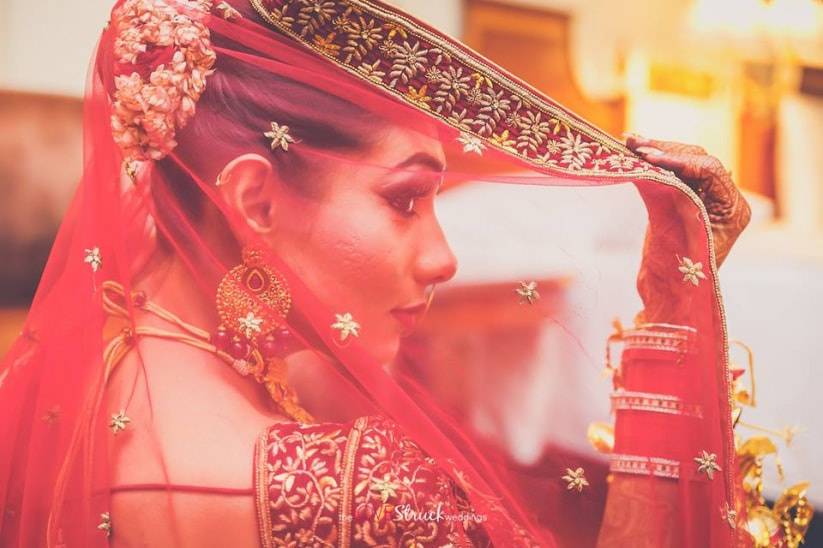 Indian wedding dresses, like a bridal lehenga or a wedding saree, is all about being bold and beautiful, yet ethereal and enchanting. The Indian wedding dresses is a 'once in a lifetime' buy that deserves all the attention, weeks and months of hunting and a bit of indulgence.
Today, there are endless options when it comes to choosing your bridal attire and we say - choose something that speaks to you, enhances your personality and adds a graceful, yet stunning look!
From trending ideas to evergreen classics, you will encounter many designs, colours and twists to your favourite wedding attires. Let's try looking at them one by one. Let's check out these Indian wedding dresses now!
1. The Quintessential Bridal Lehenga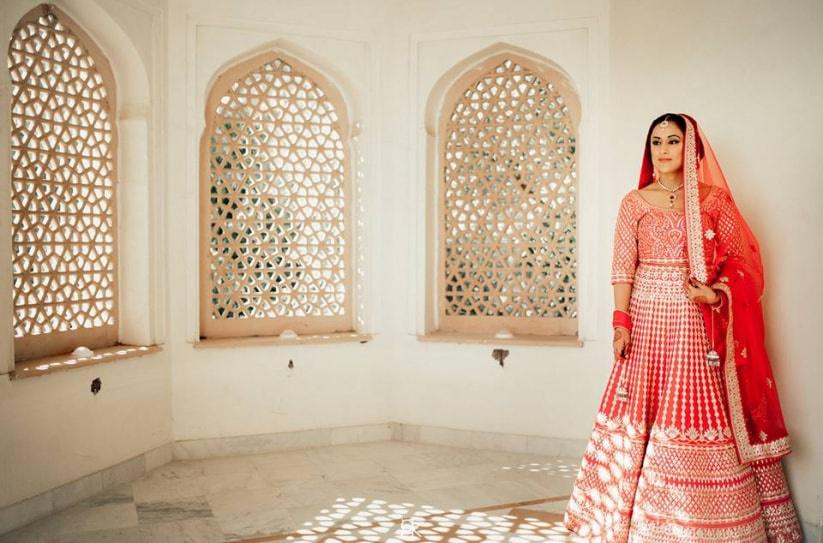 The bridal lehenga is the most popular of all Indian wedding dresses. It's traditional, graceful, beautiful, and has everything a bridal attire needs to be. Many brides are making heads turn in light floral lehengas, teamed with sparkling sequins blouses and light georgette Dupattas. It's all about what you like and what you are most comfortable in.
There are no strict rules as to what colour, fabric, cut or design you choose and you can make your own ensemble. If you don't want a heavy and traditional lehenga, keep it light and simple by choosing lehenga designs with breezy fabrics with little thread work or embellishments.
When it comes to lehengas, you should get one well within time. We would even go as far as suggesting you finalise one 8 months before your wedding so that even with all the alterations and size fitting, you have the complete attire at home before the wedding. But if you can't find a ready-made one, get it custom-made. Choose a lehenga fabric that is comfortable to wear, pick the colours of the entire outfit, choose the design, embroidery, mirror work, Gota Patti or whichever you please and then get it stitched in a style that flaunts your body type.
2. The unmatched grace of a Kanjeevaram Saree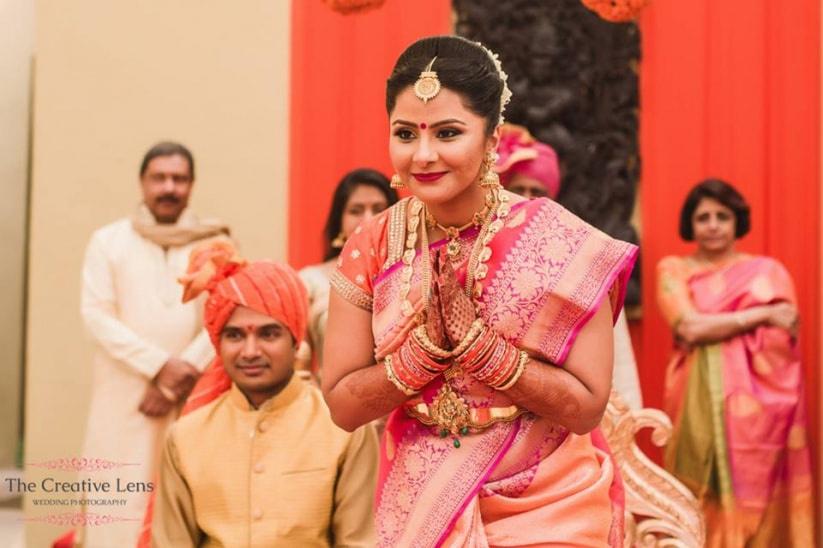 Most brides today choose their bridal dress based on one question - when will I ever wear it again? A heavy lehenga usually gets stored in a box, never to be worn again! A graceful Kanjeevaram saree is thus a great pick for brides who want to look stunning on their wedding day and be able to recreate the magic on other occasions too. It's graceful, it's rich and you will have several occasions in life when you can wear your bridal dress again and feel the same tingling feeling of being a blushing bride! It's rich in itself without being weighed down with heavy stonework or other embellished details. Choose your favourite colour!
While your graceful saree is in itself a statement piece, you can take it up a notch by giving the blouse a signature look. Go for Maggam work blouses as they will look best with Kanjeevaram saree. Pair the look with a classic Gajra with different fresh flowers than jasmine and you're all set to show off your customised look.
3. A Rich Silk Saree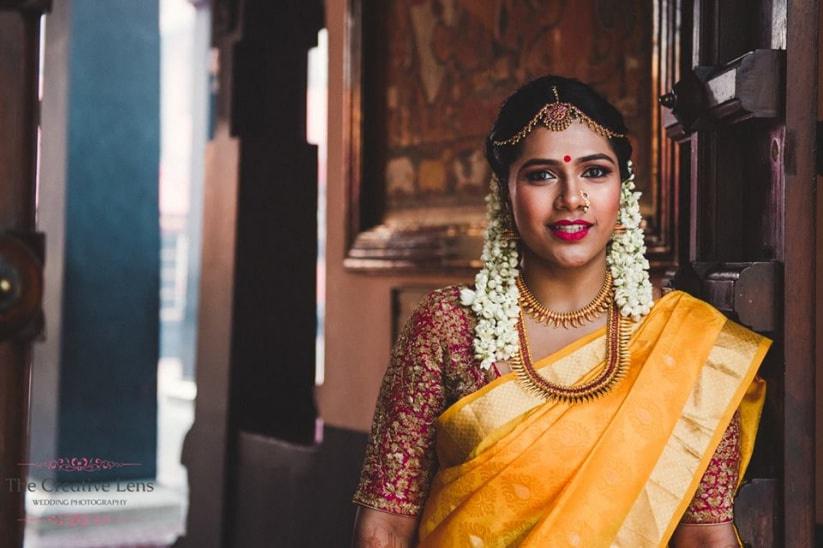 If you feel even a Kanjeevaram is 'too much' you can opt for a silk saree in a festive colour and team it up with a heavily embroidered or embellished blouse. This look is especially perfect for morning or daytime weddings. Brides who prefer a simple and a no hassle look can make the most of this bridal attire. Complement your look with flowers in your hair, traditional jewellery and your carefree smile!
The best way forward would be to choose colours that make your eyes pop and makeup that is subtle but reflects the colour scheme well. Create a contrast colour scheme with the blouse and we're sure you'll look like a dazzling diva.
4. The Trendy Anarkali Lehenga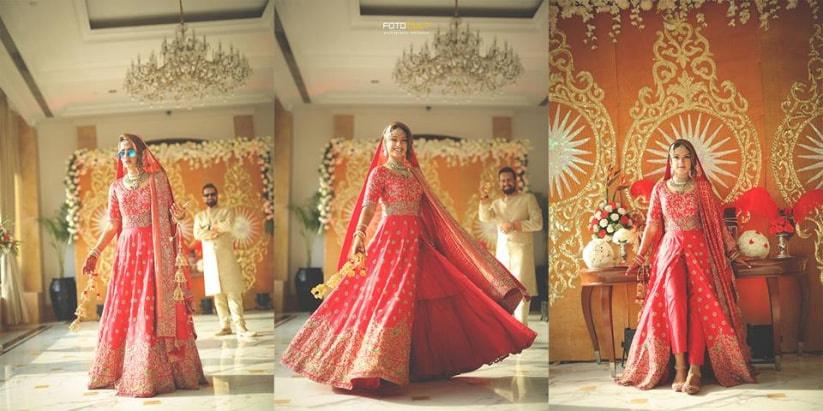 The comfort of pants and the grace of a bridal lehenga – presenting the very modern and the stylish Anarkali lehenga. This is definitely one of the most trending Indian wedding dresses for comfort, style and grace it brings in. It's the perfect combination of everything you need to make a striking pose. Choose a rich colour with burnt gold embroidery and a Kundan set and totally rock this look!
This look is perfect for all the brides who want to look traditional and still have it their way. An Anarkali lehenga is the perfect testament to that wish. You will be comfortable in the pants and yet twirl for the camera in your lehenga. Now that's what you call the best of both worlds.
5. An Ethnic Gown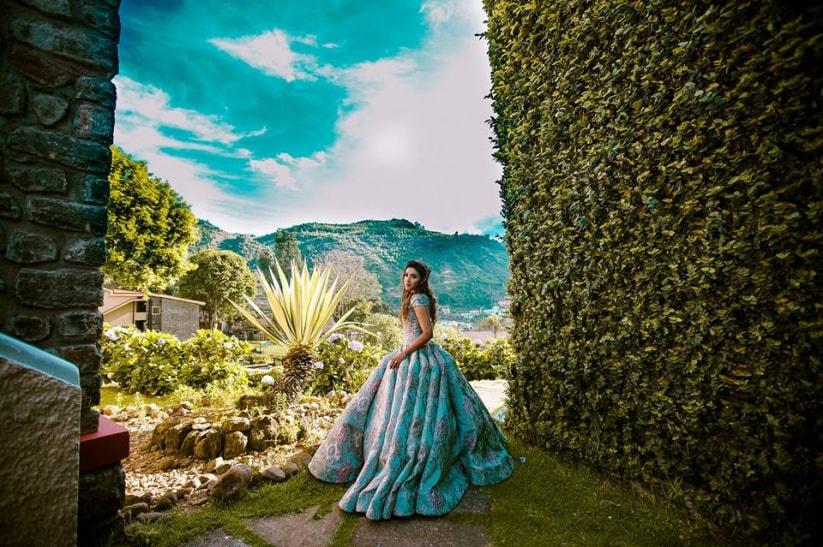 A wedding gown is usually associated with a church wedding but modern brides have made ethnic gowns a rage! It is a popular pick for a wedding reception but a lot of brides have carried this look on the D-day too. It's effortlessly chic and stylish, yet making you look like the perfect Indian bride.
Choose bright colours, subtle details and rich fabrics for the perfect ethnic wedding gown. Take inspiration from Sabyasachi's bridal collection for this attire. The traditional bridal gowns have all the royal feels and comfort packed into one. You can look graceful and also dance the night away in this Indian wedding dress. Choose it for your Sangeet night or reception to have a full-blown blast!
Bring a variety in your wedding trousseau with these bridal attires. You can even find gorgeous Salwar Suits for wedding. Make sure to pair them with elegant makeup and bridal hairstyles to enhance their look and pose like a diva for all your wedding pictures. Make sure your dresses suit you and flaunt your body type.
This will help you gain instant confidence and make the world look pleasant from your happy eyes. Now that you have witnessed these beautiful Indian wedding dresses, it is time you hit the shops and curate your very own bridal wardrobe. And, we are pretty sure you must have set your heart on at least one of these Indian wedding dresses!
Which Indian wedding dresses are you going to buy for your bridal trousseau?