The perfect blend of gleaming gold threads with vivid and bright hues, Kanjivaram sarees are a must have for every bride-to-be. Mostly it is the part of the bride's trousseau collection and is even the bridal ensemble of south Indian brides on their big day. Kanjivaram Sarees for bride, like heirloom assets is passed down from one generation of women in the family to the next. There is no depreciation in value or style as this classic attire is a tradition at it's richest.
But these days with less time-on-hand and lots to do sarees have taken a back seat in our wardrobes. With a few upcycling ideas you can totally revamp your beautiful Kanjivaram sarees for bride and adorn them with no regrets at all.
1. Suits
With 9 yards of stunning Kanjivaram silk, good design and a talented tailor, you are all set to go from one stunning outfit to another. With very little investment and lots of creativity, you can design a variety of suits. Anarkali, straight, A-line, any silhouette can be drawn out from a Kanjivaram Sarees for bride. Still, not enough, you can even get two suits from one sari or team up two saris, one for the shirt and other for Dupatta.
2. Lehengas
Kanjivaram Sarees for bride is a perfect piece to modify into a lehenga. One saree is enough to create both, the upper bodice as well as the skirt. For dupatta go for a plain solid or contrast colour, highlighted with saree borders. Lehenga being a two-piece outfit, a fusion outfit can also be created using the Kanjivaram. For a lighter version just make one of the pieces from the saree, either the upper bodice or the skirt, and go for a solid colour for the second piece.
3. Gowns
Flared gowns made from Kanjivaram Sarees for bride is a new level twist given to this traditional outfit. If made out of a heavy and bright colour Kanjivaram, it can surpass as a new designer outfit that will be a rare sight and a treat to the eyes. Doll up the look with traditional gold Chandbalis and a high-bun hair-do.
4. Skirts and Pants
Why should tops have all the fun when we can play with a saree for bottoms too. From flared palazzos to cigarette pants all can be made from a saree. But, what's really topping the trend chart are the western suits made out of sarees. The matching blazer and pants set is the latest fad, suitable for a winter cocktail party.
5. Scarves and stoles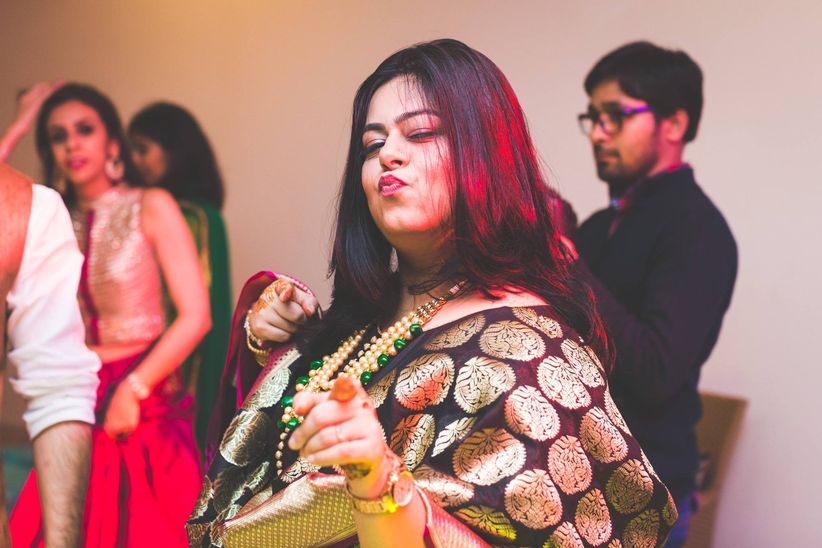 Scarves and stole are the basic necessity of every woman. This simple yet elegant accessory adds a dash of colour to any outfit with a unique fusion of Indian handloom with modern style. Scarves made out of pure silk Kanjivaram Sarees for bride looks the prettiest of the lot. Just team up these saree stoles with a solid colour traditional silk suits. However, you can also use sari borders to add more colour and vigour. After getting those stoles, scarves, dupattas, use the bits and pieces to make a bandana, hair ties, or simply wrap a simple band with mesmerising saree fabric.
6. Bags and Clutches
I have enough bags, said no girl ever! Your bag collection may be full of branded leather bags but the one made out of an old Kanjivaram Sarees for brides will always stand out and hold a special place in your heart. From totes and clutches to Potlis and slings, anything can be made by upcycling a saree. Get a matching Potli with your suit made from an old Kanjivaram, to finish a perfect traditional Indian look.
7. Juttis and other Footwear
Don't let even a small bit of your sari go waste. A small piece from Kanjivaram Sarees for bride can be used to create Juttis matching with your suit or Kurta. Oxford shoes made out of Kanjivaram sarees look cool too but remember to wear and handle them with care.
These are some of the ideas to reuse or upcycle an old sari. Rest, creativeness has no bounds. So, go ahead and recreate something beautiful out of this already wonderful creation. Like- book covers, cushion covers, curtains, skater dress, bedcover, sofa upholstery. Besides these, you can create a laptop or iPad cover, yoga mat cover, sari covers etc.
Which one of these creative twists to a traditional Kanjivaram Sarees for bride did you like the most? Let us know in the comments below!