20+ Nath Designs That Will Complete Your Bridal Look Regally
Outfit? Check. Jewellery? Check. Makeup? Check? Now, add something extra to your bridal look. Don any of these bridal nath designs and find out how the bride within you, rises and takes centre stage.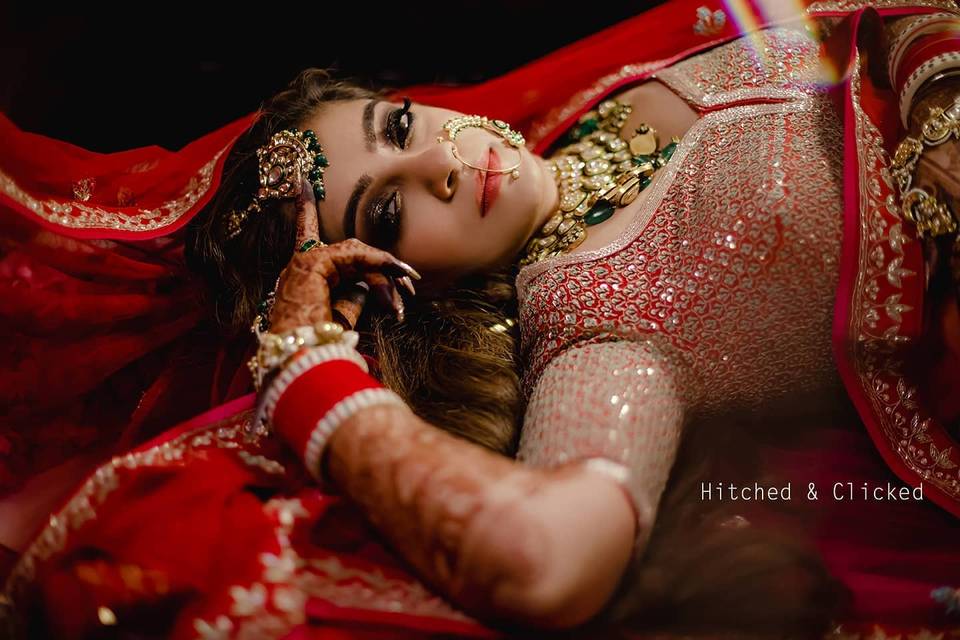 If your wedding day is approaching, then you must be hunting for bridal jewellery to complete your outfit. Your whole bridal look cannot be just an ordinary one. It has to be something extraordinary and to make it that amazing, there has to be something more in your bridal get up. To do this, women usually add a nath to it. Though it seems really simple, a nath or a bridal nose pin does extraordinary things to your whole get up. It adds the element of extra to your face, and it does not matter how big or small it is. It stands out.
Bridal nath designs or nose rings are also significant to your attire, as in many places they are considered a sign of a married woman. Though it is not a compulsion any longer, carrying that bit of tradition for your marriage is not a bad idea. In today's time, you do not even have to get a piercing done in order to wear a nath for your wedding.
Narrowing it down to the specific gold nath design that you want to wear for your wedding is not as easy as it sounds. Bridal nath designs are essentially not chosen with the bridal jewellery, so you have to make sure it goes along with your jewellery, your face, and your bridal outfit as a whole. To help you with this process, we have put together some popular bridal nath designs that are not just trending but also very traditional.
Bridal Nath Designs
Traditional Marathi Nath design
Image Courtesy - Pinterest
Bridal nath designs have become an indispensable part of bridal trousseau today. No matter if you are choosing a small gold nath design or going all out for a dramatic look, a nath can add a bit of traditional elegance to your bridal look, much like beautiful Marathi nath designs. Marathi brides look every bit bewitching and eye-catching but incomplete without their traditional nath. Also known as Brahmi, Puneri or Peshwai naths, traditional Marathi nath designs come in various beautiful designs, colours and lengths. Traditionally made in gold, Marathi nath designs will definitely add charm to your bridal glow.
Tehri Nath design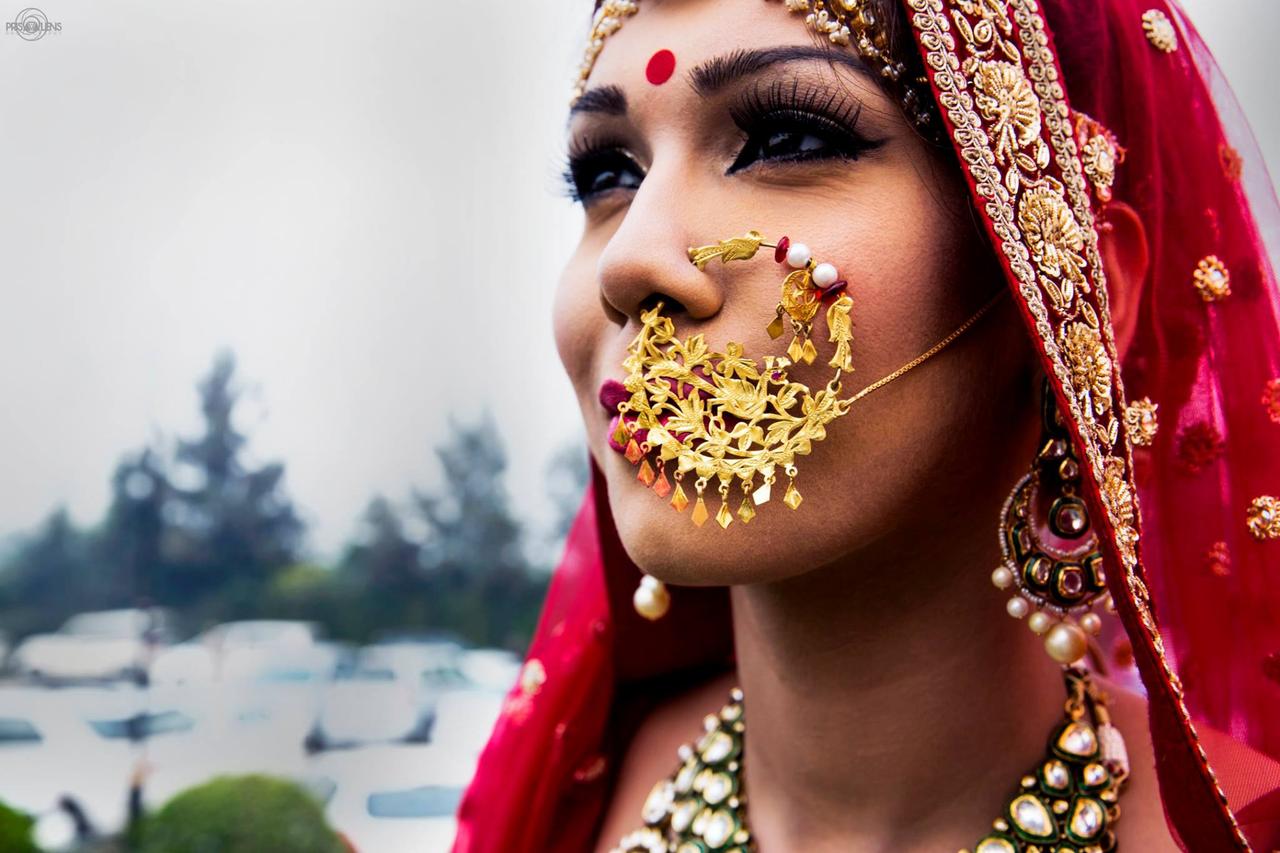 Also seen at the pre-wedding rituals of Sheetal Thakur-Vikrant Massey's wedding, Tehri nath designs can be traditional yet contemporary. Also known as the Garhwali nath, it's the pride and charm of Uttarakhandi women. The beautiful gold nath designs that they wear are a massive adornment embellished with diamonds, pearls and semi-precious stones. Tehri nath designs are in trend for non-Pahadi brides as well who love experimenting with their bridal look.
Royal Rajputi Nath designs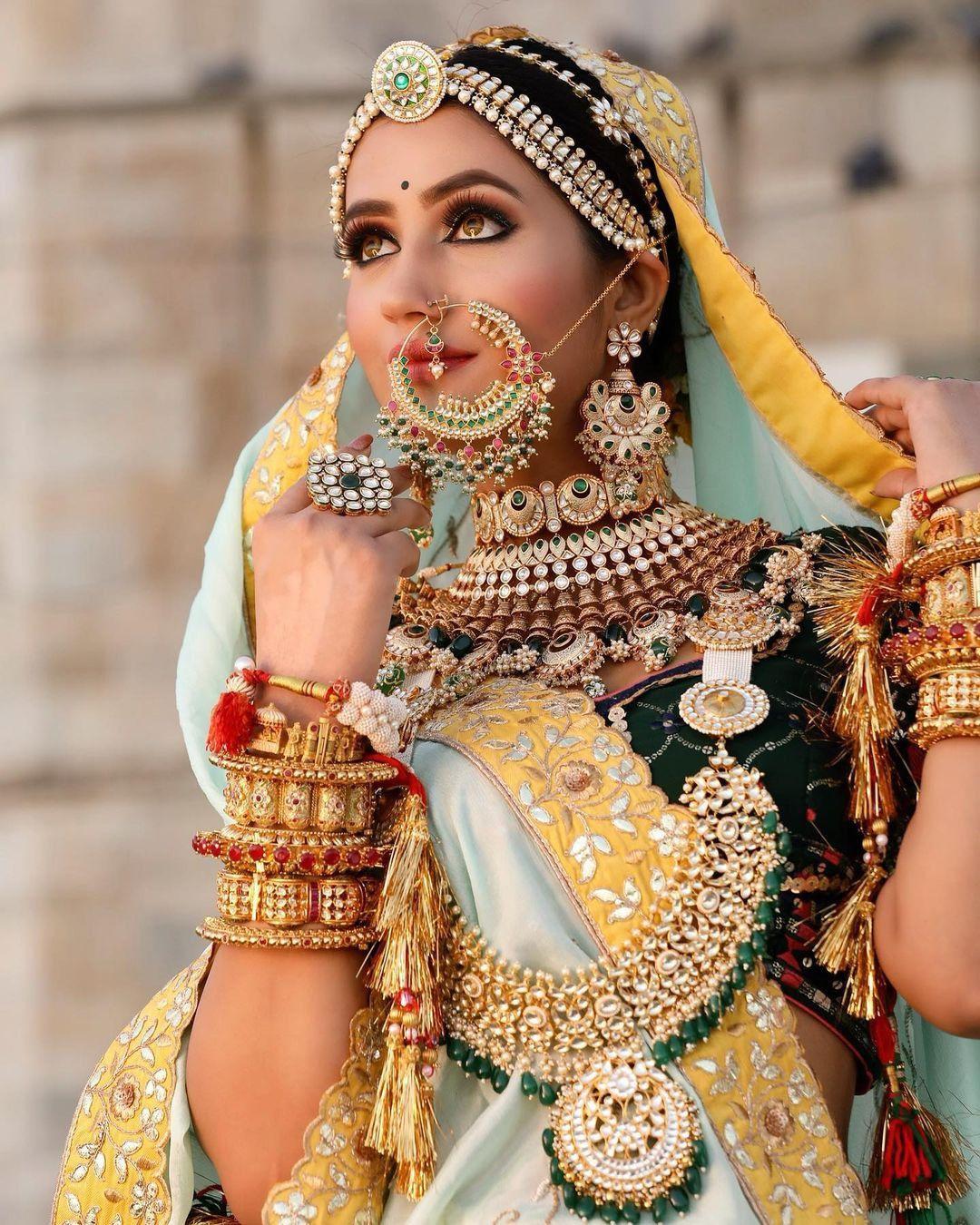 Image Courtesy - Pinterest
Considered a symbol of prosperity and blessing, bridal nath designs are the most important face jewellery in Rajasthani culture. Gold nath designs are such a small piece of jewellery but can definitely make or break your bridal look. Rajasthani nath designs are typically made in gold with diamonds or studded with semi-precious stones, there are many beautiful Kundan and Polki designs as well as artificial ones available in the market today.
Bridal Gold Nath Design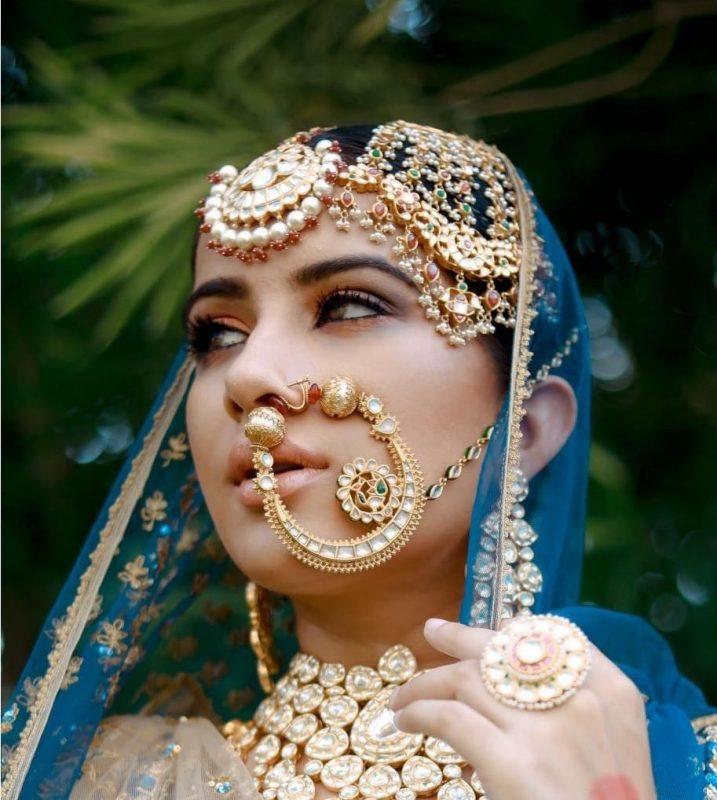 If your bridal look is all about radiating a whimsical elegance, then choosing gold nath designs can be the perfect way to make your bridal look stand apart. Perfect for pastel lehenga shades or traditional reds, this bridal nath design will look gorgeous and effortlessly beautiful. You can go for traditional nath designs in gold or take on a contemporary choice with stellar gold nath designs by Sabyasachi to add grace to your wedding look.
Kumaoni Nath design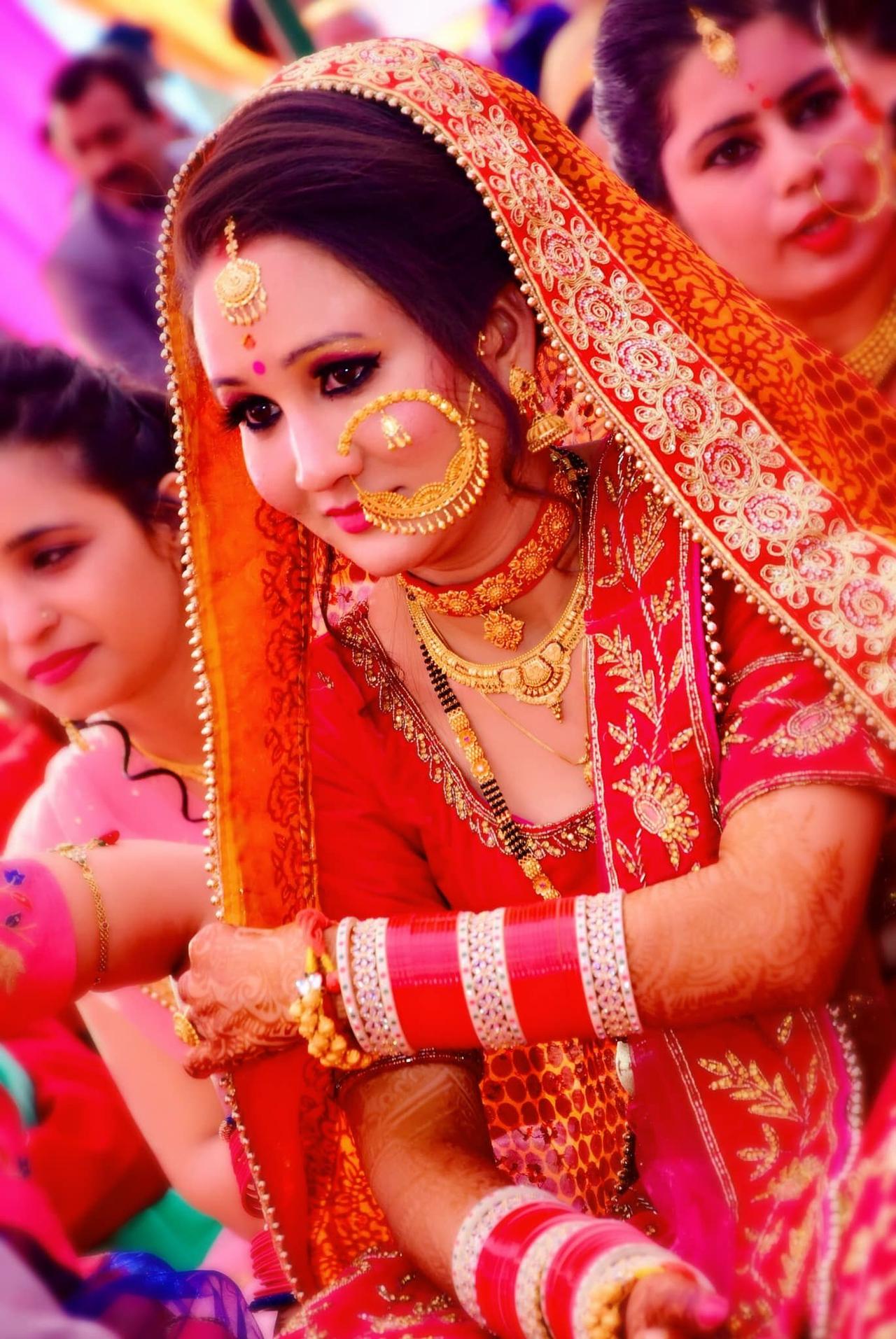 Image Courtesy - Pinterest
Kumaoni nath designs also known as Nathuli is traditionally made with gold but with recent trends in bridal jewellery, they can be made with Kundan or artificial elements. Worn by the Pahadi women in the Garhwal region, the beautiful gold nath designs are characterised by their huge size. Perfect for brides who want something traditional yet different, you can find stunning Garhwali nath designs by Sabyasachi as well to take your bridal avatar to the next level.
Dramatic Nath Design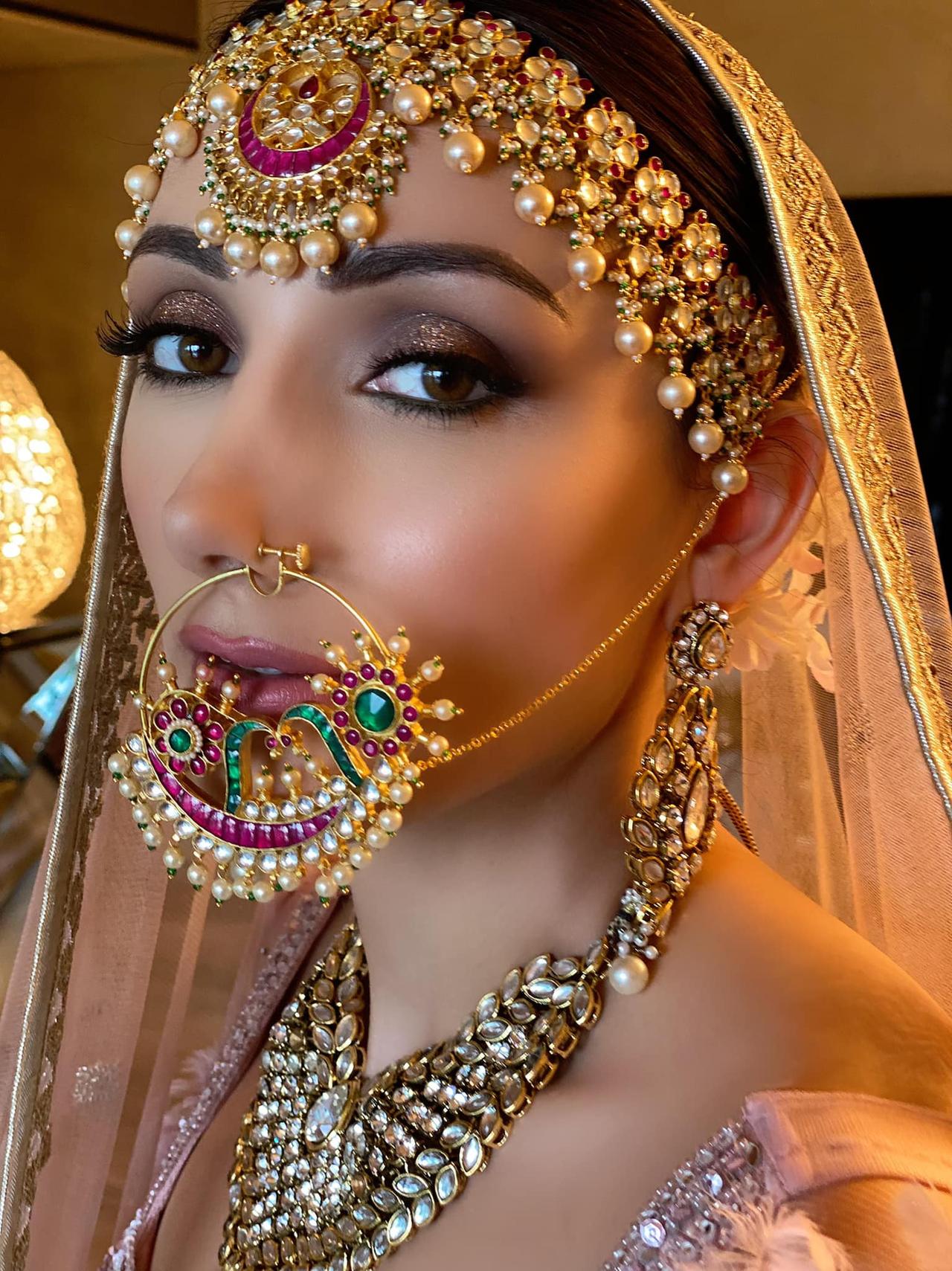 Millennial brides go OTT especially on their wedding day, from choosing the best designer outfits to a gorgeous makeover and bridal hairstyle, then why should bridal accessories be left behind. One such small piece of jewellery that can have a huge impact on your bridal look is stunning nath designs that you can choose for your ceremonies. There are many trendy nath designs that look every bit traditional with a twist of modernity that can elevate your bridal appearance. These gold nath designs are available in all types of bridal jewellery designs so you can sync them with your outfits with ease.
Himachali Nath design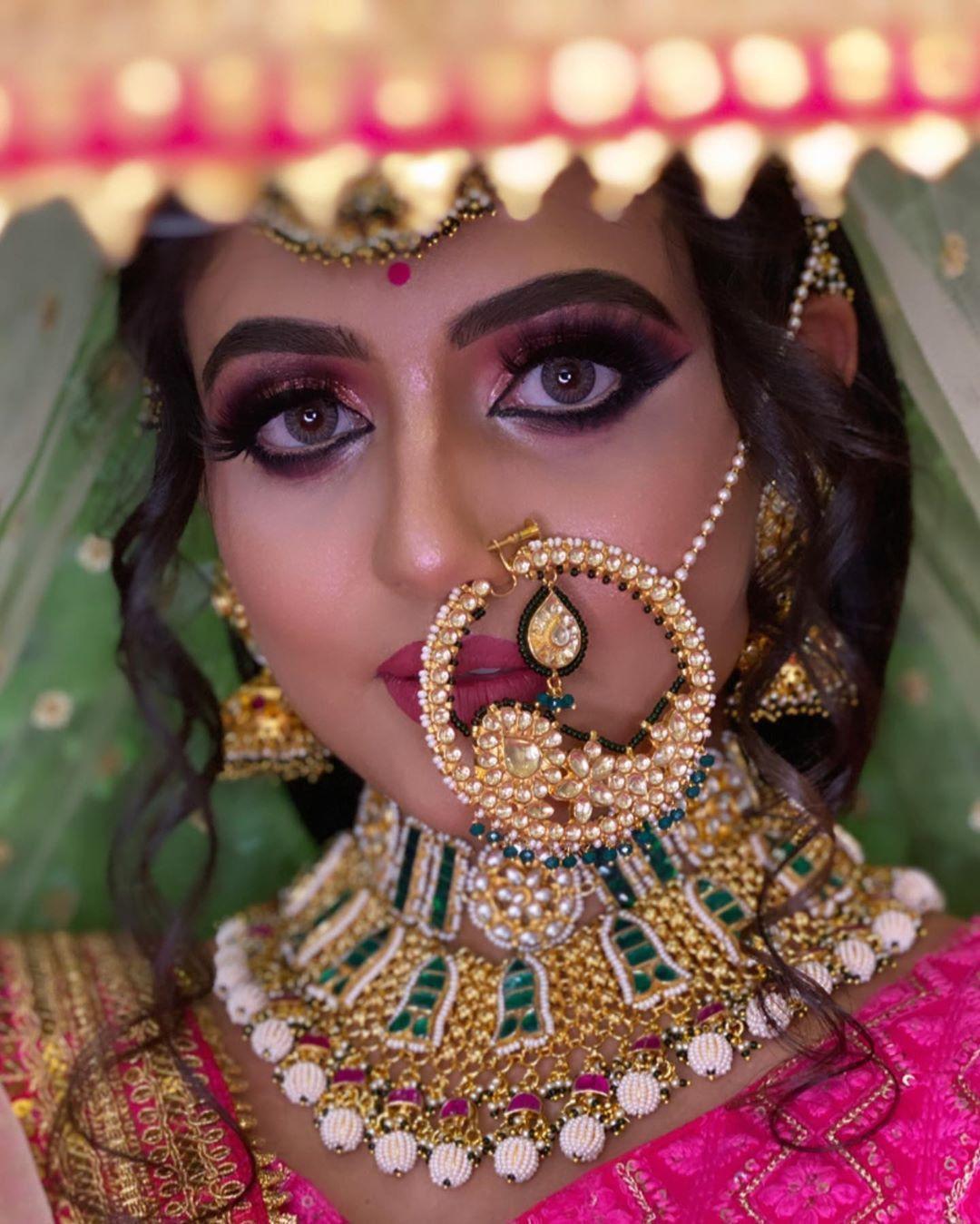 Image Courtesy - Pinterest
Himachali nath designs are traditionally known as Dogra nath and are popular because of their distinctive big size. A mandate for the Pahadi brides, this Kangri nath is a part of their history and tradition. You can always give it a modern twist by choosing these bridal nath designs in gold and Kundan or go for artificial ones and it will add an unmatched grace to your overall appearance.
Unique Nath Design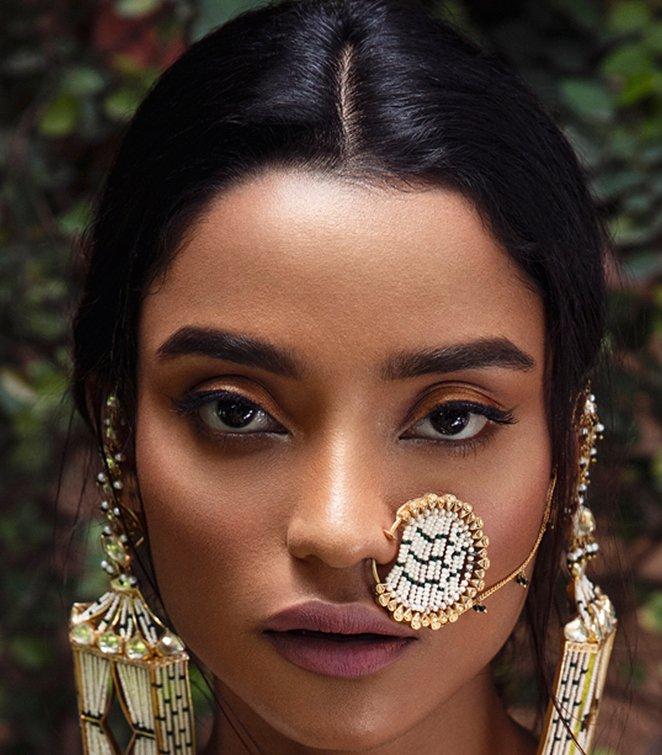 Image Courtesy - Taras Taraporvala Photography
If you want something different than plain old classic bridal nath designs, then choose from trendy gold nath designs popular amongst the millennia brides. You can customise your bridal nath design with your hubby's name or your wedding hashtag or choose from unique designs for an eclectic look on your wedding day. If you are a bride that doesn't shy away from experimenting with her looks, take inspiration from the gorgeous bride above.
Shikarpuri Nath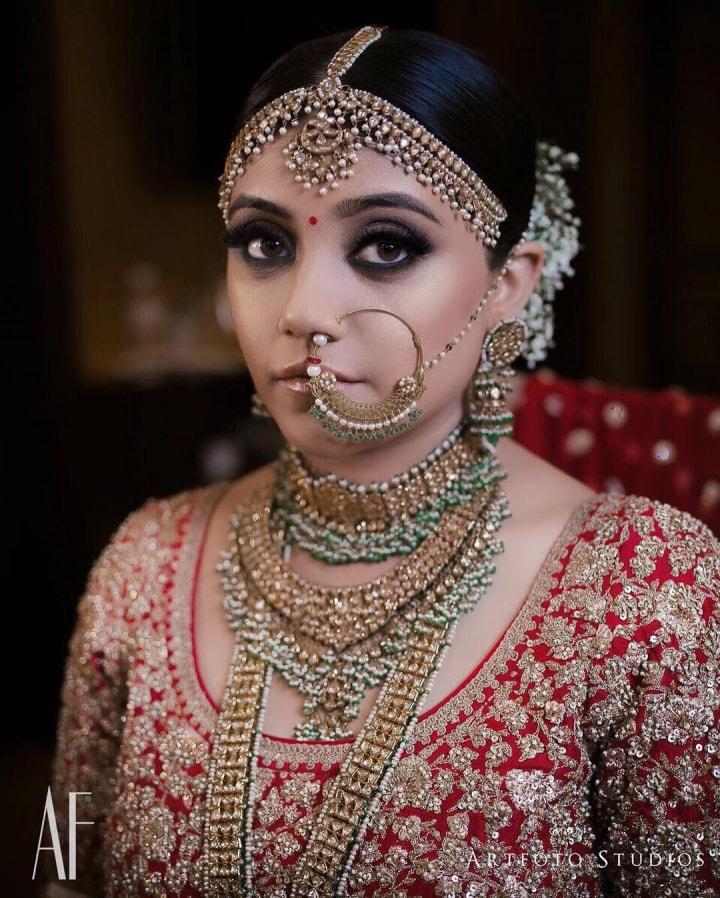 This type of bridal nath design is popular among Punjabi brides. It has a hoop, which ranges from medium to large size and is pinned to the hair with an embellished chain. The chain usually carries on the pattern of the hoop itself. The hoop can have a motif or can be embellished with beads. This elegant gold nath design can go very well with any Kundan or gold jewellery set.
Kundan Bridal Nath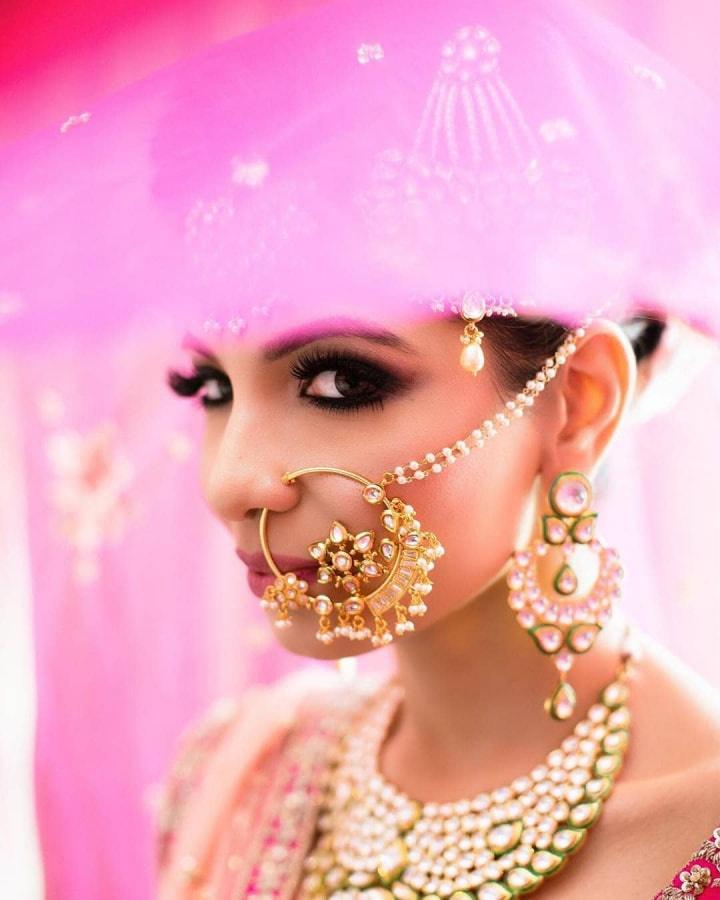 The Kundan bridal nath designs are a very rich piece of Kundan jewellery that looks extremely elegant and the person wearing it can literally steal the show away immediately. It gives a more contemporary look than the traditional one if not worn with a chain. This type of gold nath design goes well with a Kundan set and this combination is known to have originated from the royal courts of Rajasthan. You would see it as part of both Marwari weddings and Rajput weddings.
Jaiswal Nath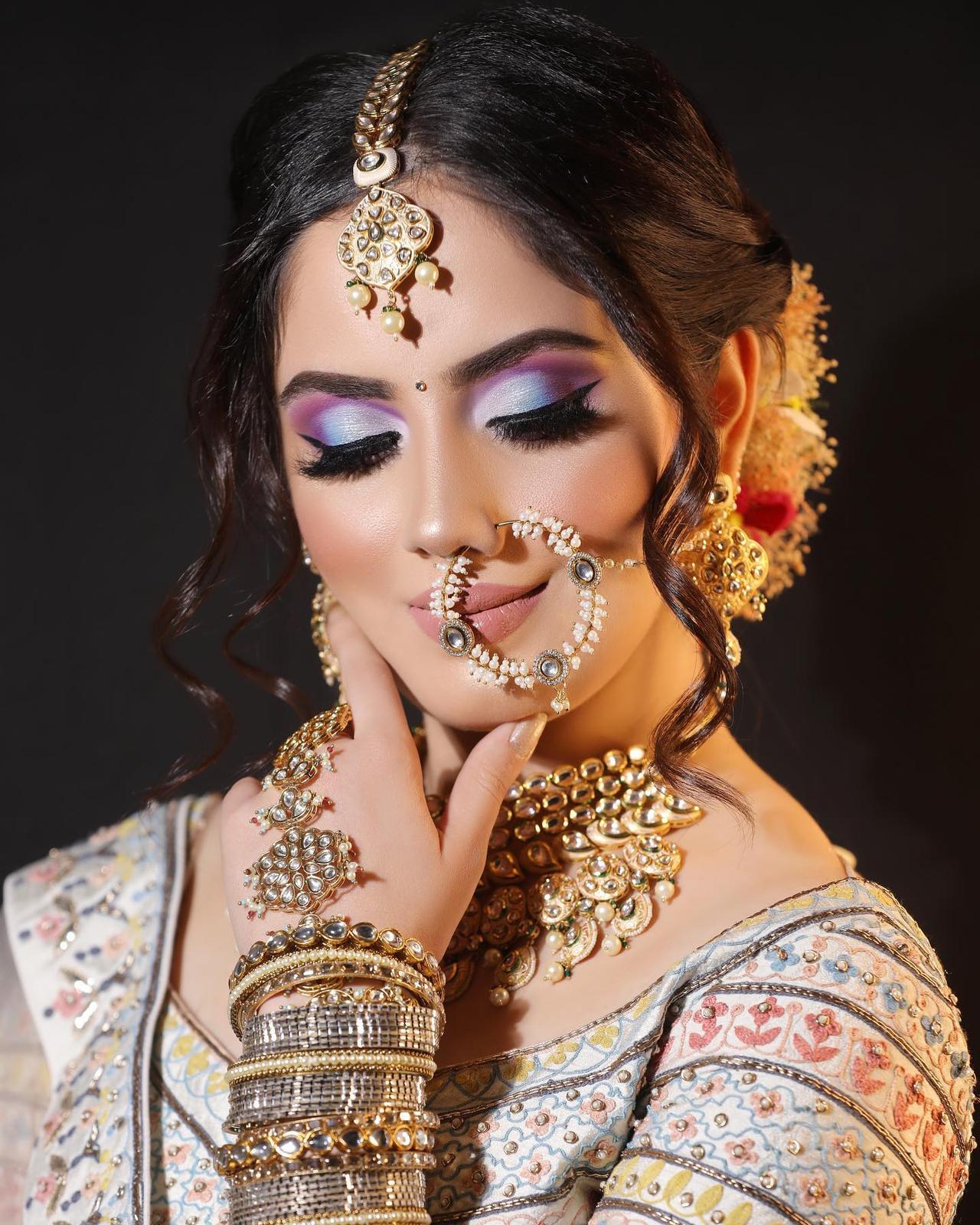 This is on the heavier side of the bridal nath designs that are worn to get the whole Maharani feels. It has a gold base, which then has precious stones in it. This type of gold nath design can be worn with gold jewellery sets and look perfect for all your traditional outfits. With a vintage charm, it can transform your bridal avatar.
Small Nath Designs
Minimalistic Nath Design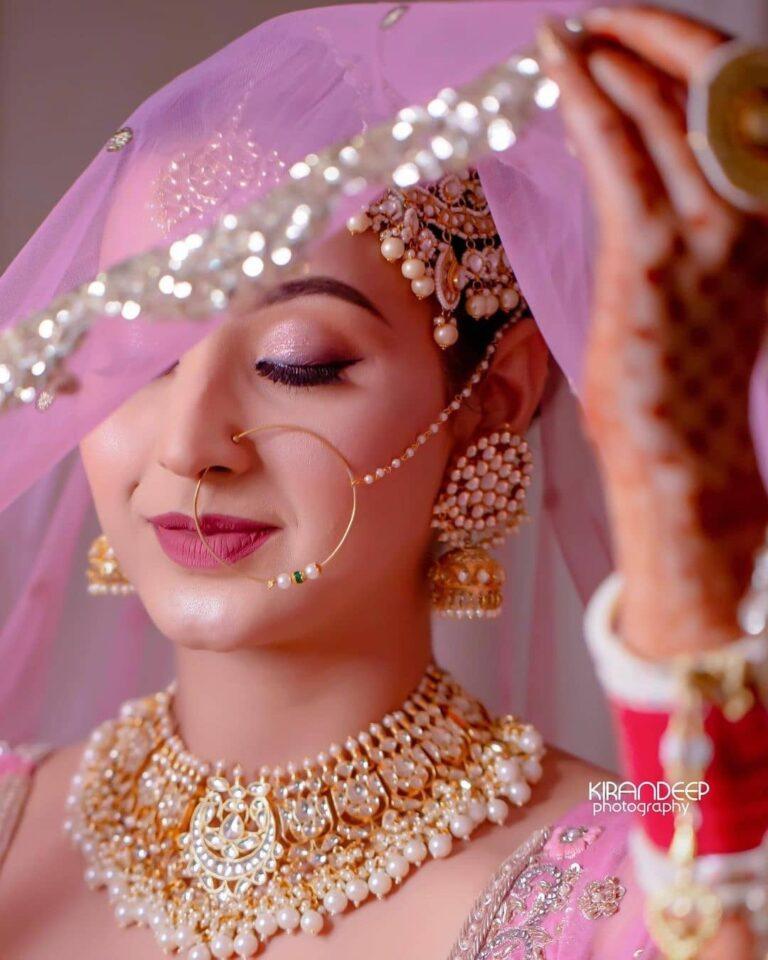 If you don't want to wear any heavy bridal jewellery on your wedding day, then choosing a simple hoop as your bridal nath design will be perfect for minimalistic brides. Perfect for the bride and her bridesmaids, this gold nath design will be an excellent addition to your overall appearance. Your simple bridal nath design can be integrated with minimalistic stone or pearl detailing with delicately encrusted chain string.
Gold Nath Design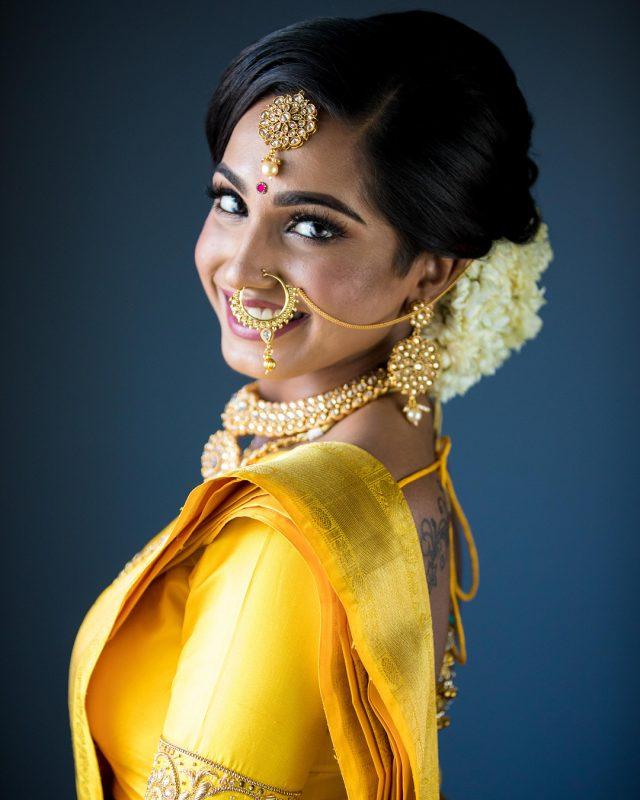 Image Courtesy - Digital Fusion Photography
Indian bridal look can never be complete without a hint of gold in their ensemble, be it a gorgeous set of accessories or a glowing bridal makeover. Cast magic through your wedding day looks by choosing a stunning gold nath design to add beauty and charm to your regal avatar. With so many trendy designs available today for millennial brides, gold nath designs can be worn by the bride as well as her wedding guests and exude elegance.
Nath Design Pin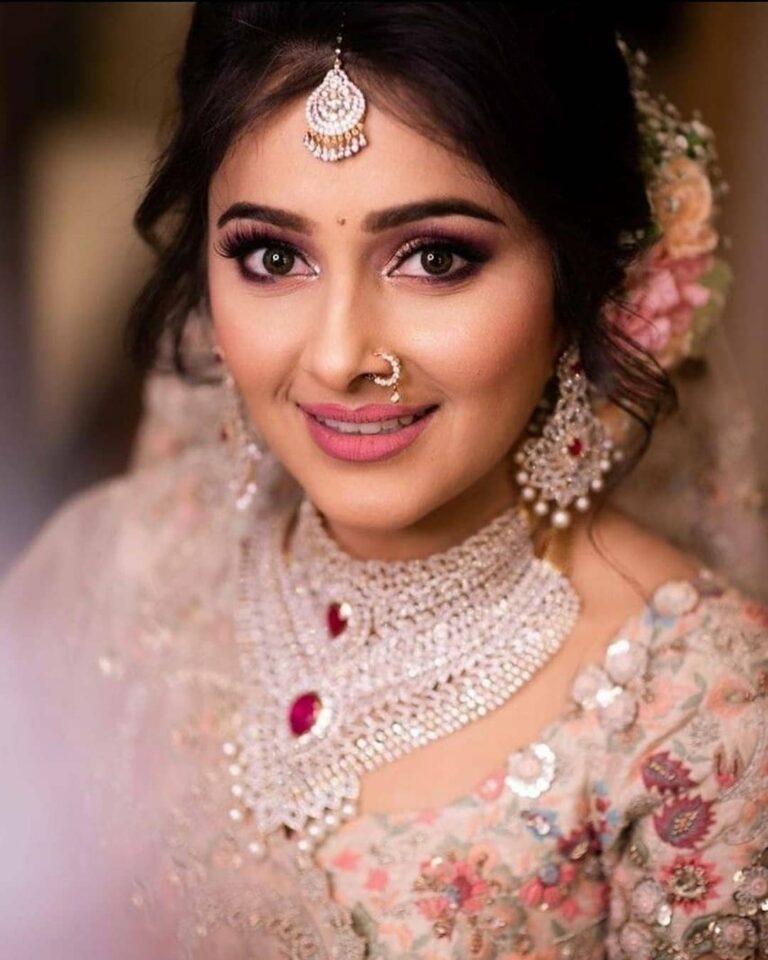 Image Courtesy - Tamanna Rooz
Brides today choose striking jewellery designs to complete their bridal look. But if you are looking for something different yet elegant, you can always choose small nose pins instead of OTT bridal nath designs. It will not only look effortlessly stylish but very beautifully balances out your other heavy jewellery pieces. This gorgeous little trinket can easily be paired with different outfits and worn after the wedding.
Simple Nath Design
Perfect for brides who are inclined to the minimalistic and elegant look for their wedding day, a simple bridal nath design is the safest option to choose. It creates a beautiful look with minimal embellishments without going too bold. A simple gold nath design like this is a wonderful choice for brides trying naths for the first time as well as guests looking for an eclectic look.
Nathni Nath Design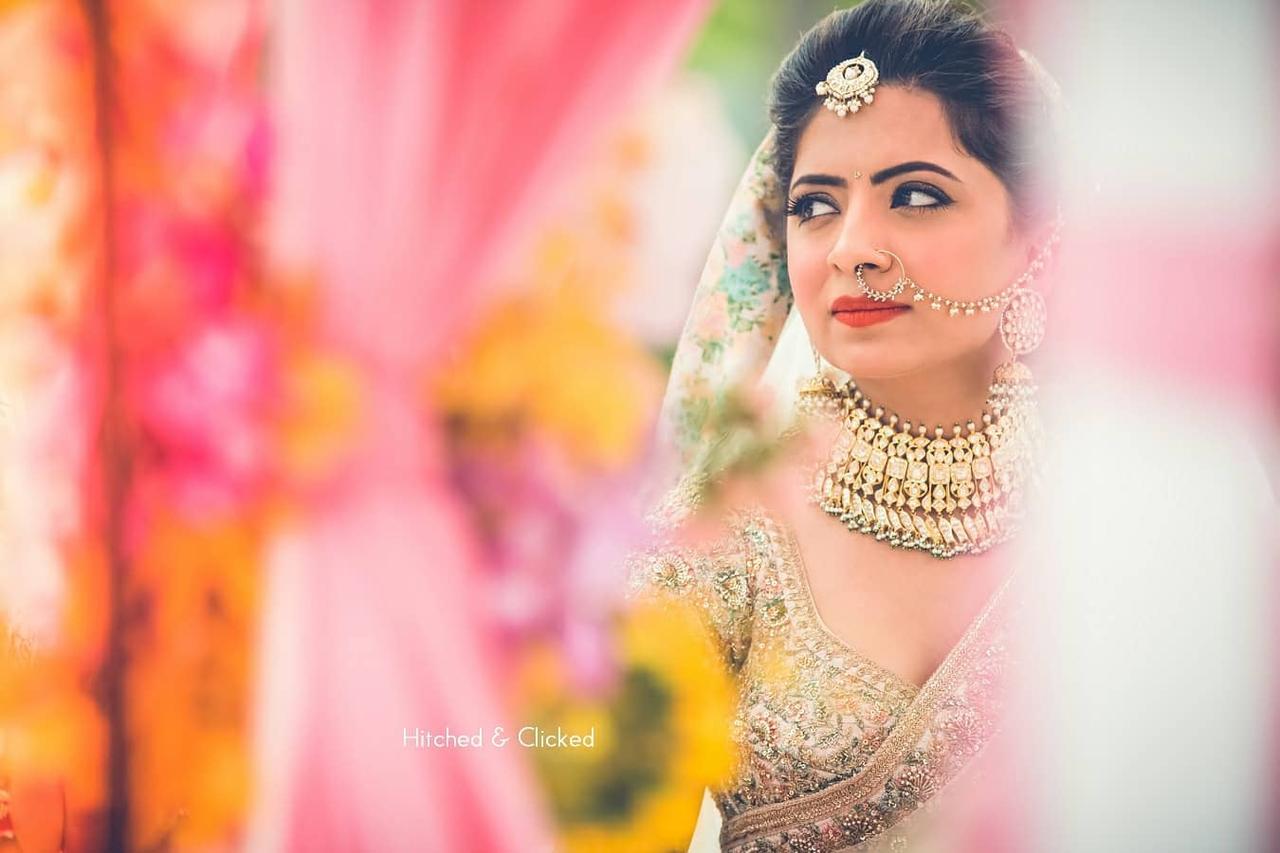 Nathni is considered to be very similar to Shikarpuri nath, though it is definitely lighter in comparison. It is a very popular choice for Rajasthani brides. Rarely do you find it encrusted with gemstones; it's rather a single stud with a delicate chain that's pinned to your hair. This bridal nath design can go with almost all jewellery, depending on what type of stud it has.
Laung Nath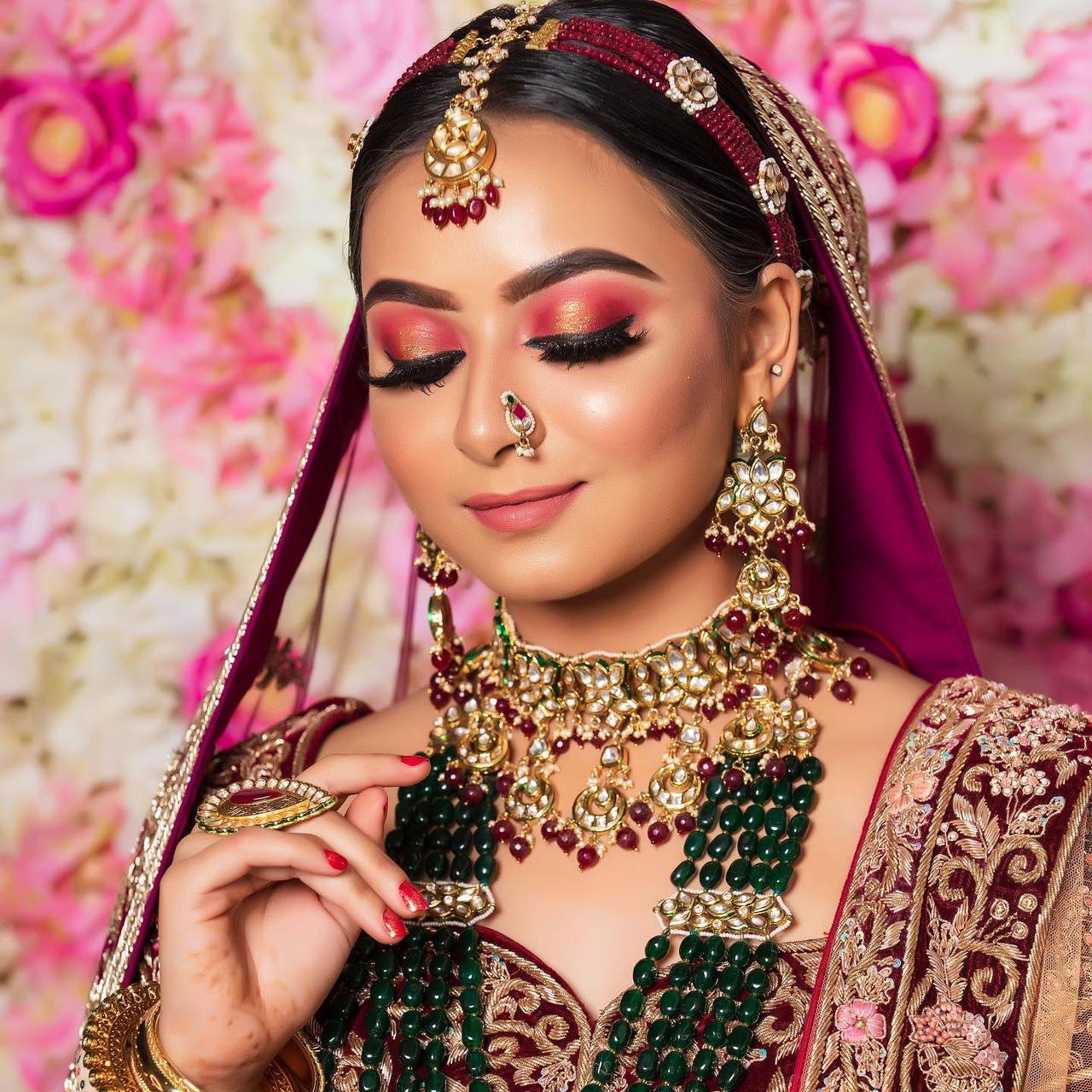 If you do not want to wear something heavy or a nath on your nose for the wedding, you can go for a small stud, better known as a Laung. The stud can be as big or small as you want it to be as long as it suits your look. It attracts the same kind of attention, of having something different in your getup. This type of nath can look great with gold jewellery and also precious stone jewellery that goes with the nath.
Latkan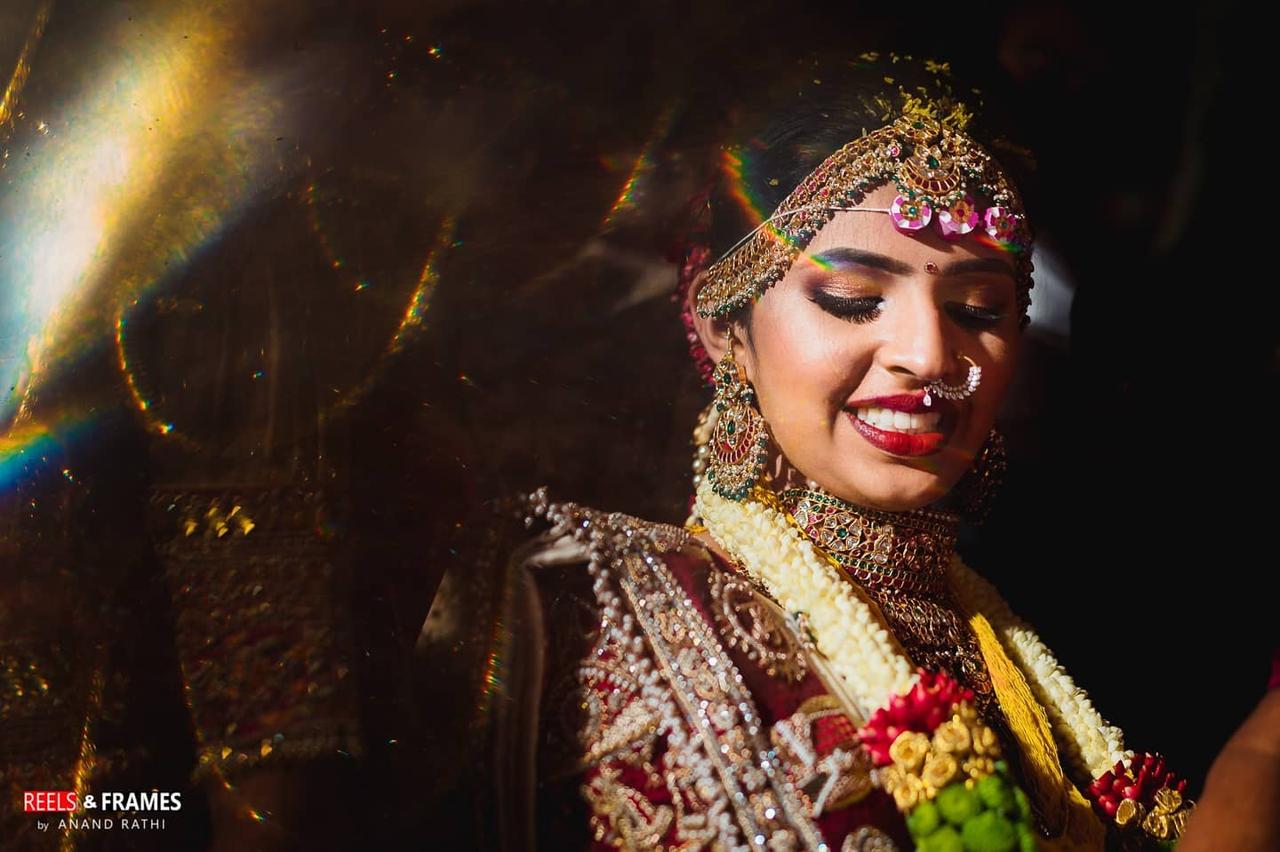 This type of bridal nath design is a little different, as it does not have a prominent nose ring. The most attractive thing about this gold nath design is the chain that connects the nose to the hair. These chains are decorated with embellishments and are what add charm to the nath. This type of nath design goes with every type of jewellery, depending on what it is made of.
Pearl Nath Design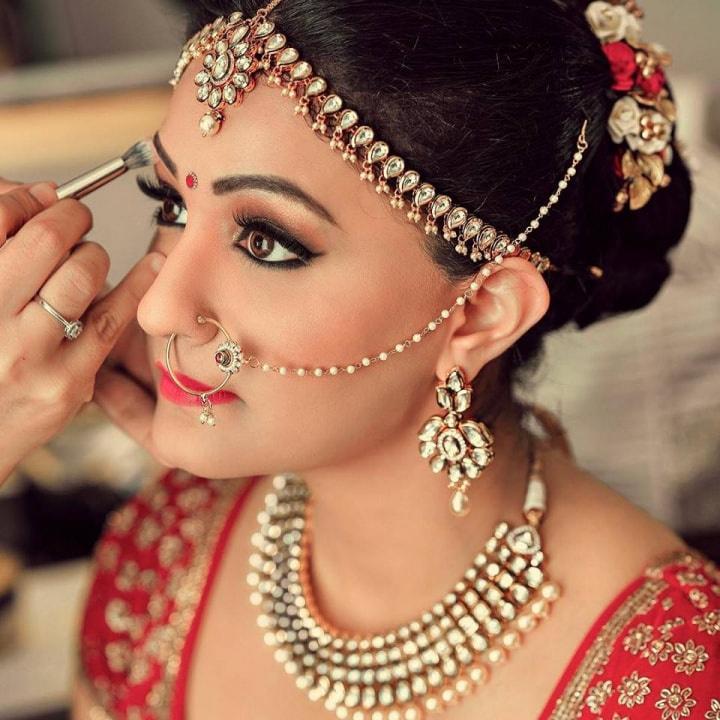 This is a very elegant and budget-friendly bridal nath design to wear. This nath is embellished with pearls and can look elegant and delicate. It can attract attention for the sheer intricateness of the pearls and of its design. It can go very well with a kundan set or jadau jewellery. Pearl Naths are often worn by both Punjabi as well as Rajasthani brides.
Multi-Chained Naths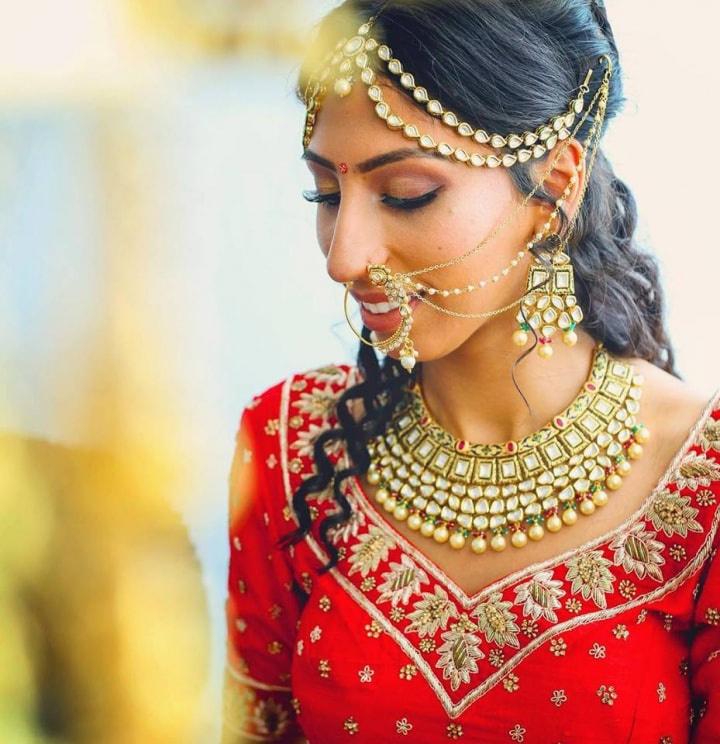 Want an overall attractive, eye-catching bridal nath design? Then go for the multi-chained naths. The best part about these gold nath designs is that it need not even be too heavy to attract attention. With the multi-chain quality, it just catches people's eye. This type of nath design can go very well with any type of jewellery, depending on what is prominent in it.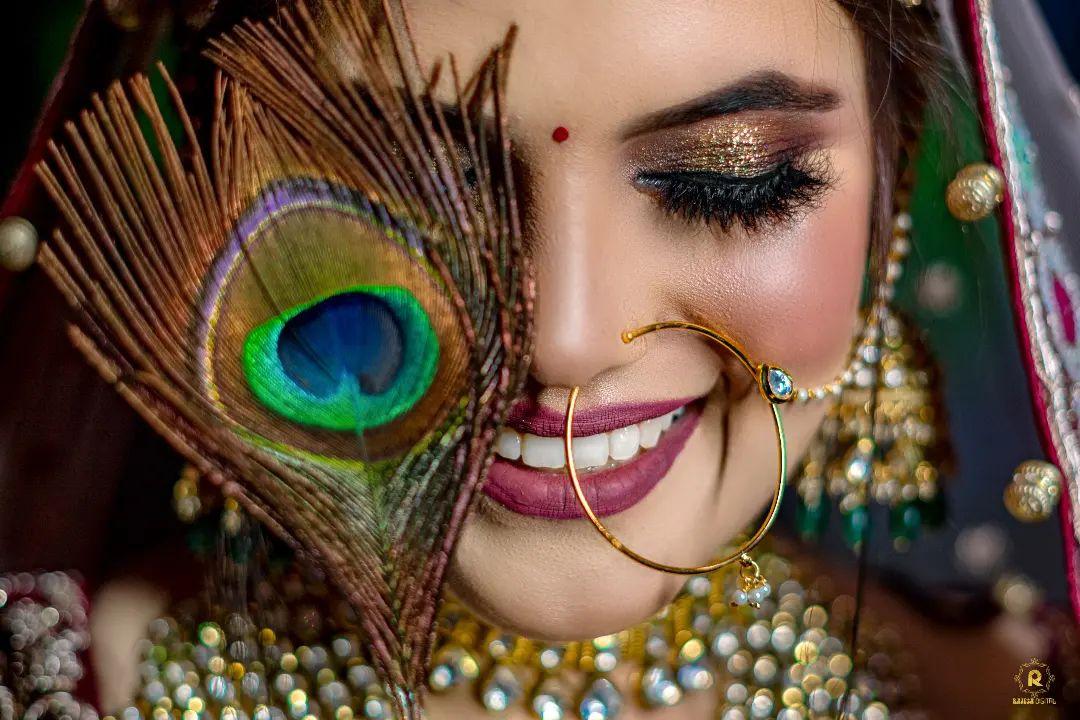 Naths are an extremely important part of your outfit, and if you get that right, it will take quite some time for people to forget about it. If we haven't already burst your bubble about this decision being easy, we would like to also add that you must make sure that your gold nath design goes well with your look while also not causing a lot of pain to you in the end. We want our brides to be smiling the night away feeling at the top of the world! It is your day and you must live it to the fullest!
Which one of these gorgeous bridal nath designs will you be adding to your wedding day trousseau? Do let us know in the comments below.
Top Blogs on WeddingWire India