Do You Know These Bridal Nose Rings from Different Cultures?
A beautiful nose ring can complete your wedding-day look. Be sure to stick to your roots. Here are some nose ring ideas from different cultures.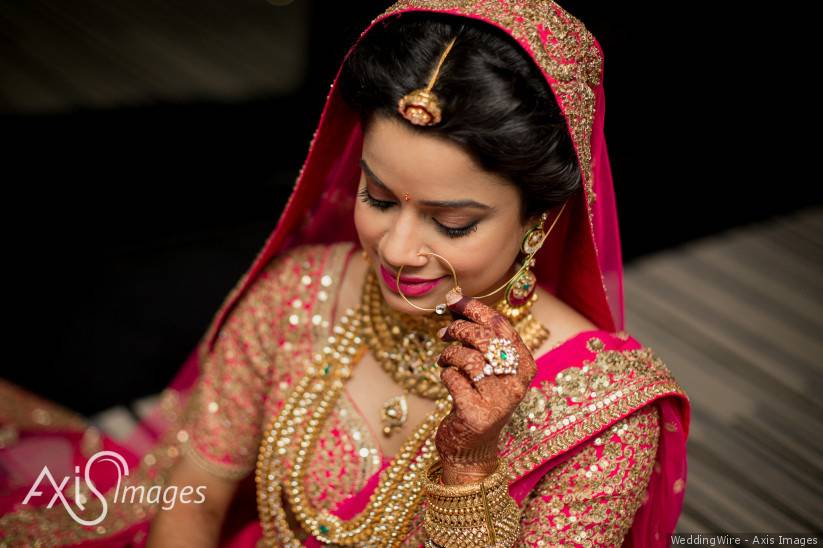 Donning a bridal Nath adds unmatched grace to the bridal look. This element, typical to the D-day wedding jewellery set, draws attention to the face and adds a distinctively feminine appeal to the bride. The spot of surprise with a Punjabi laung to a traditional Shikarpuri nath, all of these bridal nose rings designs add that extra buzz to one's visage.
In India, a bridal nose ring is worn in many distinct, different cultures and this gives a bride-to-be a lot of options to choose from. In fact, it has been part of the traditional bridal jewellery of every culture and religion. So much so, that just looking at a bride and her bridal nose ring is enough to tell an onlooker which region the bride is from.
Let's discover the cultural variety of these bridal naths.
1. Latkan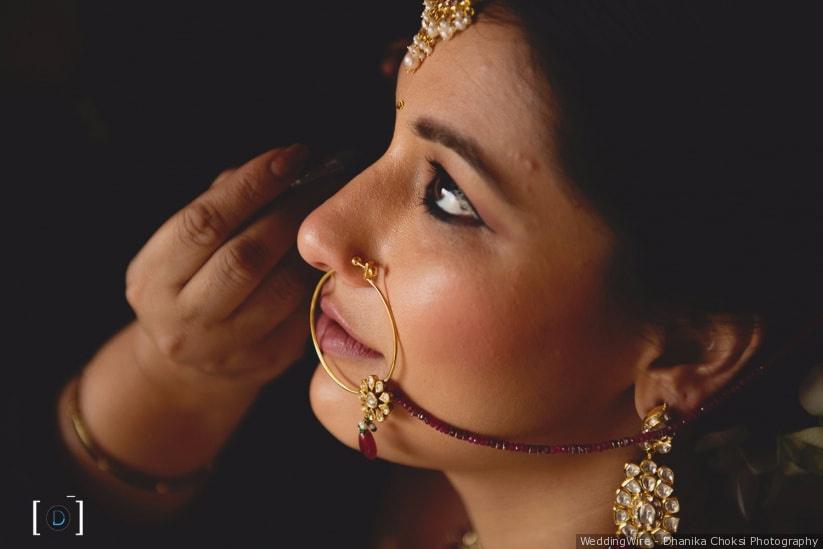 A small bridal nose ring, the Latkan is highlighted by a small embellishment attached to a beautifully designed chain. There are no highlights on the nose ring itself and this kind of nose ring can also be held near to the Nathani.
What works for this kind of nose ring design is that the highlight is on the metallic chain part rather than on the nose ring itself. This is a great style for the minimalist bride as it doesn't take the attention away from the rest of her ensemble. Easy to carry and glorious to look at, this bridal nose ring is a definite favourite for us.
2. Fan-Nose Ring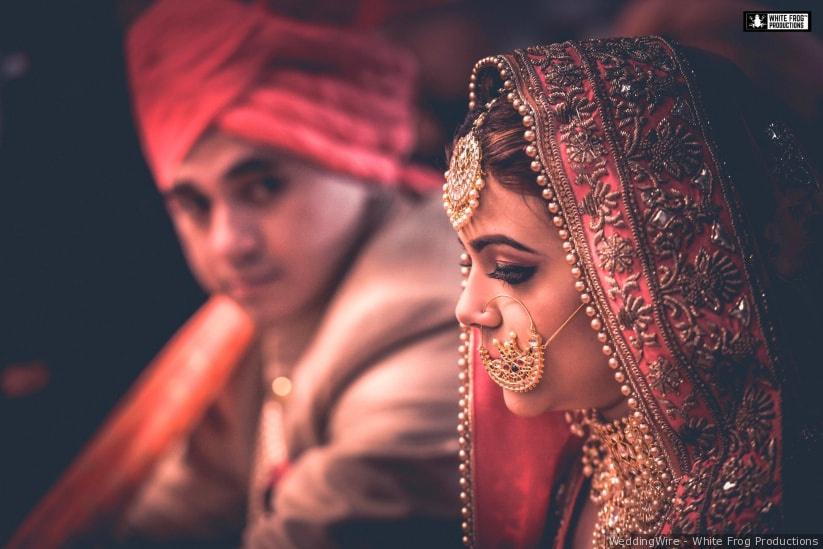 The fan-style nose ring is distinctly highlighted by a fan-style embellishment which is on the ring aspect of this element of the bridal jewellery. Often seen on brides from Himachal Pradesh and Uttrakhand and is a part of the traditional bride's attire.
This kind of bridal nose is highlighted with pearls and Jadau elements and a thin, chain attaching it to the hair. The half-moon crescent-shaped Nath is very versatile and the best part is that it leaves a lot of room for customisation. The crescent part of the design can be used to play around with your imagination and add whatever kind of embellishment and jewellery work that you fancy. Talk about making a style statement of your own.
The traditional nose ring in parts of Uttarakhand is called Nathuli or the Garhwali Nath. The big gold ring is decorated with precious rubies and pearls. The size and weight of the ring, as well as the varied number of pearls used in it, signifies the status of the family of the woman who wears it.
3. The Punjabi Nath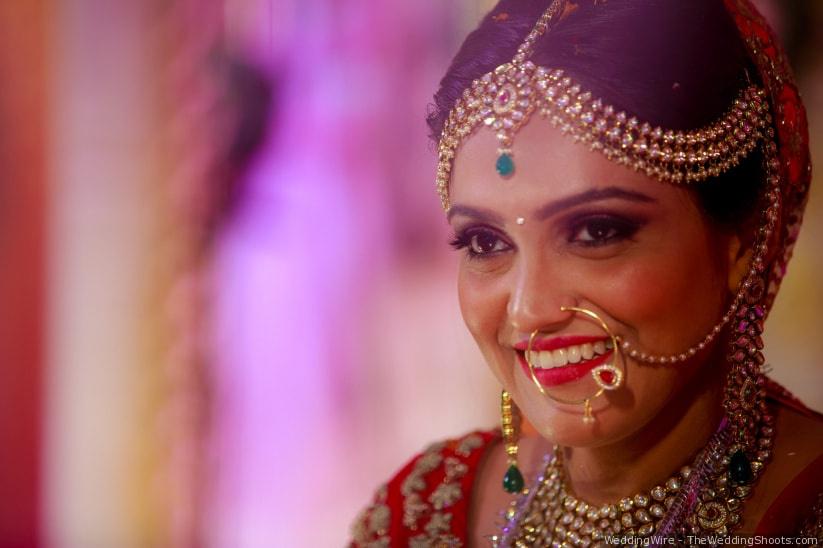 This bridal nose ring design has a hoop with little or no charms. It has the metallic chain connecting the nose ring to the hair and is quite heavier in use as compared to the traditional Nathni.
Though it looks simple on the outside, the real beauty of this bridal nose ring lies in its sturdiness. With a solid gold frame, this style of bridal Naths come from a life-long tradition of gifting the bride gold ornaments, firstly for her Solah Shringar, and also as something to fall back on during tough times.
4. Laung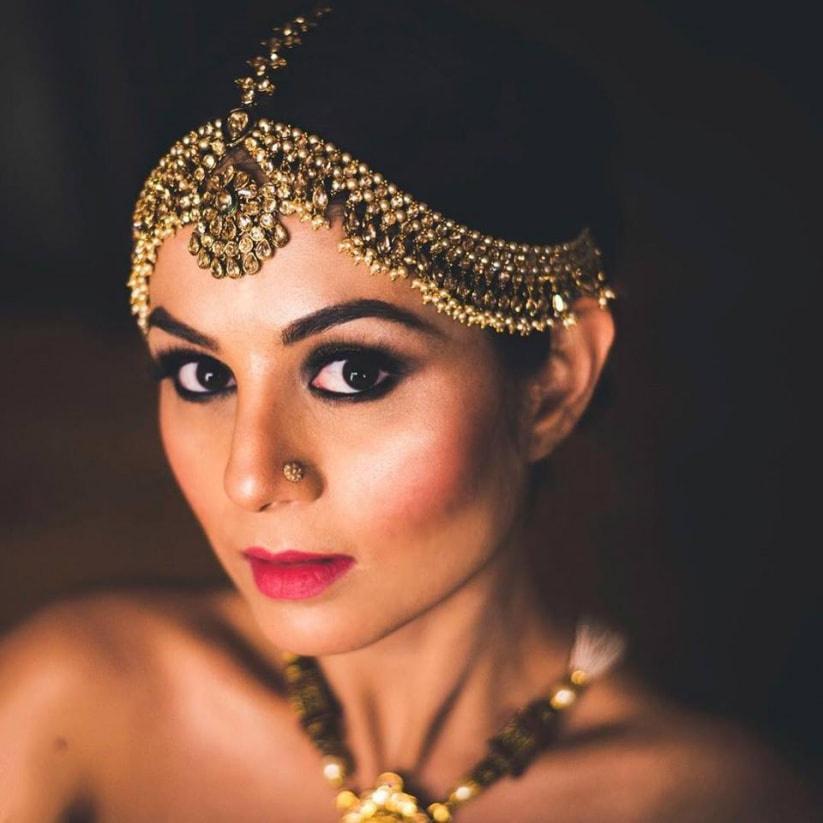 Imagine a distinct stud to highlight your visage - that's the beauty of the Punjabi laung. This bridal nose ring design gets its name from the clove spice with a distinct circular head to dot the bride's nose.
Usually a gold or a silver nose accessory, the laung is as daily wear as one gets in North India. For a bride, however, this would be studded with precious or semi-precious stones.
When it comes to making a fashion statement, nothing does it better than a Punjabi laung. This is the kind of bridal nose ring that you can flaunt even if you're not in your full-blown bridal ensemble. Here's a fashion keepsake that you can incorporate even in your daily wear.
5. The Spoked Nose Ring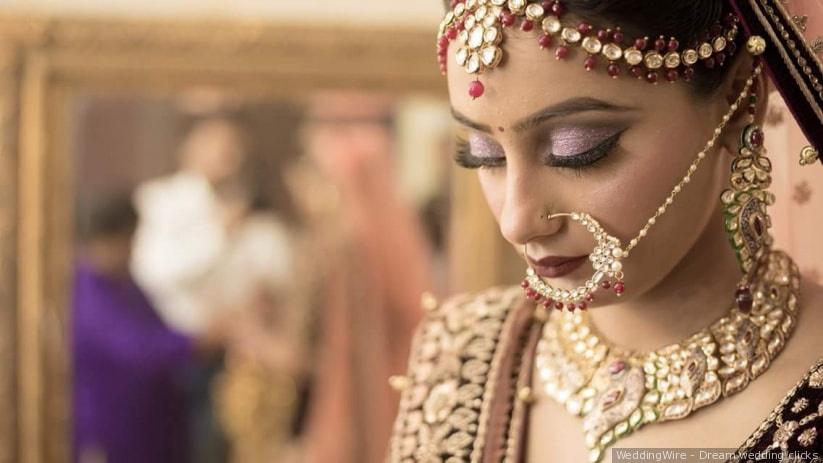 Mostly used in Bihar and Uttar Pradesh, this form of bridal nose ring is known for outward settings for stones on the main ring. The spoked nose ring is circular in shape with a series of continuous spokes in its border.
It is designed in such a manner that half of it falls on the lips, covering the mouth.
6. Nathani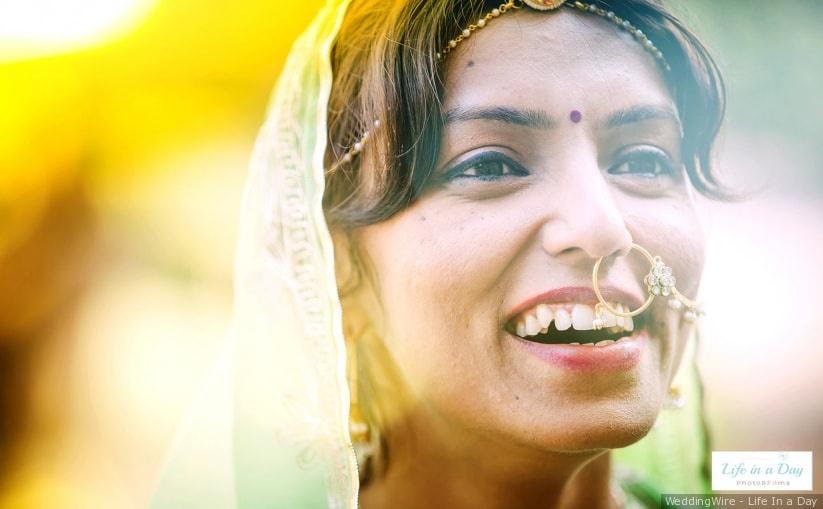 A traditional nose ring for the women of Gujarat and Rajasthan. They are generally made of gold or silver and are sometimes decorated with little precious or semi-precious gemstone with a long delicate metallic chain hooked up in hair.
Simple, elegant and effortlessly charming - that's how we'd describe this piece of heirloom jewellery.
7. Maharashtrian Nath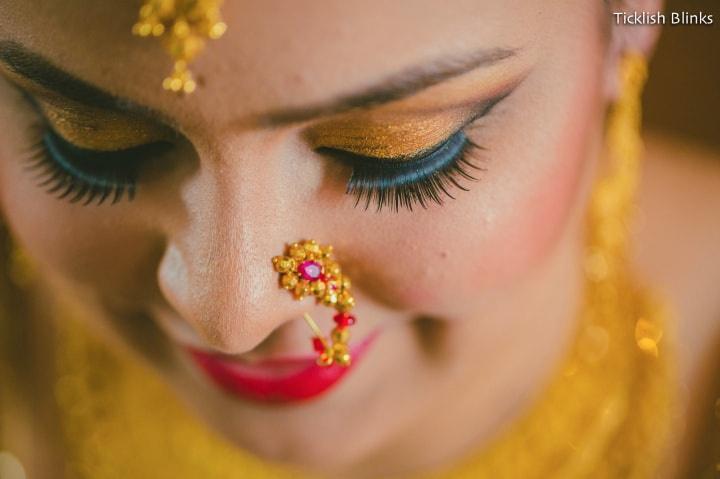 Called out for its unique cashew nut shape and the fact that it is made up of pearls, beads and other colourful stones, the Maharashtrian Nath is one bridal nose ring design that has a recall value that's well earned. While the rest of the elements present here are known for a circular form, this bridal nath is an elongated design, often made in pearls or beads (as seen with the gold beads here).
Easily one of the most easily recognisable bridal nose ring design - It is known to be the trademark element of a Maharashtrian bride's jewellery collection.
8. Multi-chained Naths

A distinct approach to the bridal nose ring, the multi-chained naths have come into limelight with historical films and costume jewellery recommendations (do you recall the trend for Devasena earrings after Baahubali)?
The best part of wearing such a nath is that you do not need to necessarily opt for a heavy centrepiece or nose ring. The focus element here are the attached chains. This also means that the style can go with all kinds of bridal jewellery ideas.
The diversity of bridal nose rings might seem overwhelming, but you must've already hooked on a one or a couple of these designs. Try some of them on with your wedding shopping companion to get a fair idea of what suits you best.
And don't forget to share your story of finding the perfect bridal nath with us and other soon-to-be brides in the comments below.