12 Dazzling Devasena Earrings Fit For A Royal Look For You
Devasena earrings are a piece of jewellery that looks magnificent. So why not choose a pair of earrings that not only get noticed but also are fit for royalty.
Whoever said, whether you wear earrings or not, does make a difference in your overall look. But if your earrings are prominent they do add considerably to your outfit in every way possible. Devasena earrings are those kinds of earrings that you would notice people wearing. Their chains make them look beautiful and delicate, something fit for any occasion. Now they are slowly becoming even more noticeable in weddings, as they've come back into fashion and now also known as the Bahubali earrings. We have made a list of our favourites that might help you choose your pick too.
1. Flower Earrings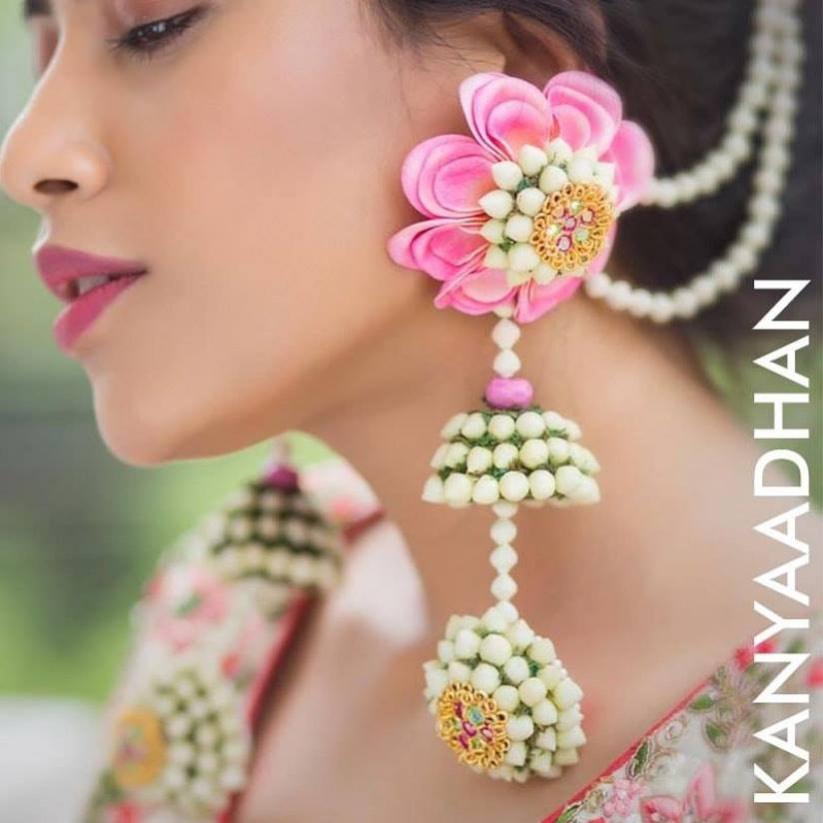 Photo Courtesy: Kanyaadhan
There is no denying how amazing these earrings look. They are a dazzling set, and perfect for your Mehndi or Haldi ceremony where you would not want to get your real jewellery dirty. With earrings like these going for bold colours looks amazing, as both the colours stand out in contrast. Also, tie your hair up in a loose bun to show off the earrings.
2. Emerald Earrings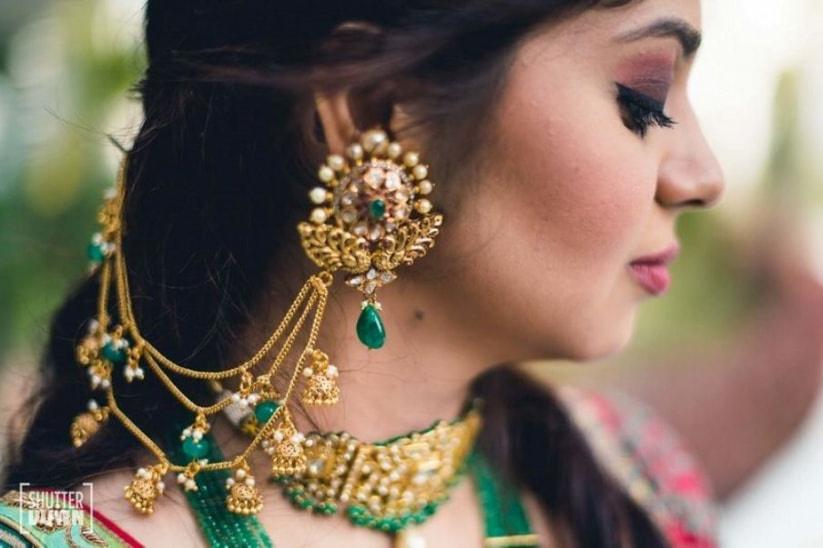 These emerald earrings are definitely what you think about when you think about exquisite looking earrings. The emerald adds colour to the earrings and makes them more eye-catching. These earrings are perfect for occasions like Sangeet or the Shaadi. Make a half bun with your hair and let some of it free, letting the earring strands sit prettily in contrast to your hair.
3. Colourful Earrings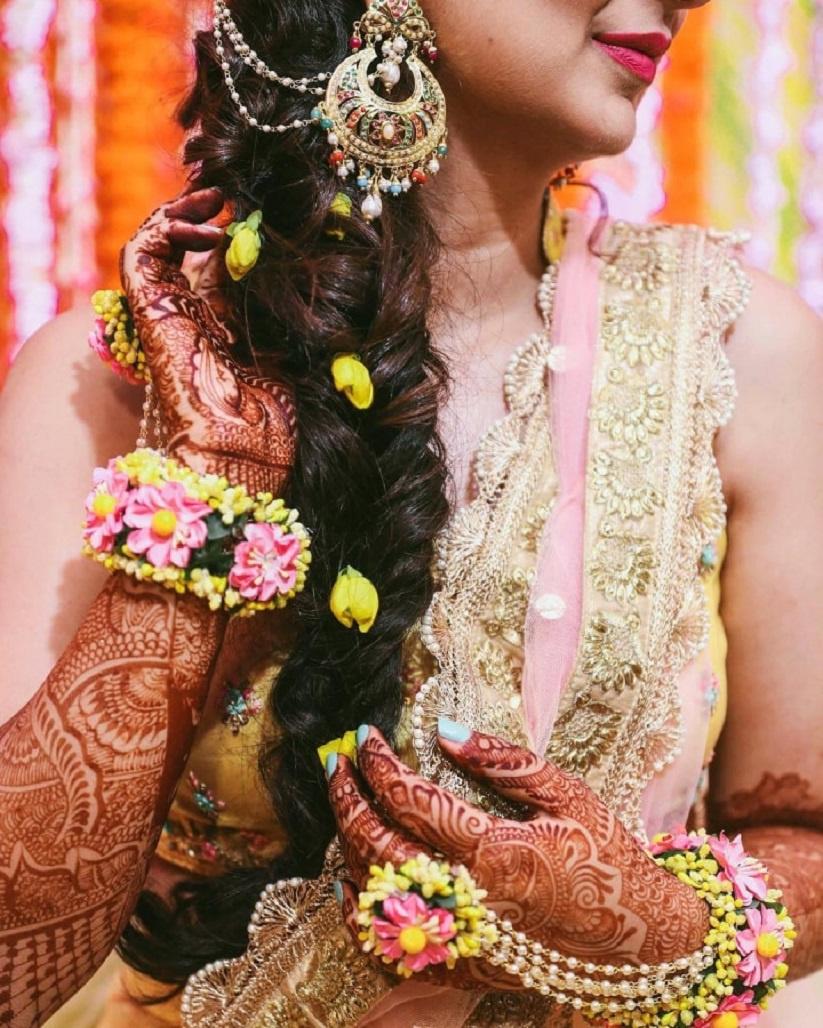 If you do not want to go for something monotonous then this Devasena earrings will be to your taste. It has a number of jewels in a different colour making it attractive to the eye, for this reason, you can wear a solid coloured outfit with it, as it would look different. Put your hair into a loose fishtail braid, and wear these earrings to functions like Sangeet or reception.
4. Handmade Earrings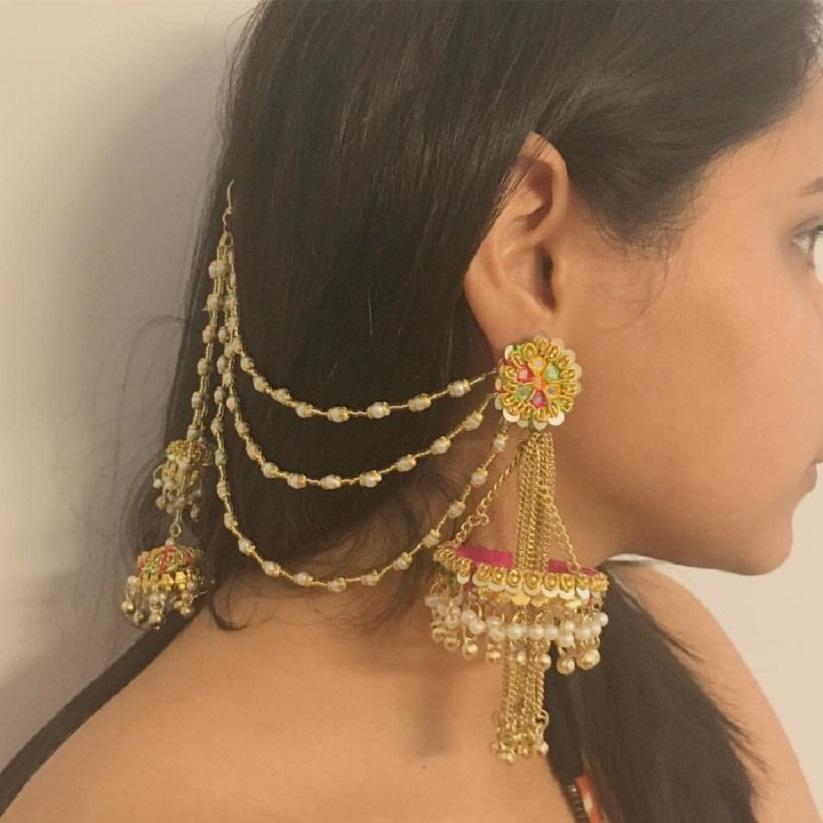 If you are finding earrings for your Haldi and haven't come to a conclusion yet, look no further. These handmade embroidered earrings would be ideal for your Haldi or even your Mehndi outfits. You can wear them with pastel coloured outfits, matching them to your Devasena earrings. Leave your hair open for a carefree look.
5. Chandbali Earrings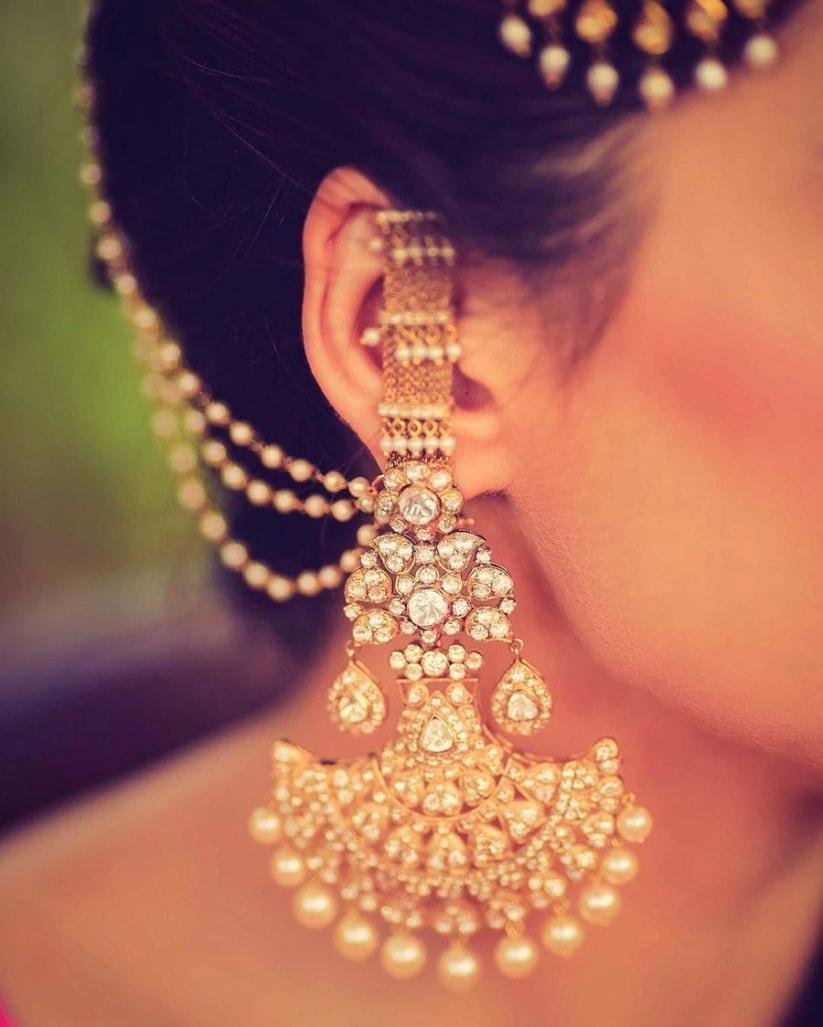 Photo Courtesy: Morvi Images
Some bling is always good for your outfit, and these Devasena earrings provide you with just that. These diamond earrings are just the thing for a reception or an engagement function. Put your hair in a loose braid and pair your earrings with a dark bold coloured lehenga.
6. Jhumki Devasena Earrings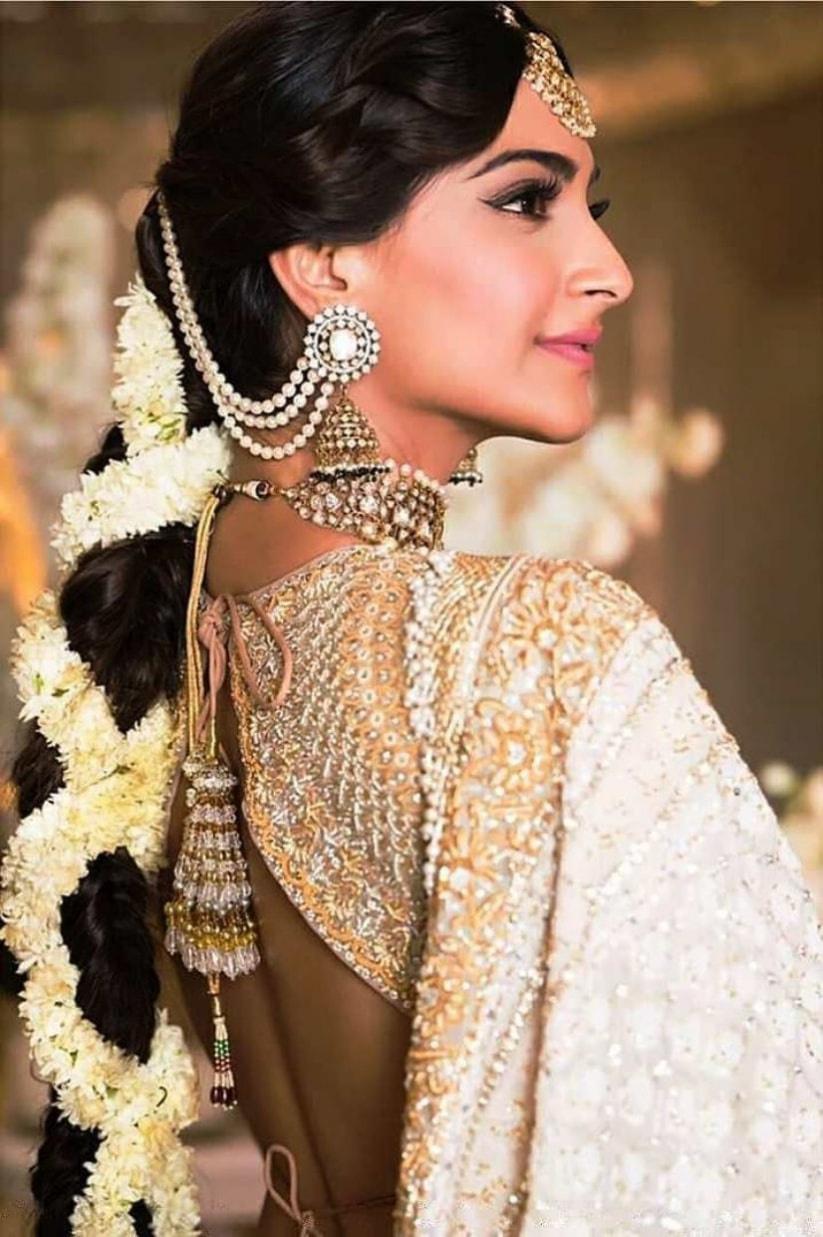 What's better than one kind of earring? An earring which has a fusion of two, this Jhumki and Devasena earring combo looks rich and would definitely make you look like a royal. Braid your hair and get a fancy Juda done, and match your earrings with a lehenga or a heavy suit. Go for a cream colour or a neutral colour for it to give a better impression.
7. Set Earrings
Set earrings as it sounds are a part of a set. These gold Devasena earrings come with a matching Maang Tikka. This kind of a matching set looks very feminine and neat. You can wear this at the Mehndi or some other small function, as it looks quite graceful. Leave your hair open with these earrings, and wear a light suit to just enjoy your time.
8. Kundan Earrings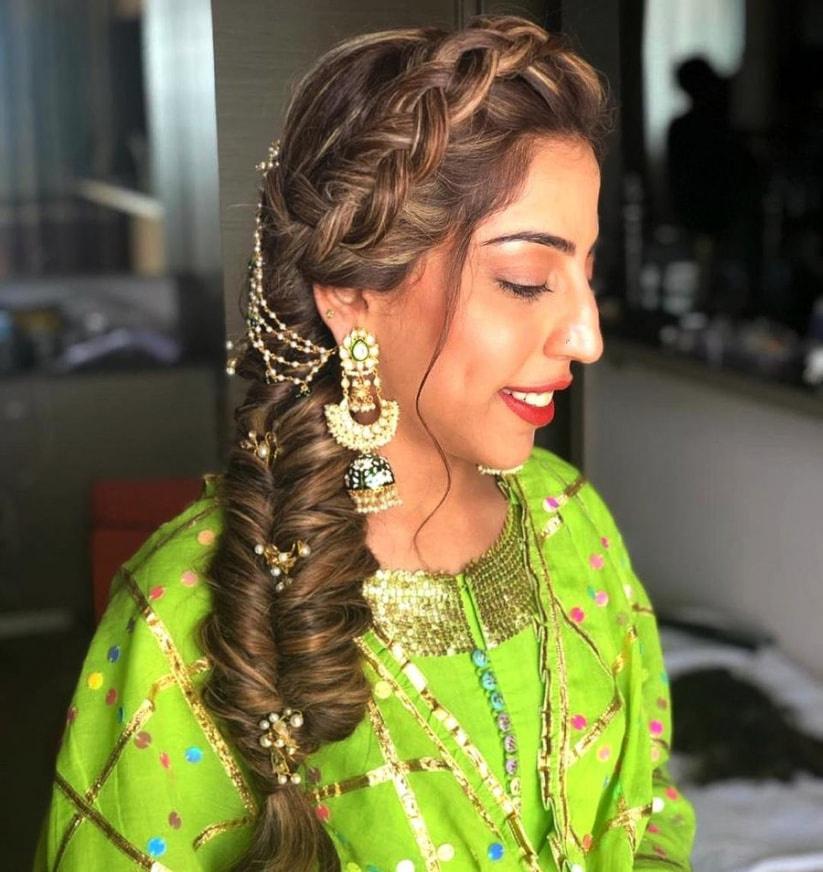 Kundan looks beautiful in any jewellery and Devasena earrings are no exception. Though kundan usually looks quite heavy, these earrings look flavourful without the inherent heaviness. They are light enough to be worn at a Mehndi function or any other small Pooja for the wedding. These look beautiful with a loose braid, which is adorned with flowers, and will look amazing with bright coloured suits or Shararas.
9. Latkan Earrings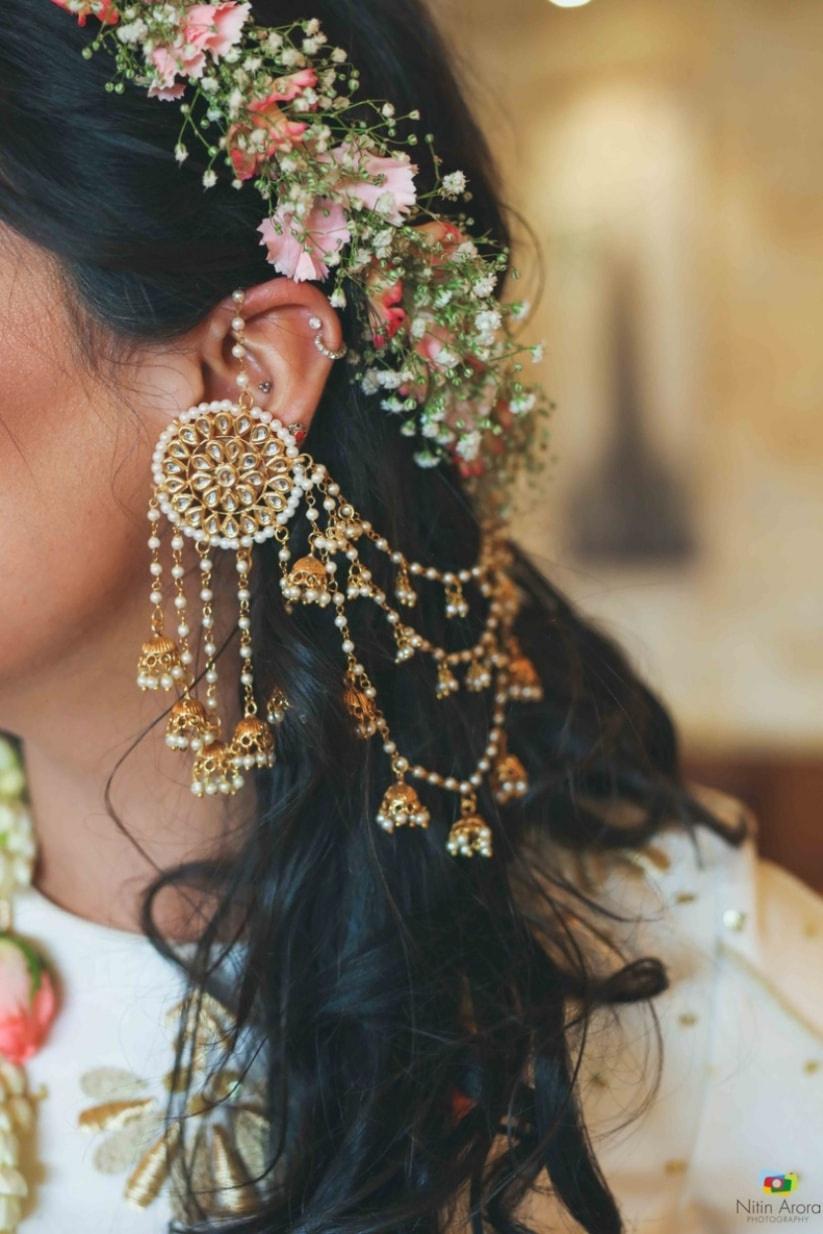 These delightfully delectable Devasena earrings are adorned with small latkans. Pair it up with open hair and a floral crown to make it look light and whimsical. You can also wear a floral print outfit with these earrings. Wear it at the Sangeet or reception and look lively.
10. Floral Pearl Earrings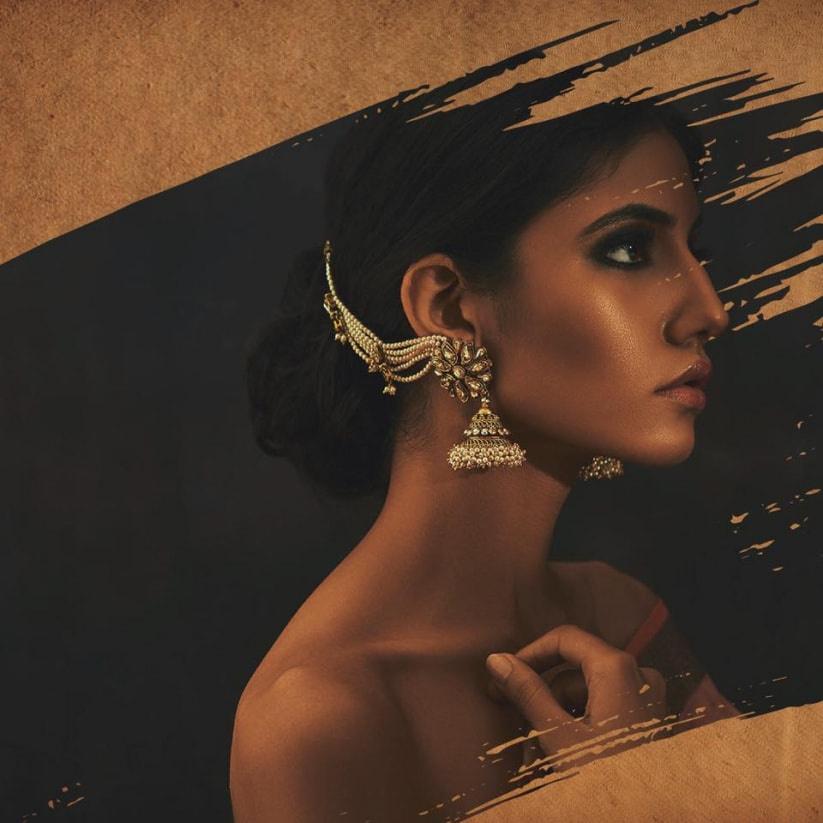 Majestic is one of the few words that come to the mind when you look at these earrings. Bearing resemblance to Mughal jewellery these earrings are definitely fit enough for a queen, or rather a bride. For its prominence, these earrings will look good with any type of hairdo. You can team it up with a Sharara or a lehenga with deep dark colours, and wear it either at the Shaadi or the reception. There is no way that anyone will be able to ignore you with this look.
11. The Original Pearl Earrings

Image courtesy: Pinterest
Gain some clear appreciation for the original earrings with hair chain trend that led to the rage for Devasena earrings. These absolutely original chandelier earring chains feature golden Jhumka with small pearl highlights in rows that can be pinned back in trails. Find, invest and flaunt in such a set for at least one of your pre-wedding functions.
Match the set with your outfit, choosing either one that's gold, silver, cream, beige or nude for the big day. Know that the half-and-half hairstyle is the best way to showcase these beauties.
12. Floral-jewellery Combination Earrings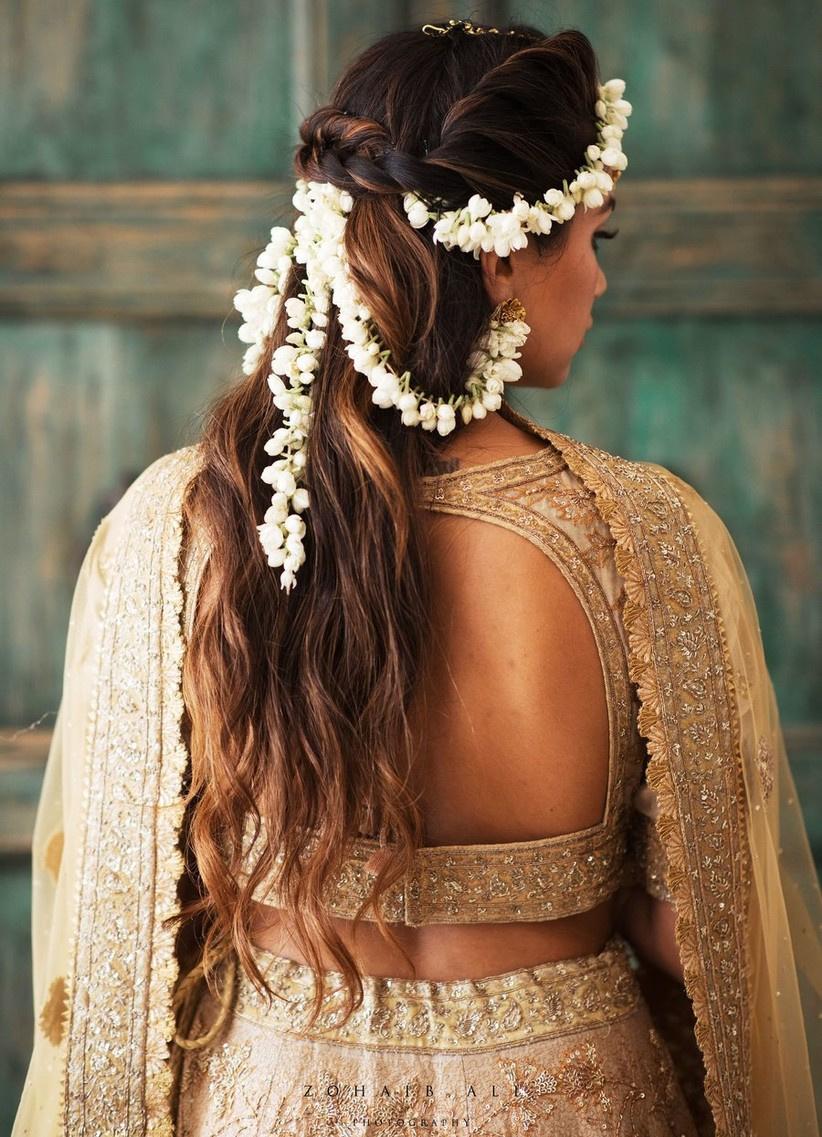 Image courtesy: Zohaib Ali Photography
Devasena earrings are a style that you can DIY to your utter delight as well, as this bride did for one her daytime functions. Attach strands of silk or flowers from your hair to your favoured set of Jhumka earrings and see how the two together create a wistful set of magic. We also love how the bride in question has taken the look up a few notches with a crowned braid hairstyle as the base for these Devasena earrings.
Work such a look for your own Mehndi or Haldi ceremony and rock both like a boss.
Devasena earrings are definitely fit for a bride to wear, and it makes her look like royalty too. These earrings give you a break from your normal dangler earrings and look different from anything else you have in your box.
Enjoy these earrings and tell us in the comments if you have any other designs for these in mind.