Work It! 12 Earrings With Hair Chain Looks For Awesome Bridal Pics
Intrigued by earrings with hair chain but confused about which one to pick according to your outfit? We have the answers for you!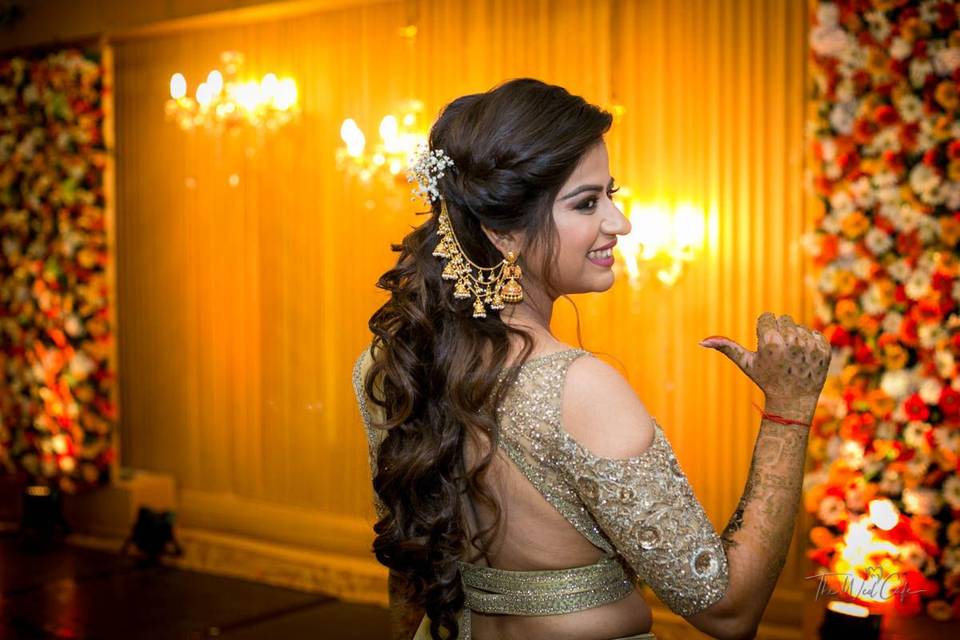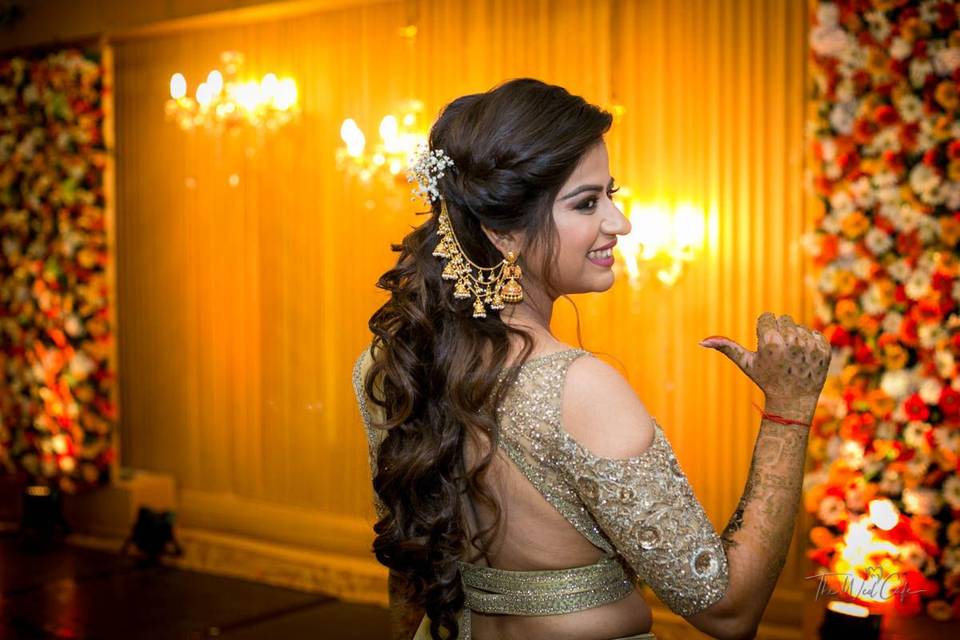 Image courtesy: Pinterest
Earrings with hair chain have been a quintessential part of bridal outfits. They make your hairstyle stand out and make you look dazzling. Check out these must-have 12 inspirations for earrings with hair chain designs that are a must-wear for every bride-to-be:
1. Gold earrings with tasselled hair chains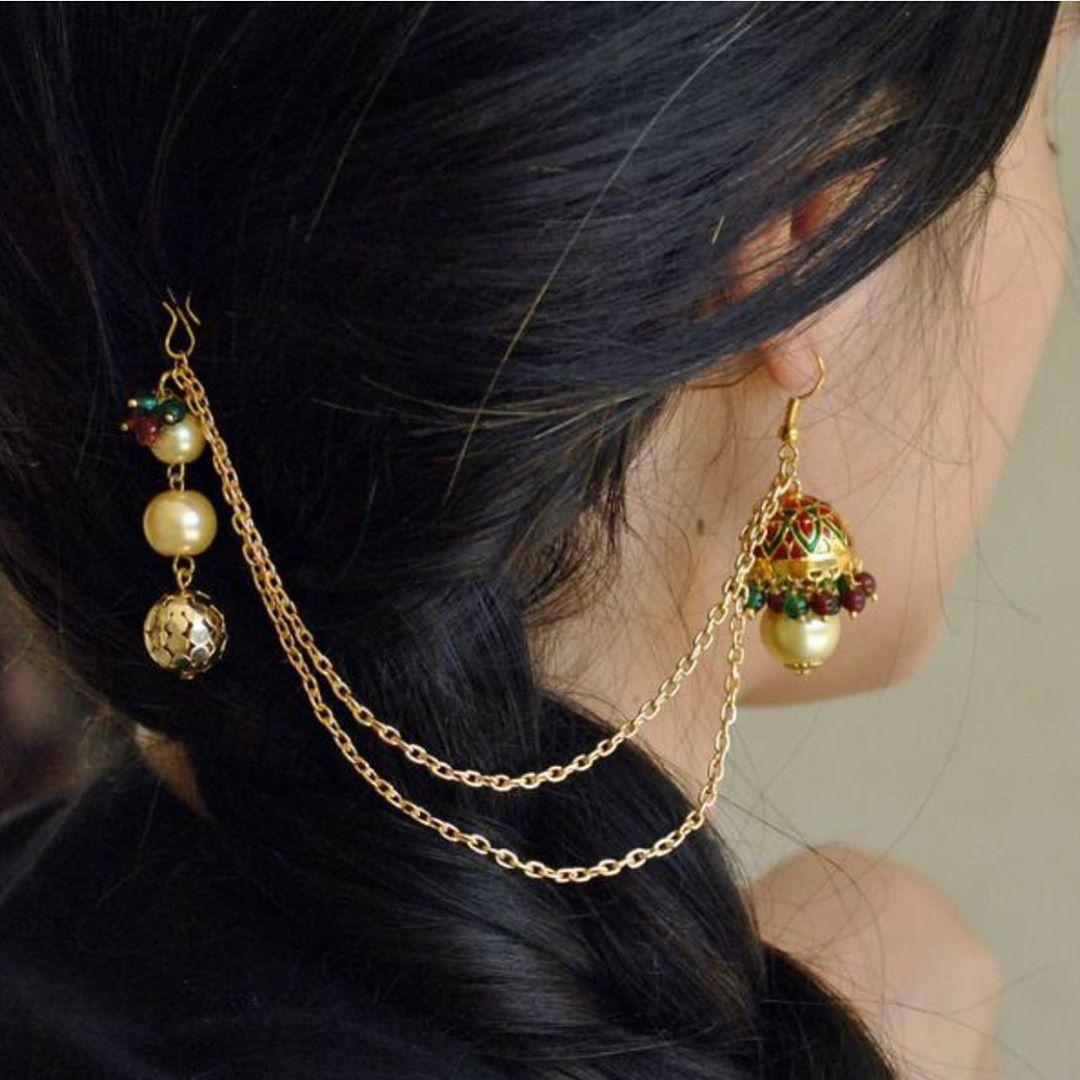 Image courtesy: Abhika Creations
Gold is a classic colour for any bridal accessory. Plus, this set of earrings with hair chain designs has intricate coloured patterns on it and that is what makes it attractive yet simple. The single strand of golden hair chain keeps the look minimal.
If you decide on this option, then tie your hair into a loose braid for the hair chain to stand out. You can also consider any of these hairstyles for long hair with this look.
2. Exquisite earrings with front chain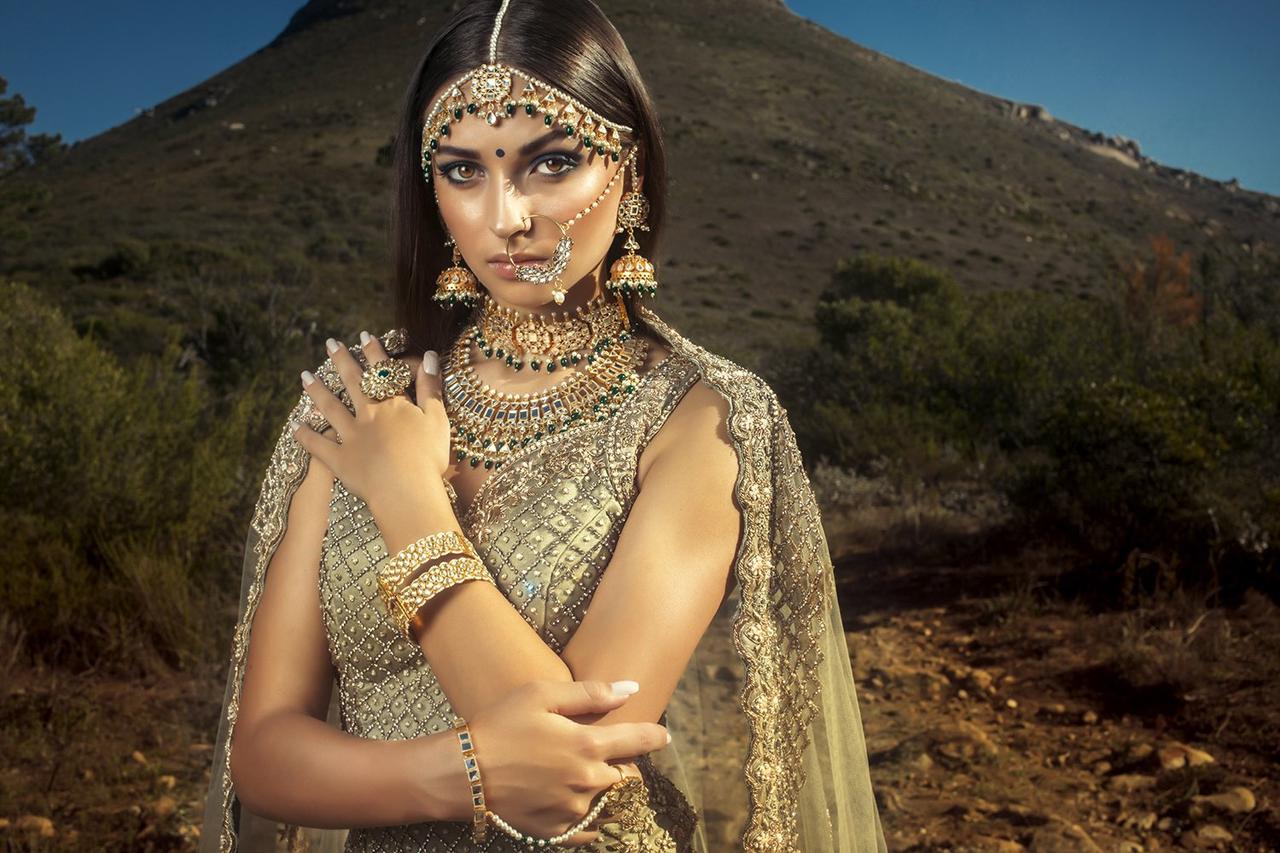 Image courtesy: Gilmour Jewellery
This new kind of earrings with hair chain puts the chain in front instead of on the side. For this one, go heavy with the earrings. Search for gold jhumkas or embossed with coloured stones. The front chain can either be simple or have intricate extensions as shown in this picture.
3. Turquoise earrings with multi-pearl hair chain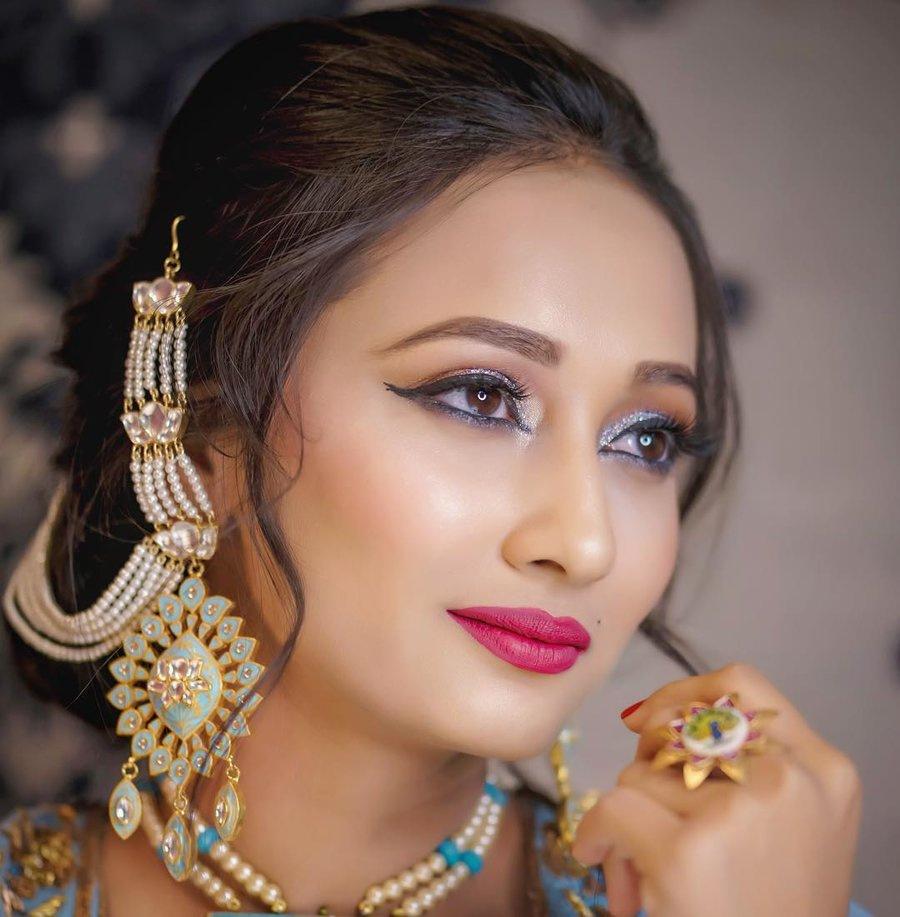 Turquoise is an understated colour for all of its elegance and charm. The lighter shade of turquoise brings in a delicate touch to the accessory, while the strings of horizontal pearl chains complement the earrings really well. Pair this set of earrings with hair chain with simple, easy bun hairstyles.
4. Coloured earrings with gold and green hair chain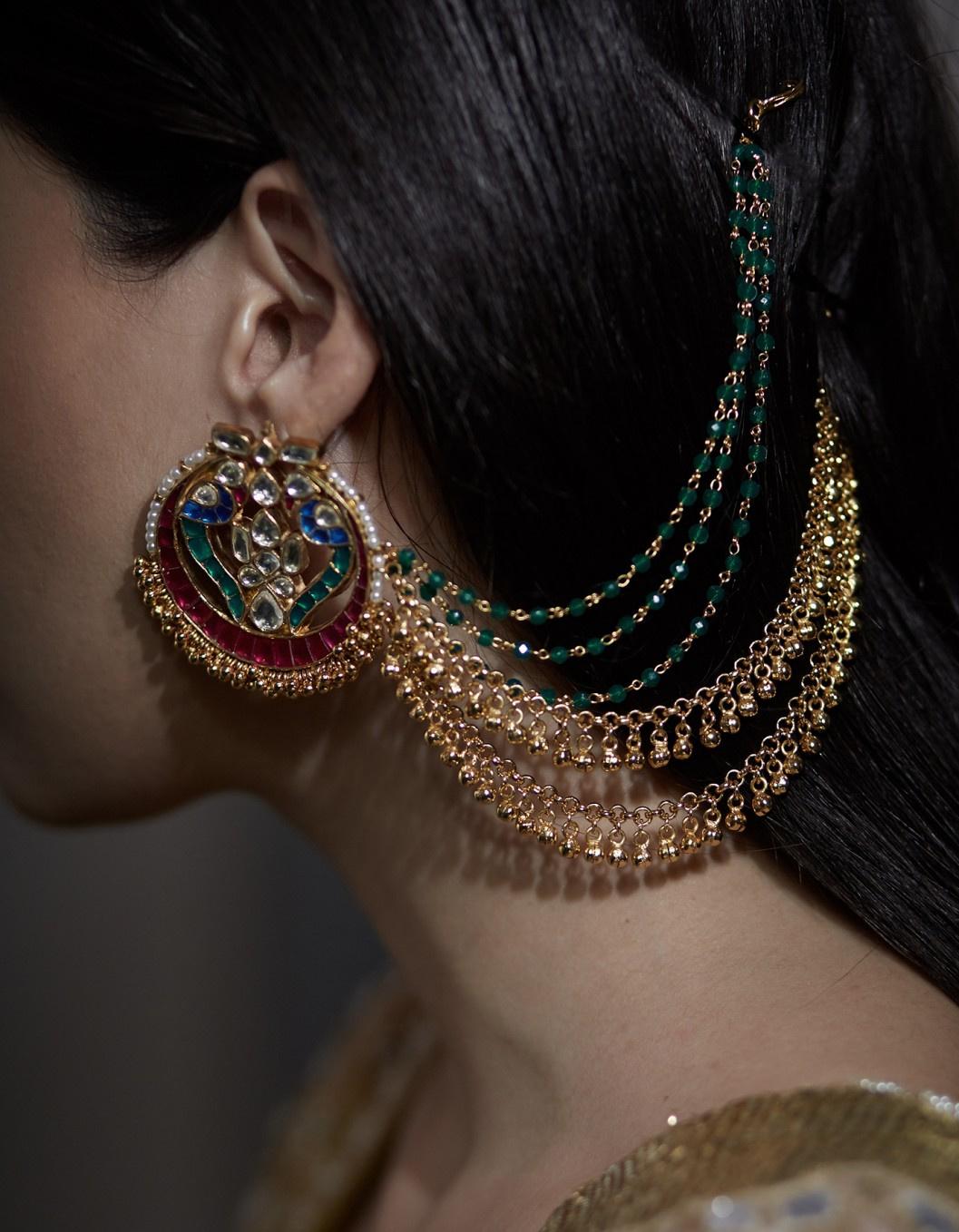 Image courtesy: Ogaan
To make an offbeat statement, choose coloured earrings. Pick one with darker shades of red, green and blue. Instead of the hair chain being a single strand of gold, you can also add a string of dark green beads to go with it. For this, you can either leave your hair open or tie an elegant French knot.
5. Bahubali earrings with pearl hair chains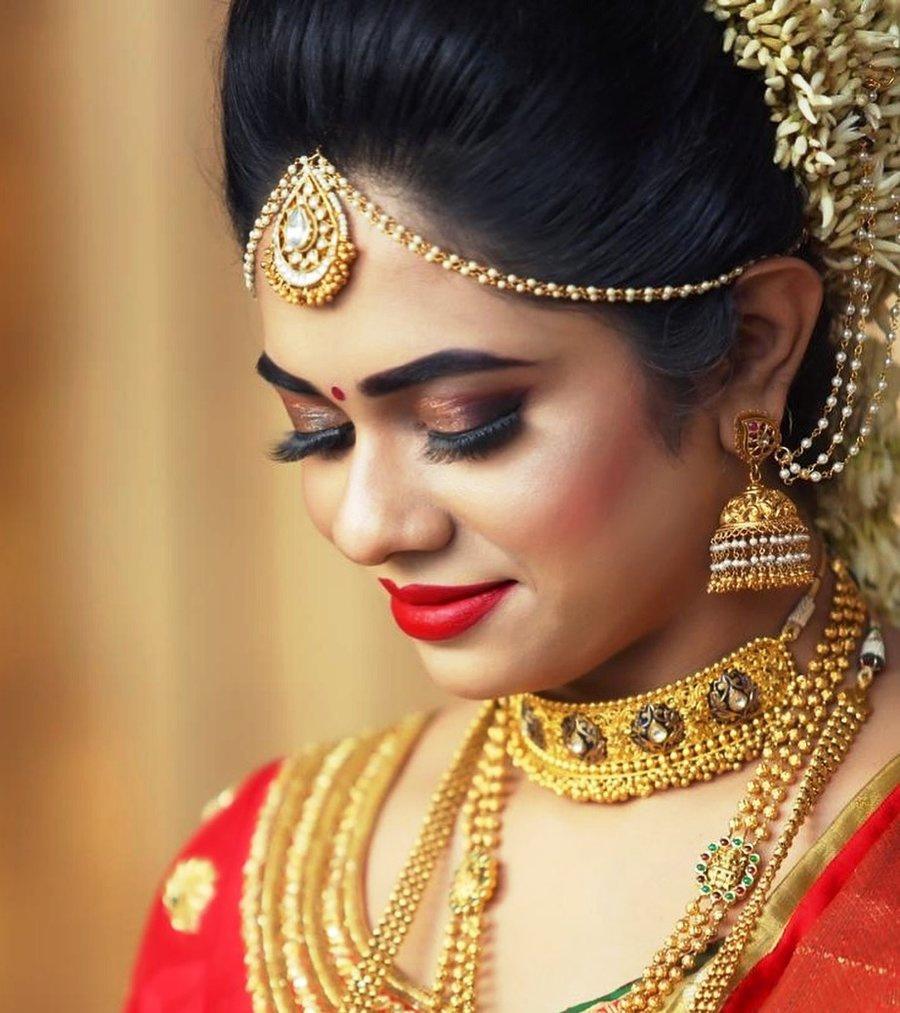 If your style is regal in nature, then the Bahubali earrings (also known as Devasena earrings) with pearl hair chains will definitely do justice to your bridal ensemble. These earrings come with a golden dome and tiers of pear and gold beads beneath that.
To go with the earrings, the hair chain has also been made of pearl plated with gold.
6. Sickle-shaped earrings with pearl hair chains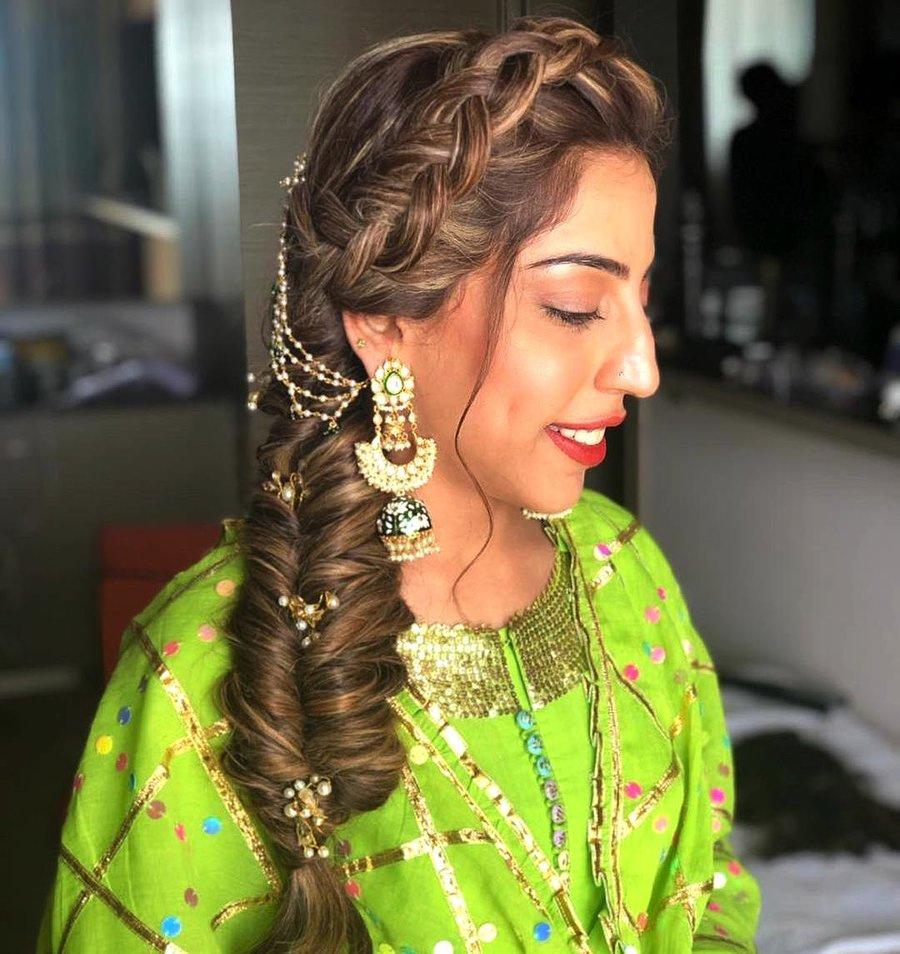 If you're planning on doing a fishtail braid, then it is necessary that your hair chain is not too extravagant. That way, it will overpower the beauty of your braid. Instead shift all the focus on a set of earrings with hair chain where the earrings are experimental (hint: sickle-shaped) and the hair chains are made of something as minimal as pearls.
7. Jhumka earrings with flower and solid pearl chains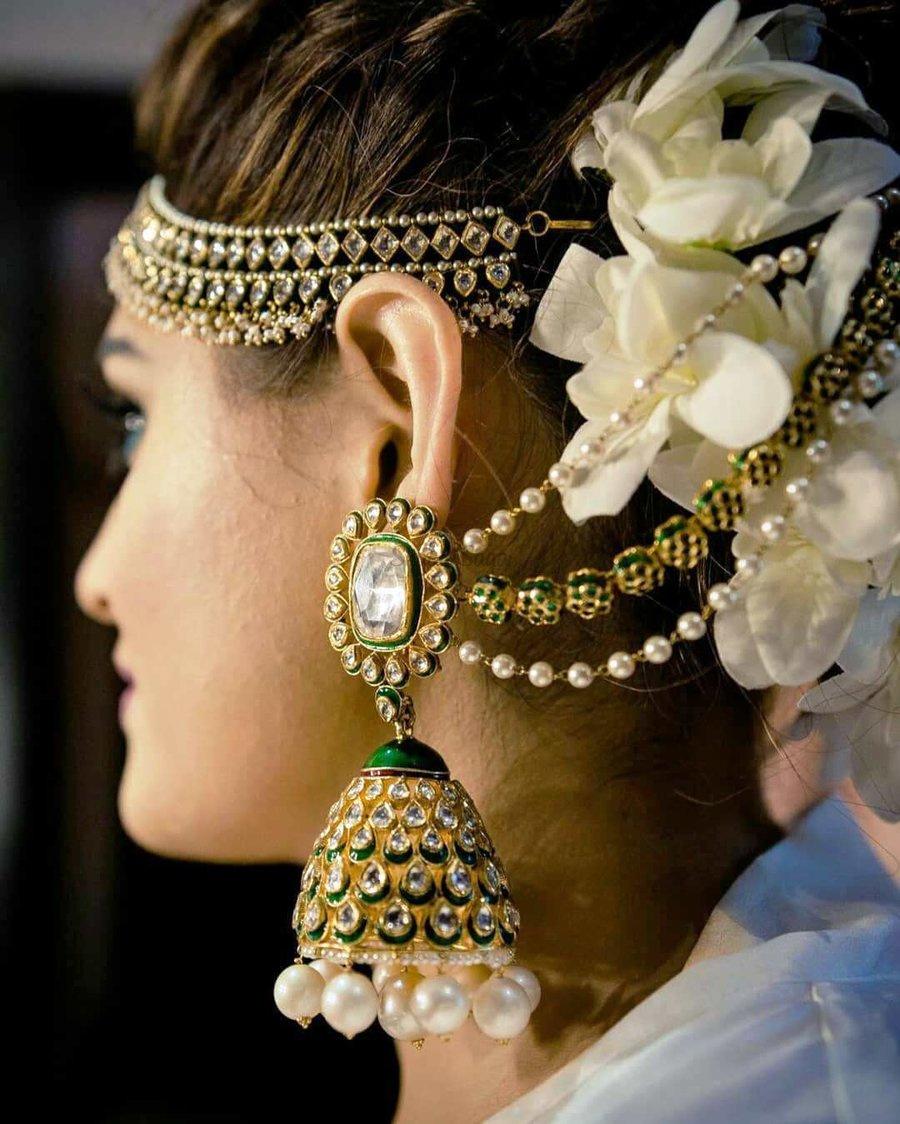 If you're a huge fan of Kundan jewellery, then pick an earring with a major white stone surrounded with green stones. Now, carefully pick a hair chain where the first and the last string is made of pearls and the middle one is made of green stones in flower shapes.
You can't go wrong with this set of earrings with hair chain!
8. Minimal earrings with hair chain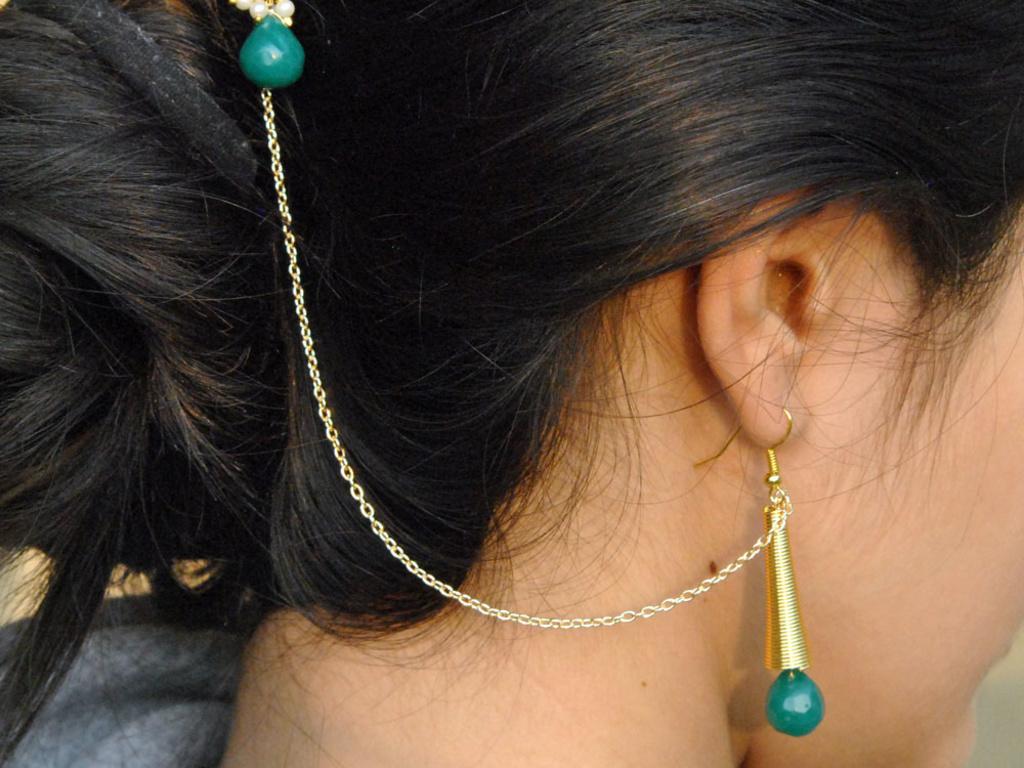 Image courtesy: Pinterest
For ceremonies such as your Sangeet and Mehndi, you might not want to put on a heavy set of earrings with hair chain. Instead, you must go ahead with minimal ones as shown in the picture — a cone-shaped earring with a coloured ball hanging from it and a single gold hair chain attached.
9. Hair chain with Jhumkas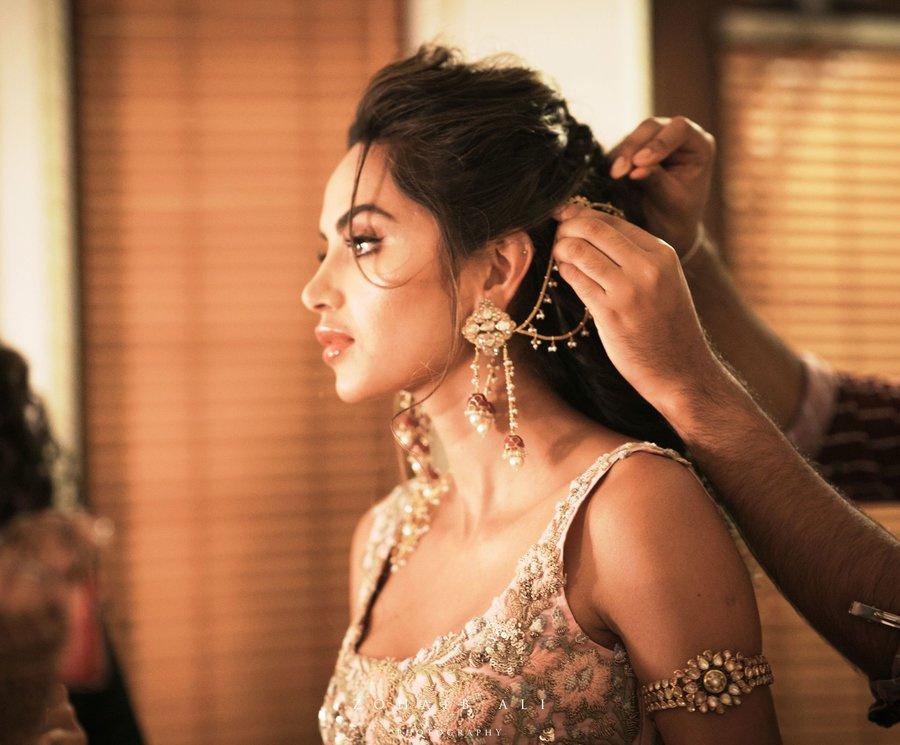 Image courtesy: Zohaib Ali Photography
Tiny jhumkas always amp up any piece of bridal jewellery. Same is the case for earrings with hair chain — a diamond-shaped earring with long jhumkas attached and while the hair chain is golden, the small white jhumkas bring out stunning elegance.
10. Simple gold earrings with mogra strings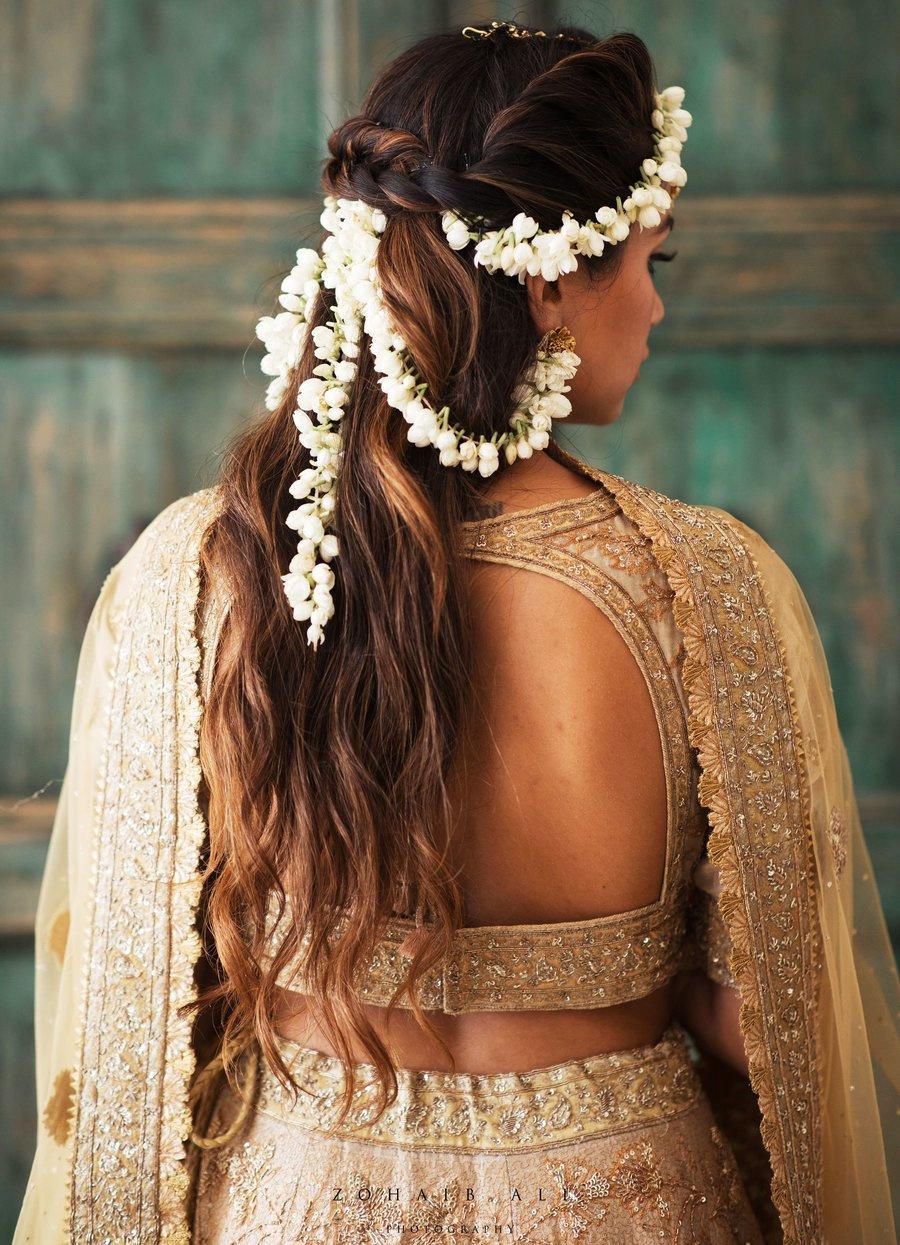 Image courtesy: Zohaib Ali Photography
If you love gajras as much as we do, then these earrings with hair chain are a match made in heaven for you! The best part? Making this is absolutely effortless. Pick your choice of a gold stud (the size should be big for it to stand out among the gajras) and attach a thread (or two) of mogra strings to it. Style your hair with some wavy curls, leave them open and the let the mogra strings flow to create a magical effect.
11. Studded hair chain with pearl details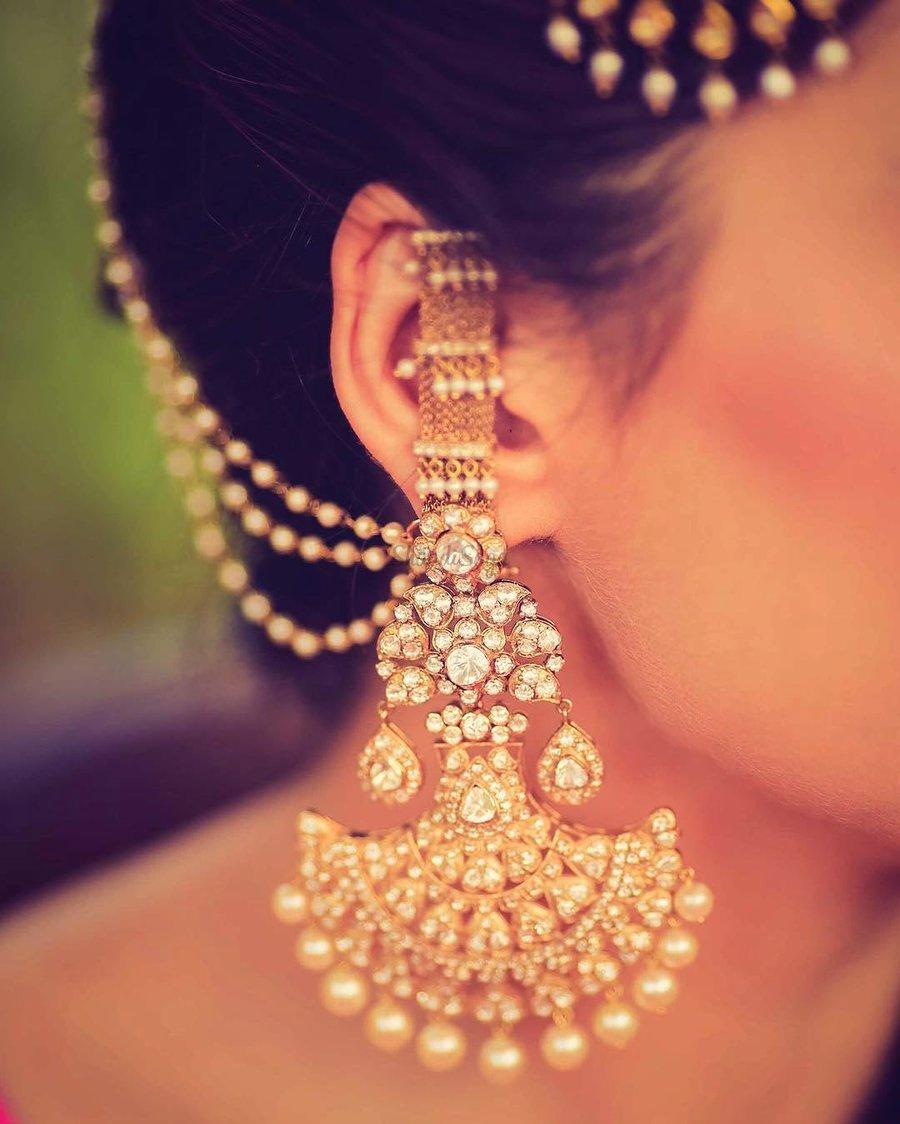 Image courtesy: Morvii Images
If you're wearing a golden colour bridal lehenga, then pick accessories with pearl details in them. This particular set of earrings with hair chain has white stones studded in the earrings and the hair chain is embellished with beautiful pearl details.
12. Multi-coloured earrings with small pearl chains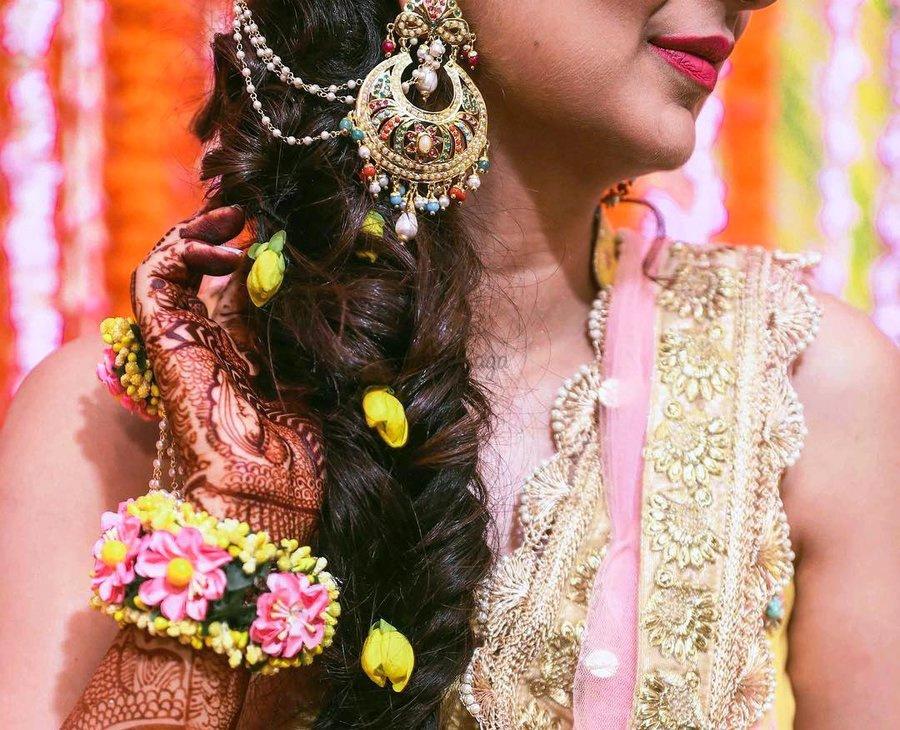 Add a pop of colours to your bridal jewellery with this set of earrings with hair chain — the multi-coloured earrings are the show stealer while the small pearl chains add on to its beauty.
Now that you're well-versed with the different kinds of earrings with hair chain, don't forget to add this beautiful accessory to your bridal outfit. Before you buy one of these, speak to your hairstylist and take in their suggestions!
Which set of earrings with hair chain do you absolutely love? Tell us in the comments below!
Written by Rohini Roy