5 Drop Dead Gorgeous Wedding Hairstyles for Long Hair Whoch Are Perfect for the Millennial Bride
Long hair can be a boon if you get the right hairstylist and a curse if you just can't figure out what to do with it. Here are some amazing inspirations that will ease your confusion.
Brides have too many things to worry about and sort out before the big day. One of the major worries is deciding the wedding hairstyles to go with all the bridal lehengas, sarees and the rest of the wedding trousseau for all the wedding functions. If you're a bride-to-be with long, beautiful hair, a lot of your worries are already over. You don't have to bother with hair extensions or excessive styling to make your hair look good. But long hair can also be confusing, especially if your hair is heavy. With an array of styles and a whole lot of bad advice out there, one can easily mess up their wedding day look even if they have naturally long hair. From hair accessories to just the way you tie your hair up in a half updo - take inspiration from these wedding hairstyles for long hair ideas until you find the one that will bring out your beauty like nothing else!
Brides with long hair, listen up. Here are some gorgeous wedding hairstyles for long hair that you can't go wrong with.
1. Leave Your Tresses Open
Gone are the days when the wedding hairstyles for long hair meant a high bun. Now, more and more brides are embracing the idea of showing off their beautiful tresses on their wedding day. With the right hairstyle and bridal makeup, you can rock your locks and create a lasting impression as the bride. Here are a couple of inspirations that can work for you. If you are a fan of waves and curls then there is no better way for you to embrace them than this one right here. A simple yet splendid hairstyle, all you need it some floral accessories to bind it all together.
Spend some time in finding styles that suit your face cut and are in-tune with the ongoing trends.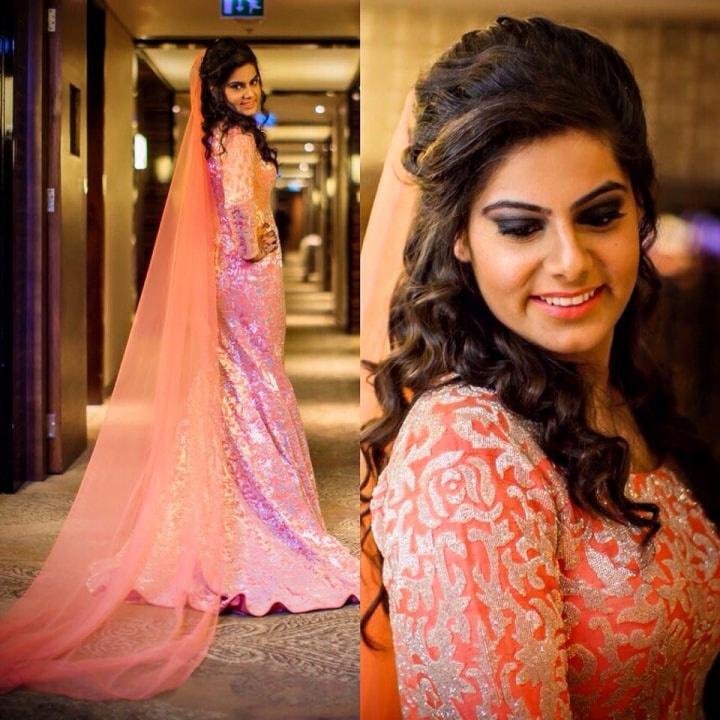 2. The Twist
If you're uncomfortable with the idea of letting your hair loose, restrict it to one side. You can have it pinned up in such a manner that it looks relaxed but doesn't come in your way. This version would look graceful for reception as wedding hairstyles for long hair.
3. Bun It Up
While one of the most popular Indian wedding hairstyles, the traditional high bun may not be up your alley, buns with a little character can do the trick. Add embellishments and intricate hairpieces to make your bun really stand out, as in these pictures.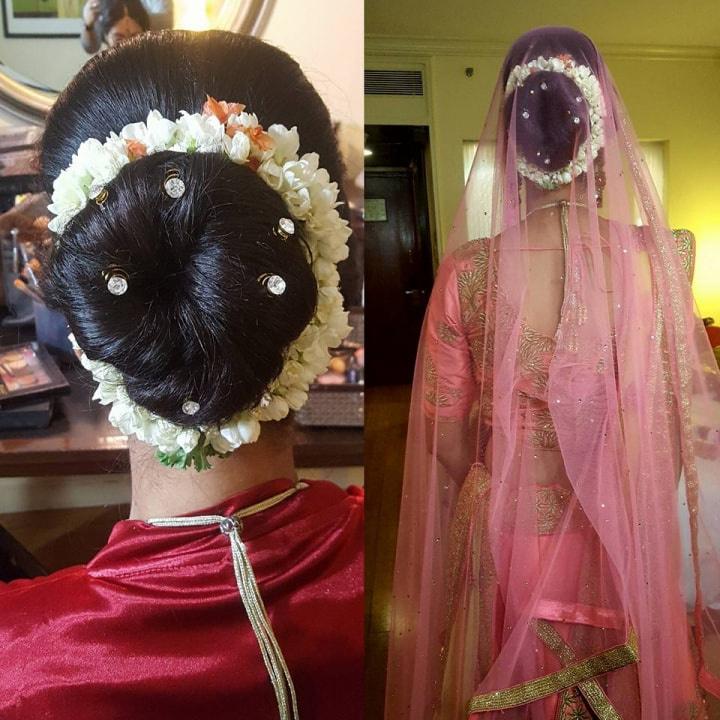 Whether it's your cocktail or wedding day, a bun can add sophistication to your look. A lot of brides prefer buns for the more formal events of a wedding but this hairdo can be fun too, especially if you add flowers for that extra zing. With wedding hairstyles for long hair, you don't even have to worry about putting the rough, straw-like artificial hair for volume.
Perhaps, add floral jewellery to your hairstyle and be an uber chic bride who turns heads around as she sways. Buns as a type of wedding hairstyles for long hair has a lot of potential since you can go for a messy bun or a very neatly made fun, aligned and kept in place using flowers or a Poola Jada - the options are endless when it comes down to the humble yet mighty bun!
4. Braids All the Way!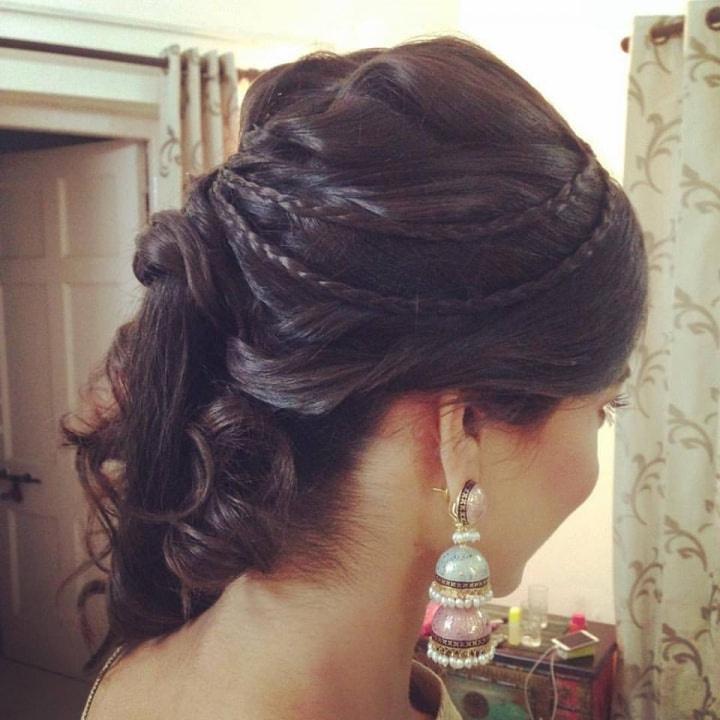 Braids will never go out of style for wedding hairstyles for long hair. Whether it's for the Mehndi, the Sangeet, or the wedding, brides with long hair have always looked stunning with braids. Stick flowers, beads, or actual jewellery in it and a braid can become the centrepiece of your bridal look.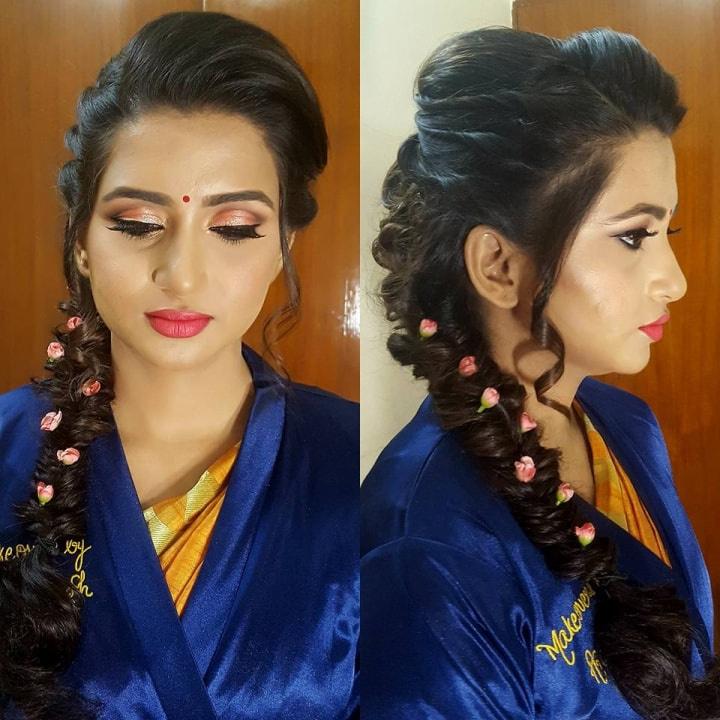 If you too wish to go for a daunting hairstyle such as this with a few flowers adding up to the beauty of your overall look - then this is how you do it the right way!
5. Subtle Is Better
Generally, braids are taken to be fun and casual. But as a South Indian bridal hairstyle, it can also look formal. These braids look stunning when paired with a classic Kanjeevaram silk saree. The longer your braid, the more impressive it will look.
One of the major advantages of such length of hair is the range of wedding hairstyles for long hair to choose from. Braid it, bun it, or keep it loose. Whatever you do just ensure is the real you. Don't go for styles which you saw in a movie or a catalogue. Try them out before your big day and be certain that this is the one for you.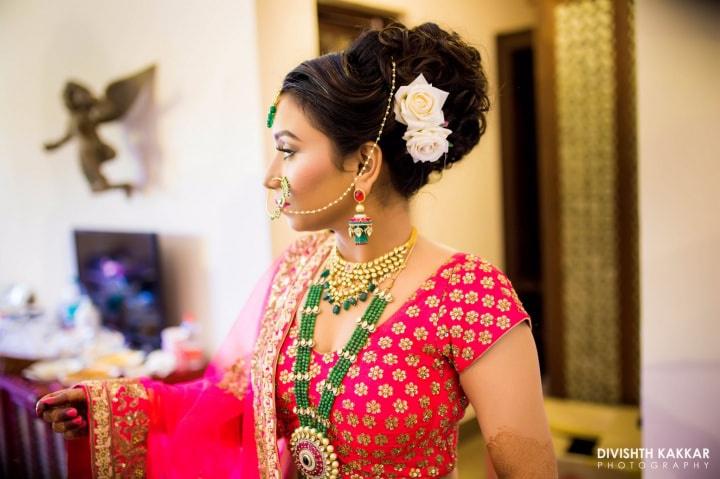 Opt for something that complements your personal style because even though everyone will have certain expectations from a bride on her wedding day, and everyone has opinions on how she looks, a bride should always stay true to who she really is. And that way you'll look elegant and classy in all your wedding photographs. Play around with the wedding décor for some interesting shots.
Bonus Tips for Wedding Hairstyles for Long Hair
Your hairstyle will also be affected by the veil style you choose to carry. If you're carrying an overhead dupatta, does it cover your entire head or just the back of it? It will contribute to how much of your wedding hairstyle is visible. If you choose to leave your hair open, make sure you do that in an elegant fashion. For any other hairstyle that will come underneath the dupatta, ensure that your dupatta is see-through for the hairstyle to shine.
Hair accessories that you choose to pair with the look will amp up any wedding hairstyle for long hair. Selecting them in accordance with your hairstyle becomes of utmost importance. You would rather wear a Passa than a Maang Tikka with a side-parted braid.
Make sure your hairstyle doesn't give a headache. The number of pins and unfamiliar hair setting used in your hairstyle can cause your roots to ache. Ensure that your hairstyle is comfortable enough else it will show up on your face and in your wedding pictures.
Experiment a little with wedding hairstyles for long hair. There is no wrong or right when it comes to hairstyles. Just make sure you are comfortable no matter what. Weddings take a lot of time and you wouldn't want to get yourself a headache from all the pins and tight rubber bands. Ensure, your head feels light and you have some room to breathe.
Did we miss any wedding hairstyles for long hair? Tell us through comments.