Looking for the Best Hairstyle for Saree? We've Got You Covered!
Looking for the best hairstyle for saree. We take inspiration from real brides to help you find the perfect look for your big day!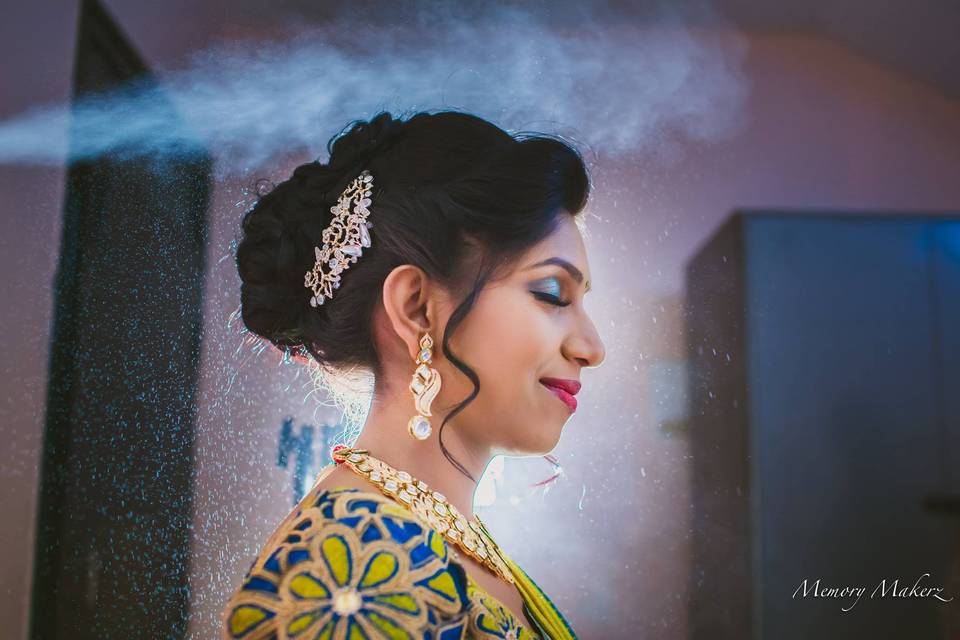 As a beautiful bride on her wedding day, it's all eyes on you and this can put some serious pressure to look your absolute best. While there are numerous elements that make up the perfect wedding like the venue and a dress, don't forget to add a stylish hairstyle to the mix.
When it comes to the bridal hairdo, it's all about finding the look that frames your face best while keeping with the theme of the wedding. Celebrities strutting down the red carpet can give you endless ideas for a bridal hairdo but we believe that real brides are the perfect place to look for inspiration.
From fishtail braids to chic buns here are the best hairstyle for saree that brides rocked for their 'I dos.'
Fishtail Braid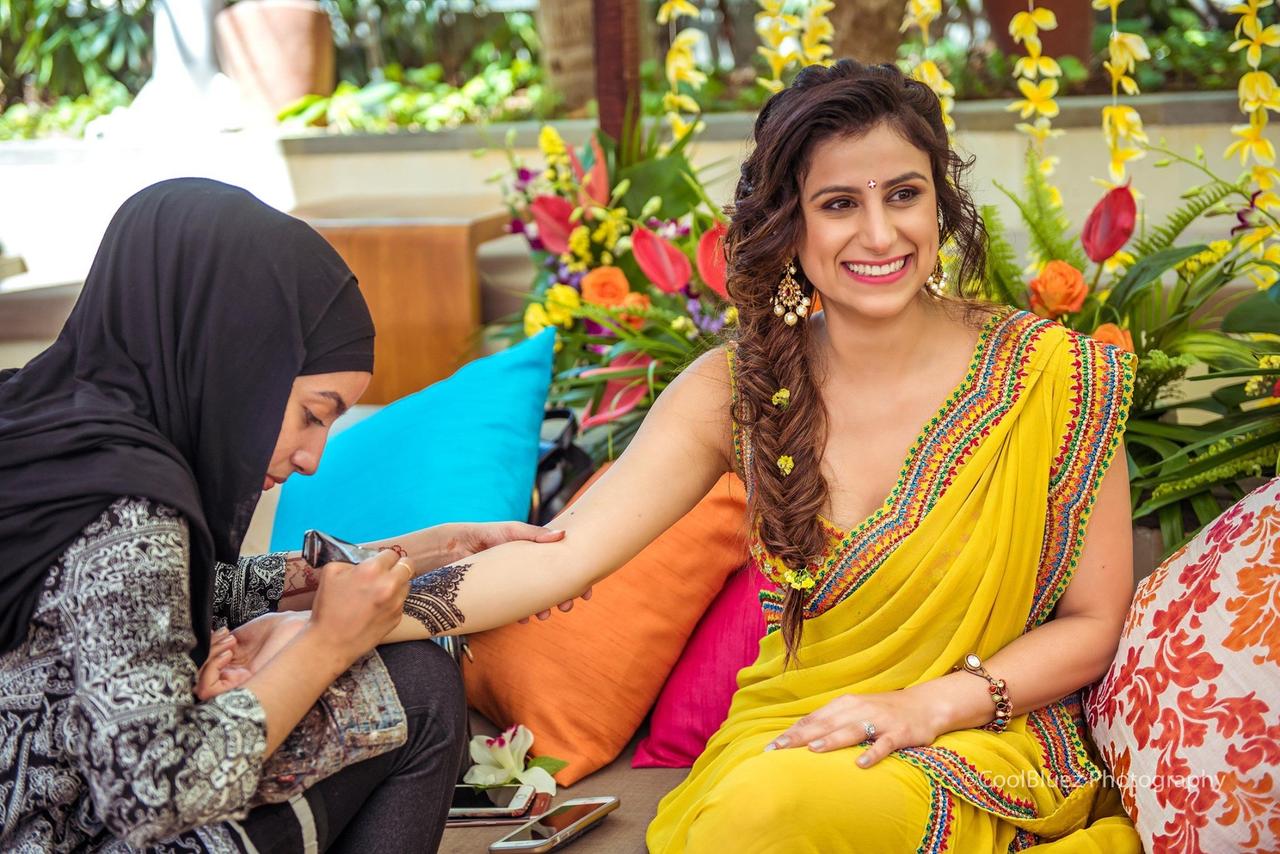 Very often, the location of your wedding can determine the best hairstyle for saree. If you are having a beach-themed or destination wedding, you can ditch the traditional hairdo and opt for a look that's more boho-chic.
The bride is adorned in a side fishtail braid that is weaved to perfection with small yellow blooms are embedded on to the plait. This gorgeous style is perfect if you are going for a casual look. Accentuate this hairstyle with some pretty earrings.
Ballerina Bun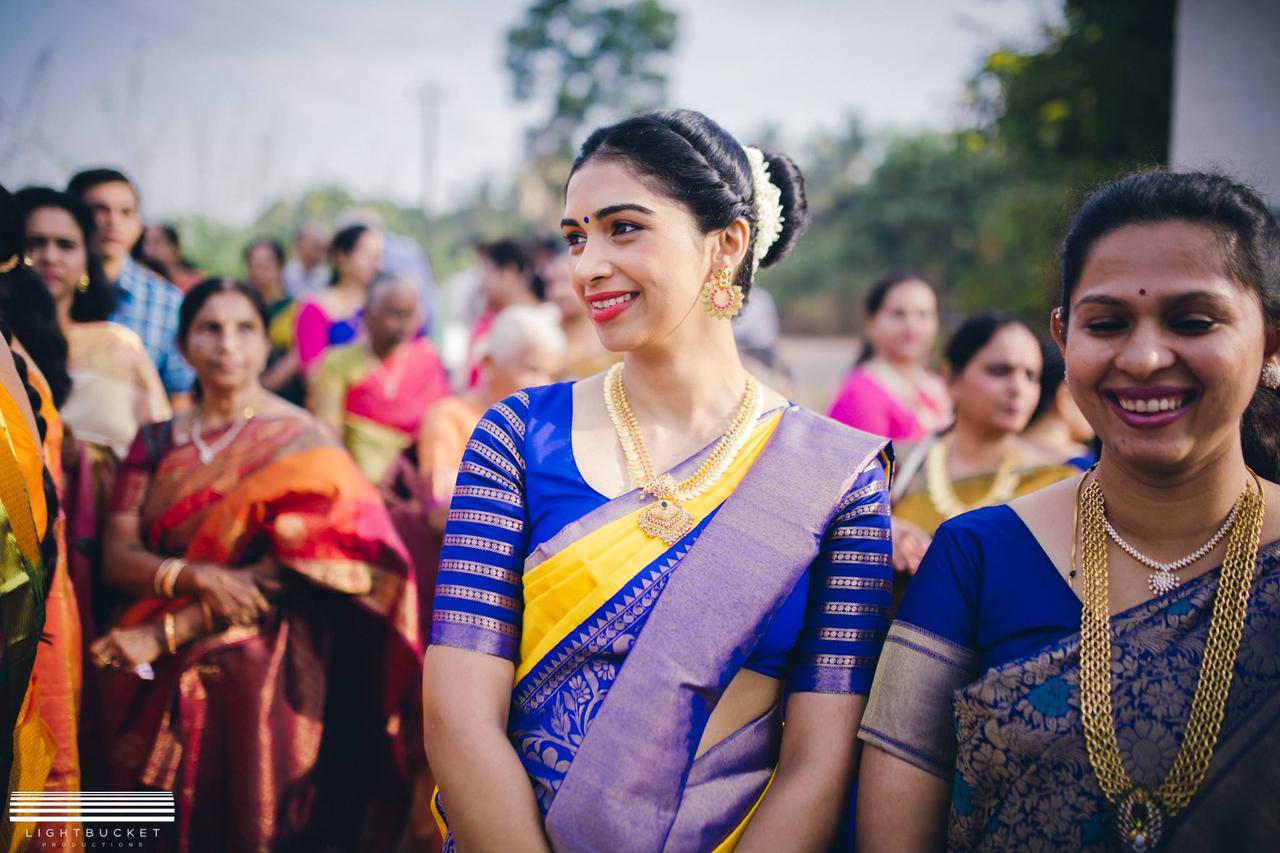 For traditional attire like a saree, an updo is incredibly flattering and chic. Moreover, it helps keep your hair neatly pinned together, to avoid any tresses falling over your face. This bride has a thick braid that is weaved with her hair on one side.
The remaining hair is tied into a lovely chignon held together with the side braid. This look is simple to do and can keep the focus on your attire. You can even add some jasmine flowers around the bun for the finishing touch.
Rose Bun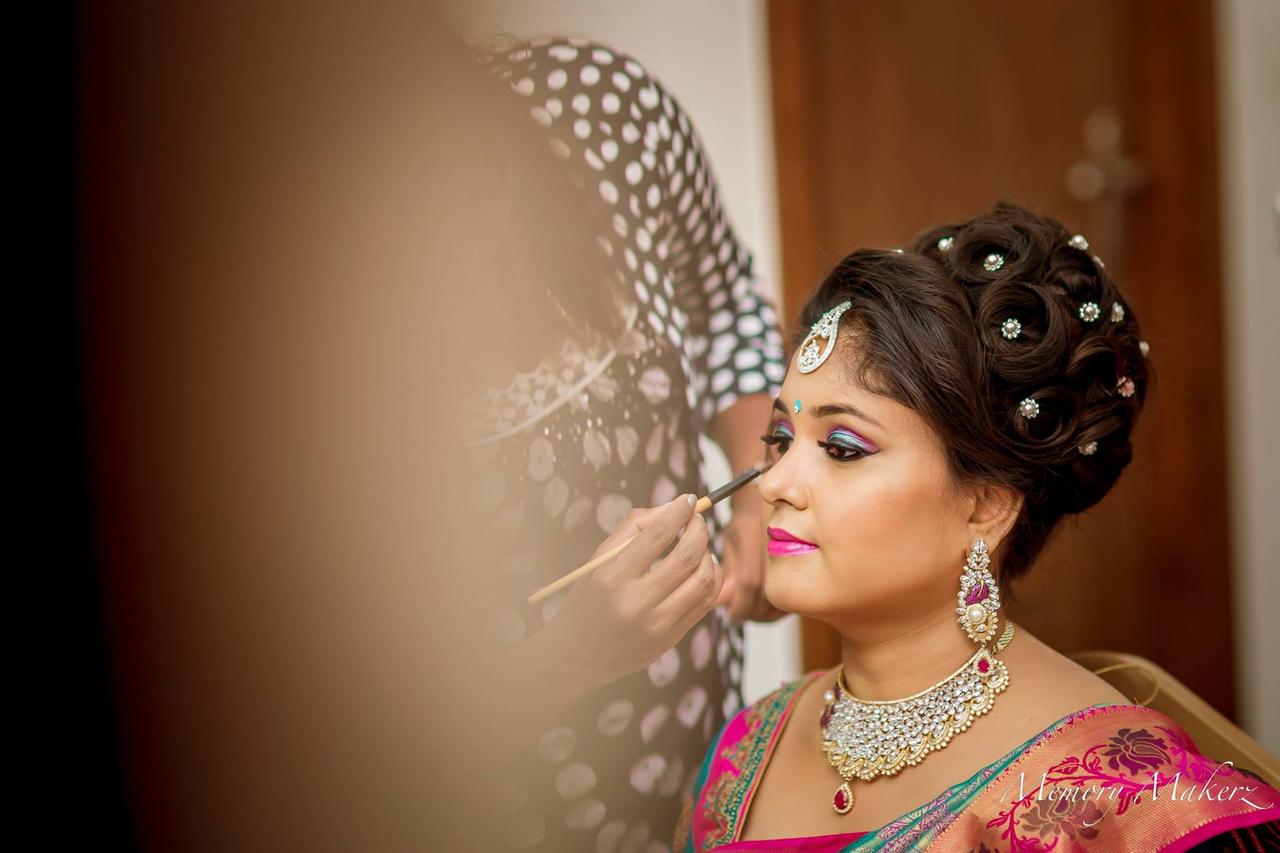 For traditional brides, a chic bun is a go-to look. This is the best hairstyle for saree as it is no match for the pesky flyaways and keeps with the theme of your attire. While a chignon or ballerina bun is the most common styles we see on brides, you can add a modern twist with this stunning rose motif bun.
This bride has styled her look in a high bun where the hair is artfully curled to form roses and dotted with silver hair beads. When rocking this hairstyle, make sure to use lots of hairspray and bobby pins to keep the hair in place.
Wrap-around Braid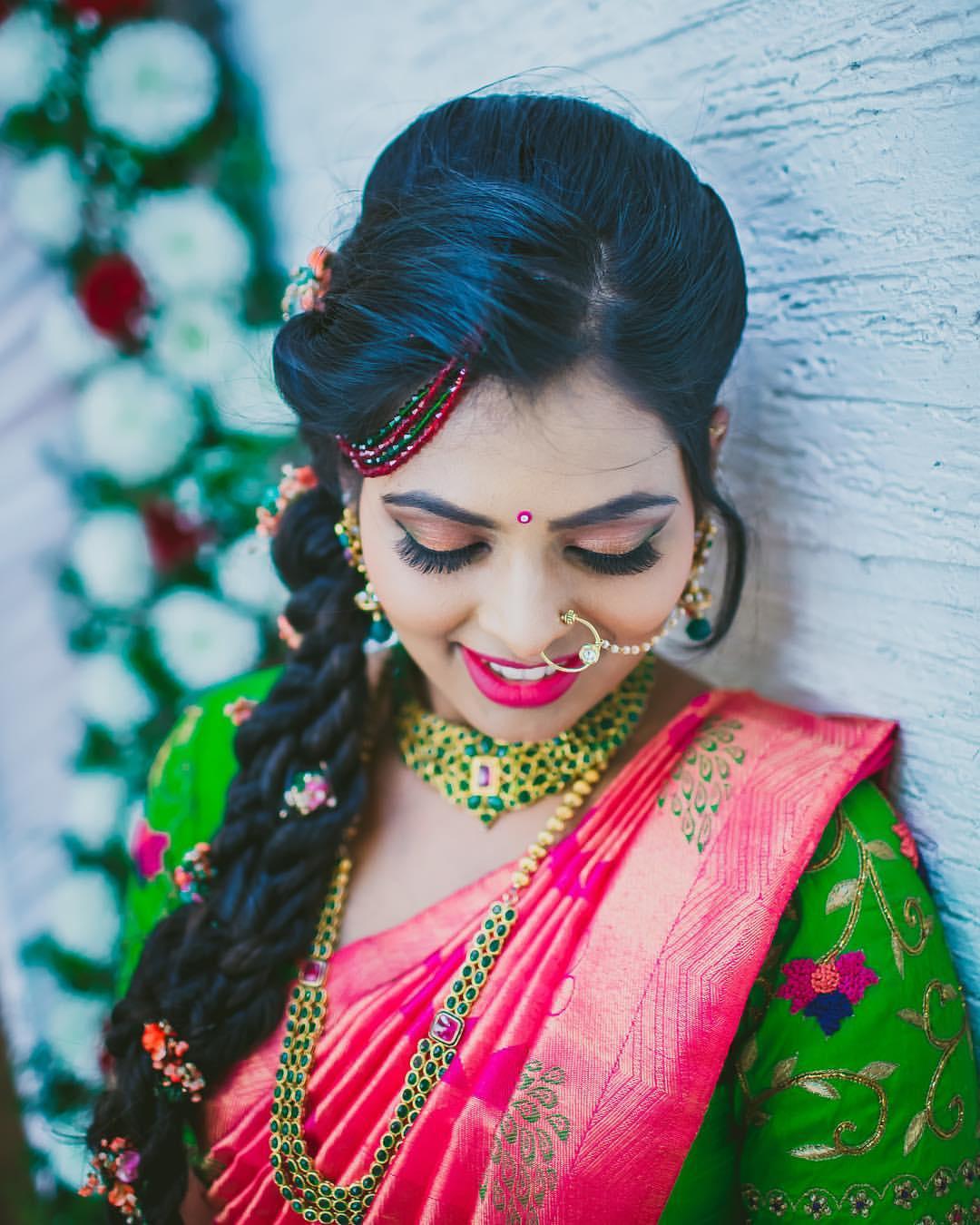 For the bride on the hunt for the best hairstyle for saree, you can't go wrong with a pretty braid that's either a polished plait or loosely woven. To get this bride's wraparound braid, all you need to do is take the middle section of your hair and weave it into a slim braid.
Then, take the remaining hair and braid it in an alternating pattern so that it wraps around the single braid. This braid is quite complex so make sure to enlist the help of a hairstylist. Add some colour your braid with small florals like this bride who has chosen to embed pink and green flowers in her hair to match the colour of her saree.
Messy Updo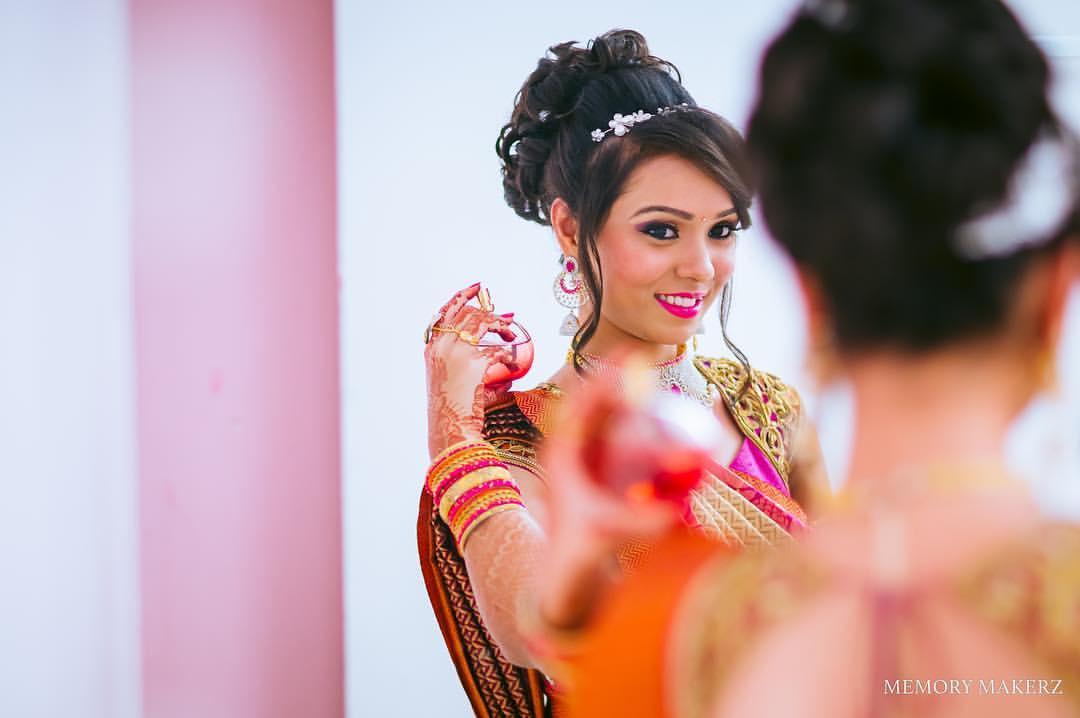 If you value comfort, a high textured bun or ponytail is the best hairstyle for saree. With the hair out of the face, the bride is free to dance and mingle with her guests. She has her hair up in a messy bun that has a smattering of curls at the top while a few strands of hair are left astray for that messy bun look.
Carefree elegance is totally in right now and this hairstyle embodies this trend perfectly. If you are using hair extensions to add volume to your hair, make sure to test out this hairstyle before the big day.
Classic Braid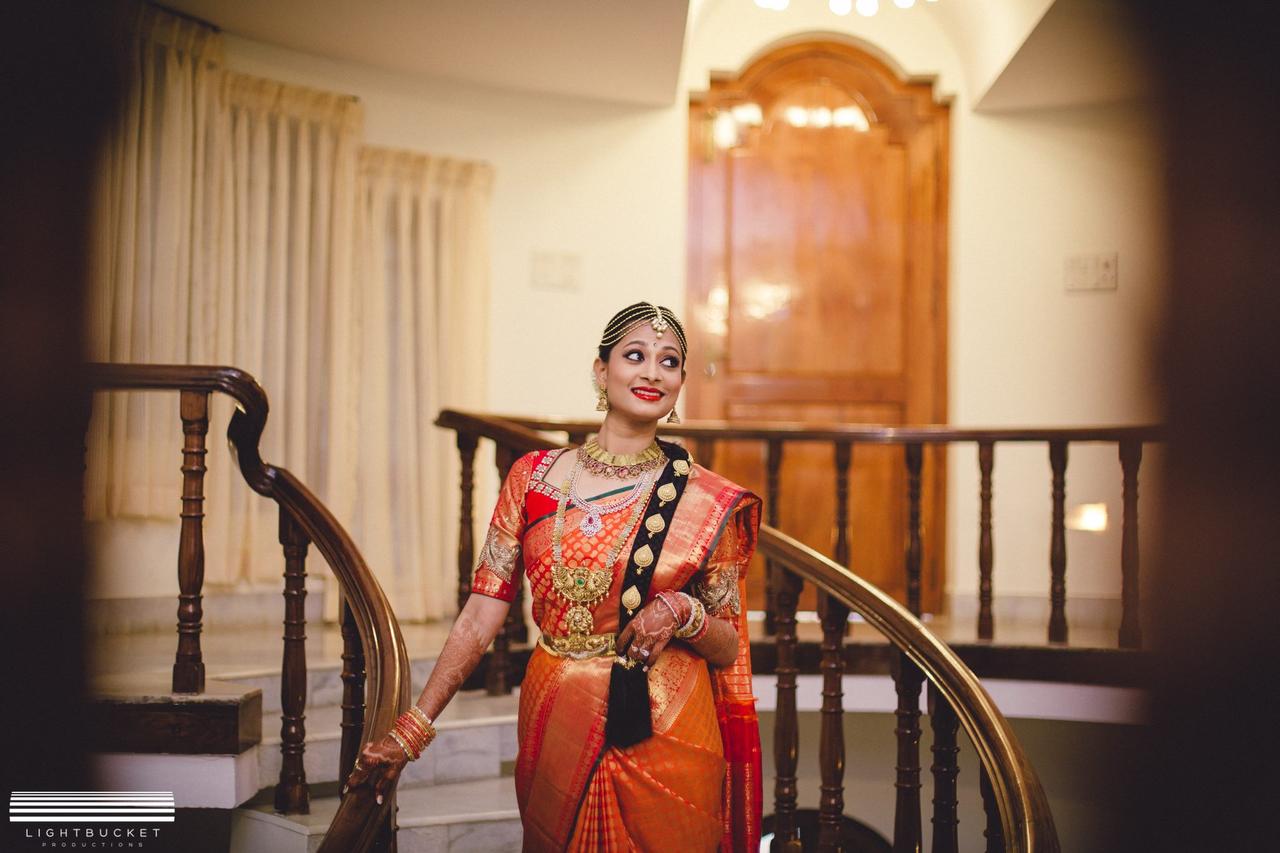 They say 'less is more' and for the quintessential Indian bride, nothing exudes elegance and class like a traditional long braid. This simple braid has been the go-to hairstyle for many years because it goes great with a saree and can be embellished in many different ways.
This bride's simple hairdo is styled with a row of gold paisley patterned pins that are paired with a floral Mathapatti. If your hair is on the shorter side, add hair extensions for more length and volume. Some traditional necklaces and earrings can add the finishing touch for this best hairstyle for saree.
Chic Bun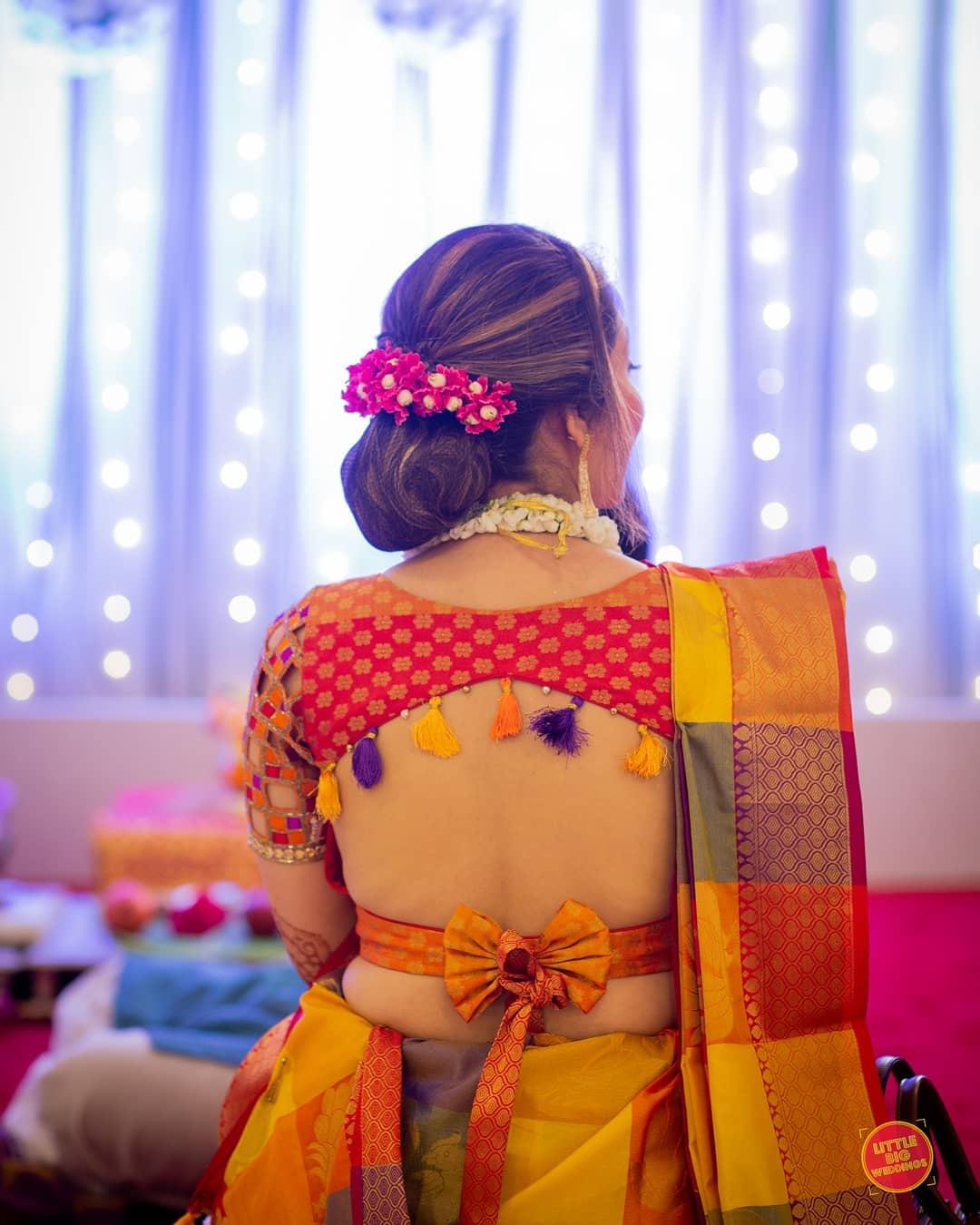 Some brides want all the attention on their outfit and may opt for a hairstyle that's more simple and understated. Chic buns have made a major comeback in recent years as the low volume lets your outfit do all the talking. If you prefer a minimalist look, check out this bride's twisted bun.
The hairstyle involves taking your hair and twisting it into an upward bun to give it the shape of a rose. Make sure to use moisturising products instead of hairspray which can make your hair look hard and crunchy. This is the best hairstyle for saree and you can even add some flowers just above the bun to spruce up the look.
Double Twist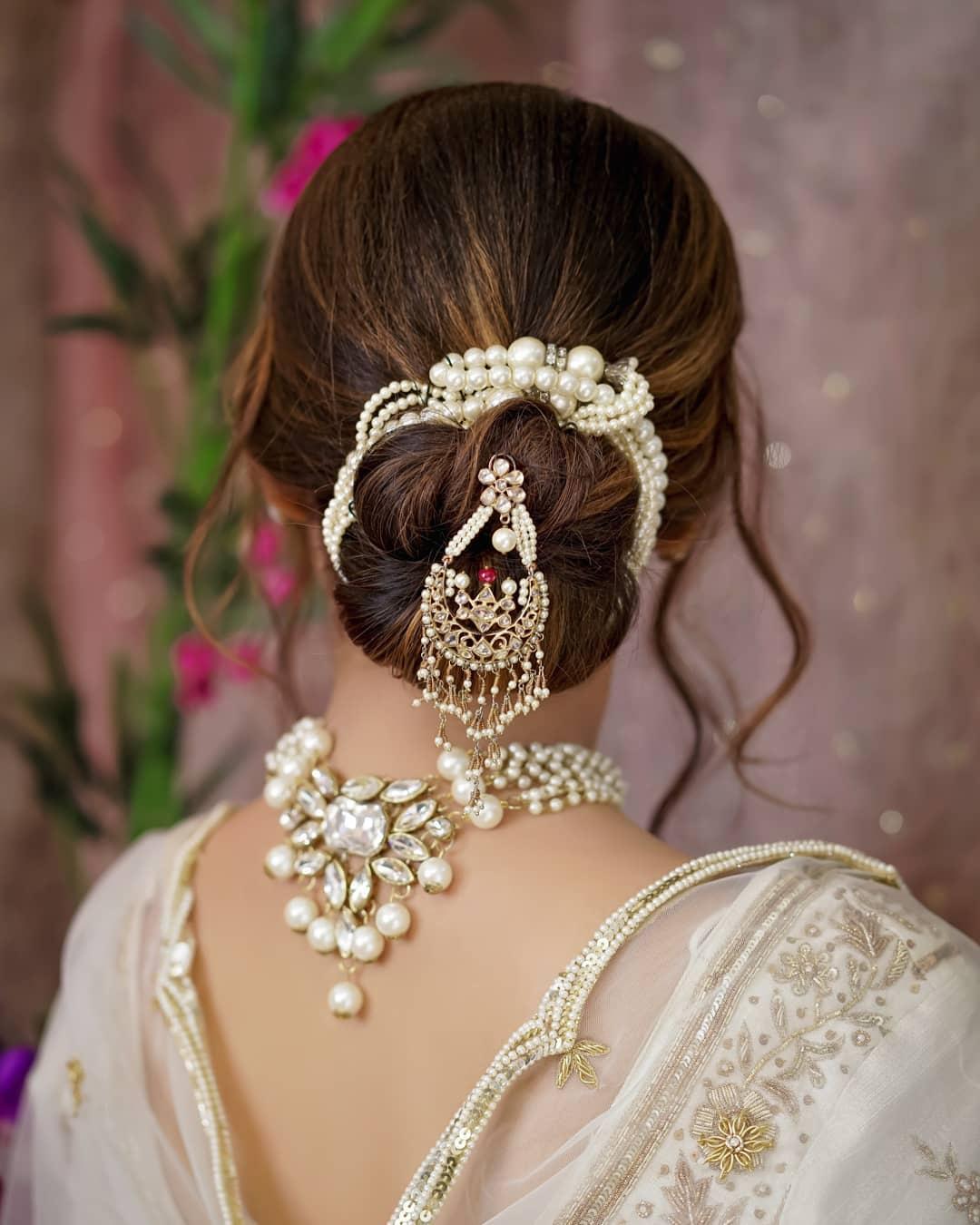 Image Courtesy: Orange The Salon by Aanal Savaliya
Another hairstyle that's trending this bridal season is a loose chignon that is embellished with hair accessories. This look is the best hairstyle for a saree as it's incredibly eye-catching and a great way to elevate your style.
All you need to do to get this bride's double-bun hairdo is to divide your hair into two sections and twist into two buns while securing it with bobby pins. Leave a few strands of hair astray to frame your face. The bride has added a pearl hair-tie and a silver Juda pin at the centre of the bun.
There are many elements that go into your bridal look and the hairstyle is one of the most important parts. Your hairstyle needs to suit your attire but needs to be functional at the same time- especially if the wedding festivities go into the wee hours of the morning.
Whether it's traditional or contemporary, your hairstylist needs to be in tandem with what you want, so you can work together to achieve the perfect look. We hope this edit of these best hairstyle for saree looks can inspire you to nail that bridal look.
Inspired by these styles? Tell us your favourite best hairstyle for saree look in the comments below.