Flower Hairstyle On Your Mind? Tips For Wearing Fresh Blooms
Wearing fresh blooms in your hairstyle on your wedding day needs a lot of attention. We bring to you these tips to ease the process of nailing your flower hairstyle.
We can't agree enough that flowers look stunning when crowned on a bride's hair? Well, no wonder that flower hairstyles have always been the hot favourite with brides simply because of their ethereal charm and femininity.
But, do you know that it is not as simple to wear a flower hairstyle as you all think? It becomes a little tricky when decorating your hair with fresh blooms. However, you don't need to worry one bit as here are a few amazing hacks and tips that will help you wear fresh blooms as gorgeously as possible. Keep these in mind while talking to your wedding hairstylist about your bridal look, or try them yourself - they are yours to try.
1. Pick Your Flower
Most stylists will advise on using fresh and fragrant flowers like orchids and lavender when a bride plans on getting a flower hairstyle for her wedding. Why you may want to ask? Well, these types of flowers are strong and come with solid stems that do not wilt or break. Also, these last for a longer time, plus envelop you with a nice fragrance.
Orchid flowers are always in demand as these lend a very colourful look and are resilient as well. Gardenias too are another option. Make sure you pick the flower that you wish to use for your flower hairstyle and not get swayed by others' opinions. Try as many blooms as you think are necessary for you to pick the right bloom.
2. Refrigerate the Flowers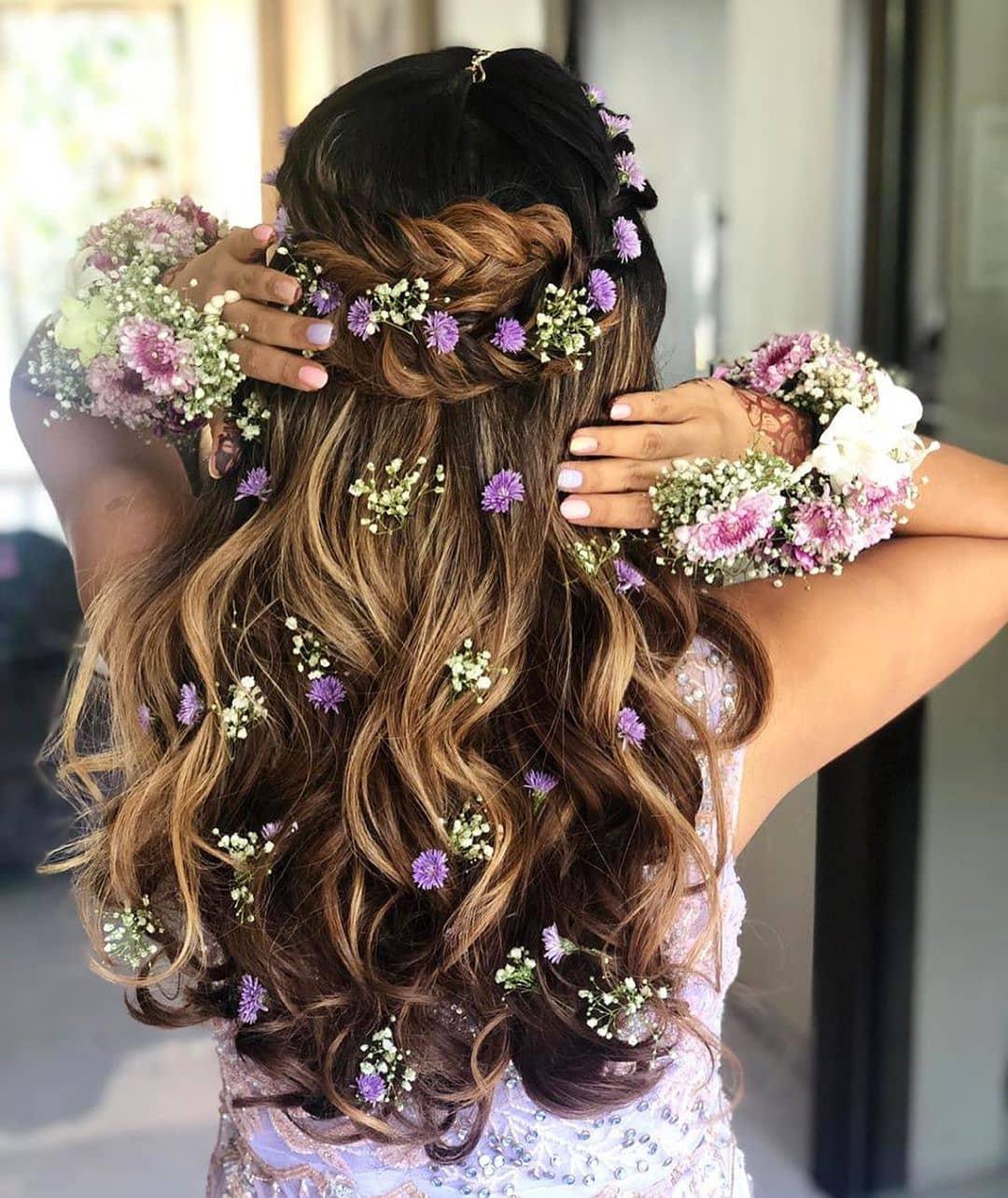 Another clever hack to keeping your blossoms fresh for a long time is to keep them refrigerated. Flowers, when cooled in a fridge tend to remain fresh and colourful for a longer time than when kept outside.
Thus, after you pick your blooms, keep them in a bowl of fresh water, and then place the bowl in the fridge for a night. The buds will not look stale the next day.
3. Pick blooms that will last long
Every bride wants to look like a million bucks on her D day and that is why she must choose such a hairstyle that lasts longest. And, when fresh blossoms are planned to be used on her hair, the process becomes tricky as flowers tend to wilt after a short time.
That is why it's essential that a bride chooses such blooms that are resilient and strong. Flowers like lavender, baby's breath flower and herbs are some choices that brides can try as these are not merely gorgeous in looks but also go on for a long period of time.
4. Don't Overdo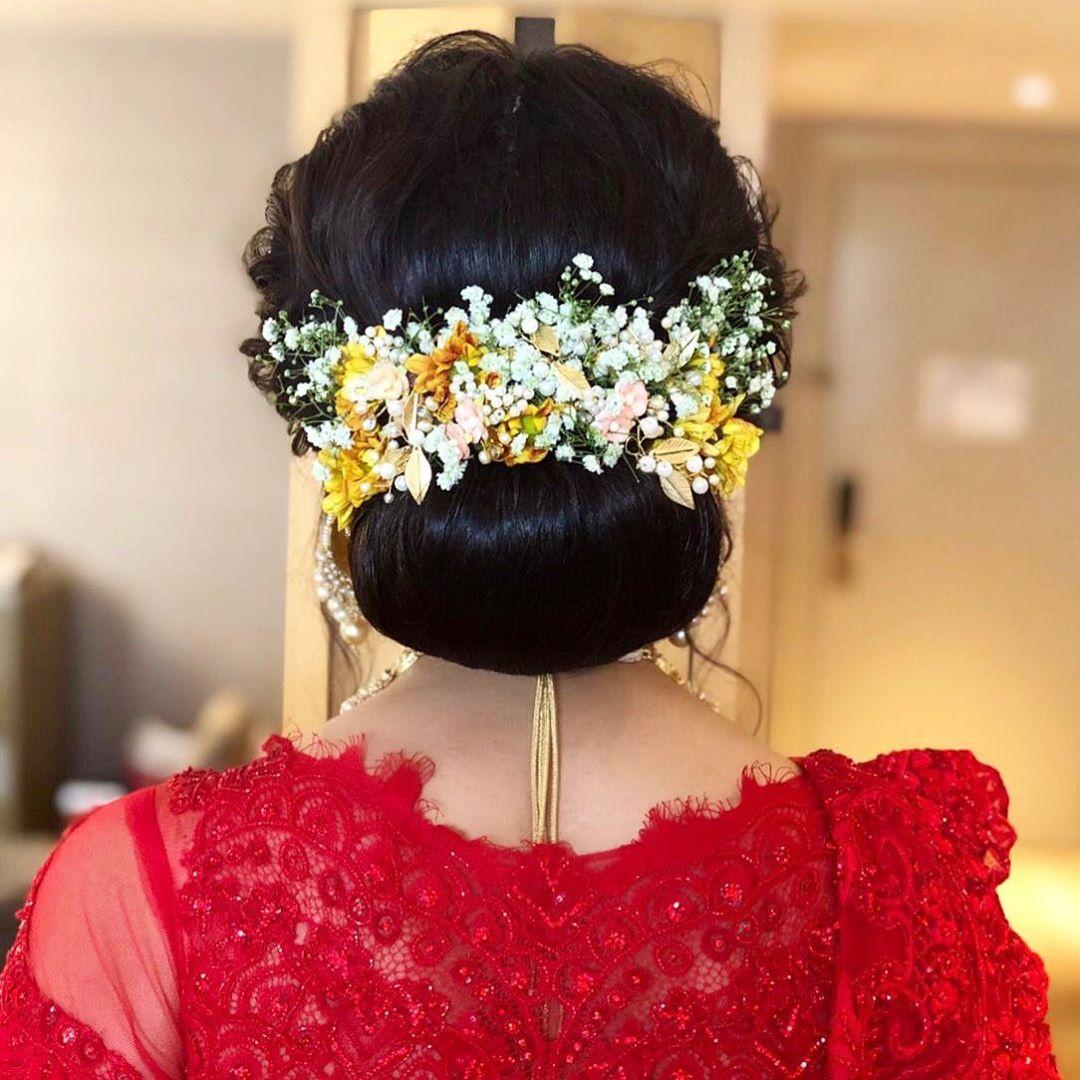 A flower hairstyle will rock your bridal look as long as it is not overdone. A hairstyle with blooms looks classy when it's done up as subtly as possible. Adding too many blooms mars the look.
Instead, most stylists advice using one or two kinds of blooms and use it minimally. If a bride wears a bun, using two blooms on one side of her hair does the trick of looking stunning. In all cases, do avoid sticking too many flowers on your hair.
5. Put the spray before pinning the flowers and not after
A very common blunder most brides do is that they use hair spray directly on their hair with flowers. This has to be prevented. Never spray before you pin your flowers, but always afterwards.
Yes, this is the trick to keep your flower hairstyle fresh and standing. Always begin with misting your hairstyle with a spray. This has to be done before you put on a floral crown on your hair. No misting is to be done directly on the gorgeous flower jewellery for the bride.
6. Put flowers that match your hair colour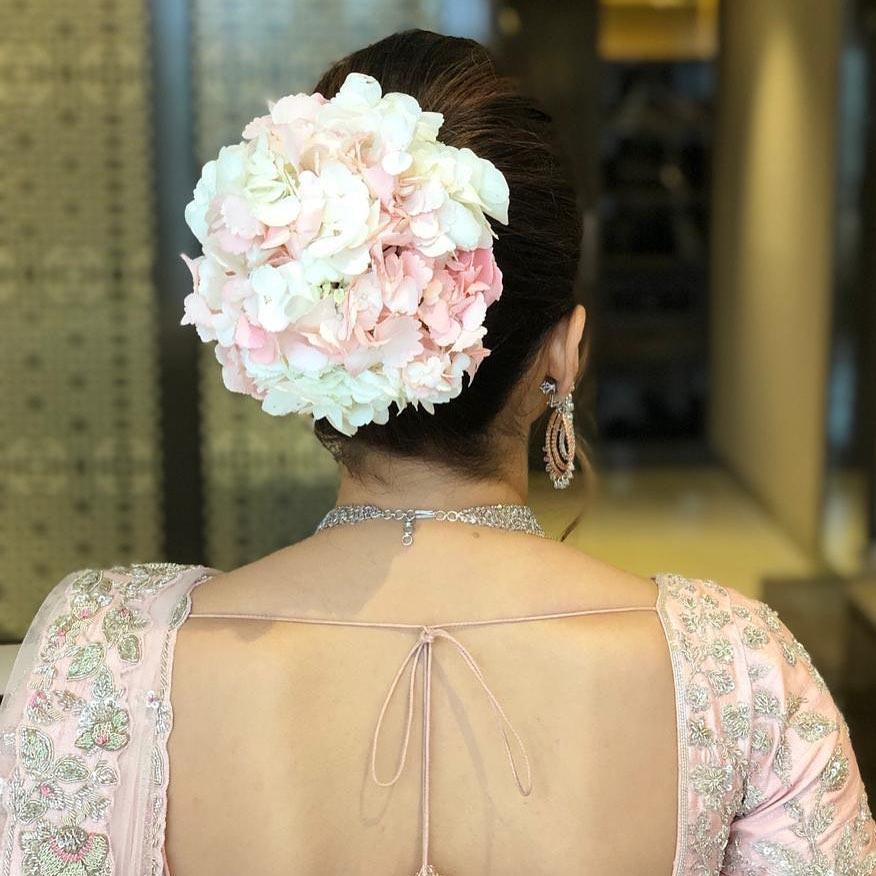 Flowers look great on coloured hair, but it must match the colour of your hair. For a subtle look in your flower hairstyle pick a colour that gels well with the shade of your hair. Dark red blooms blend well with brunette colour. If your hair is blonde in colour, you can pick blooms in pink tones for a contrasting look.
7. Have a talk with your florist
A professional florist knows the best when it comes to fresh blooms, and that is why you must make a point to talk with him/her about what blooms to choose for your flower hairstyle. Do not hesitate to ask for which blooms last long or which varieties have no allergens. Be vocal about your needs and pick the best option.
8. Choose laces and sleek fabrics
Never combine a flower hairstyle with a sequined or a bling outfit as it will spoil the whole bloomy look. Pick delicate fabrics like lace and satin for getting the best look.
Flower hairstyles have a unique charm, and now with these hacks, you can get the perfect floral bridal look for your D day. Keep your worries at bay because everything is going to look and feel exactly as you planned. And with your gorgeous flower hairstyle, you are guaranteed to look like the queen that you are.
Which flower hairstyle is your choice? Let us know through comments.