Hindu Pre-wedding Rituals - a Sacred Bond of Love, Care & Life
It isn't really considered a truly Indian Shaadi if it doesn't follow the centuries-old customs and traditions we have all grown up with. Here we present to you some Hindu Pre-Wedding Rituals which will give you some bittersweet memories for life.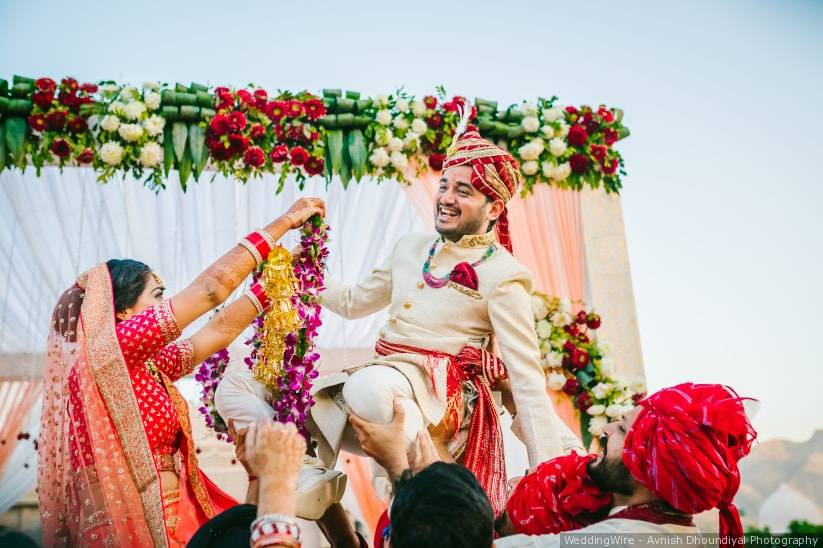 It's no secret that weddings in India are meant to be grand! On average, Indian parents spend up till one-third of their life savings on their kid's wedding; and that can't just last a day! Weddings in India last up to five days, if not more. Now, of course, there are many castes in different regions all across the nation and each one of them has their own rituals and specific ceremonies. Nevertheless, below we present to you some common pre-wedding rituals every Hindu couple has to go through.
An Indian wedding is a sweet concoction of traditions, values and rituals that are not just beautiful to look at but have a deeper meaning - a more embedded value that makes our life complete! We have prepared for you a detailed listicle of Hindu pre-wedding rituals that make our wedding more unique and meaningful and gives our new union a meaning and an everlasting essence!
Banno Re Banno Meri Chali Sasuraal Ko
Ankhiyon Mein Paani De Gayi!
Duaa Mein Meethi Gud Dhaani Le Gayi!!!
Gudiya Re Guidyaa Tera
Gudda Pardesiya
Jodi Aasmani Ho Gayi!!
Shagun Pe
Dekho Shaad Maani Hogayi!!!
Learn all about the sacred thread or string of Hindu pre-wedding functions and give way to one of the most emotional journeys of every bride-to-be and groom-to-be!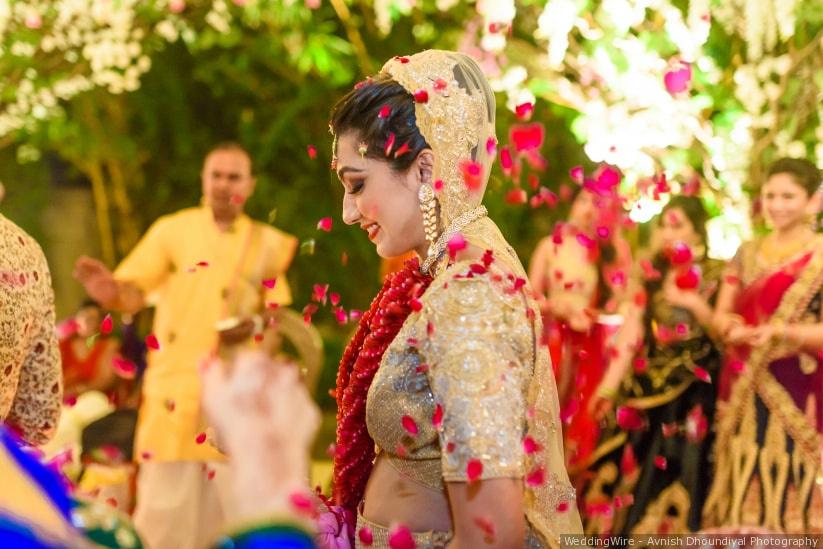 Whenever we see an Indian wedding we cannot help but look at the grandiose of its functions and pre-wedding ceremonies and rituals. Colourful, full of life and worth capturing. They are truly a sight to behold. We have thoughtfully curated for you a galore of Hindu Pre-Wedding Rituals and the hidden meaning they behold.
1. The Tilak Ceremony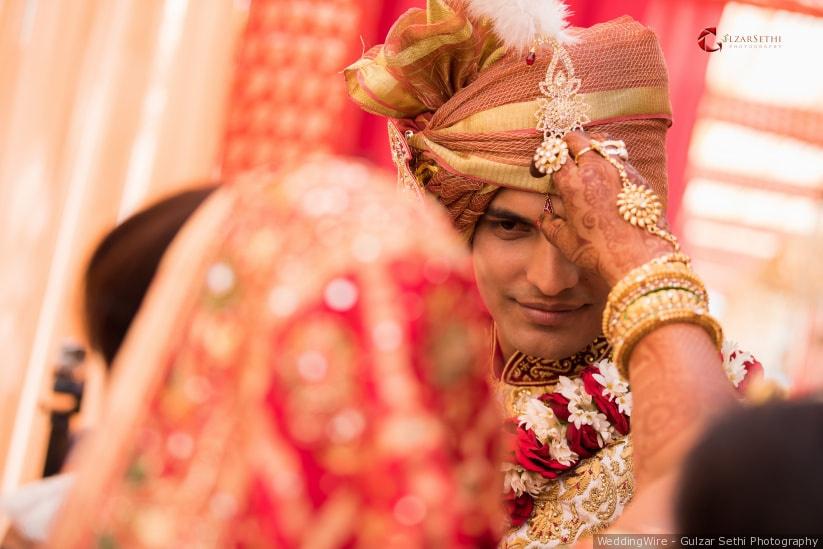 One of the most important rituals and the first step toward the bride's and the groom's families bonding. It is most commonly performed at the groom's place where the father or the brother of the bride applies tilak (red vermilion) on his forehead as a sign of fixing the marriage. This ceremony marks the beginning of this prosperous and wondrous journey.
It is the official way in which the two families commit to one another about the impending marriage that is likely to take place between their children. This is usually one of the first Hindu Pre-Wedding Rituals in a quintessential Indian wedding set up!
2. Sagaai or the (Engagement) Ceremony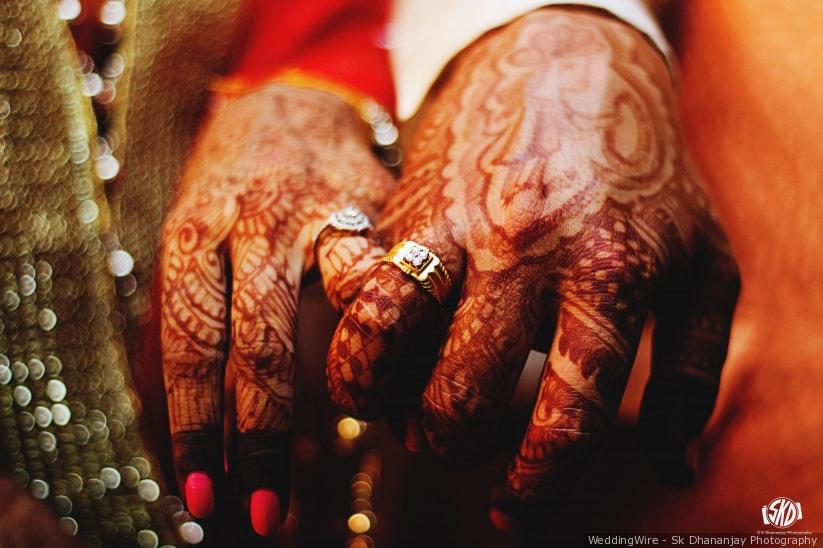 It's the first ever public announcement of the marriage. The couple exchanges gold and diamond rings and seek their family's blessings for a happily married life. An engagement ceremony is like the stepping stone for a couple.
It is that first step that brings two individuals together and closer to one another. This Hindu pre-wedding ritual comes to fruition when the bride-to-be and the groom-to-be exchange rings and make a solemn promise to walk forward as one in life from this day forth.
This is usually one of the second Hindu Pre-Wedding Rituals in a quintessential Indian wedding set up that makes it so unique!
3. Sangeet Ceremony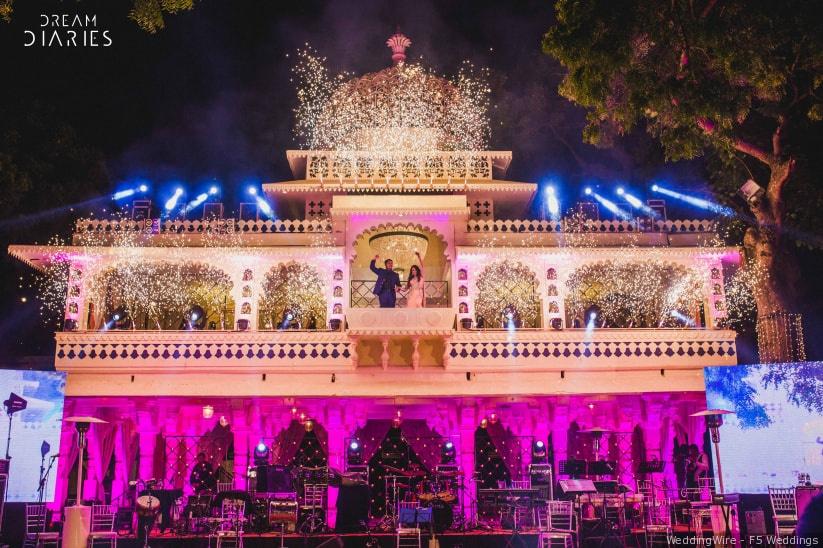 Just like its name suggests, Sangeet ceremony is all about dance and music. It is exclusively arranged for the female friends and relatives of the bride where they all sing wedding-related folk songs and the unmarried girls dance on them and the latest Bollywood hits.
This happens to be one of our most favourite and cherished Hindu pre-wedding rituals of all. A sangeet ceremony sums up what Indian weddings entails. Drama, fun, love, laughter, bittersweet moments.
Yep! That's all there is. And, a sangeet ceremony is one such Hindu pre-wedding rituals that stand exactly for all of these abovementioned feelings. This is usually one of the most looked up to and fun Hindu Pre-Wedding Rituals that involve a lot of fun, frolic and merry-making!
5. Haldi Ceremony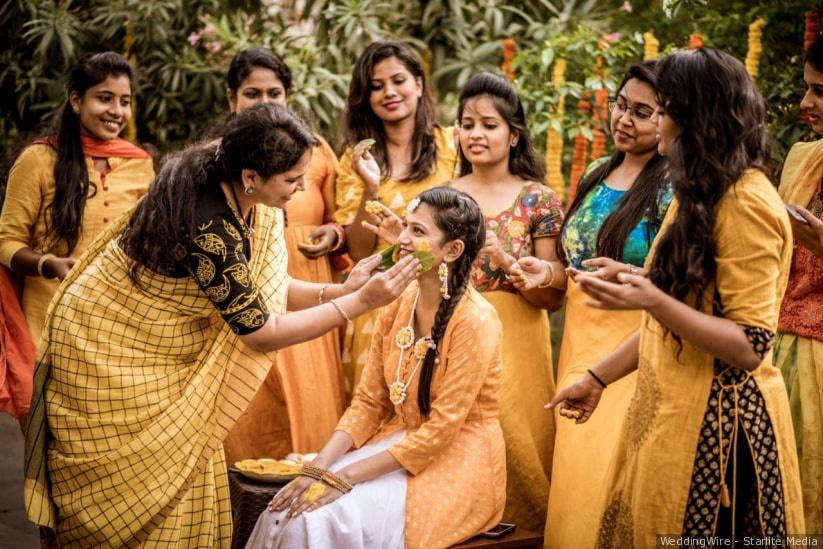 Haldi ceremony! We all have seen Aditi (Kalki) having a baller time as her besties smeared turmeric paste all over her face? Well, for all those who are unaware, this is a movie reference form Yeh Jawani Hai Deewani movie!
Wouldnt we all kill to have such an amazing Hindu pre-wedding ritual as well? We sure would! This ritual is known to mimic a ceremonial bath. Where the bride-to-be is smeared with turmeric and sandalwood paste as a means to make her pure, fertile and wish for her good health.
The ceremony ends with the elders blessing the bride and the groom as they prepare themselves for the new beginning. It is also meant to help them relax. Take inspiration and find a bespoke Haldi dress for yourself.
This Hindu Pre-Wedding ritual is a tear-jerker, as the bride sits coyly and her loved ones smear her with turmeric paste. Emotional, sentimental with a zest of purity - the Haldi ceremony starts the onset of the wedding festivities and once smeared with the turmeric paste - the journey of a girl to becoming someone's wife begins!
6. Mehndi Ceremony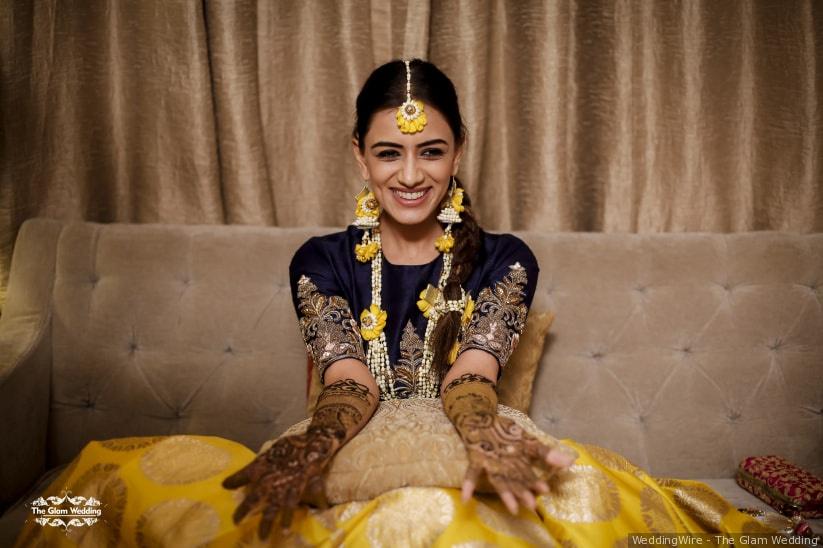 It's one of the sixteen adornments of the to-be bride and her beauty is believed to be incomplete without it. A skilled Mehndi artist applies henna on the bride's hands and feet. In most cultures, the groom's name or his initials are hidden in the elaborate mehndi designs which he has to find in the bride's hands in one of the post-wedding ceremonies.
They say the darker the colour of the mehndi, the more her future husband will love her. Mehndi ceremony since long has had the BFFs preparing some heartwarming dance numbers as their bestie gets her hands and feet adorned with the opulence of Mehndi designs.
Well, for this very reason this Hindu pre-wedding ritual tops the charts in terms of popularity. Also, this ends up becoming one of those rare ceremonies when the bridesmaid gets a chance to bring out their A-game if you know what we mean!
7. Kalire and Chura Ceremony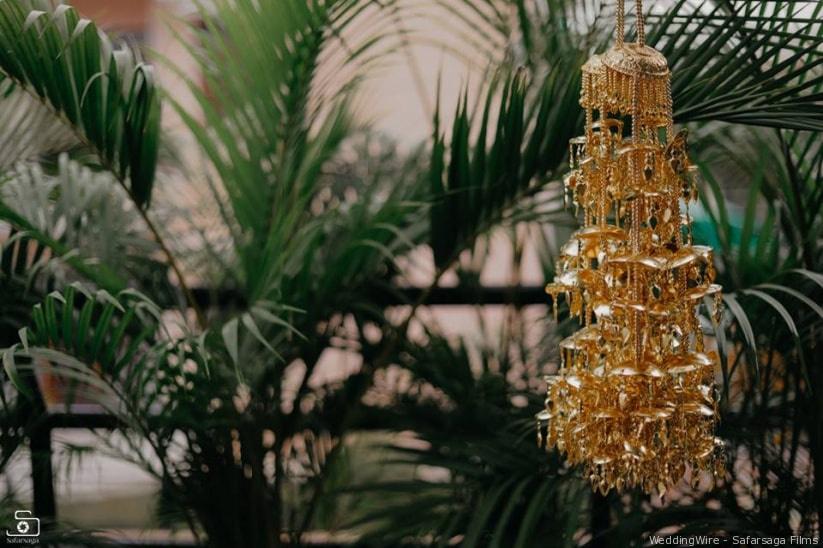 This is the ritual that happens in the bride's house on the day of her wedding. The girl's maternal uncle often times the bride's (Maamaji) brings for the bride-to-be Kalire and Chudas, traditionally a set of white and red bangles.
This is seen as a means of wishing the bride-to-be with good luck for her new life as she leaves her home today and goes to the new one. This Hindu pre-wedding ritual is definitely a tear jerker for countless brides as over here does she really feel like it's almost time for her to say her final goodbyes. The Kalire ceremony is definitely one of the most emotional pre-wedding rituals which set the tone of your new journey.
The bride-to-be won't be able to stop herself from shedding tears as her family treats her with love, care and utmost devotion one last time before she bids her farewell from this house to her new home. So, to all the women out there who are about to tie the knot anytime soon, this is a shoutout to all of you - let your family know how much you love them, appreciate each and everything that they have done for you and couldn't have asked for a better life!
Assure them that they will forever be close to you, even if not in distance but forever in the matter of the heart - after all they are the family you have always known!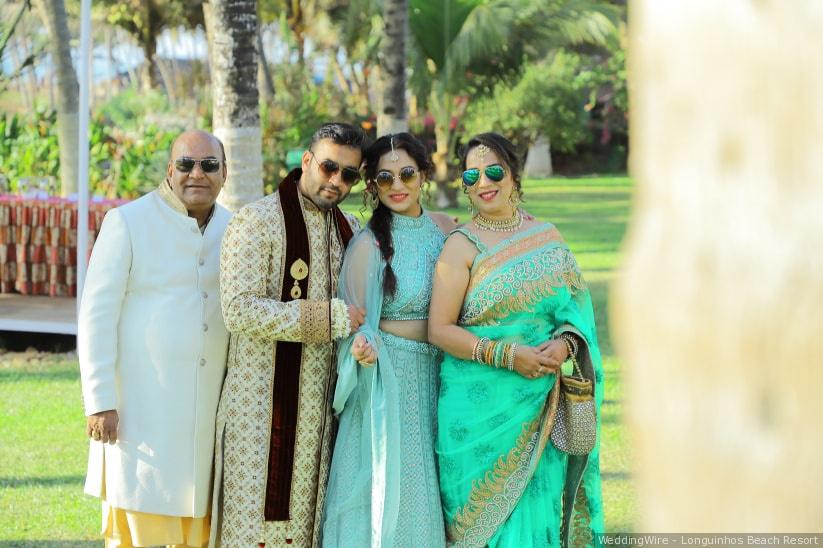 The beauty of any wedding is how it brings together the entire family and forges two families into becoming one cohesive whole. Indian weddings are all about rich traditions which are beautiful and special in their very core. From a tradition that is followed by your dearest Maamaji or one in which all the ladies of your house smear Haldi paste on you, each tradition makes this new journey of yours a memorable experience.
A marriage is a sacramental bond and a means for two people to forge every lasting memory. Therefore, each of these Hindu pre-wedding rituals are completely one-of-a-kind that gives both the bride-to-be and the groom-to-be the time to get to know one another better and become one by getting to become a part of Hindu pre-wedding rituals that are homogenous to our diverse land and culture.
So, our only advice to you would be to take in even the smallest of details of each of these ceremonies and they will unfold in front of you a world of diversity and possibilities. And, you get married only once! So, enjoy these wedding festivities to the fullest while they last.
These are some Hindu pre-wedding rituals that most Indian weddings entail. These rituals are a whirlwind of emotions where the bride and groom get to experience a different side of their families. Some tearful smiles and an aching heart of a mother or a father, these rituals surely make a wedding a memorable experience for all.
Consider this your fresh start and make some lifelong memories as you celebrate and become a part of each of these unique pre-wedding traditions as it only happens once in a lifetime.
What is your take on these Hindu-pre wedding rituals? Tell us through comments!