You Must Follow These Tips to Turn Your Sangeet Party into a Night of Never-Ending Fun
Are you looking for fresh ideas for your fun and wild Sangeet party? Here are some ideas that can help you set that stage on fire.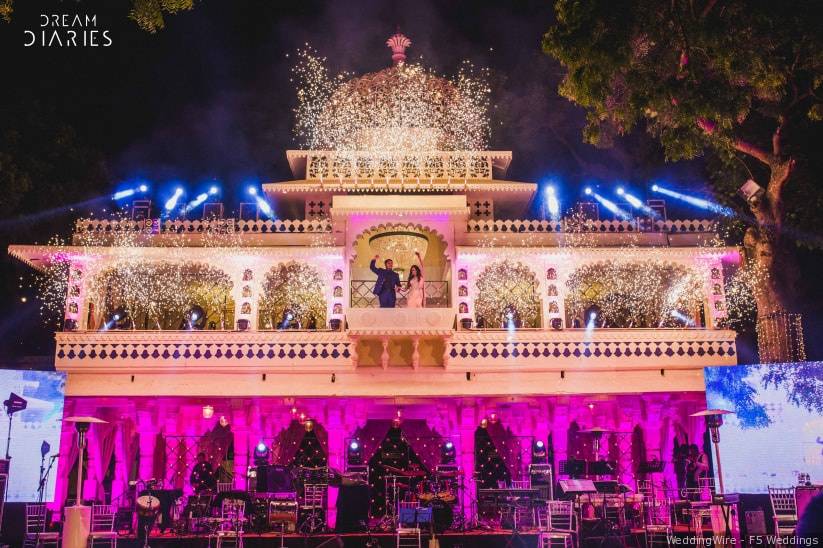 Sangeet Party is the icing on the cake of your wedding celebrations. As far as pre-game goes, it is the biggest and the baddest of celebrations which tells all the wedding guests what they can expect in your big fat Indian wedding. All the wedding guests look forward to this time to sit back, relax and meet and greet each other.
so naturally, go big or go home should be the motto of your Sangeet party. Fill it with performances, interactive games and amazing wedding decor. We're sure your guests would go ga-ga over the whole affair making you the talk of the town.
And let's face it - what is the first thing that comes to the mind of all those who are in the inner circle of the bride and the groom - The Sangeet Performance of course. And with everyone so pumped up about this one evening, shouldn't you make sure that everything is just on point.
So what's stopping you from throwing the most exotic Sangeet party that your guests have ever seen? Dig in to know how to do it.
1. Go wild with your theme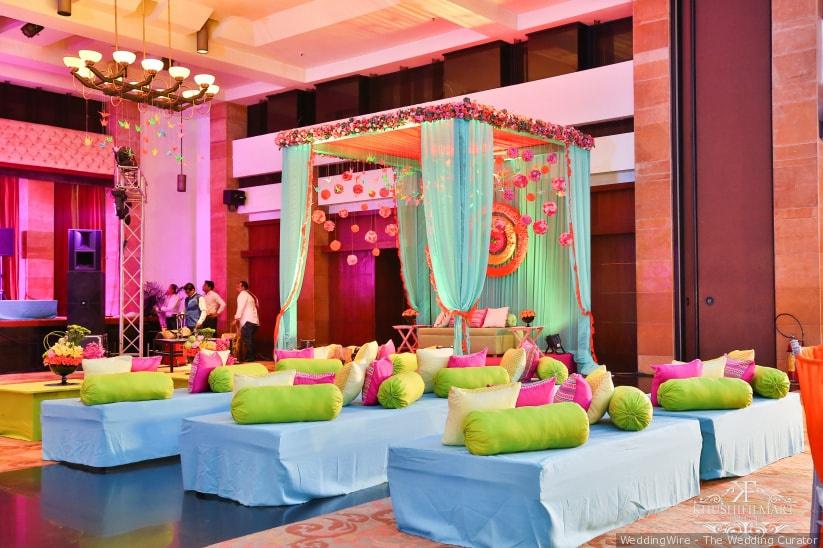 Don't make it boring and predictable. Come up with a theme and organise everything around it. For instance, you could stick to the 90s and ask everyone to perform to songs from that era. You can even arrange for outfits accordingly especially for the performances.
Go all out and hire a wedding choreographer and finalise your wedding playlist and get set to groove with your girl or guy gang. Pick up the hippest and most in trend songs and be ready to get the party started.
This will get a lot of your wedding party excited and make the pictures and performances extra memorable! Remember to pick crowd favourites along with your personal picks for bonus points! Get creative and watch clips from popular movies to get some inspiration for this one.
2. Awards, karaoke, and more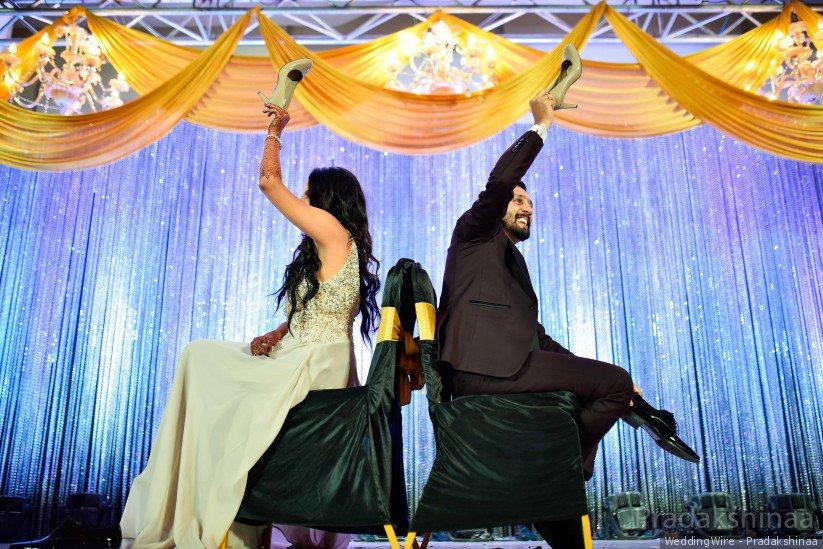 Nostalgia always works and will get your guests participating energetically in no time at all. For the karaoke session, arrange for a giant display screen and arrange for the lyrics to show up as people sing popular hits.
Again, go for a wedding playlist that everyone will groove to. While starting on it, you should also keep in mind that there would be a lot of personalities at your wedding. Don't keep the arrangements just as per your favourites. There should be something for everyone invloved.
You can even opt for an awards show and come up with funny and heartwarming titles for your friends and family. This is especially effective if your wedding is intimate and will feel extra special for your guests. An awards night will be talked about for a long time after the wedding!
3. Unexpected dancing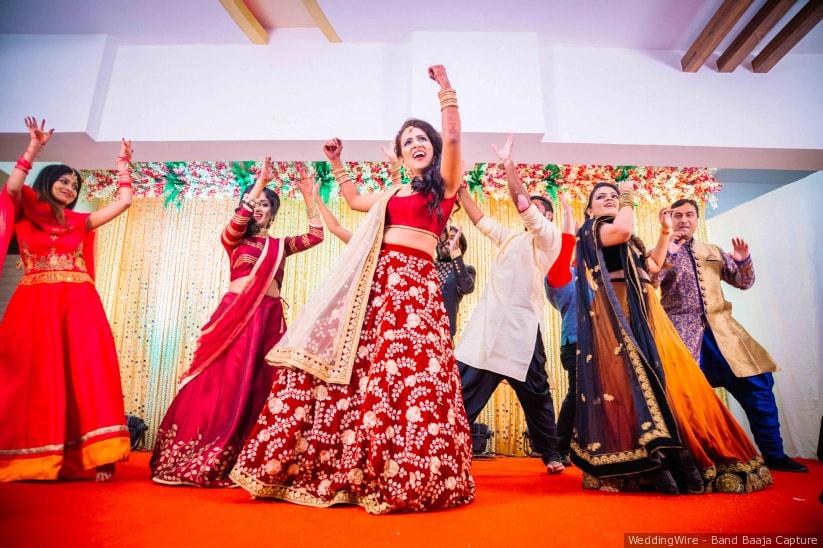 While everyone will be expecting choreographed performances at the party, they won't know what's happening if you get your servers to dance all of a sudden or even enter the venue dancing with your partner without warning.
This is especially a treat to watch for the guests and will add to the celebratory mood. Ensure that you pick a popular song and practice beforehand to dazzle your guests or hold plenty of rehearsals for your group of dancers pretending to serve refreshments to the crowd. The surprise will make things extremely memorable and be appreciated by many guests.
Make sure that you practice well in advance to make a seamless entrance. Maybe even do a test run with both of your wedding outfits so that you are both prepared for any kind of wardrobe faux pas and any other problem that might come in the way of your stellar performance.
4. Photobooths and hashtags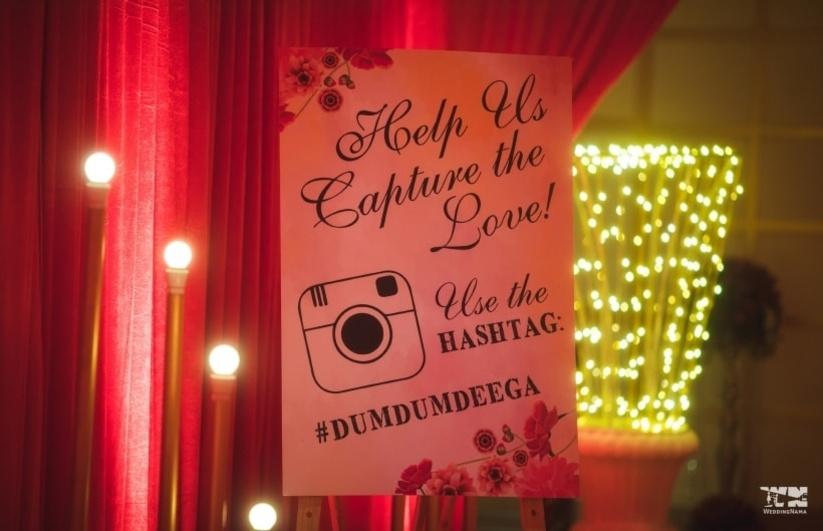 Almost everyone loves this one. You can even make things better by choosing to keep wacky photobooths instead of sticking to just one around the venue and ask your guests to put the pictures up on social media platforms with a hashtag for the couple.
Try for as many crazy props as you can. Remember the more the merrier works here too.
This will make things a lot more interesting and encourage more guests to join in. Make your photobooths colourful and add plenty of Bollywood inspiration for more fun! If you're feeling especially adventurous, include shot bars right next to the photobooths during one of the parties.
5. Fuse it with a Cocktail night or pool party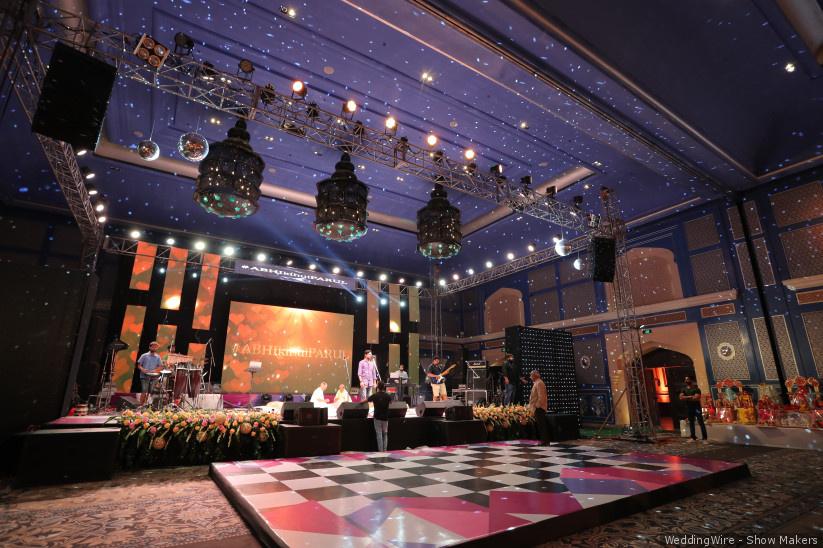 What is better than one party - definitely two! combine your Sangeet party with your Cocktail party. Double the wedding shenanigans, double the fun. things just don't get better than that.
The trend of having a Cocktail night is gradually picking on. What you can do is do a fusion ceremony that has it all - music, dance and booze. Organise games like beer pong or have a keg ready to pump the beer right into people's faces. Well, after a couple of drinks, everyone will be on the dance floor enjoying the Sangeet party. You can even have a pool party with costumes and props all around. We're sure no one would mind dressing up for such a funky Sangeet party.
Another fun way to incorporate this dual party them is to have a pool party which started as the Sangeet party but slowly and gradually, with the help of a few drinks and the wedding DJ turn into a fun pool side party. where everyone can let their hair down and enjoy the day.
Get your creative hats on and think of as bizarre ideas as possible. We're sure your wedding planner would be able to incorporate some of them into your wedding. Then you can go ahead and brag about once you get drunk (just kidding). Remember, whatever you decide to do should have something for everyone in the house so that everyone can enjoy to the fullest. So what all are you planning for your spectacular Sangeet party?
Share your ideas in the comments below.