A Blend of Modern & Traditional Bangle Mehndi Designs for You
Amidst all the regular mehndi patterns, millennial brides & bridesmaids have forever been crushing over the bangle mehndi designs. Have you been too?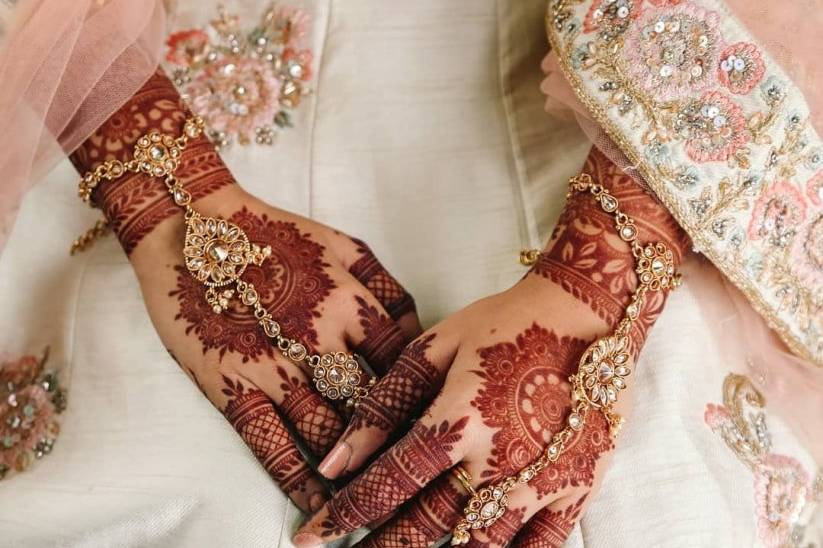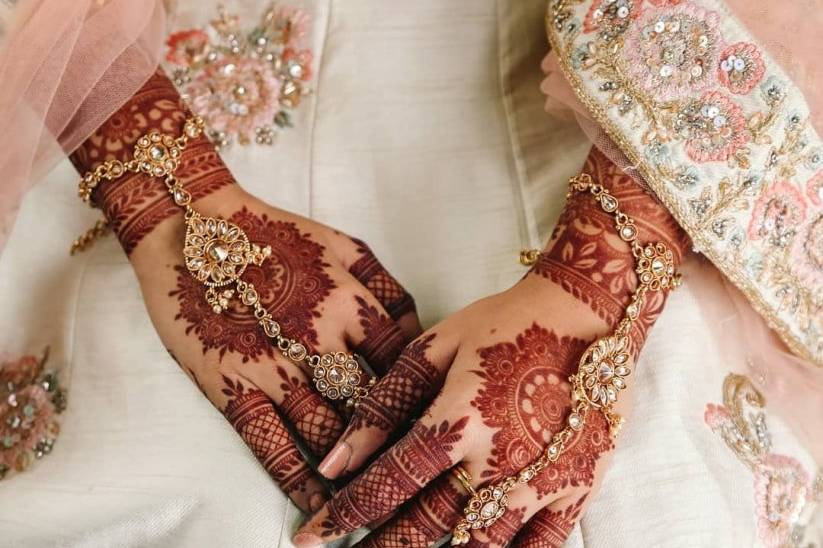 Image Courtesy: Mehndi by Hayat
While every mehndi pattern intricate or bold, Indian mehndi or Arabic mehndi designs, are beautiful, what we love is how some designs just click with brides so seamlessly that it gets difficult to replace them with anything else. One such beautiful design is the bangle mehndi design.
While there can be gazillion adaptations of this pattern, it more or less constitutes of designs that prove to be a great replacement of bangles on the wrist.
While it totally depends on the mehndi artist's creativity to surprise the brides with bangle mehndi designs never seen before, we have shortlisted some of our favourites to make the choice of picking your favourite bangle mehndi design easier.
The Contemporary Bracelet Mehndi Design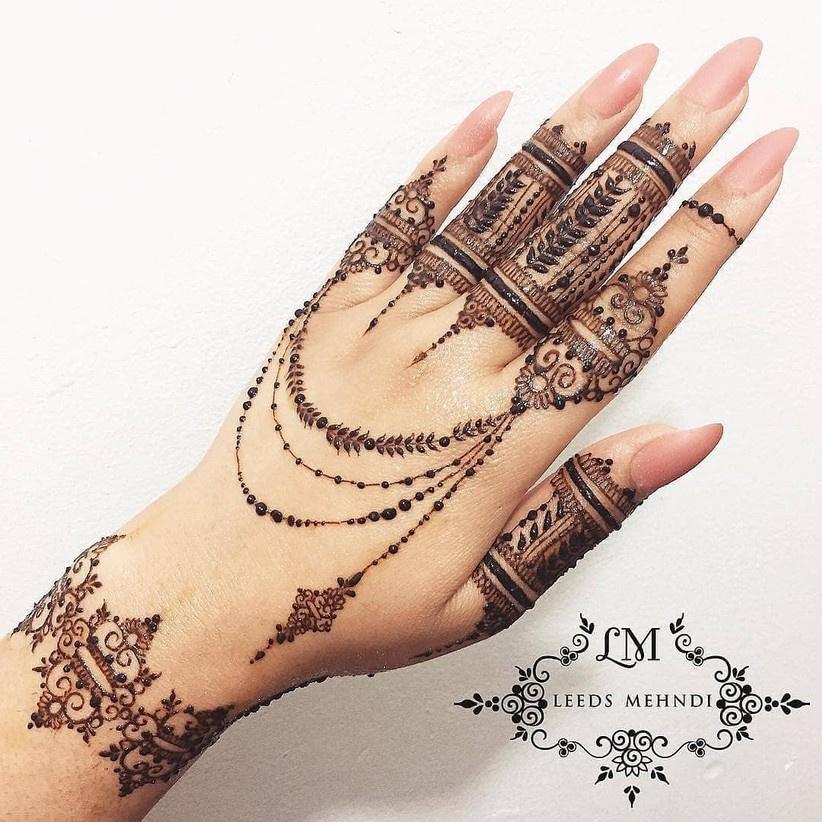 Image Courtesy: Leeds Mehndi
While we had to put this one on the top of your list, we are sure you see why. This contemporary bangle mehndi design is not just unique but also very artistic. The intricate jewellery like patterns and the replication of the bracelet design around the wrist are uncanny and therefore it is sure to be a unique choice for brides and bridesmaids that like minimalistic mehndi designs.
The Jaalidar Cuff Mehndi Design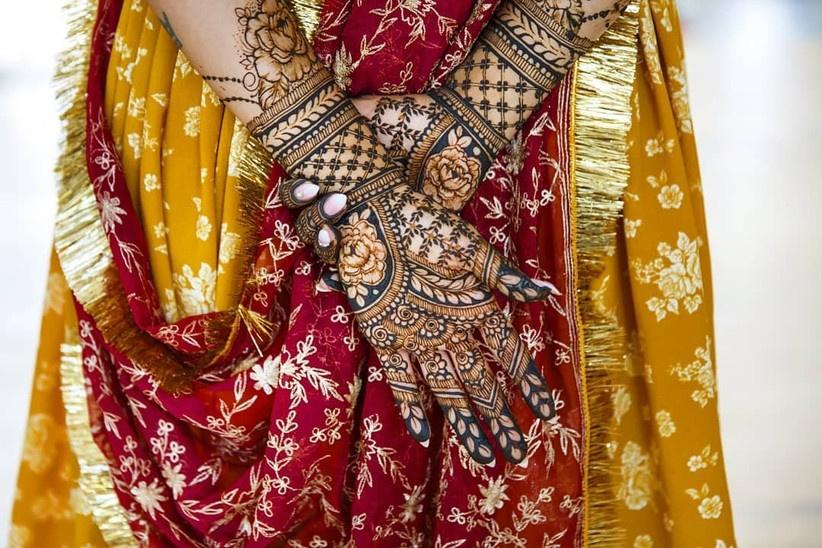 Image Courtesy: The Henna House by Angela
While the jaal can be called as one of the common designs in mehndi, we love it a tad bit more when it is used on the wrist like a bangle mehndi design. Apart from the fact that it is neat and eye-catching, the jaal cuffs have the ability to break the monotony of any mehndi pattern. It also appeals to a wider range of women from the ones that prefer traditional designs to the ones that like the modern ones as well.
Bold and Floral Bangle Mehndi Design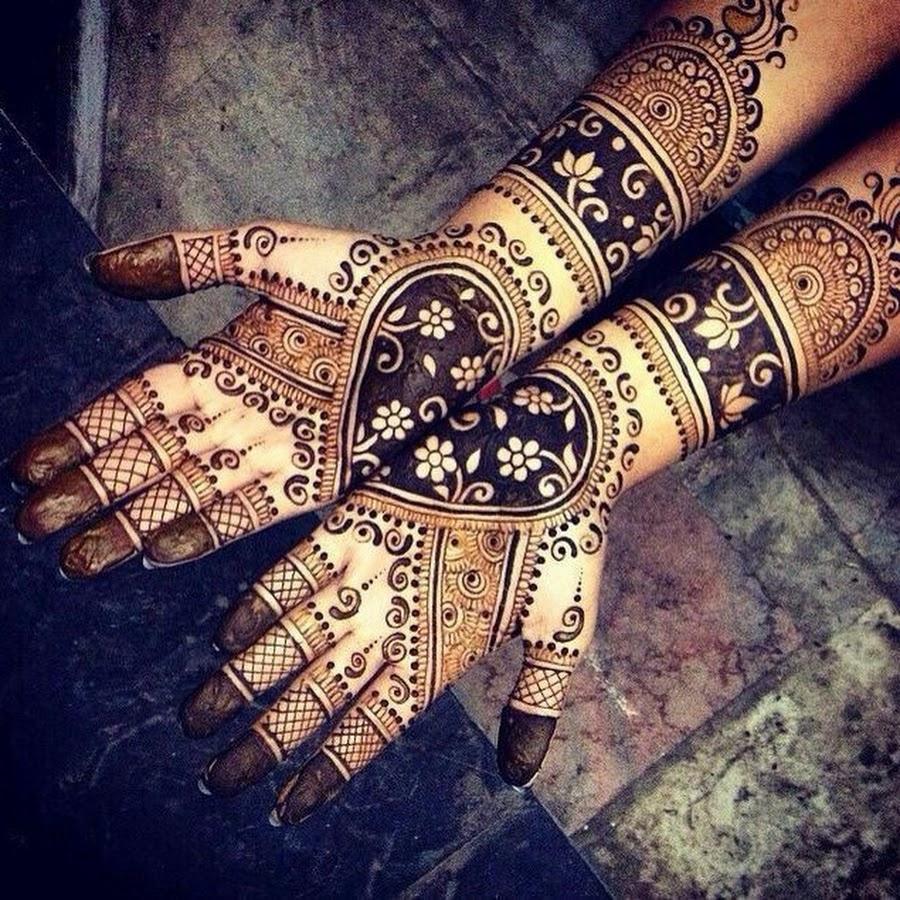 Image Courtesy: Henna Boutique
What attracts us towards this bangle mehndi design is the use of bold floral designs and simple mehndi patterns together. While the bold ones surely catch your attention, it is actually the simple designs around it that balance it and makes it look one of a kind. It goes without saying that the bold bangle mehndi design with lotus flowers make for one of the most highlighted choices for brides and bridesmaids and is sure to appeal those that love maximalist mehndi styles.
The Hathphool Mehndi Design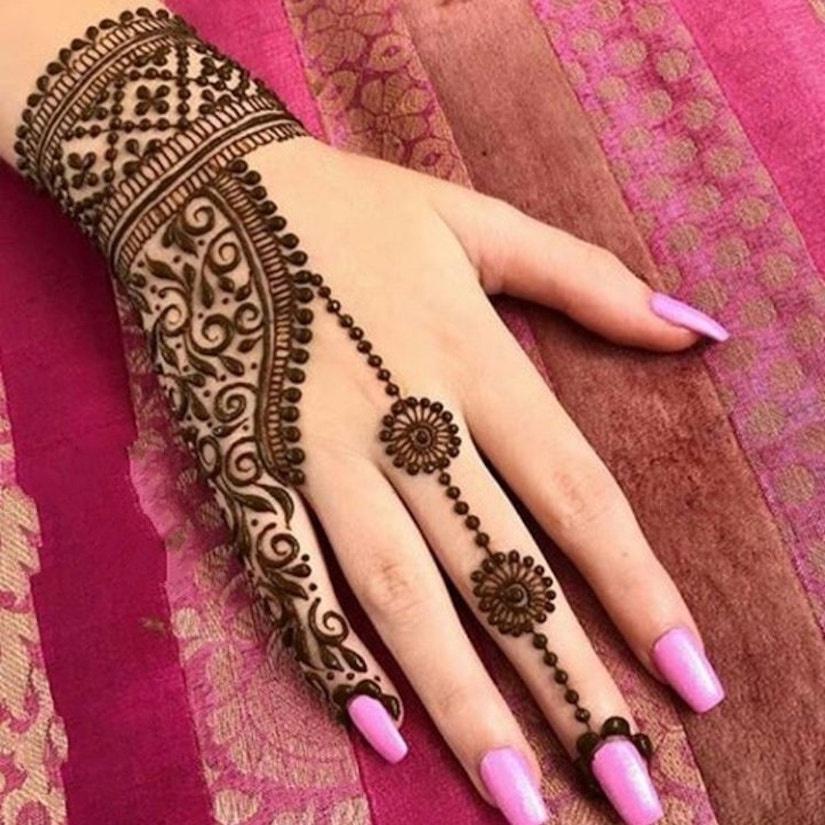 Image Courtesy: Mehndi Designs by Payal
While the hathphool designs are extremely common in mehndi, what makes this unique is the contemporary touch to the bangle mehndi design. Its bold strokes with dotted geometrical criss-cross lines and flower-like motifs make it look extremely different from any traditional designs. This one is for the brides and bridesmaids that are looking for a quirky yet elegant bangle mehndi design to stand out from the crowd.
The Shloka Quoted Bangle Mehndi Design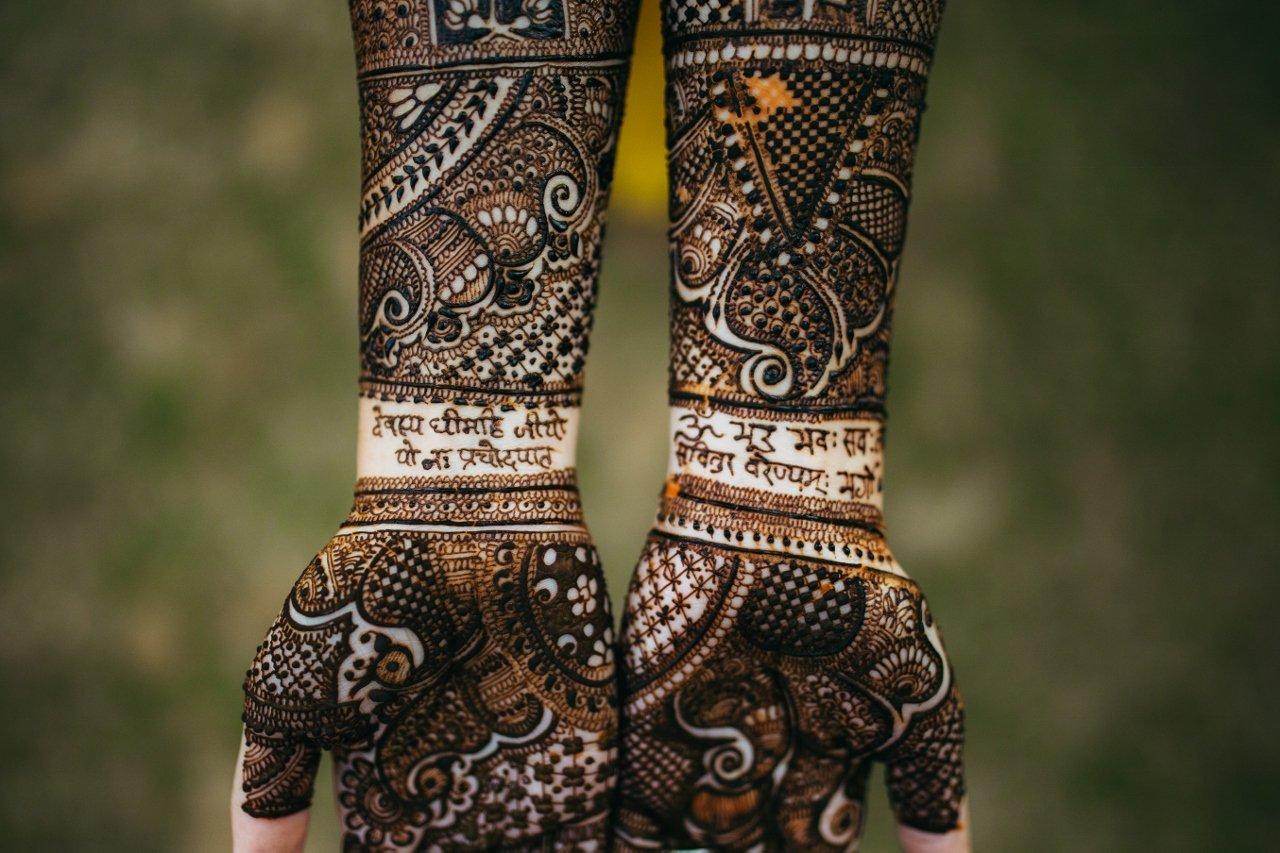 The best bangle mehndi designs are the ones that draw your focus towards the bangle like designs on the wrist and makes for one of the most appealing part of the mehndi. Well this one does just that but not with mehndi designs but Sanskrit shlokas for the bride's new journey ahead. While it undoubtedly makes for one of the most eye catching designs, it is also the most quirky on the list of bangle mehndi designs.
The Aztec Print Bangle Mehndi Design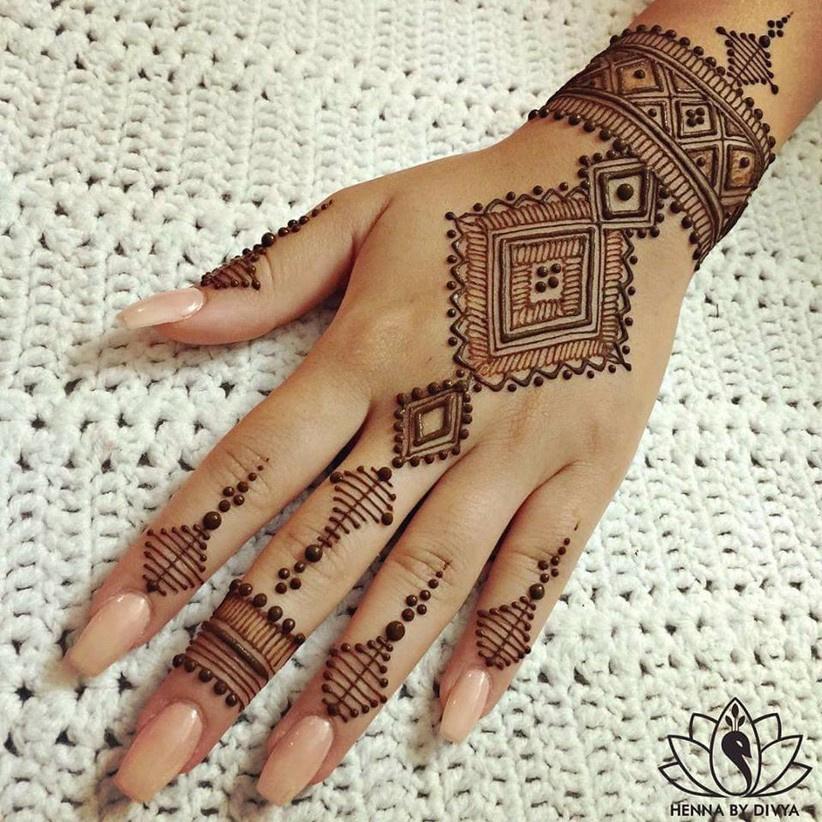 Image Courtesy: Henna by Divya
Ancient prints make for a perfect inspiration when it comes to artistic mehndi designs. One such idea that is not very common is that of using Aztec print for mehndi designs. The pattern does not just look extremely endearing on the hands but also make the concept of bangle mehndi designs look unique. The delicate geometrical strokes with shading are for the women that love symmetry in their mehndi designs as well.
Mandala Round Stroke Bangle Mehndi Design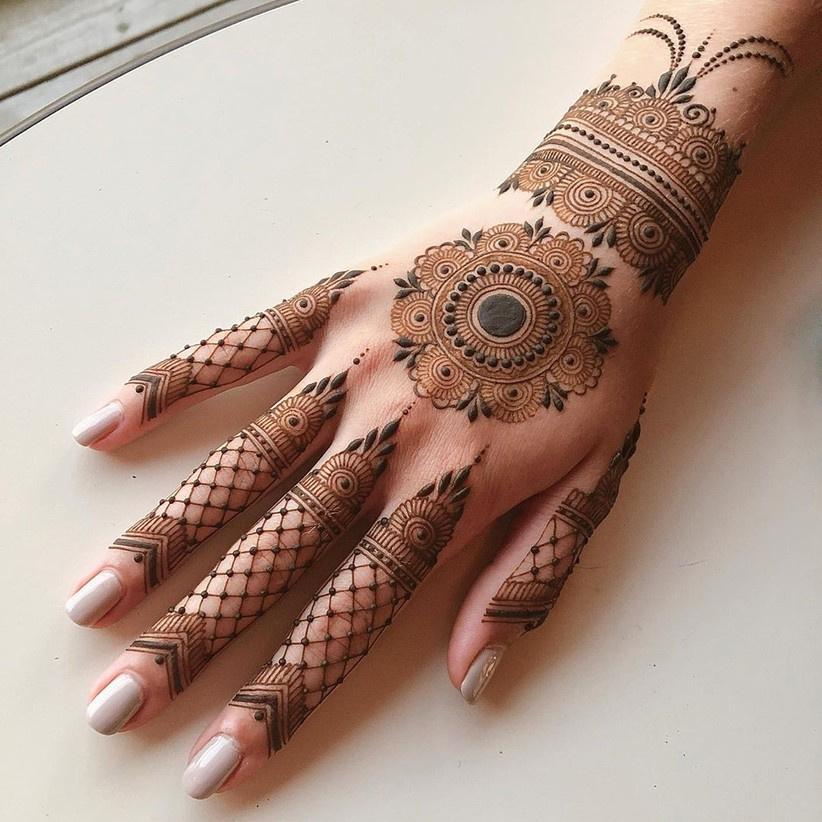 Image Courtesy: Henna by Celina
While we love all the above bangle mehndi designs equally, there is something about mandala motifs that makes our heart melt. The delicate thin round strokes around the wrist complete this bangle mehndi design keeping the theme revolving around the mandala motif and also making the design look traditional yet refreshing. The jaal pattern on the fingers is just what this mehndi design needed to make it work for the brides that love a balance between ethnic and fun.
While bangle mehndi designs have been in trend for years now, we have shortlisted designs that interest brides and bridesmaids with both minimalistic and maximalist style choices.
We have also made sure to choose both traditional as well as contemporary mehndi designs in order to not make this list look less monotonous and more fun and interesting. So all you brides and bridesmaids out there looking for some bangle mehndi inspiration go ahead and choose your pick for this wedding season.
Which of the above bangle mehndi designs is the closest to your taste of bridal look? Tell us in comments which one you'd most likely to put next and why?