6 Regal Wedding Lehenga Designs for Brides to Flaunt This D-day
Looking for wedding lehenga designs for this festive season? Ditch the old and boring styles and take inspiration from the latest trends. Here's how: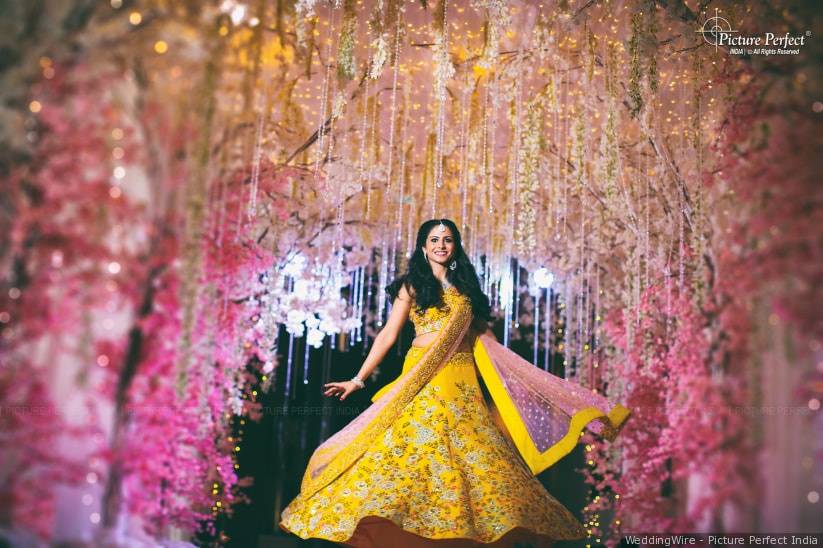 There are many different and beautiful kinds of wedding lehenga designs out there to choose from to flaunt and look your stunning best. From the traditional Chaniya Choli to lehengas perfect for the bride; from simple lehengas that are easy to carry to sexy ones that bridesmaids love to flaunt - wedding lehenga designs come in all shades and hues.
The lehenga that every bride chooses is, however, a treat to the eyes and it is always uniquely designed that fits the bride like a glove while making her look breathtaking. It is nothing less than a grand affair and you will leave no stone unturned to make it absolutely perfect for you and this is more pressurising to work on.
Choosing wedding lehenga designs for the festive season can be a bit tricky. You don't want to wear something too heavy and look overdressed and neither something too plain and look like you didn't put in any effort at all. Wedding lehenga designs tread a thin line between too much and too little, as well as traditional and trendy.
The perfect festive wear needs to be bright, bold and beautiful. When you start hunting for the perfect wedding lehenga designs for this festive season that's your cue to finding 'the one'. Fashion trends have changed over the years, and in fact, every fashion season brings with it new styles and designs.
We have broadly divided the elements to consider when looking for the perfect wedding lehenga designs for the festive season. Read on:
1. Think Volume and Florals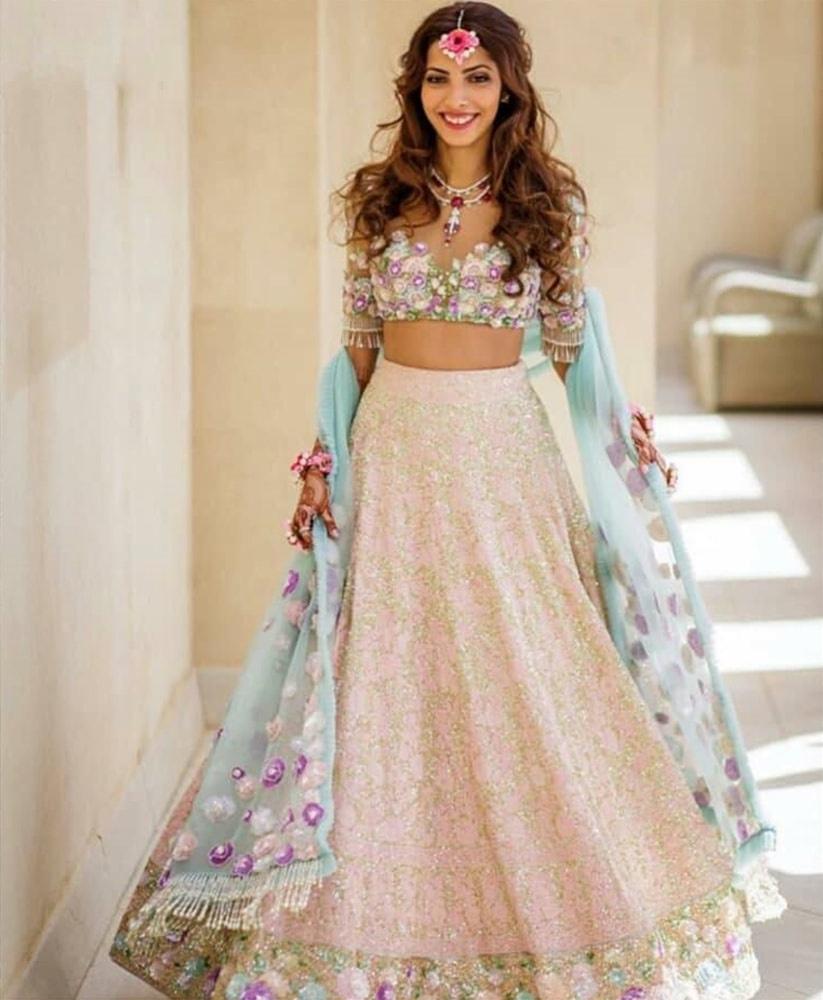 Photo Courtesy: Manish Malhotra's Facebook Page
If you follow fashion and know the latest trends that have been presented by fashion designers in India, you'll know that voluminous lehengas paired with sexy floral blouses are huge right now. When we talk about volume, it could be the lehenga skirt with a big flair or blouses that have extended ruffles, long cape sleeves or even puffed up sleeves or shoulder pads.
Voluminous silhouettes for the lehenga skirt or blouse accentuate the natural figure while also giving your attire a powerful look. To balance this power look with elegance, the easiest way to do this is to add graceful colours of embroidered flowers or a beautifully embroidered floral blouse.
This combination of volume and floral work looks appealing and is a defining trend in wedding lehenga designs for the festive season. The bright colours and designing are perfect for the bridesmaids or for the day ceremonies where the pastels and flowers look overpowering, and in a good way of course!
Pro Tip: For inspiration turn to Manish Malhotra's latest collection, Zween.
2. Think Dark Shades and Jewel Tones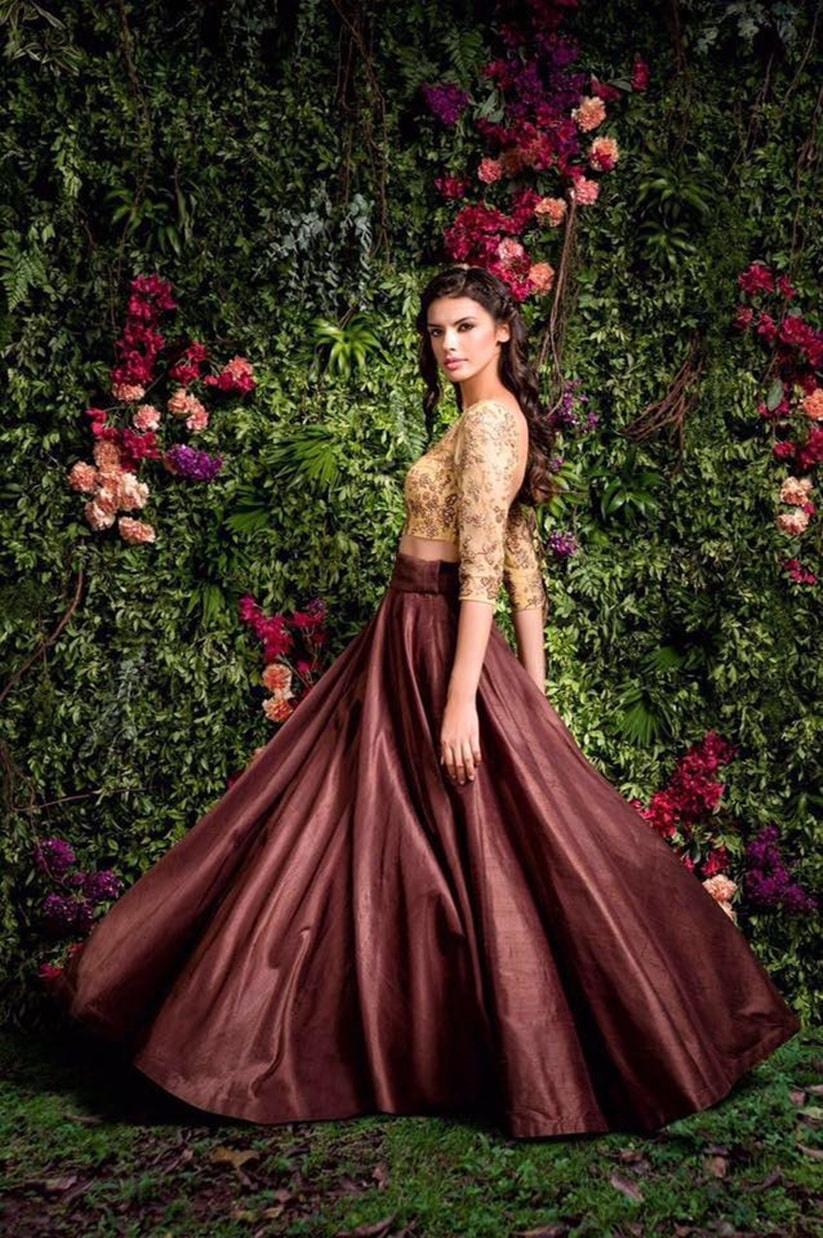 Traditional wedding colours are great and timeless, but fashionistas are turning to darker shades and jewel tones to make a stunning appearance this festive season. Wedding lehenga designs for this festive season are more to do with deep tones rather than stick to the cliched traditional ones.
Deep purples, emerald green, rust, maroon, browns and wine colours have taken over the bright reds and greens. These colours have an earthy and warm feel that beautifully accentuate the much talked about 'Indian skin tone'.
With makeup trends also shifting to earthy tones, it makes for a perfect match. Additionally, these deep tones accentuate even the slightest of embroidery or embellished work and the right fabric is all you need to nail this look. If you still want that pop of bling, you can always pair a dark shade or jewel-tone lehenga skirt with a golden blouse.
If the golden blouse is a matte golden, then the embroidery will be upheld even in the same tones. The lights that flicker on your attire will make it look all the more glamorous.
Pro Tip: For inspiration turn to Shyamal & Bhumika's latest AIWA Autumn/Winter collection.
3. Think Metallic Tones and Ruffles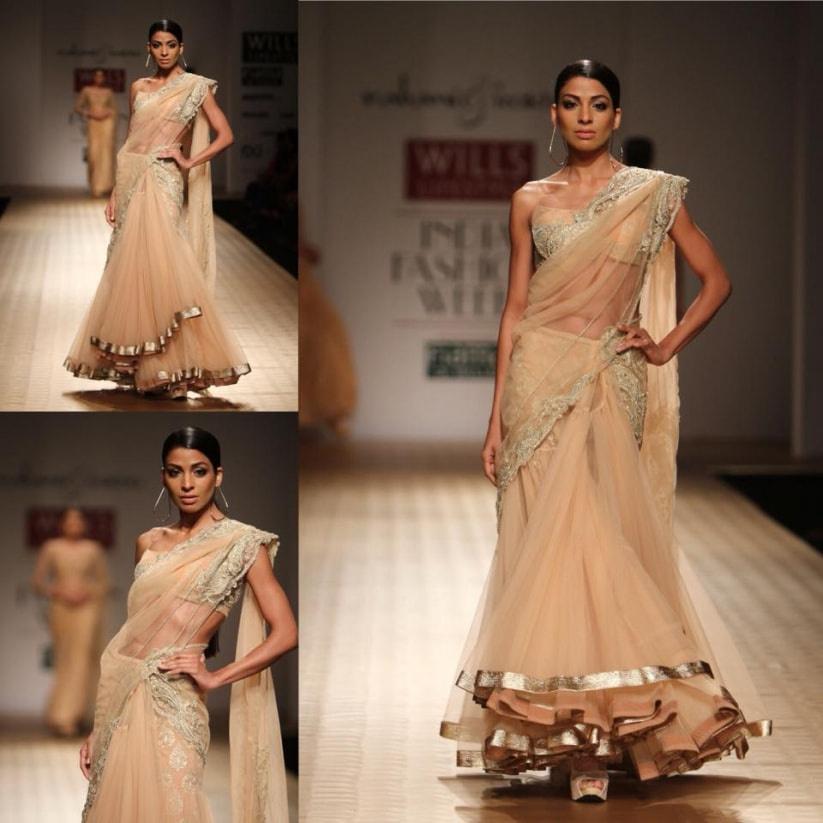 Metallic tones are a big thing right now; from sarees to wedding lehenga designs, makeup to accessories. Bright and burnt gold, sparkling to tarnished silver, bronze, copper and even metallic pinks, blues, purples and other colours are all in. Metallic tones give any outfit a blingy yet sexy look, without needing too much accessorising or dressing up. It's classy and can make for a very sensuous yet elegant attire. Wedding lehenga designs in metallic tones can easily be paired with other colours, different kinds of accessories, makeup looks and versatile for every kind of ceremony or party. Many brides prefer to go all metallic on their wedding day with emerald or ruby jewellery designs adding that pop of colour. Another big trend is flowy lehenga skirts with ruffles. Large or delicate ruffles at the border or overall create beautiful layers that make even a simple lehenga skirt look stylish and voluminous.
Pro Tip: For inspiration turn to designers Rabani & Rakha's AIWA Autumn/Winter Collection.
4. Think Traditional Fabrics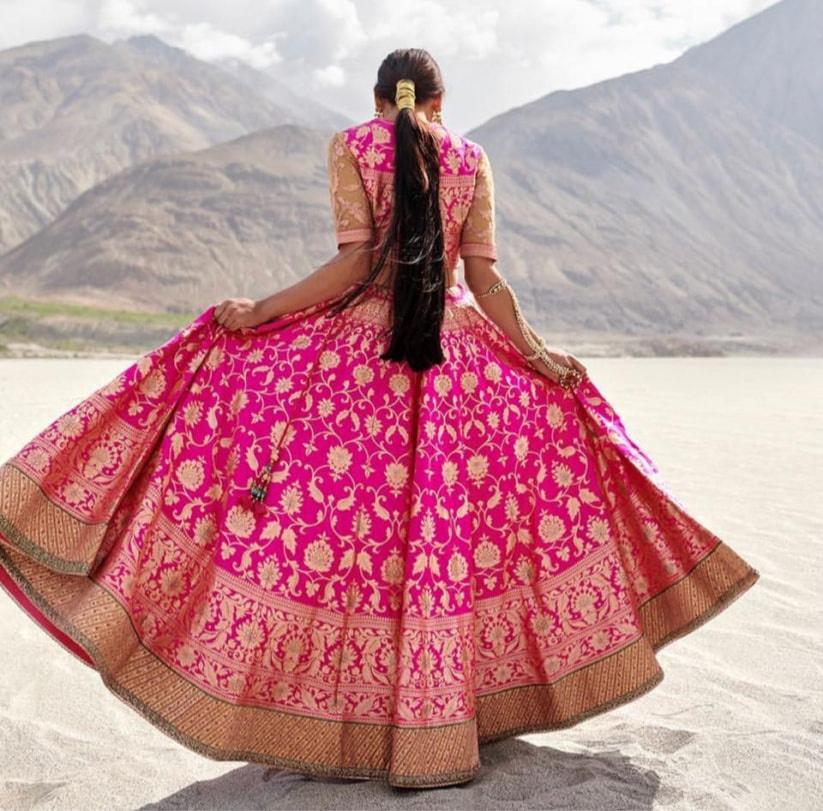 This is probably the most popular of all the wedding lehenga designs for the festive season, amongst brides, bridesmaids and women who like to keep it traditional but stylish. The key here is the fabric that makes the attire spectacular. Traditional fabrics like Banarasi silk, Kanjeevaram silk and raw silk make for rich and stunning lehengas that are a statement and classic piece. The thing about these traditional fabrics is that they come in bright and bold tones with a rich sheen that makes the fabric stand out even without any embellishments or embroidery work. Additionally, these fabrics have a great drape, making the attire well put together, no matter what time it is or for how many hours you've been dancing around in it. Most importantly, a traditional fabric crafted into a sexy and modern wedding lehenga designs is a fusion look that is hard to beat.
The net sleeves of the blouse accentuate the look of the lehenga in more modern lines while being heavily influenced by the conventional designs through the fabrics.
Pro Tip: For inspiration, you can turn to designers like Rajesh Pratap Singh, Gaurang and Sunita Shanker.
5.Think Lehenga Saree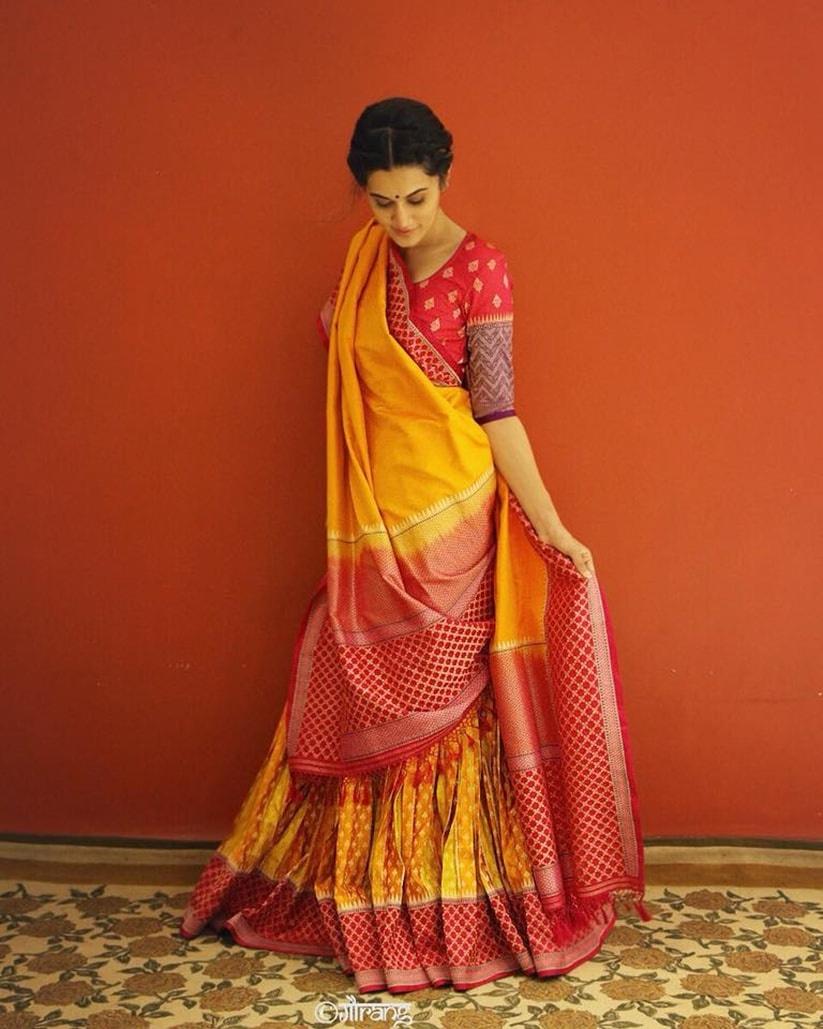 If your whole confusion is whether to wear a saree or a lehenga, then the lehenga saree is the perfect solution for you- why miss out on the race of any? A lehenga saree is a new trend that combines the grace, beauty and charm of both these traditional attires into one stunning look.
This trend has transcended from the runways to real brides, bridesmaids and women across India who love experimenting with their looks and creating stunning new styles. It is technically a Lehenga, however, the draping style of the Dupatta gives it the look of a saree pallu. Thus, creating the delightful and illusional lehenga saree.
This is one of those wedding lehenga designs that work well with all kinds of lehengas, no matter what cut, fabric or occasion.
Pro Tip: For inspiration turn to Gaurang, a niche in traditional fashion wear.
6. Think Pastel Tones and Heavy Embellishments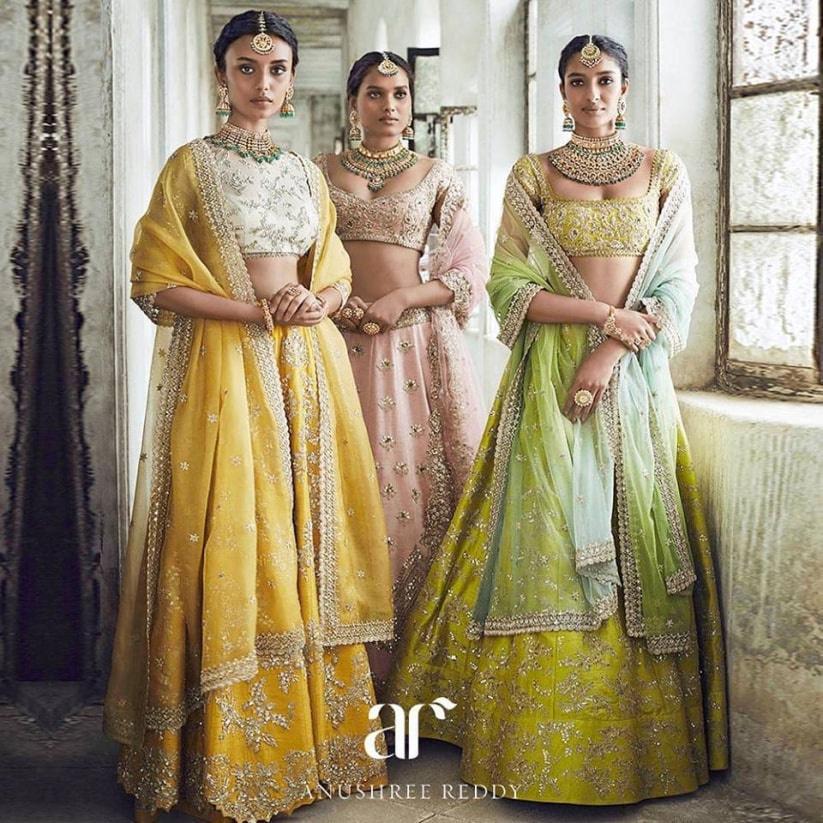 Like we said wedding lehenga designs for this festive season come in all shades and hues. If deep tones, metallic tones and jewel tones is not your style, you can opt for pastels. This season pastels with heavy embellishment work are making heads turn on the runway and on real brides.
Summery yellows, pale pinks, pretty lavenders and soft pastel blues with silver, gold or mixed embellishments all over balance the subtle pastel with the shimmery embellishment.
Additionally, the plain pastel lehenga skirts with heavily embellished blouses are also a great way to balance the look. Pastel lehengas with embellishments are perfect for both day and evening events.
The embroidery on these fabrics makes them look gorgeous even though they are not the royal maroon or red lehenga that brides would normally wear for their big day. Heavily embellished jewellery and choker necklaces with big Chaandbalis or drop earrings will make you look stellar with these wedding lehenga designs.
Pro Tip: Turn to LFW Winter festive collection by designers Anushree Reddy and Jayanti Reddy to take inspiration.
Wedding lehenga festive designs are limitless - from bold to bright, shimmery to subtle and everything in between. You can easily pick something new and different for different occasions and make a statement this festive season.
What wedding lehenga designs are you most inspired by? Tell us in the comments below.