Elevate Your Dreamy White Wedding Look with these Suave accessories
We have specially chosen accessories that complement your dreamy white look -. Read on to find your exquisite pick!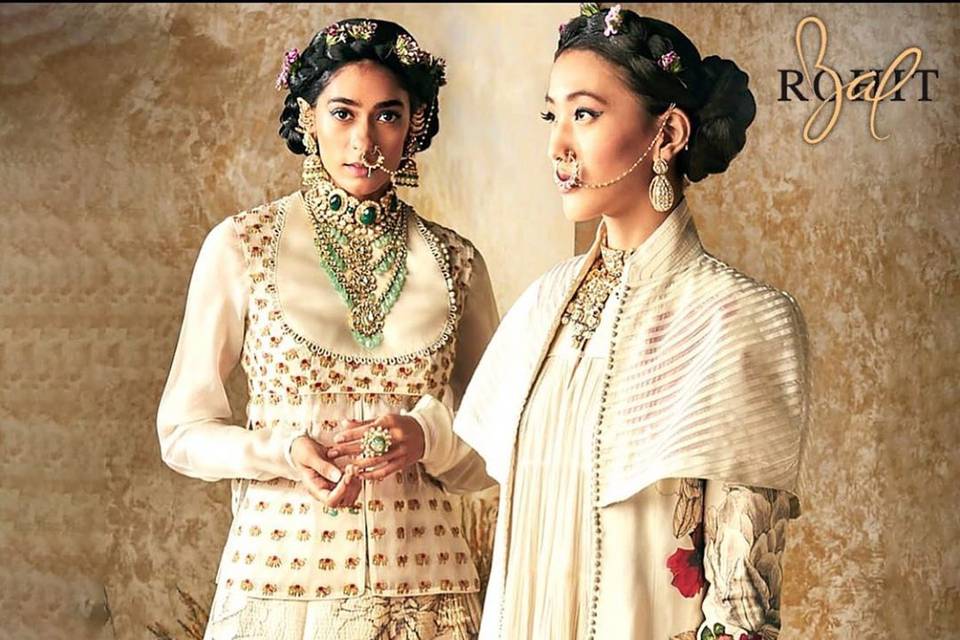 Accessories accentuate your demeanour in a graceful manner. It adds oomph and poise to your persona in a flawless way! Indeed, accessories speak volume about your magnetism and veracity. For instance - big accessories add drama, subtle jewel enhances the elegance and minimal ones add composure to your individuality. Thereby, it is extremely essential to pick the right accessories for your wedding day and other ritual days too. While we know how difficult it is to choose perfect accessories. Thereby, we have tried our best to make accessories hunt easy for you with our curated list. Read on to find your best dream picks.
From elegant Potli bags to accentuating floral jewellery here we have cherry-picked an exquisite range for you-
Accessories for Women
Carry with Grace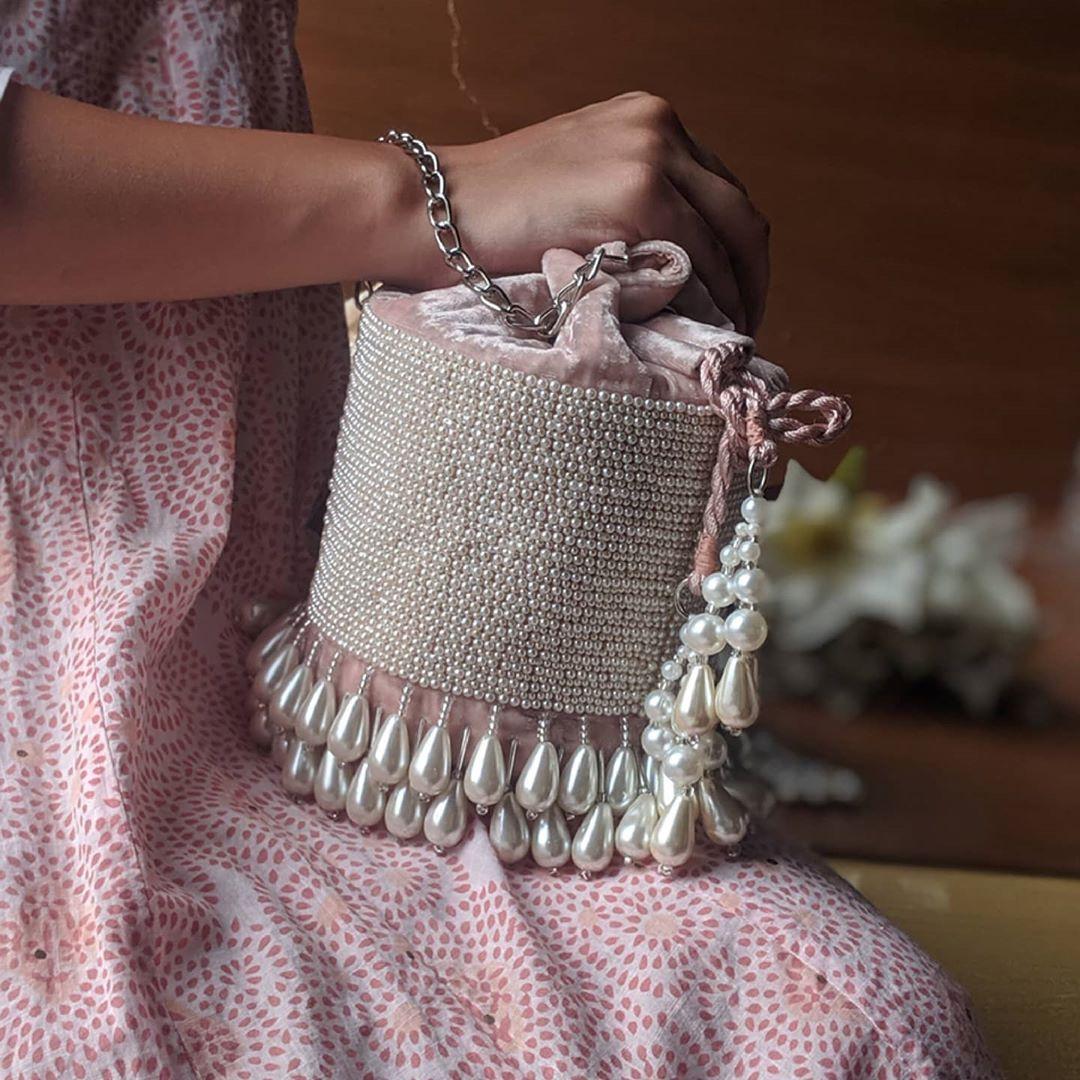 Image Courtesy: Aanchal Sayal Collection
Accentuate your wedding outfit with the complementing dreamy bag. Yes, this plush and luxurious - Blush Pink Halo Bucket bag from Aanchal Sayal Collection will lure numerous gazes. It will resonate with your persona and the entire look in a spectacular way.
Adorn the Dainty Floral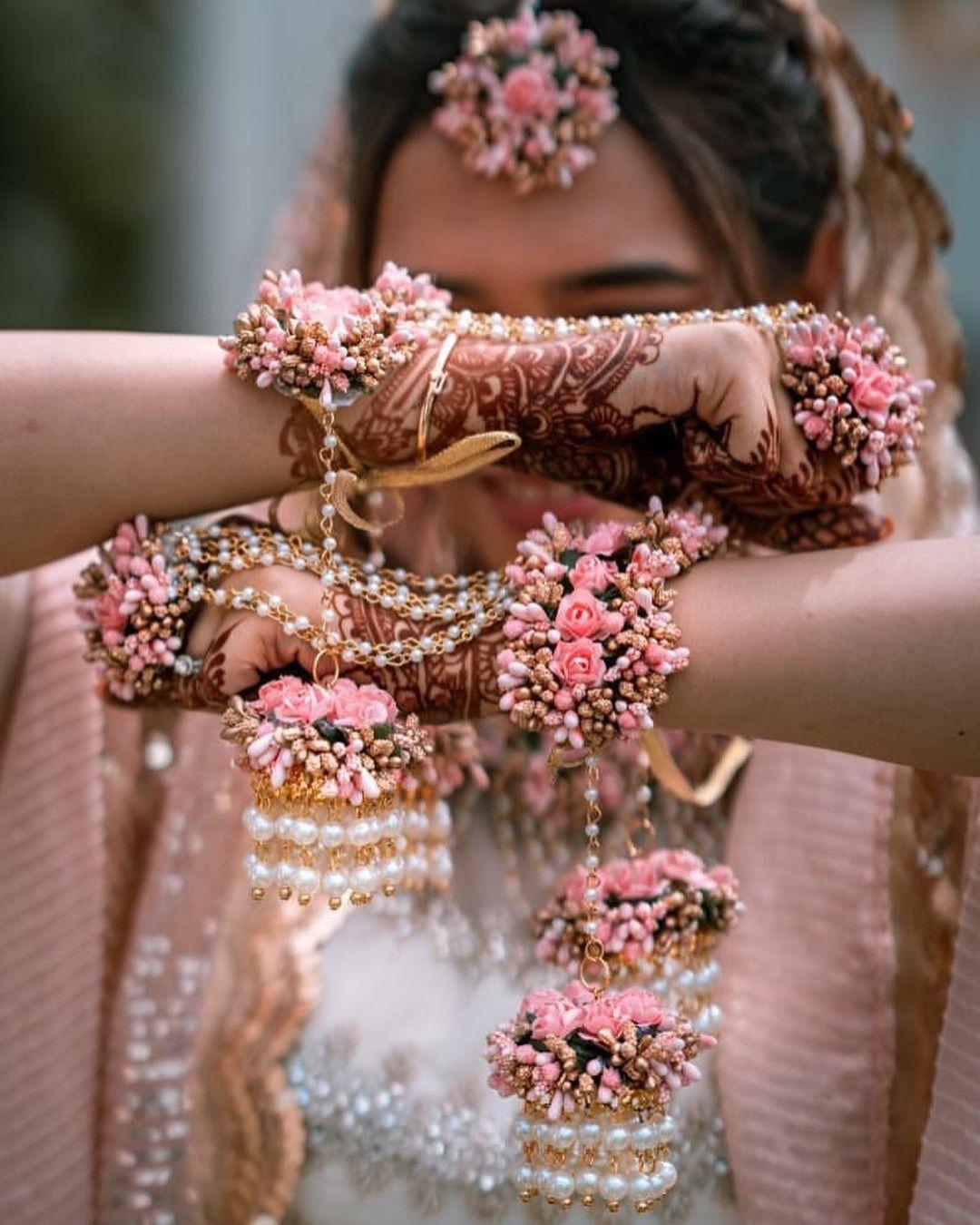 Image Courtesy: Krafterina by Dua Sisters
Floral jewellery can never be wrong, yes be it Haldi ceremony, mehndi night or the Sagan ritual – nothing can make you look as chic as adorning a piece of floral jewellery. The pink colour will look magnificent and elegant with the white and creamy hues. This Haath phool, Maang tikka, and Kaliras by Krafterina by Dua Sisters are popular accessories amidst the brides in India.
Embrace the legacy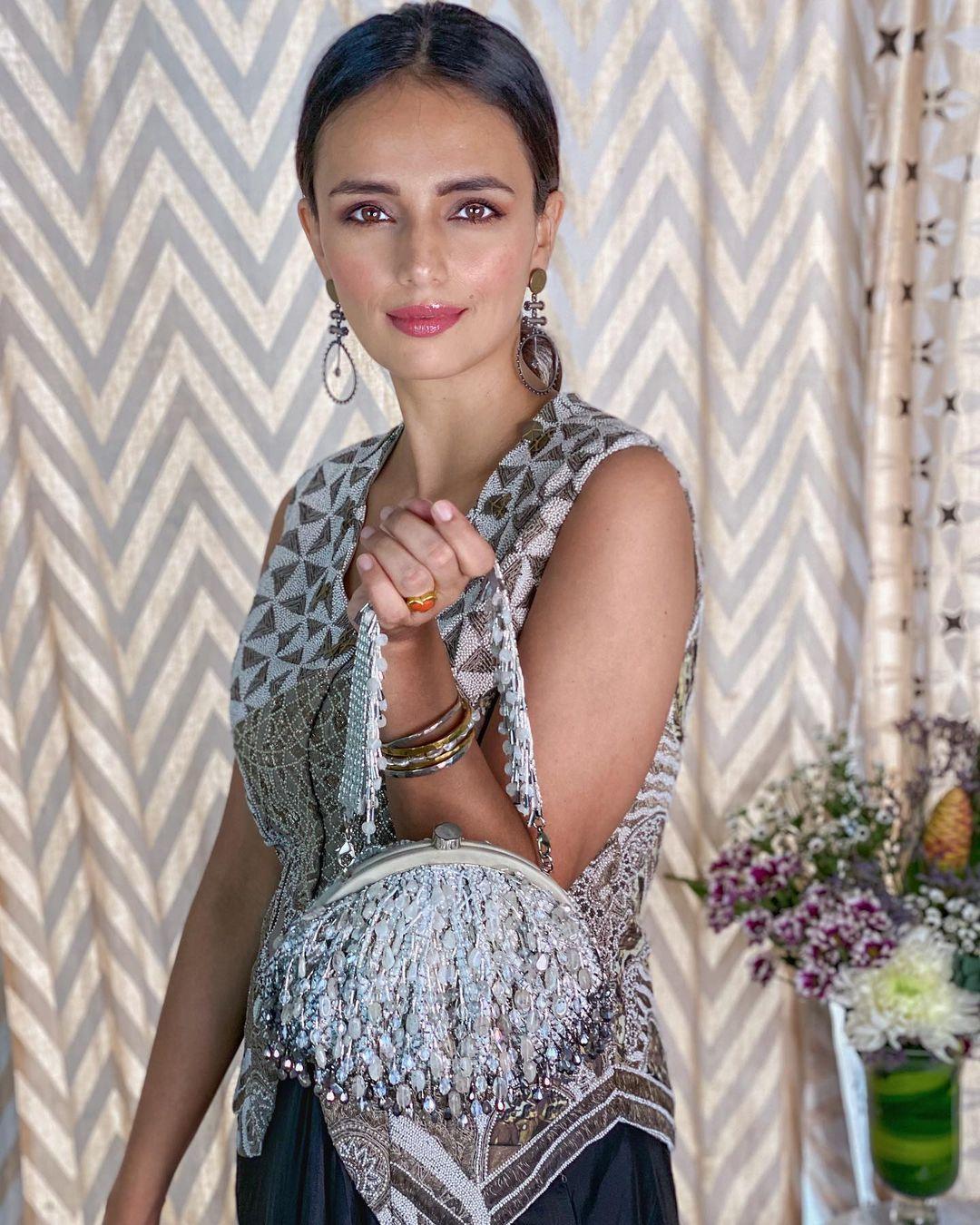 Image Courtesy: Lovetobag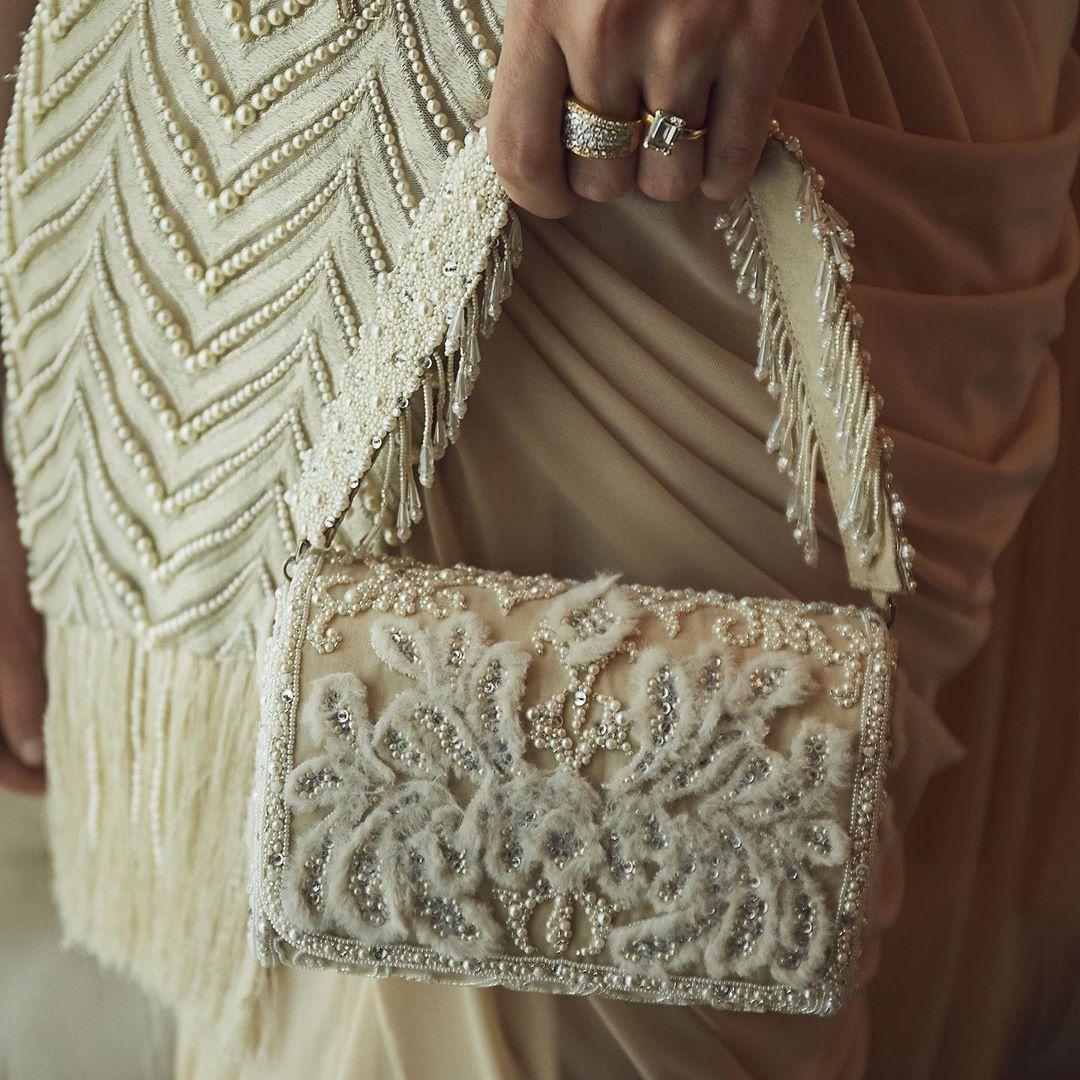 Image Courtesy: Lovetobag
Neutral ivories and delicate pearls are reconstructing vestige – juxtaposing ethnic motifs with pearly, intricate bands and stripes - seeking to create an ultra-modern design receptivity that admires the past. The purse and the potli from Lovetobag will surely style-up your dreamy white wedding look.
A Royal Style Statement for the brides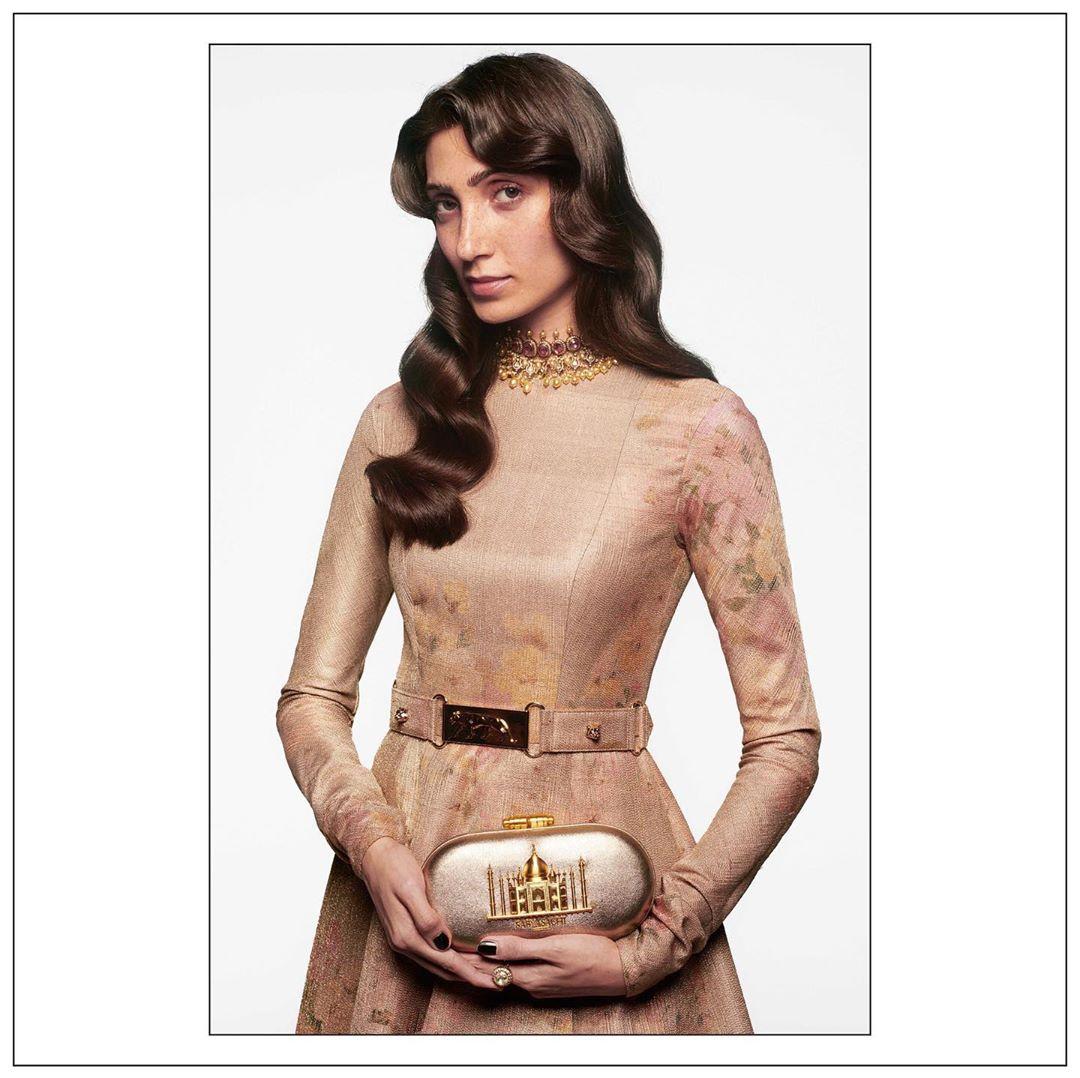 Image Credits - Sabyasachi Accessories
The Avant Garde - Taj Mahal Minaudiere in sahara gold leather by Sabyasachi Accessories is a must accessory for your white outfit. It exudes royalty yet classicism and the concoction of the vintage ethos. This signature collection will be in a perfect sync with your white wedding outfit as white colour goes impeccably with the royal accessories.
The Bewitching Hand-Made Treasures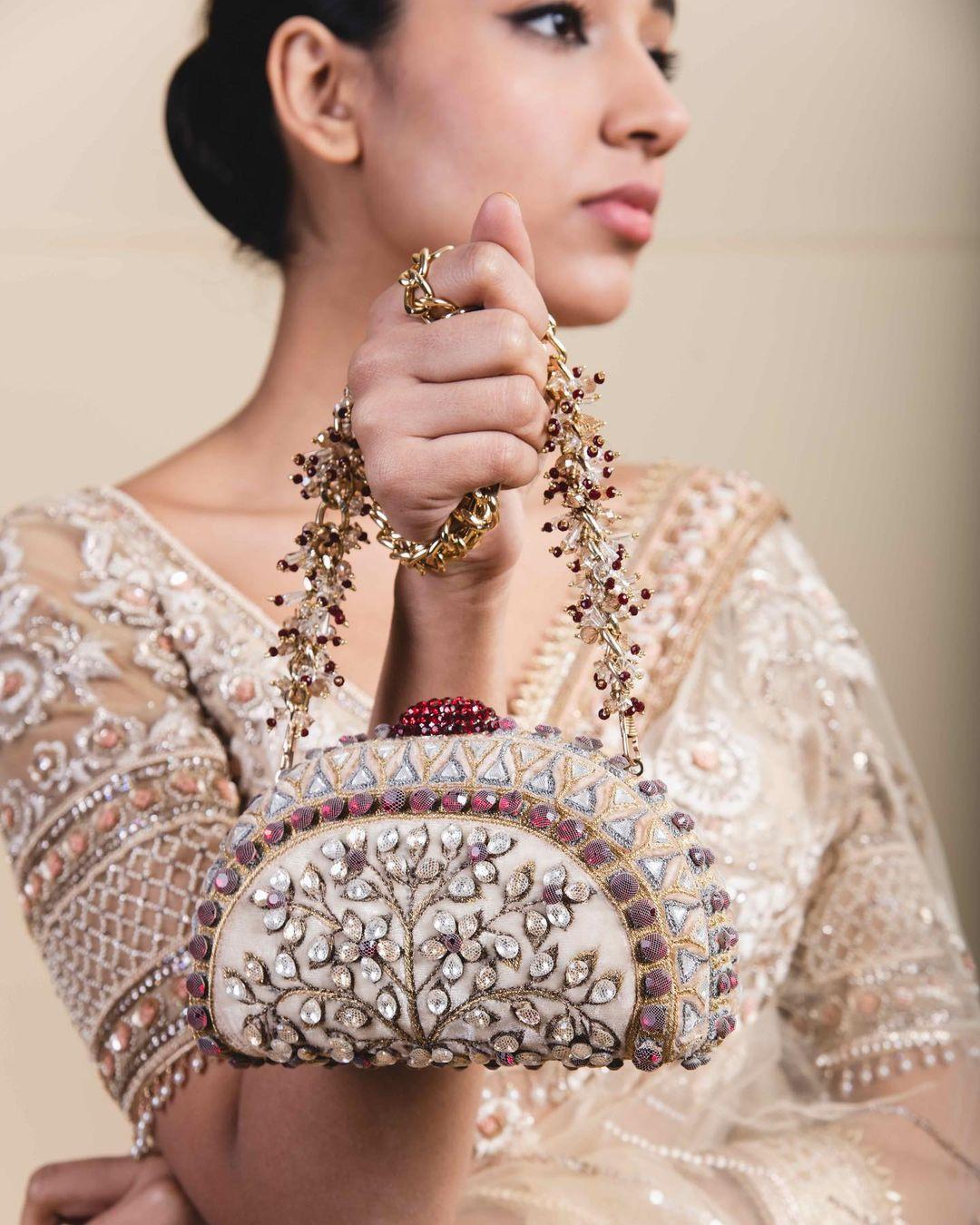 These are quintessential evening soiree bags for the modern weddings of India. Flowers and jewels are handmade treasures for the contemporary brides who seek distinctiveness. These hand-embroidered bags from Tarun Tahiliani collection are drawing inspiration from nature with beige, gold and burgundy highlights. Consider this as a tasteful pair-up with your white wedding outfit.
Accessories for Men
Adorn the Elegance with Refined Traditional Haar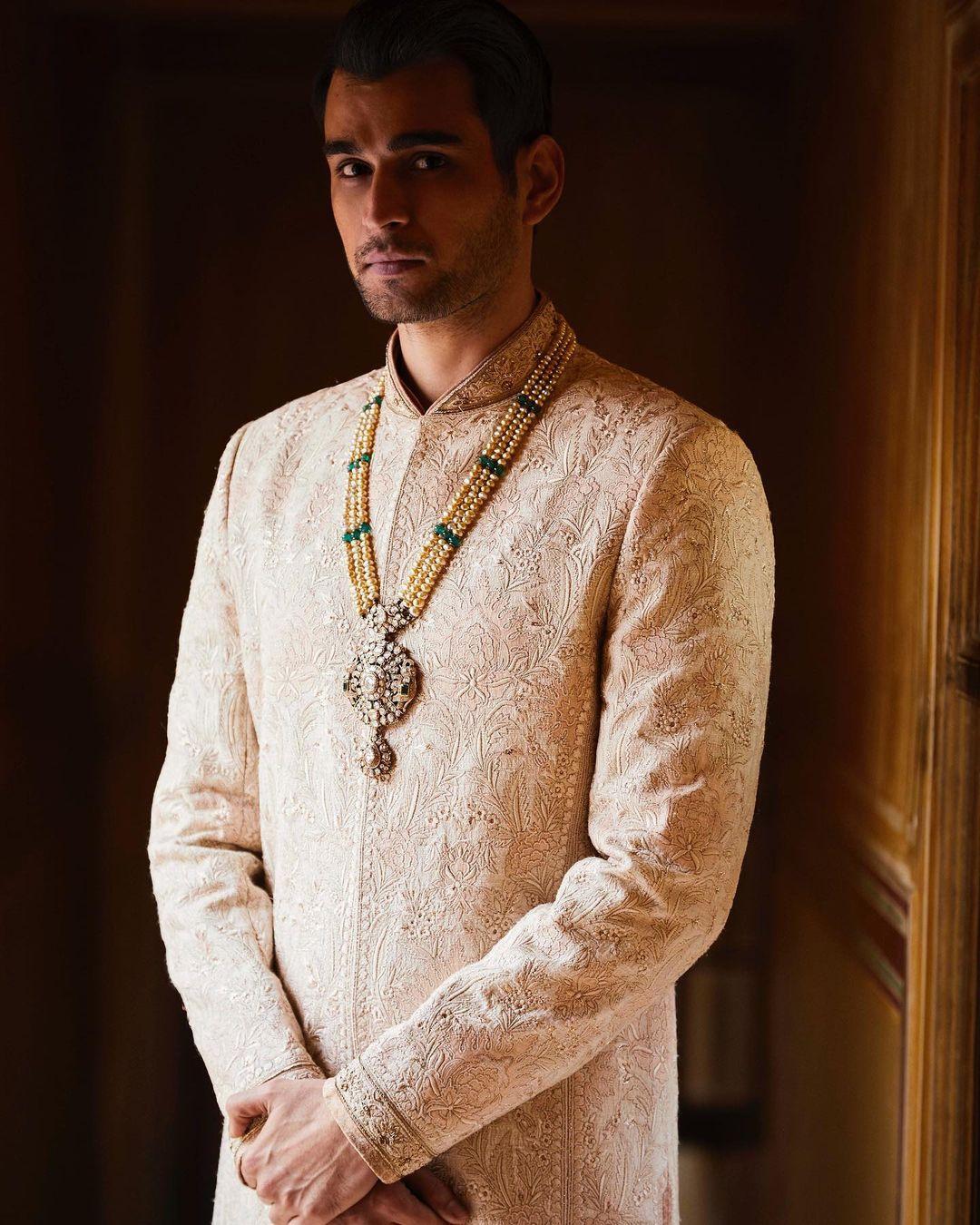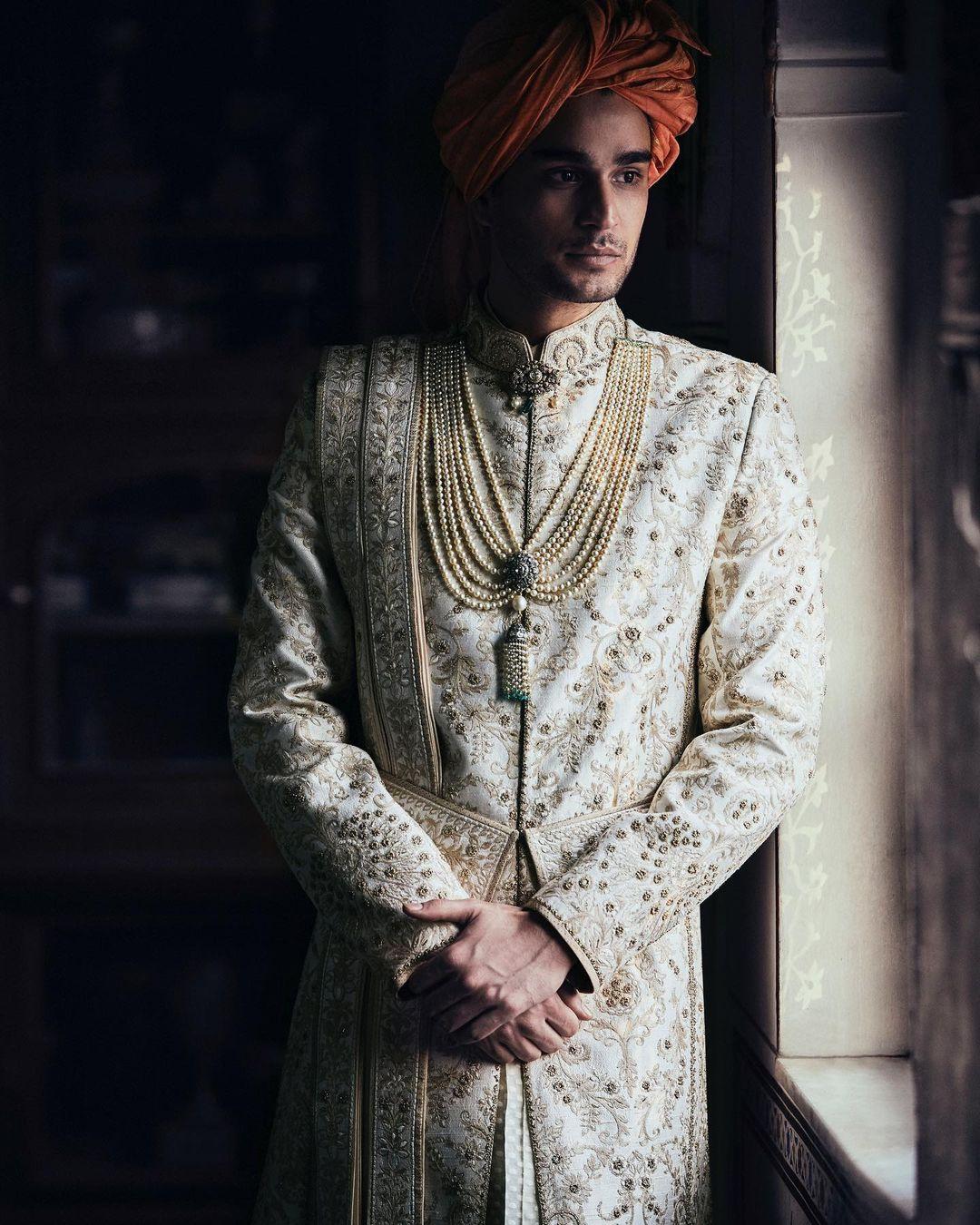 Pairing up a traditional haar with white sherwani /pastel shade or silk sherwani is a mingling of tradition with state-of-the-art design. It is an ensemble that reflects refinement for the modern-day groom. A must buy for those who seek to adorn in finesse with modern sensibilities.
Drape in the Floral Subtlety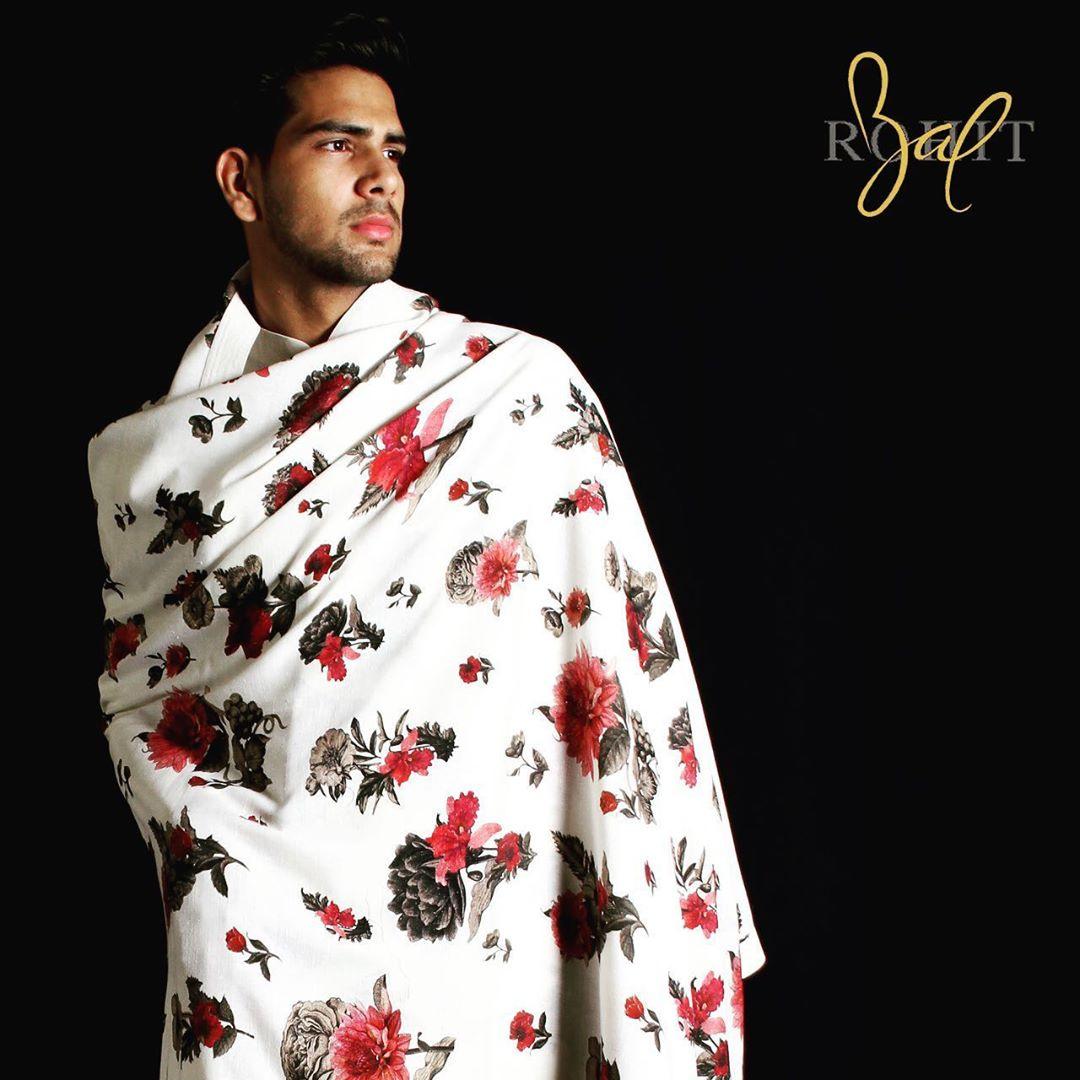 Draping in Rohit Bal's shawl is akin to an indulgence for the men who seek to wear subtlety on their sleeves. The floral pattern reminds us of our celebration with nature. If paired with white sherwani - this shawl is a match made in heaven. Further the colour of purity gels perfectly well with the floral designs!
The Power of White Footwears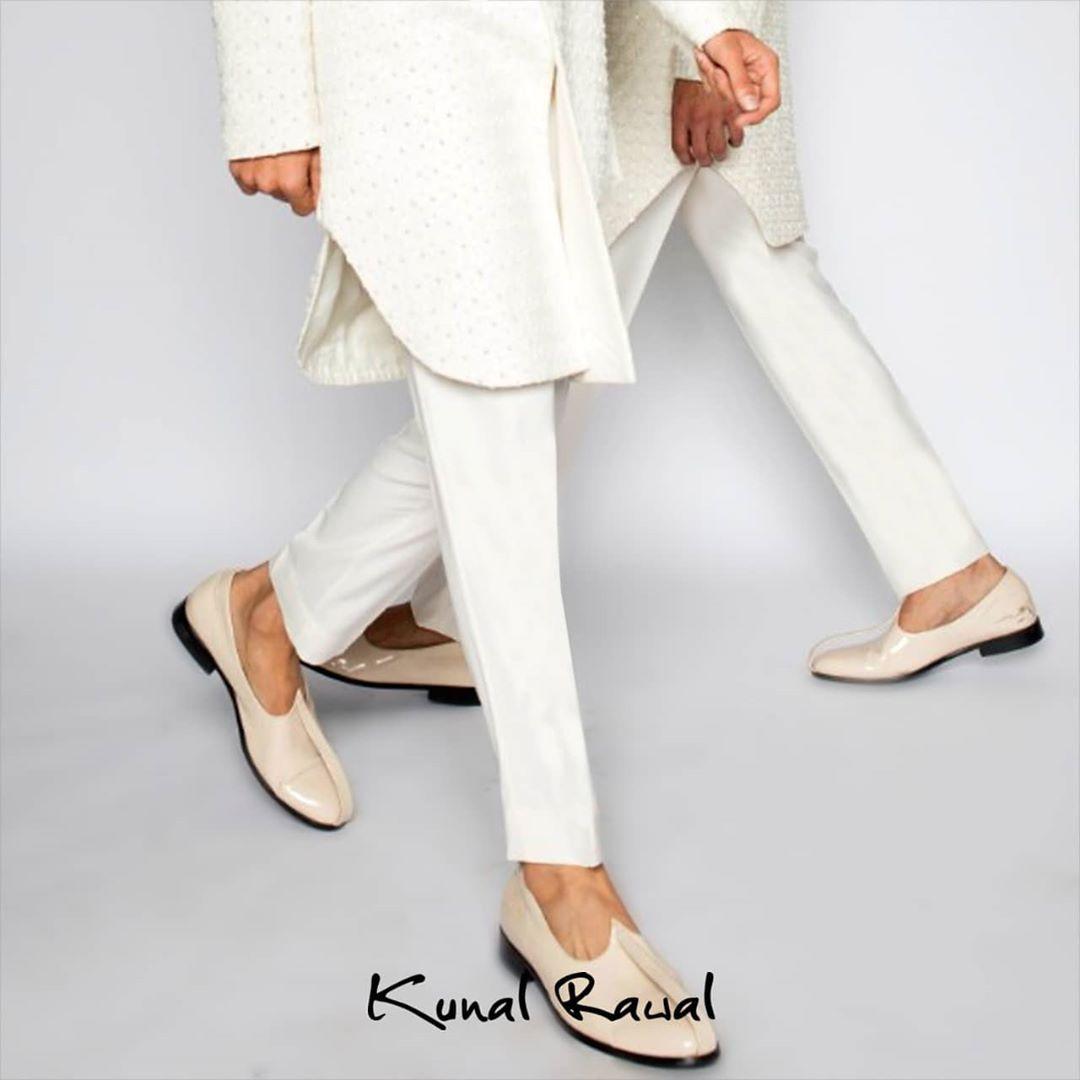 Image Courtesy: Kunal Rawal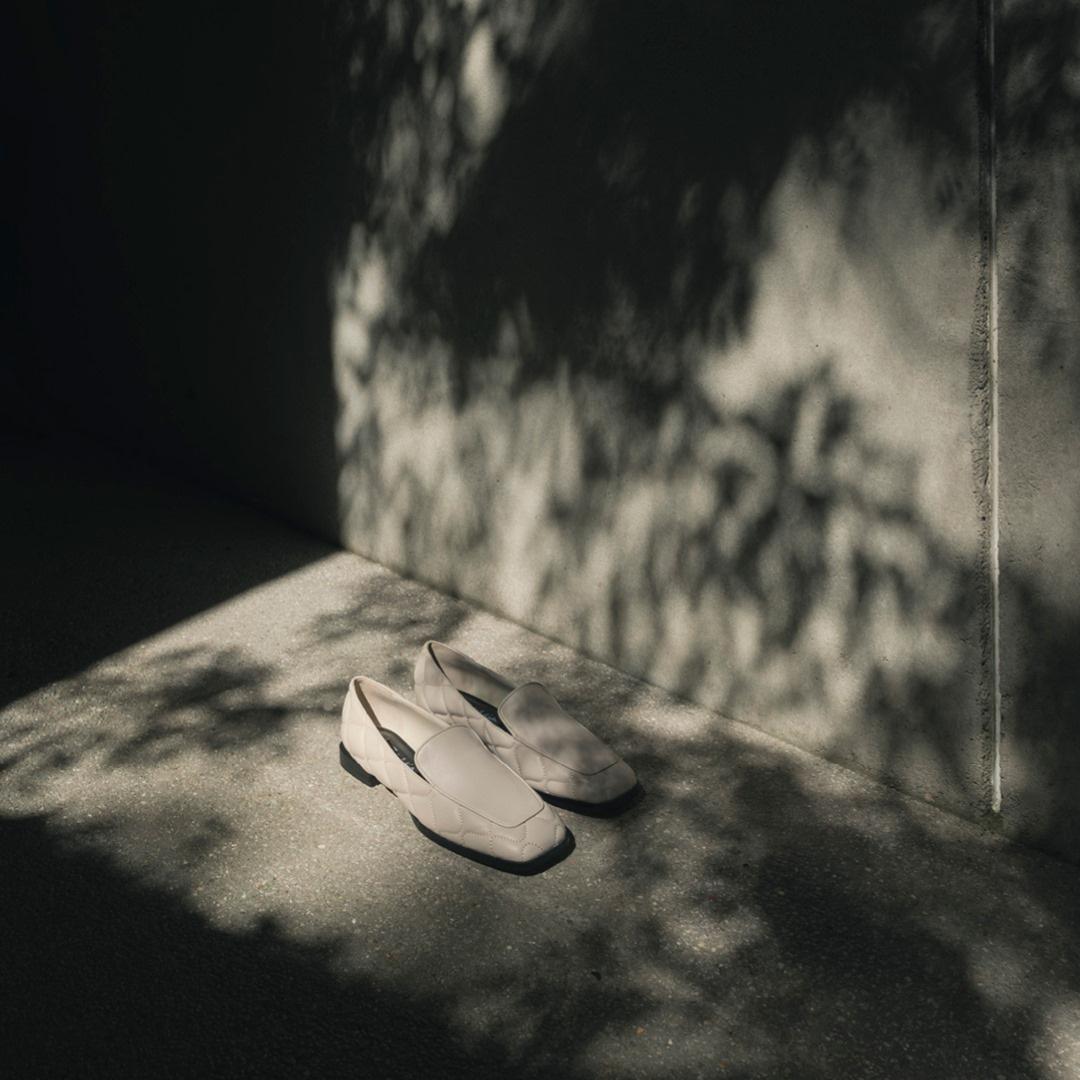 Image Courtesy: Charles and Keith
The white footwear is classic in every way other than the loud uptake of fashion. Pairing a white footwear with a white attire signifies the meet up of comfort and luxury. Consequently, pick white footwears from brands like Charles and Keith and then try to pace up with the ongoing classy fashion game.
Be Youthfully Sublime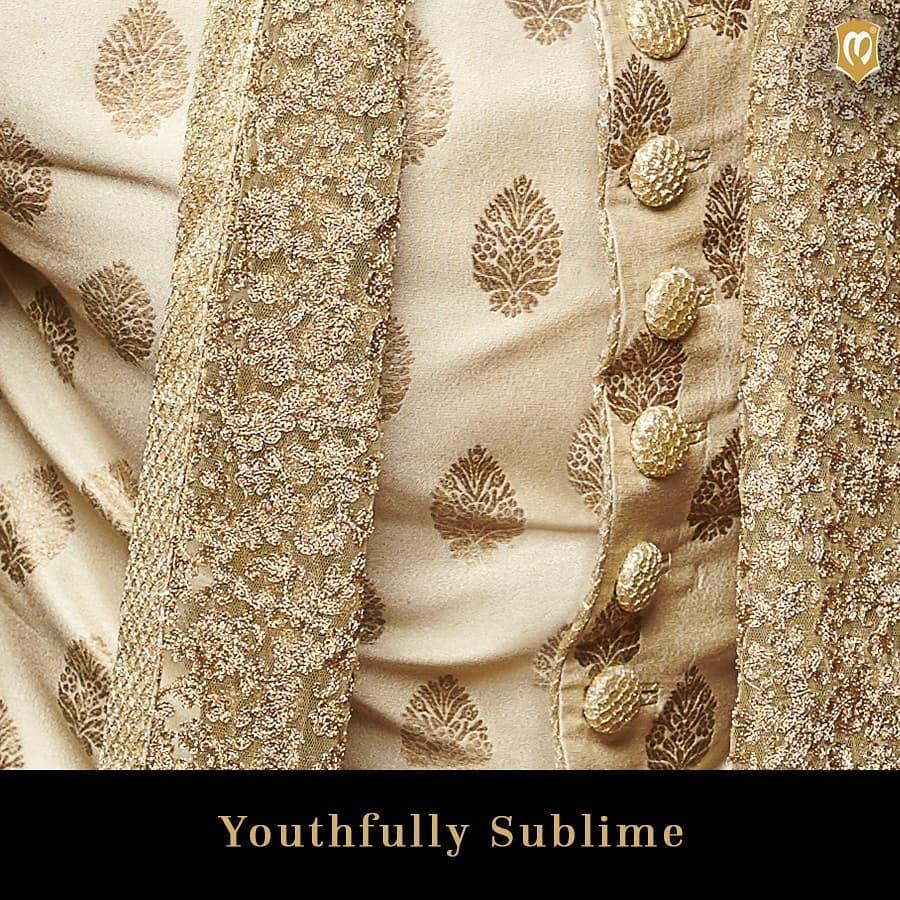 Check if this wedding season is in tune with the trends by pairing up your white traditional wear with the latest accessories. This netted golden dupatta by Manyavar Mohey will add the right amount of finesse to your every occasion. So, gear up to make an iconic style statement with this youthfully sublime yet suave ensemble.
Adorn the Mighty Pen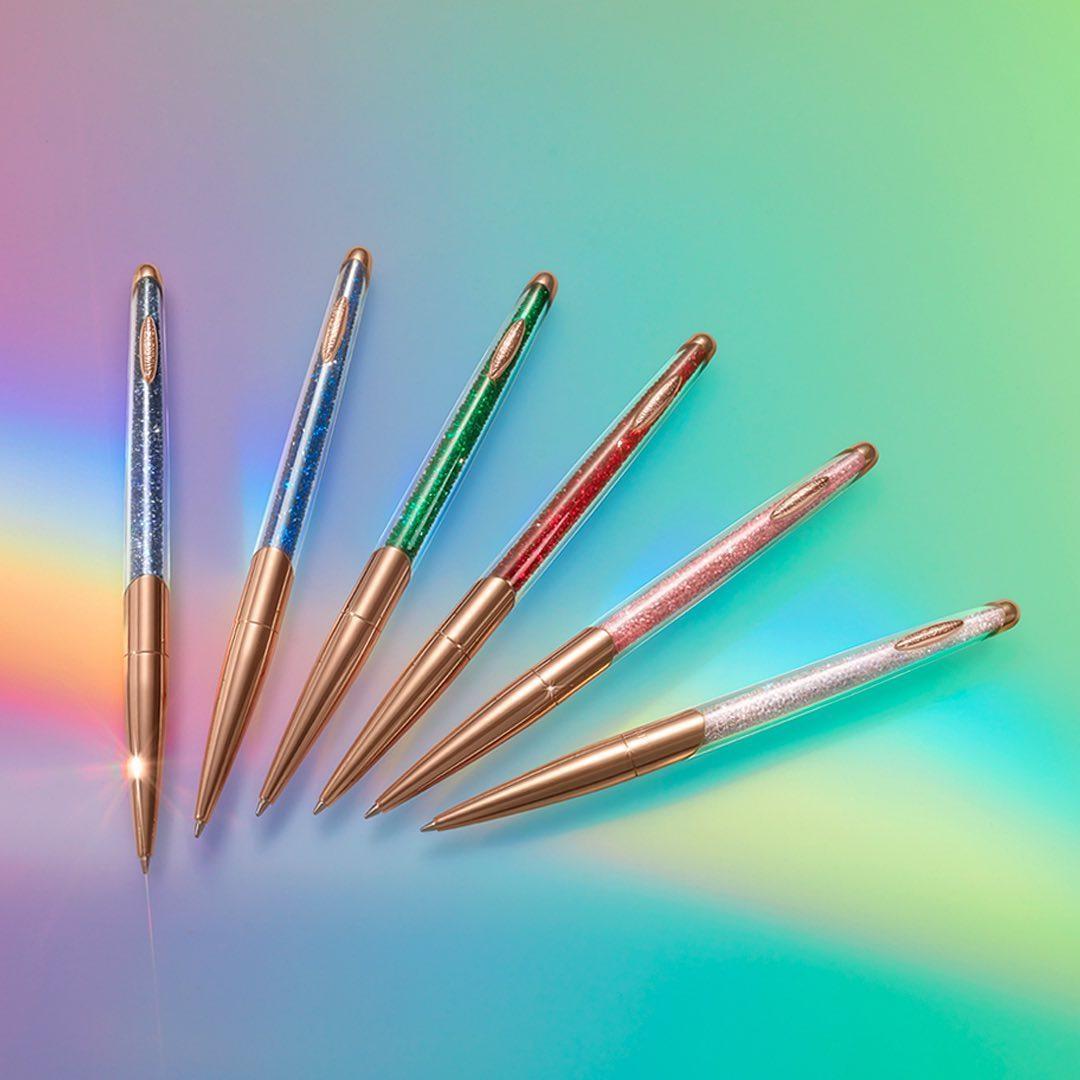 Image Courtesy: Swarovski Pens
Let us go by the adage that says that a pen is mightier than a sword. Pick these rich gleaming Swarovski pens and match it up along with the classy white wedding attires. Much more than just a writing instrument - Swarovski's Crystalline pens are filled with over a thousand champagne-coloured crystals using the unique Crystalline technique.
We hope it is now easy for you to pick the right pair with your white wedding wear.
To know more about these accessories – please drop your queries/questions in the comment box. We will be happy to help as your dream wedding will always be precious for our team!! Happy Dressing :) Happy Wedding!