Maharashtrian Bride Look - Traditional Marathi Brides Wedding Look Ideas
Indeed, The Maharashtrian Brides are an epitome of vivaciousness and beauty and which is why here we bring 10+ Real Brides who are setting Maharashtrian bridal look goals for you all! Have a look!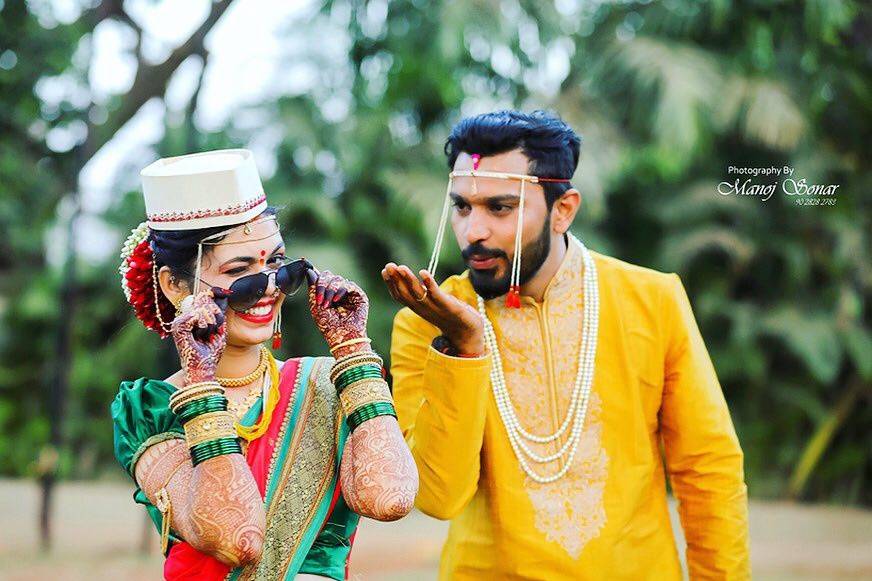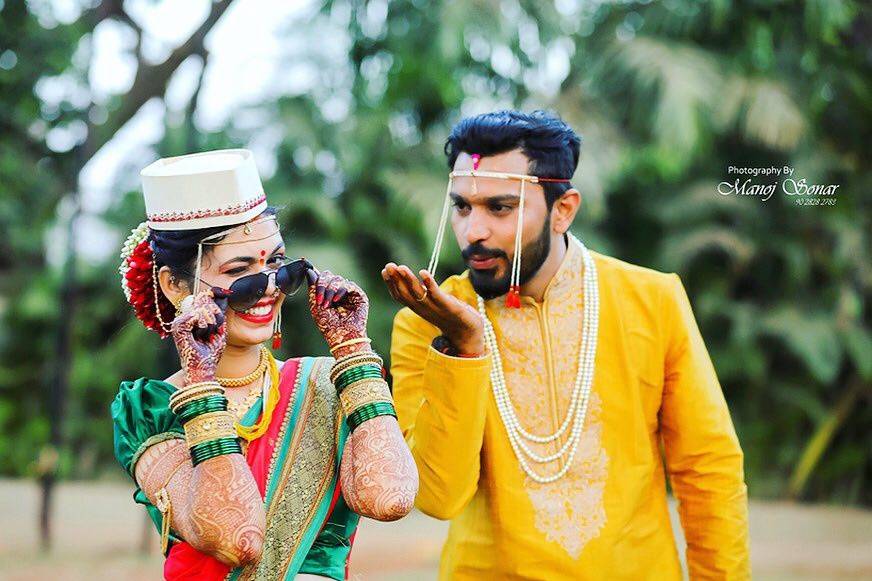 Image Credits - Manoj Sonar
Whenever you hear about Maharashtrian brides you will only hear about their accentuating features, beautiful smile, vivacious grace and how splendidly they deck up in their bridal ensemble. Yes, Maharashtrian brides are the epitome of vivaciousness and beauty. The quintessential of their bridal attire like Nauvari saree, Nath, mundavalya, half-moon bindi and green glass bangles further elevate their look. The bridal attire exhibits resplendence which is full of vivid colours and rich patterned borders.
Today, we bring forth Real Brides who set Maharashtrian bridal look goals! So, scroll down to get enchanted with these real beauties and their splendid Maharashtrian Bridal Look.
Modern Maharashtrian Brides in Nauvari Saree Look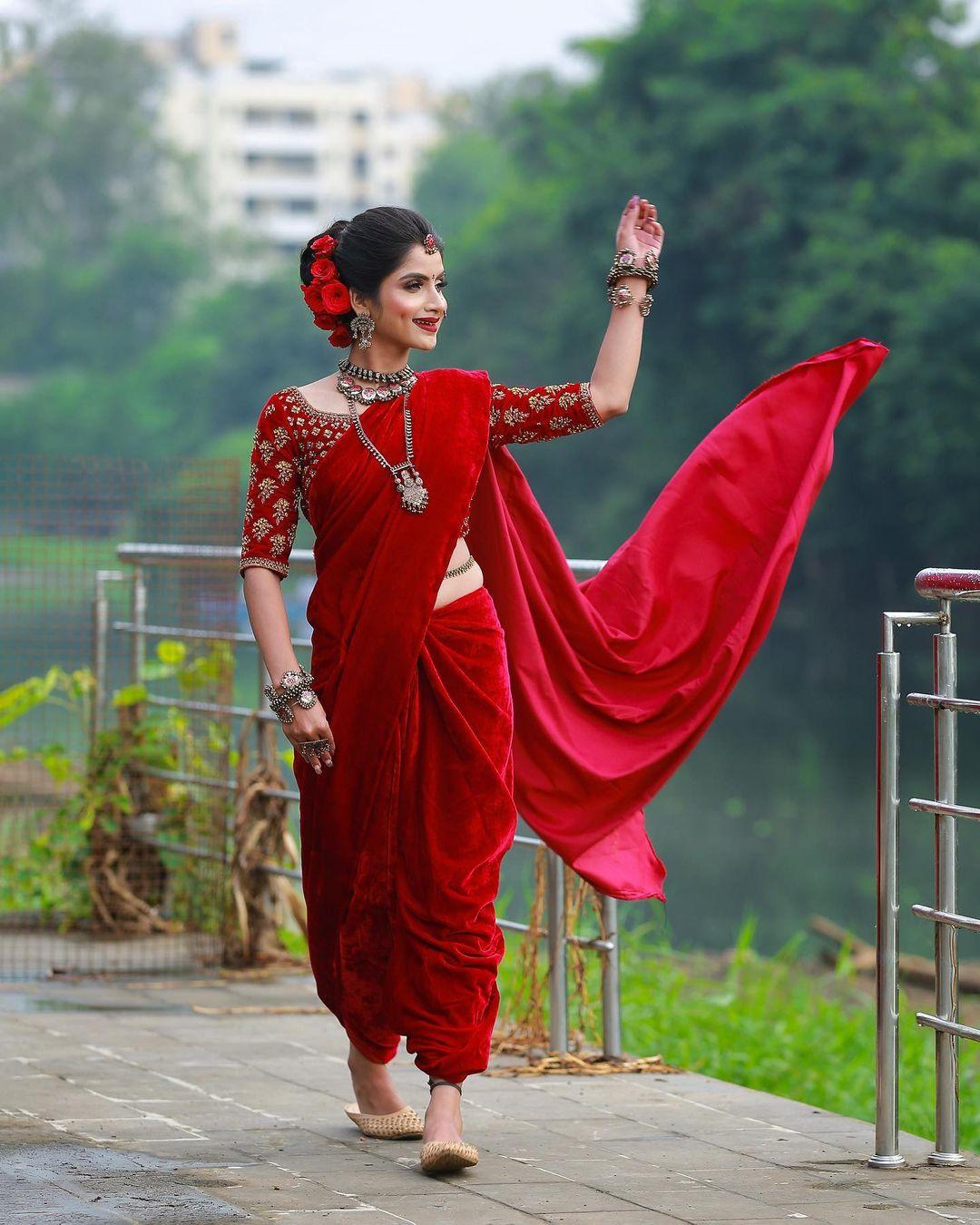 Image Credits- Sapna Shelly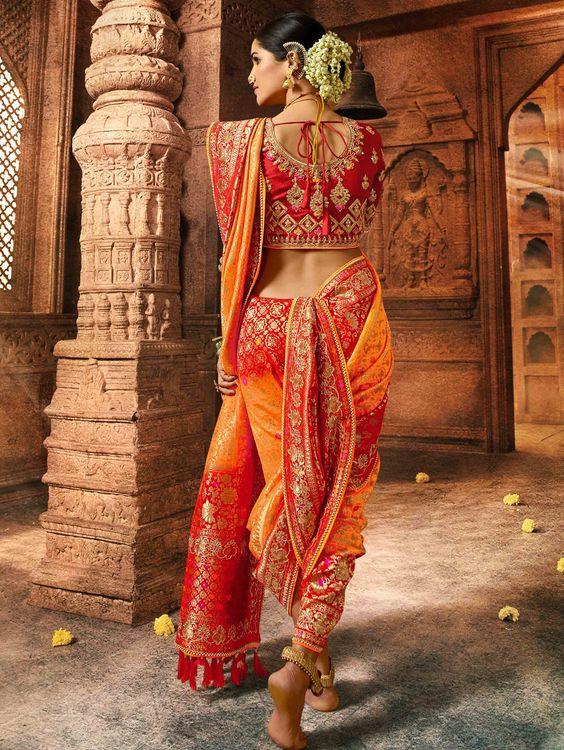 Image Credits - Pinterest
This entire look is a new take on Maharashtrian bridal goals. These brides are cladded in saree nauvari nine-yard saree. Yes. Here is a glimpse of the Royal, unique nauvari saree look of the Maharashtrian brides. The first bride is also adorning oxidised jewellery rather than traditional pair. The second one is acing the look with her contemporary ear cuffs!
Traditional Maharashtrian Look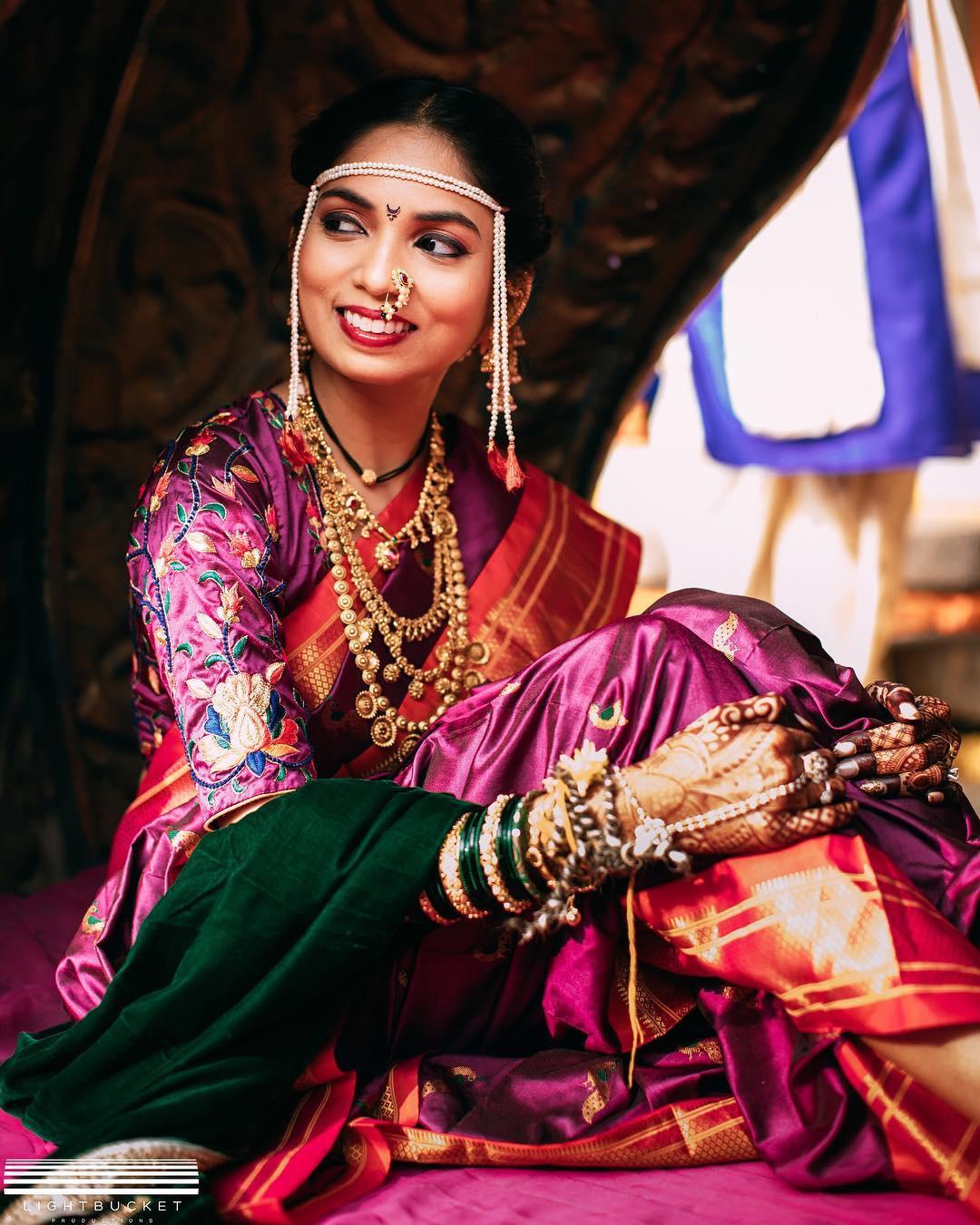 Image Credits - Light Bucket Productions
The reception look in Maharashtrian Weddings is slightly different from the usual bridal attire. Here this bride is cladded in a purple six-yard rather than red or any other traditional colour to give it a post-wedding function look! Yes, we are not only drooling with her look but for her smile too!
Contemporary Maharashtrian Bridal Look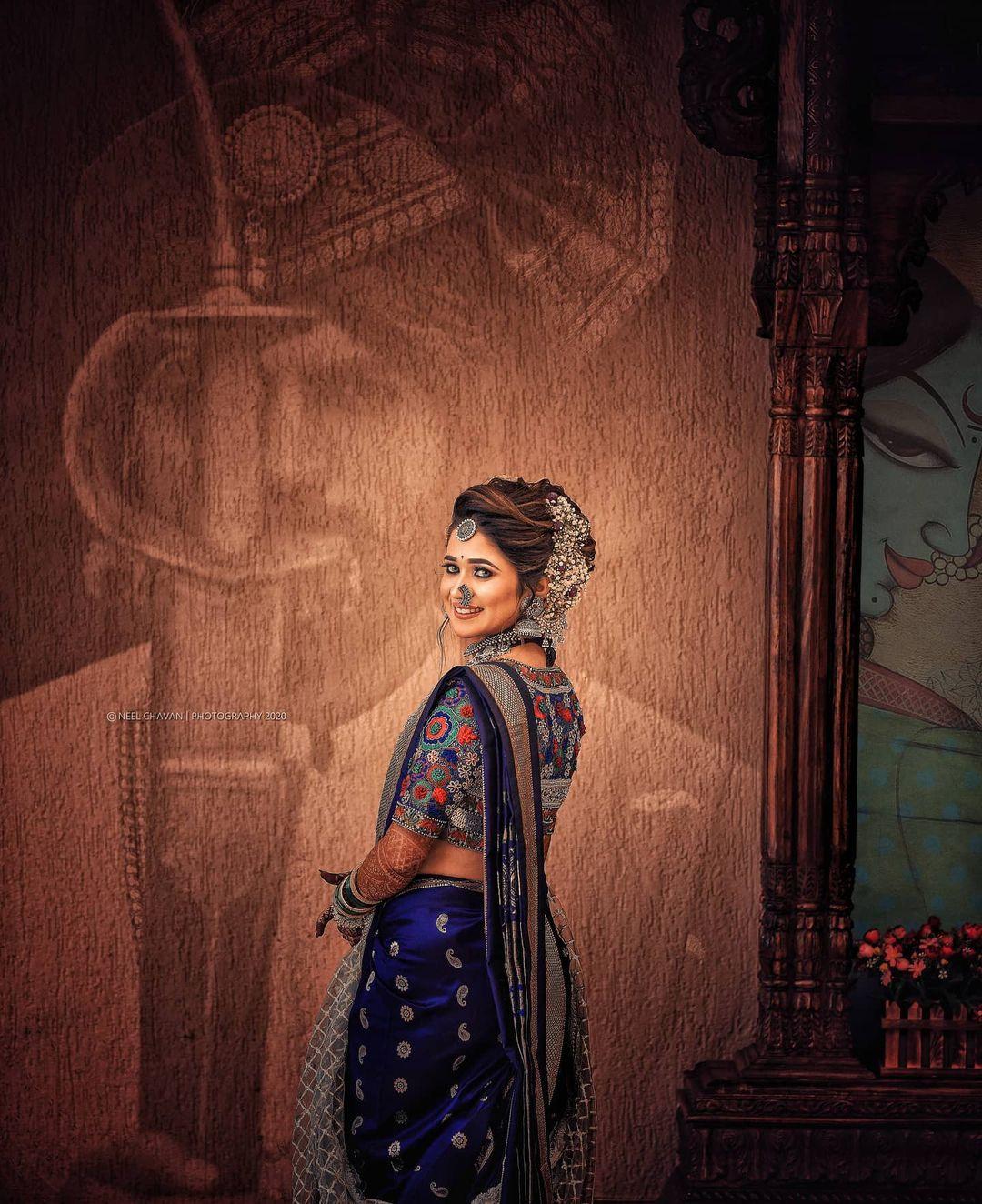 Image Credits - Neel Chavan Photography
Electric blue saree, contemporary hairdo, offbeat jewellery – this Maharashtrian bride is giving inspiration to all modern-day brides who are looking to walk the aisle in a trendsetting way. Her chunky nose jewellery and floral accessory on her hair bun is further raising a bar for all Maharashtrian Brides! We are mesmerized by this modern Maharashtrian look in saree- are you too?
Ethereal Marathi Bride in Pink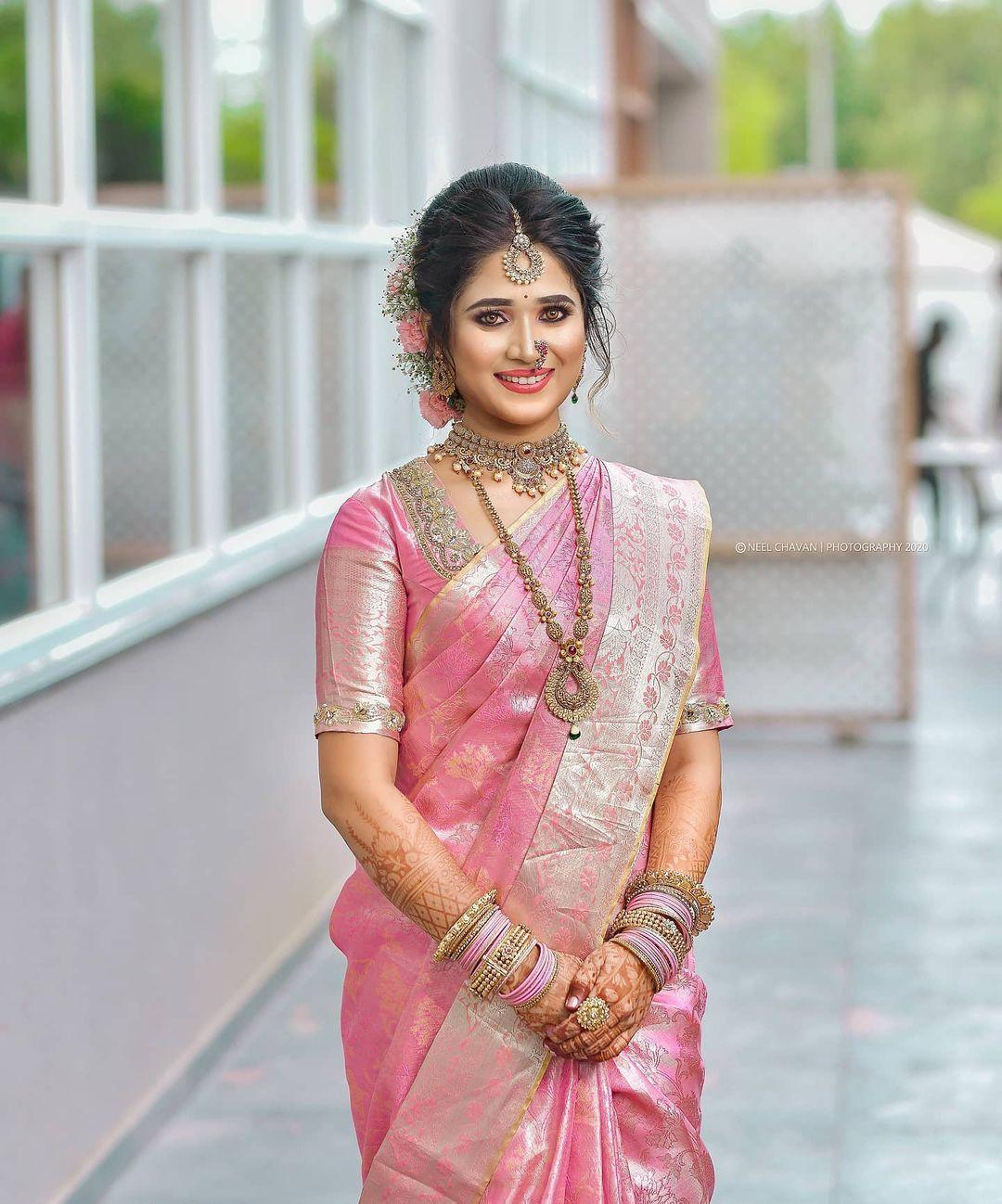 Image Credits - Neelchavan Photography
It is not important to stick to dark colours, in fact cladding a pinkish wedding saree is in trend. Yes, this bride is looking ethereal in her pink wedding dress. Her subtle hair accessory and floral hair is looking classy and splendid.
Marathi Bride in the Traditional Glory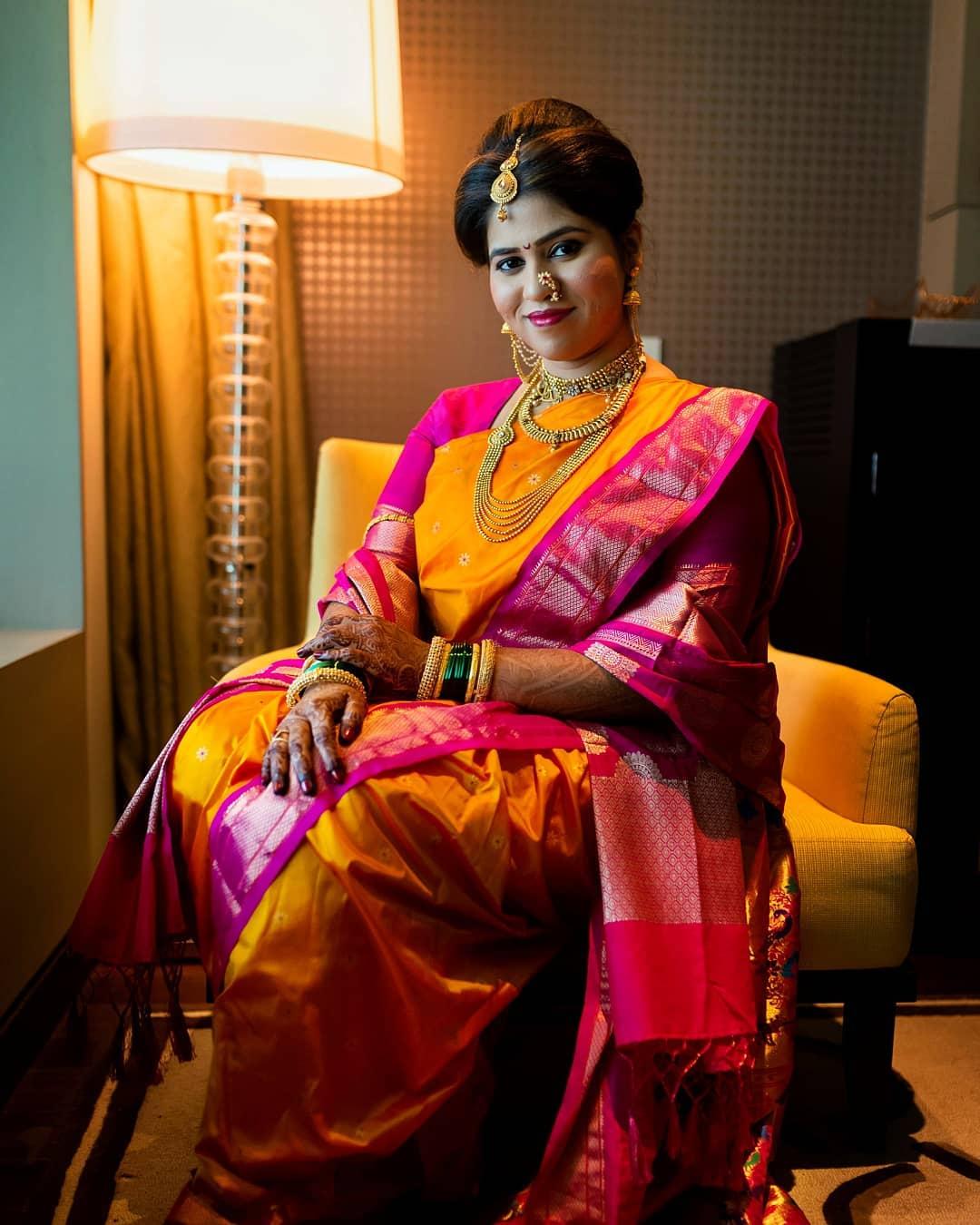 Image Credits - Pradakshinaa Pictures
This beautiful bride is giving inspiration to those brides who look forward to wearing cultural glory on their D-day. She is carrying her rich Nauvari saree, the crescent moon bindi and the dainty and Maharashtrian bridal jewellery so well here. Have a look to get some serious Maharashtrian bride look inspiration.
Marathi Bride in Golden Hues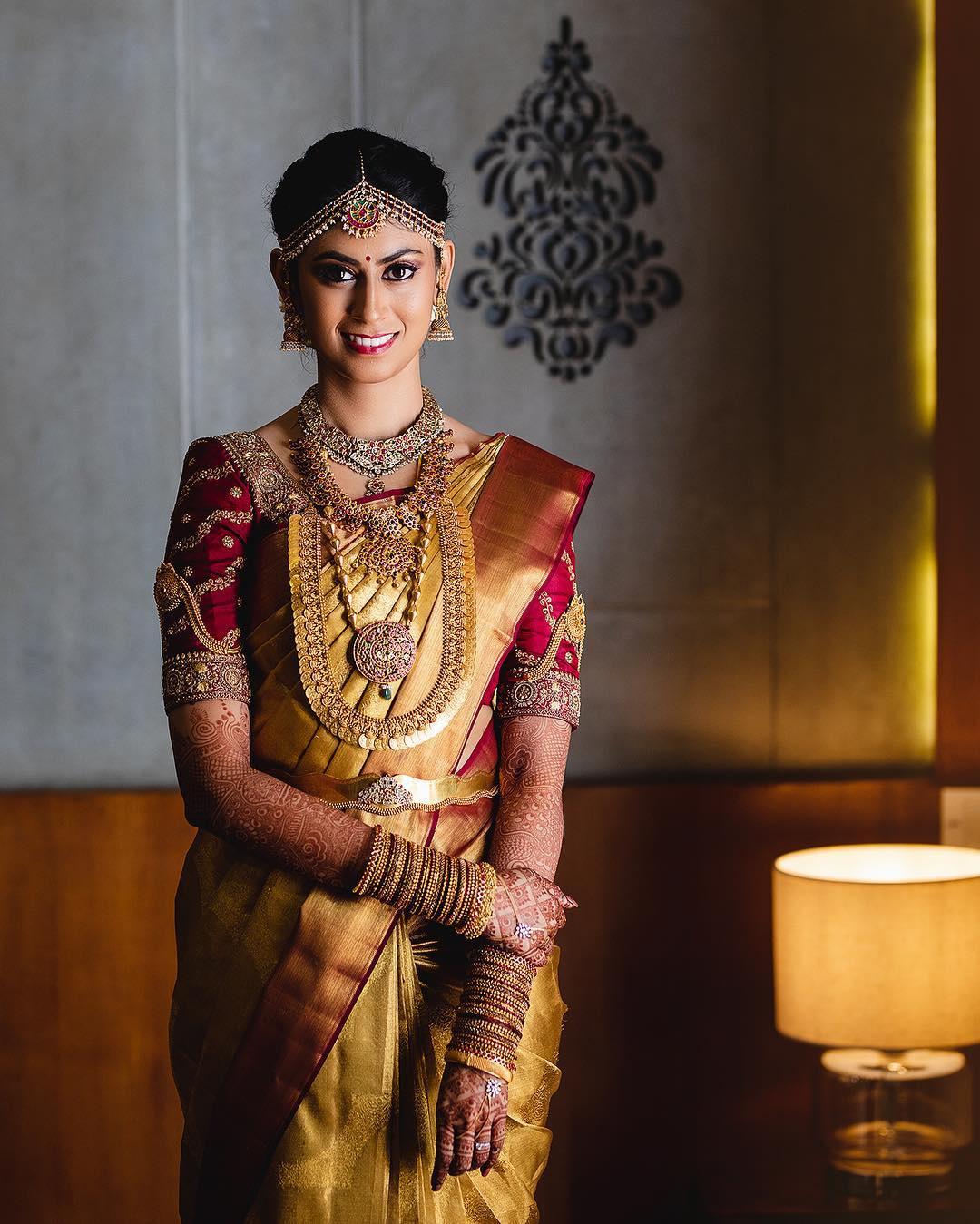 Image Credits - Light Bucket Productions
This bride is draped in a golden look as her saree is similar to the colour of Putli haar. The Putli Haar is a piece of Maharashtrian bride jewellery made up of little coins woven closely together. Each of these coins has been carved with motifs of Goddess Lakshmi or Goddess Sita, so as to signify wealth and fortune.
Marathi Bride in Red Saree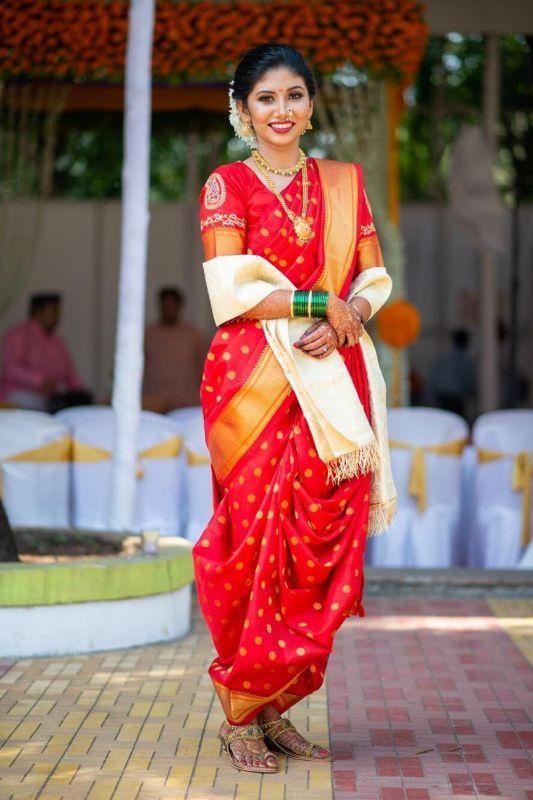 Image Credits - Pinterest
Red is one such colour that can be spotted at almost every wedding. Our Marathi Brides are not behind as they are slaying in beautiful red nauvari sarees for their big day. This bride is traditionally struck as she swears by this red saree and her gold jewellery is akin to traditional Maharashtrian jewellery. She is wearing customary jewels, customary saree and traditional bangles that is in perfect sync with traditional Marathi ethics! Isn't she taking the legacy forward with so much pride and beauty?
Twinning Marathi Look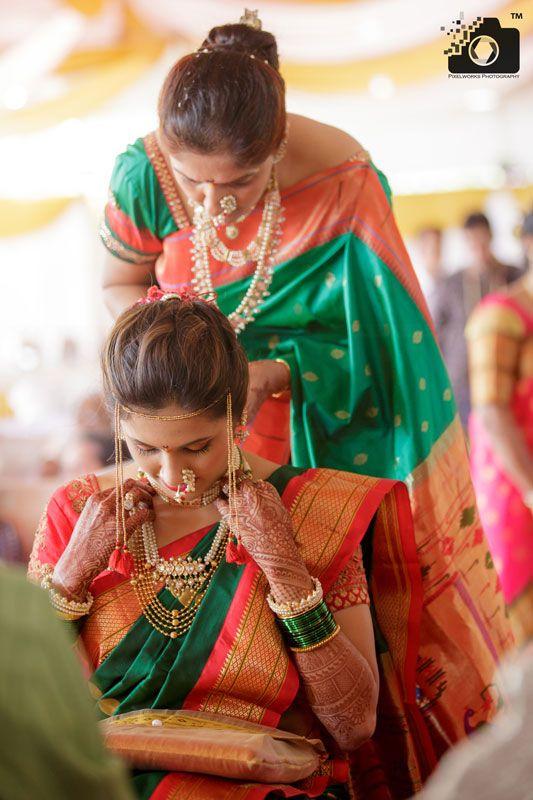 Image Credits - Pixel Works Photography
Your mother is always close to your heart! So, getting decked up in the same theme or colour like her will give you a memory for a lifetime. Have a look at this mom-daughter duo for some serious twinning goals.
Marathi Bride in Yellow Shades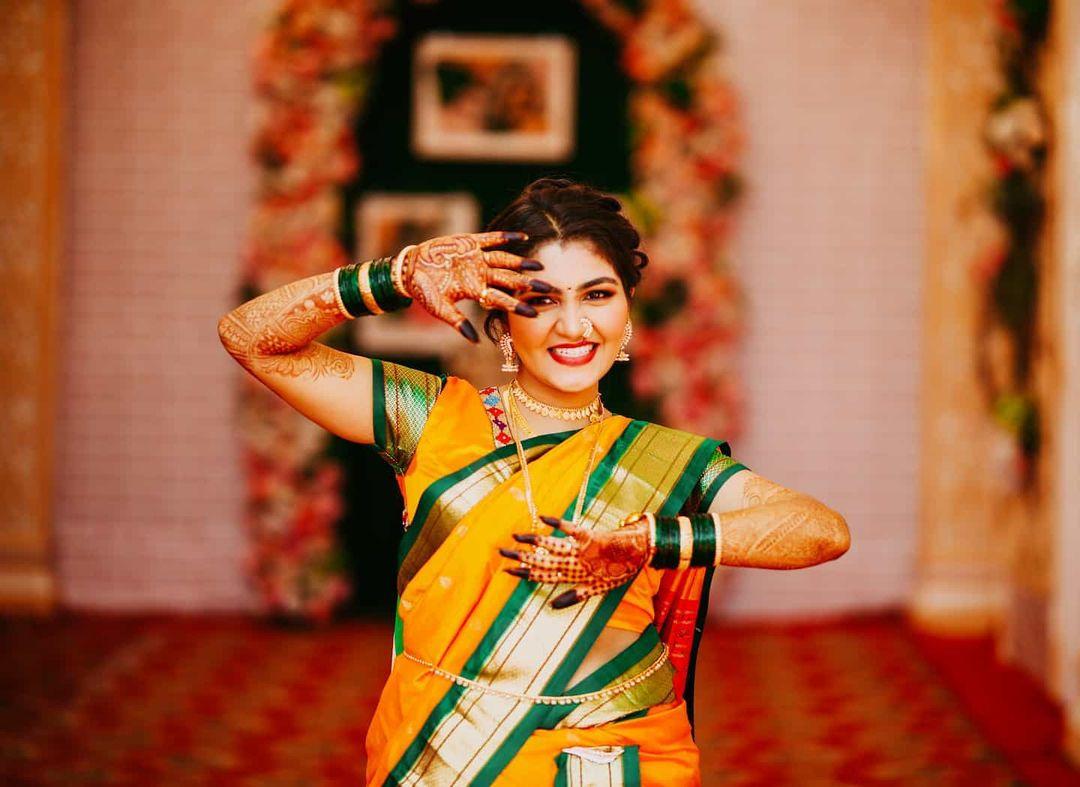 Image Credits - Click Vlick Photography Films
Draping in gleeful shades is considered auspicious by some brides in Maharashtra. See how this bride is brimming with innate happiness as she gets cladded in a yellow saree with green borders. Isn't it really happy!
Maharashtrian Bride in the Shades of Nature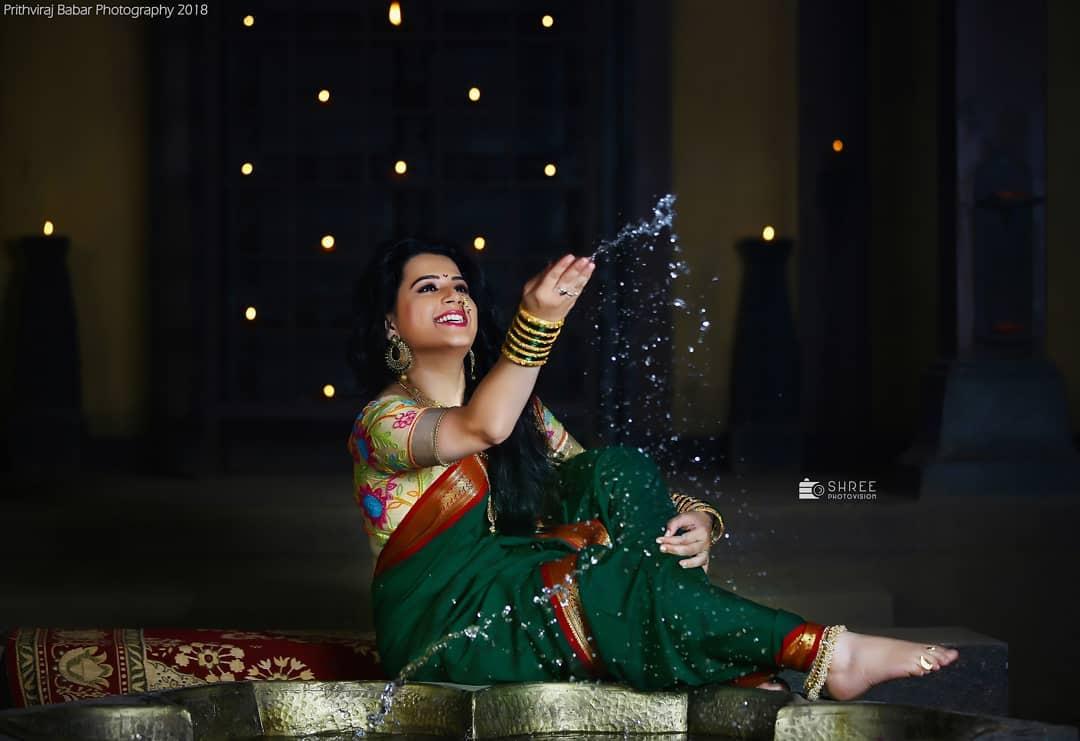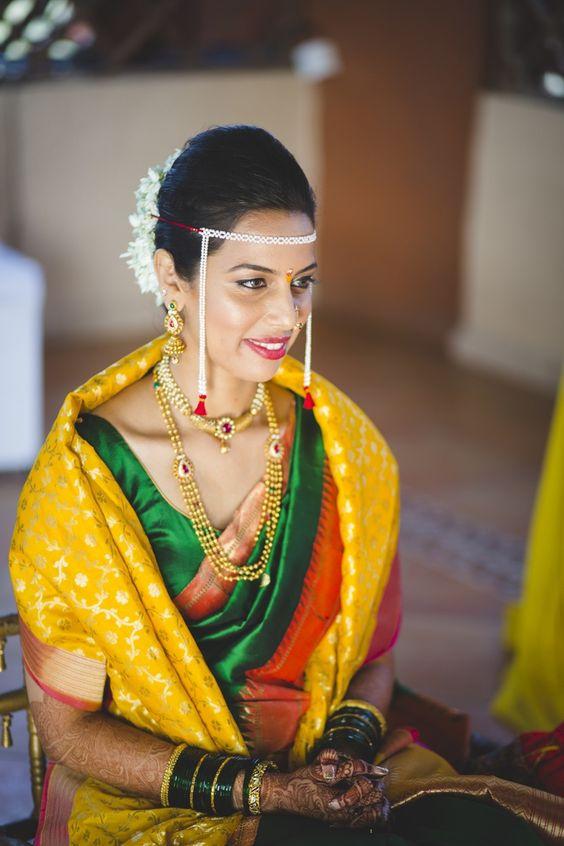 Image Credits - Pinterest
Green is an eternal color as it resonates with the beauty of nature. Yes, getting dressed in a green saree will give a fresh look to your persona. Further, you can wear a floral blouse to exhibit the vibrant yet subtle hues of Mother Nature. This Marathi bridal look is sweet, sober and traditional and you have all reasons to slay your special day in this look!
We are sure these trendsetting Maharashtrian bridal looks have made you go awww! Do let us know your favorite look in the comment box.