Anita Dongre Gowns - Indian Wedding Designer Gowns by Anita Dongre
Find WeddingWire India's edit of the best Anita Dongre Gowns from her latest designer collection. Choose perfect picks for yourself and your girlie gang. Scroll down to know more -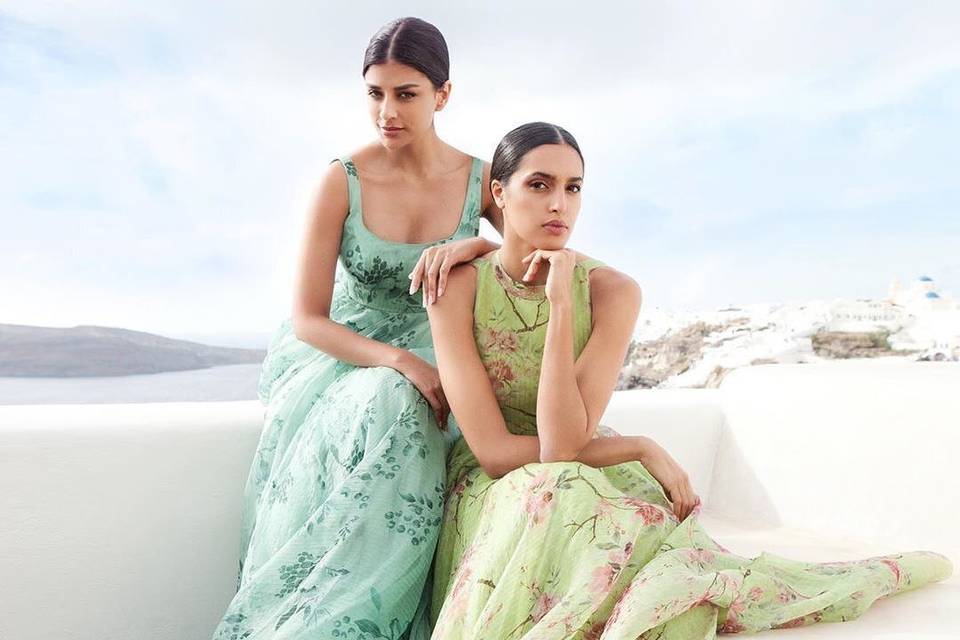 We are glad to pick the best and the latest Anita Dogre gowns for you and your gang. These Anita Dongre dresses and gowns are worth bookmarking for new-age brides and bridesmaids for any wedding function or your best friend's wedding. From flowy gown for the bride to the classy shade of Gown for the new-age bridesmaid - this edit features all of Anita Dongre's latest and scintillating designs. Scroll to cherry-pick your favorite Anita Dongre designer dresses and gown design.
Anita Dongre Wedding Gowns For The Brides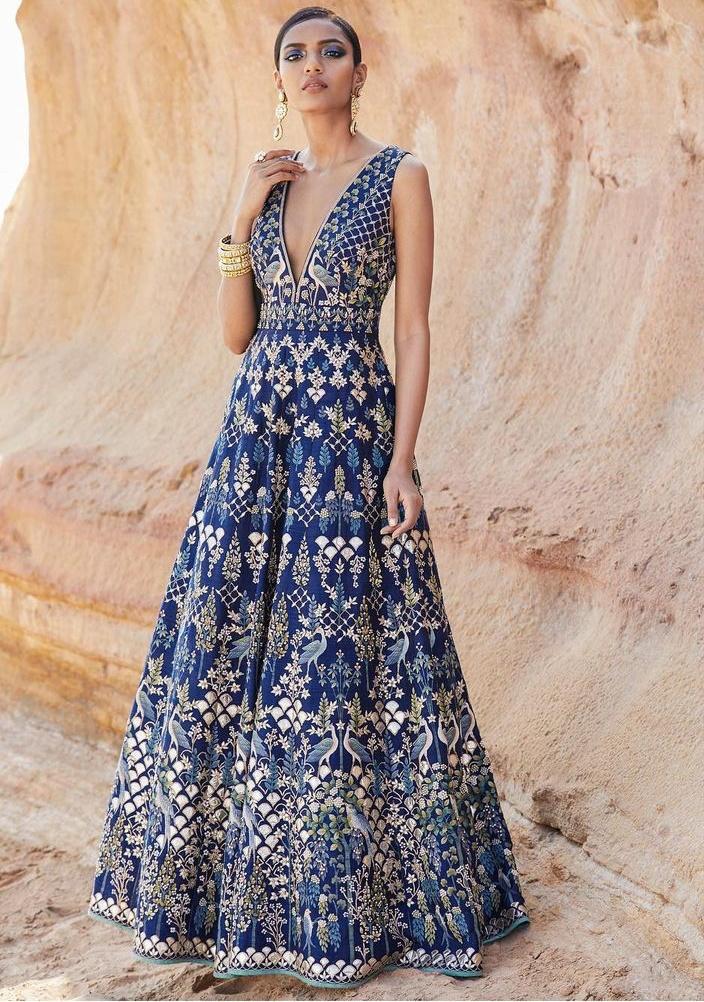 Anita Dongre Awa Gown - Navy Blue l Price: 4,30,000/-
Make your wedding memories worthwhile with Anita Dongre dresses and gowns. This Awa Gown is a hand-made love. The Anita Dongre Gotta Patti gown is painted in traditional pichwai style and is crafted in pure refined silk. The luxury navy blue is embellished with pearls, sequins, and Gotta Patti . Isn't this Anita Dongre Gotta Patti Gown a beautiful blend of tradition with modernism?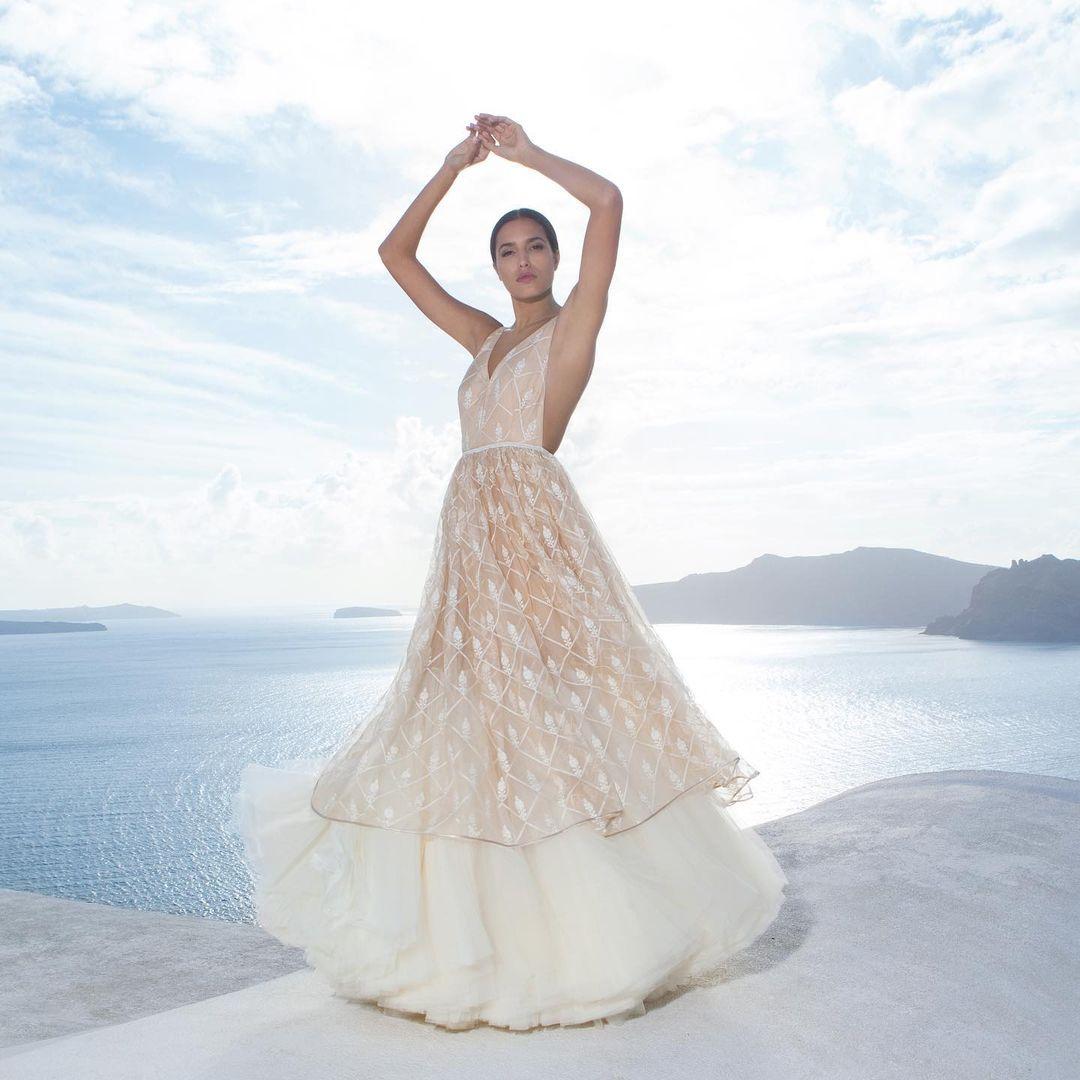 Anita Dongre Annelise Gown - Nude l Price: 69,766/-
If you believe in fairy tale weddings then this Anita Dongre's Annelise Gown is apt for your wedding function. You will live your fantasies with this ethereal backless gown that features a deep neck. The print embroidery will further enhance your entire princess-like demeanor.
Also Read - 10 Latest Bridal Designer Gowns to Dial-up the Glam Quotient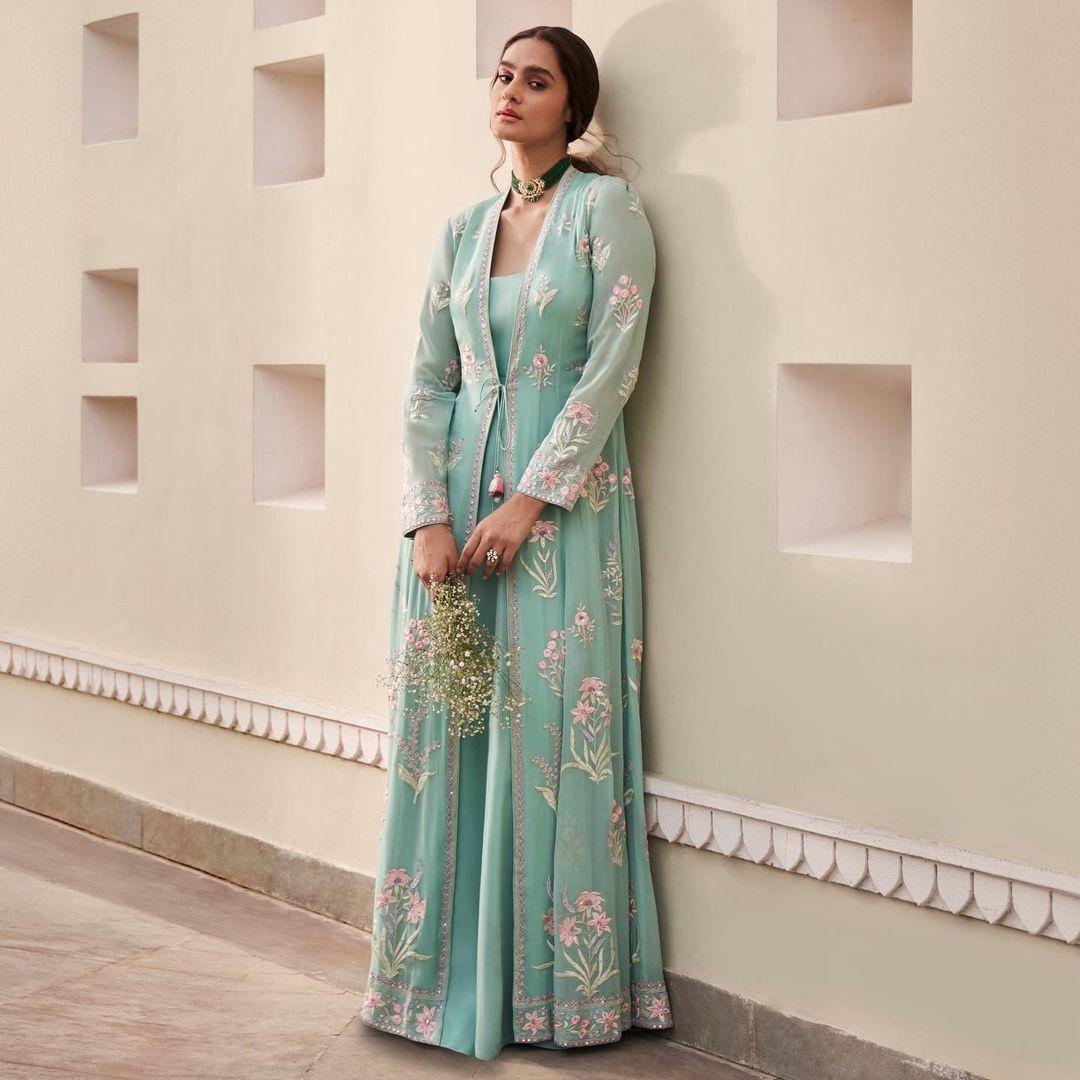 Anita Dongre Tesoro Jacket Set - Aqua| Price: 75,000/-
Anita Dongre's dresses have a beautiful façade. You will feel as if you walking on the clouds. In this Anita Dongre Tesoro Jacket Set, you will find patterns that are similar to love letters which are written in embroidered wildflowers. The sweepingly Anita Dongre dress with a long jacket is made from sustainable bemberge georgette.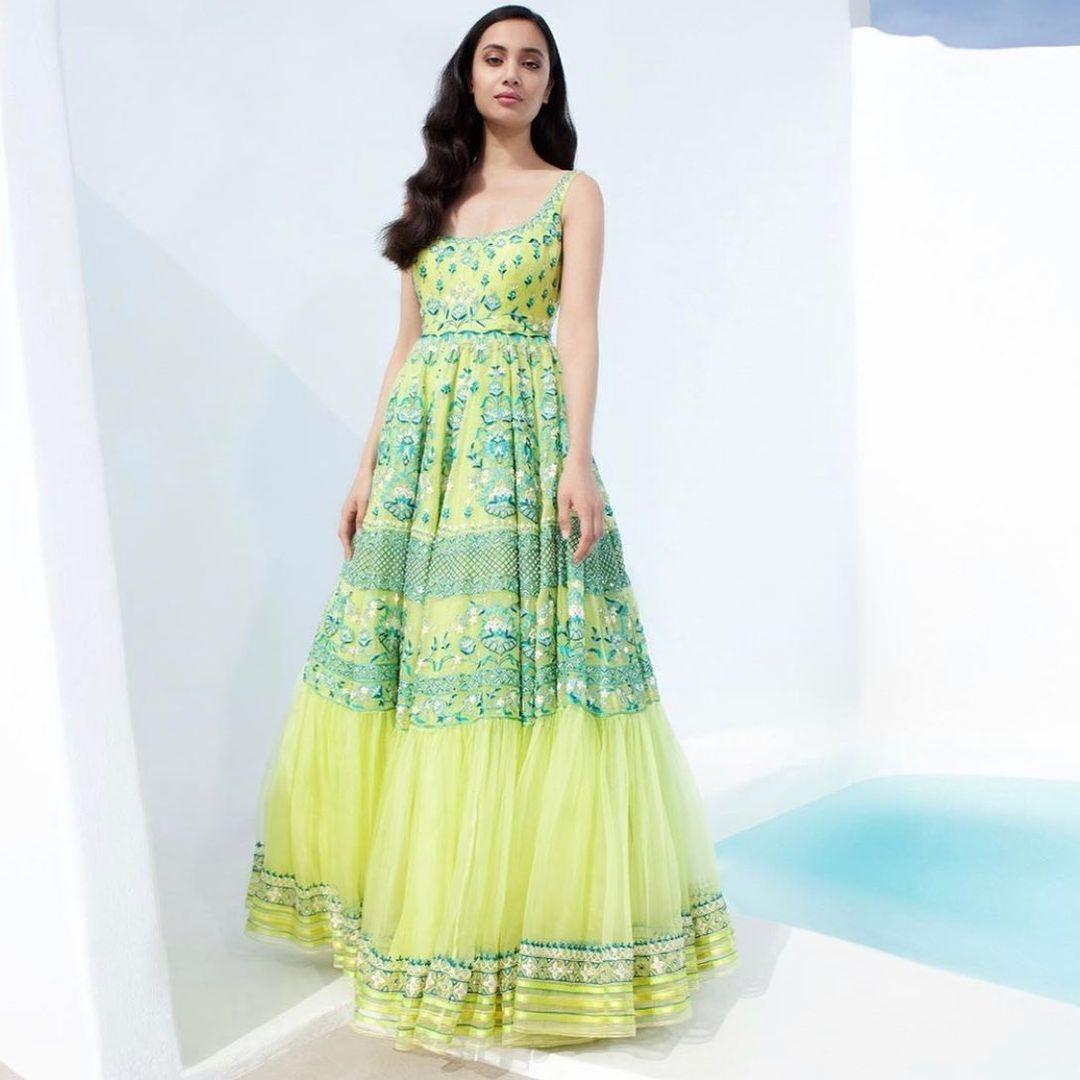 Anita Dongre - Arissa Gown - Lime color | Price: 140,336 /-
Nobody forgets their first summer love and first summer kiss. So just like this, this Anita Dongre's Arissa Gown will help you to pay ode to THE summer love. Are you ready to cherish those days whilst adorning this scintillating lime color gown?
Anita Dongre Gown Collection For The Bridesmaids
Elegant yet sophisticated, breezy and playful - the Anita Dongre's gowns are definitely the talk of the town. Pick from the wide variety of designer gowns by Anita Dongre to be dressed in the most dreamy gown at your family/friend's wedding function. Find the WWI edit of the latest Anita Dongre's gowns collection for the Wedding Guests. Scroll further to find more.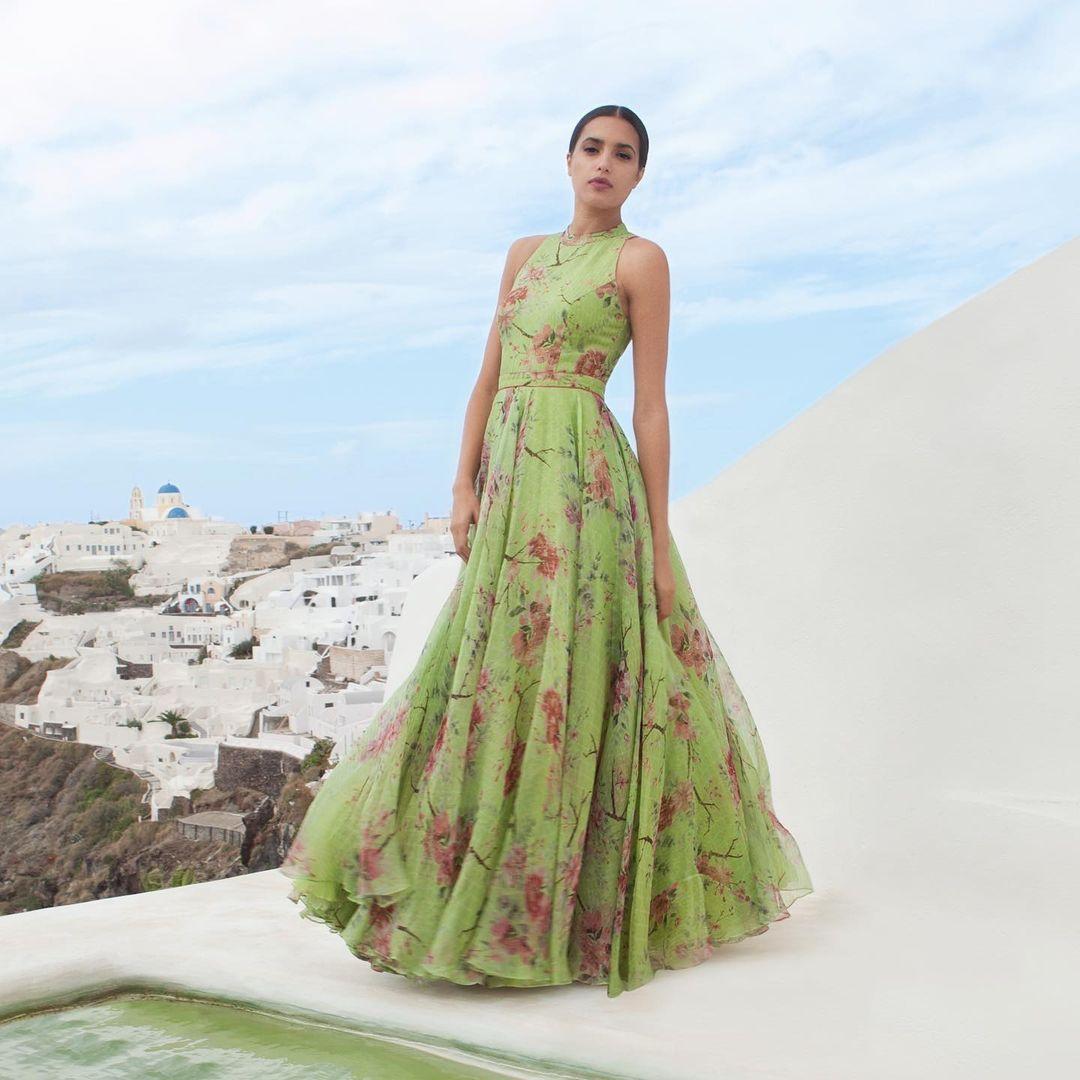 Anita Dongre Calista Gown - Fluid green l Price: 74,480/-
Anita Dongre's Calista Gown is something every bridesmaid would like to pick for herself This Anita Dongre Gown has soothing meadows of the spring season. The wedding guest can adorn this to give an elegant yet gleeful façade to the theme of the wedding.
Also Read - A Stunning List of Gowns With a Price, for Your D-day Look Budgeting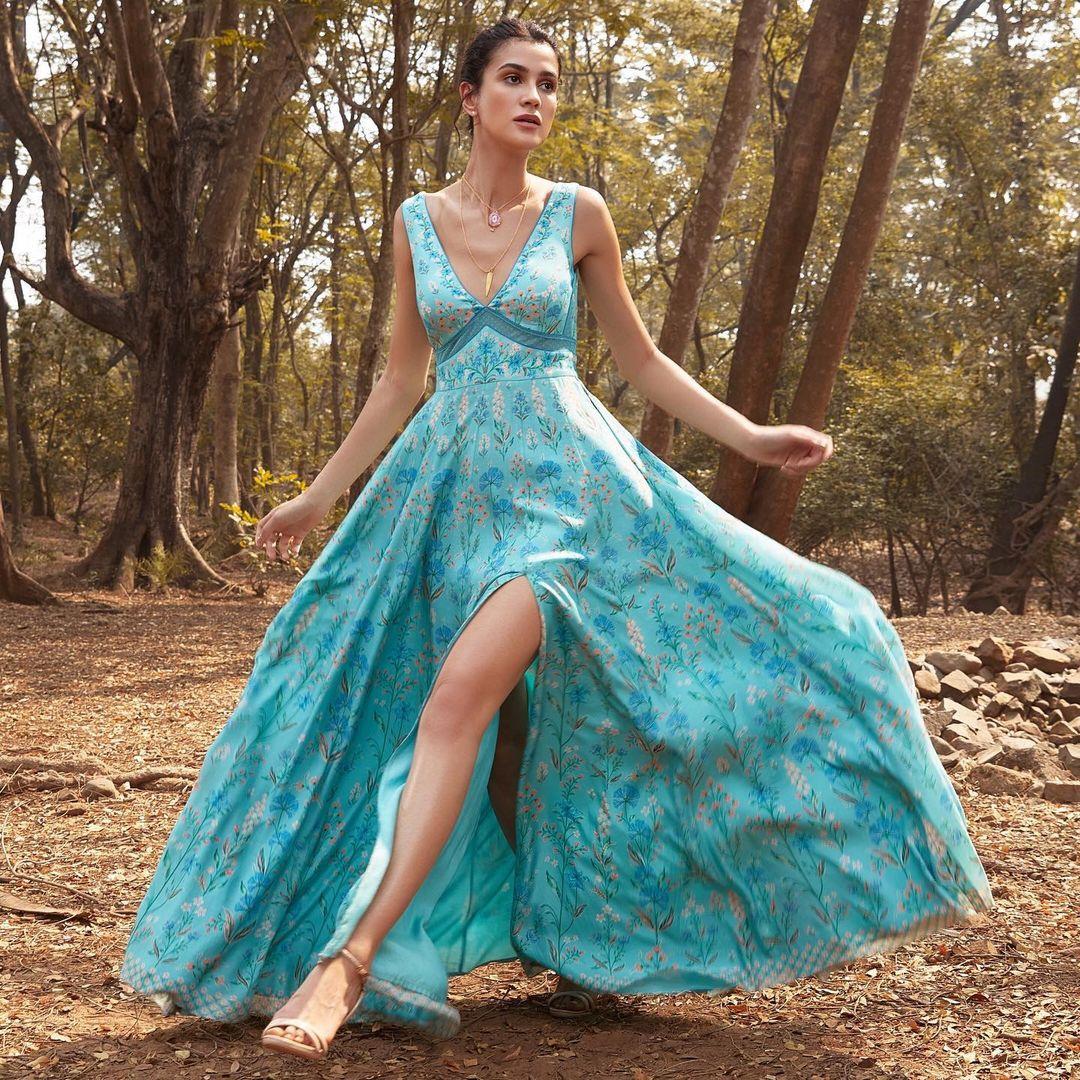 Anita Dongre Gown - The Blue Enchantress - Blue l Price: 30,000/-
Environment friendly fabrics are need of the hour. You will be glad to know that this enchanting flowy gown is made from earth-friendly cellulosic fiber that will find its way back to nature. The blue cocktail gown resonates with the whispers of floral motifs which is gracing the demeanor.
These designer gowns from Anita Dongre's latest collection will satiate your sustainable as well as trendsetting choices. You can head to the Anita Dongre Storefront on our website to contact the designer today. So gear up to weave the memories with enough panache.
Find More -
Anita Dongre Lehenga l Anita Dongre Jewelry l Anita Dongre Suits l Anita Dongre Sarees