Anita Dongre Jewelry - Designer Handmade Ethnic Bridal Jewelry with Price
Find WeddingWire India's edit of the best Anita Dongre Jewellery from her latest designer collection. Choose perfect picks for yourself and your clan. Scroll down to know more -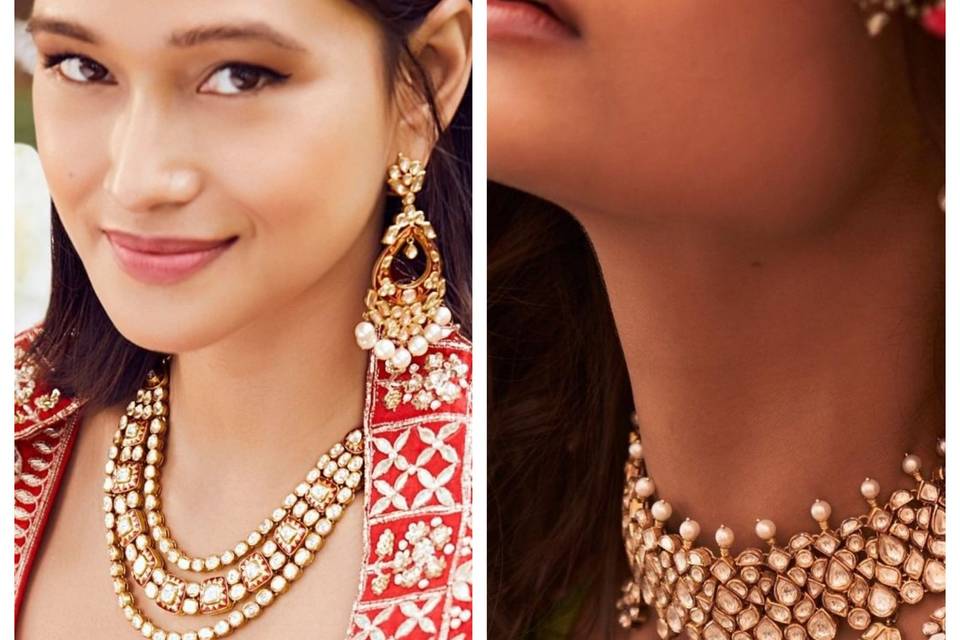 Only a meaningful jewelry piece can complete the bridal look and which is why here we bring a jewelry edit for your upcoming traditional wear events. Cherry-pick your favorite Anita Dongre jewelry from here as we have narrowed down some scintillating Anita Dongre bridal jewelry trending designs for the brides and the new-age wedding guests. This jewelry edit features all Anita Dongre's fine jewelry designs.
Latest Anita Dongre Bridal Jewellery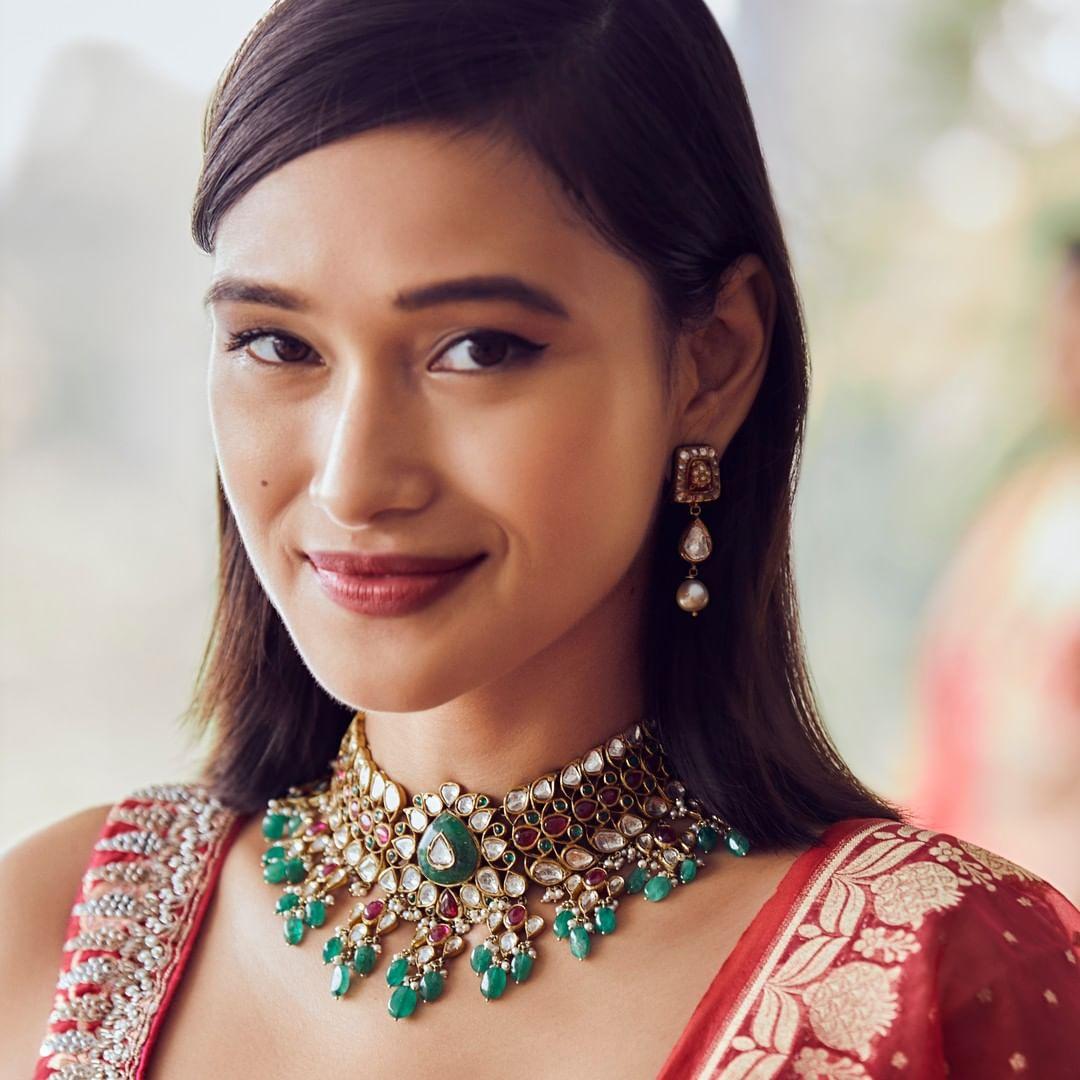 Anita Dongre Alekhya Necklace, Nabila Earrings l Price on Request
This Anita Dongre Jewellery - Alekhya Necklace is crafted with 18 Kt gold, emeralds, uncut diamonds, pearls, and enamel. The scintillating look is completed by Nabilla earrings which are crafted with 18kt gold, uncut diamonds, south sea pearls, and enamel. Isn't this bridal look so surreal?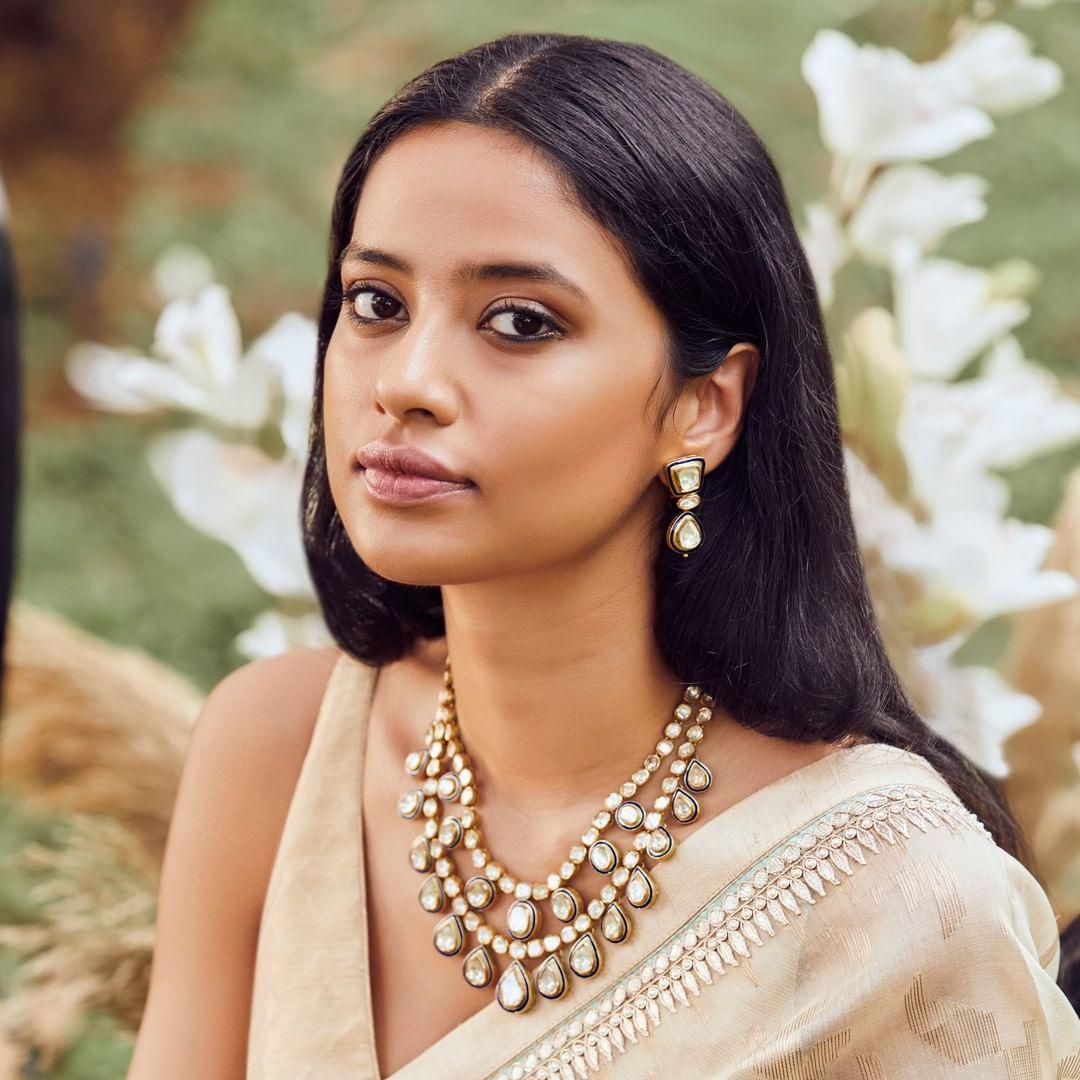 Anita Dongre Maanvi Necklace, Kama Earrings l Price on Request
As always Anita Dongre has brought forth a piece of meaningful jewelry set that renders grace and beauty. This pink city Anita Dongre jewelry set is both crafted with 18kt gold, uncut diamonds, and blue enamel. Isn't it ethereal for every elegant and dignified bride? Adorn this multi-layered Maanvi necklace and Kamma earrings and walk with eloquent grace.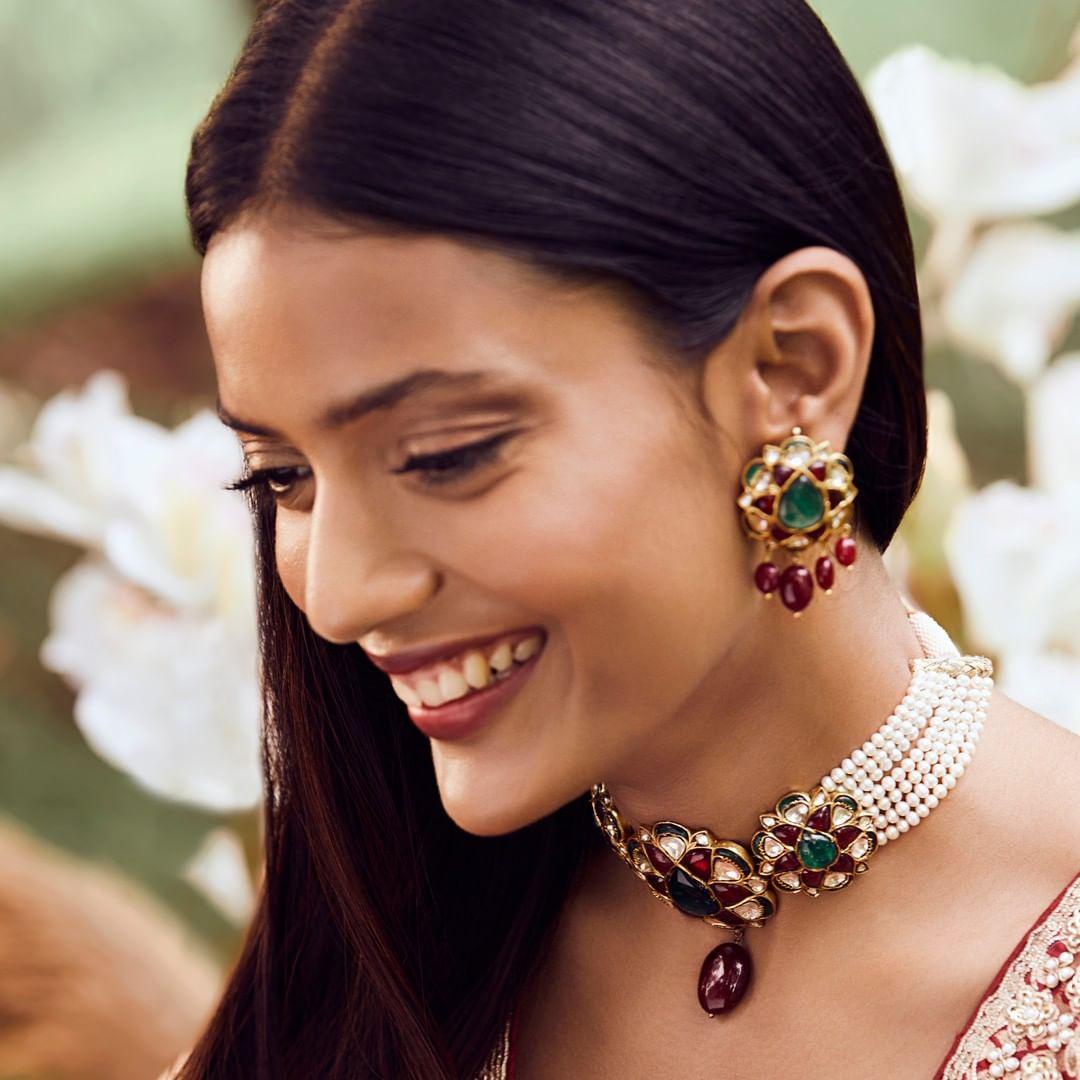 Anita Dongre Angarika Necklace, Asah Earrings l Price on Request
Her smile says it all. This Aniya Dongre fine jewelry resonates with happiness, positivity, and the sheer richness of cultural traditions. The Angarika Necklace paired with Asah earring is a beautiful jewelry set and every bride would love to adorn this with her traditional wedding dress. Made with 18kt gold, uncut diamond, pearls, cabochon emerald, cabochon rubies, and enamel- this set will complement a bride who loves to live for the moment.
Also Read - Here Are Our Top Bridal Jewellery Picks for Red Lehenga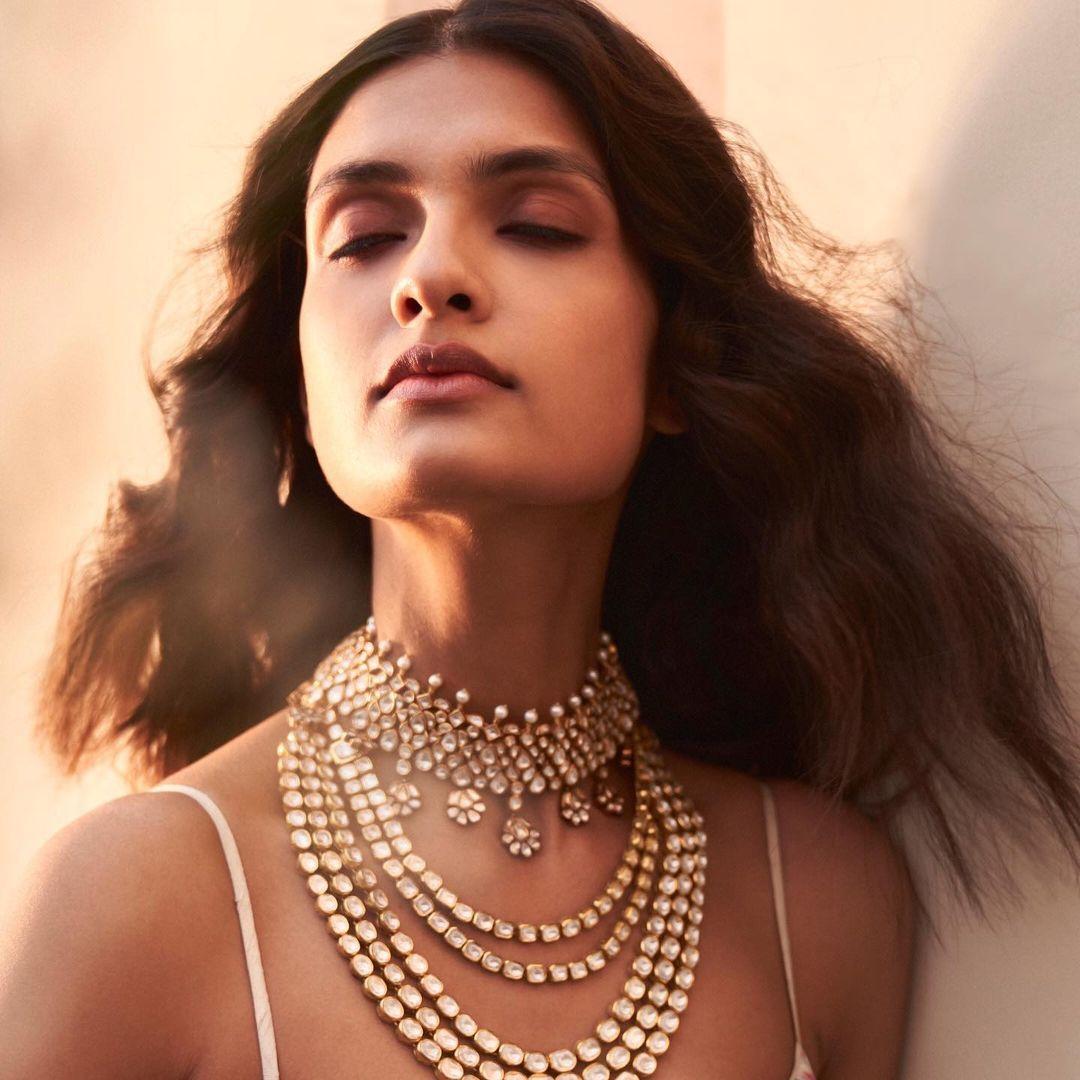 Anita Dongre Enakshi Necklace, Kanasu Necklace, Kartiki Necklace l Price on Request
A modern woman seeks something extraordinary to complete her look and this jewelry will never fail to do. Just like a fairy tale dream- this Anita Dongre jewelry will satiate all your bridal dreams.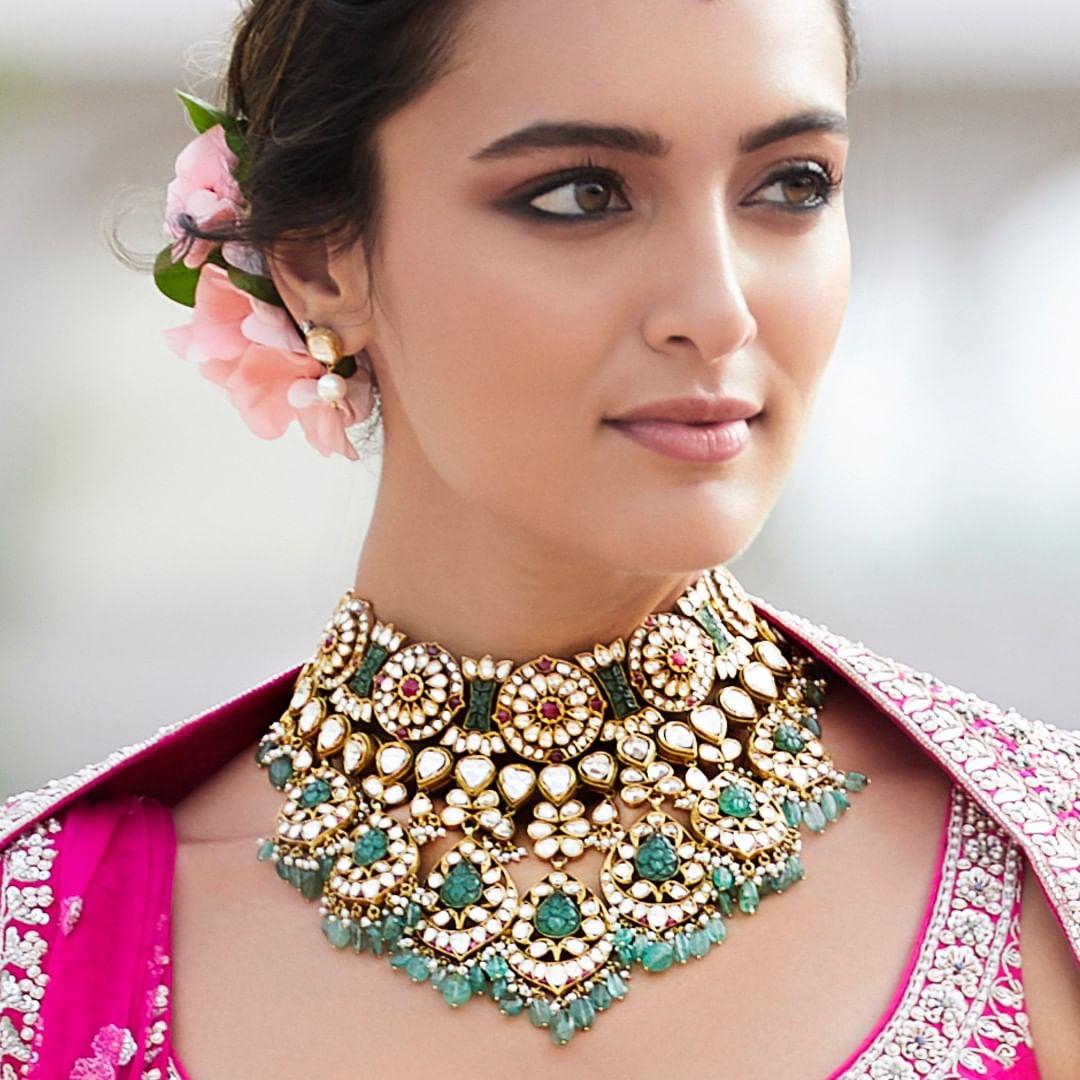 Anita Dongre Khadra Necklace l Price on Request
The most precious treasured possession can definitely be this Anita Dongre's jewelry necklace. Crafted with 18kt gold, uncut diamonds, Russian emerald beads, carved emerald, and rubies- this jewelry piece is stunning in every way.
Anita Dongre Jewellery For the Wedding Guests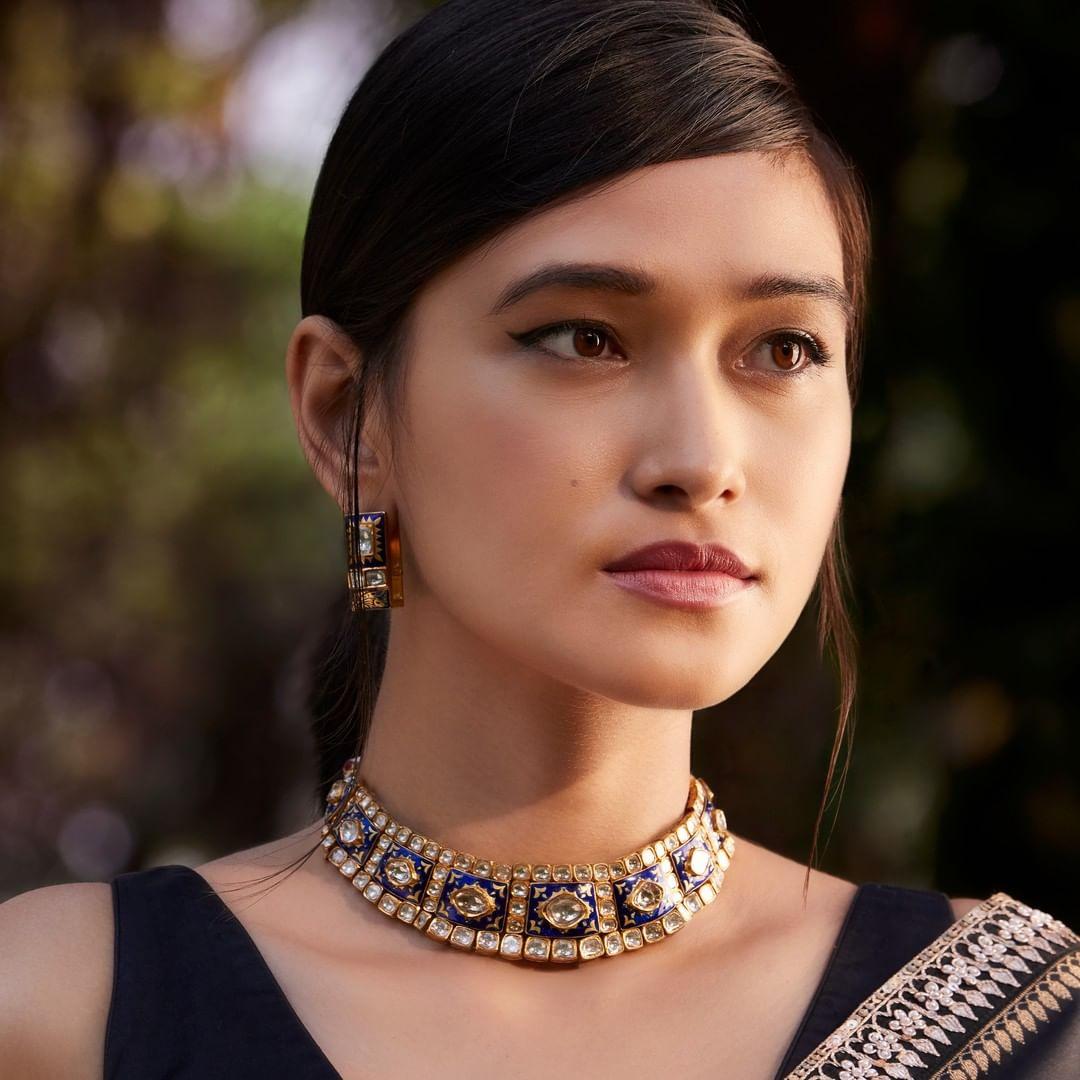 Anita Dongre Rehana Necklace, Ramzia Earrings l Price on Request
If you are a contemporary bride who seeks modernism in traditional jewelry pieces then Anita Dongre bridal jewelry is perfect for you. The detachable Rehana necklace encompasses pearls. Here the lady has paired this with Ramzia earrings. Both these beautiful pieces are made in 18kt gold, blue enamel, and uncut diamonds. Just like us, we are sure that you are enticed enough to buy Anita Dongre jewelry online.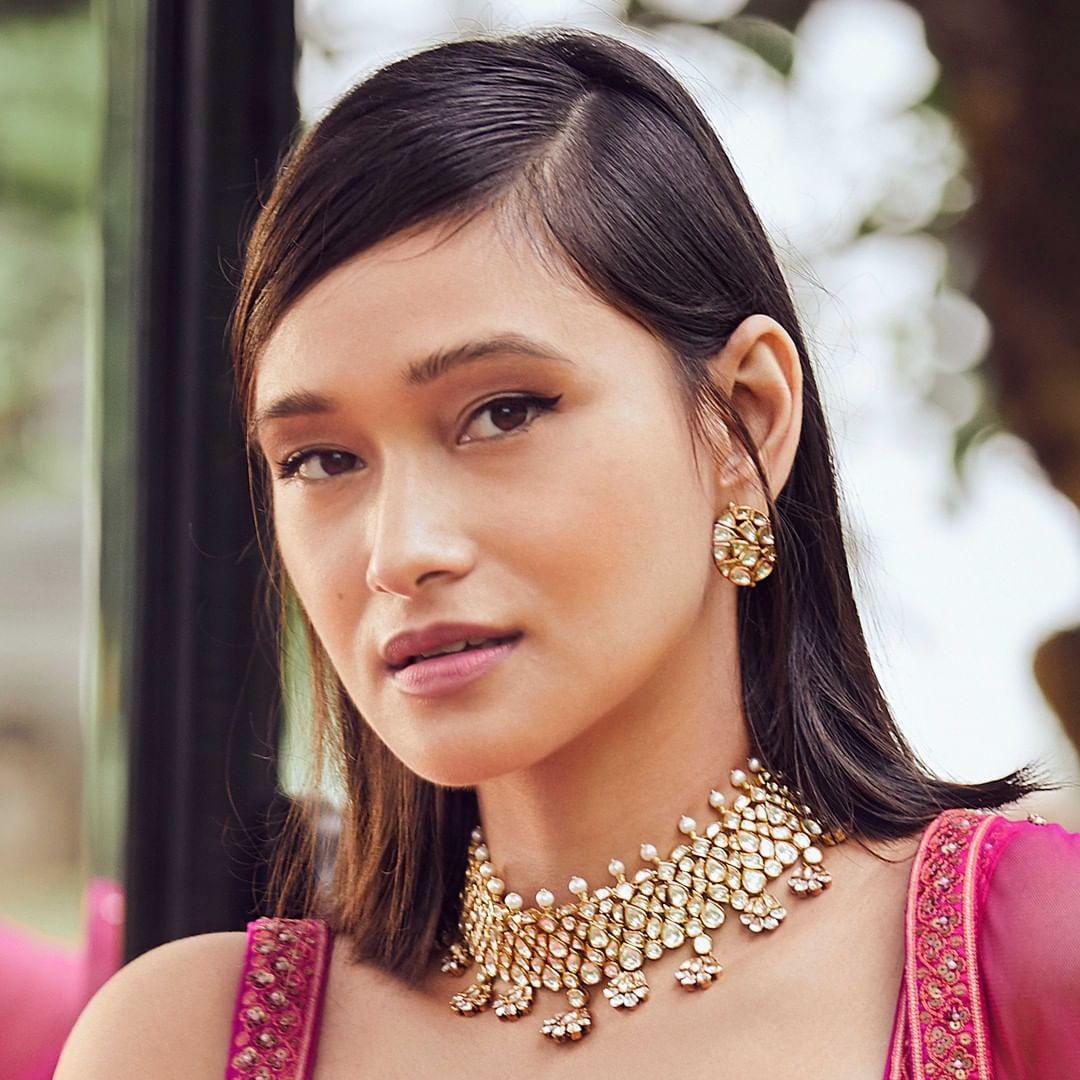 Anita Dongre Enakshi Choker Sets l Price on Request
Who would not like to look royal, beautiful, and spectacular on the most special day of their lives? This Anita Dongre jewelry will complete your look akin to a royal princess. Crafted in 18kt gold, uncut diamonds, and refined pearls - this set will take your breath away and you won't be able to resist yourself to buy Anita Dongre's jewelry.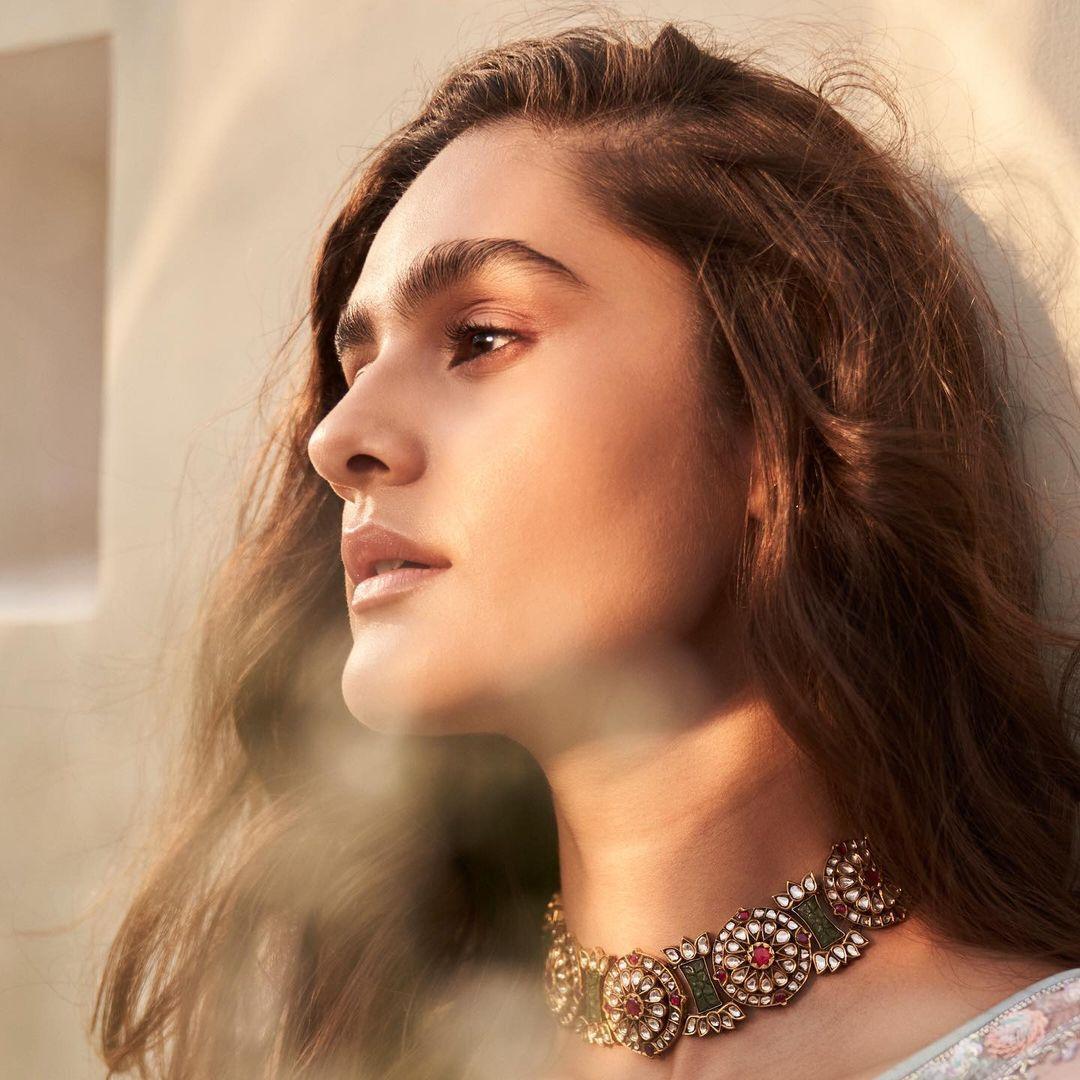 Anita Dongre Kairvi Choker l Price on Request
Kairvi choke is one of the popular Jewelry set from the Anita Dongre bridal jewelry collection. Buy this to grab the limelight for all the right reasons.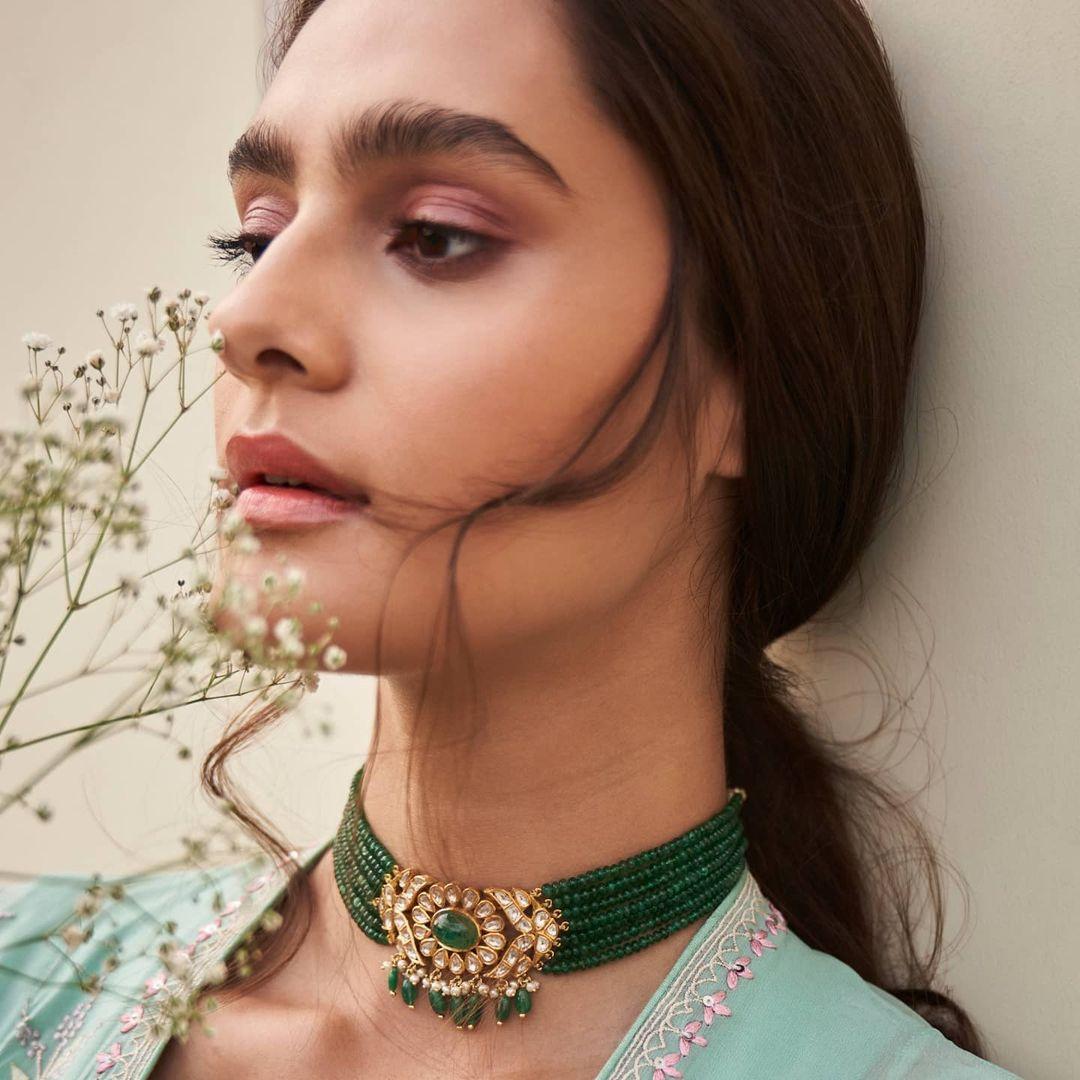 Anita Dongre Kaahini Choker l Price on Request
Exquisitely handmade fine jewelry by Anita Dongre pink city jewelry - this Kaahini Choker will make you look contemporary yet rooted in the ethos of Indian legacy! This will look wow with any of your Indian attire.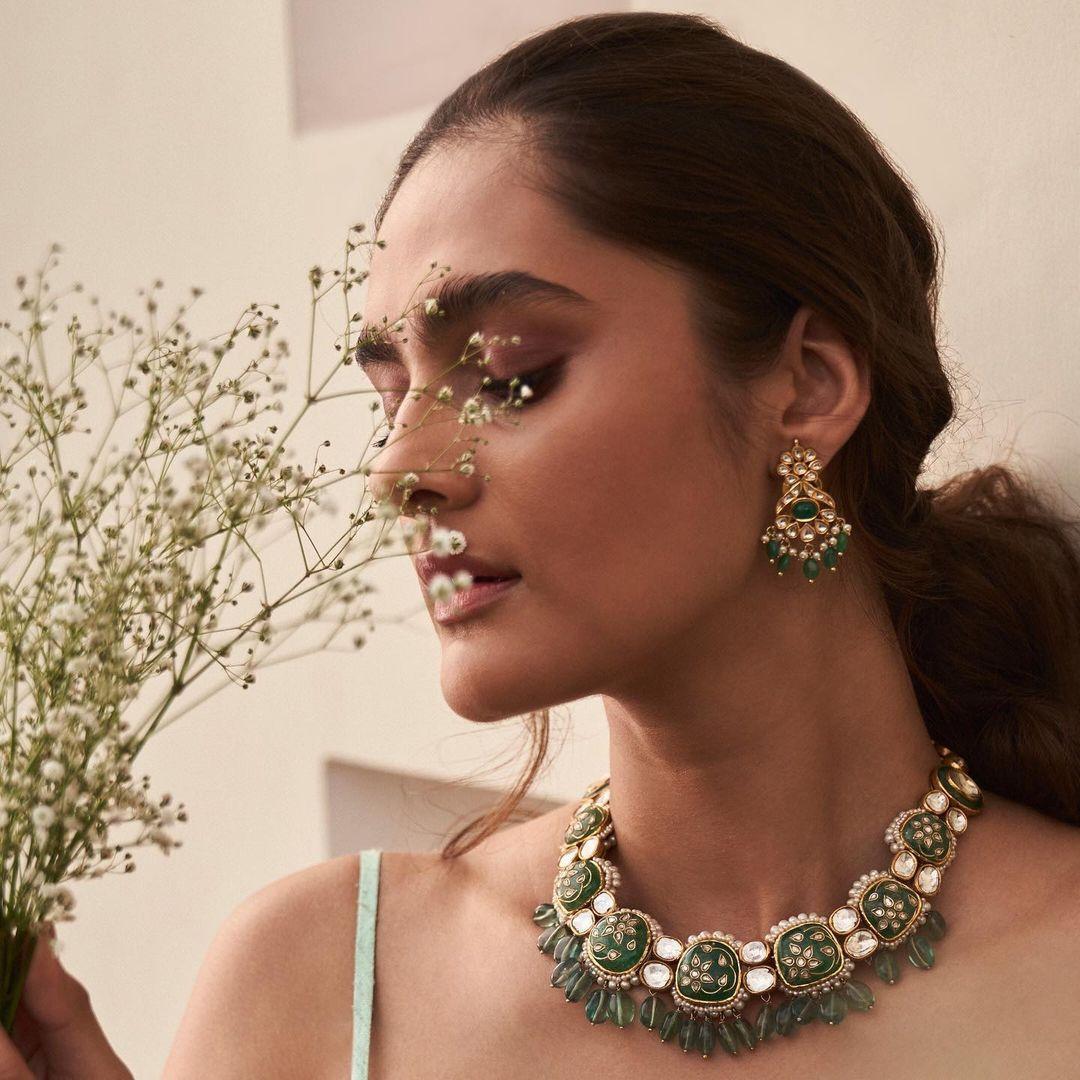 Anita Dongre Nazanin Necklace and Kaira Earrings l Price on Request
Aren't you amazed at the craftsmanship, design, color of this dainty Anita Dongre jewelry collection? Scintillating necklace and trending earrings from Anita Dongre pink city jewelry collection - this set is as alluring as a beautiful dream.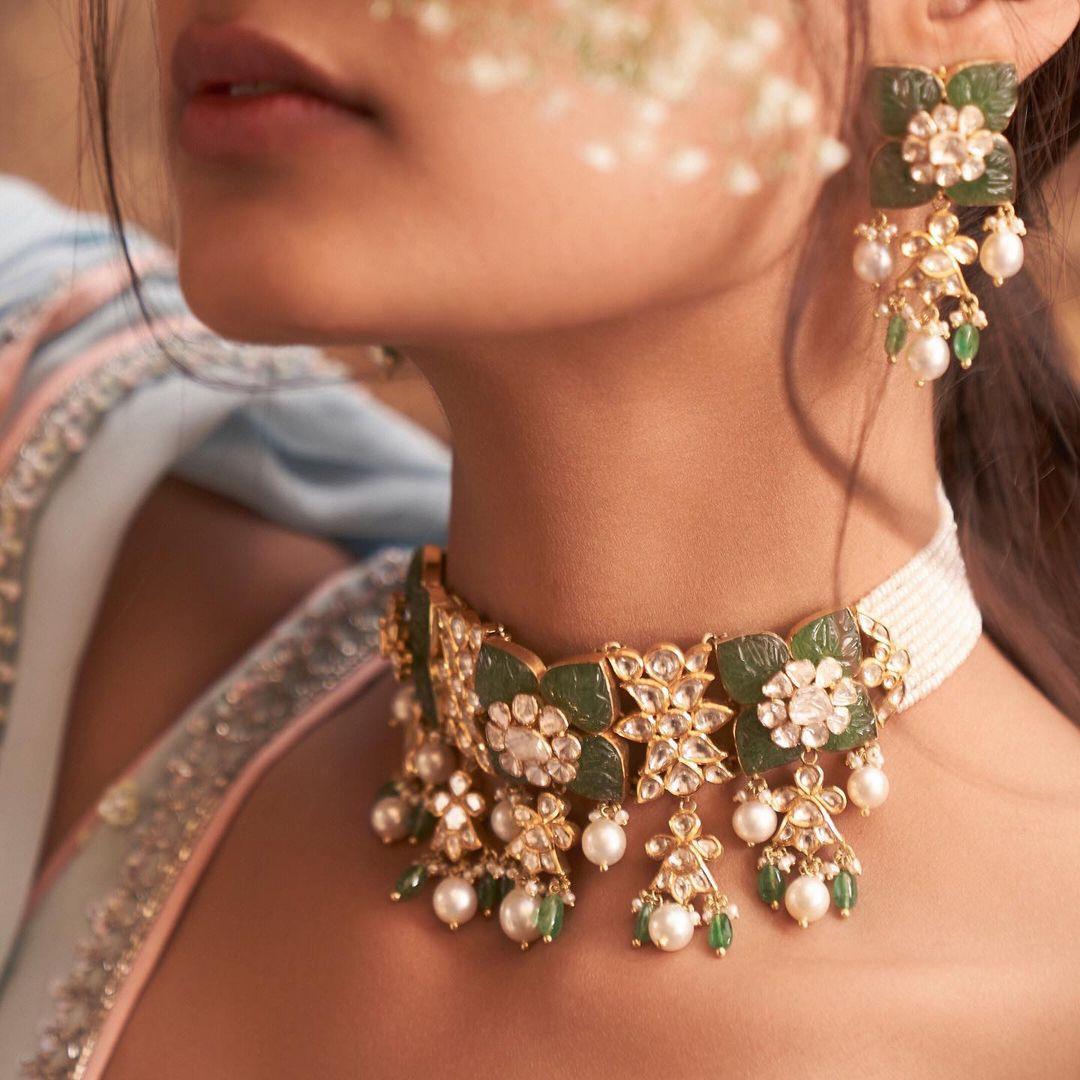 Anita Dongre Ojaswini Necklace and Ojaswini Earrings l Price on Request
Meticulously done in 18 kt gold, this Anita Dongre jewelry is an exquisite choker set that has uncut diamonds, emerald beads, and south sea pearls. Just like the royal love - this collection is going to entice so many.
Also Read - Latest Emerald Jewellery Trends
Make your wedding memories fashionable with Anita Dongre jewellery. These designer jewelry from Anita Dongre's latest collection will spoil you for sustainable as well as fashionable choices. You can buy Anita Dongre jewelry through our Anita Dongre Storefront to contact the designer today.
Find More -
Anita Dongre Lehenga l Anita Dongre Gowns l Anita Dongre Suits l Anita Dongre Sarees