Anita Dongre Suits - Designer Suits Collection By Anita Dongre with Different Patterns
Find WeddingWire India's edit of the best Anita Dongre suits from her latest designer collection. Choose perfect picks for yourself and your clan. Scroll down to know more -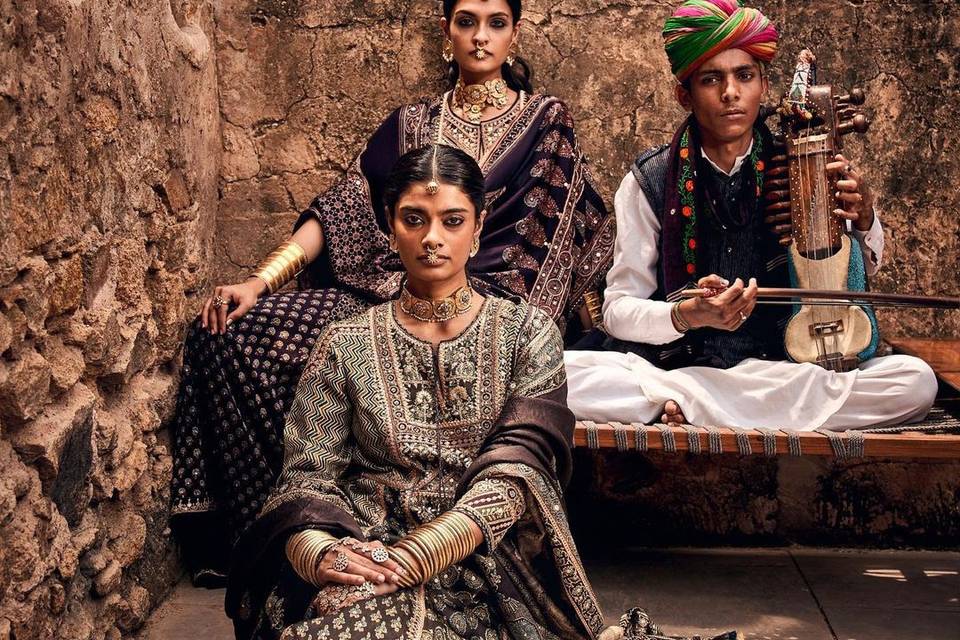 We have cherry-picked Anita Dogre's suits for you and your clan. These suits are worth bookmarking for new age brides and bridesmaids for your important event. From designer Anarkali for a bridal trousseau to perfect Sharara Set or a graceful georgette suit for the new-age bridesmaid - this edit features all of Anita Dongre's latest and scintillating suit designs.
Latest Designer Suits by Anita Dongre for New Age Brides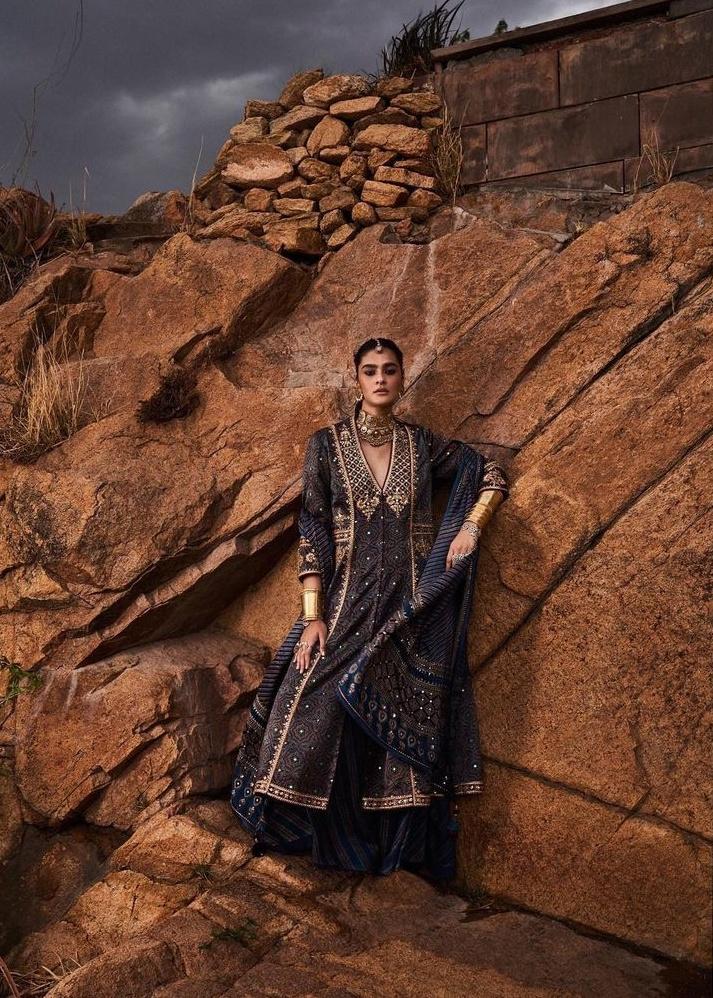 Anita Dongre Vamika Ajrakh Sharara Set - Indigo l Price: 99,000/-
Do have a fetish to make your own identity and walk with much élan even in the crowd? Then do pick this Varmika Ajrakh Sharara Set from Anita Dongre. You will love to adorn hand block prints in a sustainable fashion. The prints here are accomplished through sustainable dyes which are enhanced with Gotta Patti. The Dori, sequins work, and zardozi will further elevate your overall demeanor. This designer Vamika Ajrakh Sharara Set by Anita Dongre has been made using eco-friendly prints.
Also Read - Latest Salwar Suit Design Photos - New Salwar Suit Design Ideas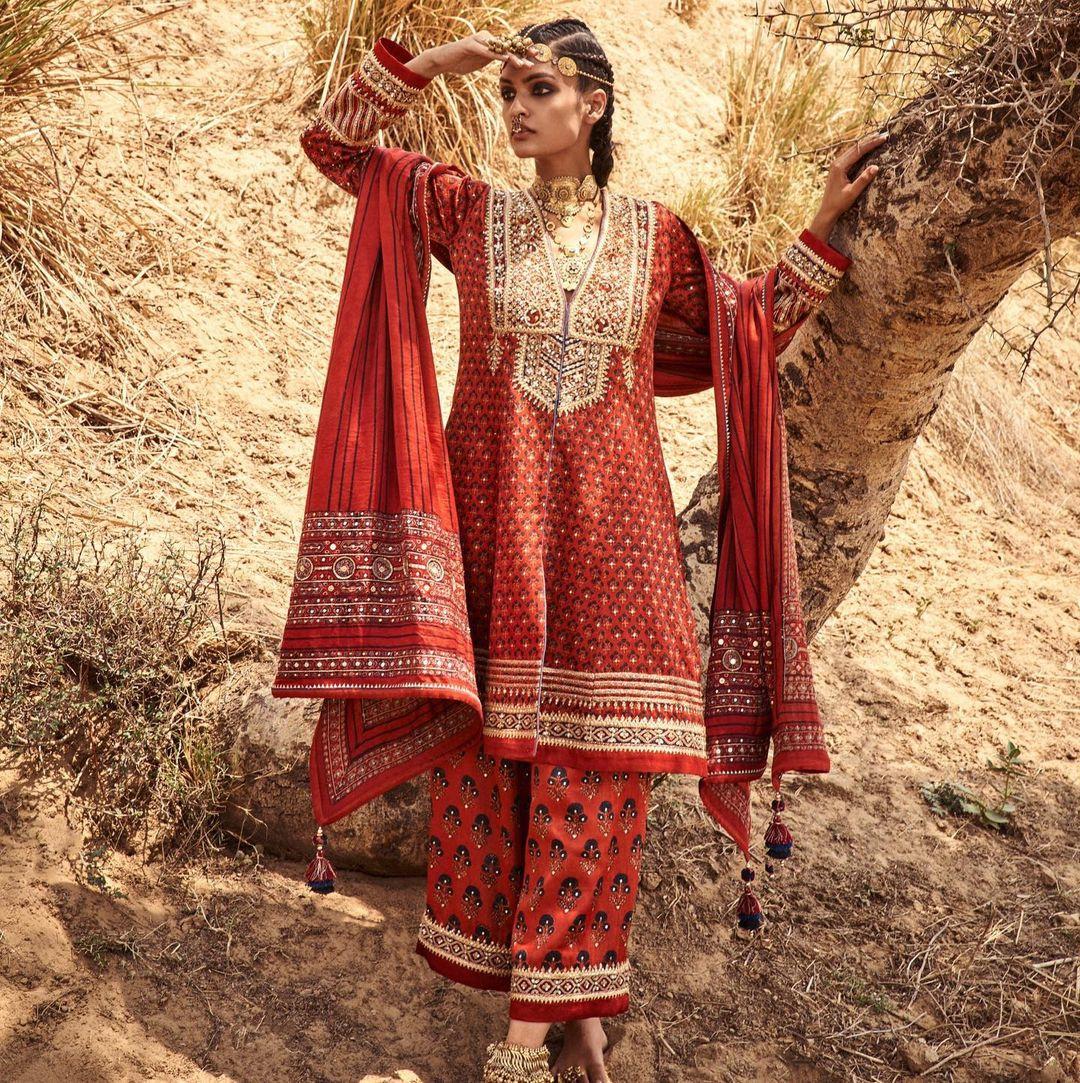 Anita Dongre Ekaa Ajrakh Kurta Set - Red l Price: 99,000/-
Akin to the former one, this Anita Dongre Red Suit - red ekaa ajrakh kurta set is sustainable wear for the new age bides who are all geared up to adorn sustainable wear. This red ekaa ajrakh kurta set is a sustainable celebration-wear of complementing patterns and hand-block prints acquired through vegetable dyes. The look is elevated with traditional Gota Patti hand embroidery along with Dori, sequins, and zardozi embellishments.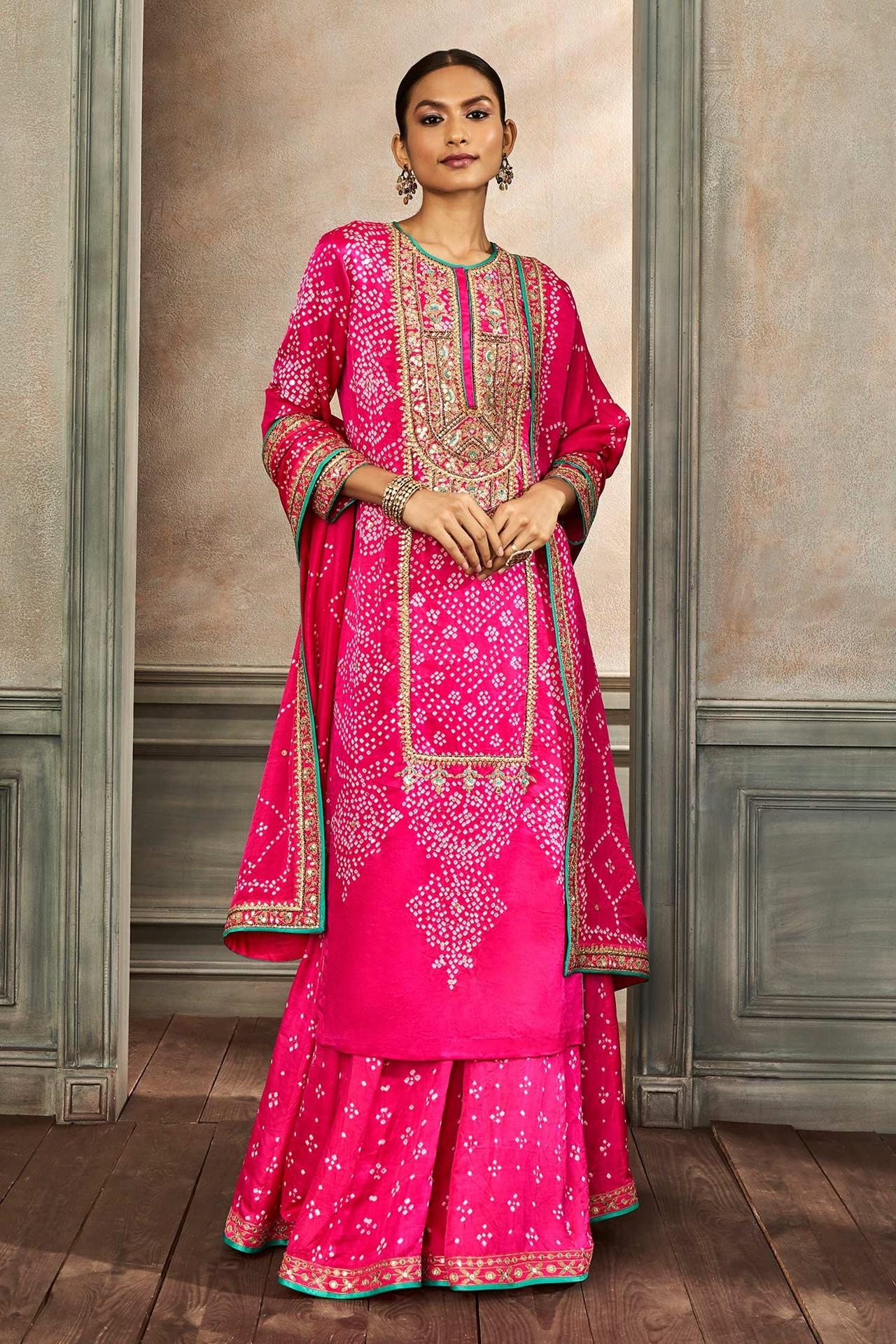 Anita Dongre Hiti Bandhani Sharara Set -Pink | 122,000 /-
If you have a thing for bandhani material, then this attire is definitely the best pick for you. In this Anita Dongre suit, you will explore the regal timelessness of Indian palatial motifs through bandhani knots. The pink sharara set is curated from rick silk material. Yet again, this outfit is enhanced with gota patti hand embroidery and the gleam of dori, zardozi and sequins embellishments. A piece from our expanding conscious couture carrying the legacies of artisans and ancient craft.

Also Read - Trending Sharara Outfits Inspirations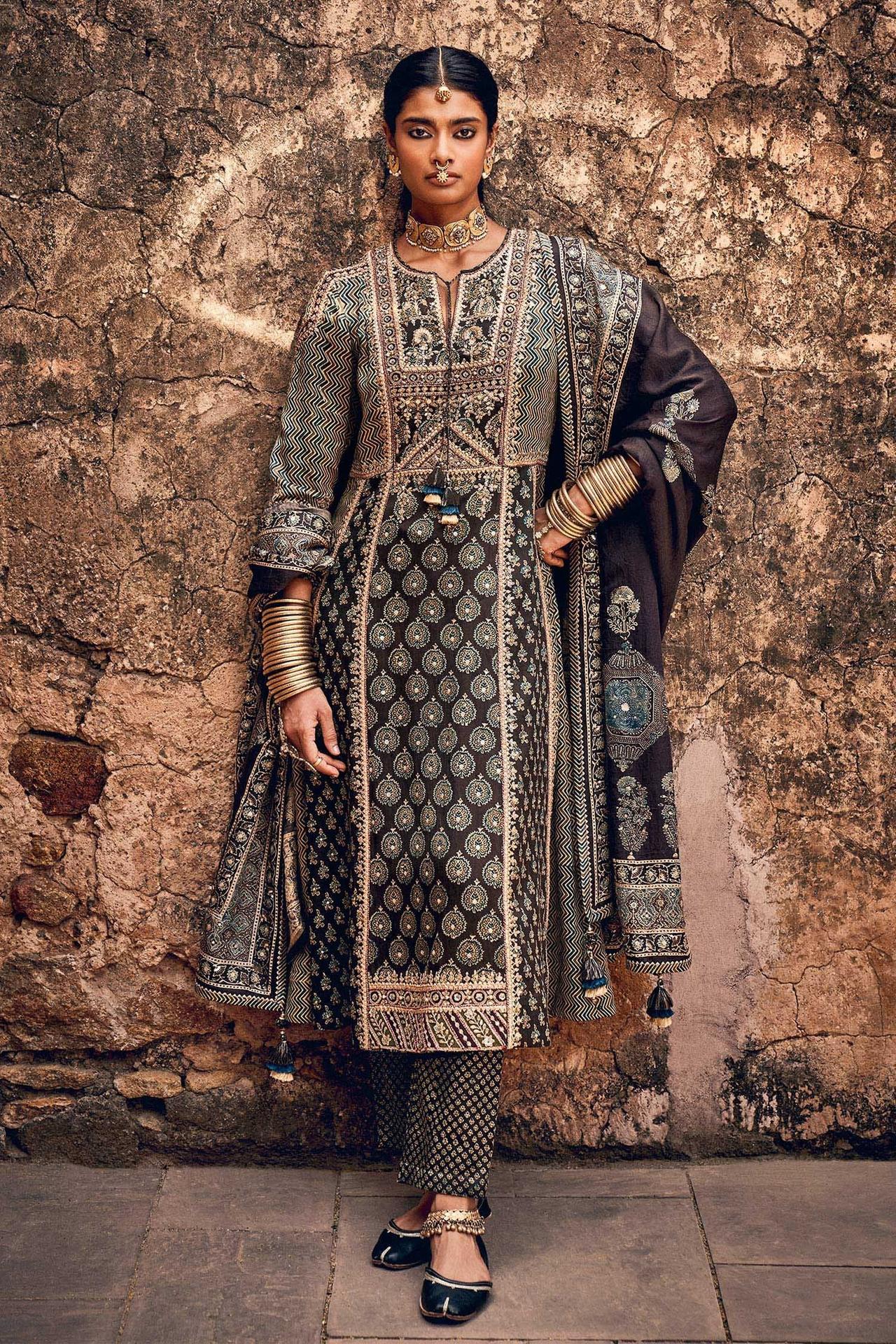 Anita Dongre Surasa Ajrakh Kurta Set- black| 90,000 /-
Are you smitten by the black color? Then the perfect suit is here for your wedding trousseau. Further, the glamourous nature-inspired motifs in this Anita Dongre palazzo suit is enhanced with natural dyes. The attire will certainly make you the show-stopper.
Anita Dongre Suits for New Age Bridesmaids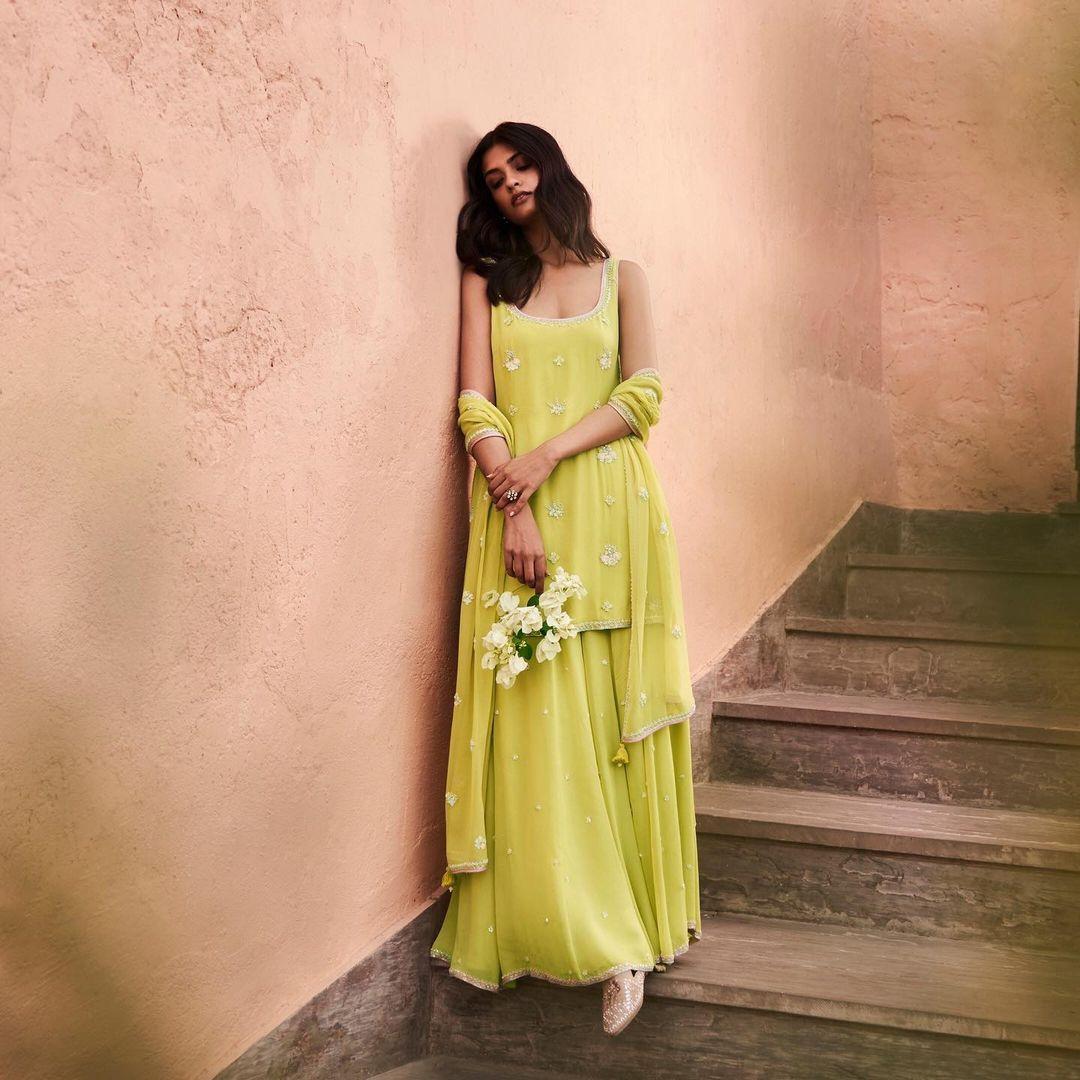 Anita Dongre Dulzura Sharara Set - Lime l Price: 65,000/-
If your bridesmaid seeks to adorn something elegant yet classy and sustainable, then do suggest her this graceful attire. The flowing expression of Anita Dongre's sharara suit is made using sustainable bamberg georgette. Highlighting is done through delicate wildflower embroidery and side pockets. This is a perfect pick for your best friend as it is light and breezy. Your bridesmaid will feel comfortable in this subtle wear during the entire ceremony.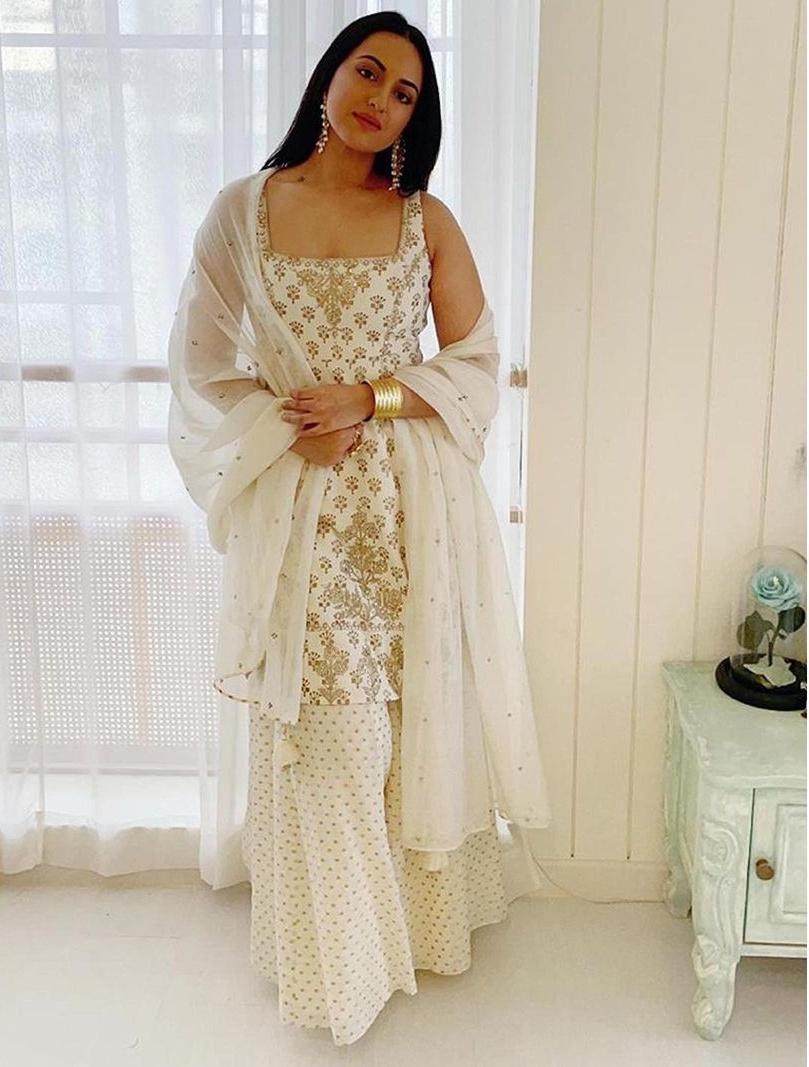 Anita Dongre Veeha Suit - Cream and Gold l Price: 50,960/-
Enveloped in the royal shades, this Veeha set will make your friend steal the limelight. It is extremely important for the bridesmaid to look the best. However, make sure that overdo can kill the delicacy this attire is exuding. This attire is a timeless style that will stay in your wardrobe for long.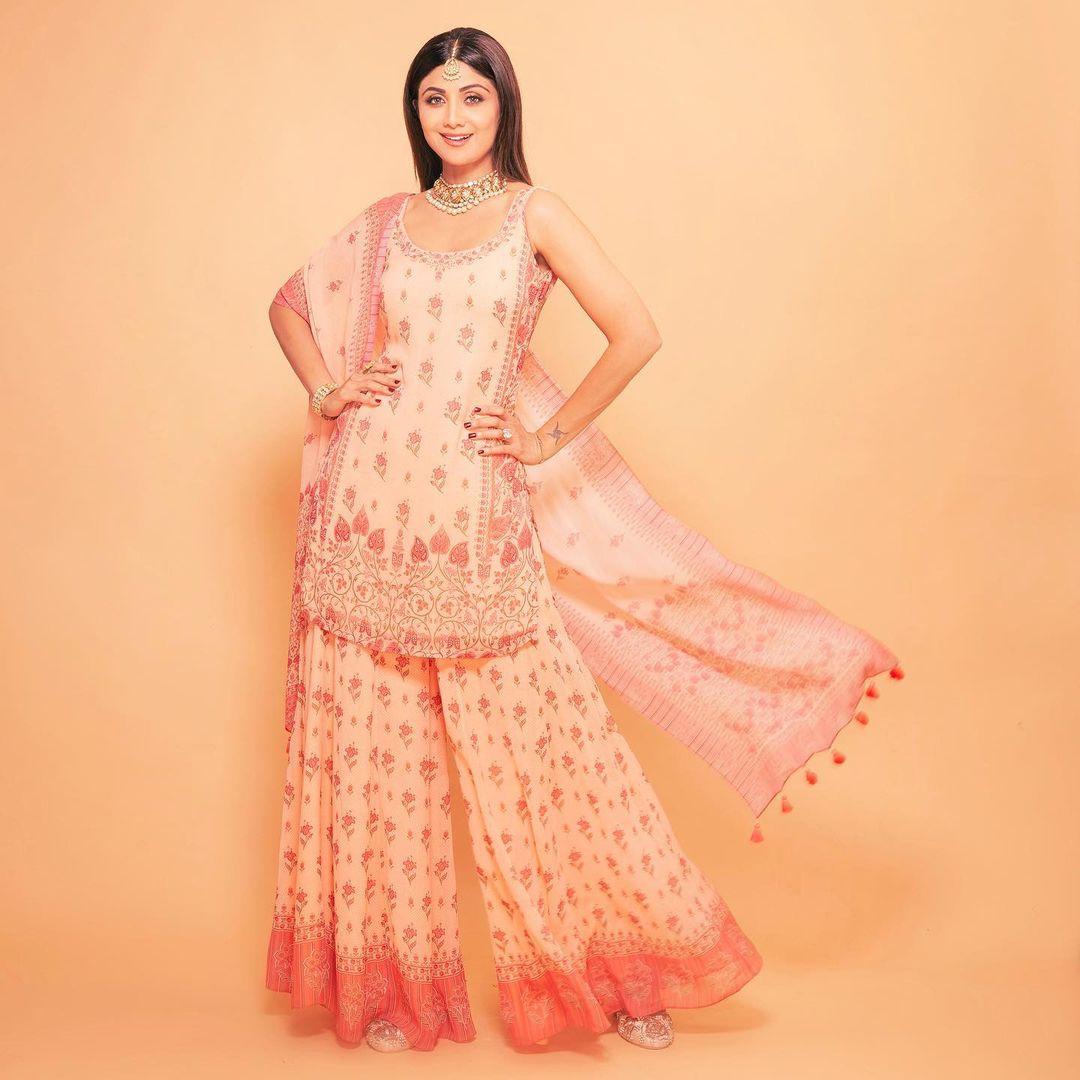 Anita Dongre Roz set - Rose Pink l Price: 25,900/-
The blushing pink hues of the Roza suit by Anita Dongre are curated to match the beauty of the spring season. The tones of the Roza Set are created to complement the delicate floral motifs inspired by the spring forests of India. See how enticing Ms. Shetty is looking here. So are ready to grab attention?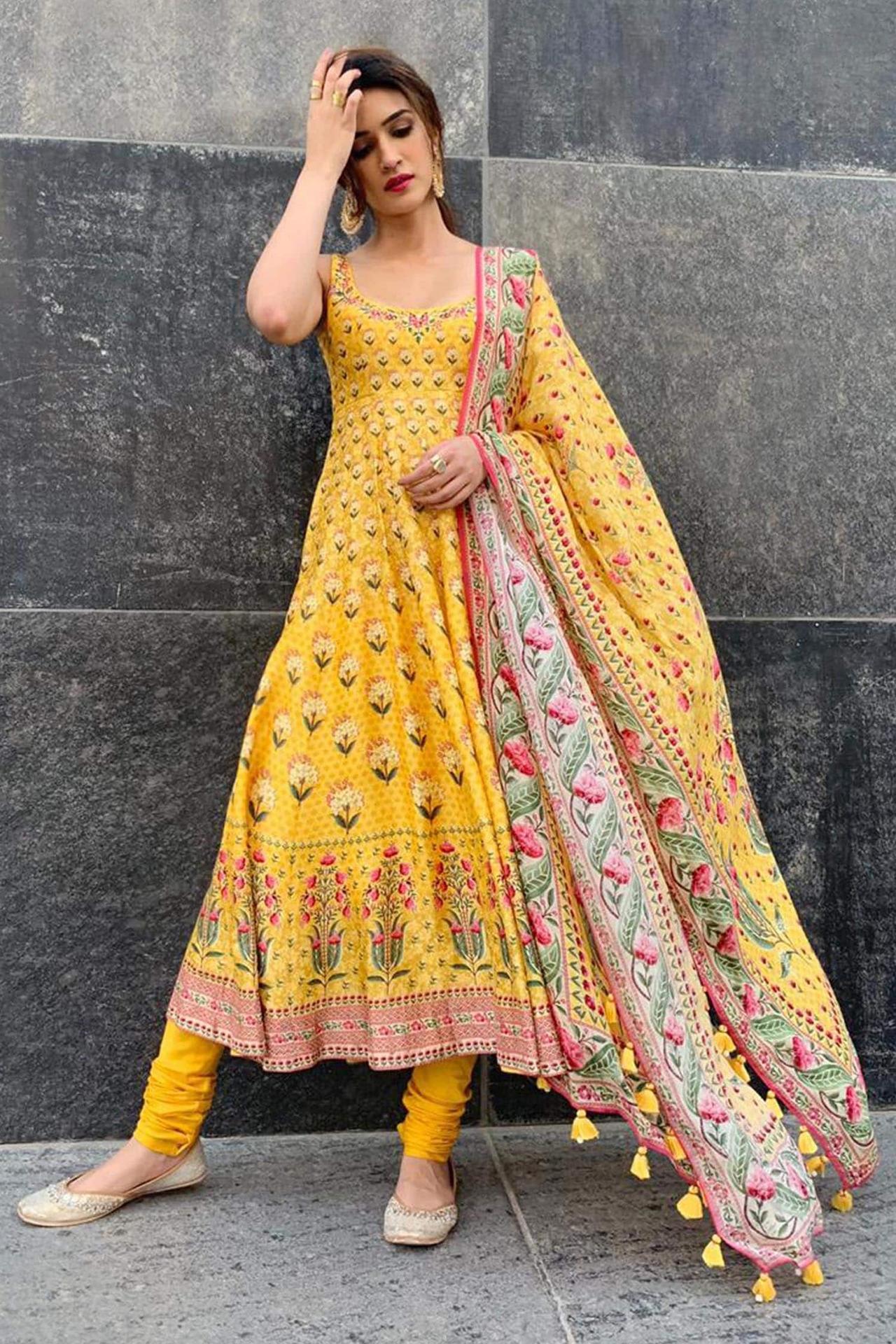 Anita Dongre Antara Set - yellow | 35,000/-
Do you want to exude enough charm, beauty, and notes of poetry? Then do pick this Antara set which is creating a stir for all good reasons. Aren't these subtle hues of summer and spring days superb? The floral motifs and lush garden in this yellow kurta suit will definitely make you in sync with the nature. This comes with a matching churidar and fine silk dupatta.
Make your wedding memories worthwhile with Anita Dongre suits These designer suits from Anita Dongre's latest collection will cosset your whims and fancies. You can head to the Anita Dongre Storefront on our website to contact the designer today.
Find More -
Anita Dongre Lehenga l Anita Dongre Gowns l Anita Dongre Jewellery l Anita Dongre Sarees