Anita Dongre Lehenga - Latest Designer Wedding Bridal Lehenga Collection Online
Check out these latest lehenga designs created by ace designer - Anita Dongre. Bookmark today to achieve your dream bridal look.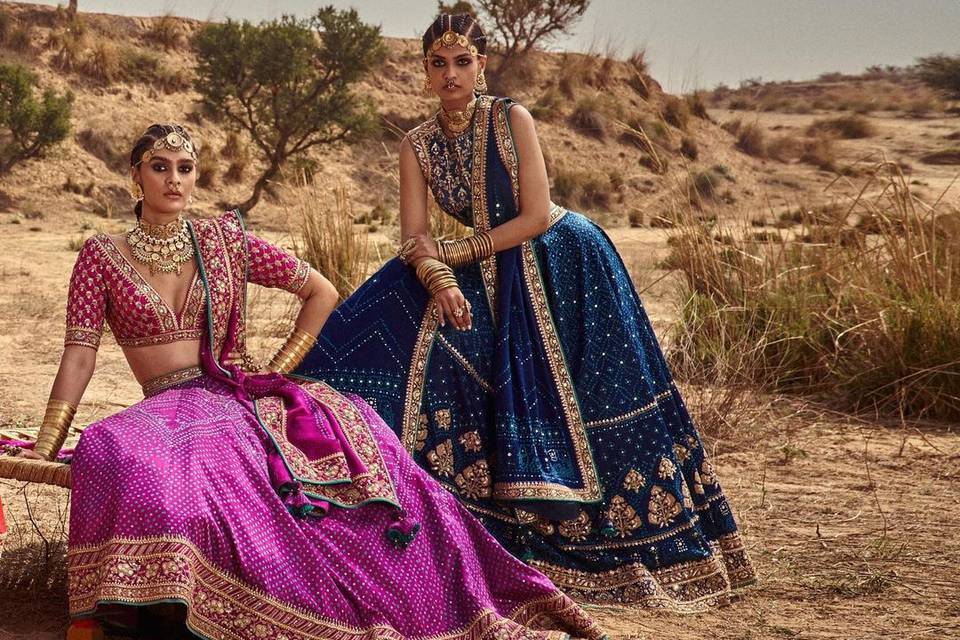 Anita Dongre's wedding dress is a dream for every millennial bride. It has inspiration from our heritage, the charm of our traditional designs, and the grace of beautiful patterns weaved by artisans with sheer dedication. So here we have narrowed down some splendid designs that will sweep off your feet. These Anita Dongre lehenga designs are for you and your wedding guests. We are sure that you will get enchanted with its patterns and sheer elegance. Scroll down to bookmark these scintillating Anita Dongre lehenga designs for your most special day of life.
Latest Anita Dongre Bridal Lehenga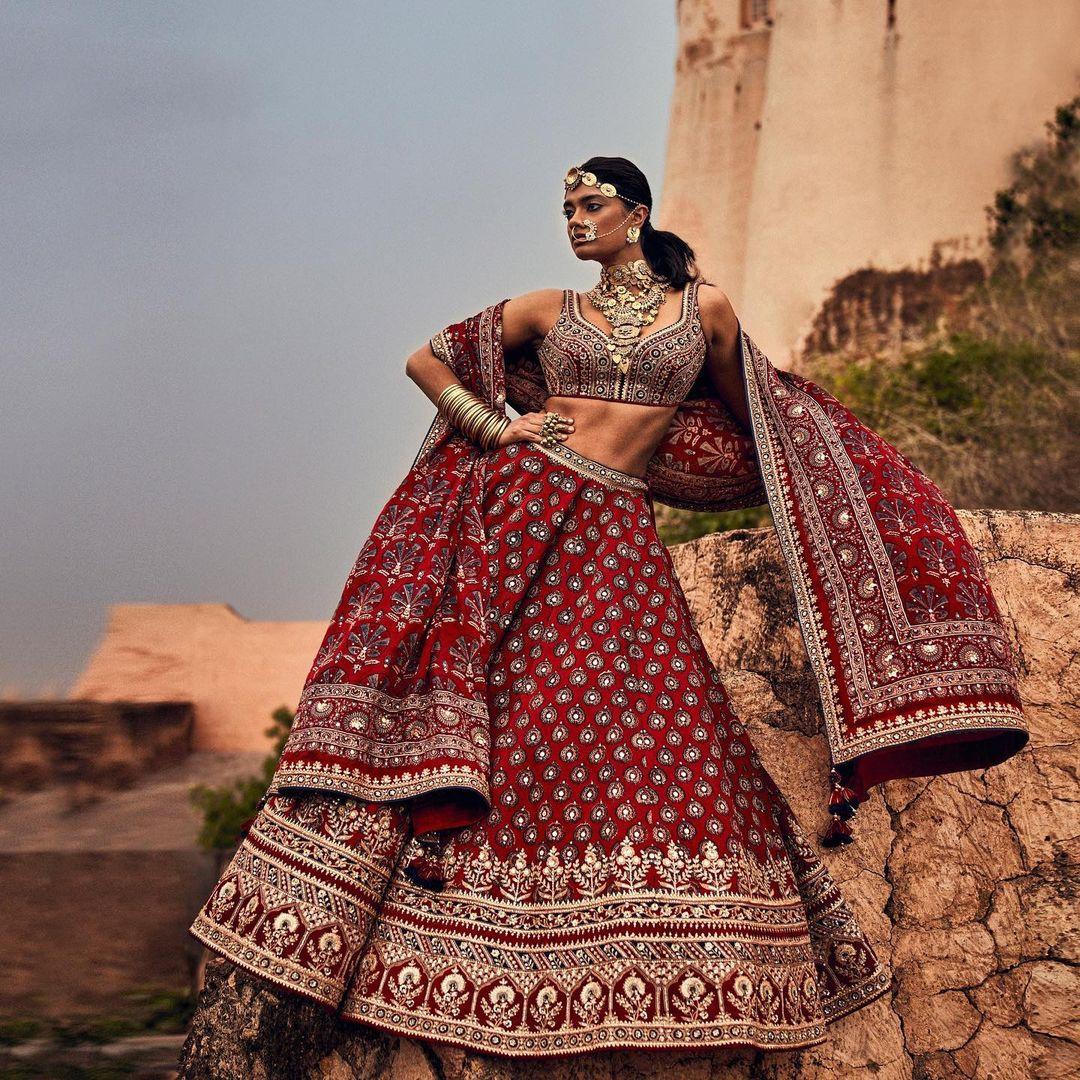 Anita Dongre Laukya Ajarakh Lehenga Set - Red l Price: 289,000/-
Designed with sheer dedication and love, this lehenga Set by Anita Dongre exhibits the exemplary skills of artisans who have done hand-block printing through an elongated 16-steps process of dyeing, printing, and drying- this Anita Dongre Lehenga is creating stir cause of its splendid way of creation. The use of eco-friendly dyes and intricate hand embroidery makes it a trending lehenga style among the brides of today. Anita Dongre Laukya Ajarakh Lehenga Set is for the brides who are lured with the legacy of Indian heritage and ancient craft.
Also Read - Roundup of the Latest Lehenga Designs and Colour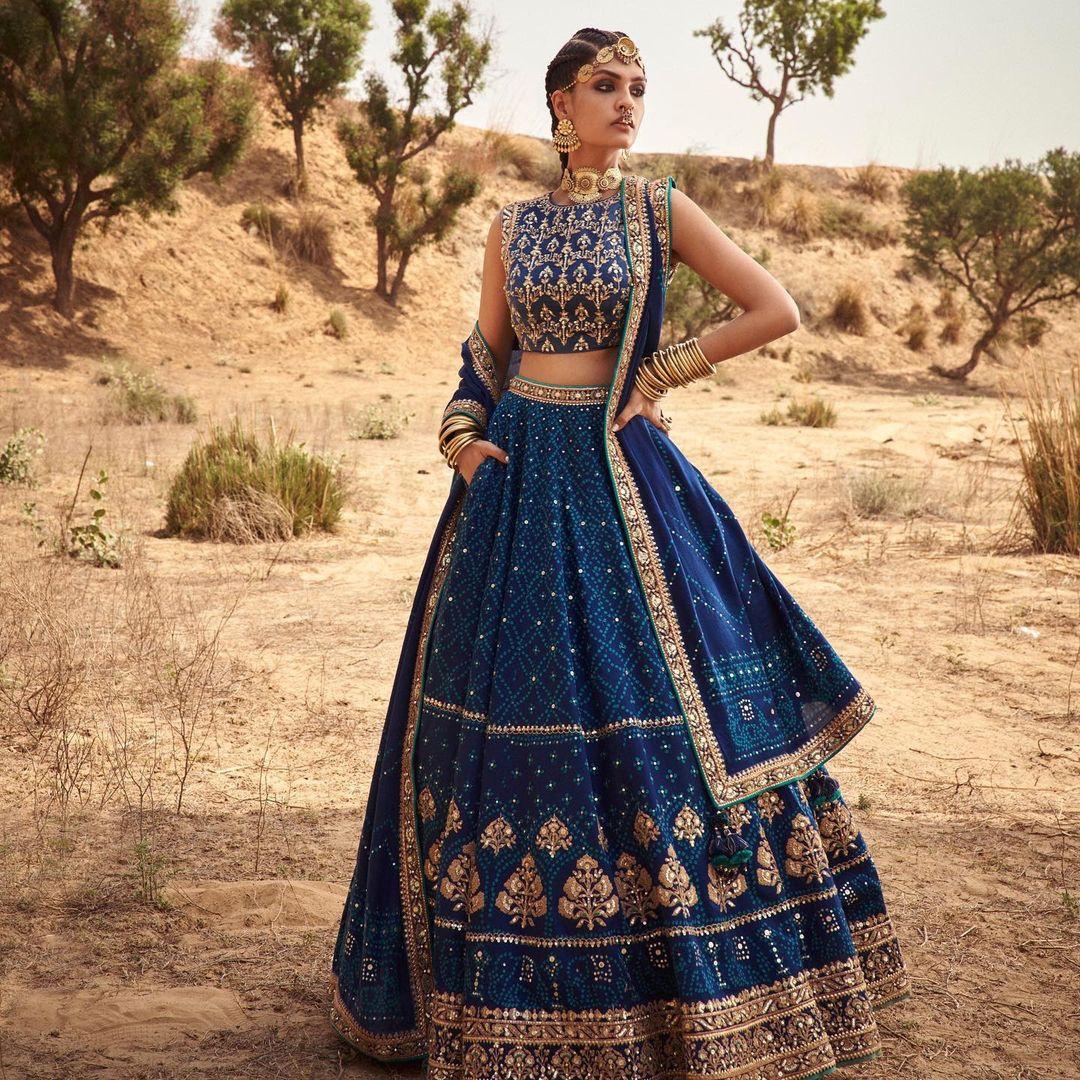 Anita Dongre Lokesh Bandhani Lehenga Set - Navy l Price: 284,000/-
Bandhani is a highly specialized craft form practiced by the women of Kutch. The designs take shape within the comfort of the artisans' homes over weeks and months depending on the number of knots a material requires. Each knot is made by skilled hands resulting in timelessly beautiful patterns.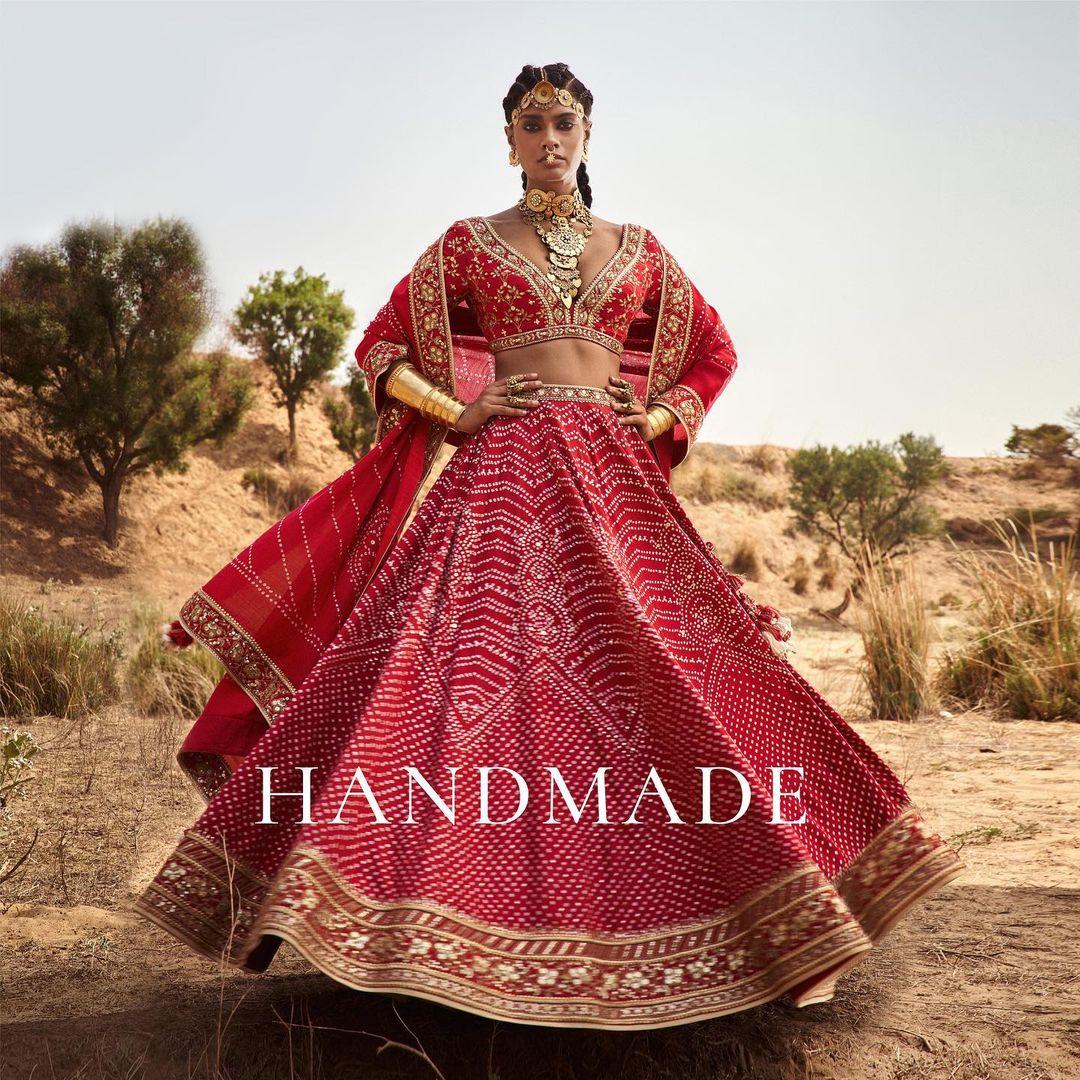 Anita Dongre Bhuvi Bandhani Lehenga Set - Navy l Price: 304,000/-
A constellation of handmade Bandhani knots is released over a red silk lehenga set. The patterns are highlighted with our signature craft of gota patti and additionally embellished with sequins, zardozi, and Dori patterns. Pockets included. A piece from our expanding conscious couture carrying the legacies of artisans and ancient craft.
Also Read - Own The Day With These Latest Sangeet Lehenga Designs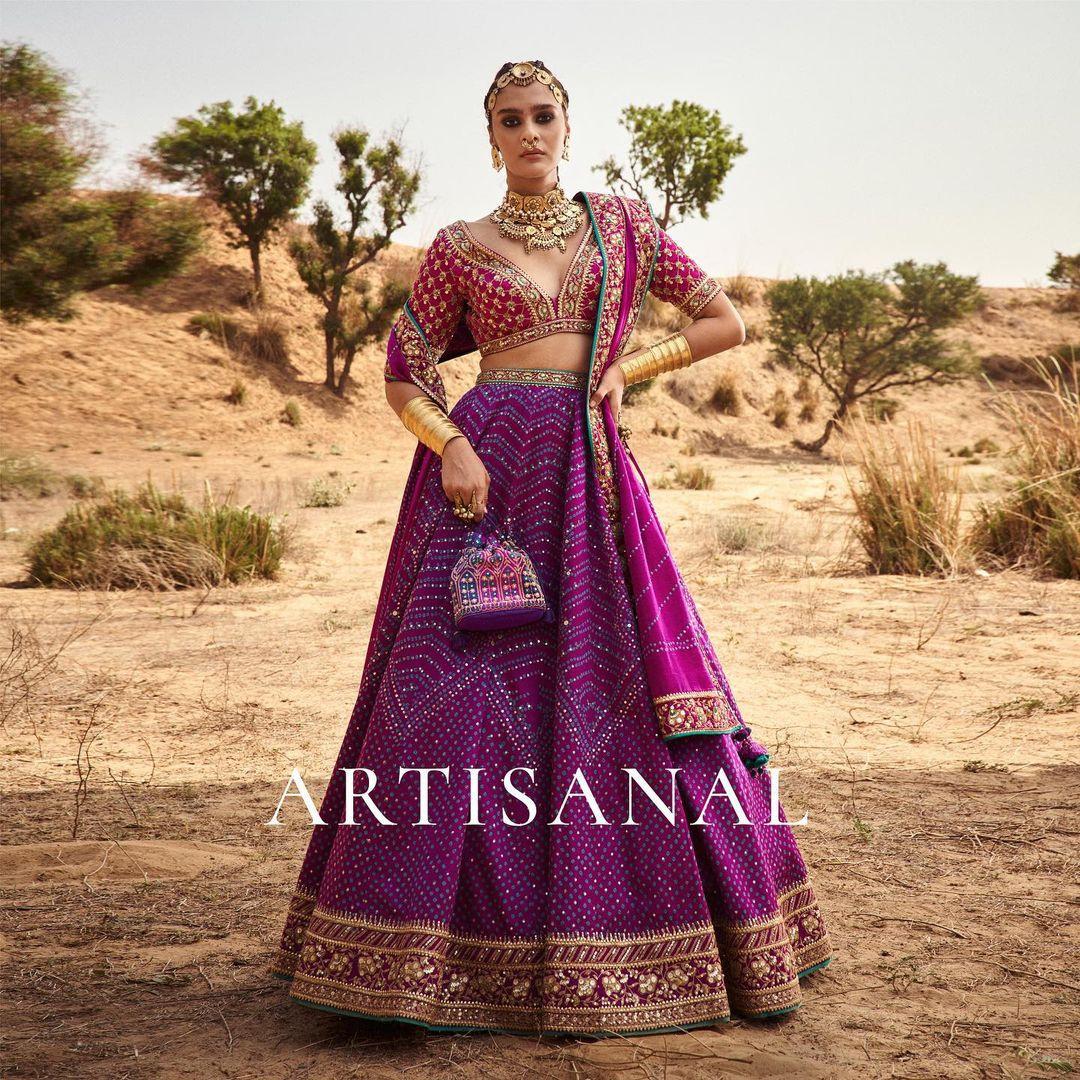 Anita Dongre Mihik Bandhani Lehenga Set - Purple l Price: 255,000/-
A creation of silk and minutely hand-tied knots, this purple Bandhani lehenga set has evolved over weeks. The knots are untied to reveal a precise intricacy achieved by our artisanal experts. The craft is further elevated with our signature gota hand embroidery and enhanced with regal touches of sequins, dori, and zardozi works. Pockets included. A piece from our expanding conscious couture carrying the legacies of artisans and ancient craft.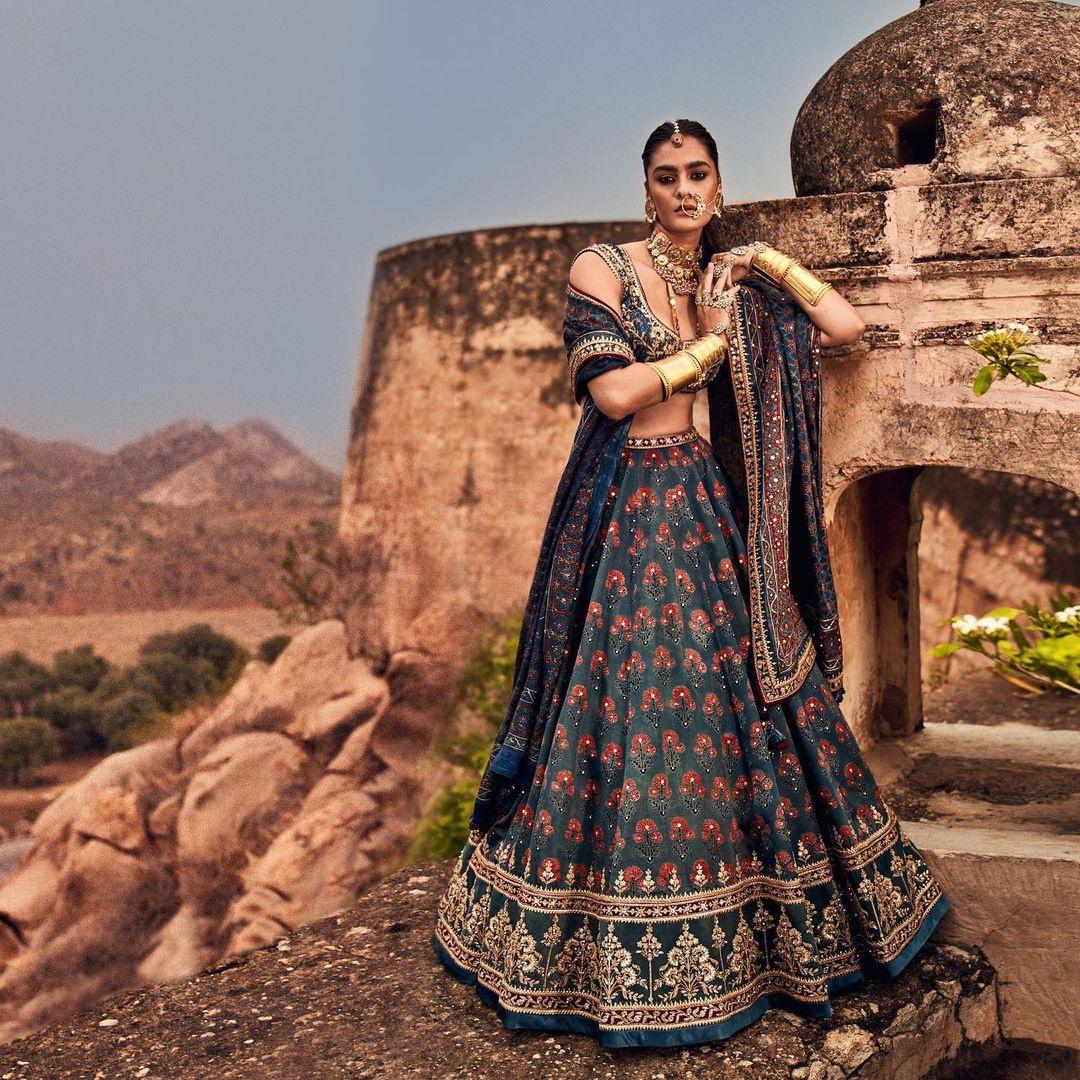 Anita Dongre Pavaki Ajarakh Lehenga Set - Blue l Price: 375,000/-
The rhythms of ajrakh hand block prints, played over centuries, have come to adorn our silk blue lehenga. Taking inspiration from palatial interiors and made using vegetable dyes, the motifs are embellished with glimmering hand embroideries including our signature gota patti along with dori, zardozi and sequins. Pockets included.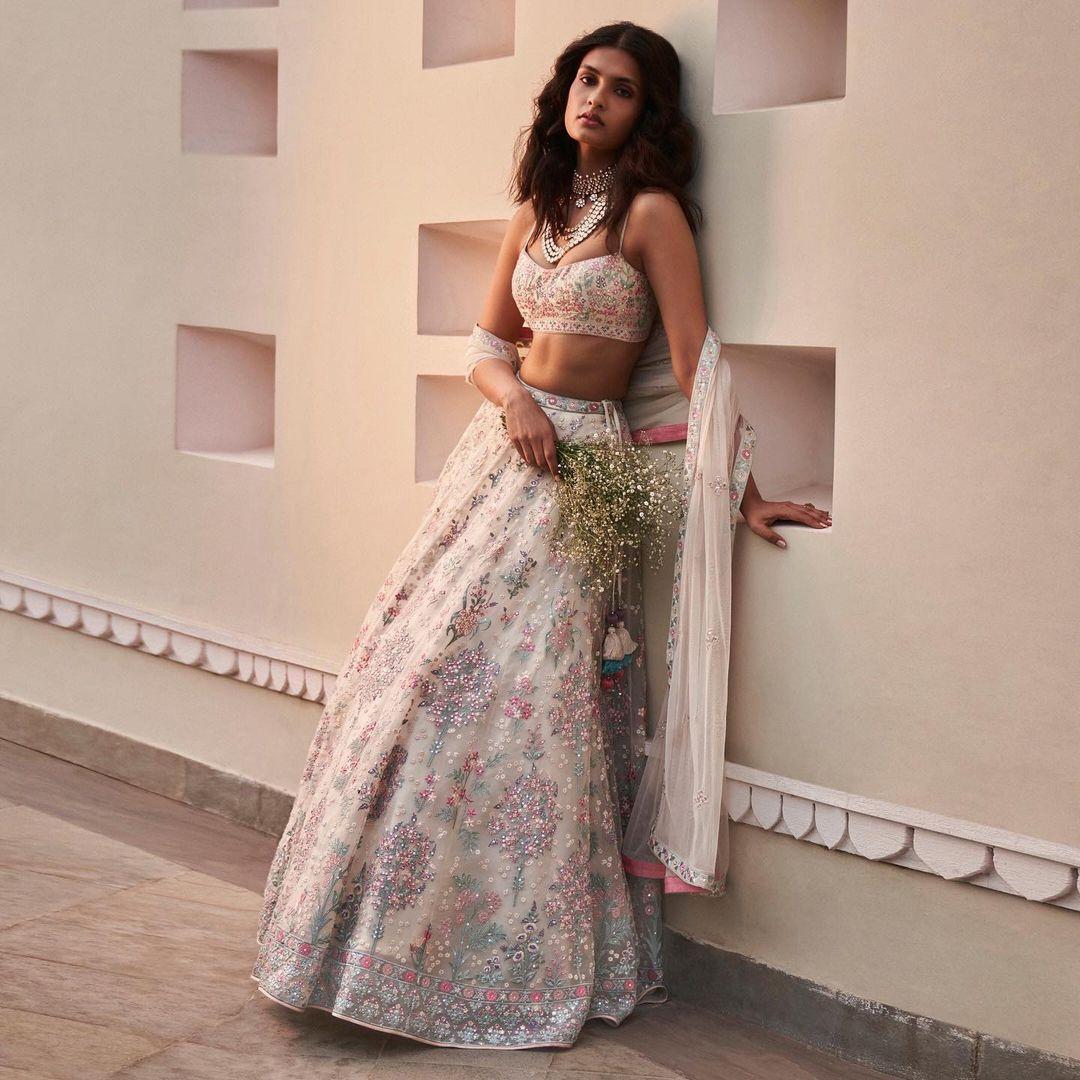 Anita Dongre Mistletoe Lehenga - Natural color l Price: 199,000/-
If you are a bride who seeks a dreamy yet royal wedding then you should definitely pick Anita Dongre's Bridal Lehenga which is inspired by the magic of mistletoe. This dreamy yet luxury attire is embroidered exquisitely over a flowing silk lehenga.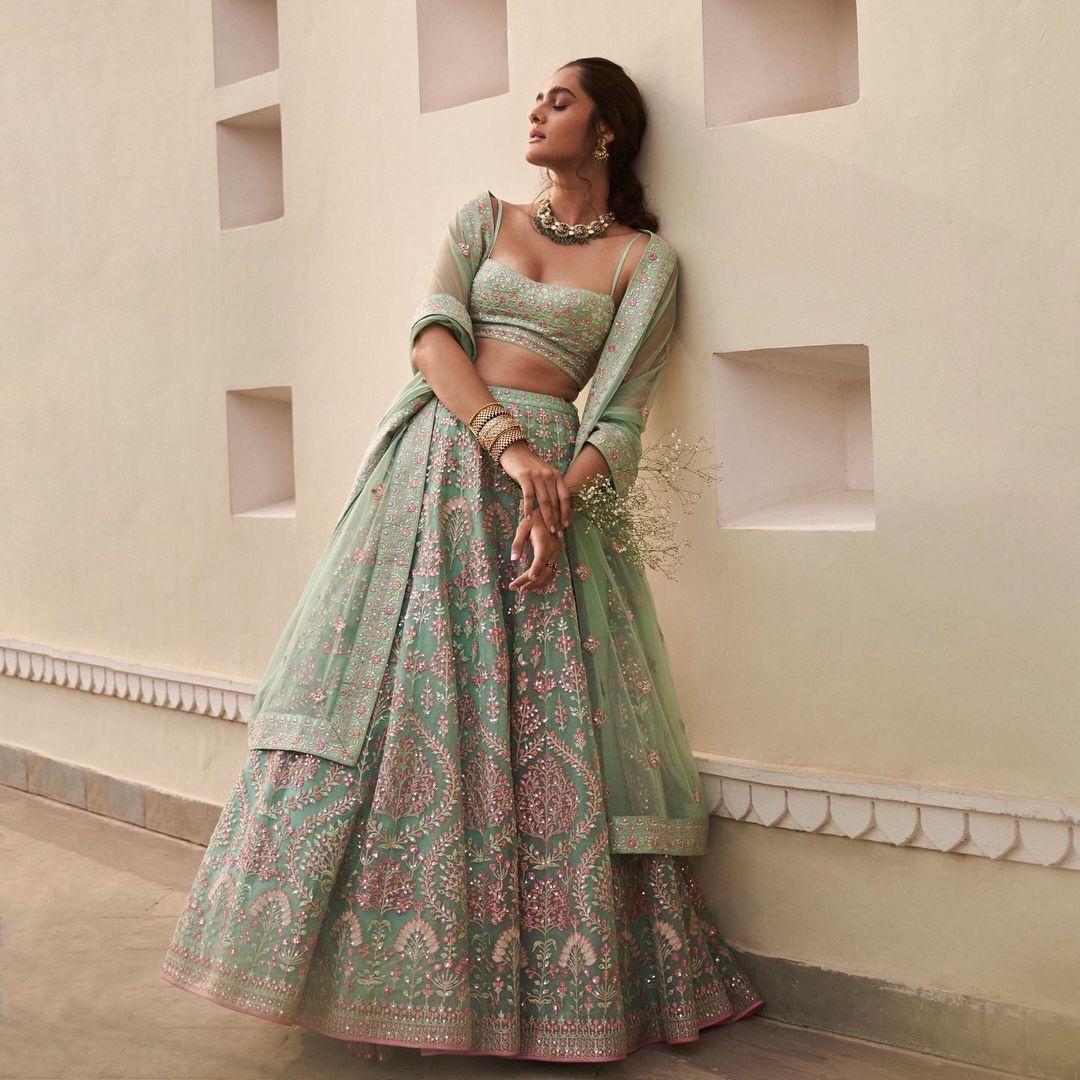 Anita Dongre Lovestruck Lehenga - Aqua l Price: 199,000/-
Exuding the notes of old-world charm, the Anita Dongre lehenga is crafted by master artisans who have mastered over exemplary skills. The intricate work of pearls, Dori, zardozi, cute dana, and embroideries make this a splendid pick for the brides.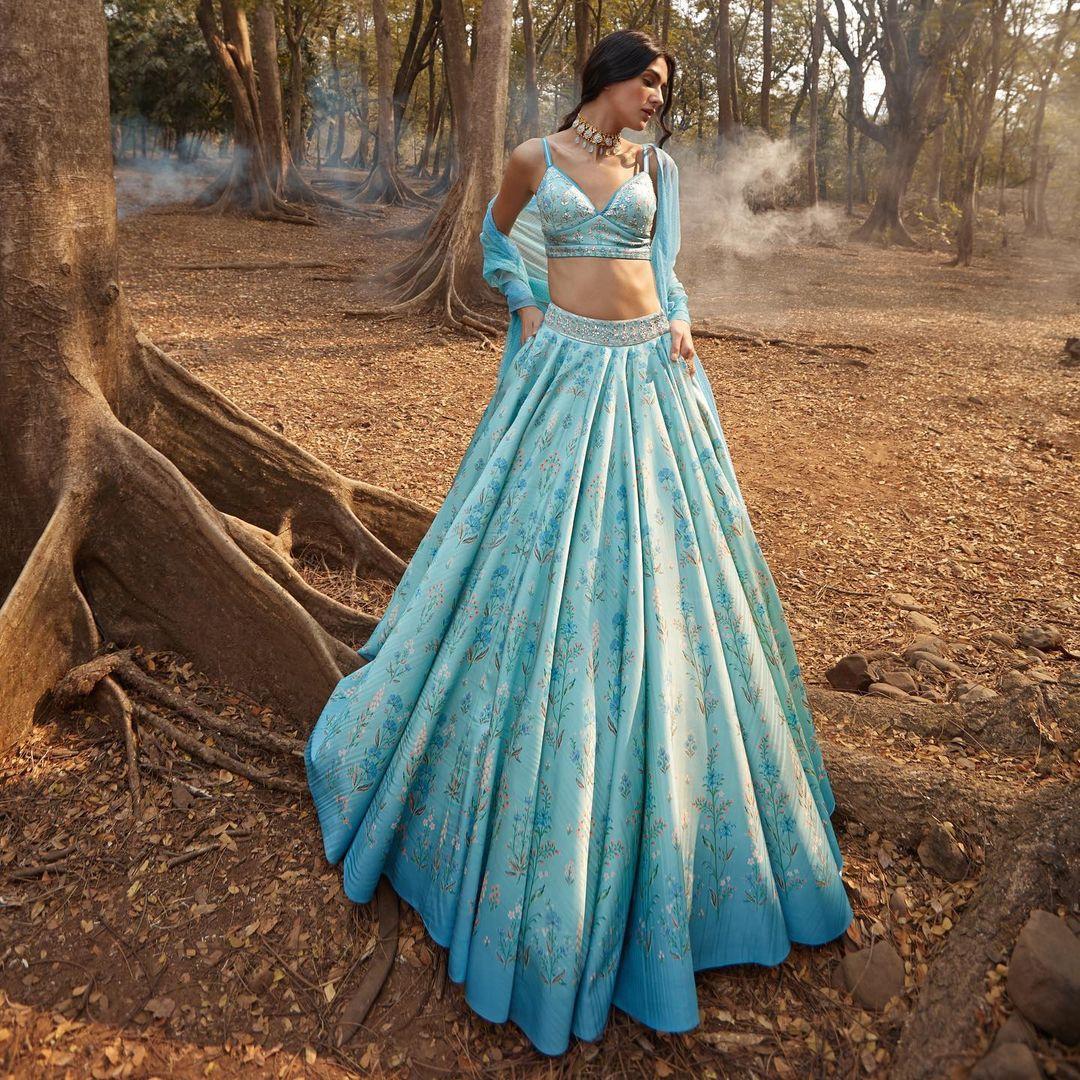 Anita Dongre The Aquarius Lehenga -Ice Blue l Price: 95,000/-
Designed with side pockets, this Ice Blue Lehenga is pure bliss for the brides seeking something extremely graceful. The fabric is made with biodegradable fabric which can find its way back to nature. Do pick this and cherish getting drenched floral twine prints.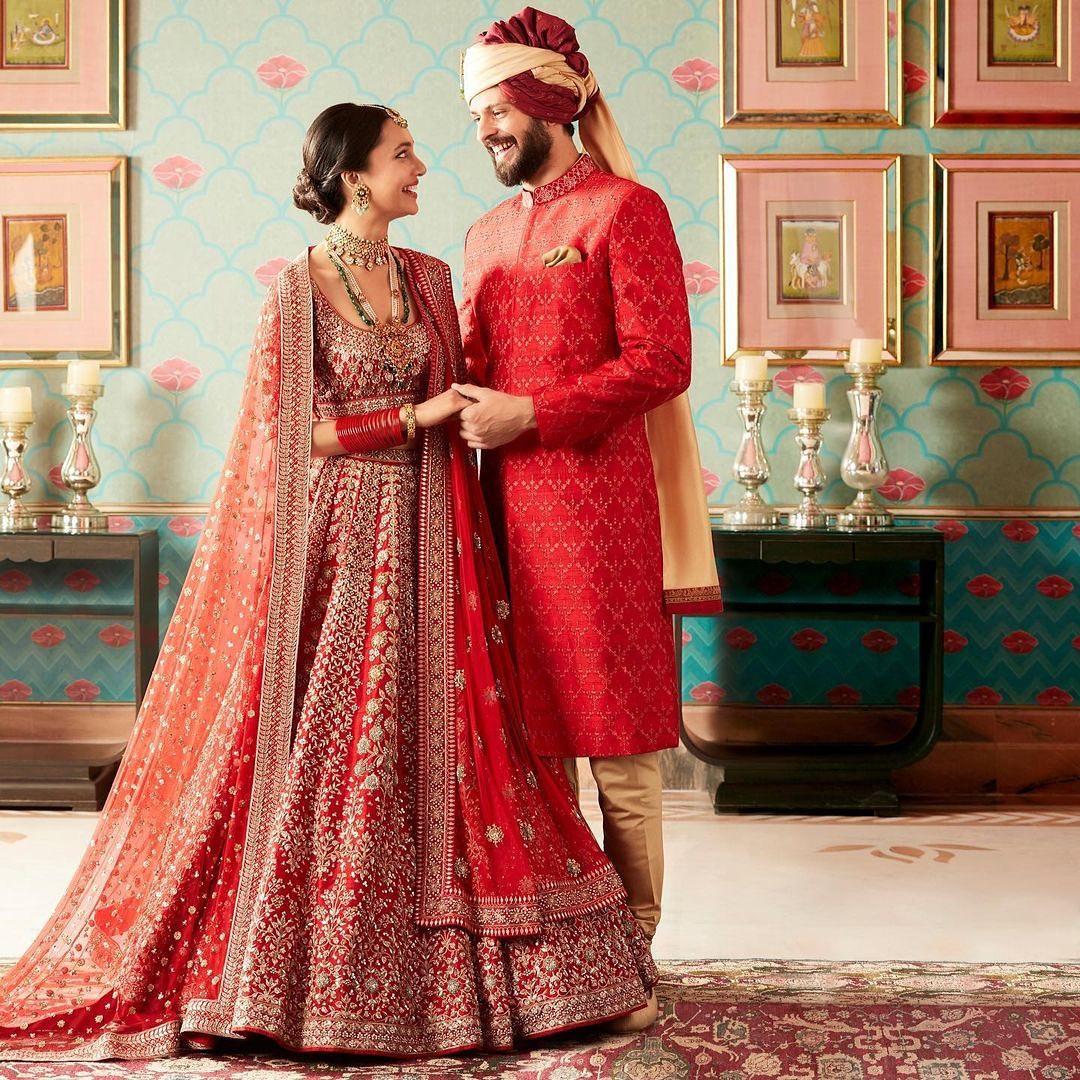 Anita Dongre Eka Lehenga- Red l Price: 621,000/-
Reflecting an old-world charm, the Eka Lehenga brings alive the timeless beauty of traditions with an intricate display of our signature gota patti work paired with a masterful array of dori, pearls, zardosi, sequins, cut dana and zari embroideries crafted by hand by our master artisans who have honed their skills for over generations.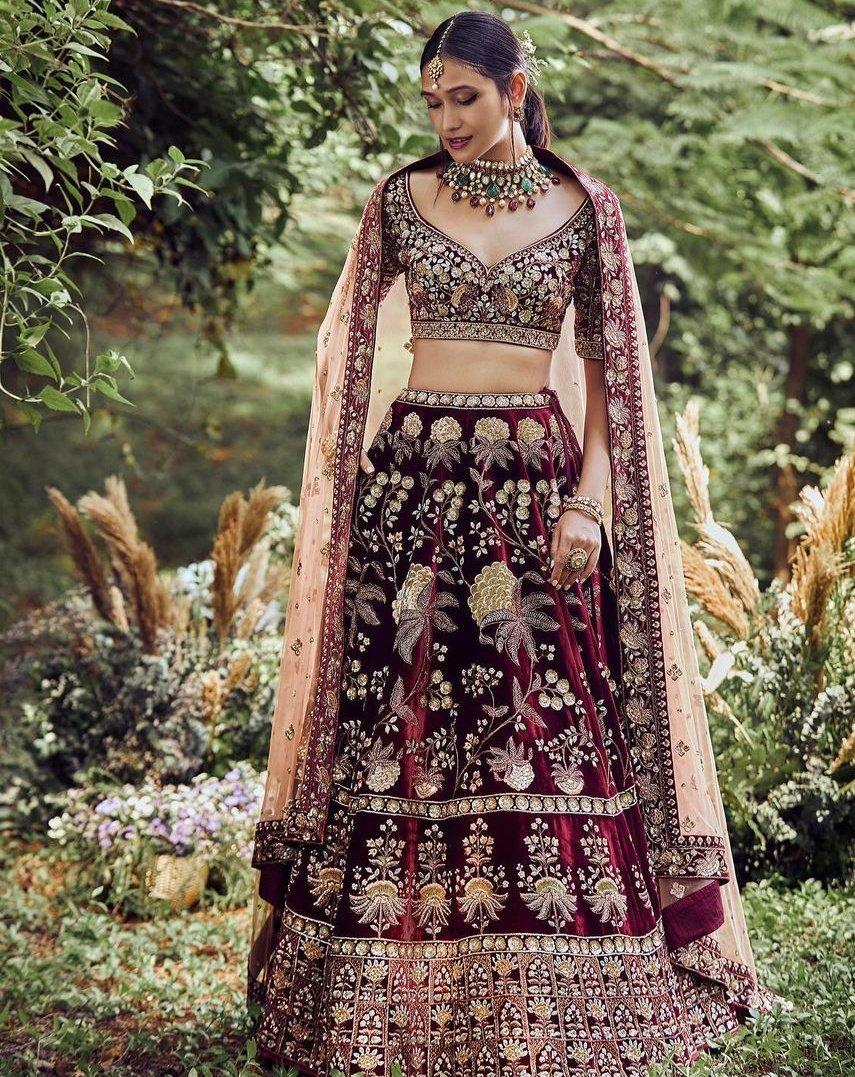 Anita Dongre Vrita Lehenga- Wine l Price: 488,000/-
Inspired by the winter forests, this gorgeous wine-hued silk velvet lehenga is a masterpiece. It was done with delicate detailing of Dori, pearl, sequins, etc. The masters took 100 hours to complete this extraordinary piece.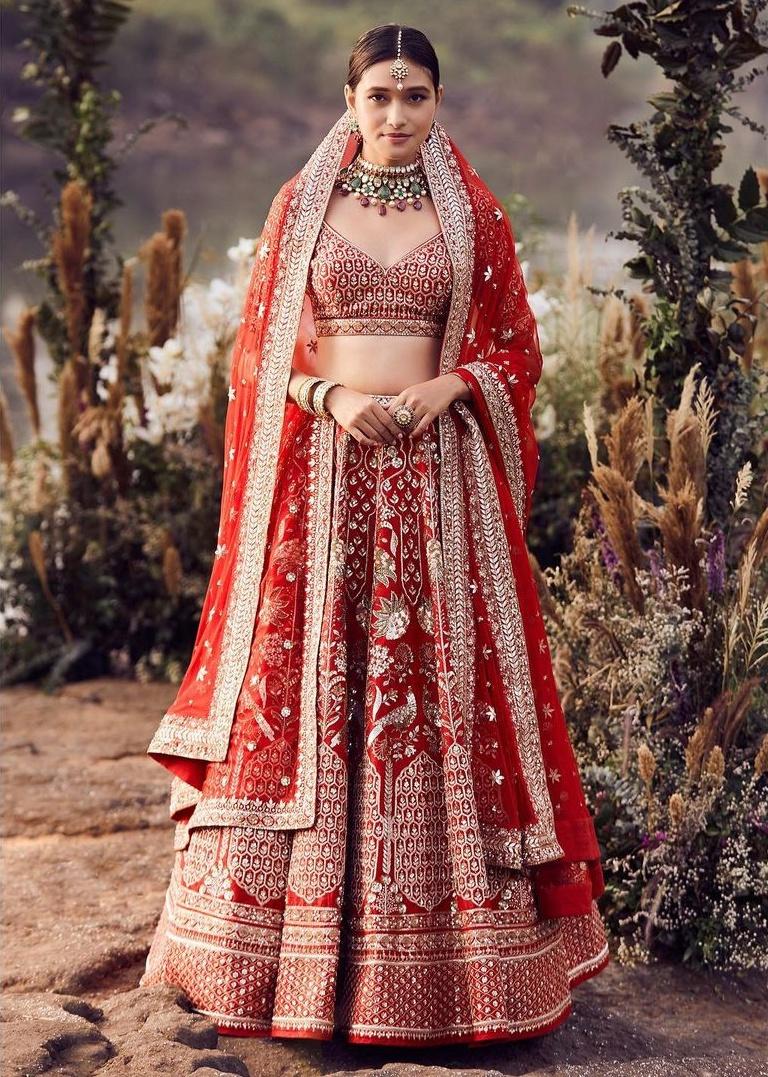 Anita Dongre Shivomi Lehenga - Red l Price: 385,000/-
Crafted by the artisans who have steeped in the vintage crafts over a rich red hue, this royal lehenga by Anita Dongre is a beautiful rendition of royal architecture motifs and the wild forest of Rajasthan. Adorn this Anita Dongre red lehenga for that spell-binding demeanor.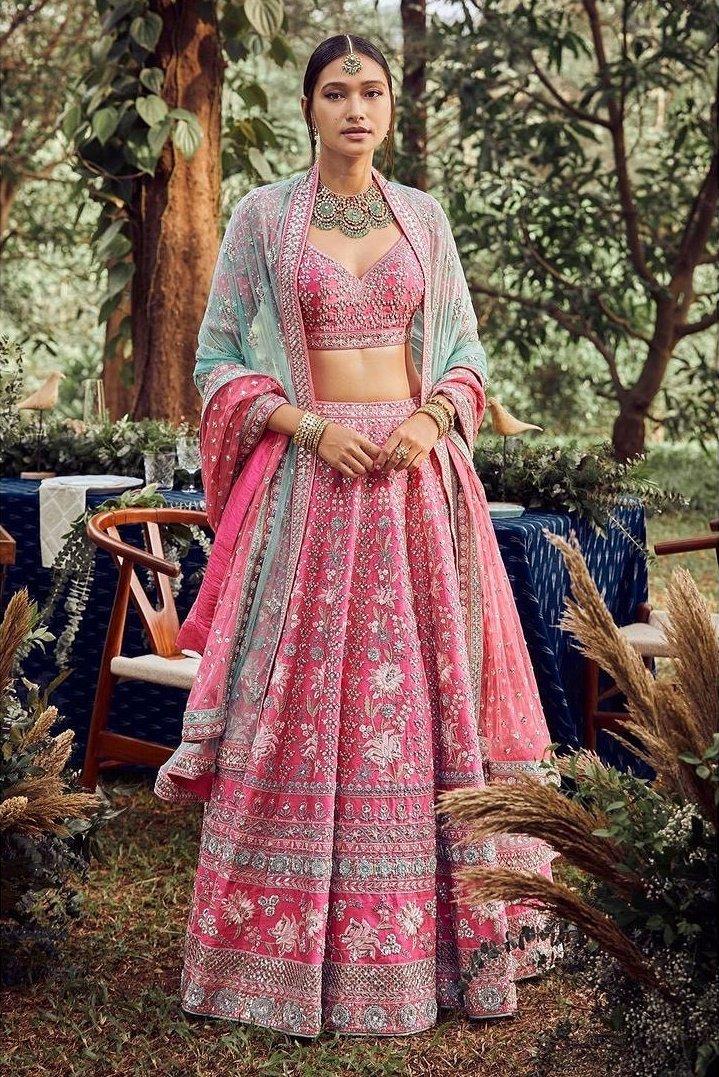 Anita Dongre Prushti Lehenga - Pink l Price: 391,000/-
This splendid pink Anita Dongre wedding lehenga is the personification of graceful femininity. This wedding attire further has a dewy look along with exceptional embroidery with the spectacular composition of gotta patti, dori, pearl, sequins and zari. Curated diligently by skillful artisans, this pink Anita Dongre lehenga is a dream come true for many brides
Anita Dongre Lehenga Designs for Wedding Guests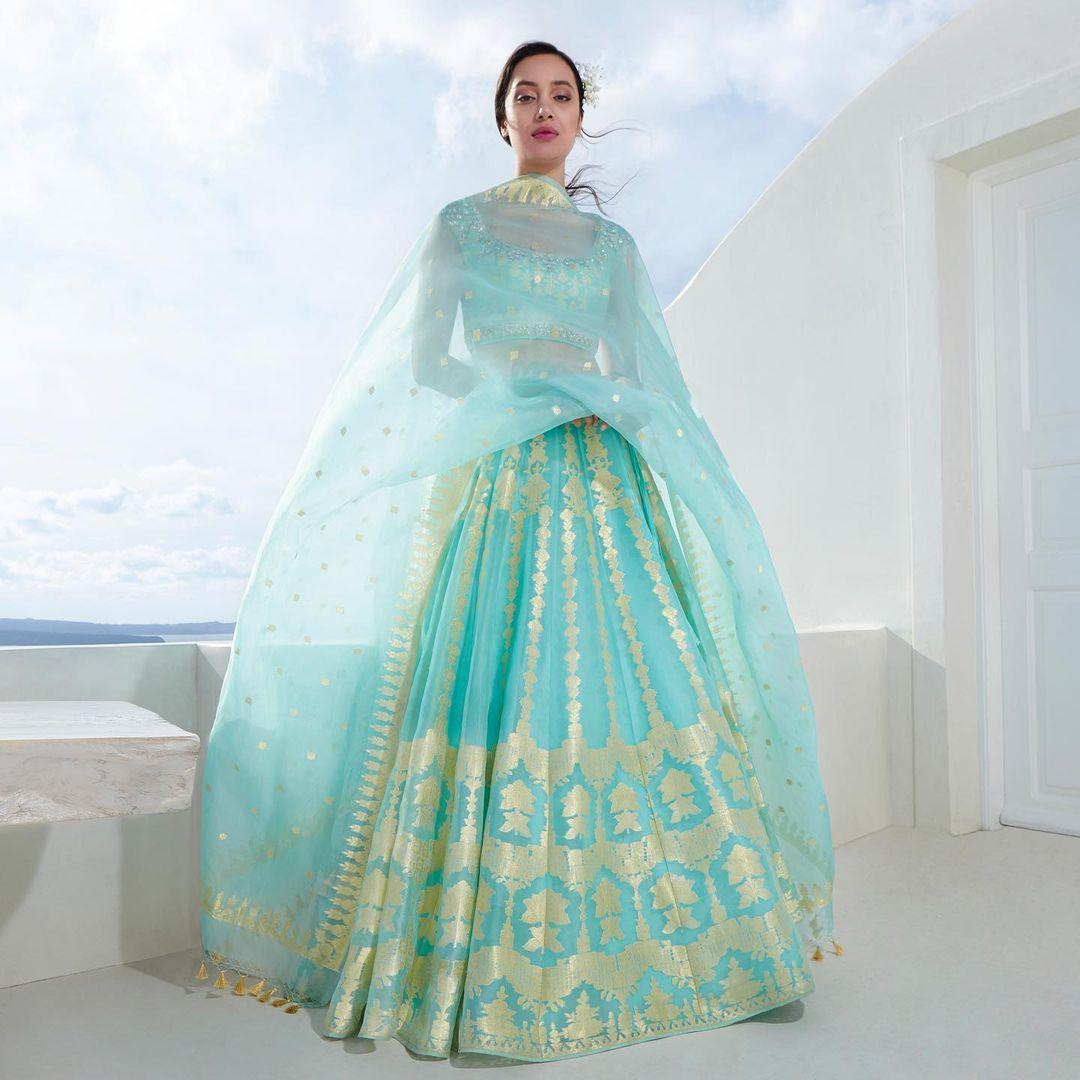 Anita Dongre Alethi Lehenga - pastel l Price: 150,000/-
Every millennial bride would definitely pick this princess shade for herself. Be it for her best friend's wedding or her dear sister's wedding. this Anita Dongre wedding dress will captivate many eyes. The metallic thread work will allure everyone for sure.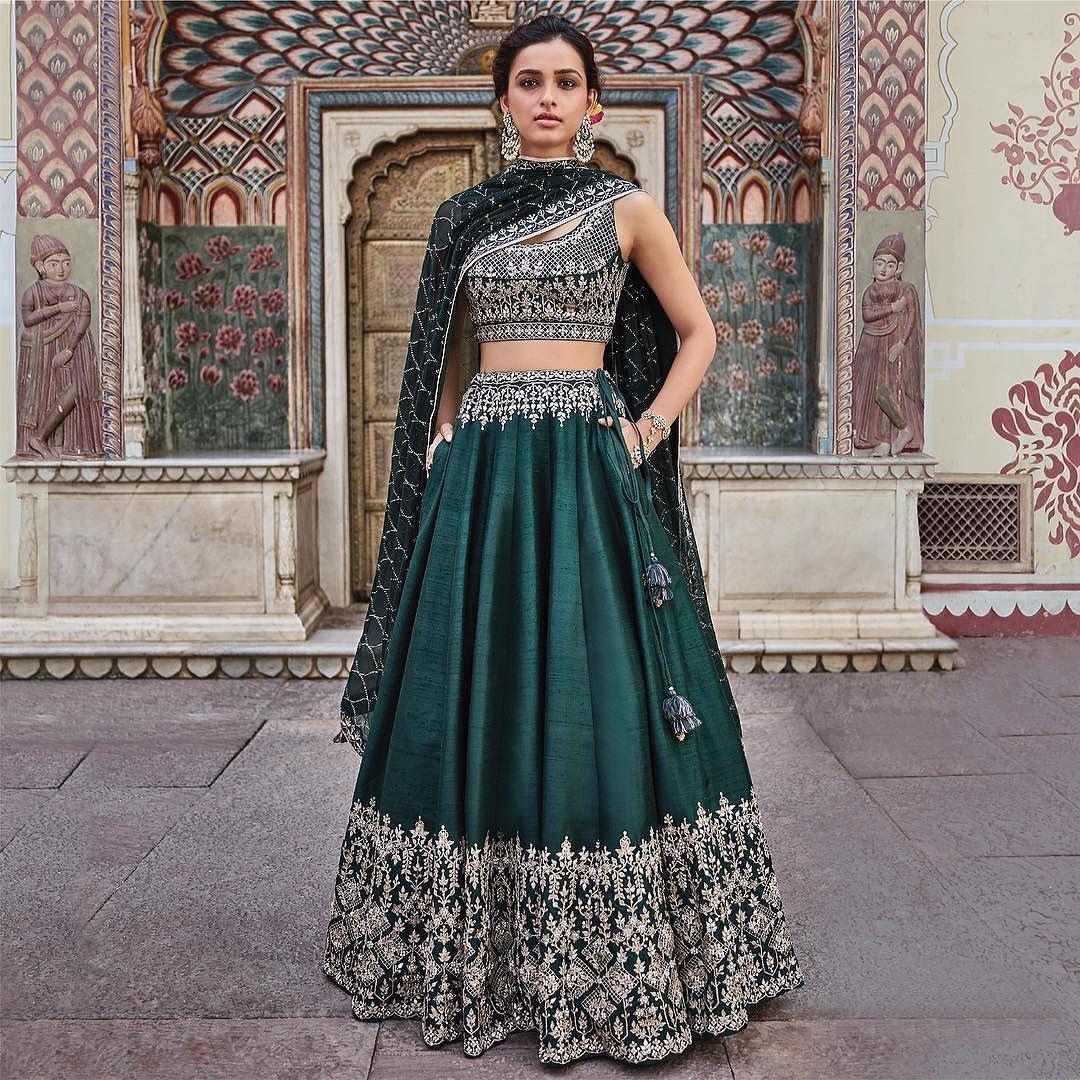 Anita Dongre Vatsala Lehenga - Emerald green l Price: 329,000/-
There is something royal and something luxurious in this Anita Dongre green lehenga. This beautifully embroidered silk lehenga is perfect for a special occasion. The refined Gotta patti work is further elevating the charm of this splendid piece.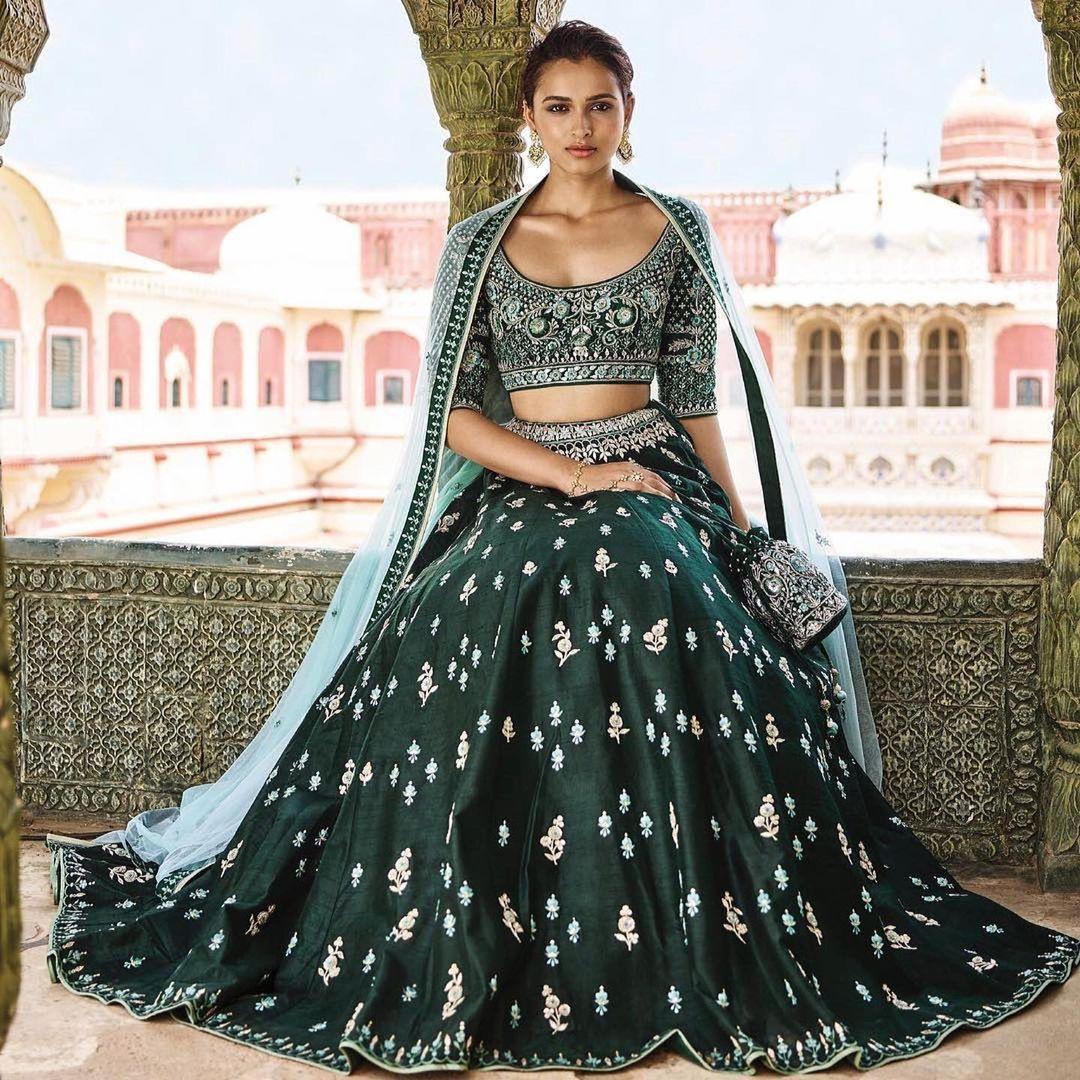 Anita Dongre Dharni Lehenga- emerald green l Price: 255,500/-
This royal emerald green silk lehenga is intricately handcrafted with love. Drench in richness this Anita Dongre green lehenga is apt for wedding guests who seek to steal the limelight.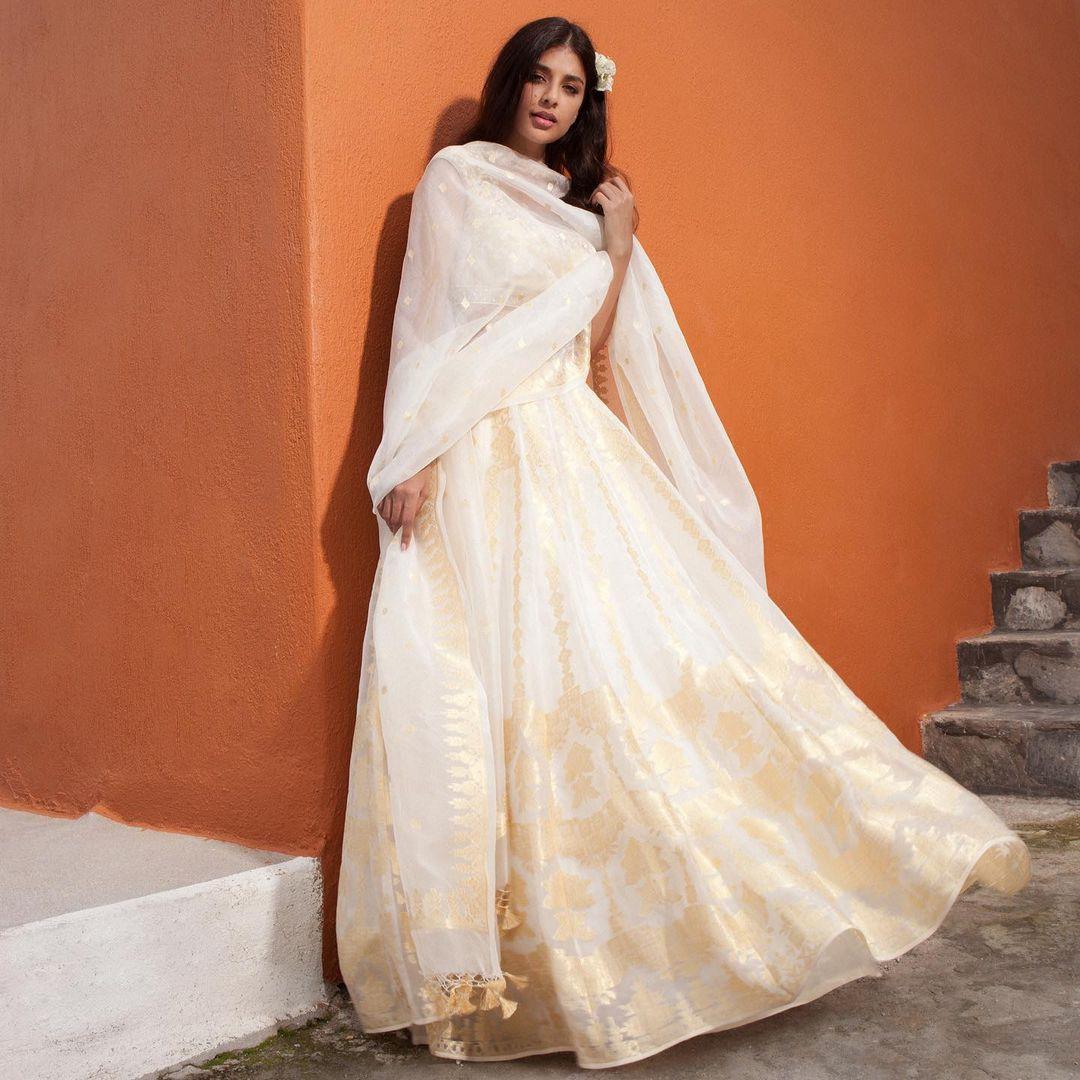 Anita Dongre Alethi Lehenga - cream l Price: 150,000/-
A breezy, dewy, and charismatic Anita Dongre lehenga that exudes utmost grace. The metallic gold work dazzles to allure the right amount of glamour and elegance. A must-pick for a lady with dignity and grace.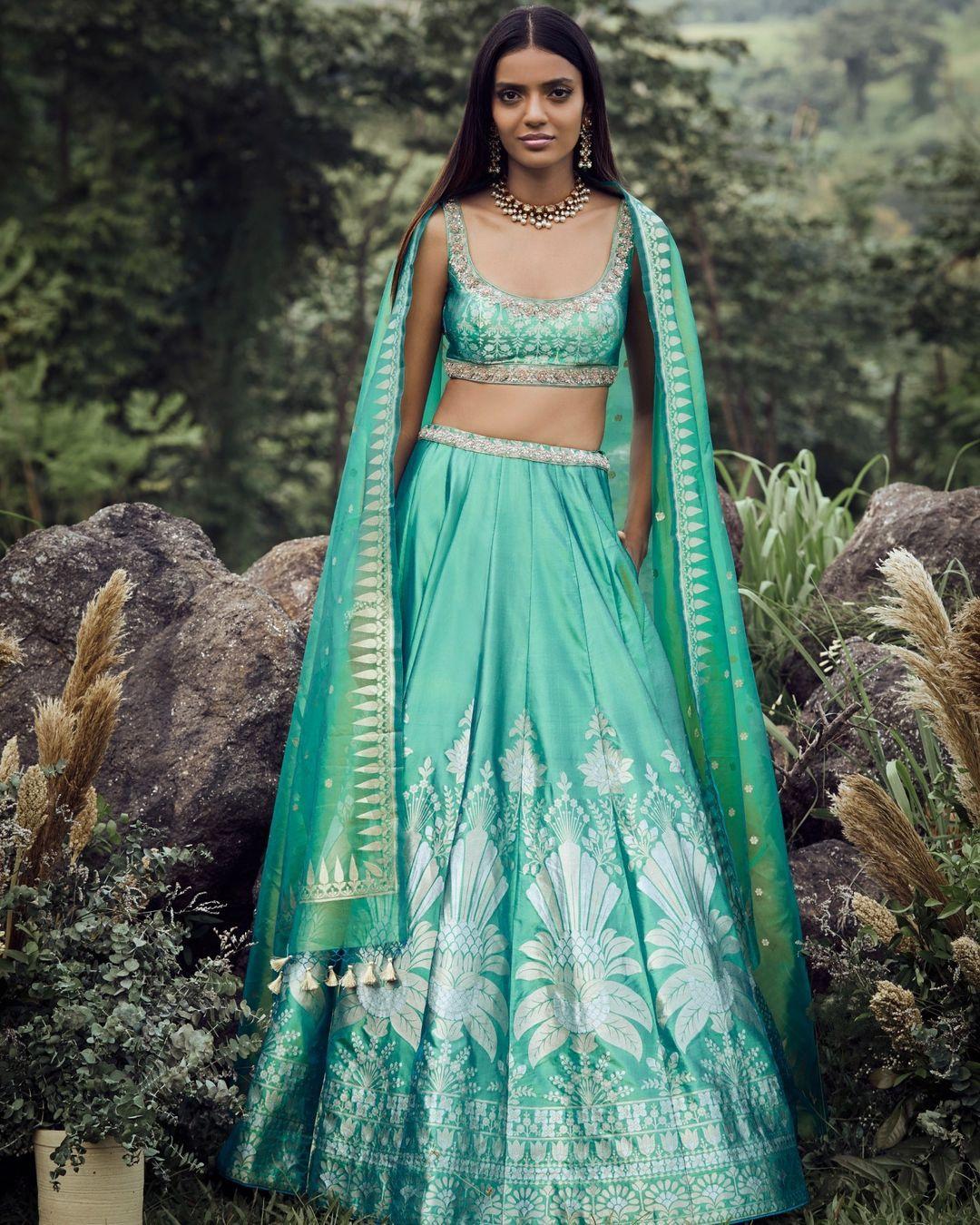 Anita Dongre Naazira Lehenga - Green l Price: 199,000/-
A beautiful Banarasi brocade lehenga handwoven by skillful artisans is every bridesmaid's dream. Classy, scintillating, and trending - this Anita Dongre green lehenga is creating a stir for all trending reasons.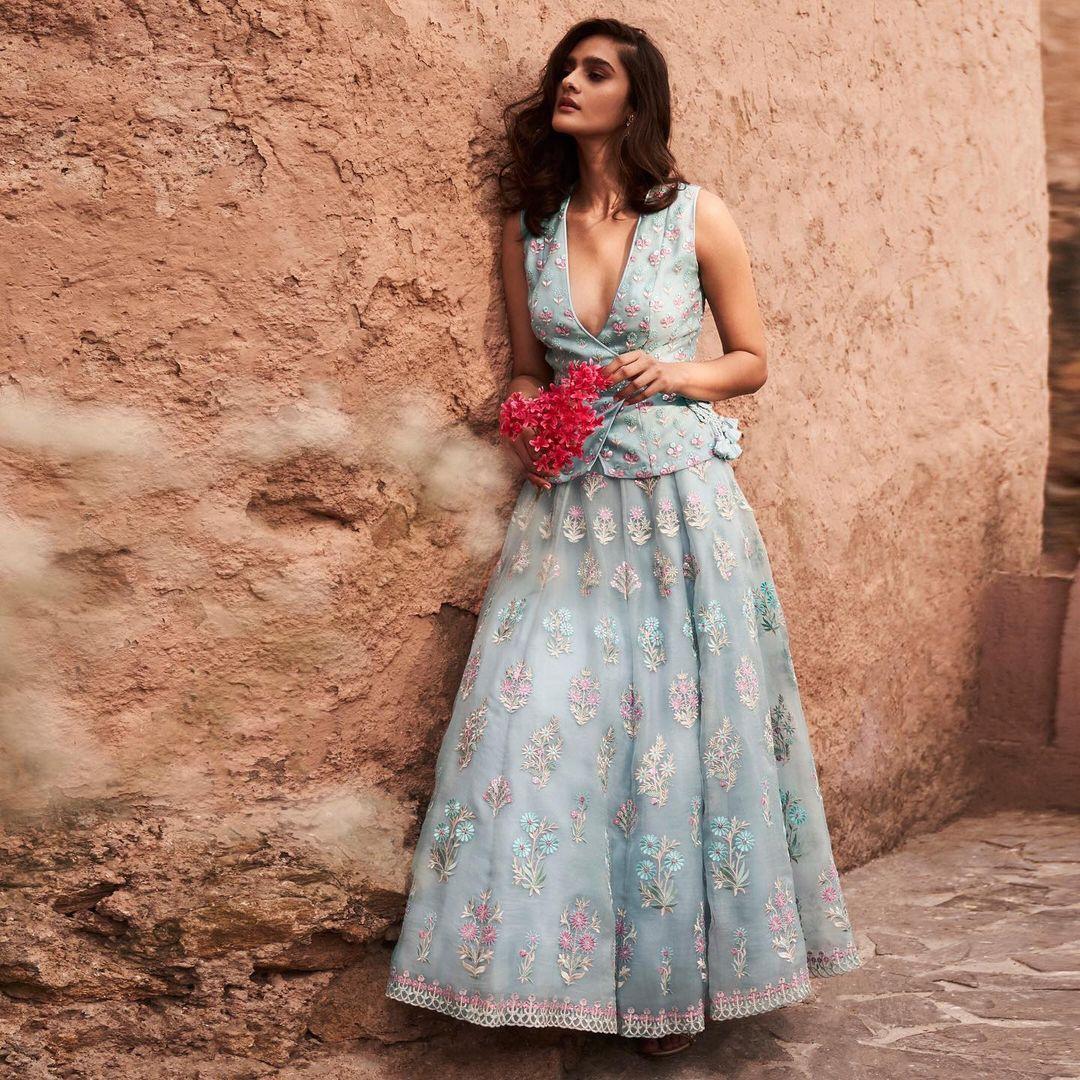 Anita Dongre Amora Overlap Top & Skirt - Powder Blue l Price: 95,000/-
Walk with panache as you adorn this skillfully designed skirt by Anita Dongre. The outer skirt is made from silk and the inner has viscose. This Anita Dongre wedding dress is glamorous and spectacular. The wild blooms are further elevating the elegance of this stylish wear.
We are sure that you must be smitten with bridal lehenga designs by Anita Dongre too. These lehengas from Anita Dongre's latest collection will satiate your quest for scintillating bridal designs. You can head to the Anita Dongre Storefront on our website to contact the designer today.
Find More -
Anita Dongre Jewelry l Anita Dongre Gowns l Anita Dongre Suits l Anita Dongre Sarees