100 + Roundup of the Latest Lehenga Designs and Colour
Ready for a flight to your mandap in the prettiest lehenga? Take notes from the latest designer Lehangas -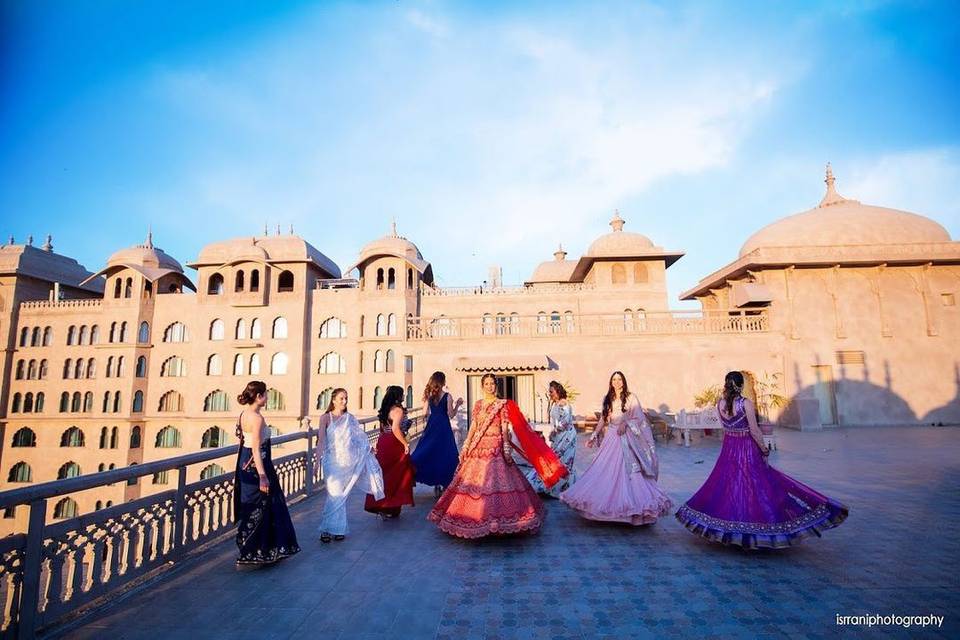 Dear brides-to-be, if you're heading for a wedding shopping spree, then this is the note for you. We went looking for the latest cues on bridal wear from our niche designers for you. We know that you are keen on finding the perfect set of bridal finery, but confused amid the myriad lehenga styles, both from celebrated designers like Manish Malhotra and Sabyasachi to boutiques in Shahpur Jat and Chandni Chowk? Here is the roundup of all the latest lehenga designs and color shades.
In this Article -
1. Latest Bridal Lehenga Designs
2. Latest Simple Lehenga Designs
3. Latest Party Wear Lehenga Designs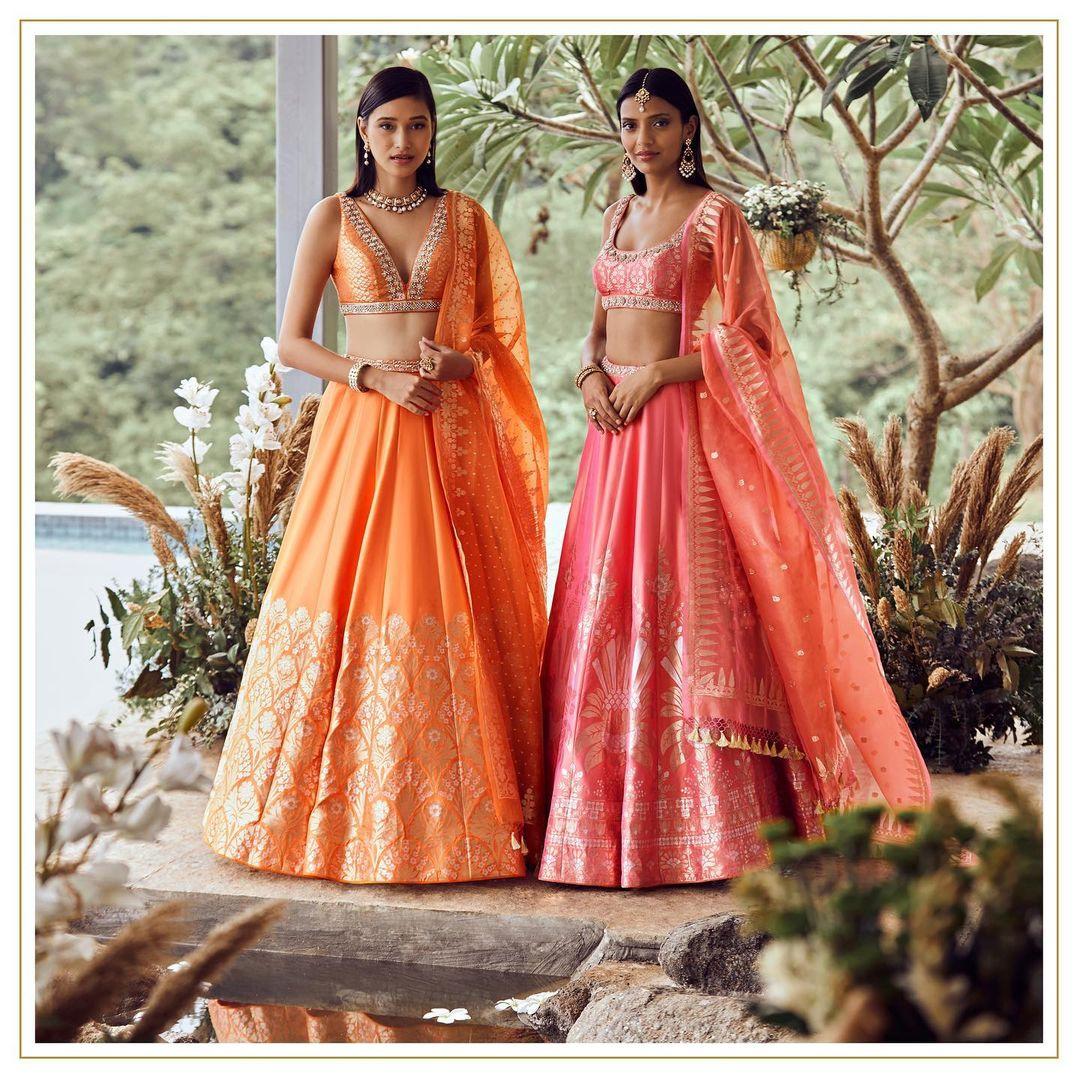 Latest Bridal Lehenga Designs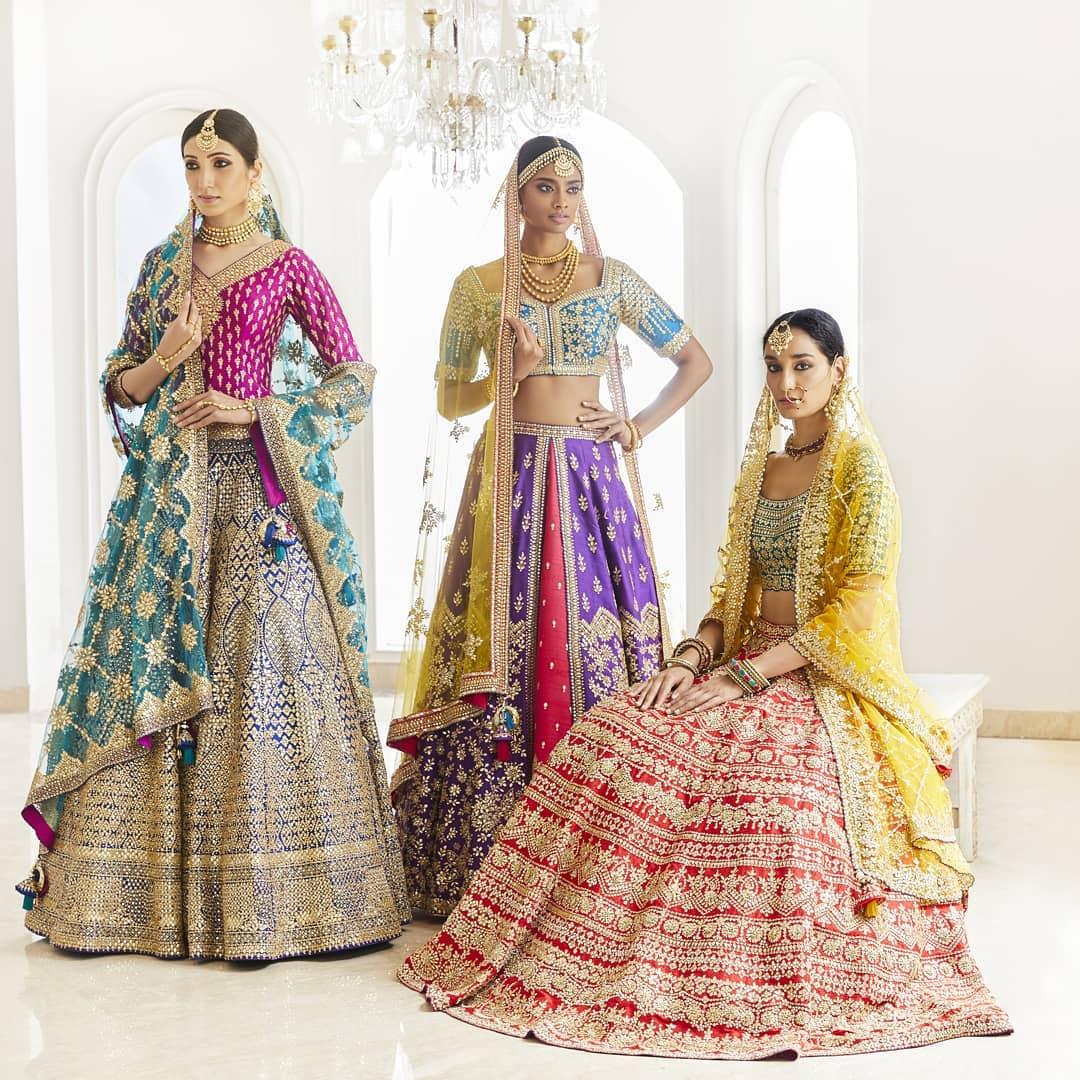 Image Credits- Seema Gujral
The Pandemic could not stop designers from bringing forth their best creativity. Yes, even in the pandemic, we could see designers celebrating their innate creativity in other ingenious ways. Some celebrated through their exquisite creations and some through designs. Some celebrated through handwoven lehengas, some through intricate work, and some whilst revealing unique designs inspired from the yesteryears. Let's have a complete roundup of the latest designs and colors.
Maharani's Latest Bridal Lehenga Design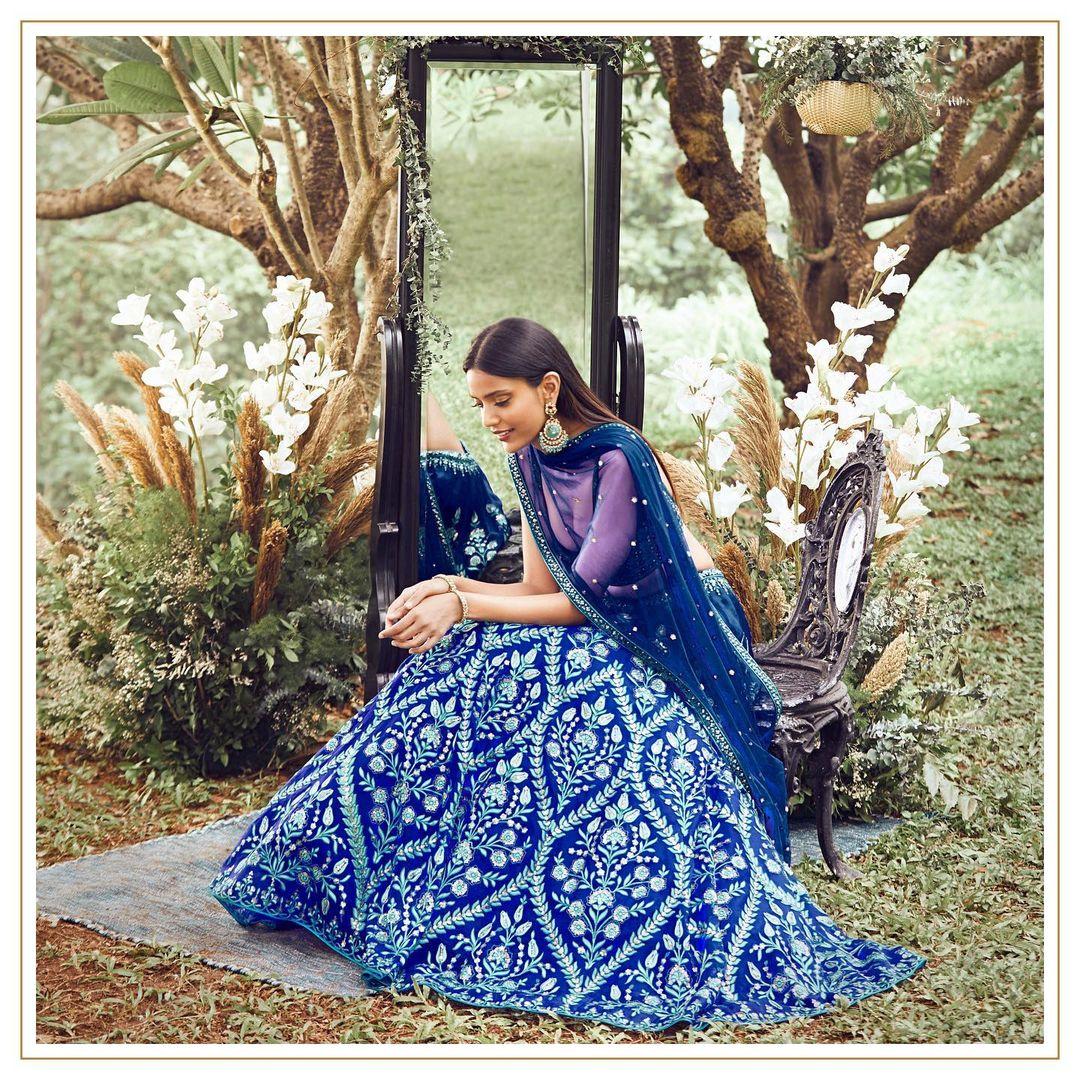 Like other Anita Dongre collection- this "Love Song" collection encompasses lehengas with a royal maharani look. This design exudes Anita's trademark scintillating gota Patti work, zardozi embroidery, and sequence, and Dori's works on raw silk and organza and brocades. The beats of the loom and motions of trained hands create exquisite patterns too. The designs are formed on hand-held looms which are akin to bridal finery as special as the bride herself.
Floral Love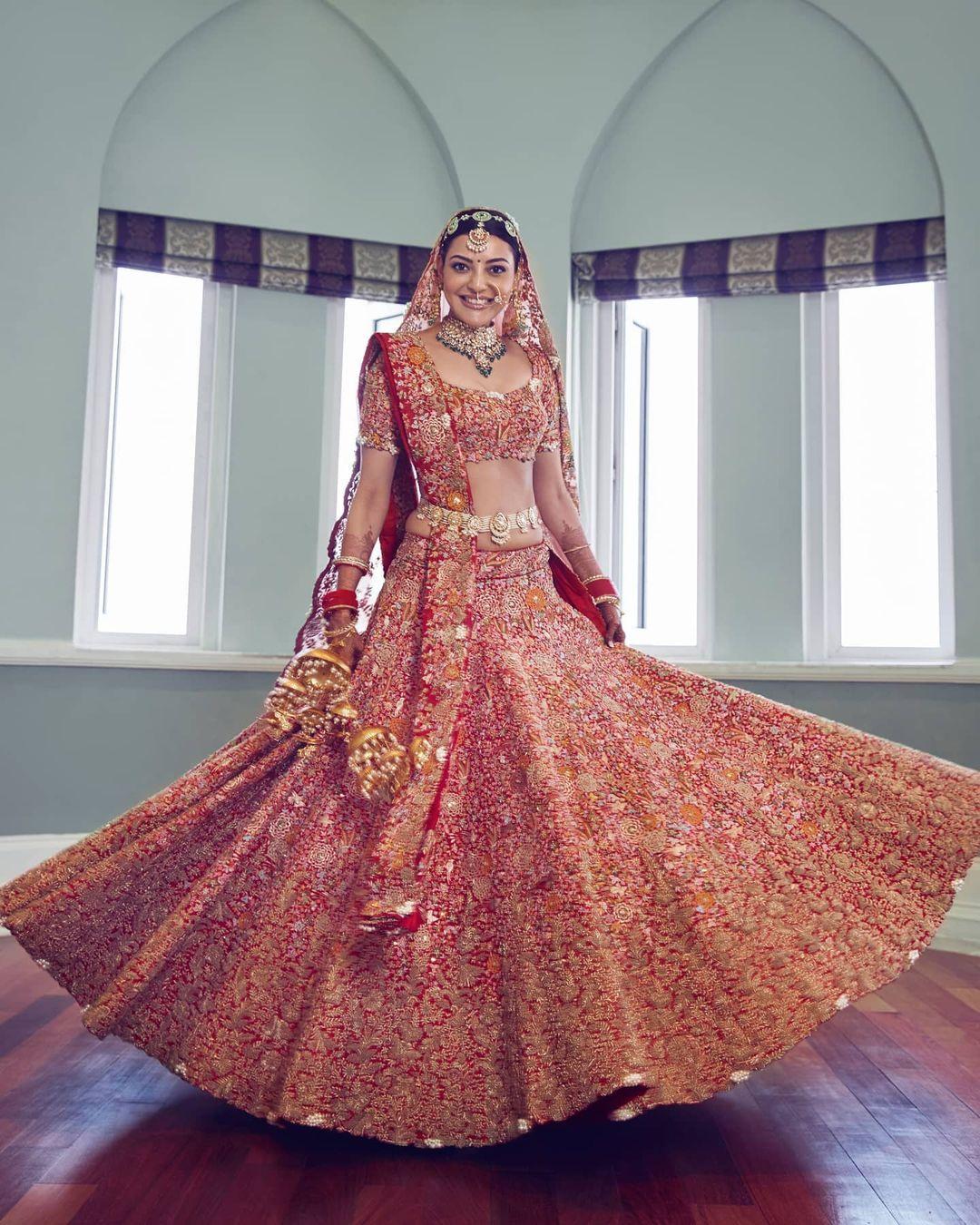 Image Credits - Anamika Khanna
This lehenga is adorned by Kajal Aggarwal in an Anamika Khanna lehenga. It is a form of labor of love collection. This lehenga has an intricate zardozi embroidered floral pattern that took 20 people almost a month to create. You will love every single detail of this lehenga, especially the floral embroidery all over. The layer of her red dupatta on her lehenga is so well tucked and it's just accentuating her lehenga from the back. Further, her light color dupatta matching her floral embroidery color is so well thought out. Indeed, the pure balance of beauty and grace.
Vintage embroidered borders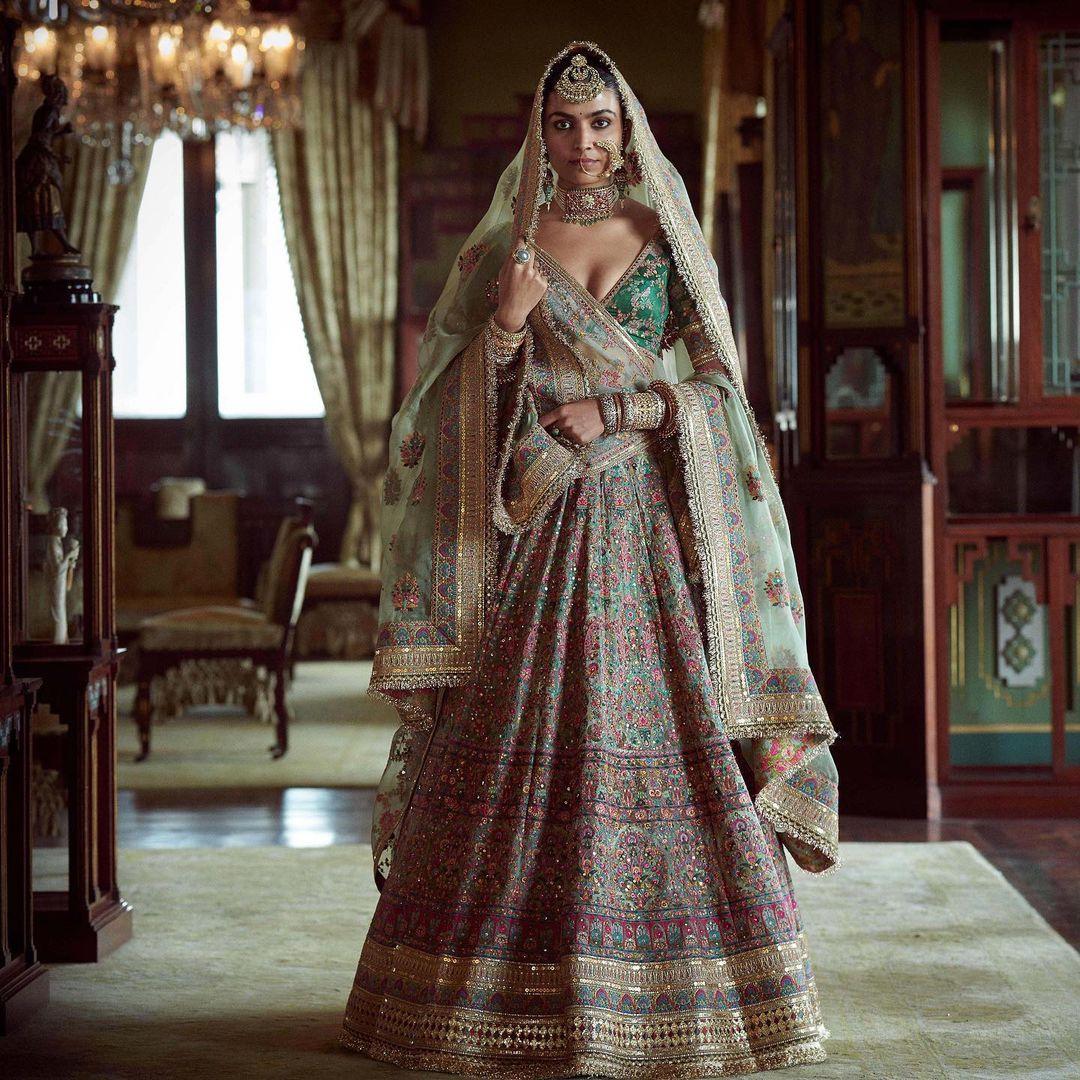 Image Credits - Sabyasachi Mukherjee
This rose jade organza bridal lehenga, is meticulously embroidered with Kashmiri threadwork inspired by Sabyasachi's collection of antique shawls. The lehenga is detailed with vintage embroidered borders which are edged with silver dipped 'Kiran'. We are always head over heels with vintage designs. Are you?
Metallic Lehenga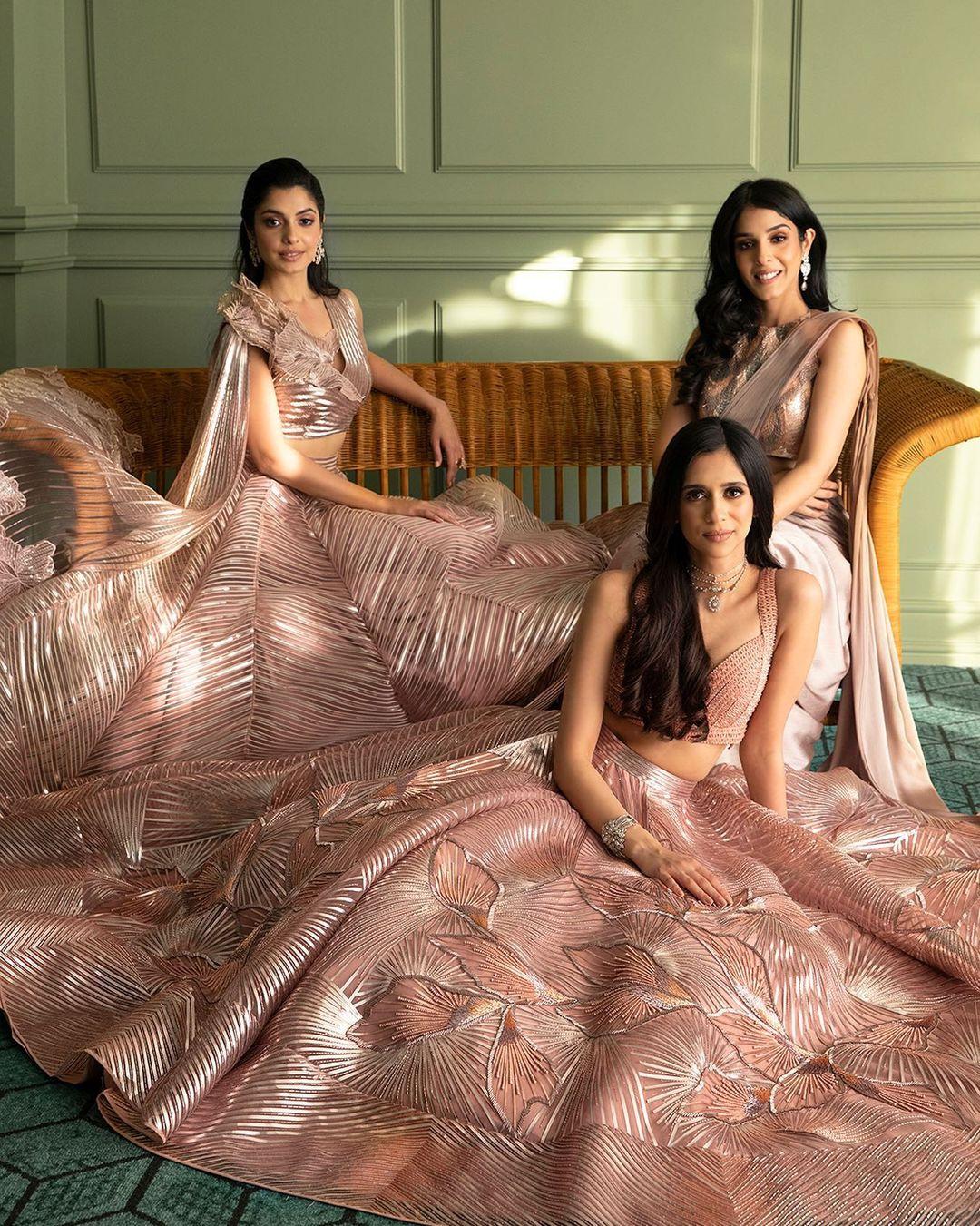 Image Credits - Amit Aggarwal
Metallic lehengas have made their way into the hearts of millennial brides who have taste for edgy and chic designs. The latest wave of metallic latest lehenga designs stirred the fashion world. This wave is definitely for the experimental brides who are not afraid to try anything new and trendy. It is also considered a red-carpet-worthy outfit inspiration for millennial brides. Check these designs by designer Amit Aggarwal. Here these three sisters are adorning metallic fashion with enough poise and charm.
Luxury and Royal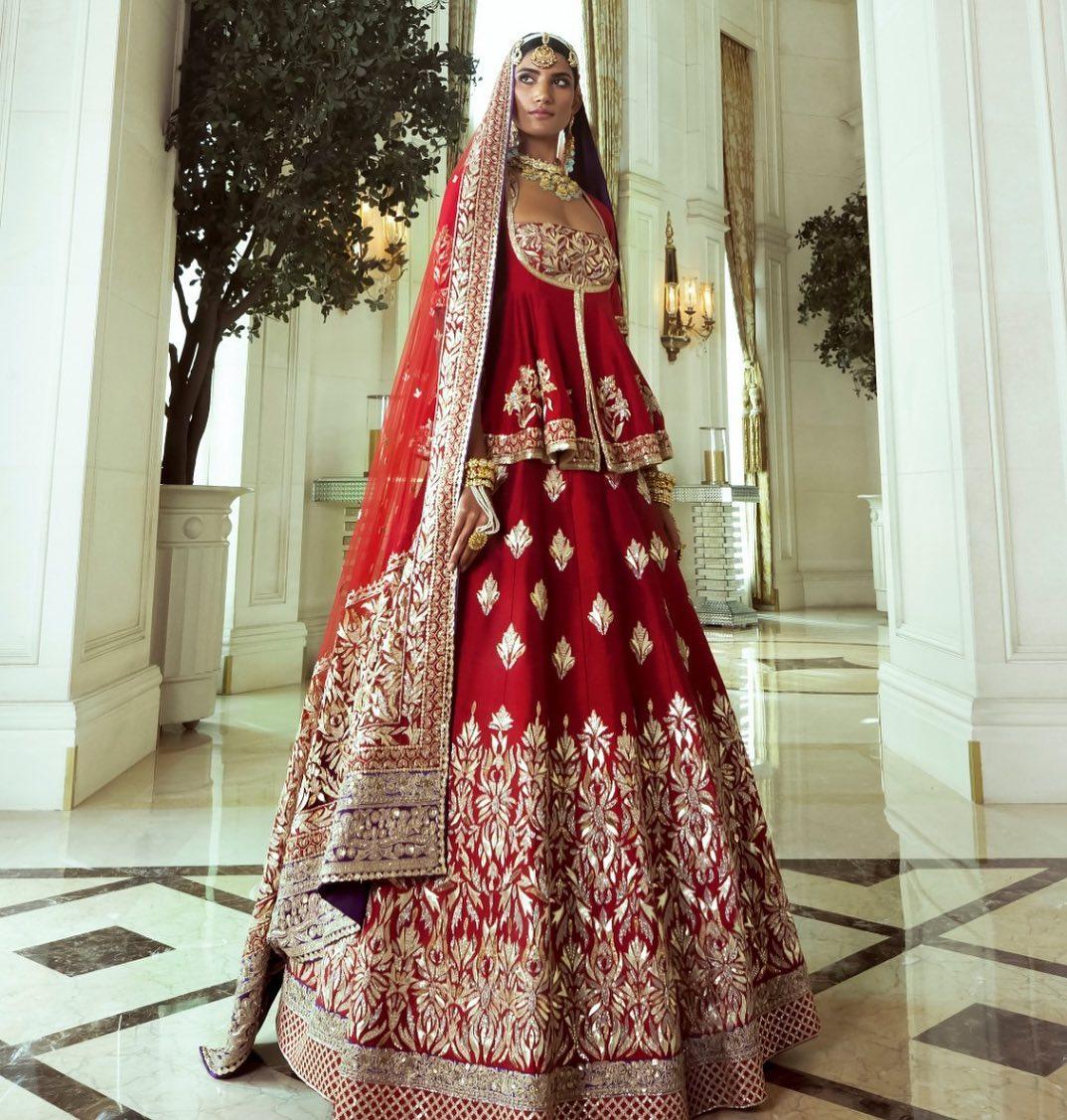 Image Credits - Manish Malhotra
These ethereal designs are a huge shoutout to the artisans who are serving us with sheer dedication. This lehenga by Manish Malhotra depicts royalty and tradition. This collection speaks volumes about luxury, heritage, and tradition.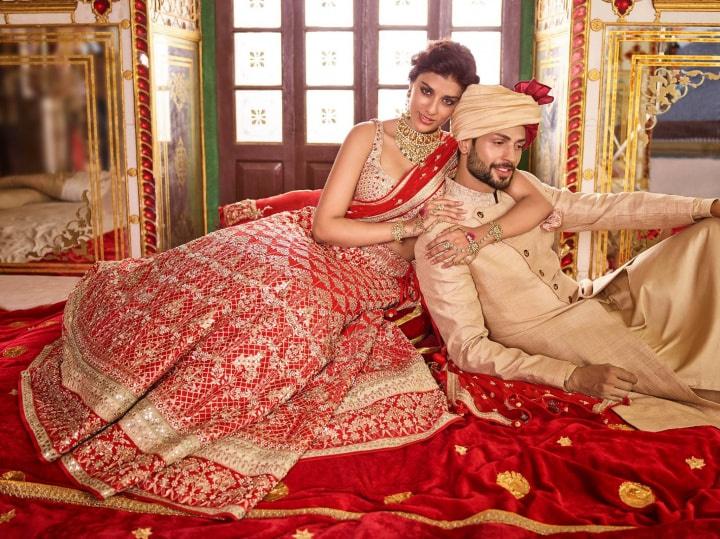 Latest Simple Lehenga Designs
Pink And Beautiful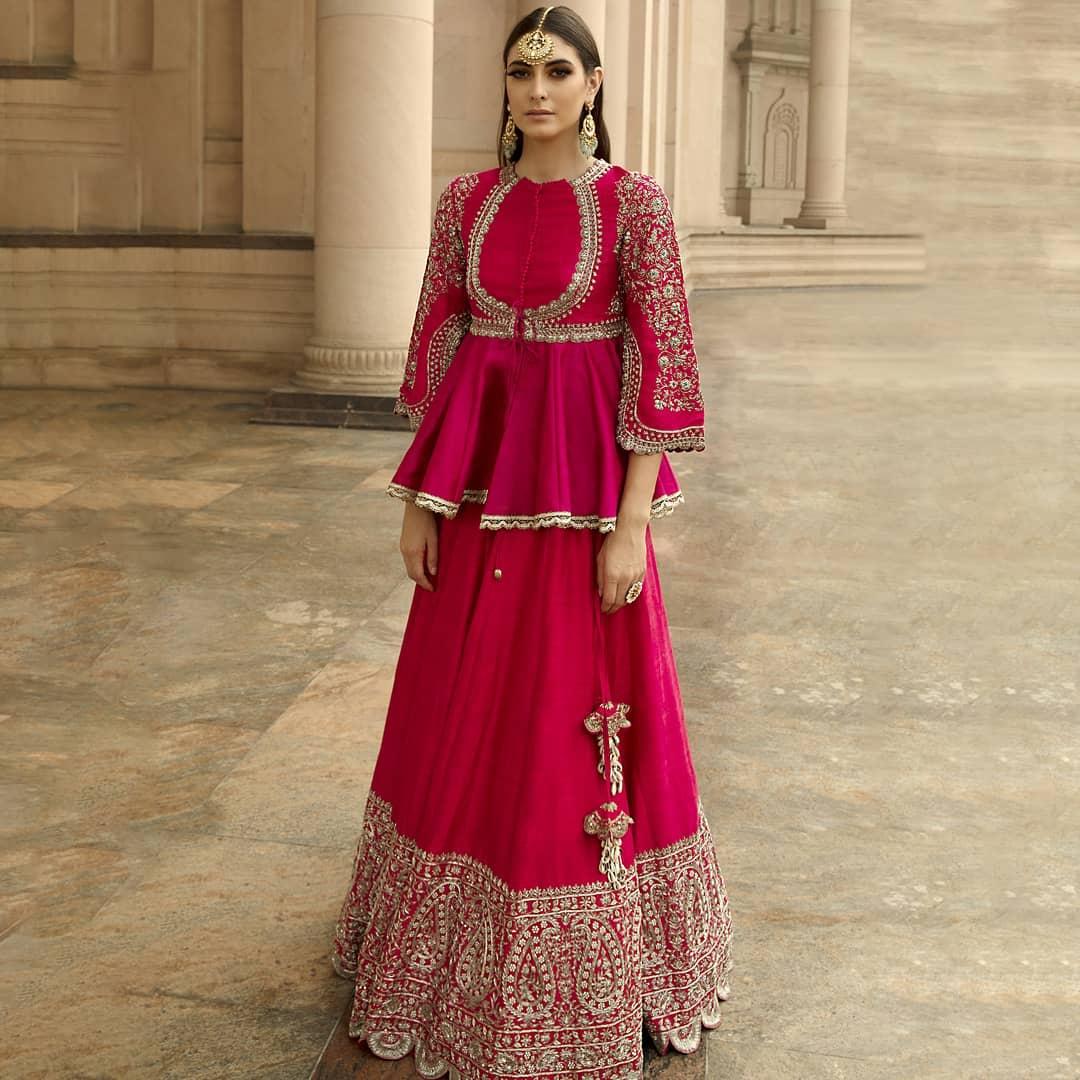 Image Credits - Pinterest
This was a year of sea green, black, dark pink, blue, purple, and pastel hues. Many designers curated interesting designs in these trendsetting colors. Here is the roundup of all the colors. Take a look.
Sea Green Bridal Lehenga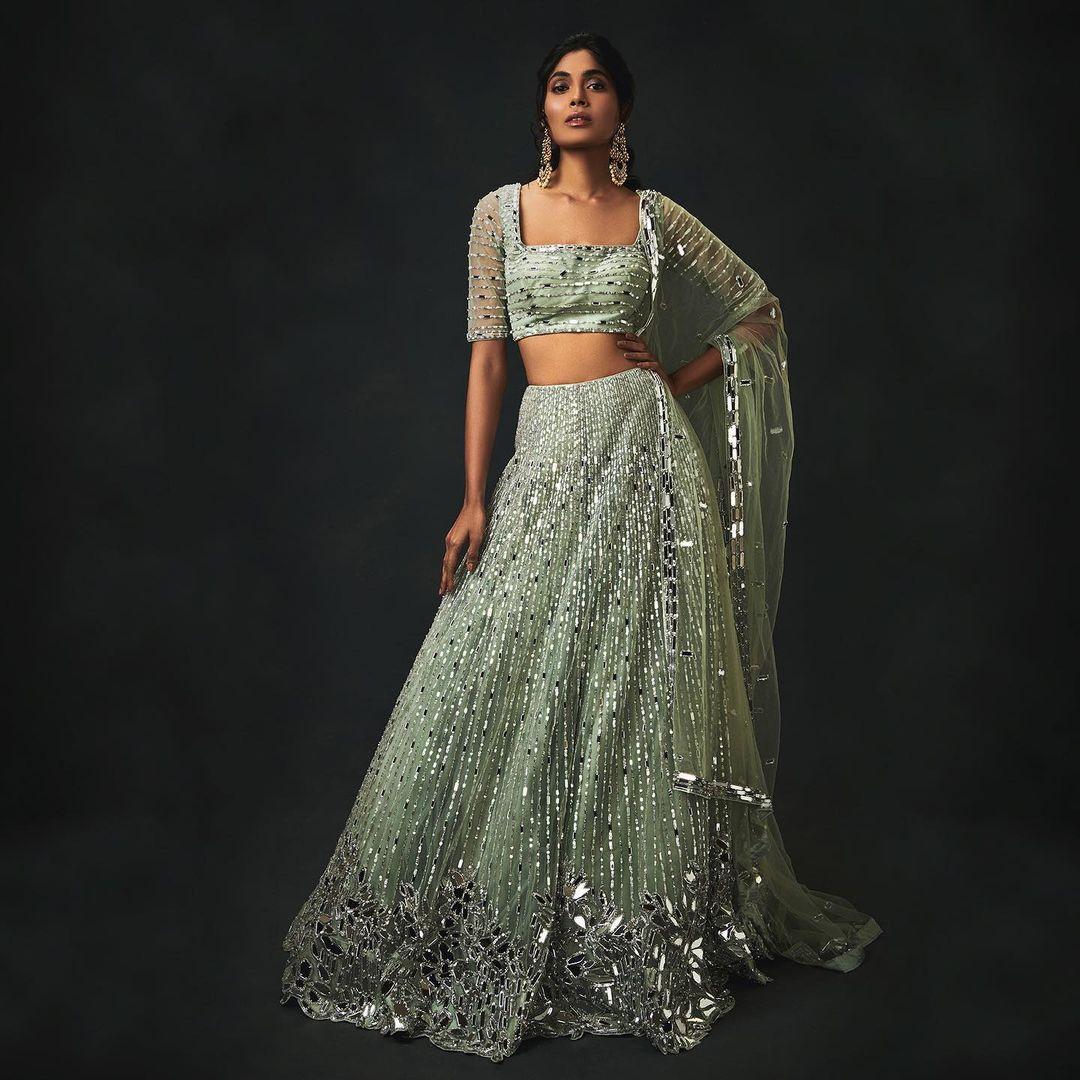 Image Credits - House of Neeta Lulla
Refraining from the cliché, the brides are making a statement with sea-green lehengas. The color green exudes regality and glamour. Further, sea green is a contemporary color. It matches well with the vibrant contrasts. So, light up your destination wedding venue in a stunning sea green lehenga and oodles of confidence and charm! Hope this cherry-picked lehenga gives you some sea-worthy inspiration! Through this Lehenga by House of Neeta Lulla - the bride shares about her collection Mēghadarpaṇam. This range encapsulates the varied fragments of a woman's personality and presents them as her luminous self.
Latest Purple Lehenga

Image Credits - Pernia's Pop Up Shop
Add this royal purple to your bridal closet and you have a whole new trendsetting look for yourself! Dazzling, royal, and elegant - your lehenga in purple cover all kinds of moods and occasions with enough panache and glam. Pair them up with stylish blouse designs, fascinating jewelry, and accessories and you're ready to rock every show! The above is picked from Pernia's pop-up shop. We are totally in love with it.
White Lehengas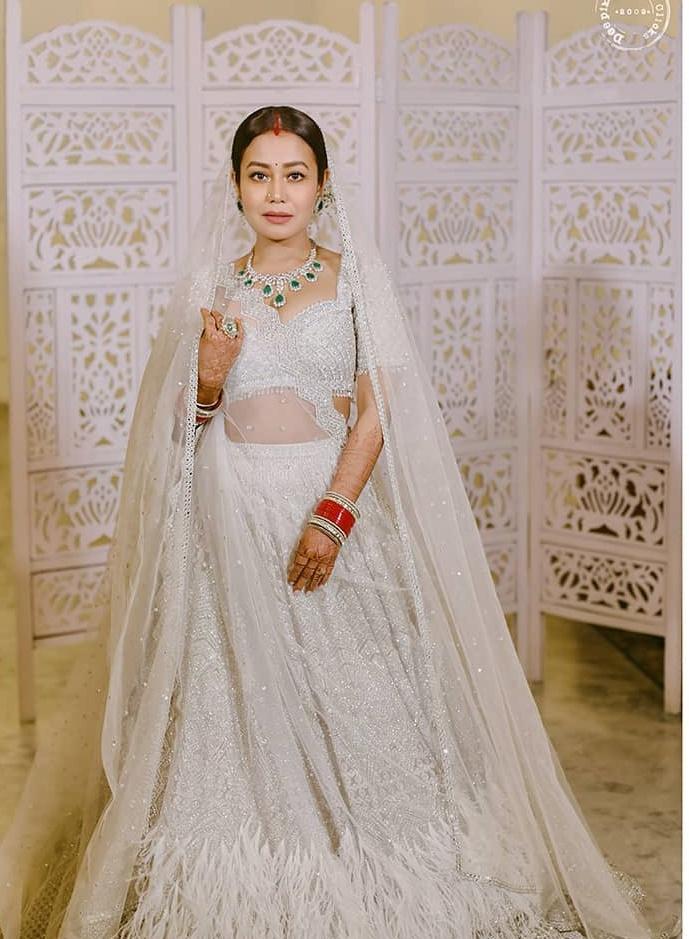 Image Credits - Falguni Shane Peacock
If you yearn for a fairy tale wedding, then this latest lehenga design is for you. Whimsical, pure, and untainted lehenga by Falguni Shane Peacock will strike you in the one go.
Love For Creams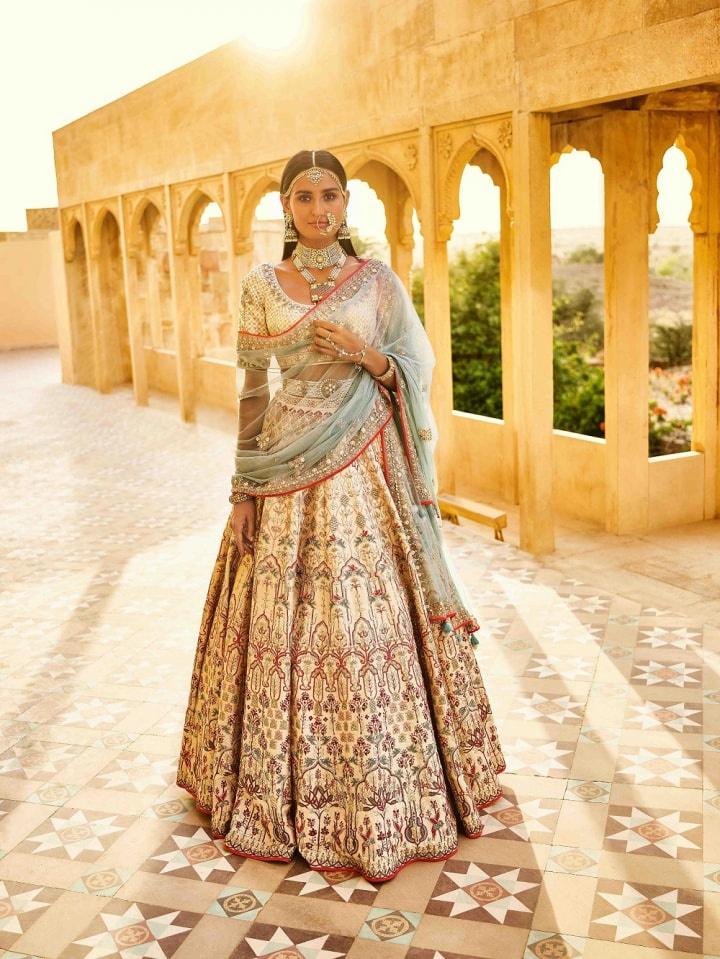 Dreamy white lehengas with heavily embroidered designs are nothing short of a fairytale look for contemporary brides. The juxtaposed sequin work makes it even more fresh and breathtaking. These white lehengas from Falguni Shane Peacock and Anita Dongre is an elegant Indian bridal wear that will make the heads turn as you walk towards the stage.
Pastel Lehengas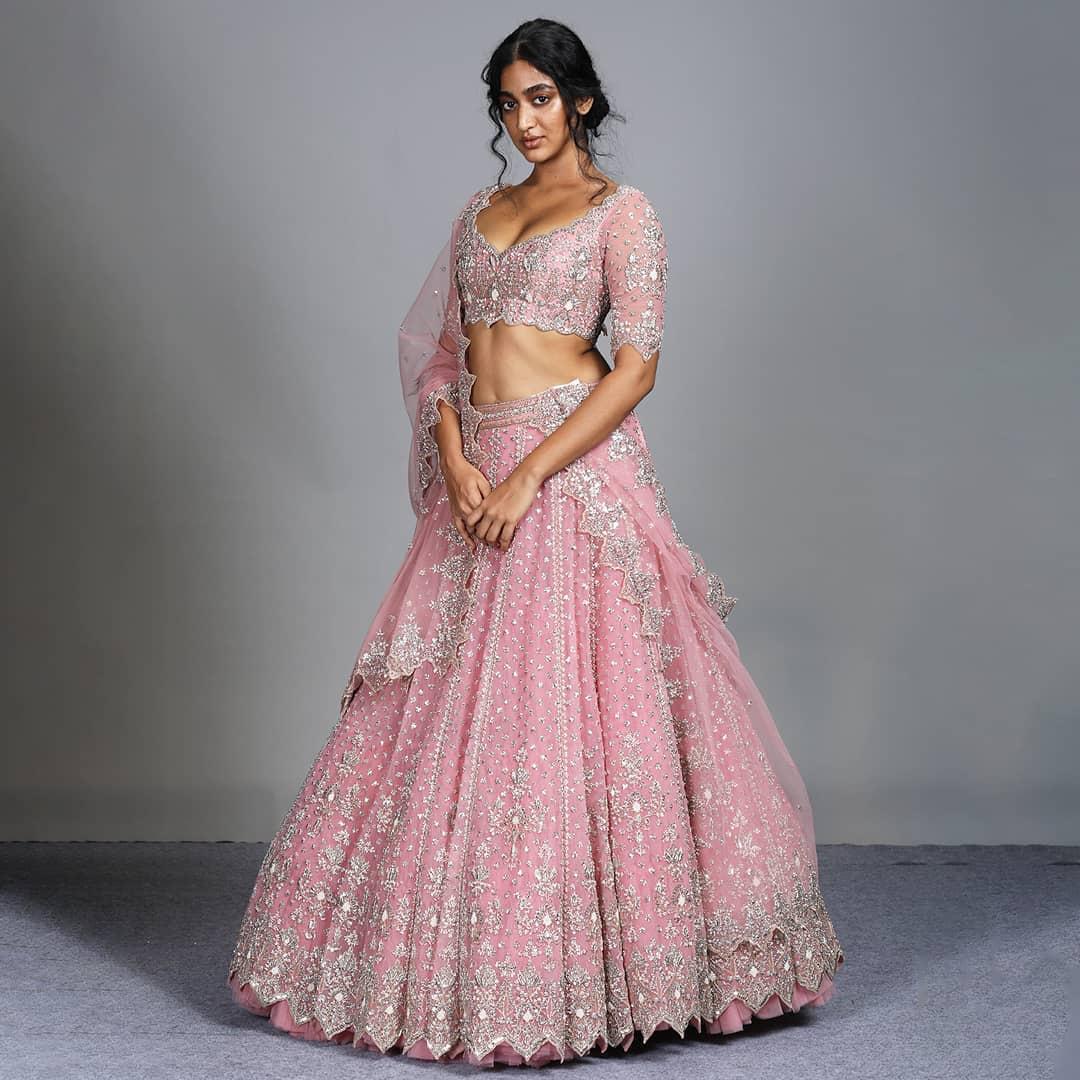 Image Credits - Anushree Reddy
WWI Team researched the bridal trends and colors and surprisingly brides have chosen all pink, peach, pale green, and other pastel colors. Here are some pastel lehengas that are slaying the trend! Here Anushree Reddy has brought back the romanticism and femininity in her unique signature style with a pink pastel shade!
Latest Party Wear Lehenga Designs
Pastel Green
This velvet green lehenga from Soltee by Sulakshana Monga with the embellished off-shoulder modern blouse and frill detailing is creating a stir for its different look! Isn't it awe-inspiring?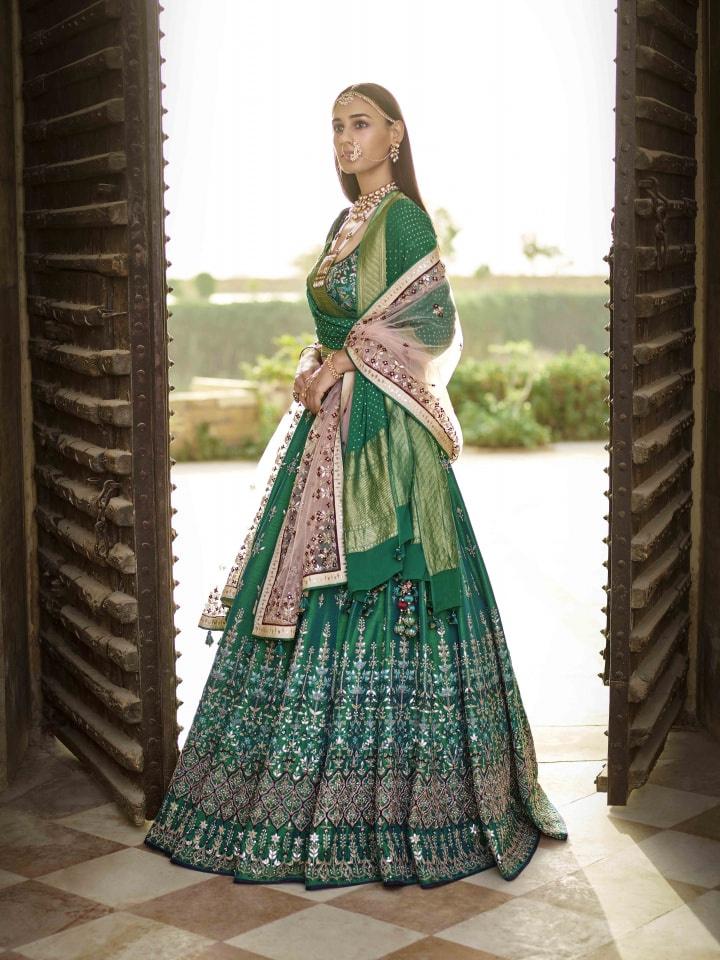 A classic blouse with fascinating accessories such as a belt to accentuate your curves or a hand-embroidered jacket paired with the lehenga makes for a perfect ensemble. These are some designs that are evergreen-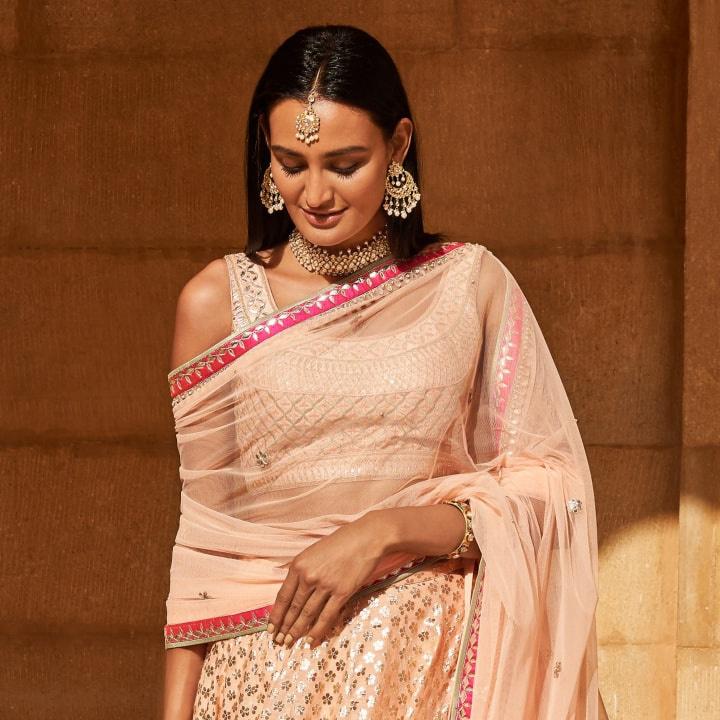 Bling and sophistication go hand in hand this season. The latest lehenga designs and color styles are all about making the day even more memorable and the bride even more gorgeous.
So what are you waiting for? Get your bridal lehenga today. For more styling tips you can download our app and surf through myriad options!
Words by Ambika Gulati