13+ Sequin Lehenga Designs for the New Age Bridal Bling
Scrolling through the current trends and finding sequinned outfits all around? So we handpicked sequin lehengas designs to consider for your wedding functions.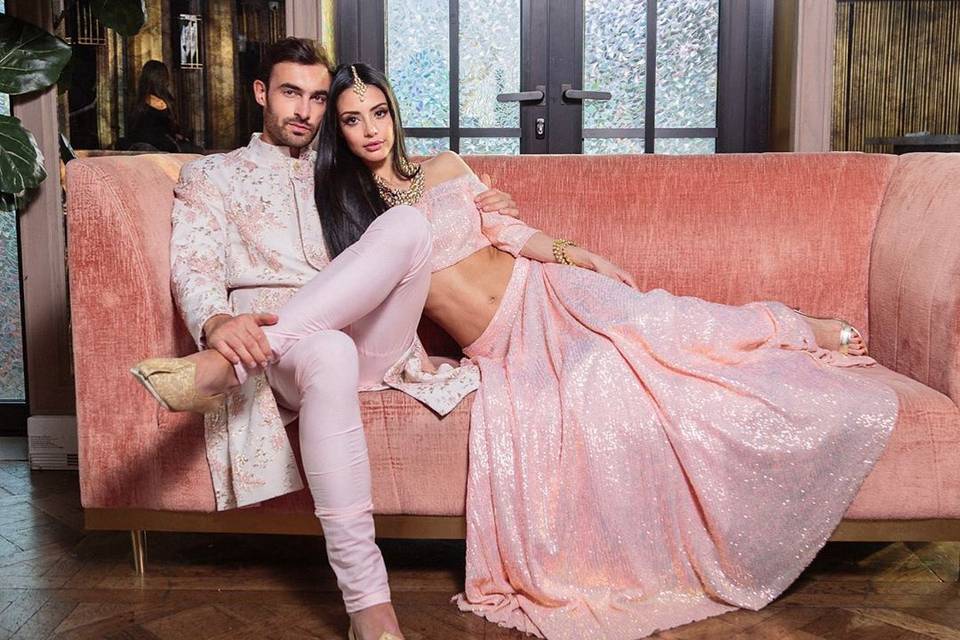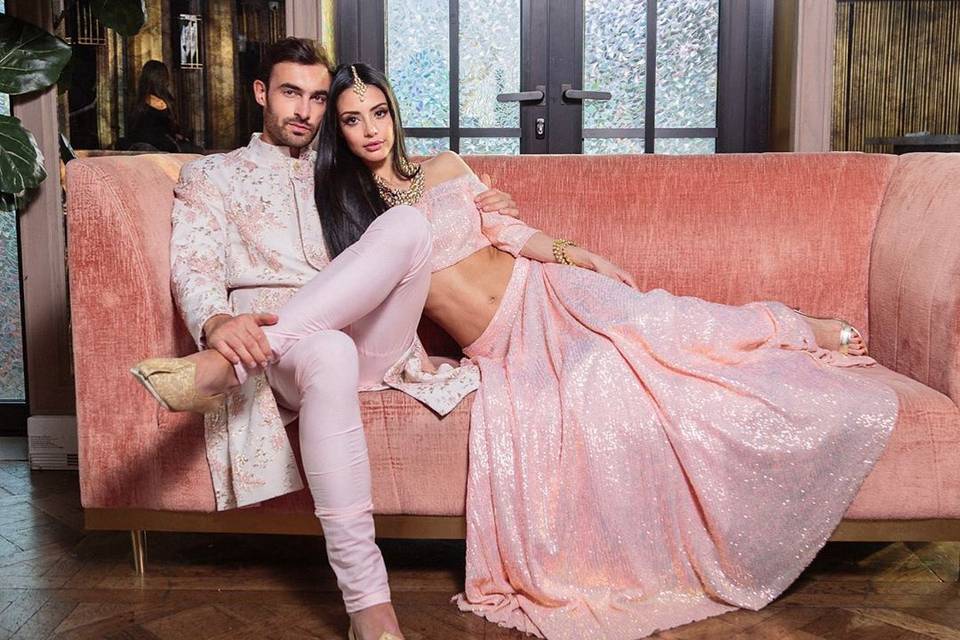 Image Courtesy: Harleen Kaur
Amidst a gazillion trends that every millennial bride has to keep up with, the trend of sequins is the one taking over the internet and how. While sequins in Indian outfits make for a very trendy touch, it adds the bling and the drama to an outfit that our OTT brides will never give up on.
However, even for the brides with a minimalistic sense of style, look for a sequin lehenga that will match your taste, style and keep you up with the trends. For the ones that don't know where to look, scroll through to look at some of the sequin lehenga designs that we have shortlisted and be sure of falling in love with at least one of the styles or more.
Lilac Sequin Embroidered Lehenga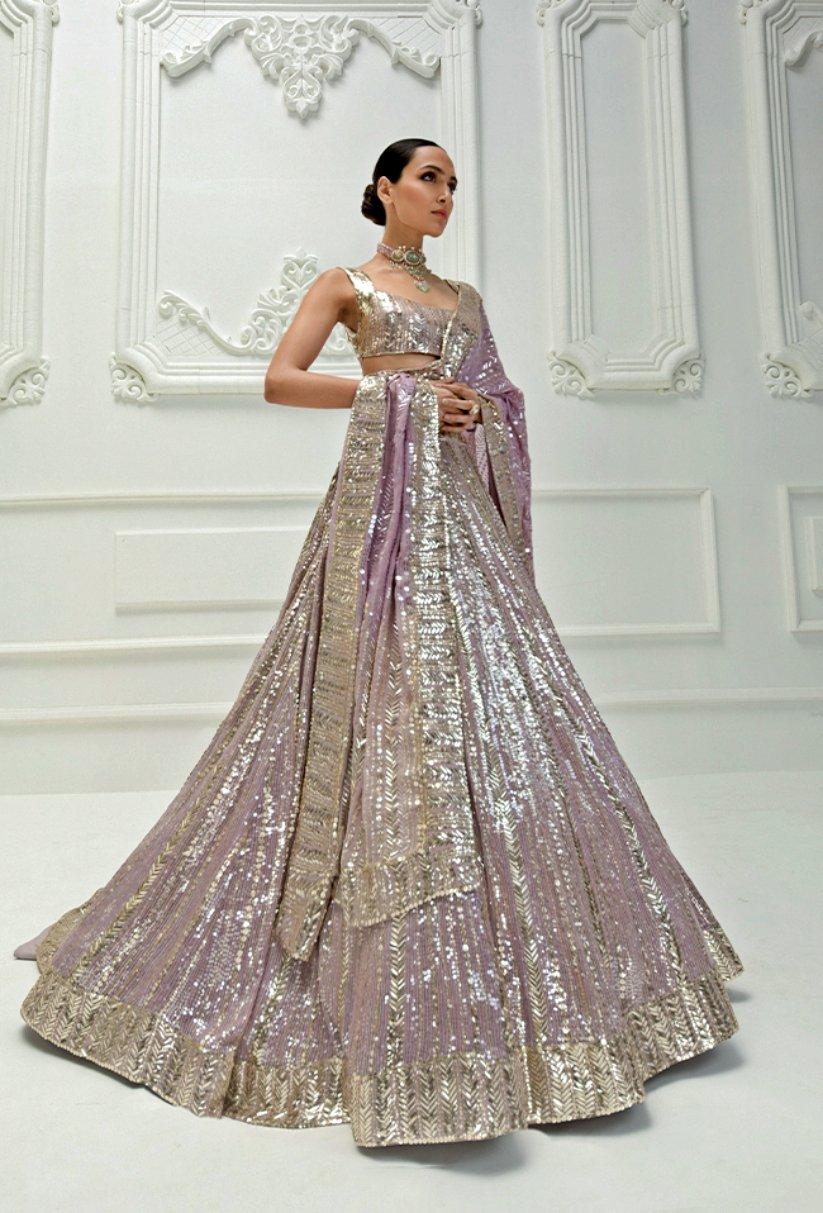 Image Courtesy: Manish Malhotra
With an iridescent touch on the lilac lehenga in georgette, the base is a millennial favourite designed by Manish Malhotra. The gold sequin embroidery builds a pattern worth flaunting in a twirl and this lehenga is paired with a matching blouse and chiffon dupatta.
Midnight Blue Sequin Lehenga in Net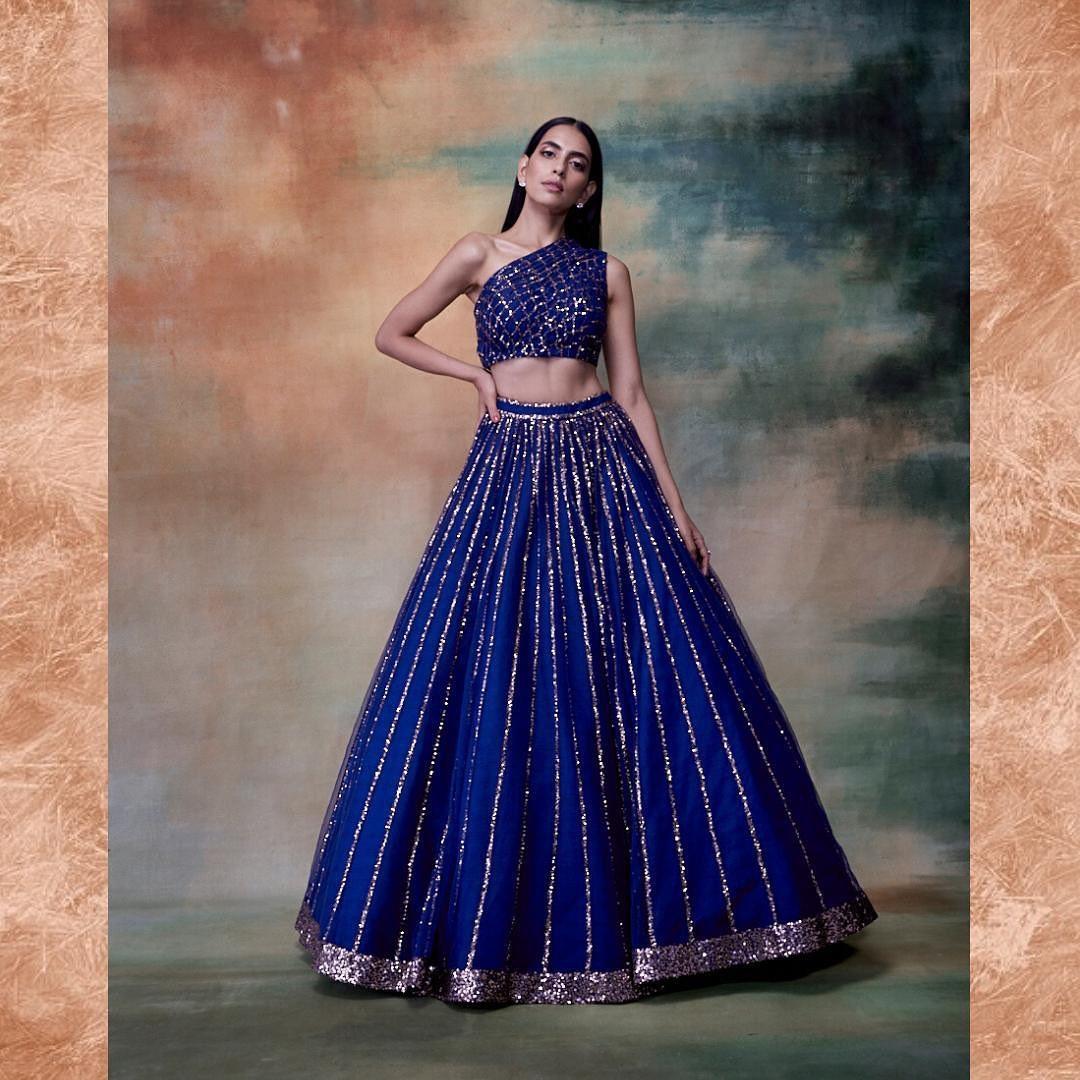 Handcrafted in the house of Vvani by Vani Vats, this midnight blue sequin embroidered net lehenga with striped jaal and sequin work embroidery is a hoot for a fun sangeet ceremony. It is paired with a matching one-shoulder blouse to add to the oomph.
Silver Chrome Sequin Lehenga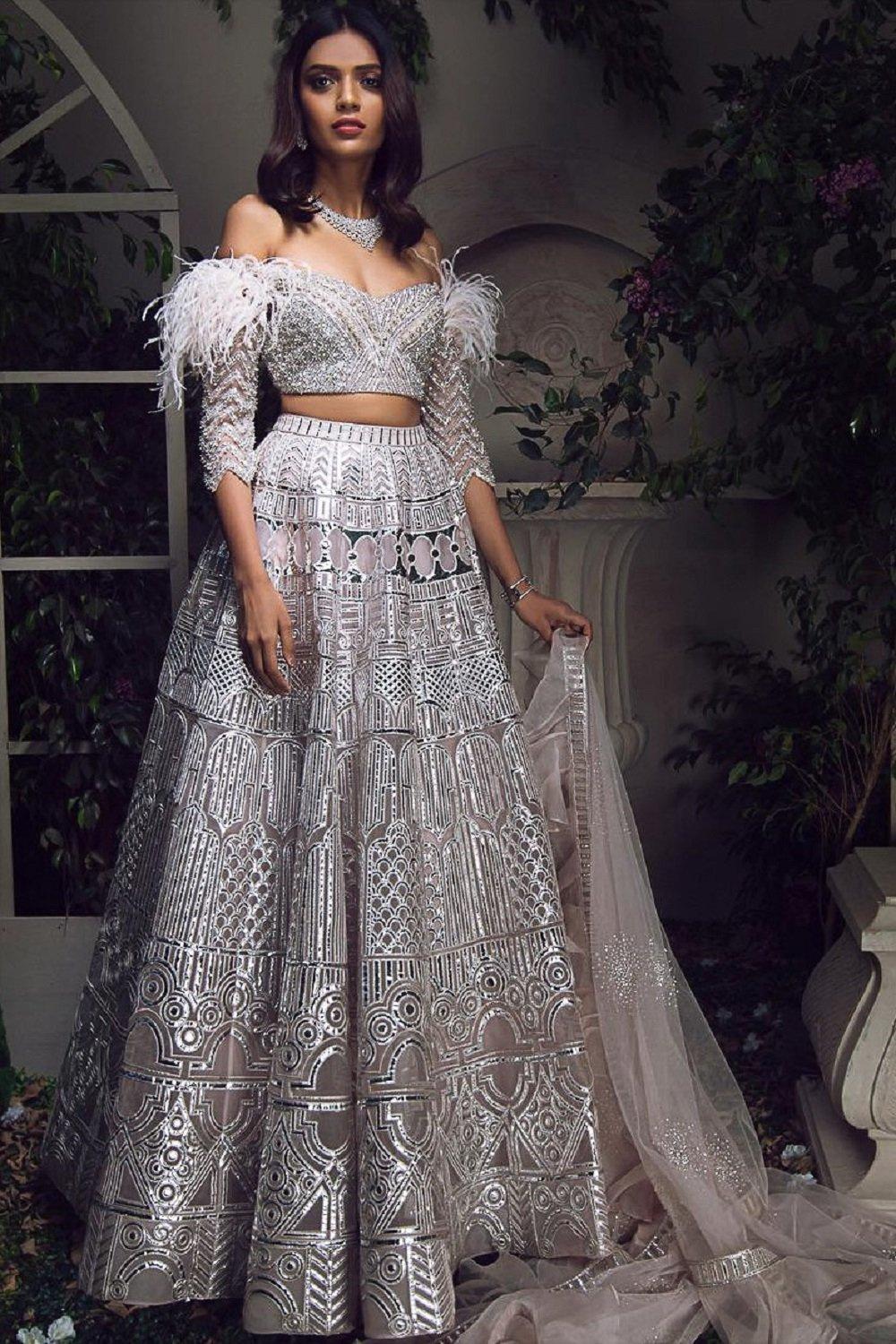 Image Courtesy: Falguni Shane Peacock
Knows as The Farah, this silver chrome embroidered lehenga with an embroidered off-shoulder blouse with a feather-flounce and an organza dupatta is a sight for sore eyes. Organza and tulle with pure crepe lining give this lehenga the gorgeous volume and makes the bride look nothing less than a princess.
Powder Pink Sequin Organza Lehenga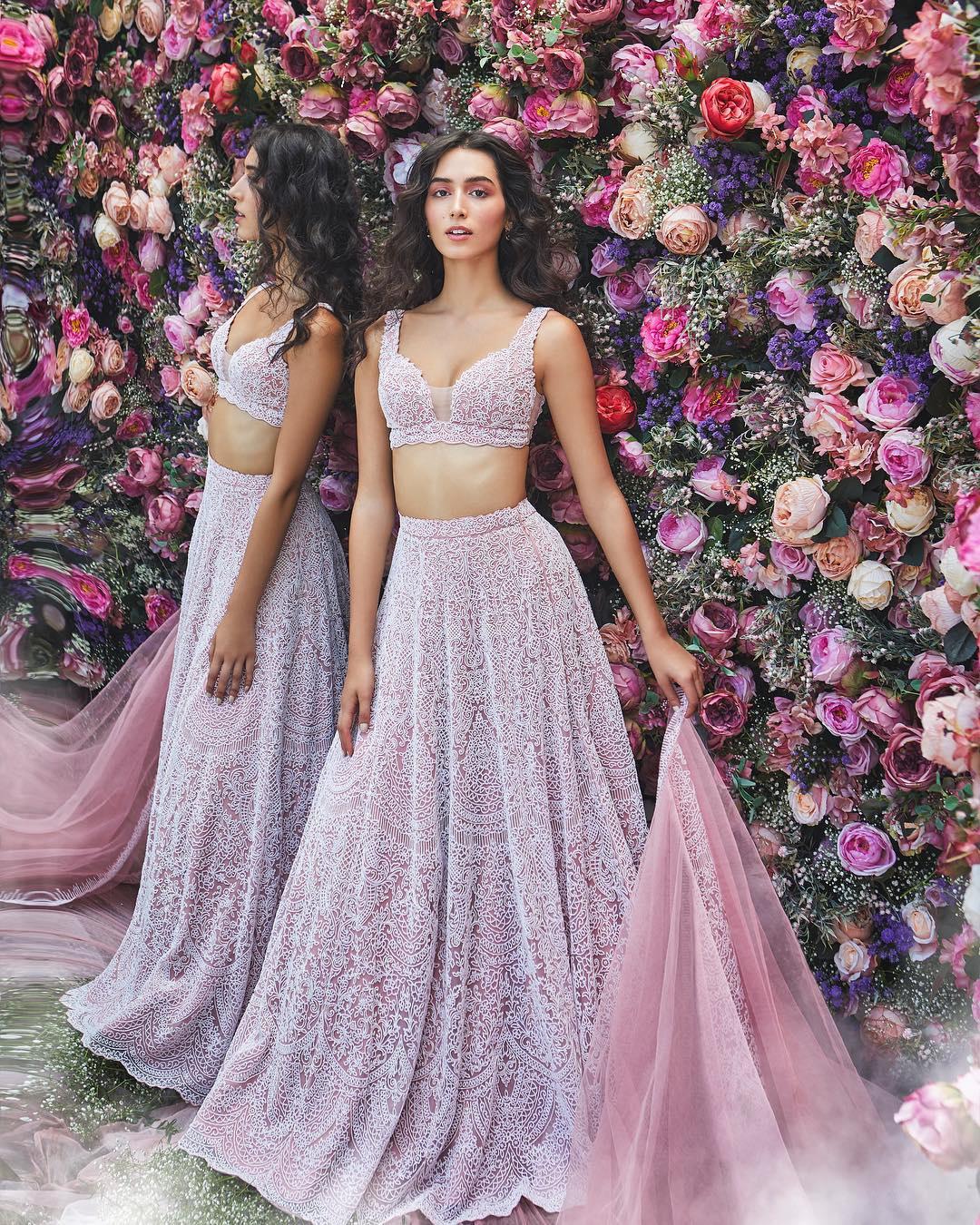 Image Courtesy: Kresha Bajaj
Known as the Margaux, this powder pink organza lehenga with delicate handwork using a mix of pearls and opaque glass beading is crafted with love by none other than Kresha Bajaj. Paired with a sheer detailed bralette blouse, and a tulle dupatta this is a typical gorgeous design from the house of Kresha Bajaj. The pink organza dupatta with a matching border makes this the perfect piece for the brides of today.
Statement Gold Sequin Net Lehenga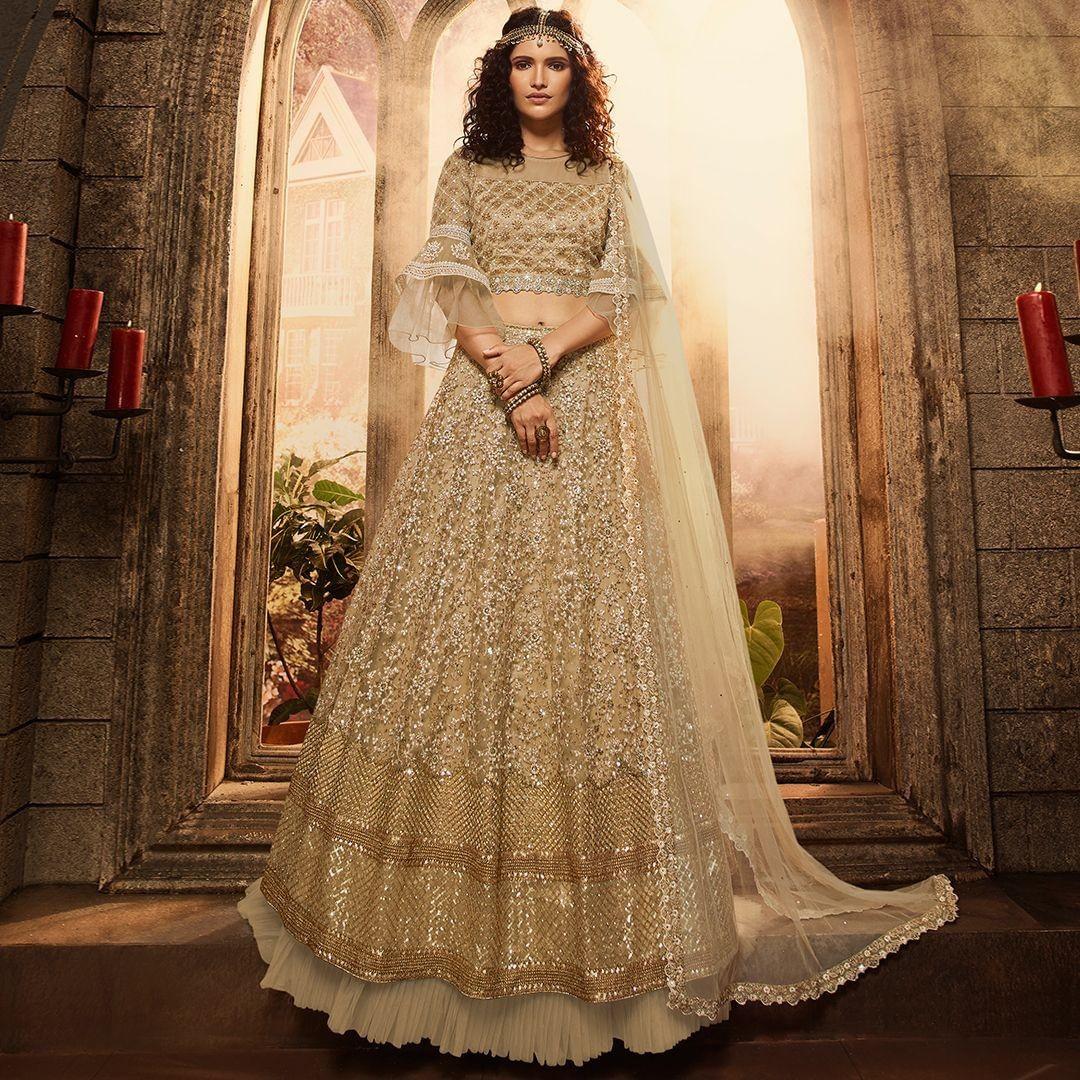 From the designer house of Panash, reflecting the celestial charm of golden hues and sparkles in the regal silhouettes of traditional Indian womenswear, this sequin net lehenga is a statement piece for styling an unforgettable ethnic look. The twin layers of the lehenga add to the flare of its circumference for an infinitely surreal appeal. Similarly, the bell sleeves, beautifully adorned with threadwork embroidery, multiplies the dreamy ambience of the dress.⠀
Blue Sequin Lehenga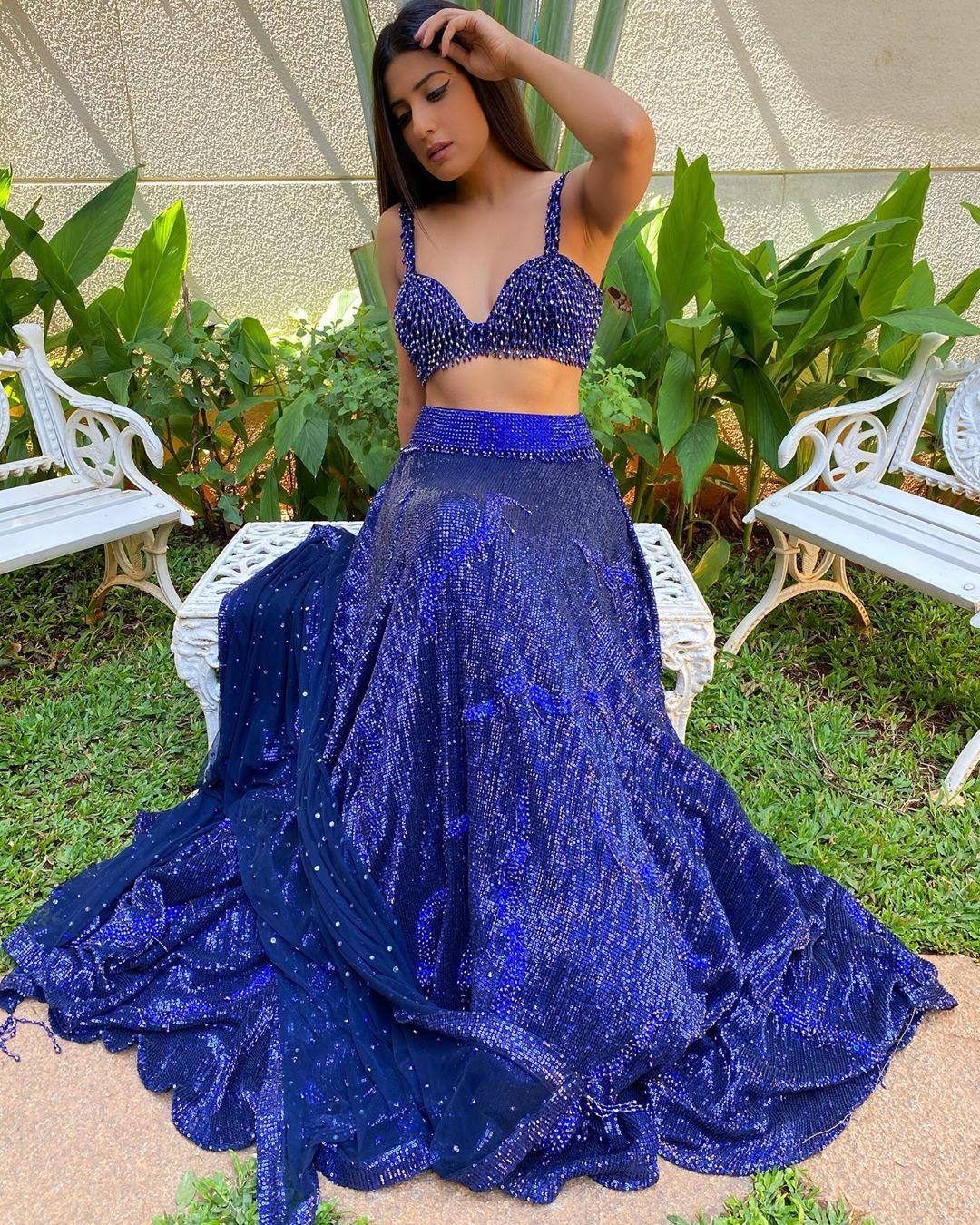 Image Courtesy: Megha Kapoor Label
For the brides who want to turn some heads on their cocktail and make an unforgettable fashion statement, this blue sequinned lehenga with tassel and stonework on the blouse, skirt and dupatta from the house of Megha Kapoor Label is a perfect pick. Pair it with a silver stiletto and get this party started.
Basic Red Sequin Lehenga Design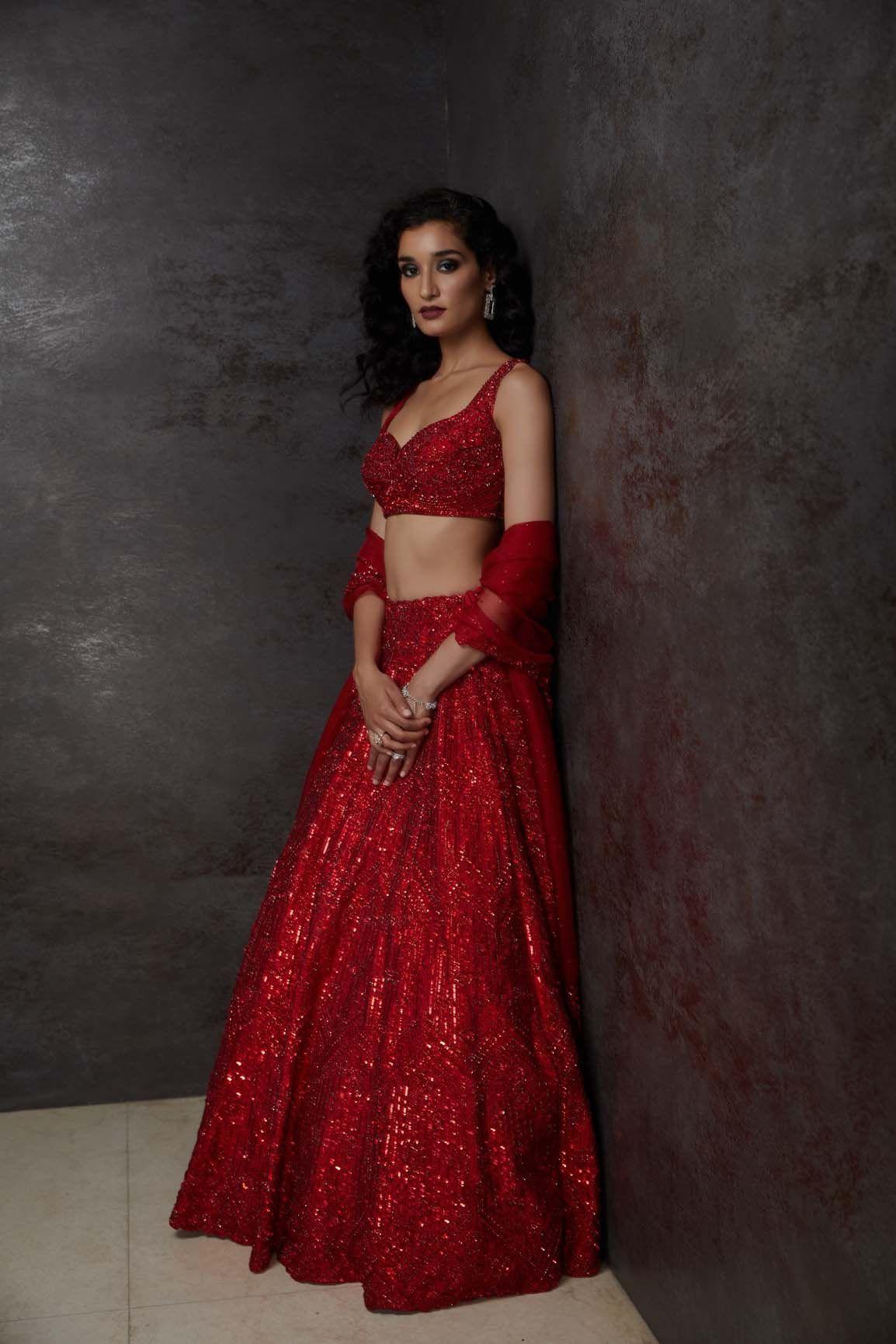 Designed by Seema Gujral Designs and available on Ogaan, this red sequin lehenga with a noodle-strap blouse and dupatta flaunting feathers on the hem is a glamourous pick for the Sangeet ceremony or a Cocktail night.
Mauve Sequin Lehenga Design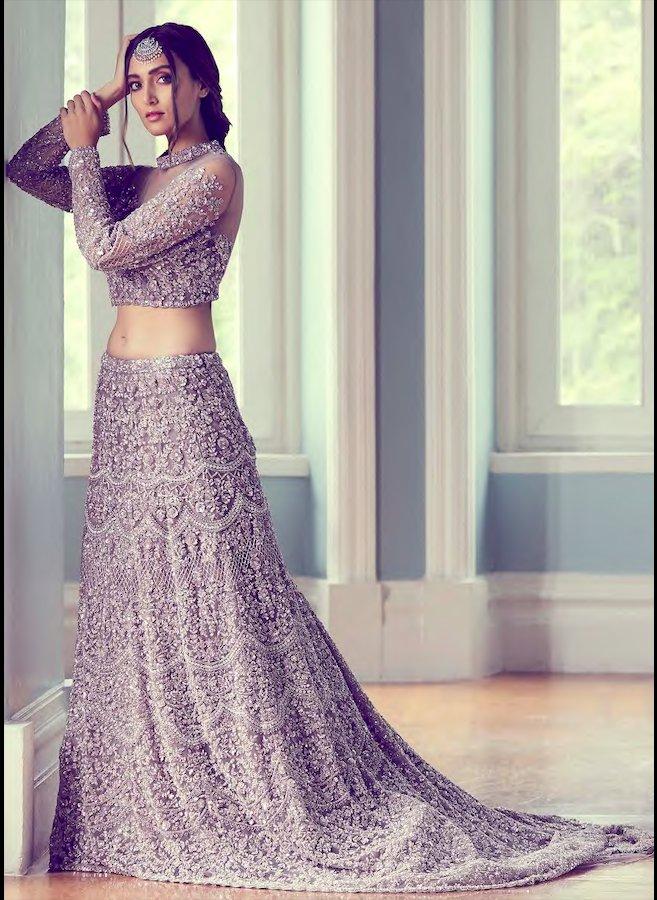 This mauve lehenga created by Kalki Fashion is sheer grace. There is something extraordinary about the blend of ethnic fashion with contemporary details. Such is this mauve sequined lehenga with cut dana and sequin work. It comes with a trailed hem and is beautified by a matching sheer neck blouse along with a gorgeous tulle dupatta.
Gold Leheriya Sequin Lehenga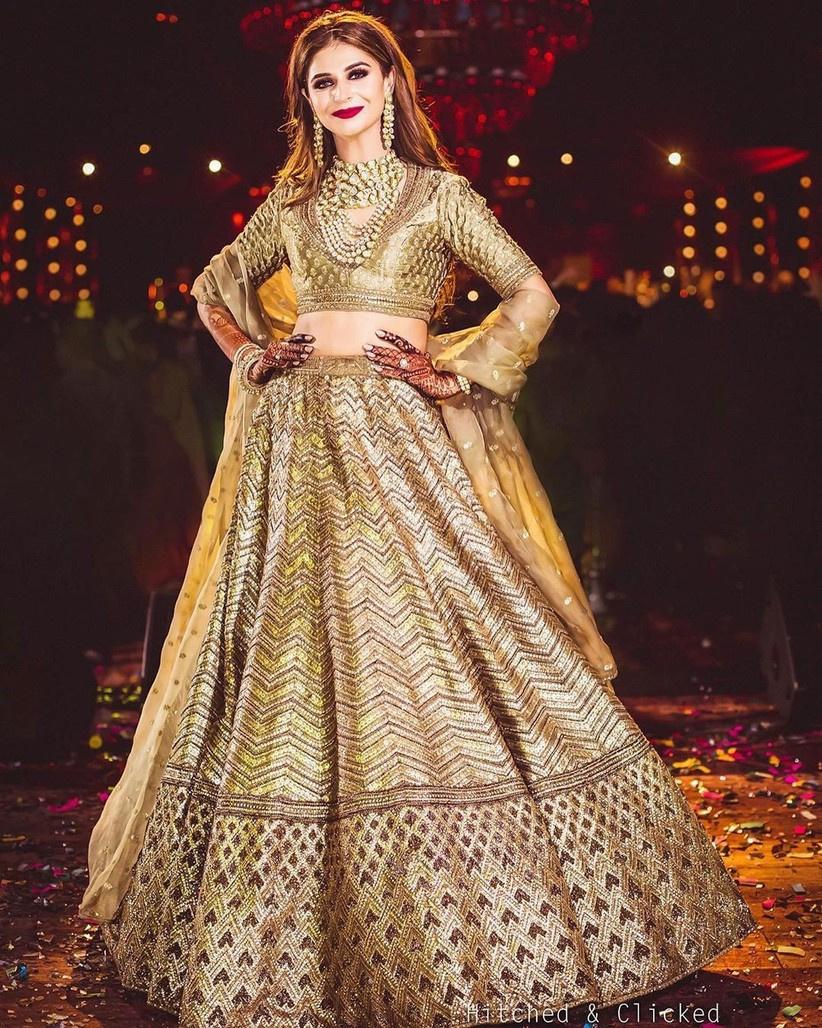 On top of this list has to be one of the most blingy and the most bride like sequin lehenga design that we have come across. This golden beauty with a classic sequinned design and an eye-catching zigzag pattern on the lehenga is just what the OTT brides would love to wear on their big day.
Pro Tip - For brides who think the lehenga and blouse combination has too many sequins can opt for a lighter net or organza dupatta to balance the combination and still make the sequin lehenga work like a pro.
Embroidered Burgundy Sequin Lehenga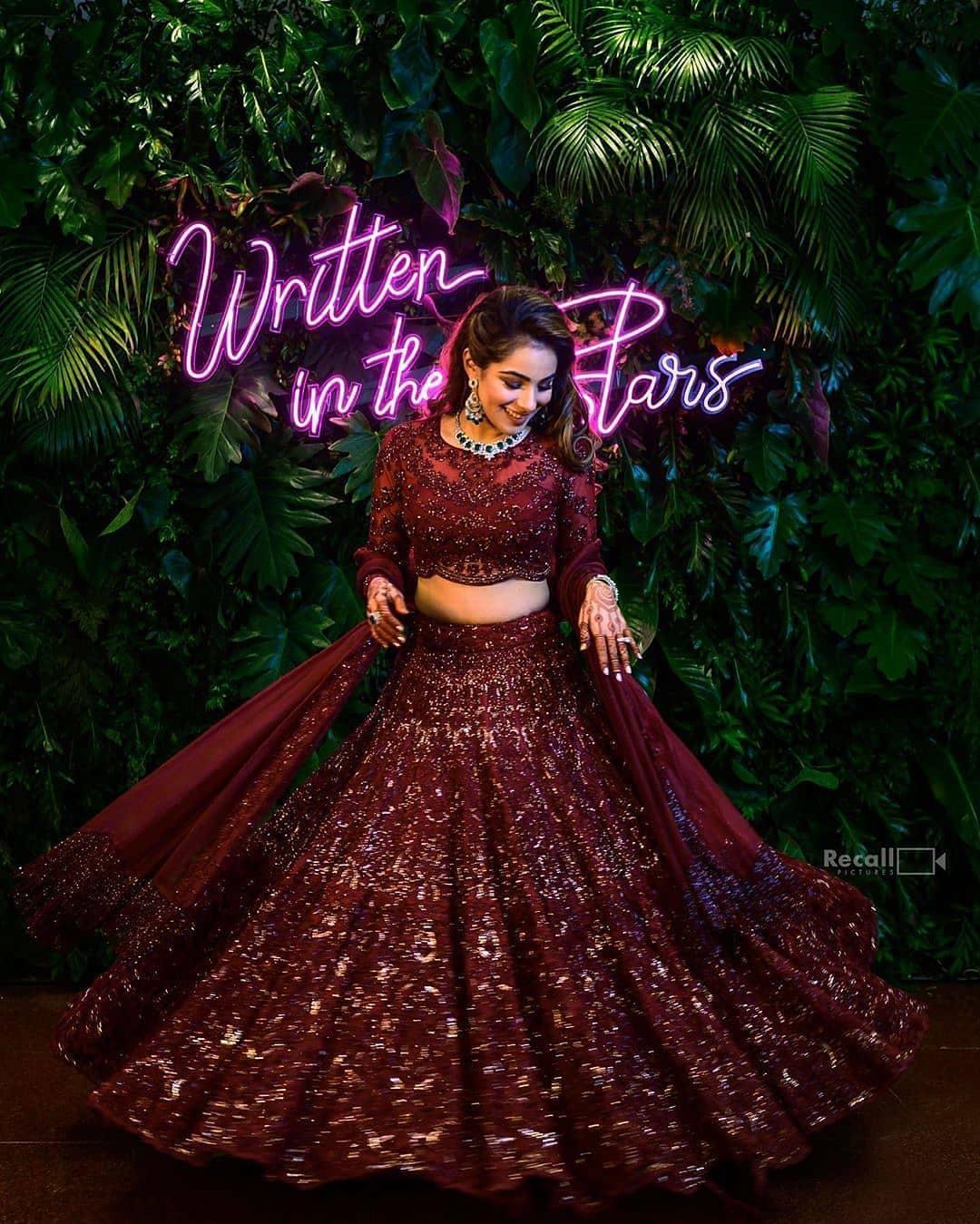 The new age brides love experimenting with deep hues and bold designs. However, this burgundy tone on tone embroidered sequin lehenga is a safe bet and one that is sure to work like magic for any evening celebration.
Pro Tip - Brides can go for sheer fabric for the blouse to make the sequinned embroidery stand out and look breath-taking in every light.
Dual-toned Sequin Lehenga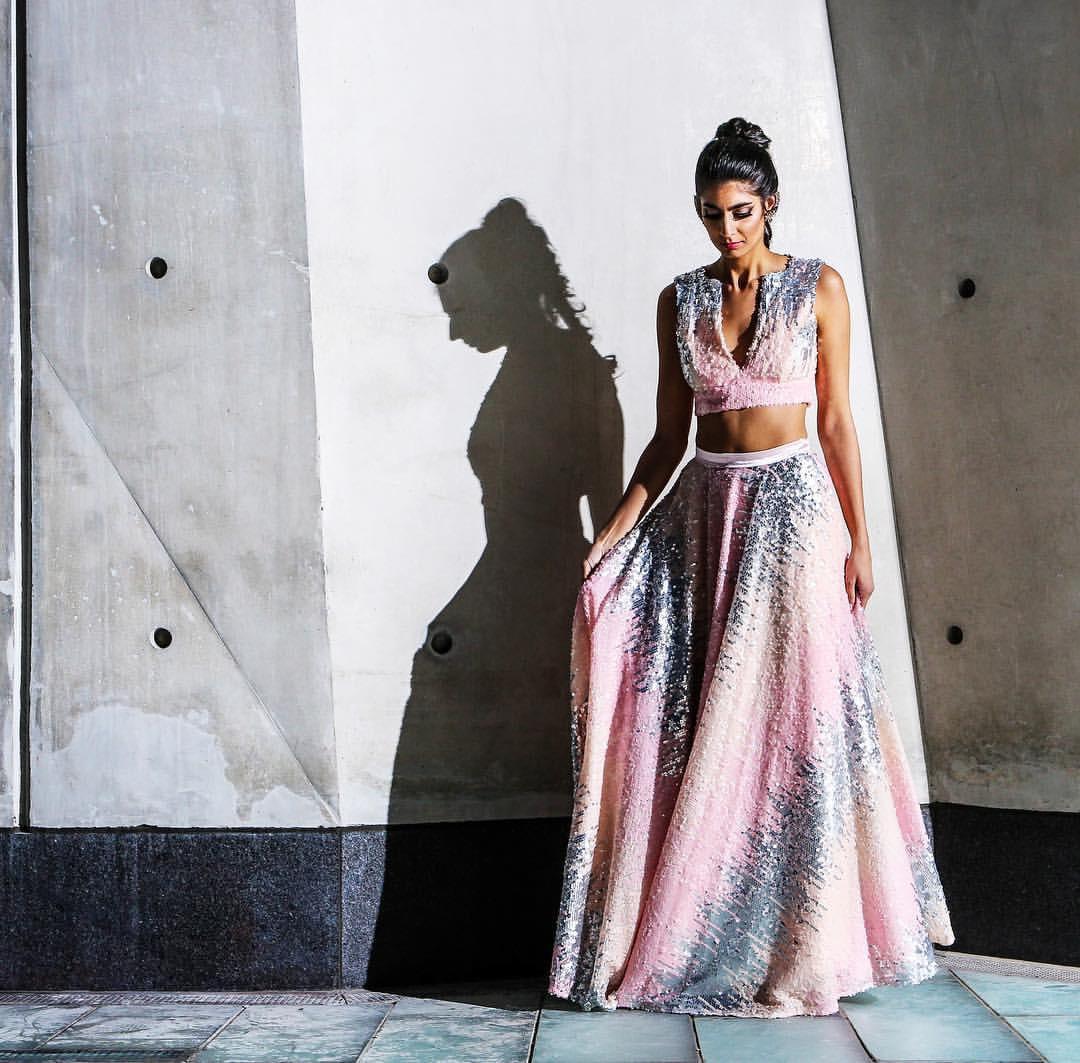 Image Courtesy: Harleen Kaur US
Next on the list is a chic yet elegant sequin lehenga that is just what every bride needs for their Cocktail night or Sangeet function. The double-hued beauty with touches of pink, white and grey make for an unusual combination that is sure to catch all the attention with its plunging neckline and modern design.
Pro Tip - Going by its chic design, we'd suggest brides to avoid going for a dupatta with this one as it might take the charm away from this dual-toned sequin lehenga.
Heavily Embellished Sequin Lehenga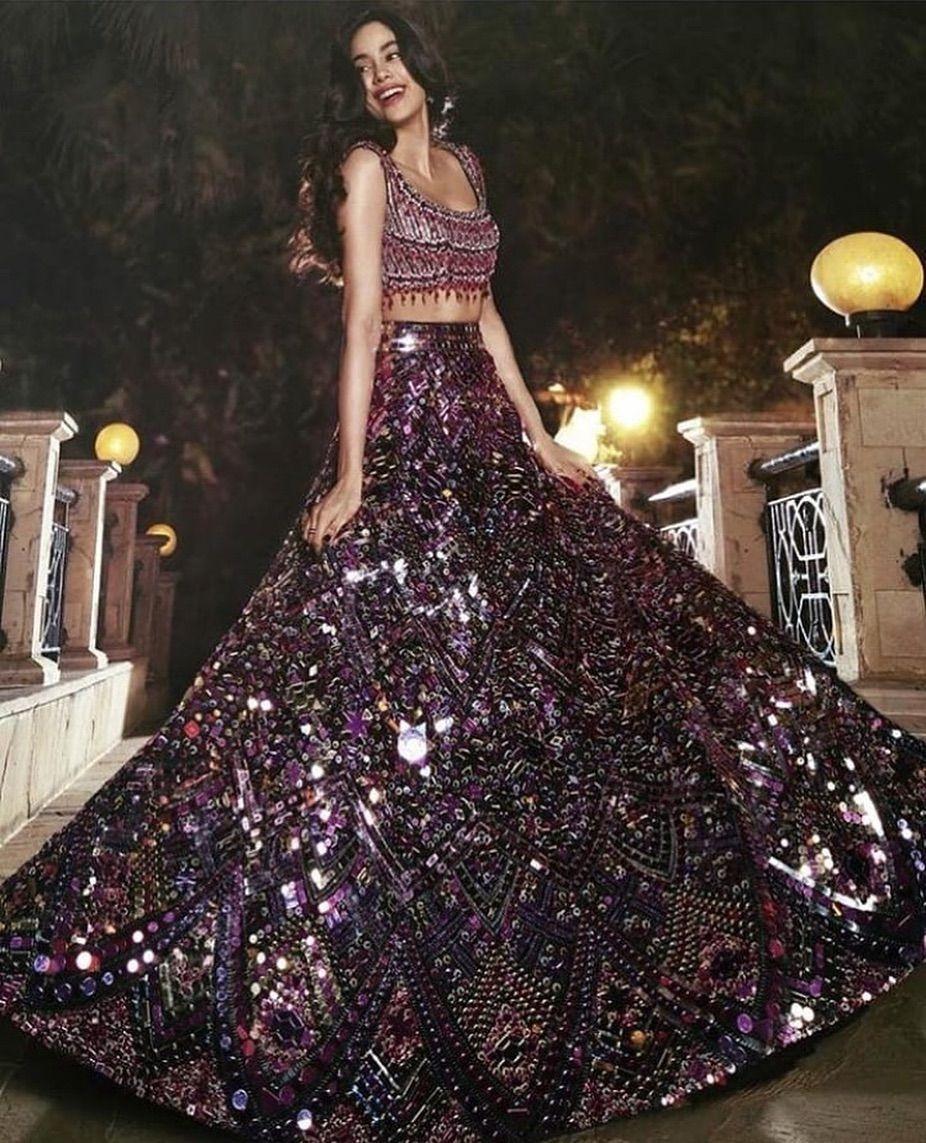 Image Courtesy: Manish Malhotra
When you think of a sequin lehenga, you imagine it to be blingy and fully embellished. Well, this is your perfect sequin lehenga that is very millennial and yet classy. The fully sheathed sequin lehenga skirt and the embellished blouse make for a perfect cocktail night outfit.
Pro Tip - With an outfit as OTT as this one, brides must keep the hair and makeup natural and jewellery minimal to not look overdone.
Classic Chikankari Lehenga with Sequins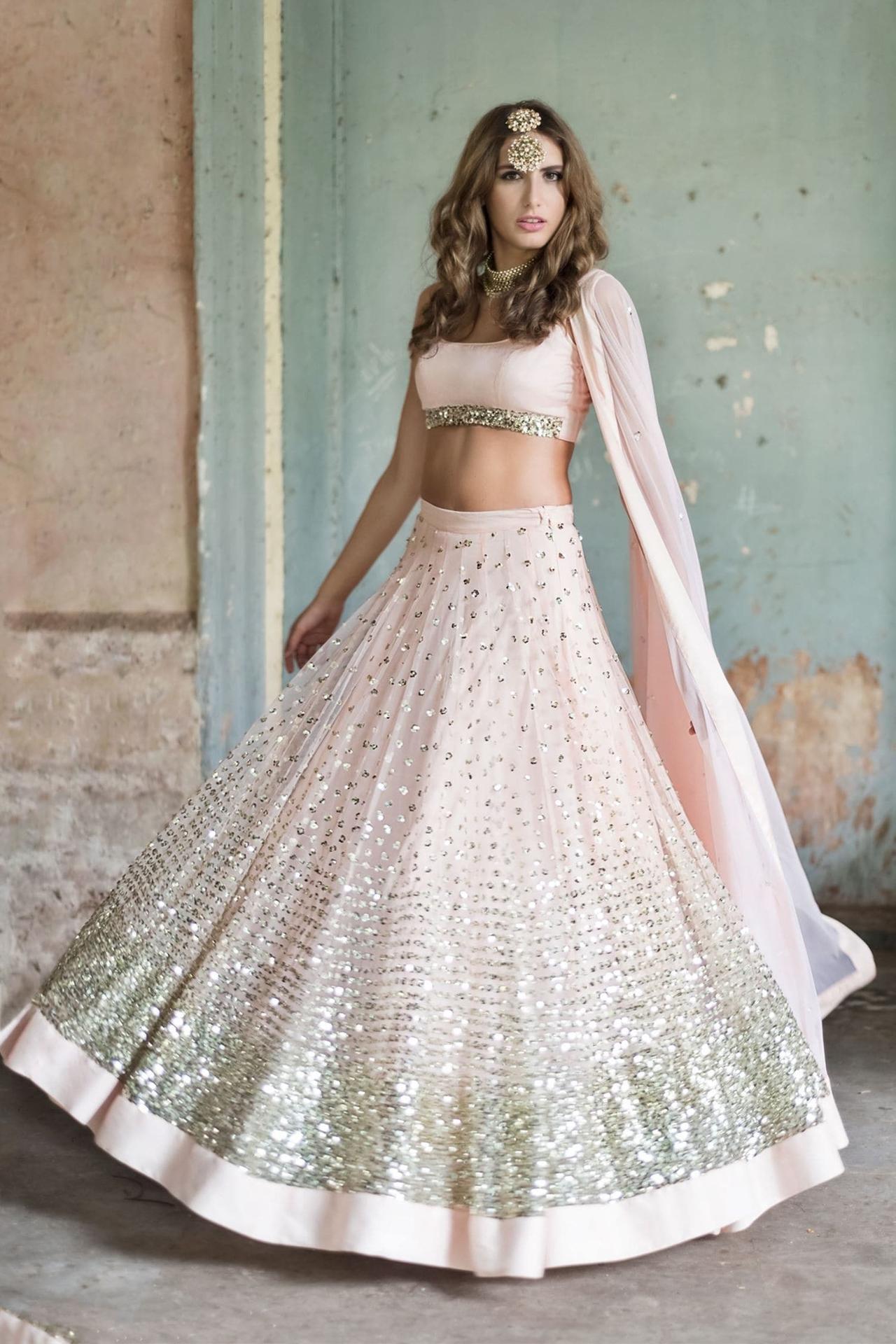 Image Courtesy: Prathyusha Garimella
Every time we imagine brides in a sequin lehenga, we think of it to be OTT and trendy. This blush pink lehenga with sequin beautifications, however, has busted the myth for us and many other new age brides with a minimalistic and classic sense of fashion. This pink sequin lehenga is the perfect choice for brides to wear for their day time functions as it is stylish and yet very traditional and classy.
Pro Tip - Brides can go for traditional jewellery and gajra with this one to give the sequin lehenga a unique touch.
The Lavender Sequinned Lehenga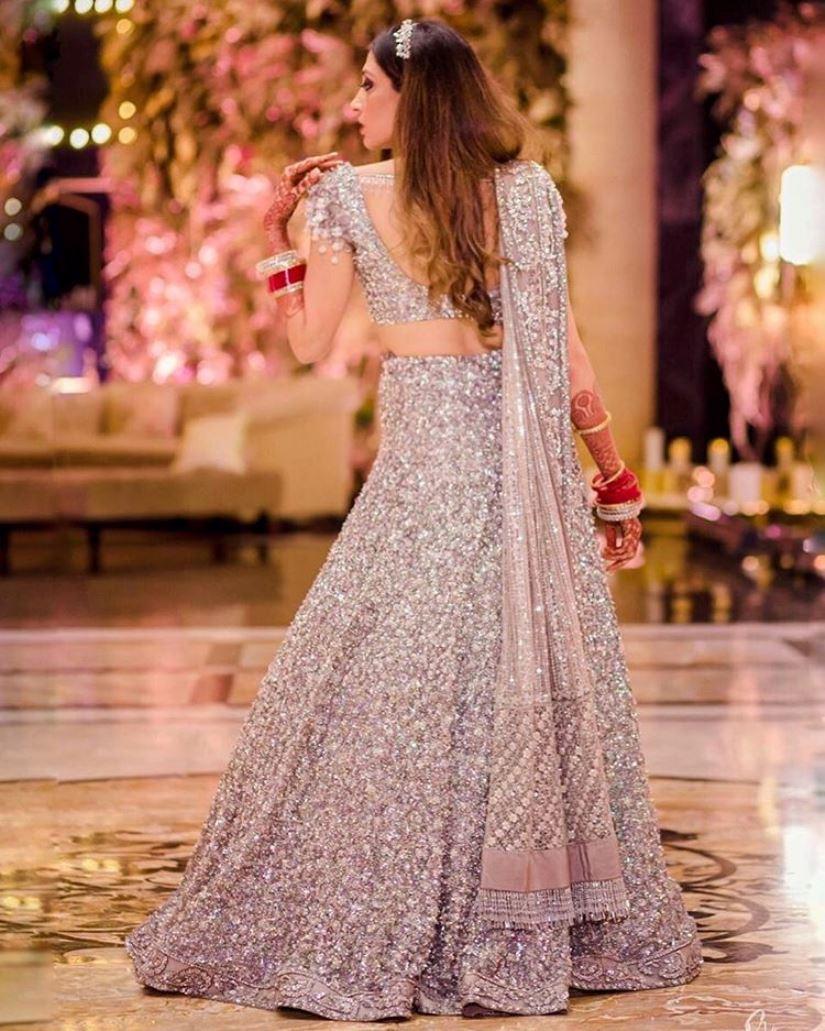 Image Courtesy: Manish Malhotra
A fully sequinned lavender lehenga with a deep back choli and a delicate net dupatta is something that every new age bride would dig. What gives this stunning design an edge and makes it even more millennial are the embellished tassels hanging on its blouse sleeve and its dupatta.
Pro Tip - Brides must go in for accessories that complement the stunning lehenga like an embellished hairband or floral hair accessories to complete the look.
The Royal Red Sequin Lehenga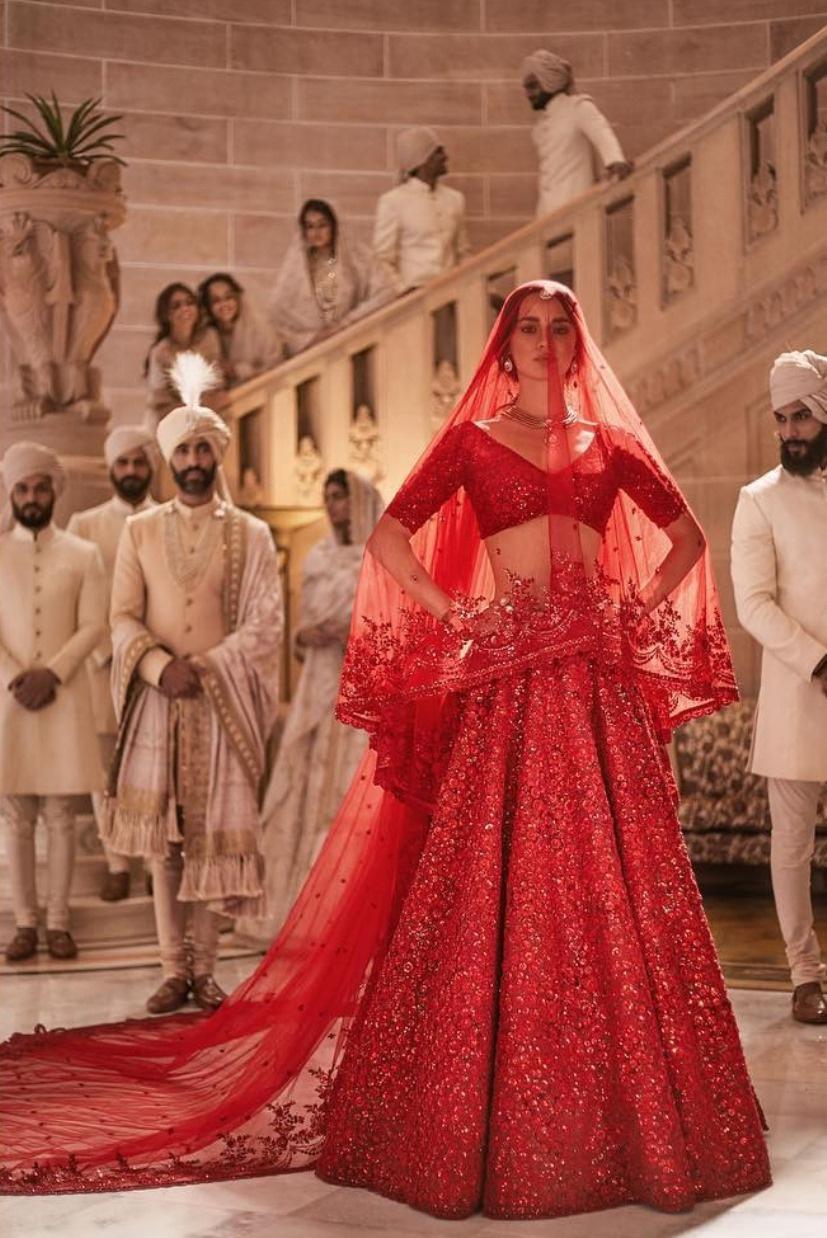 Image Courtesy: Sabyasachi
Last but not the least on our list is this ravishing bridal lehenga that every new age bride would want to wear on her wedding day. The red fully sequinned lehenga and blouse is stylish and yet very classic in its colour and design giving brides the much-needed balance between authentic and modern.
Pro Tip - Brides can take a sheer fabric dupatta with sequin details as a veil on their head and give this oh-so-gorgeous outfit an edge over the others.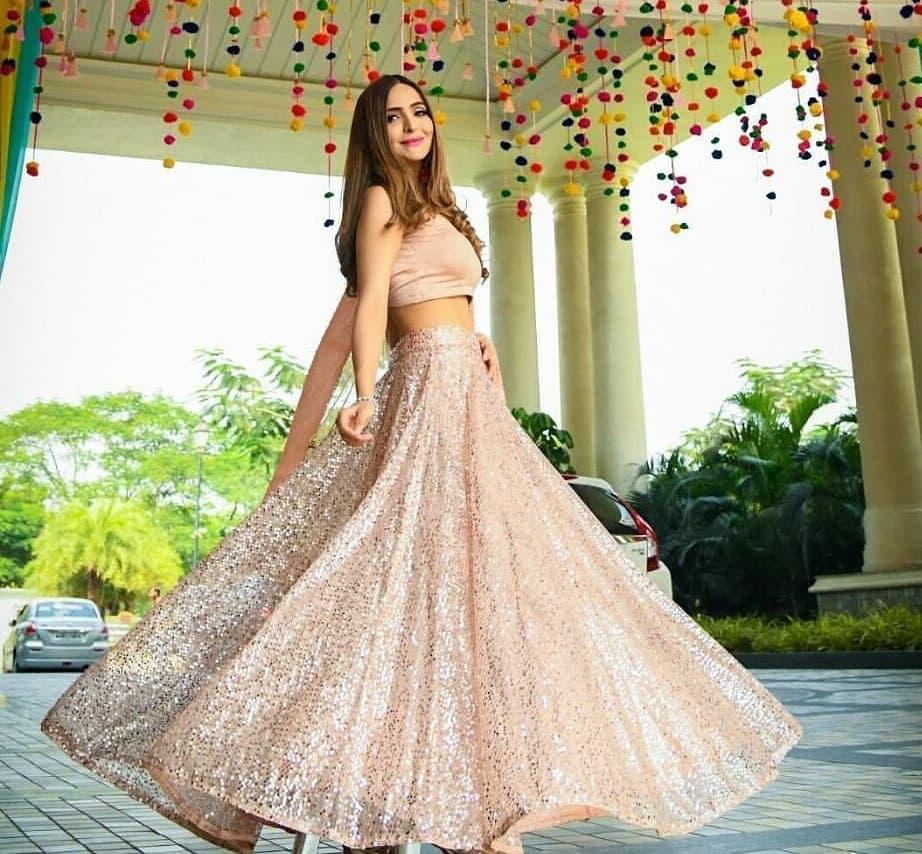 Image Courtesy: Sonam C Chhabra
Which sequin lehenga did you fall in love with? Well, we are sure you have more than one in mind and we do not blame you for it. While all these designs are stunning and perfect in their own sense, every new age bride must decide on which one suits their style the most. So think no further and pick the one you're confident t rock on your big day.
Would you wear a sequin lehenga for any of your wedding ceremonies? Share your thoughts with us in the comments below!