8 Jaw-dropping Maang Tikka Designs That Would Turn All Heads
If you're yet to buy your bridal jewellery, we have something special for you today! Take a look at some drop-dead gorgeous Maang Tikka designs for major inspo!

An Indian bride isn't really ready until she's decked up from head to toe. Which means, right from a Maang Tikka to a toe-ring, everything needs to scream "Bride". So, if we're specifically talking about your forehead jewellery, there is a plethora of designs and styles for you to choose from, for different occasions. From a heavy-duty Jadau Maang Tikka to a sleek single strand tikka without chain–all your pre-wedding, wedding and post-wedding events will be covered with just the perfect kind of jewellery that defines you. Take a look at the images and you're sure to get inspired!
Kundan Maang Tikka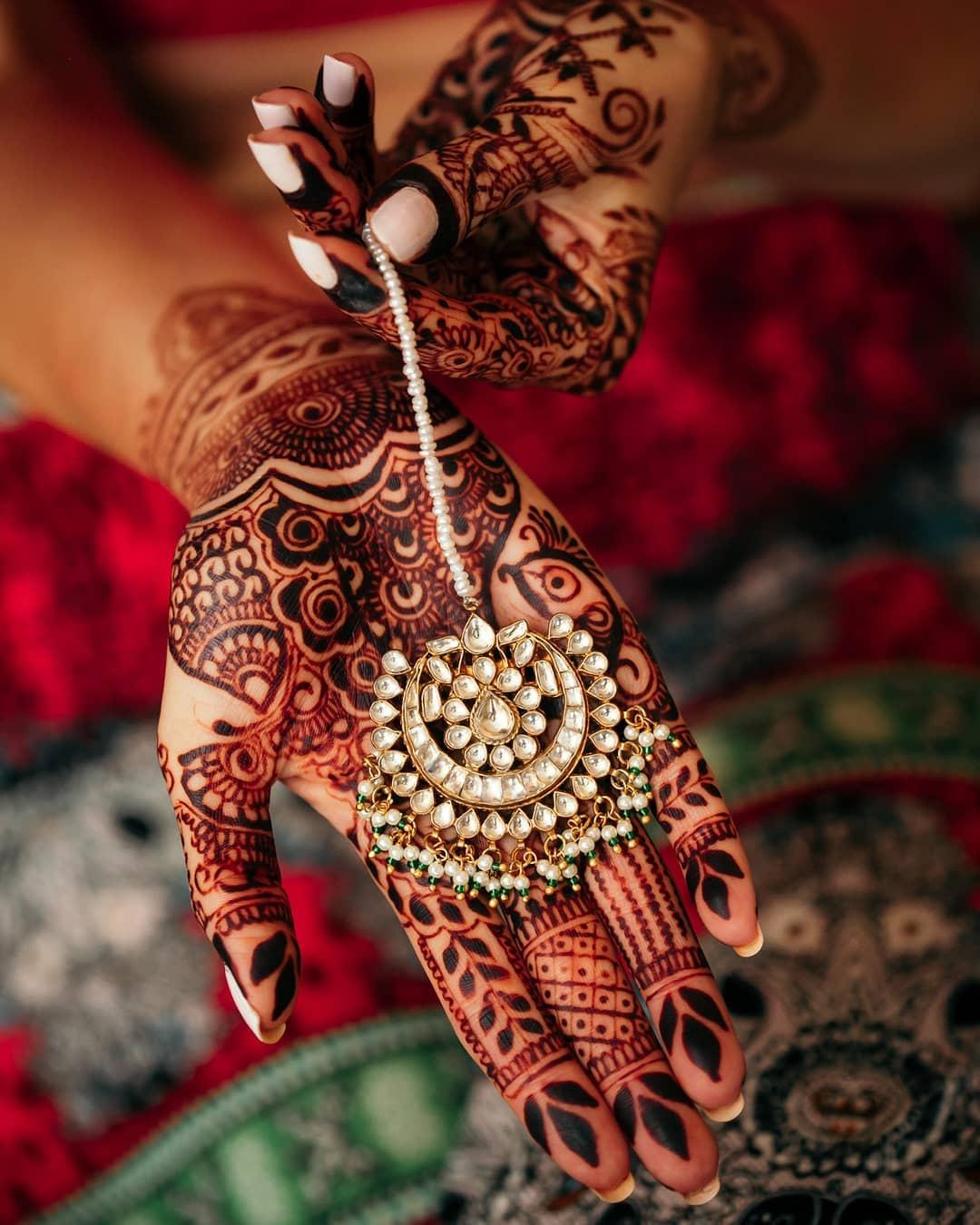 Image Courtesy: JD Arts Photography
A broad Kundan Maang Tikka with a thin chain made of pearls is something that can never go wrong. Whether you're wearing a heavy lehenga on your big day or a lighter Chaniya choli on your Mehndi–this style of Maang Tikka in Kundan will save you under any circumstance. Go with a bun hairstyle or keep your hair loose with mid parting.
Maang Tikka with Florenza flowers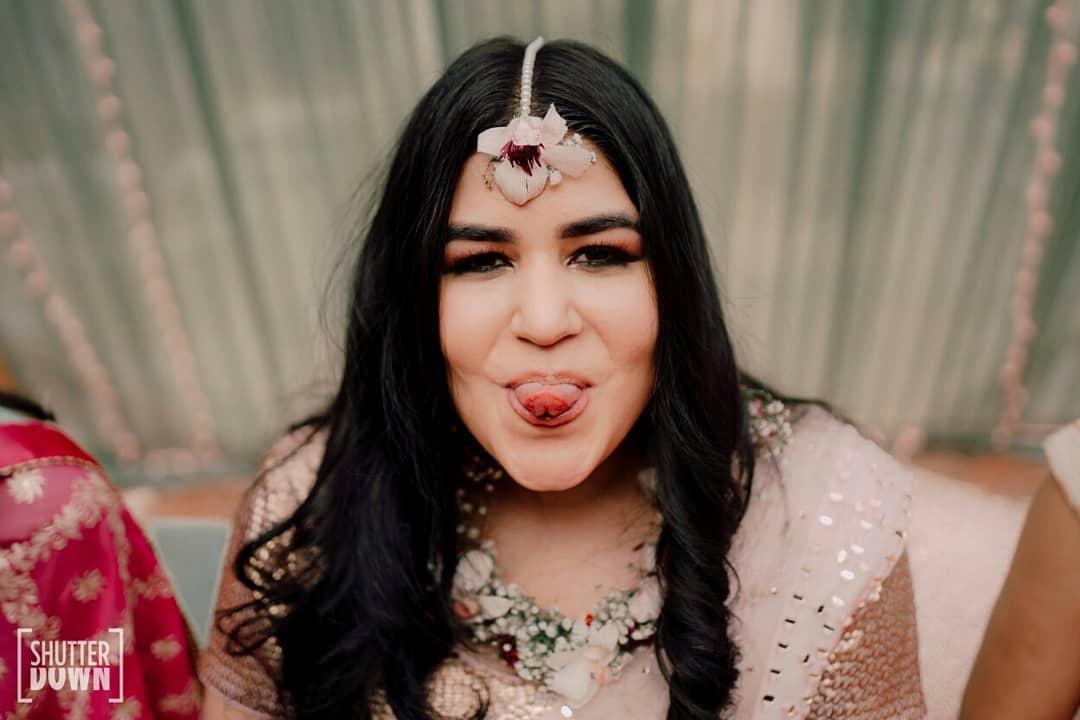 Are you ready for some fun & playful Haldi vibes? Then this is the kind of Maang Tikka you must go for! A pearl strand with Florenza flower at the tip. That's all you need to make the right statement. Wear soft peach colour lehenga, salwar suit or floral skirt with a crop top. Keep your hair open with messy curls. You can wear matching floral jewellery combined with pearls.
Silver Maang Tikka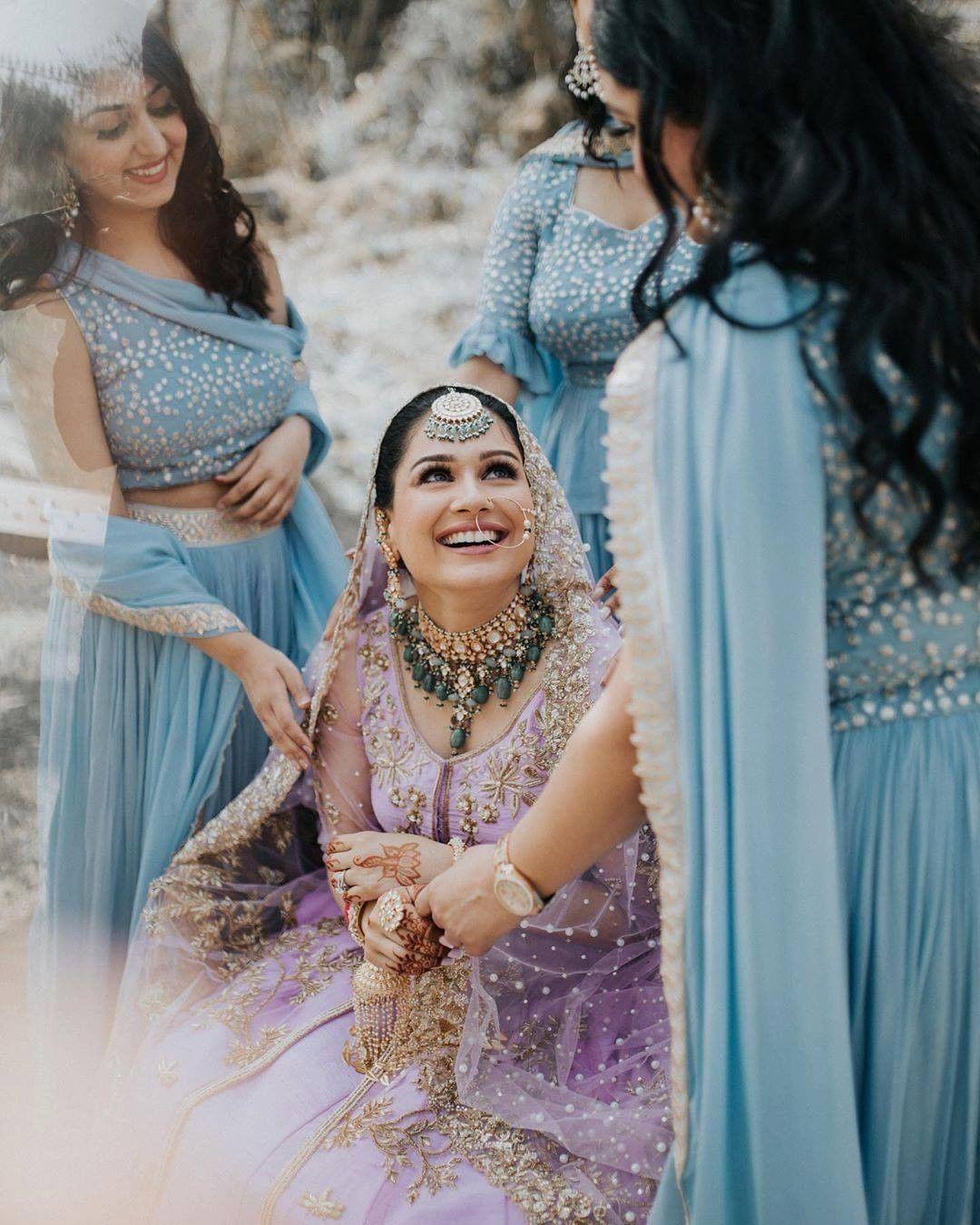 Image Courtesy: Sutej Photo
Sport a super chic silver Maang Tikka on your wedding day event. The huge silver tikka with tiny hanging blue stones- you really wouldn't need much more to make an impact! This Maang Tikka set would go perfectly with lavender, mauve or light blue lehenga. Make a neat bun and wear large Chandbali earrings and gold choker necklace with blue stones to complete the look.
Maang Tikka with coloured stones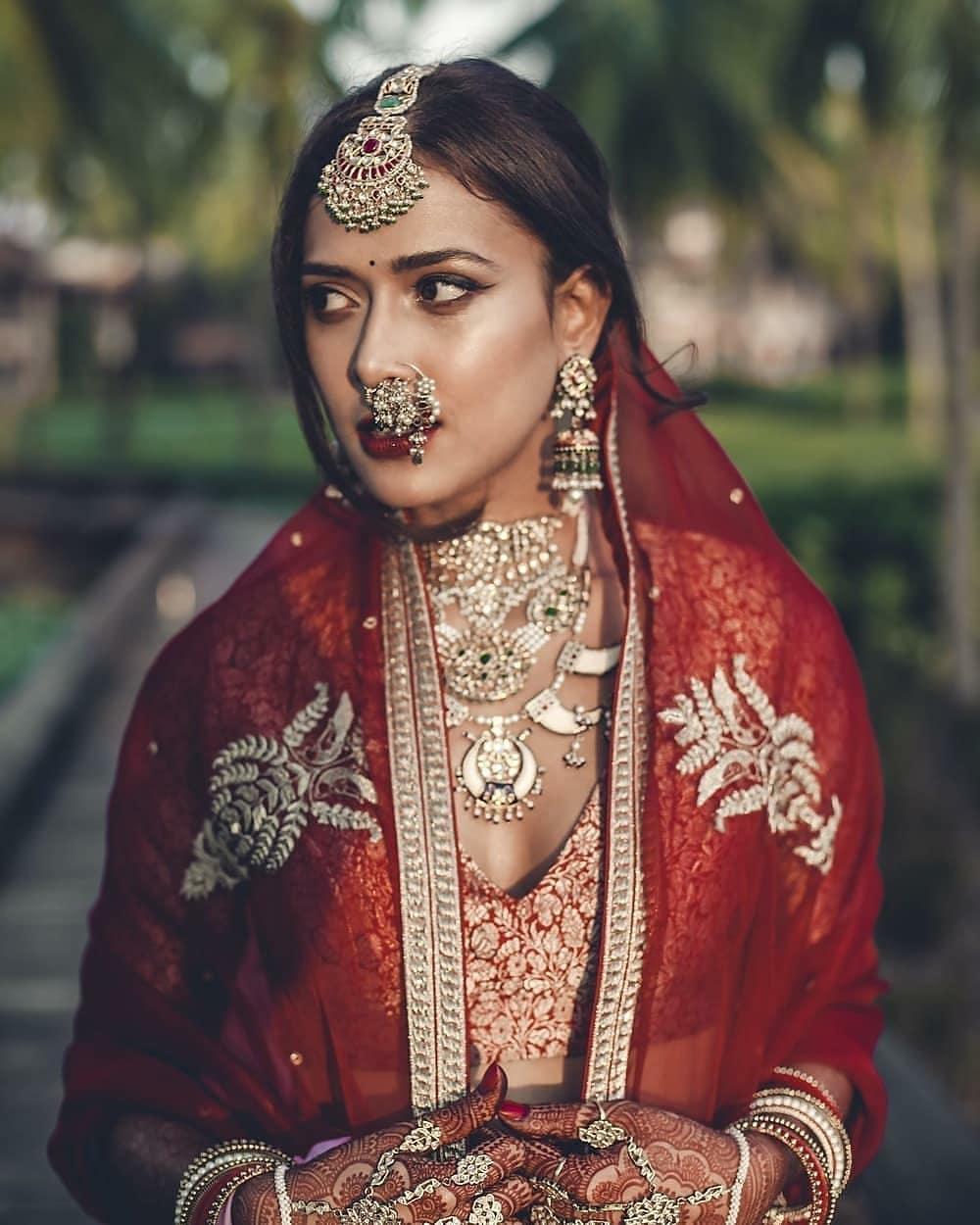 Bring in some Rajput vibes in an elaborate Rajasthani style Maang Tikka. A flat strip on the head and a large plate on the forehead with multi-coloured stones- this single piece of jewellery has "royal" written all over it. Wear matching gold and stone Jhumka earrings, heavy necklace and gold Nath. Braid your hair with a few loose strands on each side.
Waterfall Maang Tikka with Passa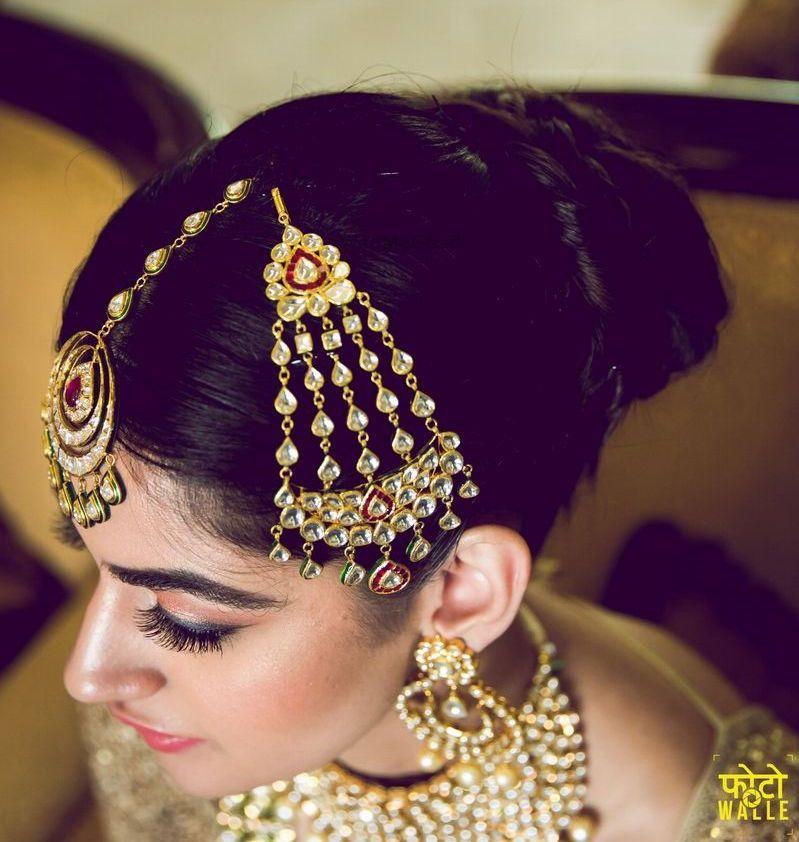 If you believe in the "more the merrier" saying, we say go OTT with your Maang Tikka designs. Wear a waterfall shape tikka made of pearls and red stones along with a Passa jewellery with the same design. Flatter your inner "Mallika" with some exquisite Hyderabadi pearls adorning your hair and forehead! A gold choker and a long necklace made with red stones would add to your regal look.
Maang Tikka without chain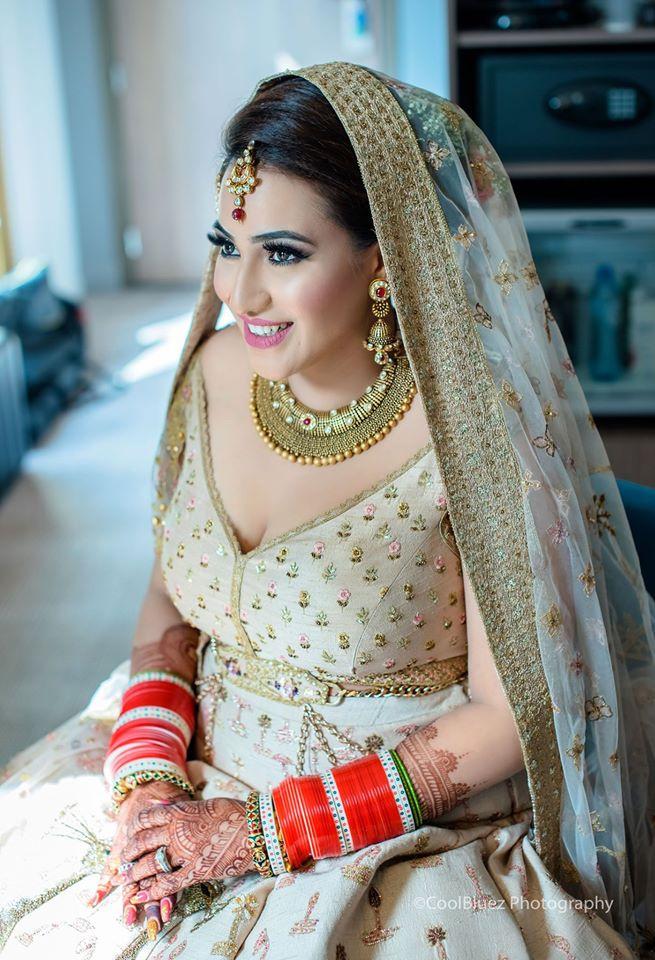 While some brides love the OTT look on their wedding day, some prefer to take the minimalist approach. If you're one of them, try this subtle Maang Tikka without chain in gold with Polki stones and a teardrop stone at the bottom. This jewellery would also be apt for your pre-wedding events like Mehndi, Haldi or Sangeet function. Go with a side-swept open hairstyle or soft curls. To keep up with the subtle vibes, you can choose to wear a cream lehenga with golden embroidery work.
Gold Maang Tikka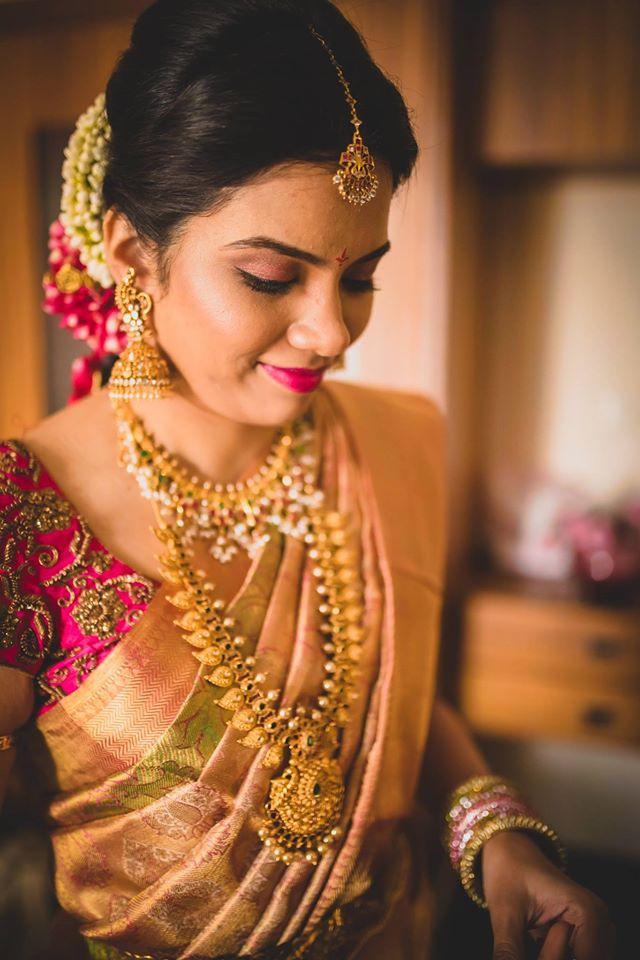 If you're the kind of bride who swears by antique gold jewellery, you must go for a gold Maang Tikka, even if it's a sleek one. Because nothing really beats the old school grace of gold! Get some diamonds studs around the edges and keep the chain slim for an elegant look. Drape a ravishing golden Kanjivraram saree, make a Gajra hairstyle with mid parting and you're ready to rock the show!
Jadau Maang Tikka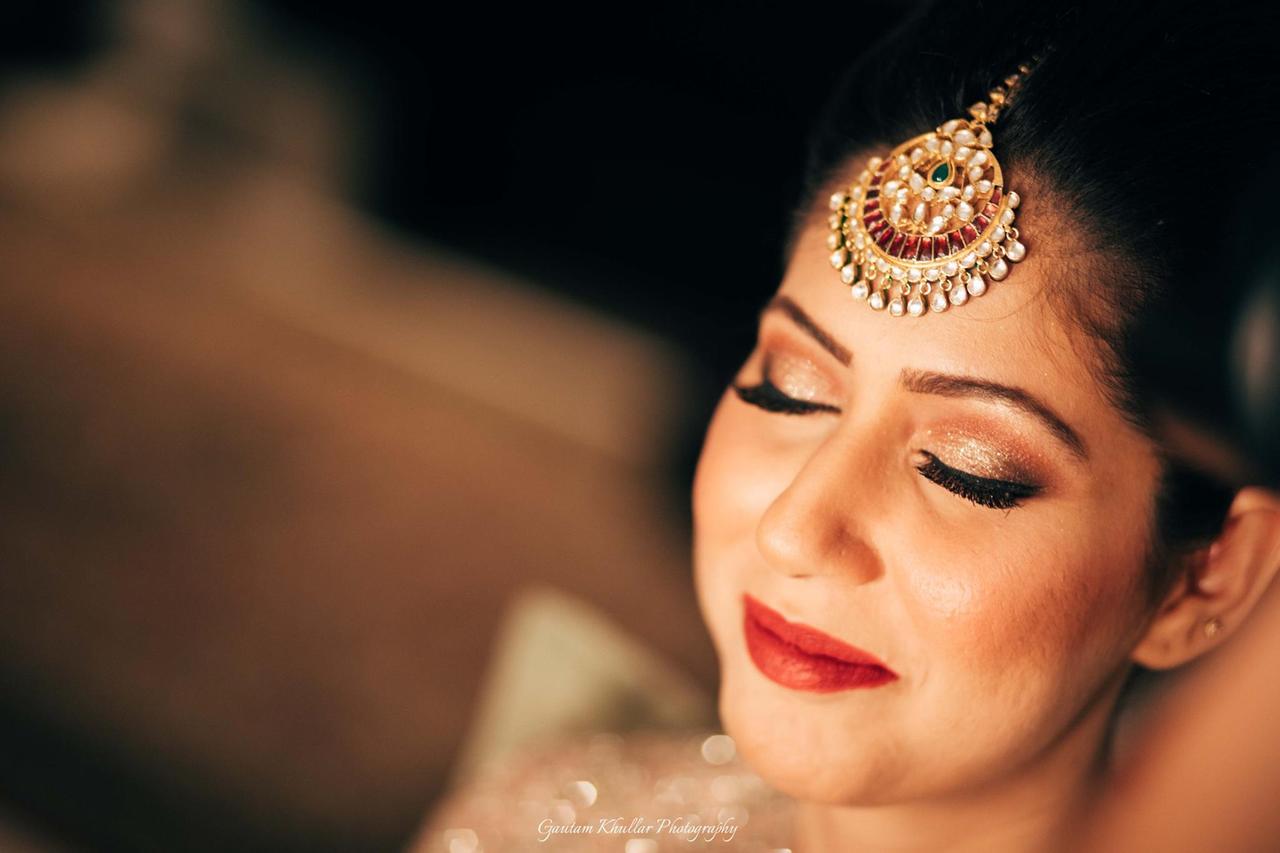 Getting married in a royal Rajput wedding? Get hold of an impeccable Jadau Maang Tikka to go with your whole Rajputana bridal look! The large round Maang Tikka design is made of gold with rubies and pearl settings in it. Jadau jewellery is quite an admirable work of art. Wear your heavy lehenga or Ghagra choli with Kundan jewellery to look your royal best!
Pick your Maang Tikka set matching with the bridal outfit. You can also ditch all the other heavy jewellery and just go with this one piece of jewellery on your pre-wedding functions. Look for different kinds of Maang Tikka hairstyles to go with your ornament. Sometimes if you've got a hold of the right Maang Tikka, you don't need any other jewellery to make your point. Just sport some statement earrings and you're ready to take the stage!
If you haven't done your jewellery shopping yet, take a look at our vendor's list for some amazing collection!