Rajasthani Maang Tikka Styles To Add Royalty
Did you know that there are various types of Rajasthani maang tikka designs that have been worn by royalties and today's brides-to-be alike? Check out!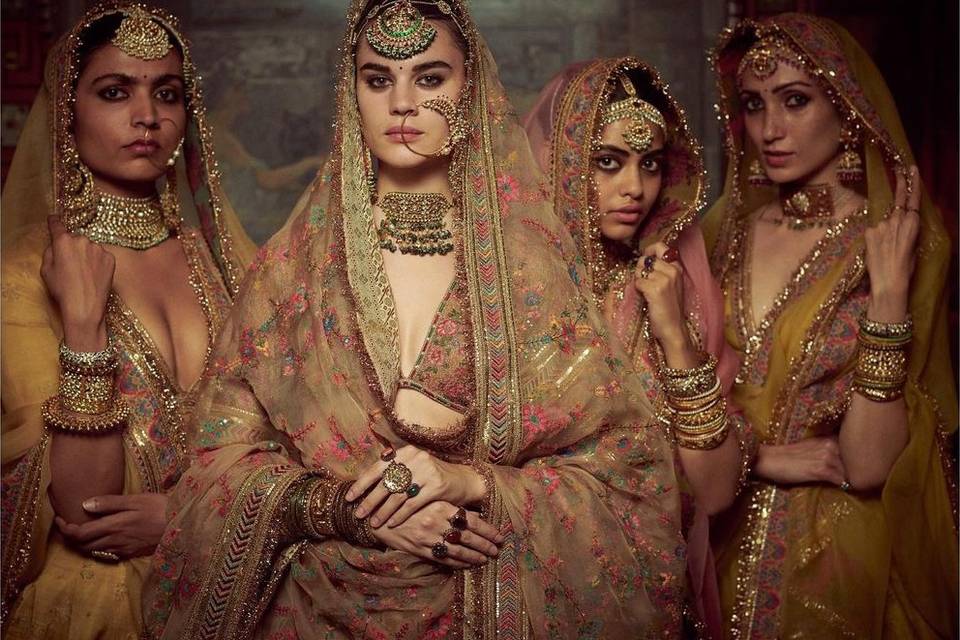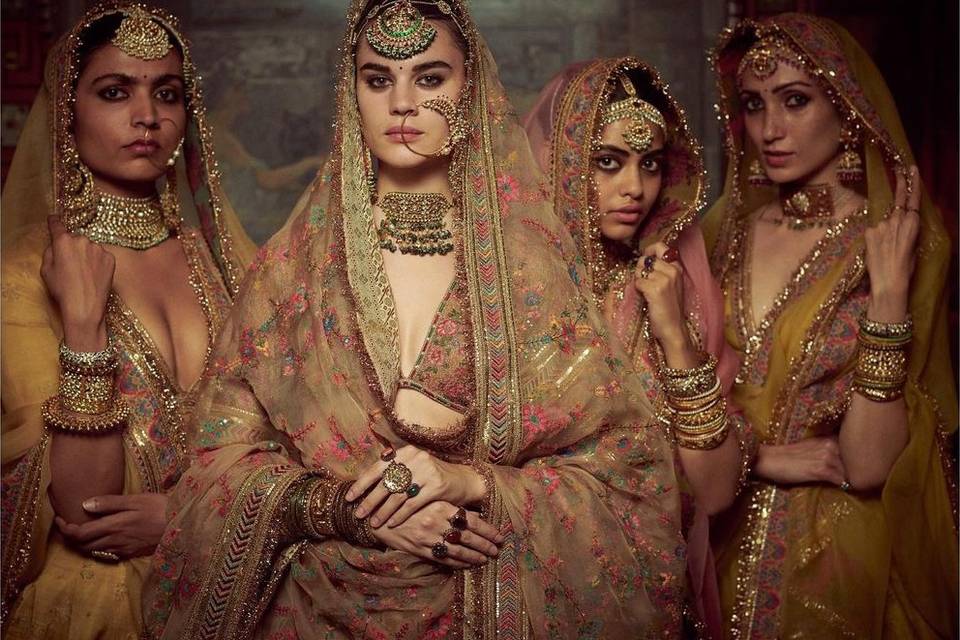 Image Credits - Sabyasachi
Rajasthani maang tikka styles are quite distinct from other types of maang tikka designs that are native to other parts of India. With a great influence of Persian style of jewellery making, being brought to the ports of Rajasthan by the Mughals, the Rajasthani jewellery style can be considered as a rich fusion of Persian as well as Hindu Rajput royalty of Rajasthan. Which also means that most of the jewellery we adorn of Rajasthan today comes from the catalogues of what the royalties of Rajasthan used to wear centuries ago. Among the many precious styles of jewellery that come under the list of Rajasthani jewellery types, maang tikka can be considered as the most unique style of adornment known from the region.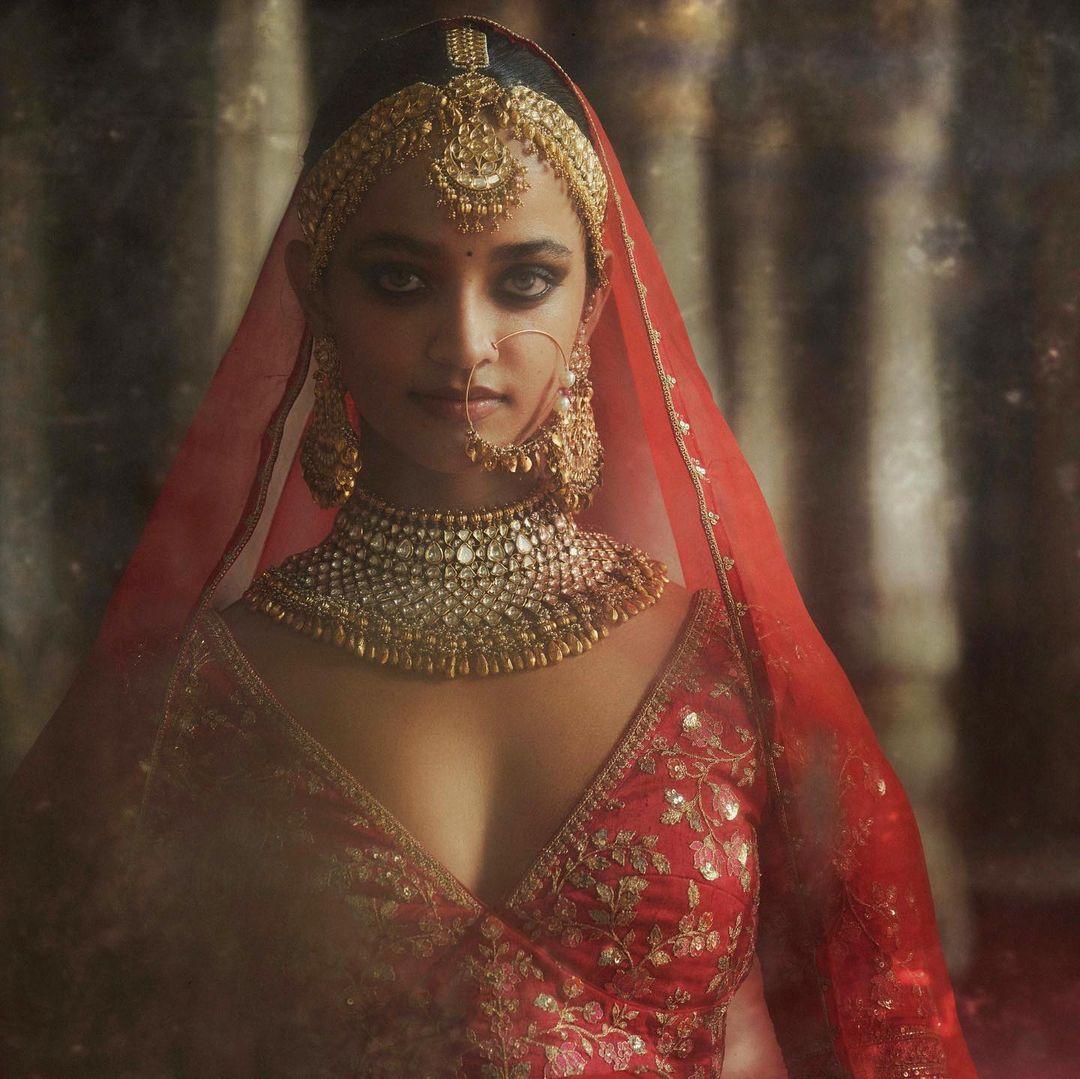 Image Credits - Sabyasachi
You will be surprised to know that there are an array of traditional maang tikka types that Rajasthan has to offer. So if you are a Rajasthani bride-to-be, or are simply looking at styling yourself like a Rajasthan royalty, then we have got you a list of Rajasthani maang tikka traditional designs for your consideration! Take a look and choose your pick.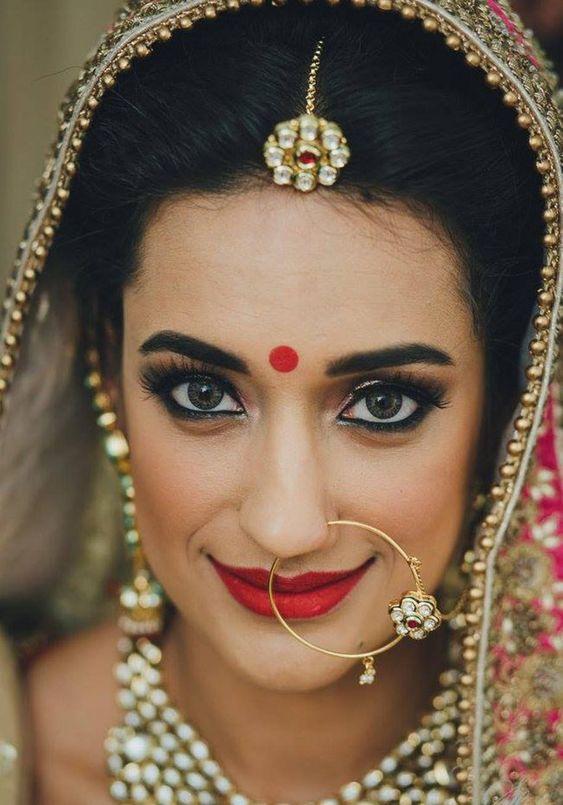 Image Credits -Pinterest
Minimalism has become quite a norm now, with the brides-to-be preferring muted approach towards embracing the traditions for weddings. Adapting the minimalistic approach to the traditions that date back to the 16th century, the Rajasthani Borla has seen the light of making a simple appearance, as seen adorned by some brides of today. Upgrading the simplicity with a tag of royalty, brides are opting for solid gold plated Rajasthani maang tikka Borla designs that match every style of bridal trousseau to perfection.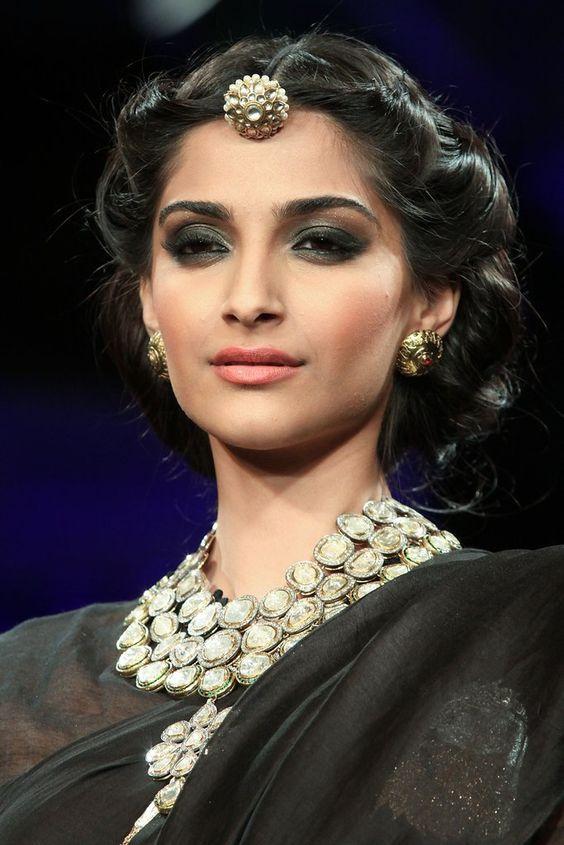 Image Credits - Pinterest
Best suited for brides who are looking at toning down the bridal style and are planning to adorn delicate and simple lehengas or Sarees for their D-day. The best part about this kind of Borla is that it can be worn for all wedding occasions as well as can ante up a basic Saree style for family functions later in life as well!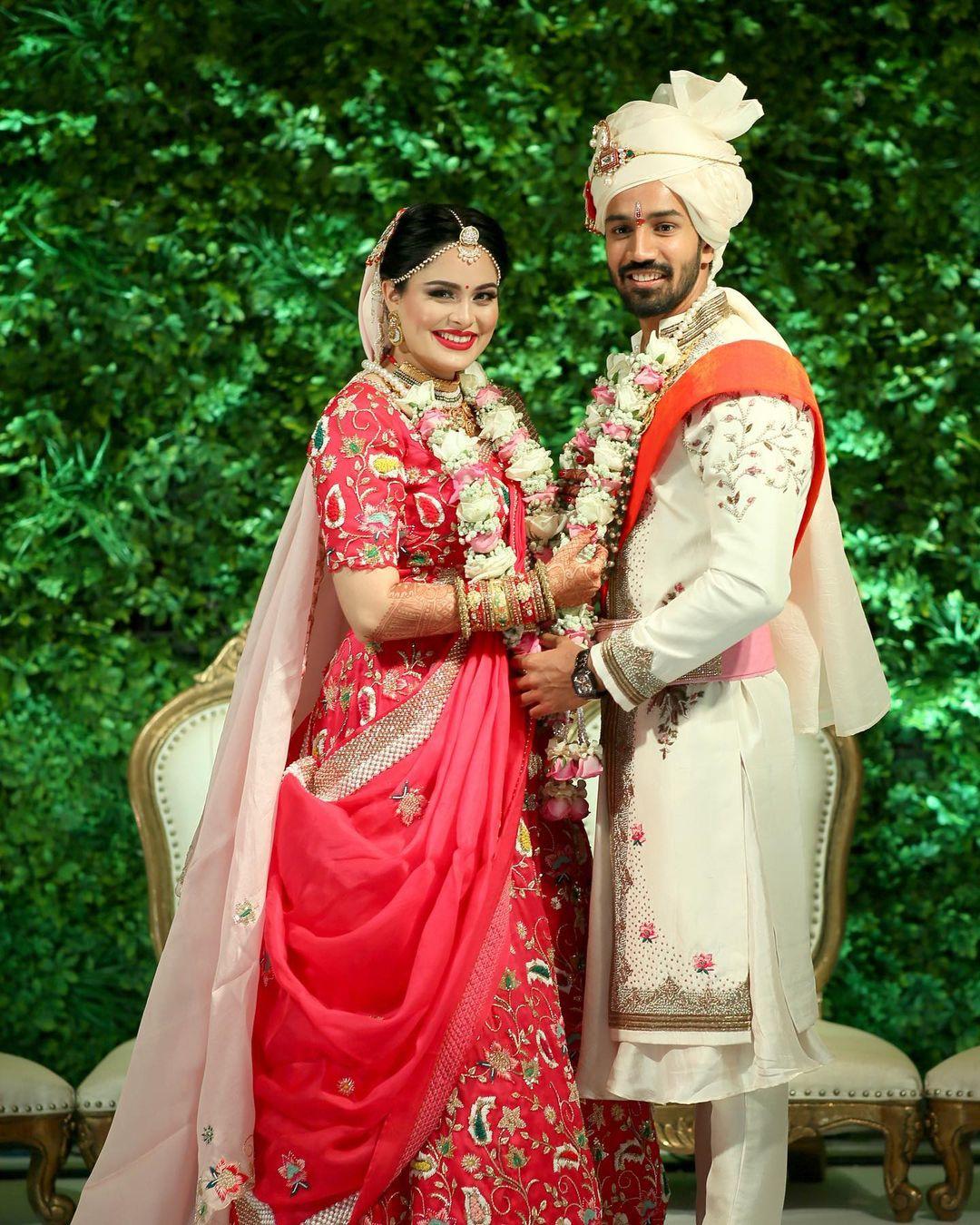 Royal Rajasthani Maang Tikka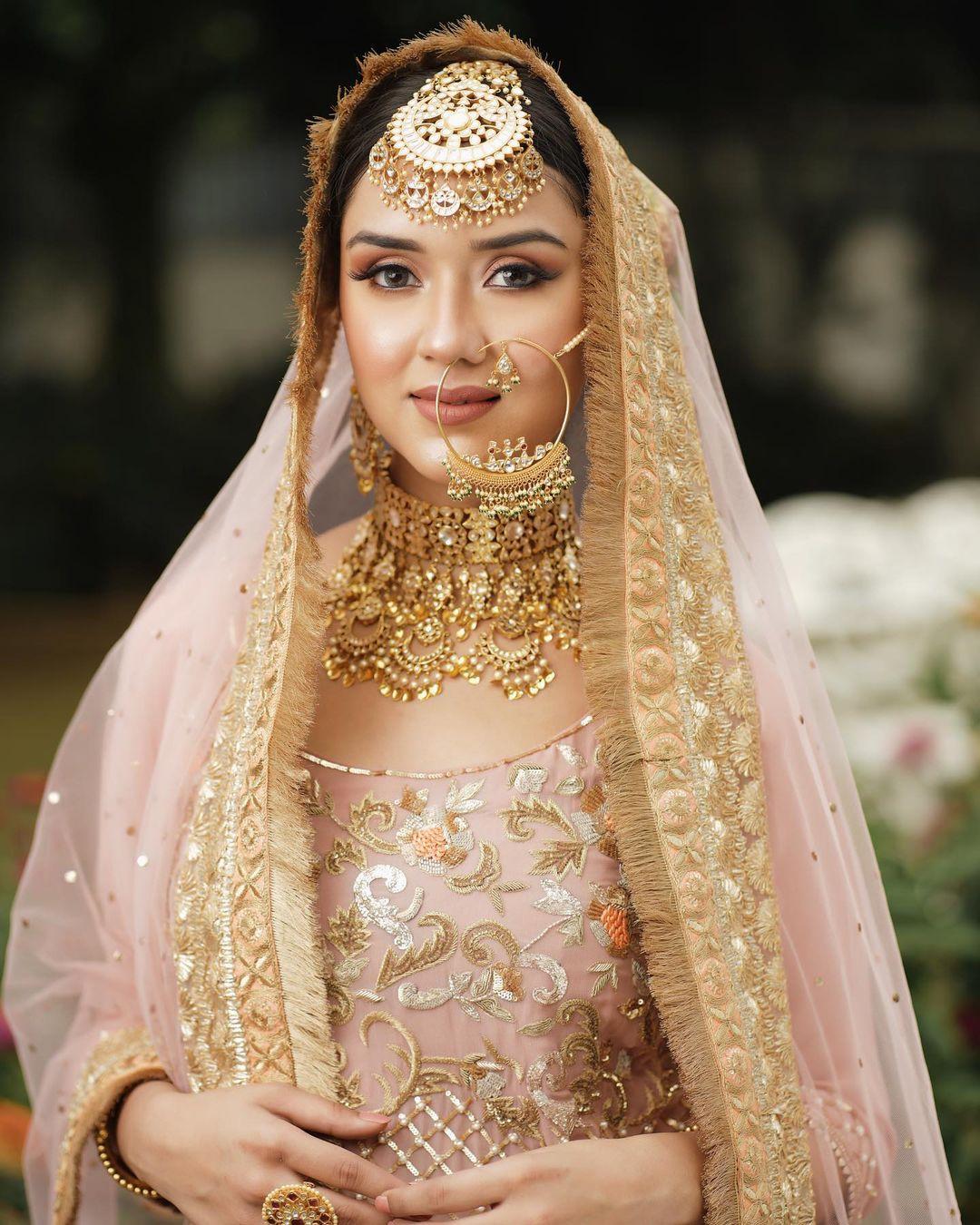 Image Credits - Om jewelers, Patiala
Image Credits - Payal Keyal
These are for the brides who seek to adorn in the true regality of Rajasthan fervor. Rest, The width of the Matha Patti has been done in a similar design as the Rajasthani maang tikka to appear as a single piece of jewellery. But being a bride, you can always decide on the width of the Matha Patti that you would prefer and have the thought conveyed to your jewellery designer as well. Make sure whatever width you use for the Matha Patti has enough weight to support the otherwise heavy maang tikka and should be embellished to balance the statement-making design of the Borla as well.
Multi-Coloured Meenakari Rajasthani Maang Tikka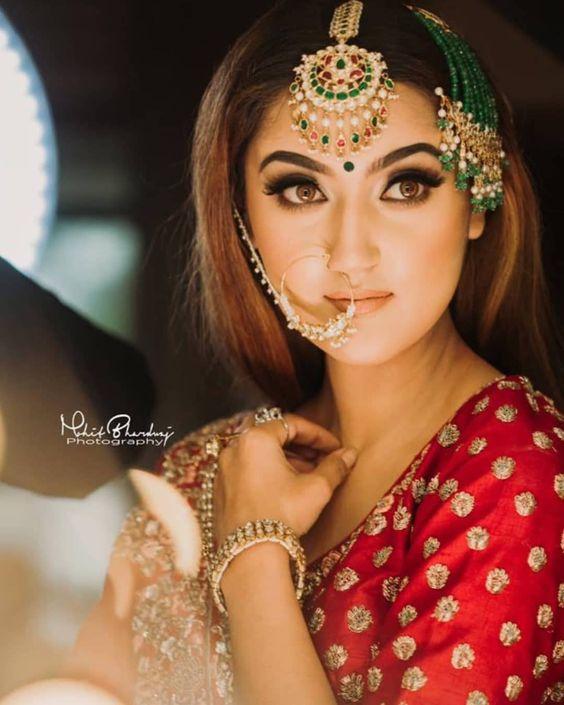 Image Credits -Mohit Bhardawaj
For the brides who have decided to tap into a multi-coloured aspect of bridal Lehenga style, this multi-coloured Meenakari Rajasthani maang tikka is your true match. Such heavily embellished designs are the true statement makers of the party, making the bride-to-be look like a royal queen decked up for celebrations. The embellishments include the usage of multi-coloured glass stones with small pearls used as danglers for a detailed and intricate design.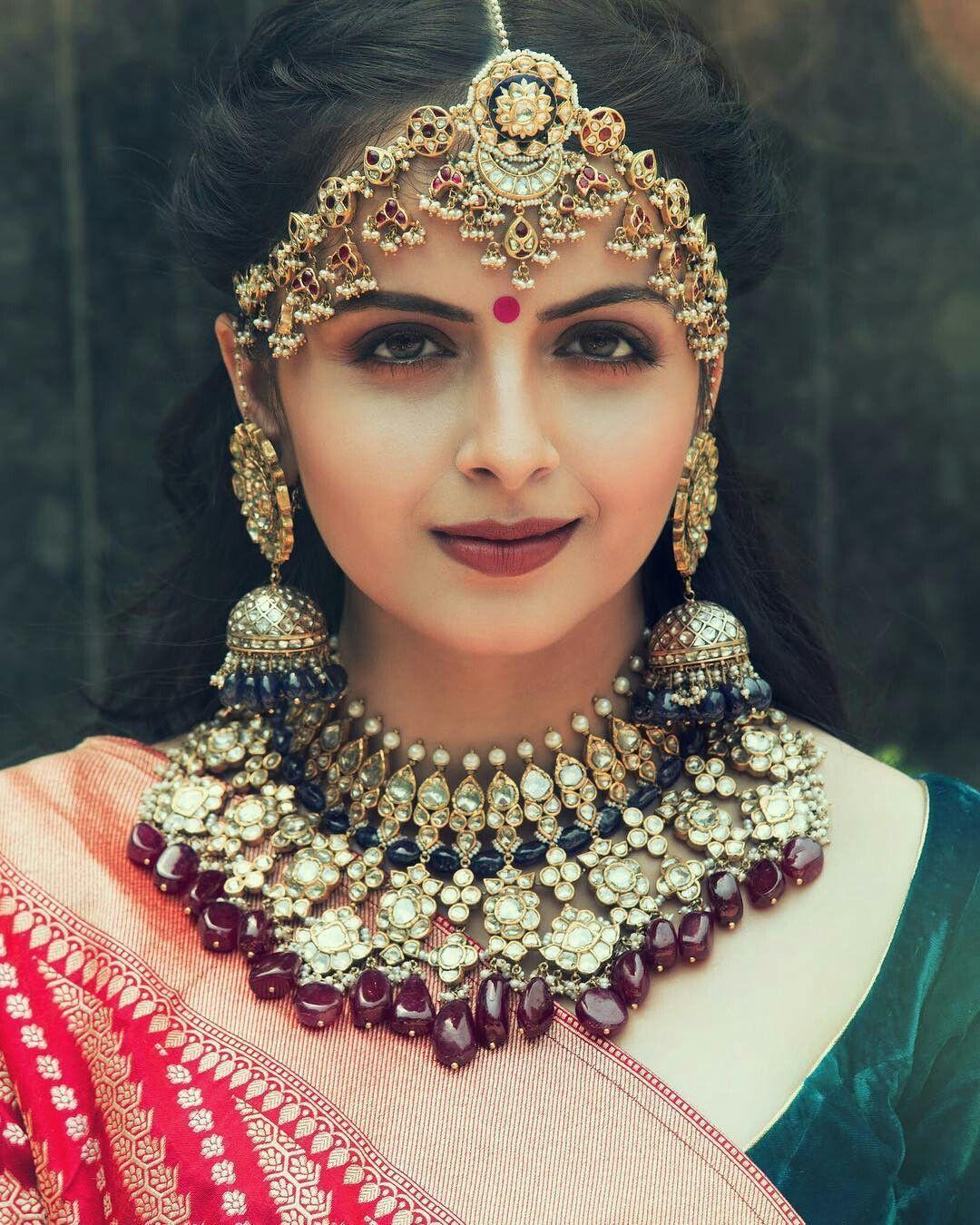 Usually, Kundan Rajasthani maang tikka can be seen embellished with rubies, emeralds and diamonds but a cheaper version of the same can be achieved using quality coloured glass stones as well. This style matches perfectly with contemporary wedding trousseau designs and can be worn for Mehndi, Sangeet, Cocktail as well as the main wedding function too.
Royal rajasthani maang tikka set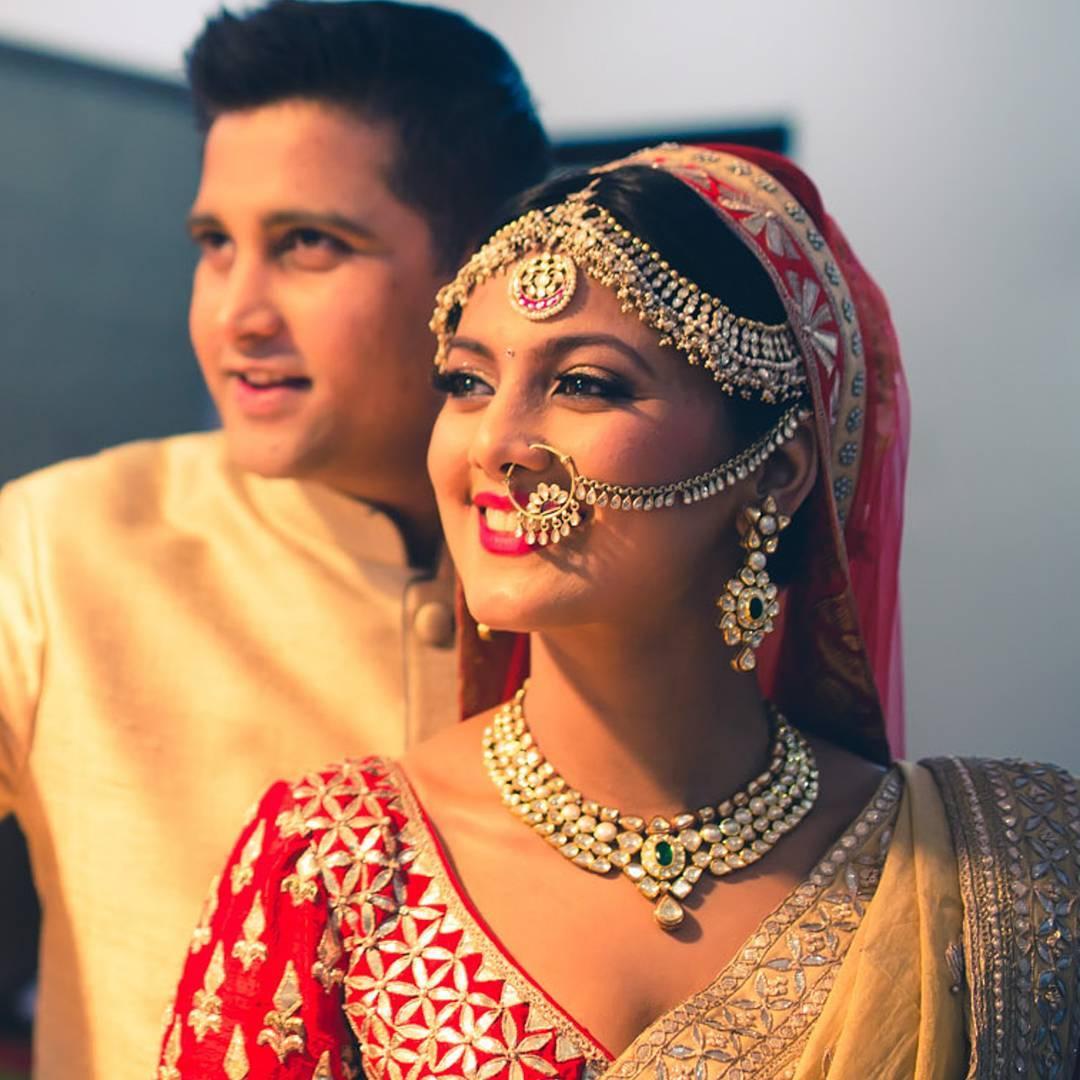 Image Credits - Anita Dongre
If making bold statements is your forte, then this Rajasthani maang tikka style is for you.It's this rich style of a Rajasthani maang tikka that brings about a sense of preciousness to the piece of jewellery and distinguishes it from all other types of maang tikka designs.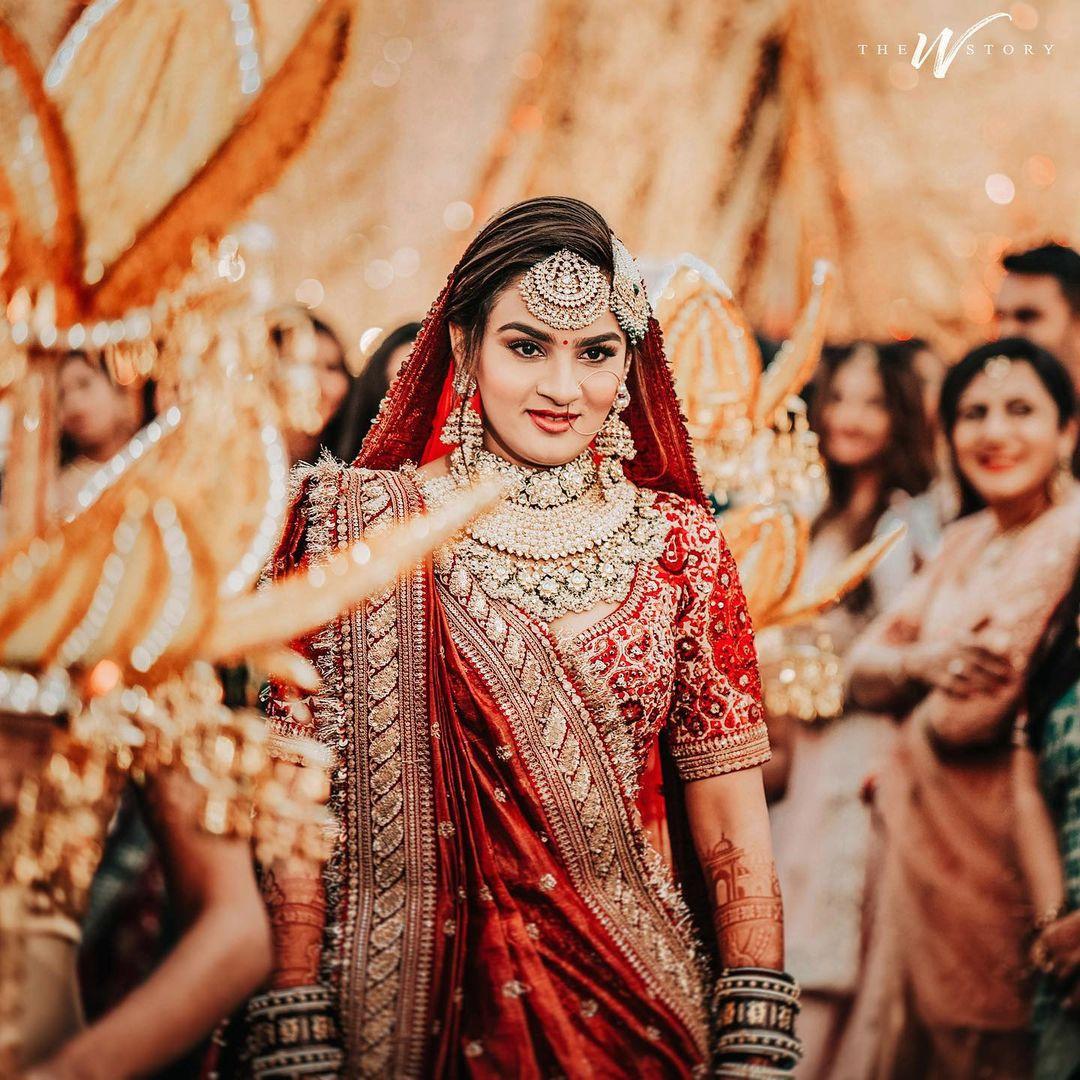 Image Credits - The Wedding Story
Oversized Rajasthani Maang Tikka Borla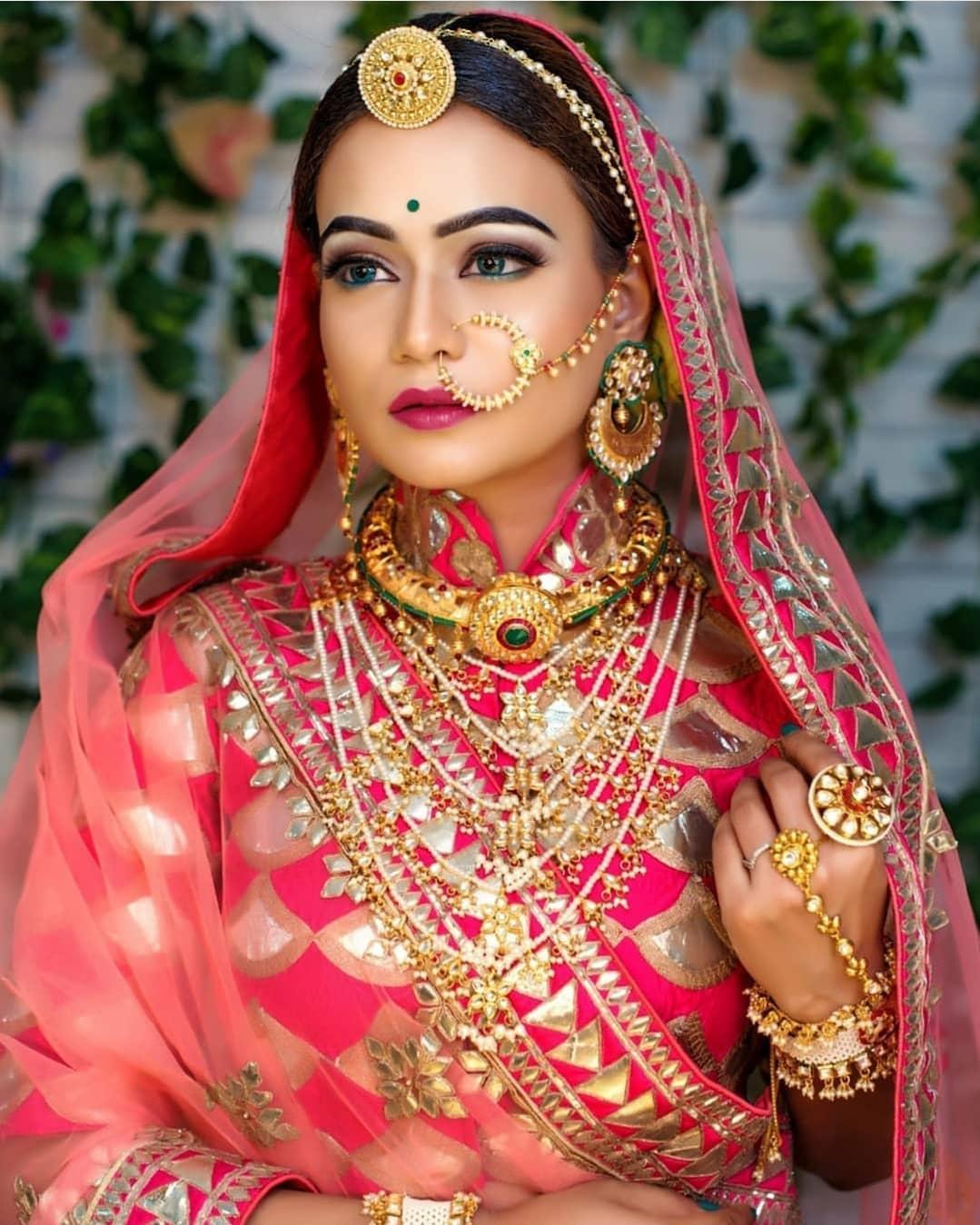 Borla designs in copper or gold plated styles are the most common and sought after traditional head-jewel styles of Rajasthan. Oversized Borla or maang tikka, on the other hand, is the perfect way to make a statement yet maintain the traditions in their true form. An oversized Borla maang tikka should be done in single hues like gold, copper, rose gold or silver colours so as to give it a regal look. A heavily embellished oversized Borla will be overpowering with a possibility of stealing the limelight from the bride-to-be's overall look, which is a big no-no! Keep the design simple and intricate. This style of Rajasthani maang tikka works wonders with a Gota - Patti saree in fuchsia or other neon colours, which signify the vibrant colours of Rajasthan. The best part about owning a Rajasthani maang tikka is that no matter what your budget is or how simple or extravagant the design of the Borla is, you will still end up looking like true royalty.
From where to purchase rajasthani borla maang tikka online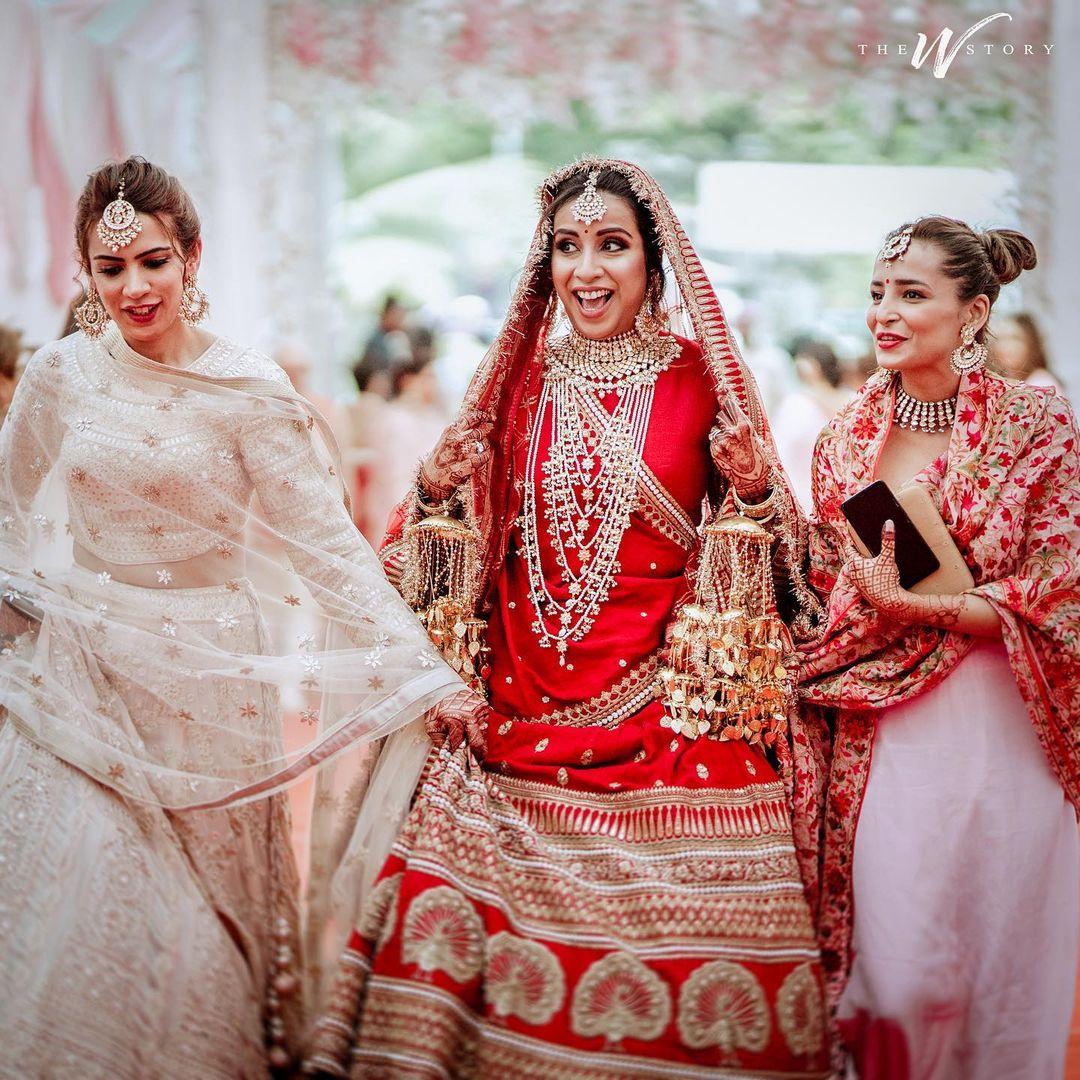 Image Credits - The Wedding Story
The best way to purchase a Rajasthani maang tikka ONLINE, like any other kind of wedding jewellery, is to first finalise on your wedding trousseau and then match the Borla style that best suits the intricate details of your wedding attire. What's more? The Rajasthani maang tikka is versatile enough that you can adorn it for various occasions post - wedding as well. This means it can ideally be passed on as a piece of timeless heirloom jewellery to the future brides of the family! Just write these on google- rajasthani maang tikka gold tanishq , rajasthani maang tikka flipkart and rajasthani maang tikka amazon and find plenty of options to cherry pick.
Some more evergreen Rajasthani maang tikka images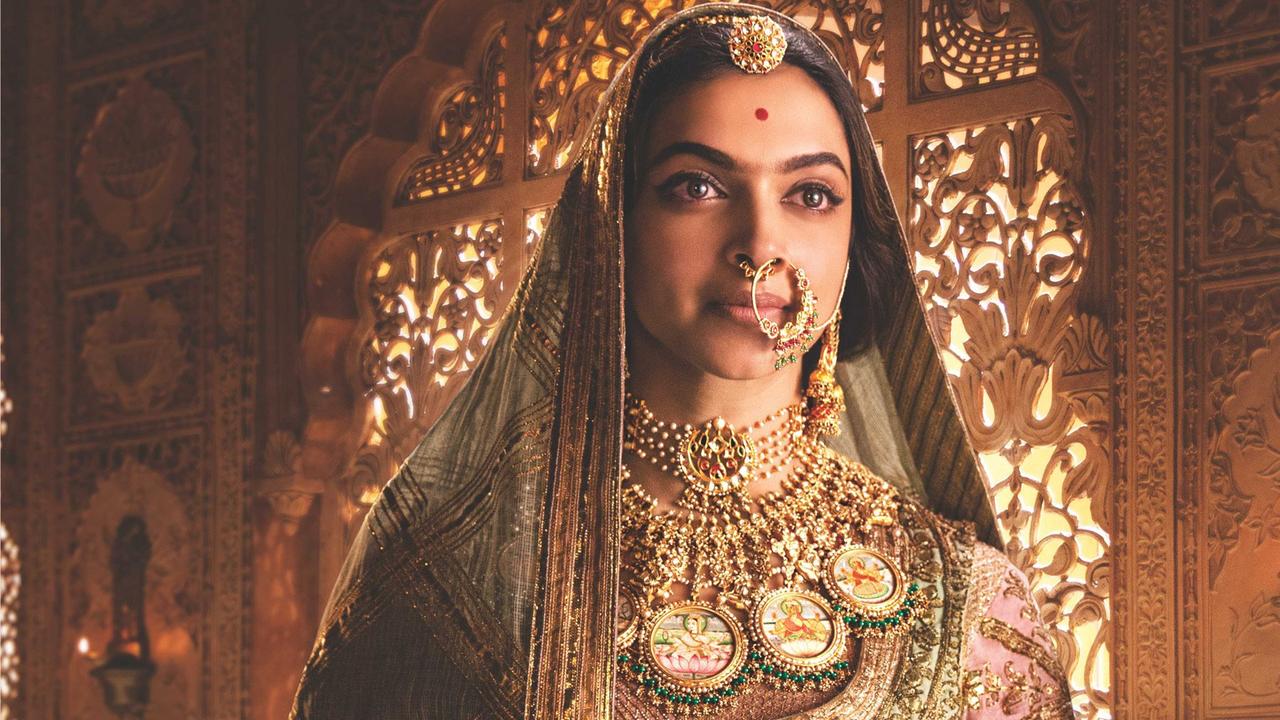 Image Courtesy: Tumtum Original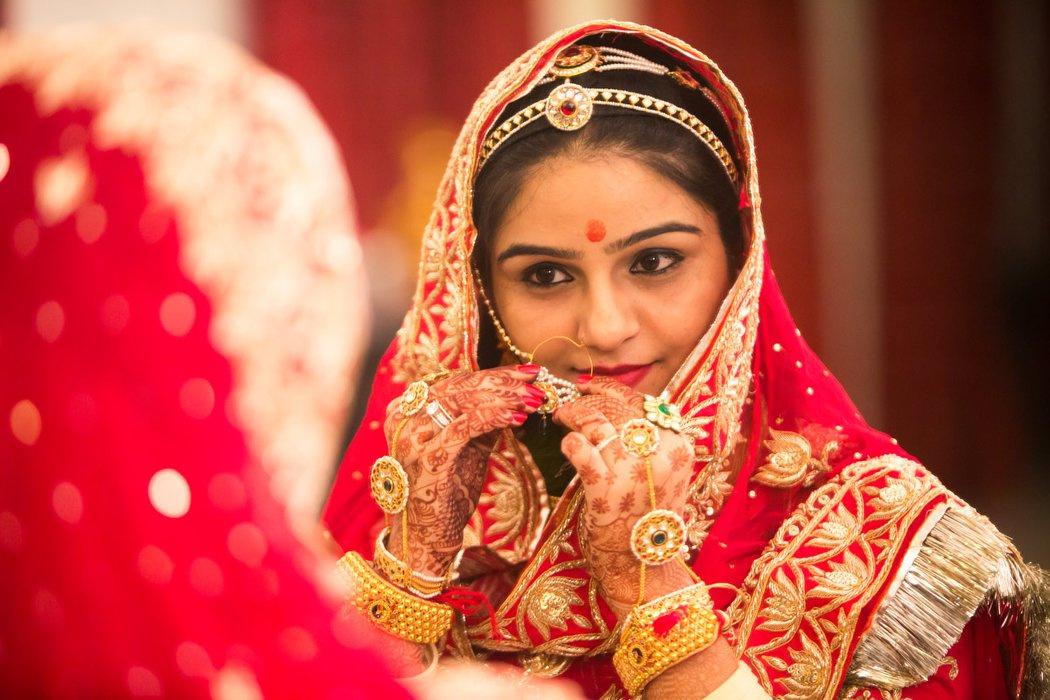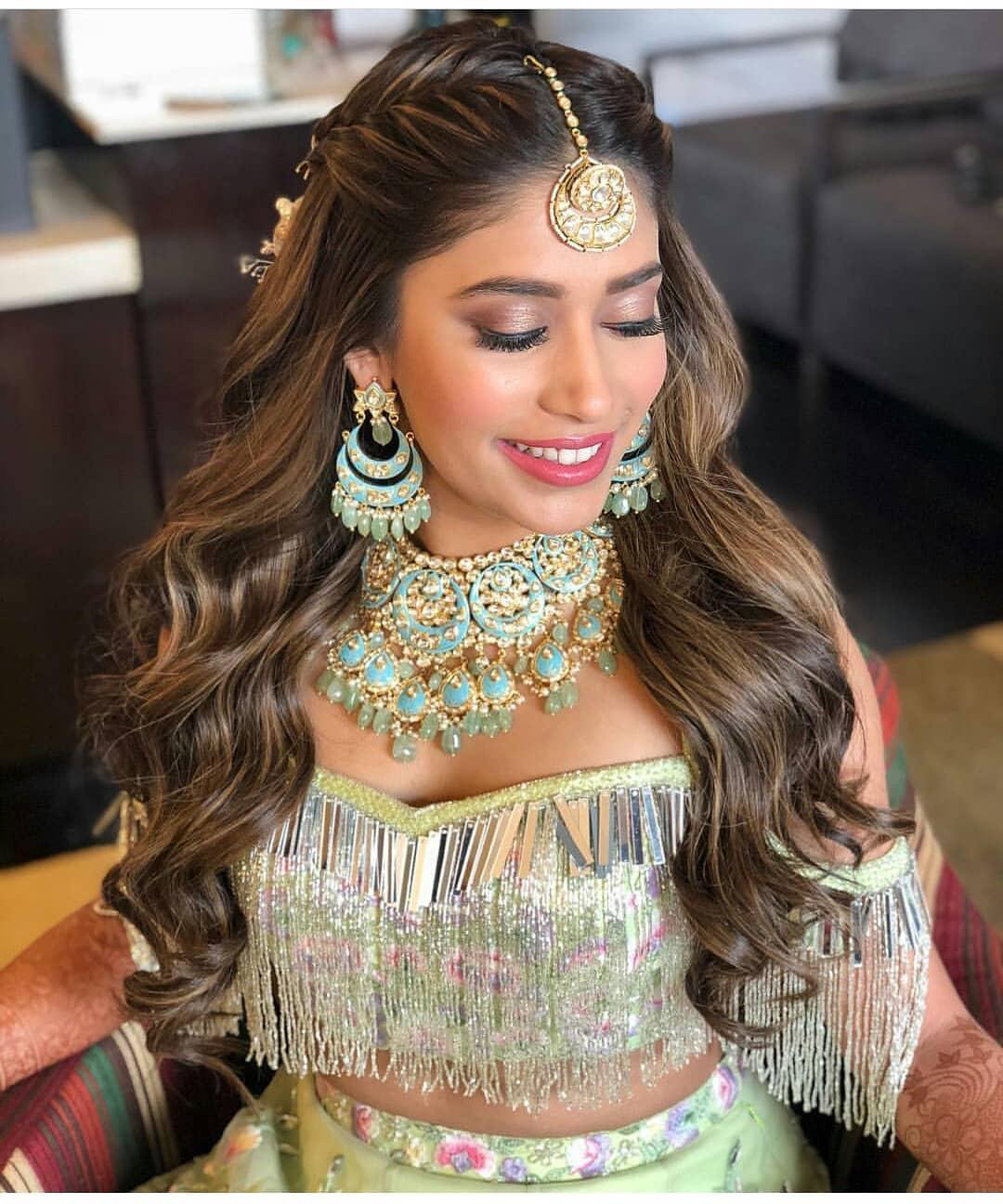 Image Courtesy: Shrenu Parikh
Which style of Rajasthani maang tikka would you personally prefer for your wedding look? Tell us in the comments below.
With words by Meha Khera